August 30, 2019. EN. Italy : Sicily , Chile : Nevados of Chillan , Kamchatka : Ebeko , Hawaii : Mauna Loa .
August 30 , 2019.
Italy, Stromboli :
COMMUNICATION on volcanic activity from August 29, 2019 to 22:20:06 (UTC) – STROMBOLI.
The National Institute of Geophysics and Volcanology, Osservatorio Etneo, announced that at about 19h23 UT, from thermal and visible surveillance cameras, at 400 m altitude, a flow of lava overflowed from the northern zone of the crater terrace and spilled over the upper part of the Sciara del Fuoco. The analysis of the images of level 190 shows that the flow is fed at a medium-high level towards the Sciara and that the material which separates from the flow front reaches the littoral.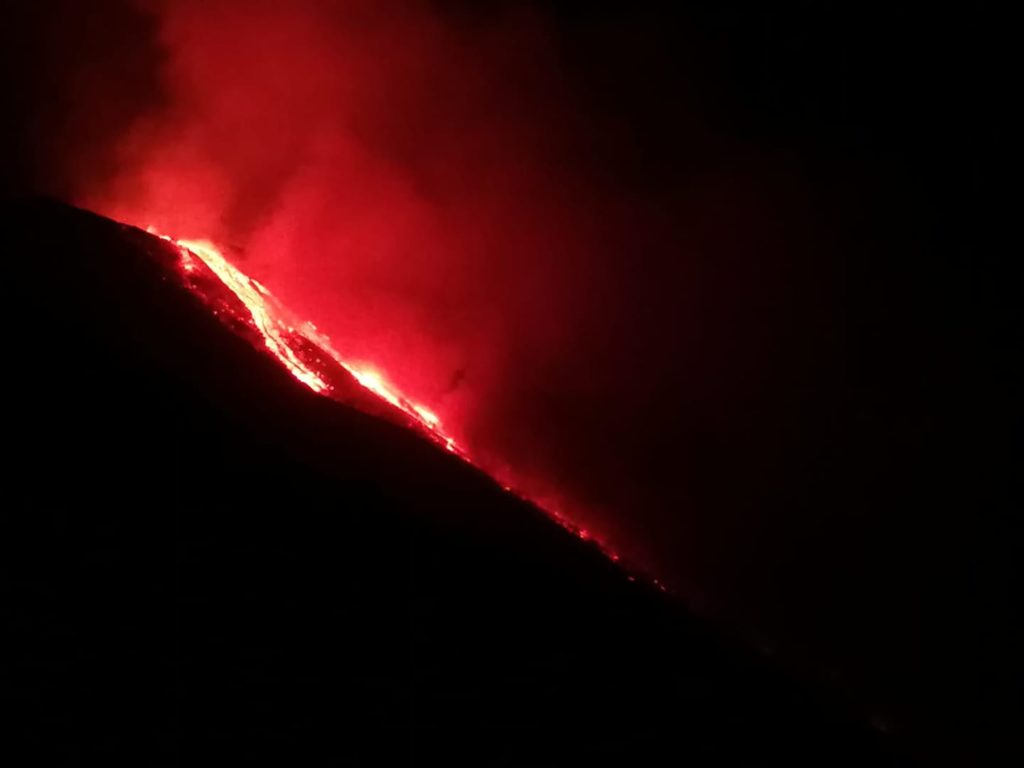 At 20h43 UTC, a sequence of explosions occurred in the Center-South zone. Field staff reported the impact of pyroclastic material on the town of Ginostra. With regard to the seismic activity, an increase in the amplitude and frequency of the seismic signals associated with the explosive sequence has been observed. The magnitude of tremors has increased suddenly and is currently fluctuating at medium to high values.
Another explosion of intensity lower than that of 20:43 was recorded at 21:29 UTC.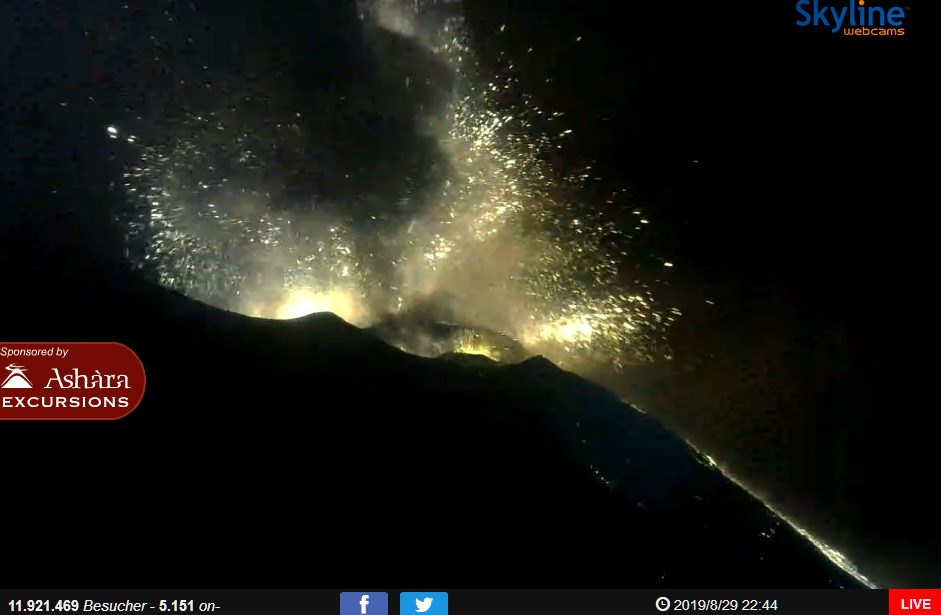 COMMUNICATION ON STROMBOLI EXPLOSION on August 29, 2019 at 20:43 UTC
On 29 August 2019 at 20:43:41 UTC, the geophysical monitoring network recorded a very powerful explosive event, associated with geophysical parameters (seismic, ground deformation and sound pressure) that are higher than the ordinary explosive activity and can be classified as Major explosive event
This event was accompanied by a strong soil deformation signal (1.17 μrad in the Rina Grande OHO inclinometer), preceded by about 2 minutes from a net swelling of the soil.
Following the explosion, there is an increase in seismic tremor to very high values and an increase in the flow of lava flow from the overflow of the Northeast crater to the Sciara del Fuoco.
Source : INGV Vulcani , LGS – Laboratorio Geofisica Sperimentale
Photos : A. Di Pietro , Webcam Stromboli.
Read the article LGS : http://lgs.geo.unifi.it/index.php/blog/esplosione-maggiore-stromboli-29-agosto-2019?fbclid=IwAR04OKBICklZpfF6ygvEKOpDbQ5ime8NYmT2yFNP85cR-4X1HqMIGaAc-kk
Chile , Nevados de Chillan :
Special report of volcanic activity (REAV).
Nuble Region, Nevados Volcano of Chillan, August 29, 2019, 2:00 local time (mainland Chile).
The National Geological and Mining Service of Chile (Sernageomin) publishes the following PRELIMINARY information, obtained from monitoring equipment of the National Volcanic Monitoring Network (RNVV), processed and analyzed at the Volcanological Observatory of the Southern Andes (OVDAS) :
Yesterday, Thursday 29 August 2019 at 01:28 local time (05h28 UTC), the monitoring stations installed near the volcano Nevados de Chillan recorded an explosive event associated with the occurrence of a long-period type earthquake (Type LP) which was related to the fluid dynamics inside the volcano.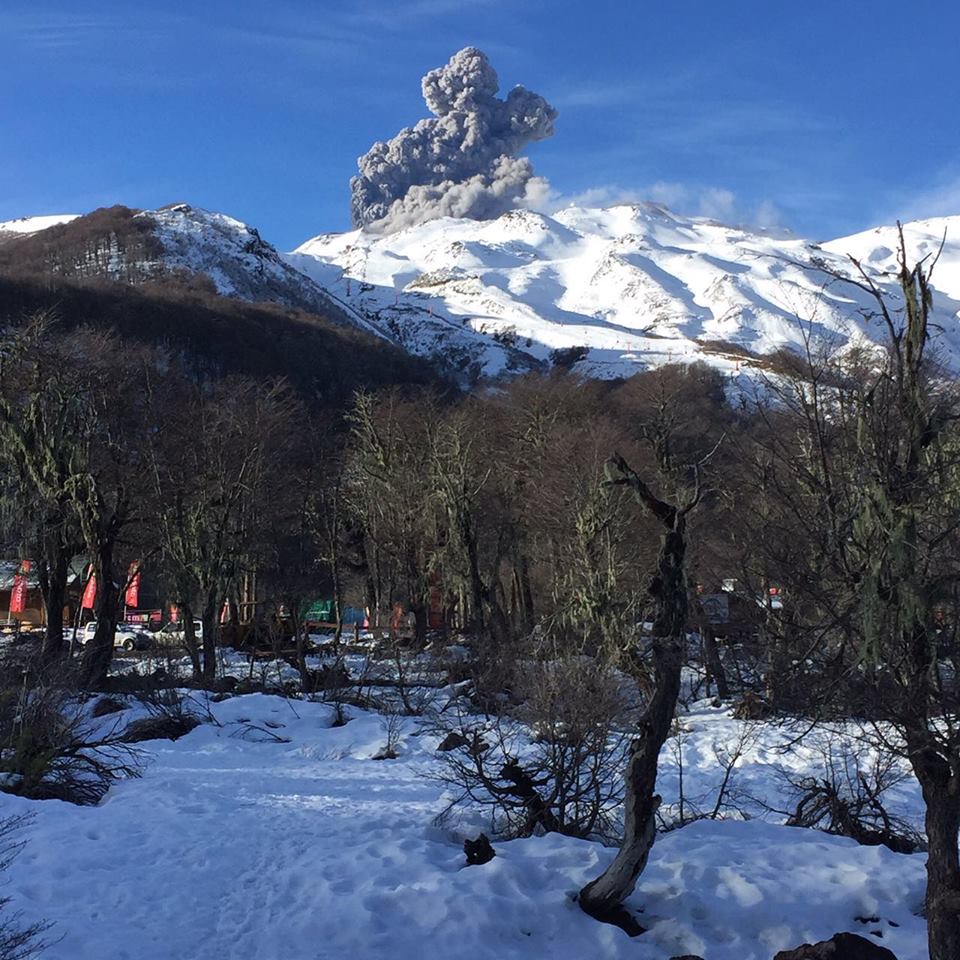 The location of the earthquake after its analysis is:
TIME OF ORIGIN: 01h28 Local time (05h28 UTC)
LATITUDE: 36,867 ° S
LONGITUDE: 71.378 ° W
DEPTH: 1.3 KM
REDUCED MOVEMENT: 600 cm2
ACOUSTIC SIGNAL: 1.7 Pa reduced to 1 km
OBSERVATIONS:
The explosion was associated with the recording of a seismic signal with a reduced displacement value (average seismic energy) of 600 cm2, considered high. E
The level of volcanic technical alert remains at the level: ORANGE.
Sernageomin continues online monitoring and will inform in a timely manner about any changes observed.
Source : Sernageomin.
Kamchatka , Ebeko :
VOLCANO OBSERVATORY NOTICE FOR AVIATION (VONA).
Issued: August 30 , 2019
Volcano: Ebeko (CAVW #290380)
Current aviation colour code: ORANGE
Previous aviation colour code: orange
Source: KVERT
Notice Number: 2019-127
Volcano Location: N 50 deg 41 min E 156 deg 0 min
Area: Northern Kuriles, Russia
Summit Elevation: 3791.68 ft (1156 m)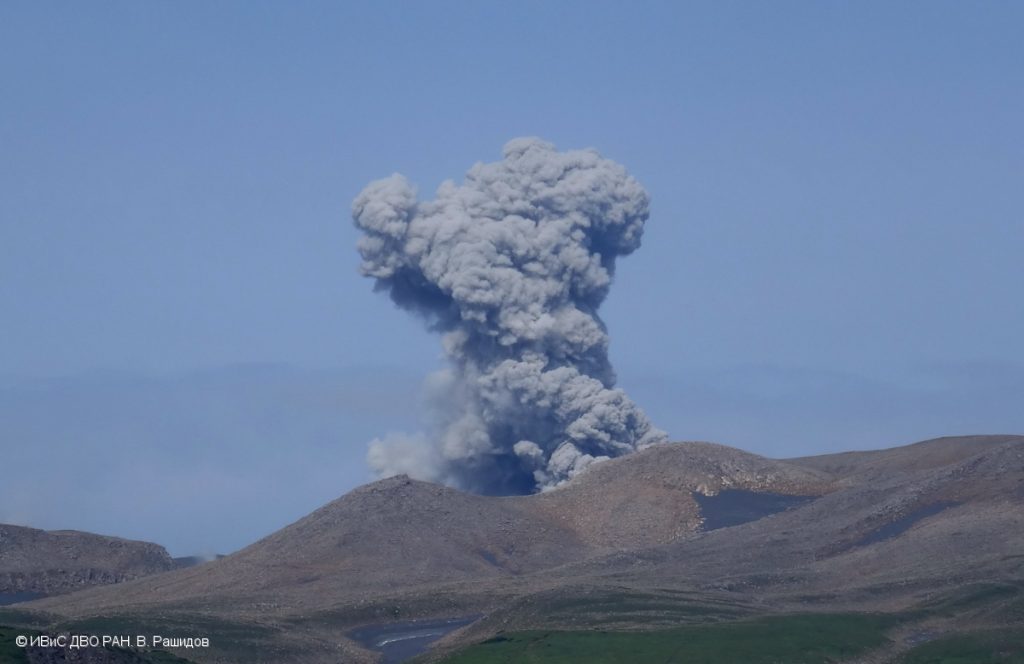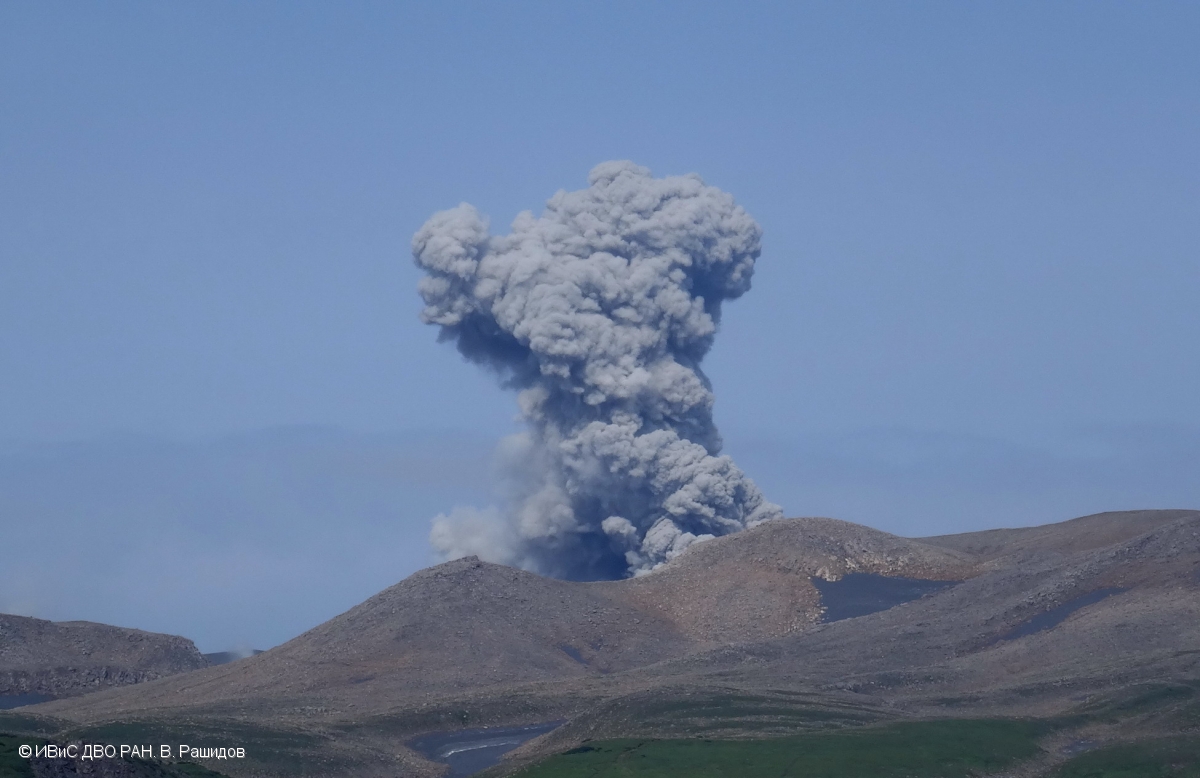 Volcanic Activity Summary:
A moderate eruptive activity of the volcano continues. According to visual data by volcanologists from Severo-Kurilsk, explosions send ash up to 2.1-2.2 km a.s.l., an ash cloud drift to the southeast from the volcano.
A moderate eruptive activity of the volcano continues. Ash explosions up to 19,700 ft (6 km) a.s.l. could occur at any time. Ongoing activity could affect low-flying aircraft and airport of Severo-Kurilsk.
Volcanic cloud height:
6888-7216 ft (2100-2200 m) AMSL Time and method of ash plume/cloud height determination: 20190830/0335Z – Visual data
Other volcanic cloud information:
Distance of ash plume/cloud of the volcano: 3 mi (5 km)
Direction of drift of ash plume/cloud of the volcano: SE
Time and method of ash plume/cloud determination: 20190830/0335Z – Visual data
Source : Kvert .
Photo : V. Rashidov, IVS FEB RAS.
Hawaii , Mauna Loa :
19°28'30 » N 155°36'29 » W,
Summit Elevation 13681 ft (4170 m)
Current Volcano Alert Level: ADVISORY
Current Aviation Color Code: YELLOW
Activity Summary:
Mauna Loa Volcano is not erupting. Over the past week, rates of deformation and seismicity continue to remain slightly elevated.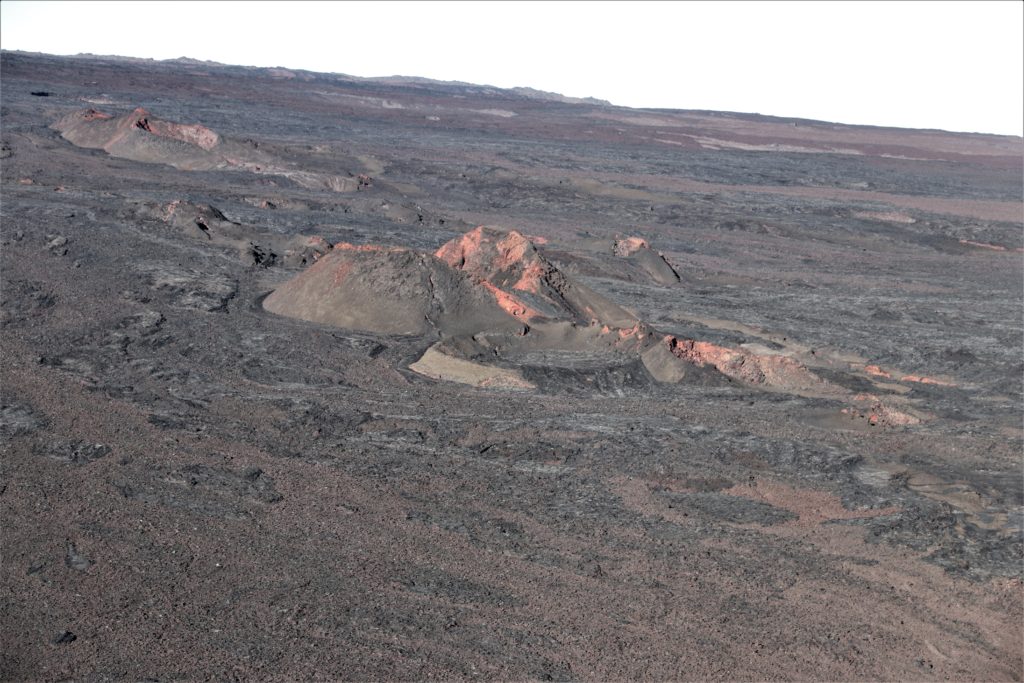 This aerial view, looking to the northwest, shows Pu'u Pohaku'ohanalei on Mauna Loa. This cone is near the 1984 fissure on the volcano's Northeast Rift Zone.

Observations:
During the past week, approximately 60 small-magnitude earthquakes (all smaller than M2.5) were detected beneath the upper elevations of Mauna Loa. Most of the earthquakes occurred at shallow to intermediate depths of less than 10 km (~6 miles) below ground level.
Global Positioning System (GPS) and Interferometric Synthetic Aperture Radar (InSAR) measurements show continued summit inflation, consistent with supply to the volcano's shallow magma storage system.
No significant changes in volcanic gas release at Sulphur Cone on the Southwest Rift Zone were measured. Fumarole temperatures at Sulphur Cone and within the summit caldera remain stable.
Source : HVO.