April 17, 2019. EN . Japan : Asosan , Hawaii : Kilauea , Colombia : Nevado del Huila , Mexico : Popocatepetl .
April 17 , 2019.
Japan , Asosan :
Mount Aso in Kumamoto erupts; alert level raised from 1 to 2
An eruption was observed on Mount Aso in Kumamoto Prefecture about 6:28 p.m. on April 16, according to the Japan Meteorological Agency, the first in two and a half years.
From about 1:30 p.m. on April 14, the agency detected volcanic tremors at Mount Aso had begun intensifying and a large volume of volcanic gas was also being emitted.
The alert level for Mount Aso was raised from the lowest 1 to 2, meaning restrictions would be placed on approaching the crater.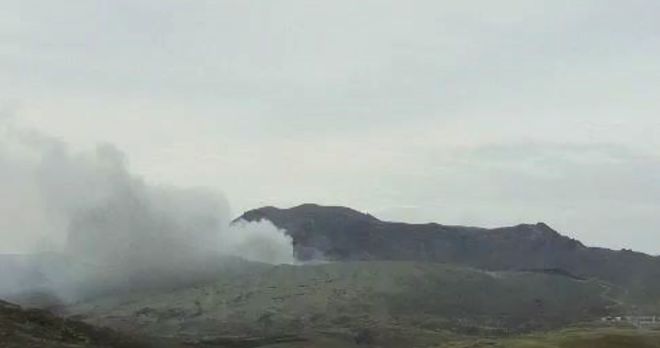 The local volcano deliberative council restricted entry within a kilometer of the No. 1 crater of the Nakadake peak of Mount Aso.
At one time on April 16, fumes and ash reached a height of 200 meters, but the JMA said the eruption was not continuing as of 7 p.m.
Aso's last major eruption occurred on Oct. 8, 2016, when large boulders were sent flying down a crater and a towering plume of smoke and ash rose to more than 10,000 meters. That was the most violent eruption recorded in about 30 years and came about six months after a series of earthquakes shook a large part of Kumamoto Prefecture.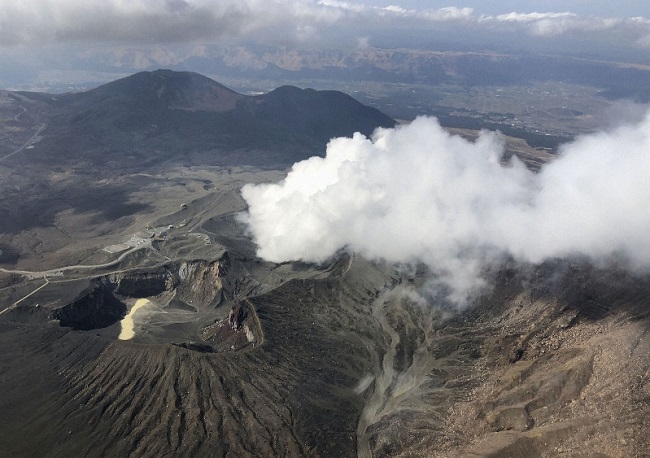 The 24-km-wide Asosan caldera was formed during four major explosive eruptions from 300,000 to 90,000 years ago. These produced voluminous pyroclastic flows that covered much of Kyushu. The last of these, the Aso-4 eruption, produced more than 600 km3 of airfall tephra and pyroclastic-flow deposits. A group of 17 central cones was constructed in the middle of the caldera, one of which, Nakadake, is one of Japan's most active volcanoes. It was the location of Japan's first documented historical eruption in 553 CE. The Nakadake complex has remained active throughout the Holocene. Several other cones have been active during the Holocene, including the Kometsuka scoria cone as recently as about 210 CE. Historical eruptions have largely consisted of basaltic to basaltic-andesite ash emission with periodic strombolian and phreatomagmatic activity. The summit crater of Nakadake is accessible by toll road and cable car, and is one of Kyushu's most popular tourist destinations.
Source : THE ASAHI SHIMBUN , GVP .
Photos : Asahi Shimbun , Kyodo .
Hawaii , Kilauea :
19°25'16 » N 155°17'13 » W,
Summit Elevation 4091 ft (1247 m)
Current Volcano Alert Level: NORMAL
Current Aviation Color Code: GREEN
Activity Summary:
Kīlauea Volcano is not erupting. Monitoring data over the past eight months have shown relatively low rates of seismicity, deformation, and gas emission at the summit and East Rift Zone (ERZ) including the area of the 2018 eruption. A magnitude 5.3 earthquake (not from Kilauea) occurred at 5:09 pm HST on Saturday April 13, 2019 and was felt across the island.
As of March 26, Kīlauea Volcano is at NORMAL/GREEN.
Despite this classification, Kīlauea remains an active volcano, and it will erupt again. Although we expect clear signs prior to a return to eruption, the time frame of warning may be short. Island of Hawaiʻi residents should be familiar with the long-term hazard map for Kīlauea Volcano and how to stay informed about Kīlauea activity.
Observations:
This past week saw no significant change in monitoring data or volcanic activity. Low rates of seismicity continue across the volcano, with earthquakes occurring primarily in the summit and south flank regions. GPS stations and tiltmeters continue to show motions consistent with refilling of the deep East Rift Zone magma reservoir. Sulfur dioxide emission rates from the summit and from Puʻu ʻŌʻō remain low. These rates have been steady over the past several months.
A GPS station on the north flank of Puʻu ʻŌʻō has been showing steady slumping of the craters edge, and the motion has continued this week. This motion is not directly related to magmatic activity, but is interpreted to be sliding of the unstable edge of Puʻu ʻŌʻō cone. Small collapses at Puʻu ʻŌʻō have occurred since the eruption due to instability.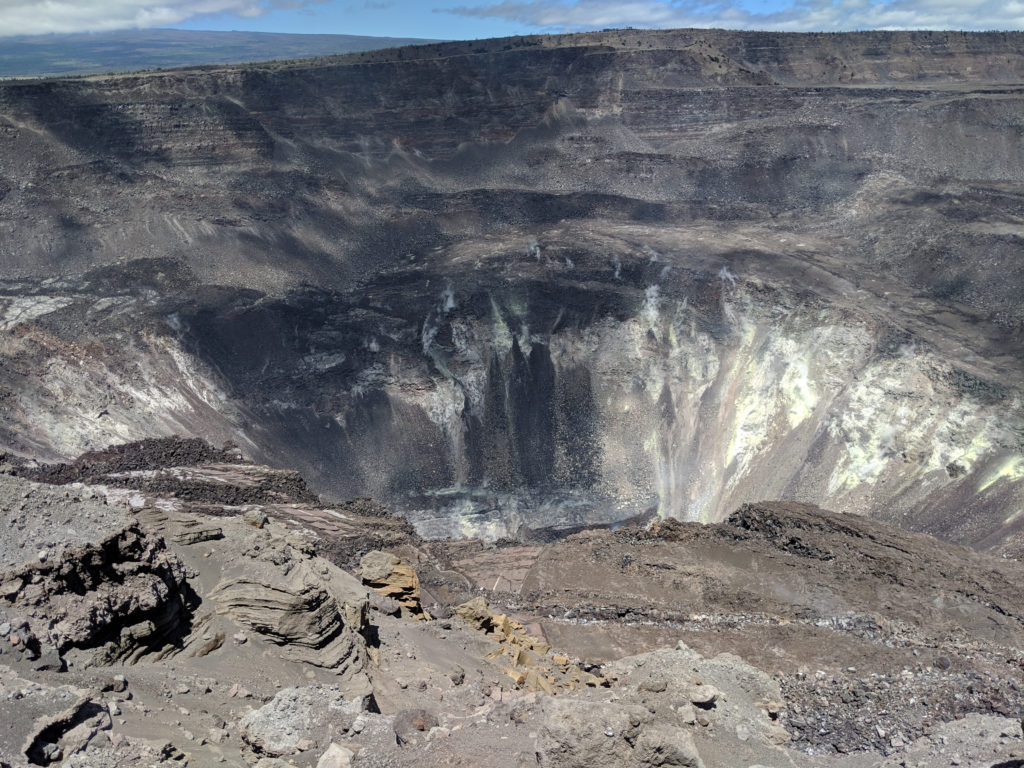 Only small amounts of sulfur dioxide (SO2) and hydrogen sulfide (H2S) are currently being released from Kīlauea, but those gases chemically react with each other to form the bright yellow sulfur deposits on the crater walls within Halema'uma'u.
Hazards remain in the lower East Rift Zone eruption area and at the Kīlauea summit. Residents and visitors near the 2018 fissures, lava flows, and summit collapse area should heed Hawaii County Civil Defense and National Park warnings. Hawaii County Civil Defense advises that lava flows and features created by the 2018 eruption are primarily on private property and persons are asked to be respectful and not enter or park on private property.
The Hawaiian Volcano Observatory (HVO) continues to closely monitor Kīlauea's seismicity, deformation, and gas emissions for any sign of increased activity. HVO maintains visual surveillance of the volcano with web cameras and occasional field visits. HVO will continue to issue a weekly update (every Tuesday) until further notice, and we will issue additional messages as warranted by changing activity.
Source : HVO
Photos : Bruce Omori , HVO.
Colombia , Nevado del Huila :
Weekly activity bulletin of Nevado del Huila
The level of activity of the volcano continues at the level: yellow activity level or (III): changes in the behavior of volcanic activity.
According to the analysis and evaluation of the information obtained through the monitoring network of the Nevado del Huila volcano, from 9 to 15 April 2019, the COLOMBIAN GEOLOGICAL SERVICE – Volayan Volatological and Seismological Observatory states that:
During the evaluated period, 537 seismic events were recorded, 367 were related to rock fracturing processes (type VT) and 170 were related to fluid dynamics in volcanic canals. Of these, 162 were classified as long-period type events (LP type) and eight (8) as low-energy Tremor pulses (TR type).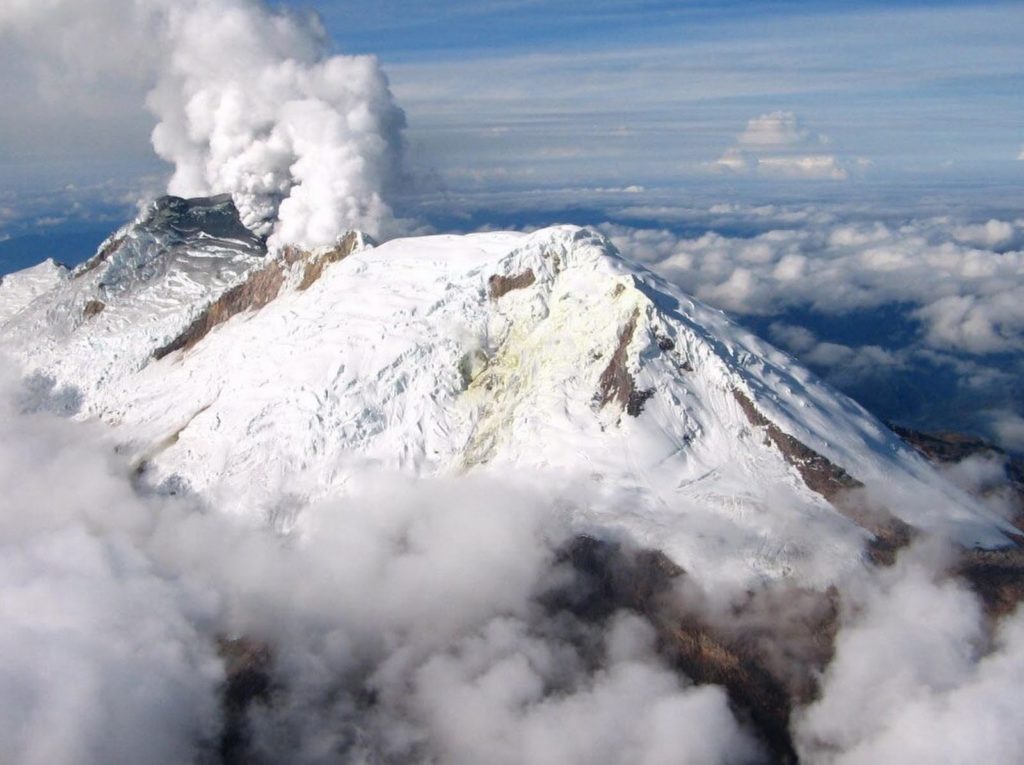 
During this period, volcano-tectonic events continued to be recorded north-east of the volcano, at a distance from the central peak between 7 and 23 km and with depths between 2 and 13 km. Among these events, the earthquake recorded on April 14 at 9:25 am (local time), located 11 km north-east of the volcano, a calculated magnitude of 3.4 ML and a depth of 7 km, distinguished. .
The images obtained during the week by the web cameras of Caloto, Tafxnú, Maravillas and La Palma showed a weak degassing of the volcanic system.
Sensors for monitoring soil deformation, magnetic fields and infrasound waves have not recorded any variations associated with changes in volcanic activity.
It is repeated that, although the VT seismicity located to the northeast of the Nevado del Huila volcano is in its zone of influence, these events are generated in a tectonically active zone and have so far not affected other volcanic monitoring parameters, therefore, the level of activity of the volcano has not changed, which continues to Amarillo / level III.
Source : Ingeominas.
Photo : Parque Nacional
Mexico , Popocatepetl :
April 16, 11:00 am (April 16, 16:00 GMT)
In the last 24 hours, thanks to the monitoring systems of the Popocatépetl volcano, 53 exhalations have been identified, accompanied by water vapor, gas and light amounts of ash, which winds have preferentially dispersed towards the eastern sector. . In addition, 357 minutes of tremor were recorded.
During the night, no glow was observed on the crater.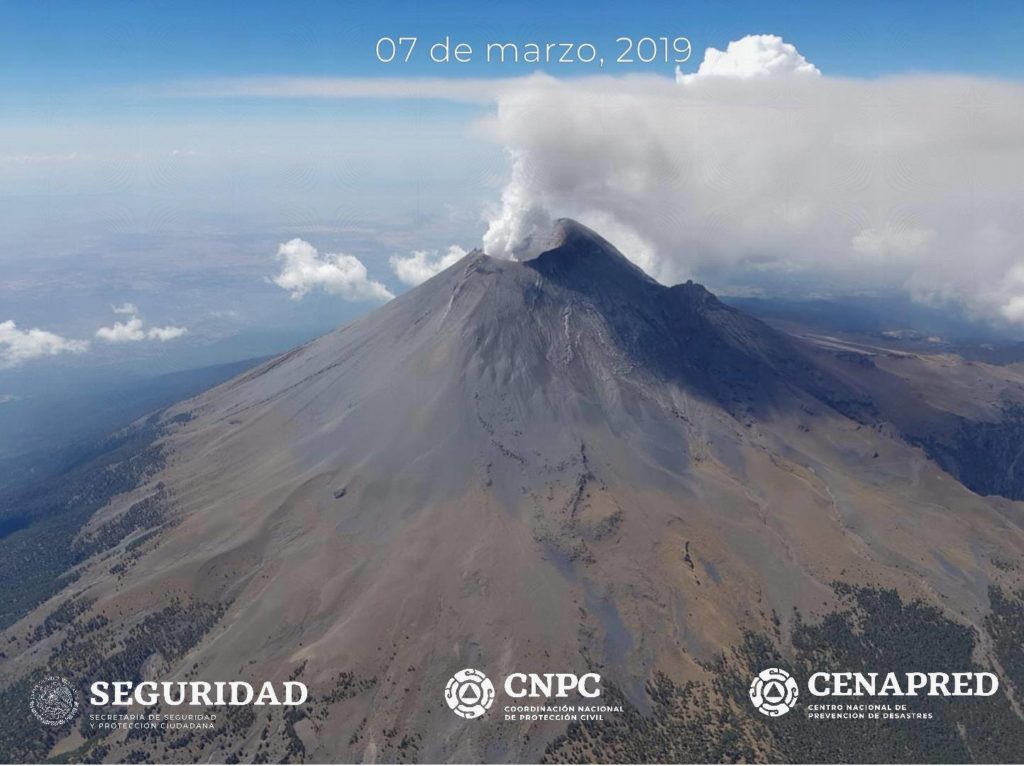 At the time of writing this report, there is a constant emission of water vapor, volcanic gases and light amounts of ash, which the winds scatter to the North and East.
CENAPRED urges NOT to approach the volcano and especially the crater, because of the danger of falling ballistic fragments, and in case of heavy rains to stay away from ravine bottoms due to the danger of mudslides and debris.
The volcanic alert semaphore of Popocatepetl is located in PHASE 3 YELLOW.
Source : Cenapred .