February 27 , 2019. EN. La Réunion : Piton de la Fournaise , Kamchatka : Sheveluch , Colombia : Chiles / Cerro Negro , New Zealand : White Island .
February 27 , 2019.
La Réunion , Piton de la Fournaise :
Activity bulletin of Tuesday, February 26, 2019 at 16:00 (local time).
The eruptive activity that resumed on February 19, 2019 at Piton de la Fournaise around 7:10 pm local time continues. Despite some fluctuations, the intensity of the eruptive tremor (indicator of the intensity of the eruption) remains relatively constant (Figure 1).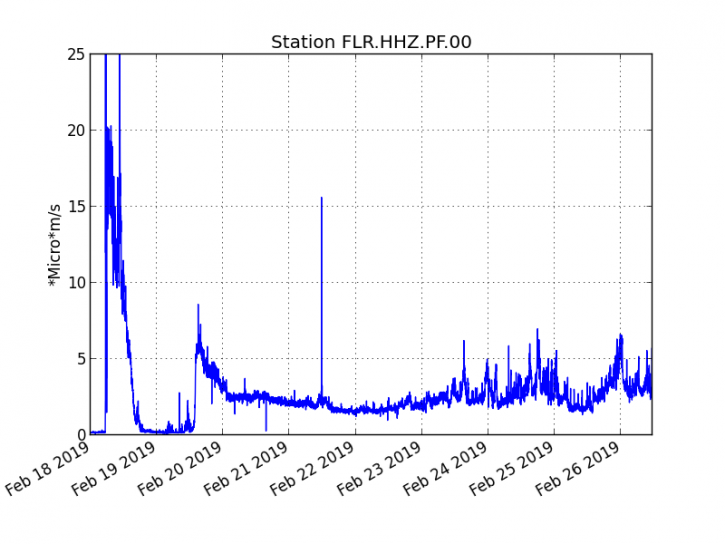 Figure 1: Evolution of RSAM (indicator of volcanic tremor and intensity of eruption) between 09h48 (05h48 UTC) on February 18th and 15h30 (11h30 UTC) on February 26th on the seismic station of FLR. (© OVPF / IPGP)
– Over the last 36 hours, 8 superficial superficial volcano-tectonic earthquakes (above sea level) have been recorded.
– After a deflation of the building related to the transfer of magma that occurred on 18/02/2019, the deformations of the summit zone do not show any particular signals.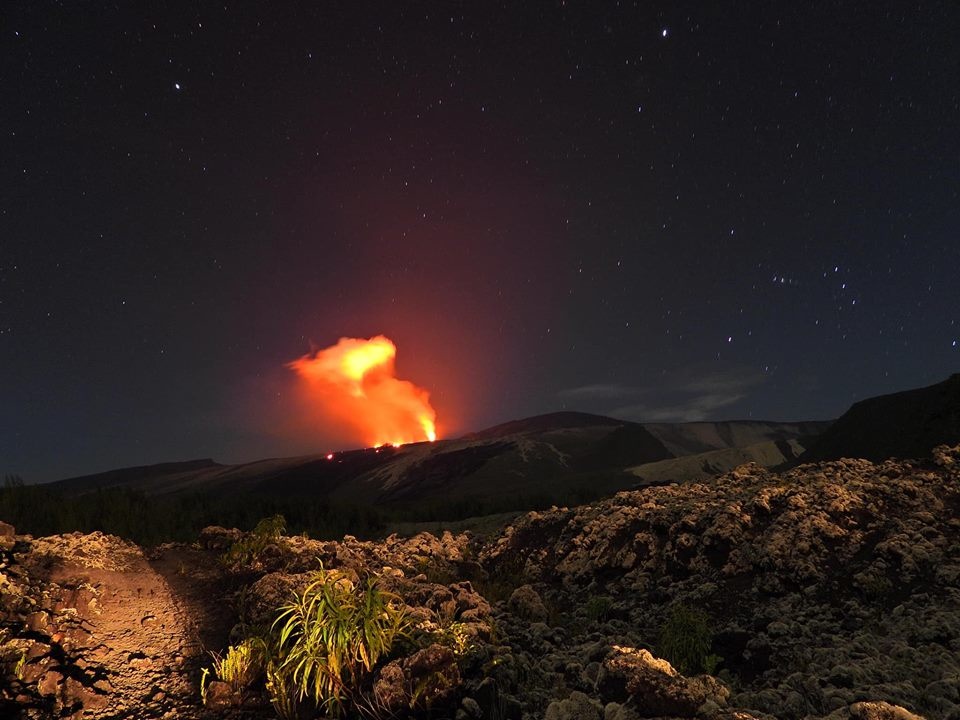 – The CO2 concentrations in the near-field soil (gîte du volcan area) remain high.
– Over the last 36 hours, surface flows estimated from satellite data, via the HOTVOLC platform (OPGC – University of Auvergne), fluctuated between <1 and 16 m3 / s (these measures may be affected / reduced by the cloud cover). These values are confirmed by measurements by the MIROVA platform (University of Turin).
Alert level: Alert 2-2
Source : OVPF
Photo : Reunionbysat via B Duyck
Kamchatka , Sheveluch :
VOLCANO OBSERVATORY NOTICE FOR AVIATION (VONA).
Issued: February 27 , 2019
Volcano:Sheveluch (CAVW #300270)
Current aviation colour code:ORANGE
Previous aviation colour code:orange
Source:KVERT
Notice Number:2019-45
Volcano Location:N 56 deg 38 min E 161 deg 18 min
Area:Kamchatka, Russia
Summit Elevation:10768.24 ft (3283 m), the dome elevation ~8200 ft (2500 m)
Volcanic Activity Summary:
A growth of the lava dome continues (a viscous lava blocks extrude out on the northern part of it), a strong fumarolic activity and an incandescence of the dome blocks and hot avalanches accompanies this process. According to satellite data, a gas-steam plume with some amount of ash continues to drift to the east-south-east from the volcano.
Explosive-extrusive eruption of the volcano continues. Ash explosions up to 32,800-49,200 ft (10-15 km) a.s.l. could occur at any time. Ongoing activity could affect international and low-flying aircraft.
Volcanic cloud height:
9840-13120 ft (3000-4000 m) AMSL Time and method of ash plume/cloud height determination: 20190227/0242Z – MODIS AQUA (31m32)
Other volcanic cloud information:
Distance of ash plume/cloud of the volcano: 17 mi (28 km)
Direction of drift of ash plume/cloud of the volcano: ESE / azimuth 103 deg
Time and method of ash plume/cloud determination: 20190227/0242Z – MODIS AQUA (31m32)
Source : Kvert.
Photo : Y. Demyanchuk / Volkstat ru
Colombia , Chiles / Cerro Negro :
Weekly activity bulletin of Chiles and Cerro Negro volcanoes
The activity level of volcanoes continues at the level: YELLOW LEVEL ■ (III): CHANGES IN THE BEHAVIOR OF THE VOLCANIC ACTIVITY.
Following the activity of the CHILE volcanoes and CERRO NEGRO, the COLOMBIAN GEOLOGICAL SERVICE (SGC) reports that:
For the period from 19 to 25 February 2019, seismic activity in the Chile / Cerro Negro volcano region recorded a significant decrease in number and released seismic energy. From a total of 8838 events the previous week, we went to 2770 events for this week. Most of the events continue to be associated with rock fractures within the volcano, with a preferential location south of the Chiles volcano, with epicentral distances of up to 3 km and depths less than 4 km from the summit (4700 m altitude).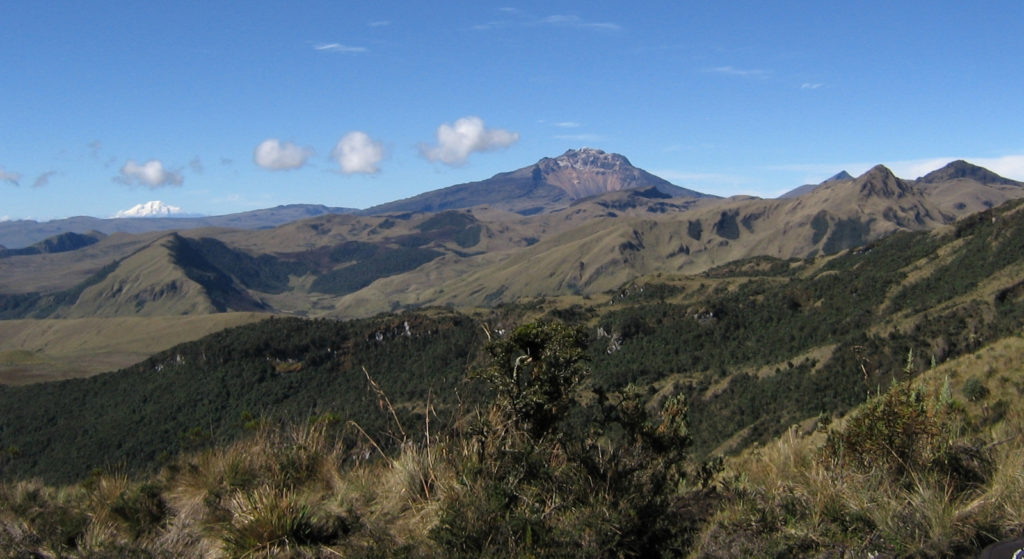 A second source was between 4 and 9 km southeast of Chiles volcano, with a depth of about 9 km. Calculated magnitudes were less than 2.4 on the Richter scale. During this period, no event was reported as having been felt
The COLOMBIAN GEOLOGICAL SERVICE is attentive to the evolution of the volcanic phenomenon and will continue to inform in a timely manner of the observed changes.
Source : SGC
Photo : SGC
New Zealand , White Island :
Pictures on the bubbling crater lake of White Island.
Like something out of a witch's cauldron, the video, tweeted by Geonet, shows an eagle-eye view of the slime-green crater lake bubbling aggressively.
GNS Science volcanologist Brad Scott said steam vents have been drowning in the lake over the last year, with water levels rising about 12m, causing steam-driven activity like bubbling and geysering.
He said the water in the lake is acidic and the light green colour is created from the sulphur combined with various algae and bacteria living in it.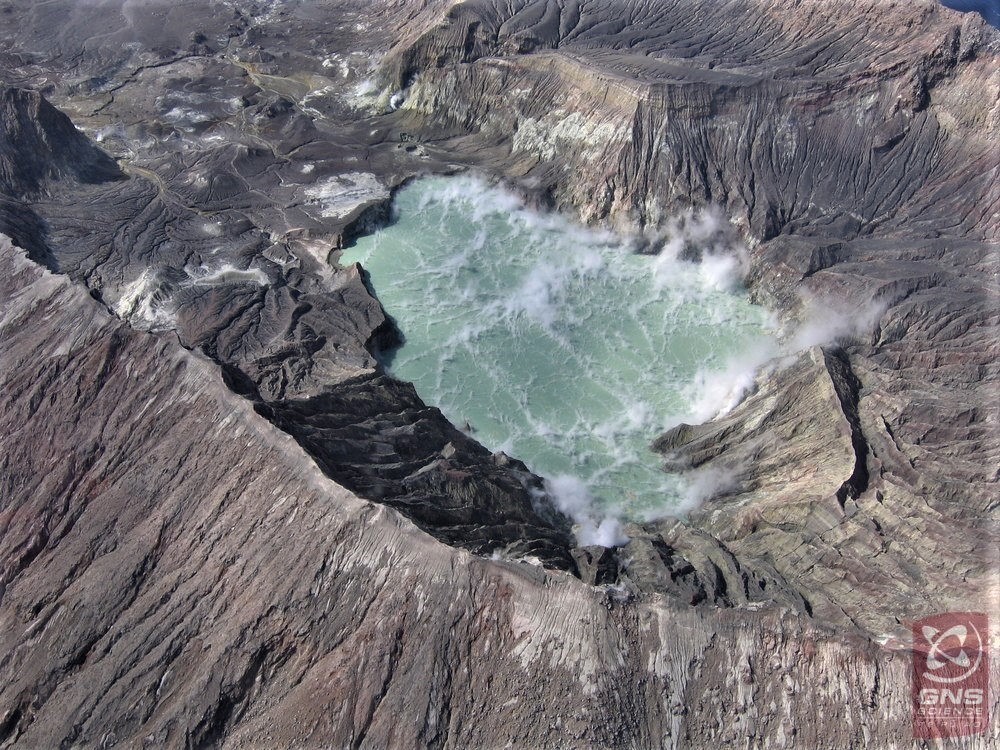 Scott compared the lake to the geothermal hot springs in Rotorua and Taupō, saying the same goes for those in terms of the colour they are – different bacteria, different colour.
Scientists initially noticed little pools forming in the crater in 2016, before a small lake began forming last year, he said.
When asked if there was any risk from the volcanic activity, he replied « no, not really », as the crater lake had been rising for a year now and there were no signs of increased volcano unrest.
In an article on Geonet, Scott said if the water level of the crater lake continued to rise at this rate, it would start to overflow around mid-2019. That could pose a danger to people visiting the island.
According to Geonet, scientists estimate about 75 per cent of the fluid comes from condensing steam vents under the lake. The rest comes from rainfall, which means rain has caused about 2.6m of the water level rise.
Source :nzherald.co.nz
Photo : GNS Science . ( 2018)