October 18 , 2018. EN. Italy / Sicily : Etna , Colombia : Cumbal , Indonesia : Soputan , La Reunion : Piton de la Fournaise , Hawai : Kilauea .
October 18 , 2018.
Italy / Sicily , Etna :
ETNA: WORLD HERITAGE OF HUMANITY. Gio Giusa.
I want to start this weekend in the worst of ways, with an image I made on the road that attracts about 3,000 tourists every day on the southern slope of Etna and who are forced to see this disaster all over the place. summer. My daily life is angry, I am a big fan of this mountain and my country, of the warm, beautiful and spectacular Sicily, but we have a BLACK spot that we can not afford to continue to accept! Someone will misunderstand all this thinking that I am looking for buzz, but those who follow me know very well that it is not my interests. For me « photography is the means by which I share my passion with others », and certainly not this, but the beautiful landscapes that I am happy to show. Others say that by doing this we are doing bad publicity for all of our lands in general. So what should we do? Stay idle and continue to live in this era of advanced technology as if we were a village in a remote region of Africa? … / …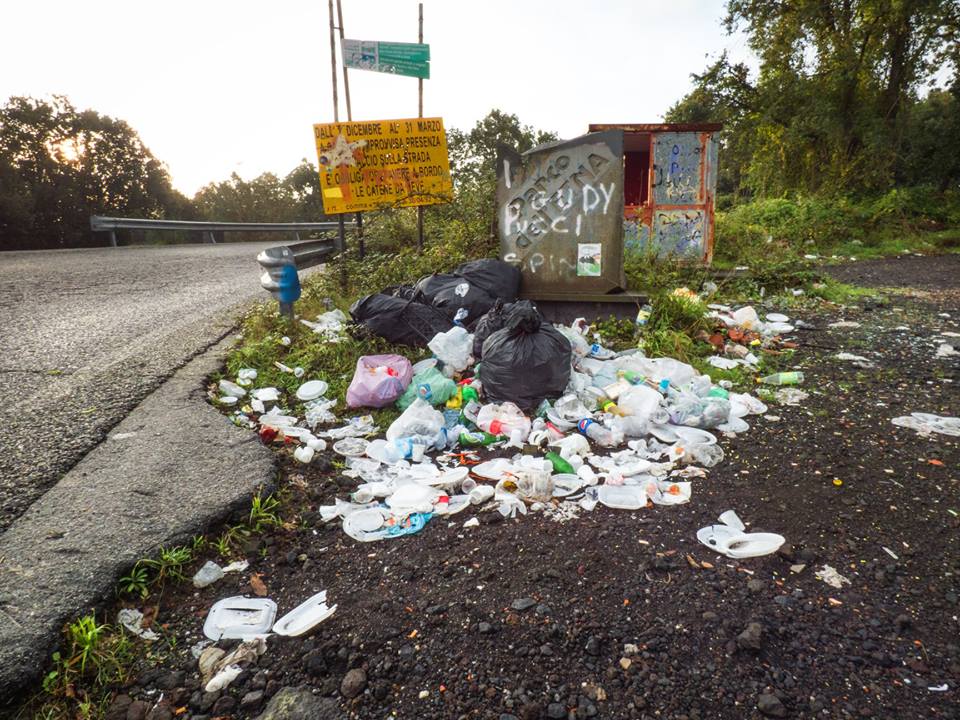 I often find myself on the mountain talking to tourists, they tell me; but do you realize the potential you have in Sicily? You can not afford all this! We have traveled Sicily and just about every municipality has this problem, but the province of Catania is the maximum. Is Catania the problem? It is certainly not tourists who leave these signs of incivility, but the small family of service who will organize on Sunday the beautiful barbecue in the mountains, leaving everything where it is, or even worse, the lazy service that calls not the toll-free number to know when to get out of the broken refrigerator to get it back, but who loads it into the car, goes to those places (often inside the park) and unloads it there, which obviously requires even more time and problems. IGNORING!
LEADERS, MOVE OUT OF THESE COMFORTABLE ARMCHAIRS AND MAKE SOMETHING FOR FUTURE GENERATIONS!
Source : Gio Giusa . https://www.facebook.com/giovanni.giusa/posts/1831339246915798
Colombia , Cumbal :
Weekly bulletin of activity of the volcano Cumbal.
The level of activity of the volcano is maintained at the level: LEVEL YELLOW ■ (III): CHANGES IN THE BEHAVIOR OF THE VOLCANIC ACTIVITY
Following the activity of the CUMBAL VOLCANIC COMPLEX, the COLOMBIAN GEOLOGICAL SERVICE (SGC) reports that:
For the period from 9 to 15 October 2018, seismic activity increased from 257 to 419 earthquakes, mainly events associated with the fracturing of rocks in the volcanic system. In general, the events recorded low energy levels.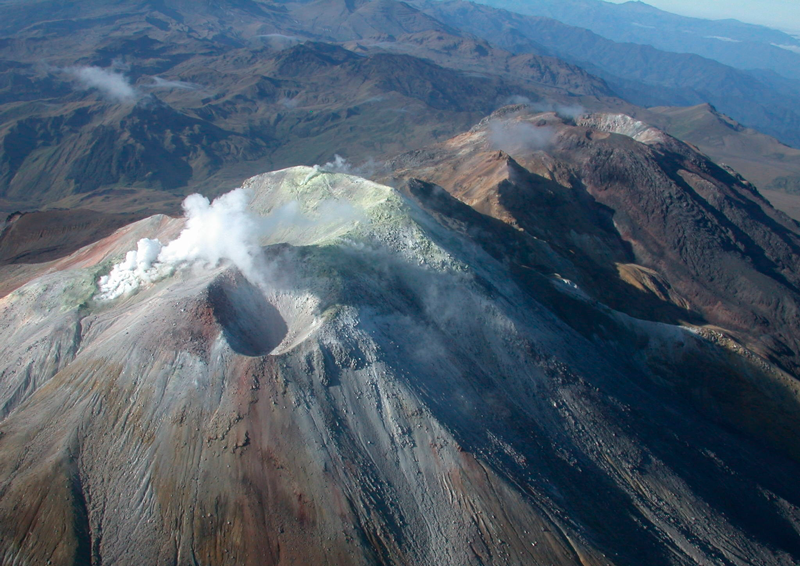 During the week evaluated, it was possible to observe gas emission columns from the El Verde fumarole field (north-east of the Cumbal volcanic complex), white in color, at low pressure. low height and scattered, depending on the action of the winds
The COLOMBIAN GEOLOGICAL SERVICE is attentive to the evolution of the volcanic phenomenon and will continue to inform in a timely manner of the detected changes.
Source : SGC.
Indonesia , Soputan :
1.112°N, 124.737°E
Elevation 1785 m
On 16 October PVMBG issued a VONA noting only white emissions at Soputan; the Aviation Color Code was lowered to Yellow.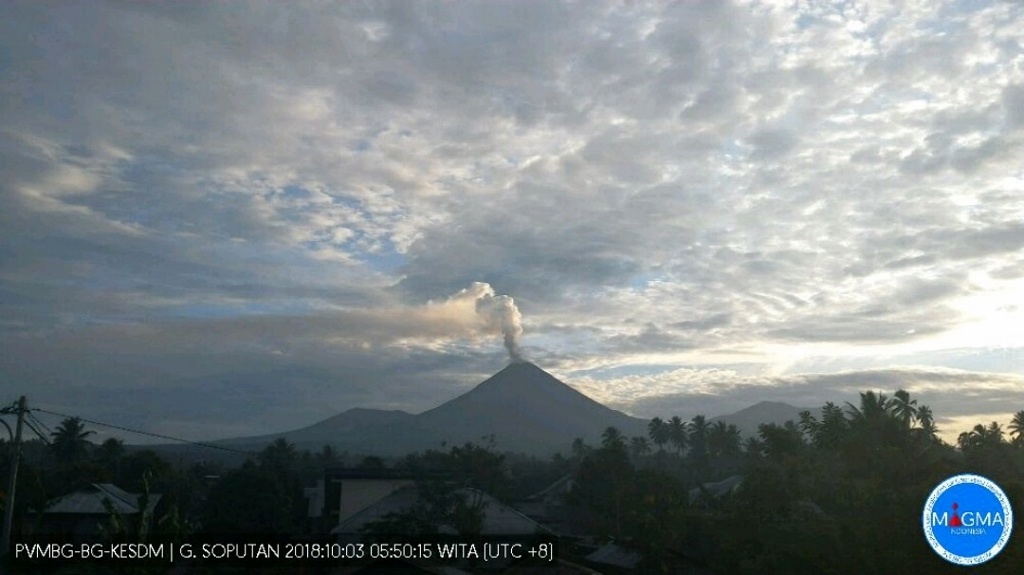 VOLCANO OBSERVATORY NOTICE FOR AVIATION – VONA .
Issued: October 16 , 2018.
Volcano: Soputan (266030)
Current Aviation Colour Code: YELLOW
Previous Aviation Colour Code: orange
Source: Soputan Volcano Observatory
Notice Number: 2018SOP10
Volcano Location: N 01 deg 06 min 52 sec E 124 deg 44 min 13 sec
Area: North Sulawesi, Indonesia
Summit Elevation:
5789 FT (1809 M)
Volcanic Activity Summary:
No sign of volcanic ash. White smoke observed.
Volcanic Cloud Height:
No Ash Cloud Produced.
Other Volcanic Cloud Information:
No volcanic ash observed.
Source : Magma Indonésie , GVP
Photo : Soputan – 03.10.2018 / 5h50 Wita – webcam PVMBG / Magma Indonesia via Bernard Duyck.
La Réunion , Piton de la Fournaise :
Activity Bulletin from Wednesday, October 17, 2018 at 1:30 pm (local time).
The eruption started on September 15th at 4:25 am local time continues. The intensity of the volcanic tremor (indicator of eruptive intensity at the surface) is still very slightly decreasing.
– No volcano-tectonic earthquake was recorded during the day of 16 October or during the current day.
– Inflation (swelling) of the building is always recorded. This inflation reflects the pressurization of a localized source beneath the summit craters (Bory-Dolomieu) at a depth of 1-1.5 km, related to the recharge of the superficial reservoir by deeper magma.
– The surface flow rates could not be estimated today because of lava flows that are too weak at the surface and significant cloud cover on site.
– A field reconnaissance made this morning by an OVPF team from the Piton de Bert, confirms an activity still very limited on the surface, and a strong gaseous plume that covered the entire enclos (Figure ). Resurgences of active flows (several tens of meters long) were visible this morning at the foot of the eruptive cone (eastern sector).
Shooting of the eruptive site on October 17, 2018 at 9:30 am local time. (© OVPF / IPGP)
Alert level: Alert 2-2 – Eruption in the Enclos .
Source : OVPF. http://www.ipgp.fr/fr/ovpf/bulletin-dactivite-mercredi-17-octobre-2018-a-13h30-heure-locale
Hawaï , Kilauea :
19°25'16 » N 155°17'13 » W,
Summit Elevation 4091 ft (1247 m)
Current Volcano Alert Level: ADVISORY
Current Aviation Color Code: YELLOW
Activity Summary:
Kīlauea Volcano is not erupting. Rates of seismicity, deformation, and gas release have not changed significantly over the past week. Deformation signals are consistent with refilling of the middle East Rift Zone.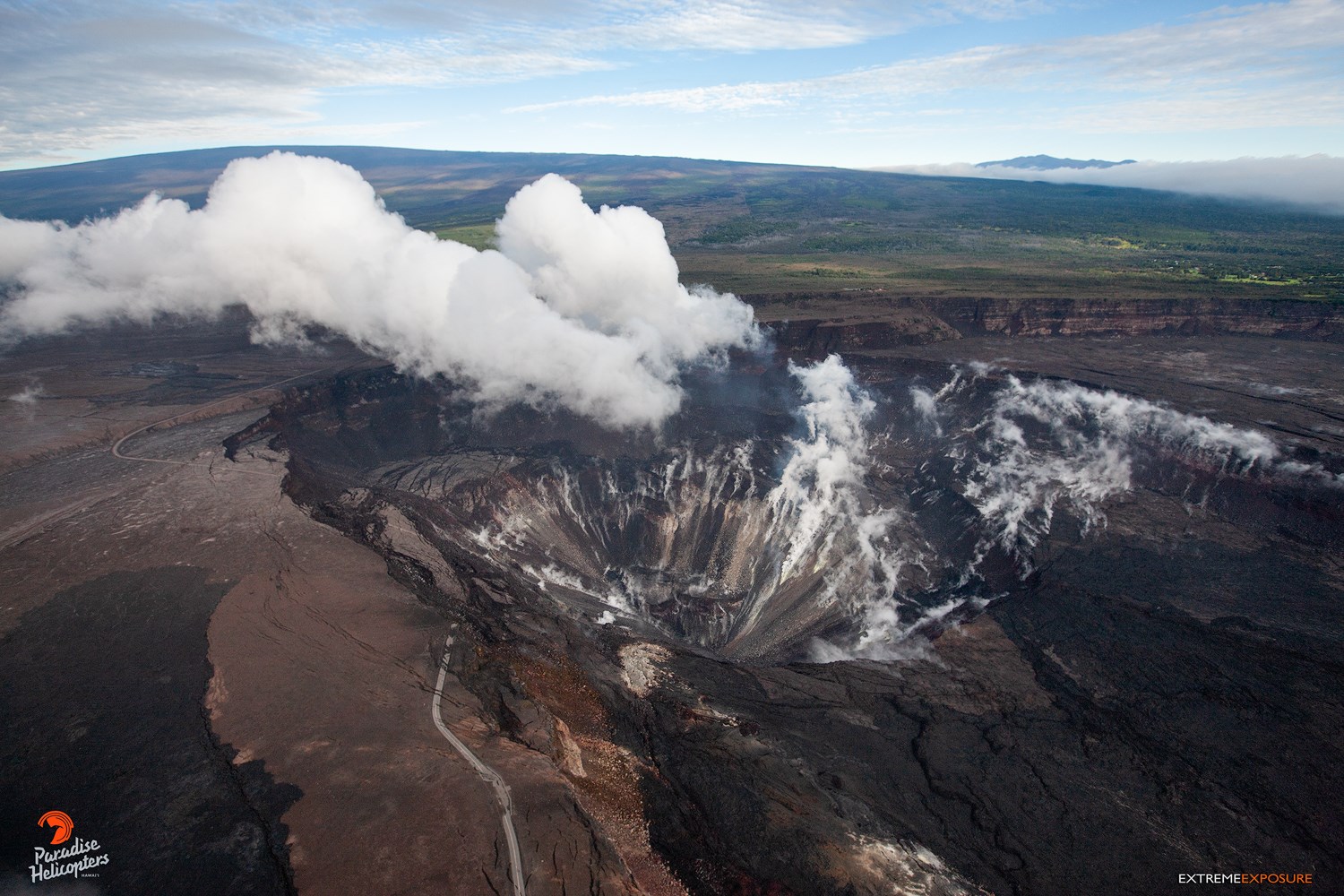 A view of Halema'uma'u, with both Mauna Loa and Mauna Kea in the background. Crater Rim Drive is the road that snakes through the left half of the frame.
Observations:
HVO monitoring during the past week shows low rates of seismicity at the summit and East Rift Zone (ERZ). Earthquakes continue to occur primarily at Kīlauea's summit area and south flank (magnitude-2.5 was the largest) with continued small aftershocks of the magnitude-6.9 quake on May 4, 2018. Seismicity remains low in the lower ERZ.
In the ERZ, tiltmeters near Puʻu ʻŌʻō and farther east continue to record an inflationary trend, consistent with refilling of the middle East Rift Zone. At the summit, tiltmeters have recorded a slight inflationary trend; however, this signal is small and could be due to heavy rainfall.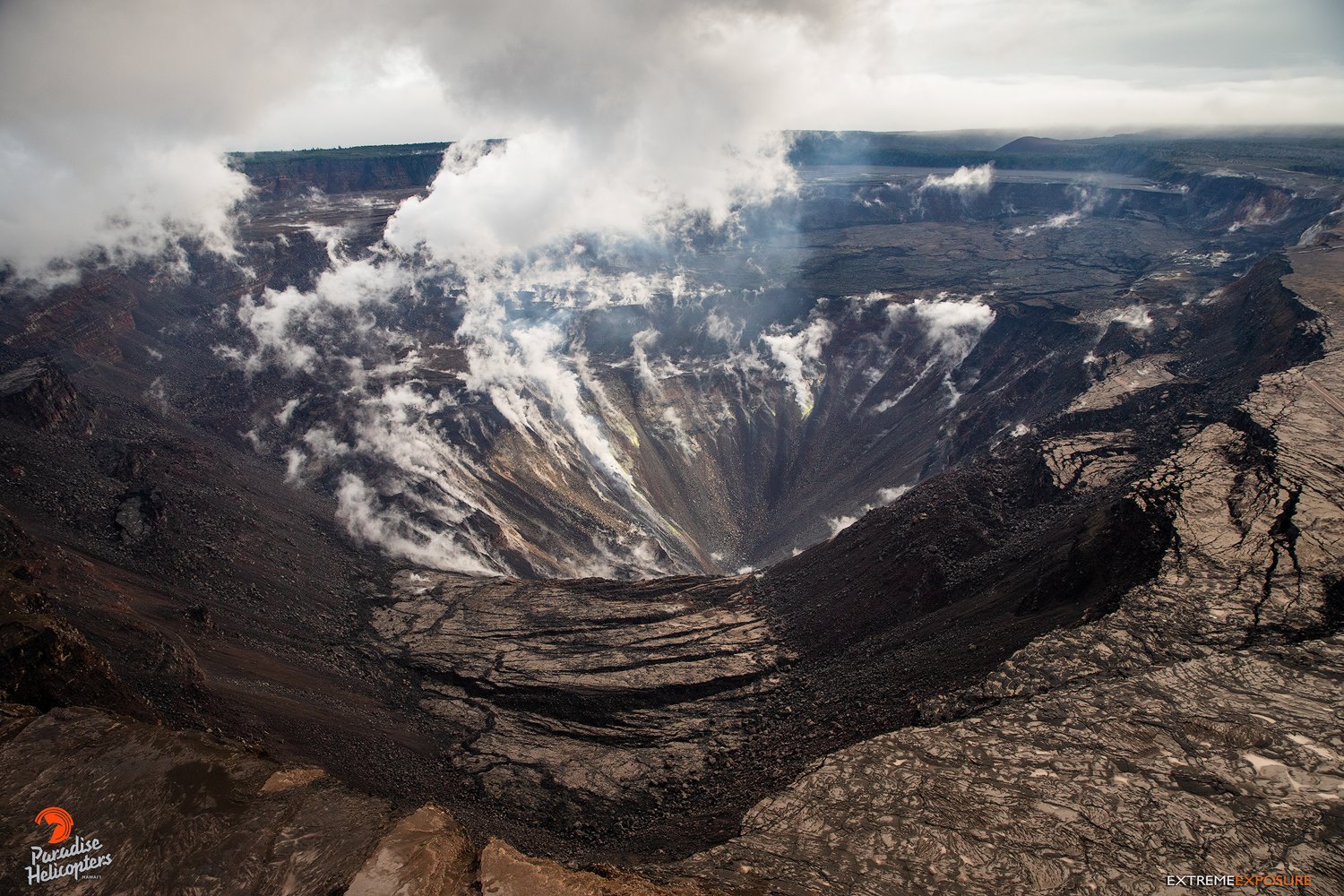 A view of Halema'uma'u Crater, looking northeast. Sections of Crater Rim Drive are visible near the right edge of the image, the collapsed portion sitting roughly 200-300′ below.
Sulfur dioxide gas emissions at the summit, Puʻu ʻŌʻō, and the ERZ remain drastically reduced. The most recent SO2 emission measurements, from late September, show a combined rate of less than 300 tonnes/day. Bad weather has prevented new SO2 emission rate measurements; however, downwind SO2 concentrations suggest that no major changes have occurred over the last week.
Hazards are still present in the lower East Rift Zone (LERZ) eruption area and at the Kīlauea summit. Residents and visitors near recently active fissures and lava flows should stay informed, heed Hawaii County Civil Defense and National Park warnings, and be prepared, if necessary, to self-evacuate in the unlikely event of renewed activity. Please note that Hawaii County maintains a closure of the entire flow field and the vents and prohibits access to the area unless authorized through Civil Defense.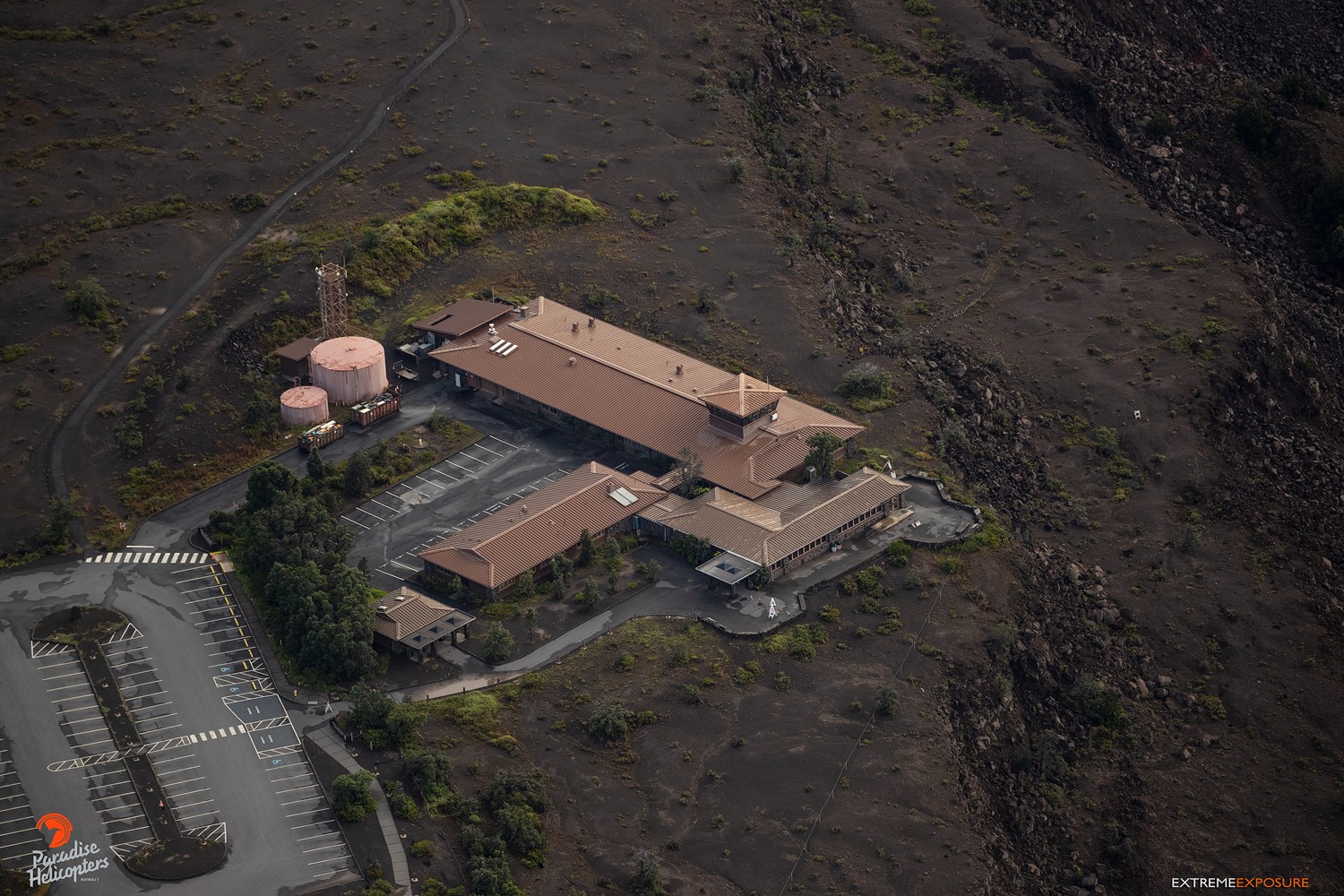 The now abandoned Jaggar Museum and overlook.
The Hawaiian Volcano Observatory (HVO) continues to closely monitor Kīlauea's seismicity, deformation, and gas emissions for any sign of reactivation, and maintains visual surveillance of the summit and the East Rift Zone. HVO will continue to issue a weekly update (every Tuesday) and additional messages as warranted by changing activity.
Source : HVO
Photos : Bruce Omori / Extreme Exposure Fine Art Gallery