April 16, 2022. EN . Alaska : Edgecumbe , Chile : Villarica , Kamchatka : Sheveluch , Hawaii : Big Island , Mexico : Popocatepetl .
April 16 , 2022.
Alaska , Edgecumbe :
57°3'3″ N 135°45'40 » W,
Summit Elevation 3202 ft (976 m)
Current Volcano Alert Level: UNASSIGNED
Current Aviation Color Code: UNASSIGNED
A swarm of earthquakes that began about 2:00 AM AKDT on April 11 has been detected beneath Kruzof Island near Mount Edgecumbe volcano. Several hundred earthquakes have been detected since April 11, and the largest was a Magnitude 2.8 on April 11. This earthquake activity has been slowly declining since early on April 12, although as many as several small earthquakes continue to be detected every hour. The magnitudes of individual earthquakes in this continuing activity have ranged from about M1.7 down to M0.5 or smaller. The current earthquakes are located in the shallow crust (less than 10 km depth), though their exact locations and depths are hard to pinpoint since there is no local seismic network on the island. Preliminary analysis of earthquake activity over the past several years suggests that the current swarm may have been preceded by a slow increase in activity beginning as early as 2020. This earthquake activity is unusual for Mount Edgecumbe and the cause is currently unknown. It may reflect volcanic activity, tectonic processes, or a combination of sources.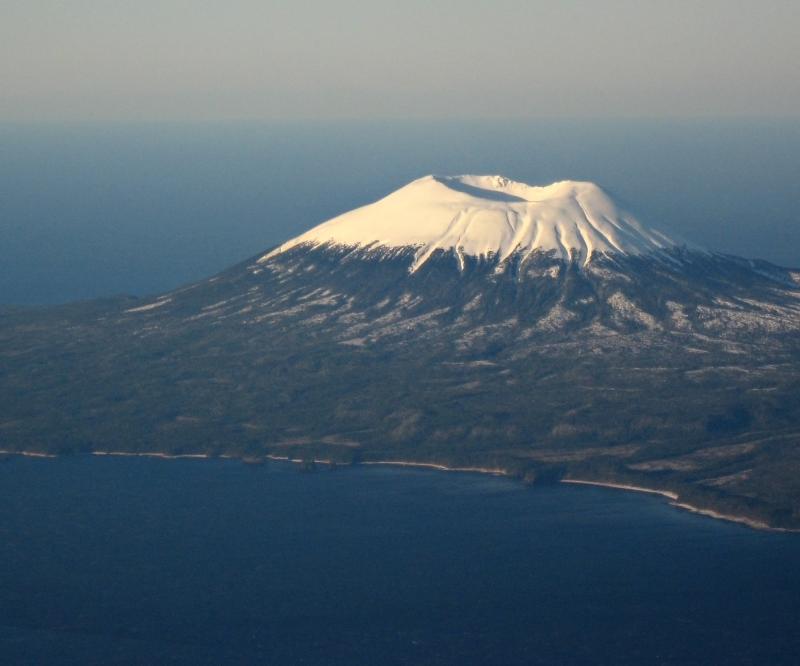 AVO does not have local seismic instruments in the area, and the closest station is in Sitka, about 15 miles (25 km) to the east of the volcano. Because the volcano is not instrumented, it currently has an Aviation Color Code and Volcano Alert Level (for ground hazards) of UNASSIGNED/UNASSIGNED. AVO has brought additional distant seismic stations from the regional network into its analysis system to better monitor the seismic swarm and is conducting additional retrospective analyses of seismic data. Satellite images from high resolution sensors and web camera images (from the FAA) show no surficial changes related to volcanic unrest. Analysis of Synthetic Aperture Radar (SAR) data is underway to evaluate if topographic changes have occurred over the past several years.
The prognosis for Mount Edgecumbe is unclear at present. Many volcanoes experience earthquake swarms that taper off without an eruption. If renewed volcanic activity were to occur, we would expect that many more earthquakes would be observed. AVO has no plans to supplement the regional seismic network at this point but has this capability should conditions warrant.
Source : AVO.
Photo : Marriott, Duncan
Chile , Villarica :
SEISMOLOGY
Seismic activity during the month was characterized by:
The recording of a continuous tremor signal with energy values ​​evaluated from the RSAM between 0.3 and 0.5 um/s, values ​​considered to be low. This tremor signal had dominant frequencies of 1.1 Hz.
The recording of 3 VT type seismic events, associated with rock fracturing (Volcano-Tectonics). The most energetic earthquake presented a local magnitude value (ML) equal to 1.8, located 4.4 km east-southeast of the volcanic edifice, at a depth of 4.0 km from the crater.
The recording of 4774 LP type seismic events, associated with fluid dynamics within the volcanic system (Long Period type). In general, events had Reduced Displacement (RD) values ​​of less than 10 cm2. The size of the largest earthquake estimated from the reduced displacement parameter (RD) was equal to 24 cm2.
The recording of 19 TR-type seismic events, associated with sustained fluid dynamics over time within the volcanic system (Tremor). The size of the largest earthquake assessed from the reduced displacement parameter (RD) was equal to 13 cm2.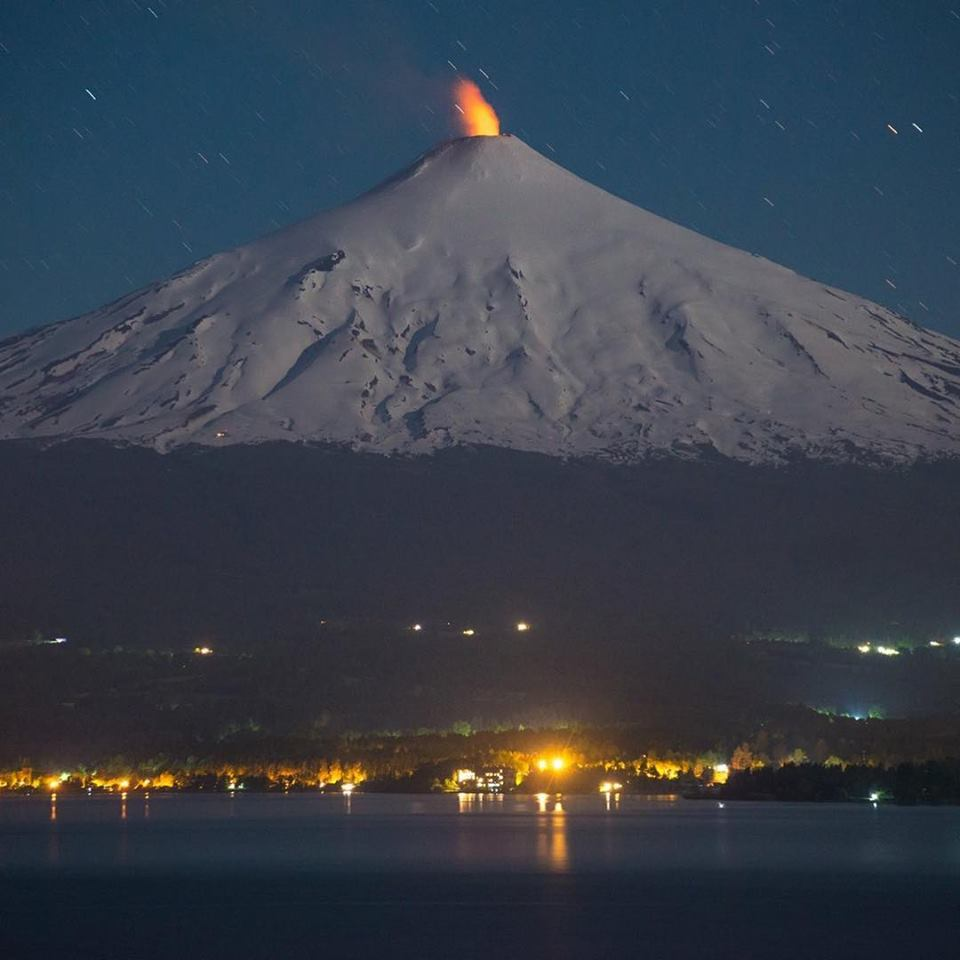 INFRASOUND
When weather conditions permitted, a continuous infrasonic signal was recorded, which generally showed values ​​below 2 Pascals reduced to 1 km (Pa red. 1/km).
FLUID GEOCHEMISTRY
Data on sulfur dioxide (SO2) emissions obtained through optical differential absorption spectroscopy (DOAS) equipment, corresponding to the Los Nevados and Tralco stations, installed 10 km to the East-North-East ( ENE) and 6 km east-southeast (ESE) of the active crater, respectively, showed an average value of 391 ± 107 t / d, with a maximum daily value of 826 t / d on March 20. According to the activity of the volcano, these values ​​remain at levels considered low.
No anomalies were reported in the emissions of sulfur dioxide (SO2) into the atmosphere in the area near the volcano, according to data published by the Tropospheric Monitoring Instrument (TROPOMI) and the Sulfur Dioxide Group of the Ozone Monitoring Instrument (OMI) (http://so2.gsfc.nasa.gov/).
SATELLITE THERMAL ANOMALIES
During the period, no thermal alert was recorded in the area associated with the volcano, according to data processed by the Medium Infrared Observation of Volcanic Activity (MIROVA) (http://www.mirovaweb.it/ ). Through the analysis of Sentinel 2L2A satellite images, 6 radiance anomalies were detected in the area associated with the crater, on March 4, 9, 11, 16, 24 and 31, with a maximum anomalous radiance zone of 2700 m2, March 5 and 13.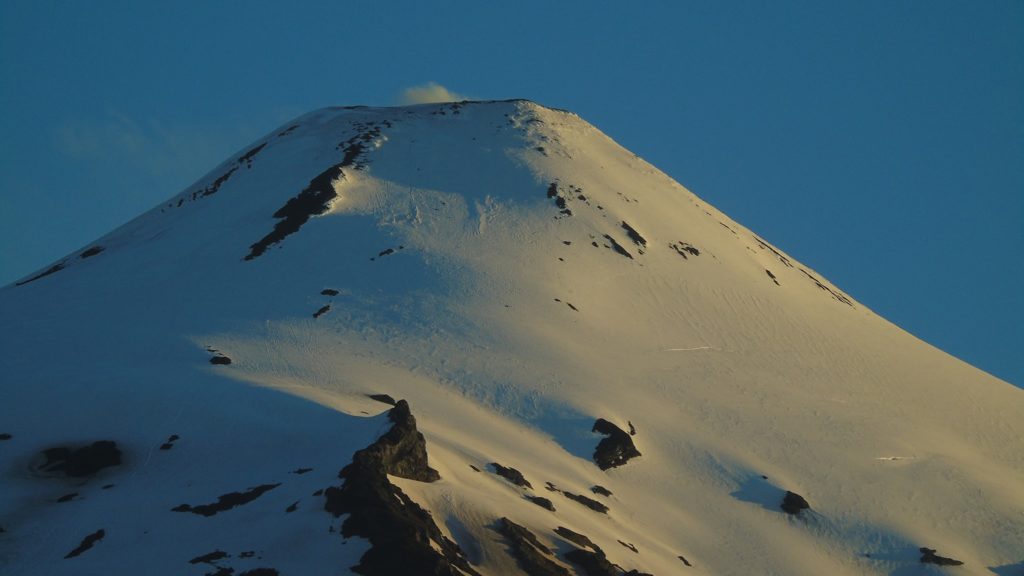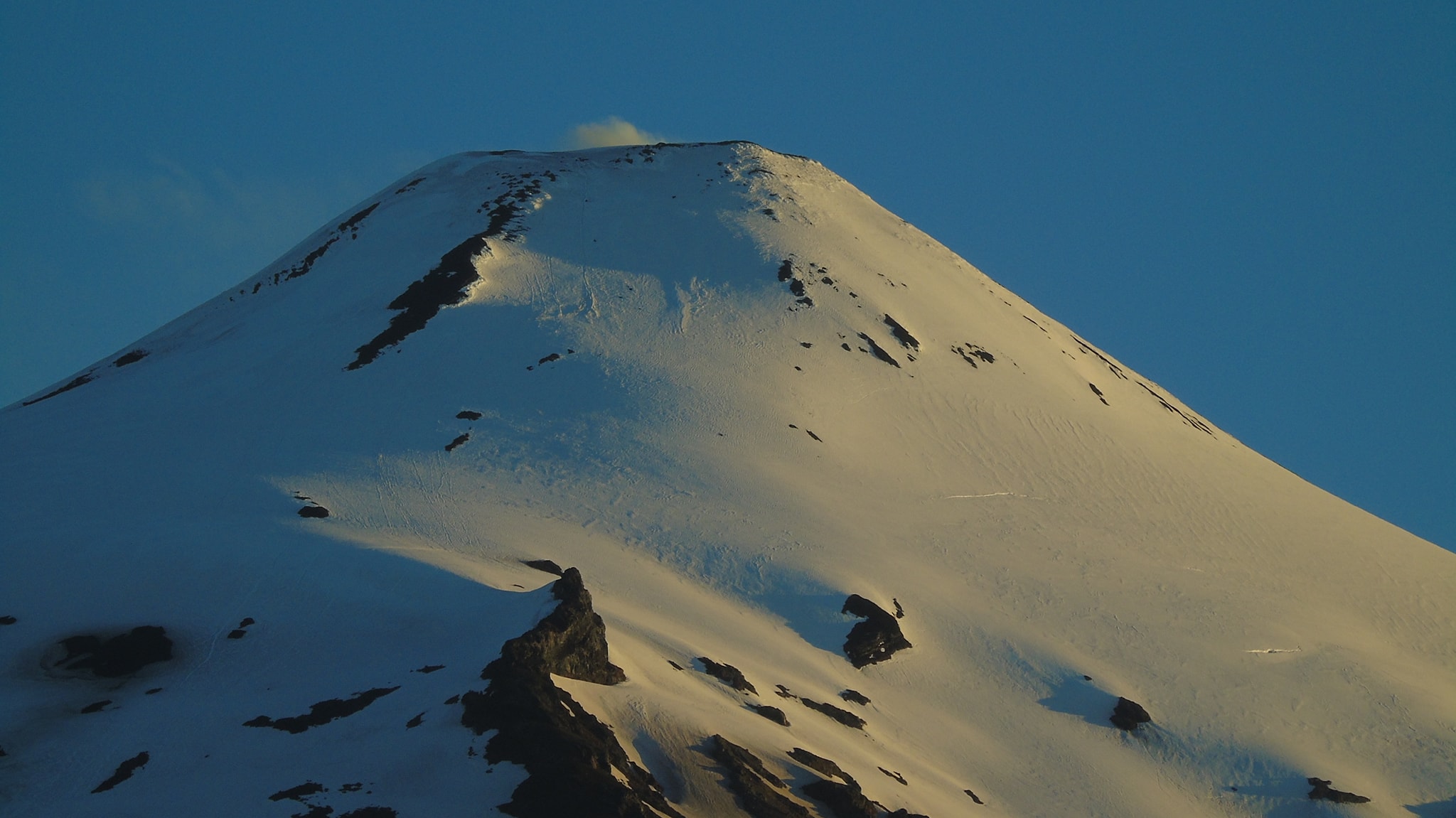 GEODESY
According to data provided by 4 GNSS stations installed around the volcanic edifice, a stabilization of the position of the monitoring stations was observed, not showing significant signs of deformation indicating changes in the dynamics inside the volcano.
SURVEILLANCE CAMERAS
The images provided by the fixed camera installed near the volcano recorded normal degassing, with a maximum column height of 900 meters, on March 11.
Activity remained at levels considered low, suggesting stability of the volcanic system. The volcanic technical alert is maintained at: GREEN TECHNICAL ALERT: Active volcano with stable behavior – There is no immediate risk
Note: A danger zone is suggested within 100m of the crater rim.
Source : Sernageomin.
Photos : Martini Fotografía, Franco Vera.
Kamchatka , Sheveluch :
VOLCANO OBSERVATORY NOTICE FOR AVIATION (VONA)
Issued: April 16 , 2022
Volcano: Sheveluch (CAVW #300270)
Current aviation colour code: ORANGE
Previous aviation colour code: orange
Source: KVERT
Notice Number: 2022-24
Volcano Location: N 56 deg 38 min E 161 deg 18 min
Area: Kamchatka, Russia
Summit Elevation: 3283 m (10768.24 ft), the dome elevation ~2500 m (8200 ft)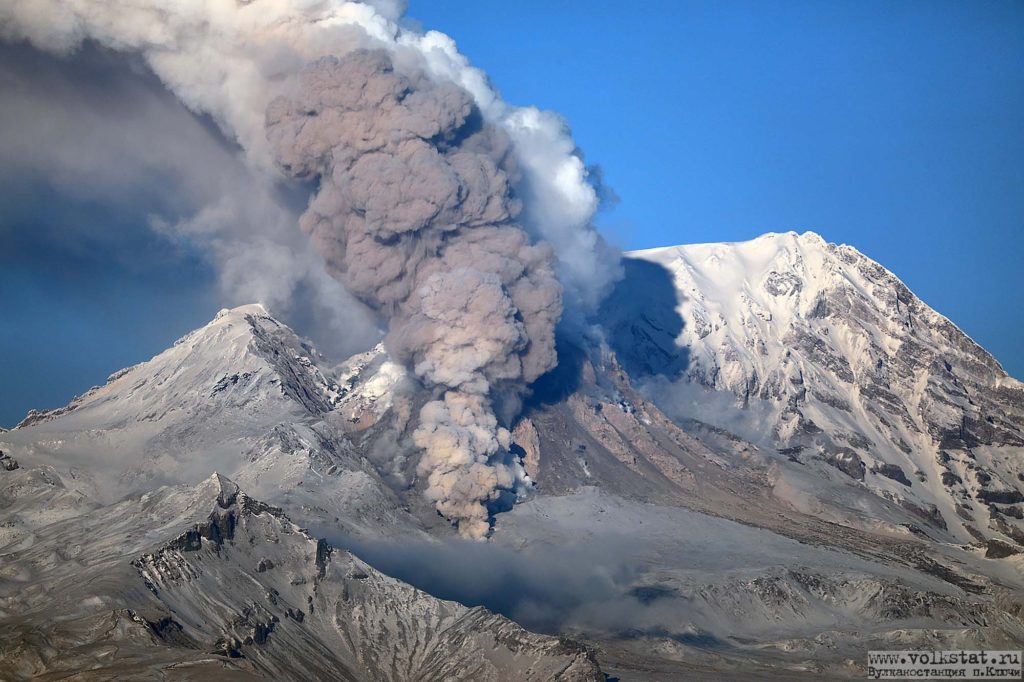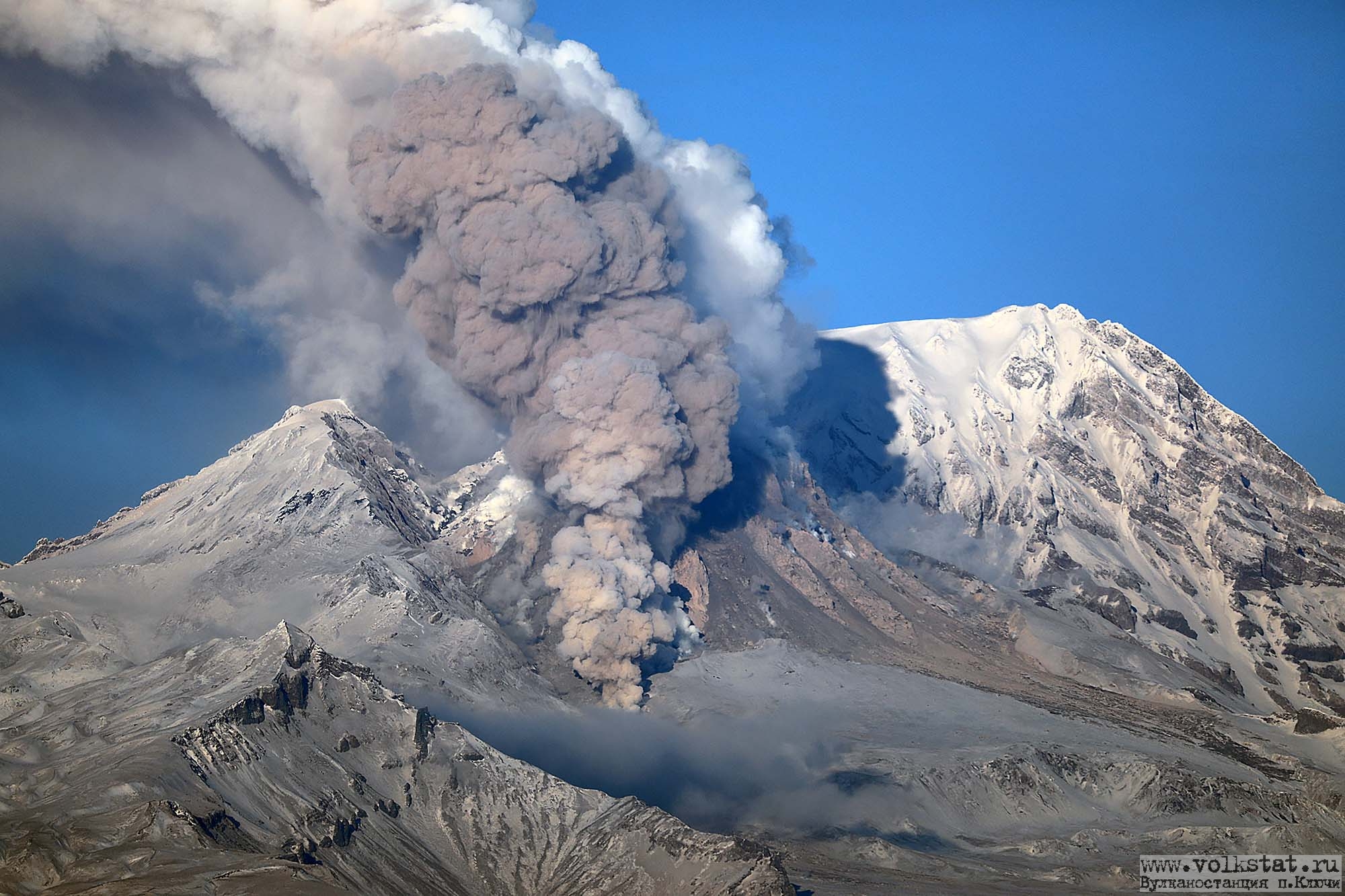 Volcanic Activity Summary:
A growth of the lava dome continues, a strong fumarolic activity, and an incandescence of the lava dome, and hot avalanches accompanies this process. Satellite data by KVERT showed explosions sent ash up to 5 km a.s.l., ash cloud is extending to the east-south-east of the volcano.
The extrusive eruption of the volcano continues. Ash explosions up to 10-15 km (32,800-49,200 ft) a.s.l. could occur at any time. Ongoing activity could affect international and low-flying aircraft.
Volcanic cloud height:
4500-5000 m (14760-16400 ft) AMSL Time and method of ash plume/cloud height determination: 20220416/0340Z – Himawari-8
Other volcanic cloud information:
Distance of ash plume/cloud of the volcano: 45 km (28 mi)
Direction of drift of ash plume/cloud of the volcano: ESE / azimuth 107 deg
Time and method of ash plume/cloud determination: 20220416/0340Z – Himawari-8
Start time of explosion and how determined: 20220416/0220Z – Satellite data
Source : Kvert.
Photo : Volkstat ru.
Hawaii , Big Island :
Two earthquakes shook Hawaiʻi island just before 2 a.m. on Friday.
The U.S. Geological Survey's Hawaiian Volcano Observatory recorded a magnitude-4.3 earthquake at 1:58 a.m., followed eight seconds later by a magnitude-4.6 earthquake.
Scientists say the magnitude-4.3 earthquake was centered about 5 miles northeast of Pāhala, at a depth of 21 miles. The magnitude-4.6 earthquake was centered about 6 miles northeast of Pāhala, at a depth of 20 miles, slightly to the southeast of the first earthquake.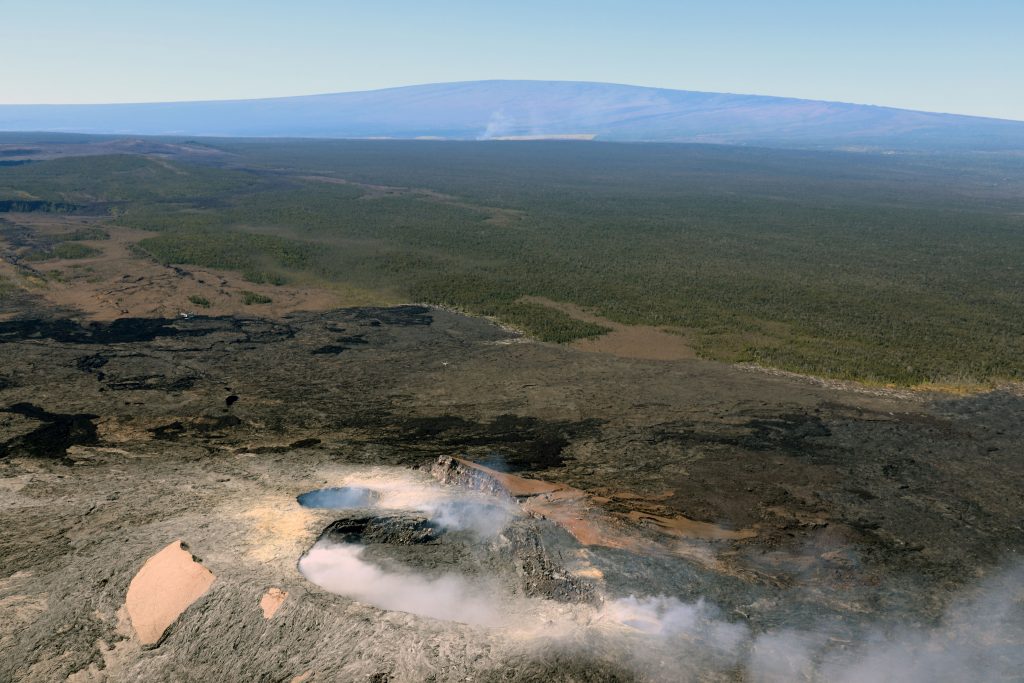 The earthquakes were not strong enough to generate a tsunami.
"Strong shaking, with maximum Intensity of VI on the Modified Mercalli Intensity Scale, has been reported across parts of the Island of Hawai'i," the geologists said. "At that intensity, significant damage to buildings or structures is not expected."
The earthquakes had no apparent effect on Kīlauea or Mauna Loa volcanoes.
"This earthquake appears to be part of the seismic swarm under the Pāhala area, which has been going on since 2019," said HVO geophysicist, Jefferson Chang. "Earthquakes in this region have been observed at least as far back as the 1960s. We see no detectable changes in activity at the summits or along the rift zones of Mauna Loa or Kīlauea as a result of these earthquakes. Please be advised that aftershocks are occurring and some of these may be large enough to be felt."
Source : Big Island Video News.
Photo : HVO.
Mexico , Popocatepetl :
April 15, 11:00 a.m. (April 15, 4:00 p.m. GMT)
During the last 24 hours, according to the monitoring systems of the Popocatépetl volcano, 8 low intensity exhalations have been detected, accompanied by water vapor, gas and sometimes slight amounts of ash. In addition, 177 minutes of low amplitude tremor and a volcano-tectonic earthquake with a calculated magnitude of 1.6 were recorded at 9:04 p.m. local time.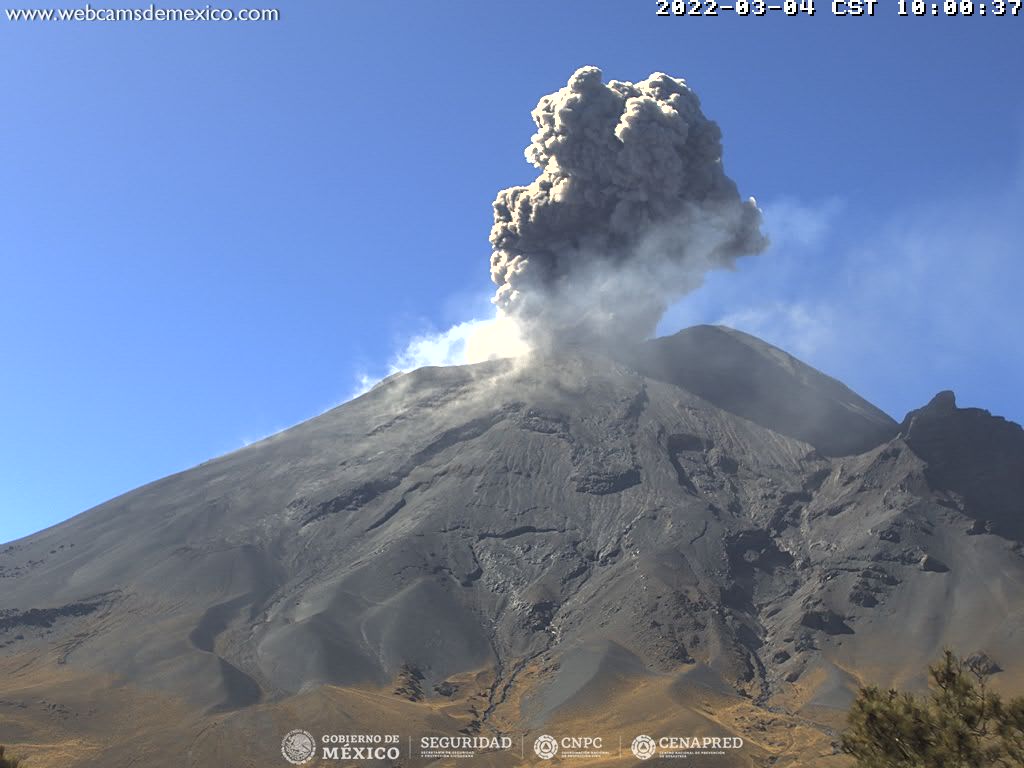 During this morning, the volcano was observed with an emission of water vapor and gas, which is directed towards the North-East and at the time of this report, the hydrometeorological conditions prevent the view of the volcano.
CENAPRED urges NOT TO APPROACH the volcano and especially the crater, due to the danger of falling ballistic fragments and, in case of heavy rains, to stay away from the bottom of the ravines due to the danger of mudslides and of debris.
The Popocatépetl volcanic alert traffic light is in YELLOW PHASE 2.
Source : Cenapred .
Photo : Archive Cenapred.