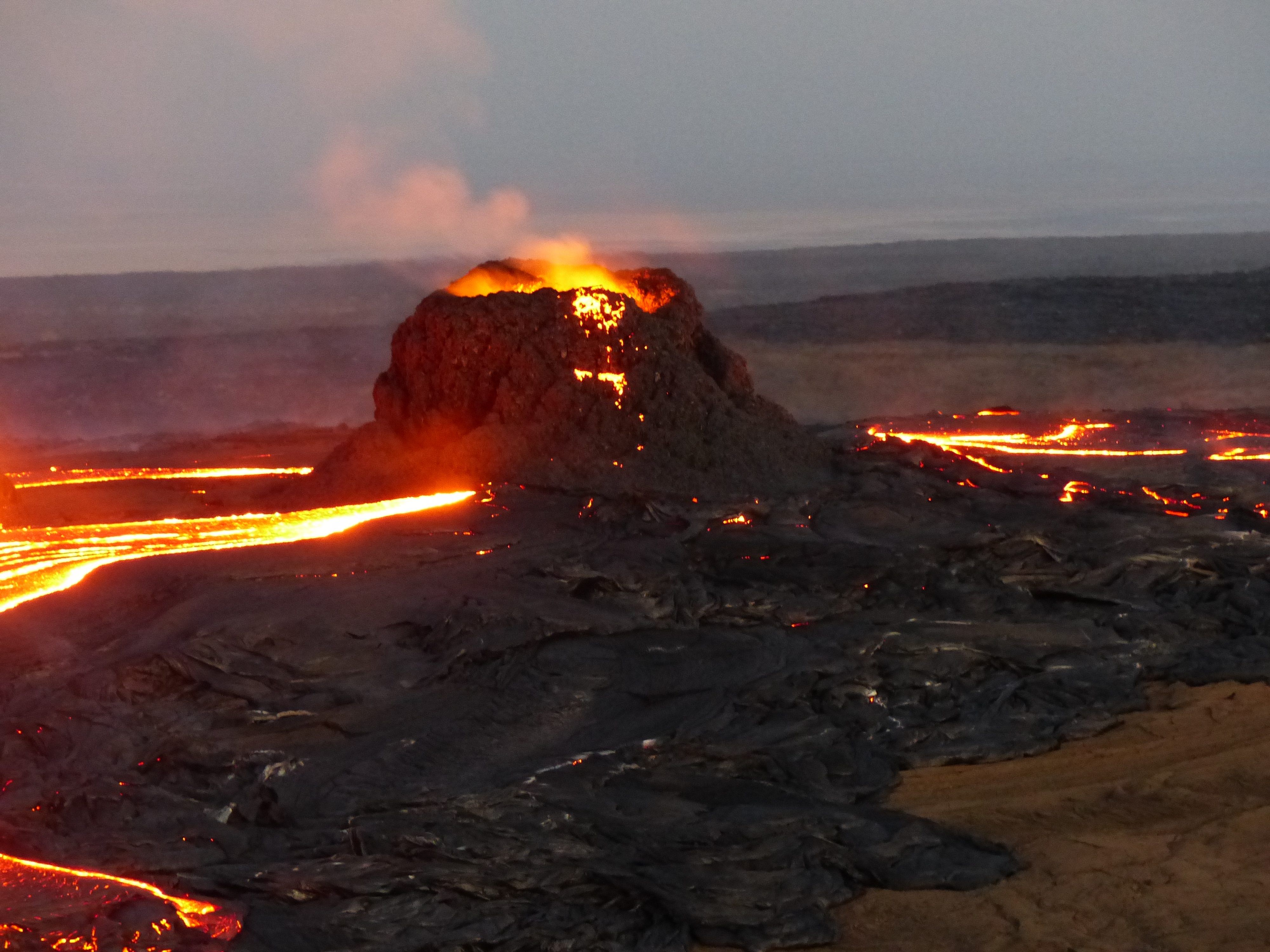 August 21, 2019. EN. Italy / Sicily: Etna , Ethiopia : Erta Ale , Kamchatka : Karymsky , Colombia : Chiles / Cerro Negro , Guatemala : Fuego .
August 21 , 2019.
Italy / Sicily , Etna :
COMMUNICATION on the volcanic activity of August 20, 2019 at 11:04:00 (UTC) – ETNA.
Osservatorio Etneo, of the National Institute of Geophysics and Volcanology, announced that the monitoring networks had recorded an emission of ash at 13:04 (11:04 UTC).
In particular, there is an emission of ash from the Northeast Crater (NEC) visible from the surveillance cameras of the INGV and the observatories on the ground. The phenomenon could be related to the collapse of the walls inside the NEC. Similar, but less intense and continuous demonstrations have already taken place the previous days.
The emission of ash occurs intermittently: at times, it pulsates and is abundant, coloring the gaseous plume emitted by the volcano in dark brown. At other times, the ashes are emitted by the NEC in smaller but fairly continuous amounts, diluting rapidly in the gaseous plume.
There are no particular signs of anomaly on the seismic plot. The amplitudes of volcanic tremor are stationary, with slight fluctuations around low values.
At present, inclinometer and GPS (HF) networks do not record significant changes from the data observed in recent days.
Etna: emissioni di cenere dal Cratere di Nord-Est, 20-08-2019

COMUNICATO DI ATTIVITA' VULCANICA del 2019-08-20 08:33:56(UTC) – ETNA.L'Istituto Nazionale di Geofisica e Vulcanologia, Osservatorio Etneo, comunica che le reti di monitoraggio hanno registrato alle ore 10:33 (08:33 UTC), una emissione di cenere.In particolare si osserva una emissione di cenere dal Cratere di NE (NEC), visibile dalle telecamere di sorveglianza. Il fenomeno sembra correlato a crolli delle pareti interne al NEC.L'emissione di cenere avviene ad intermittenza: a tratti è pulsante ed abbondante, colorando di marrone scuro il pennacchio gassoso emesso dal vulcano. In altri momenti, la cenere è emessa dal NEC in minori quantità ma in modo abbastanza continuo, diluendosi rapidamente nel pennacchio gassoso. Il materiale ricade prevalentemente in prossimità dell'area craterica sommitale. Il materiale a granulometria minore tende a galleggiare nel pennacchio, distribuendosi sopra i quadranti occidentali dell'Etna ad un'altezza stimata di circa 4000 metri di quota sul livello del mare.Per quanto riguarda l'ampiezza media del tremore vulcanico, essa mostra deboli fluttuazioni intorno a valori bassi.

Publiée par INGVvulcani sur Mardi 20 août 2019
ETNA Weekly Bulletin 12 August 2019 – 18 August 2019 (date of issue 20 August 2019).
During the week, the Etna activity was monitored using the surveillance cameras of the INGV – Catania section and inspections carried out in the summit area by INGV staff. During the period under review, Etna activity was characterized by an ordinary degassing activity of the summit craters, associated with ash emissions from the Northeast crater, with varying intensity and frequency.
The survey was conducted on August 16 between 10 am and 2 pm local time, by Daniele Andronico and Francesco Ciancitto, who observed at the Southeast Crater / New Southeast Crater a persistent and persistent fumarole activity of the summit region. The crater of Bocca Nuova showed continuous degassing of the western zone (BN-1) where prolonged degassing could be heard, interrupted every 10 to 15 minutes by an explosion apparently not associated with an expulsion or a fall of products, the BN-2. conversely, having a mild degassing. As for the crater of Voragine, there were three craters, two without degassing (the lowest formed during the activity of June) and one with a light degassing (the one formed on August 7, 2016).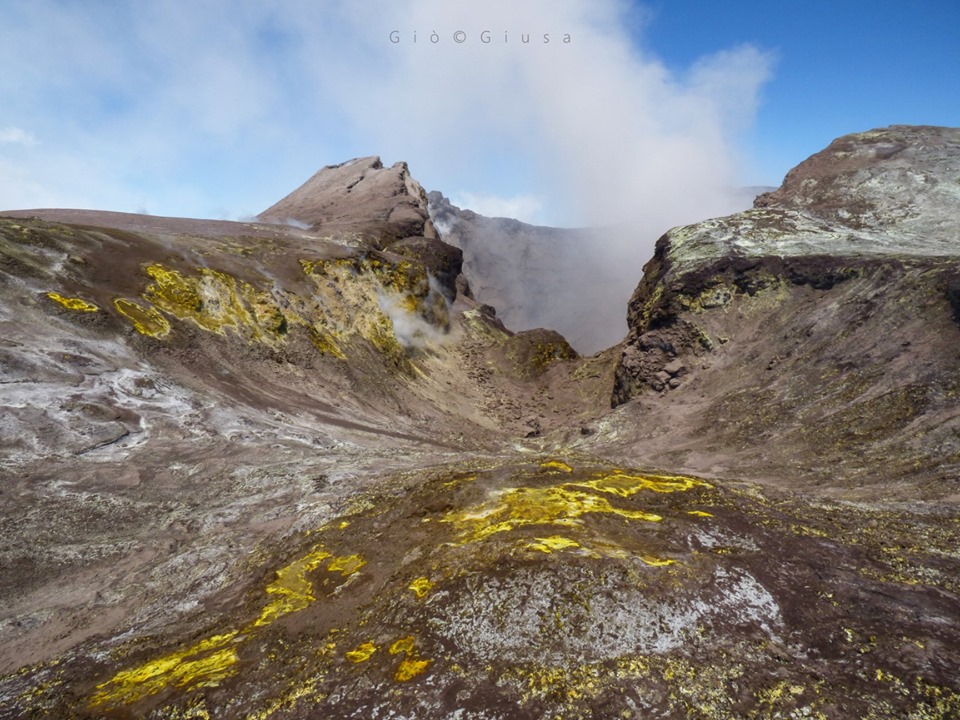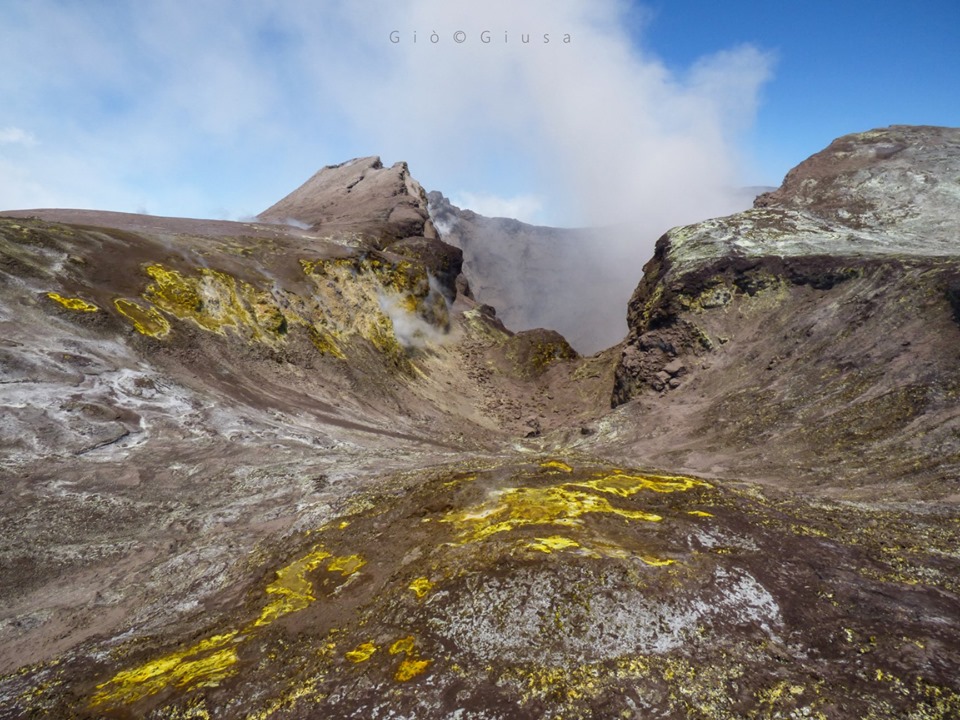 Face to face with the Northeast Crater
Finally, the Southeast Crater degassed steadily with an associated discontinuous ash emission. These emissions form modest clouds of ash usually pulsating. Sometimes ashes are emitted in more sustained and continuous amounts for periods of up to 10-15 minutes. The ash cloud that is formed grows as soon as it leaves the crater or rises up to a hundred meters remaining confined to the area of ​​the summit. The thermal studies carried out recorded high temperatures along a fracture of about 800 ° C, present along the northern edge of Voragine, with an extension of about ten meters.
Seismicity:
Seismic activity was weak during the week of 12/08. No recorded event had a magnitude 2 or higher.
Volcanic tremor:
The amplitude of the tremor was weak. The sources are located under the Southeast crater at a depth of about 3000 m below sea level. …/…
Source : INGV Vulcani.
Read the article : file:///C:/Users/Utilisateur/AppData/Local/Packages/Microsoft.MicrosoftEdge_8wekyb3d8bbwe/TempState/Downloads/Bollettinoetna20190820%20(2).pdf
Vidéo : INGV.
Photo : Gio Giusa .
Ethiopia , Erta Ale :
Erta Ale (Ethiopia) volcano news:
Erta Ale volcano (Danakil, Ethiopia) activity update: new surface lava flows 3-4 km SE from summit caldera
Monday Aug 19, 2019 11:07 AM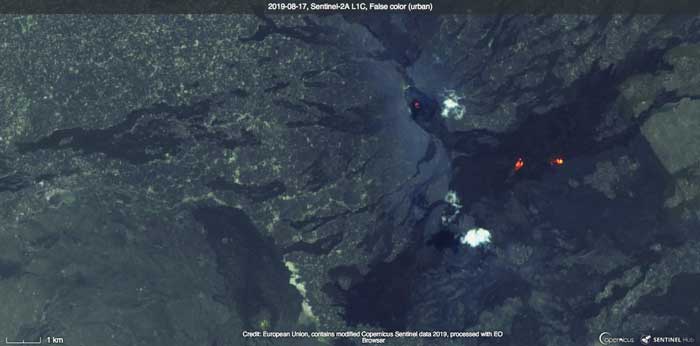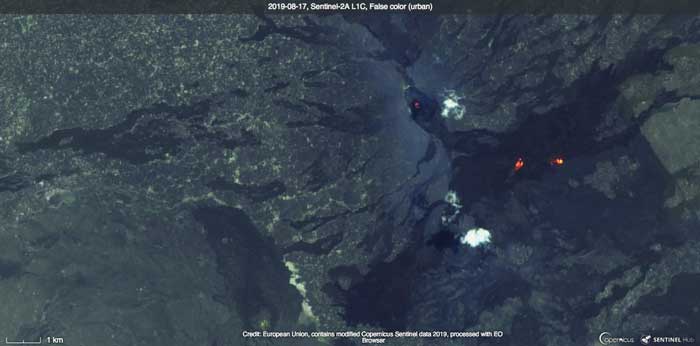 Satellite image of Erta Ale from 17 Aug 2019 showing the areas of new lava flows at the surface (image: Sentinal-hub)

A series of relatively large lava surface flows is visible on recent satellite images, in locations between 3-4 km SE from the summit caldera.
Local reporters mentioned « new fissures », but more likely, these are new lava breakout flows from otherwise roofed-over channeled (underground) flows from the still ongoing fissure eruption that had started in early 2017.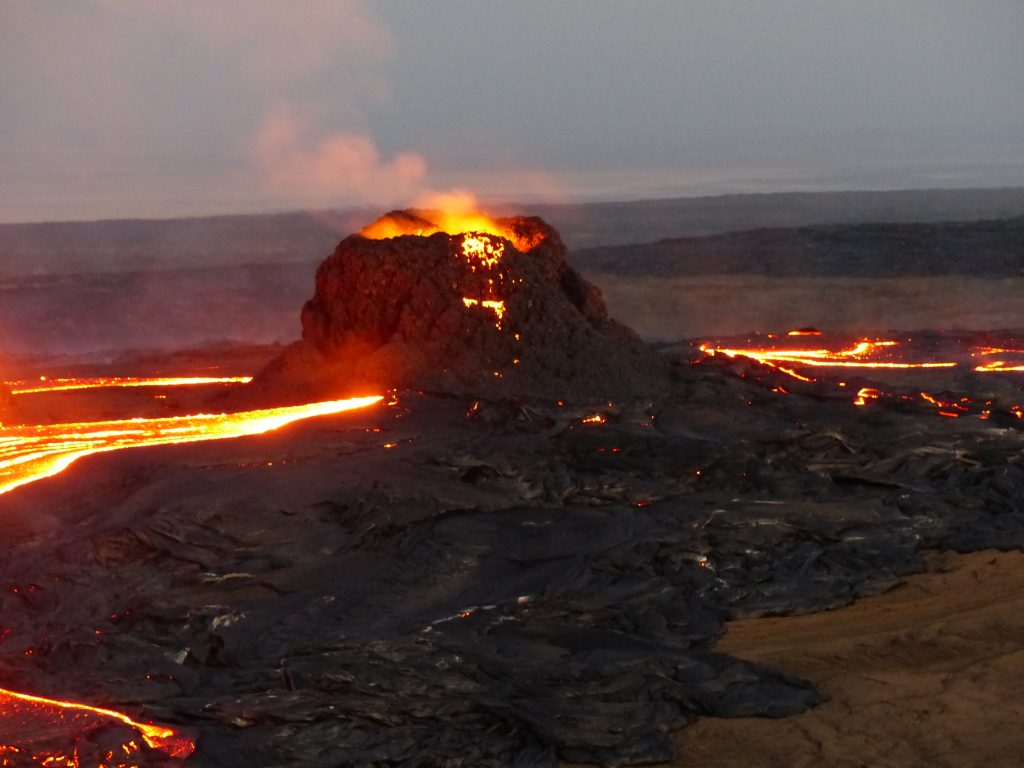 As well, the lava lake appears to be still present (although still deep) in the southern pit crater of the summit caldera.
Source : Volcanodiscovery .
Photo : Sentinal hub , Sylvie Malassenet .
Kamchatka , Karymsky:
VOLCANO OBSERVATORY NOTICE FOR AVIATION (VONA).
Issued: August 21 , 2019 .
Volcano:Karymsky (CAVW #300130)
Current aviation colour code:ORANGE
Previous aviation colour code:orange
Source:KVERT
Notice Number:2019-120
Volcano Location:N 54 deg 2 min E 159 deg 26 min
Area:Kamchatka, Russia
Summit Elevation:4874.08 ft (1486 m)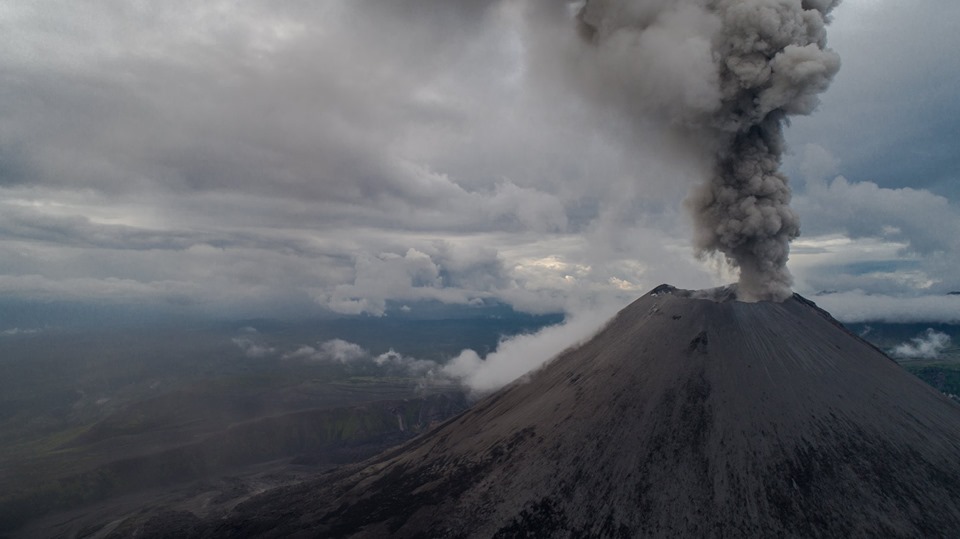 Volcanic Activity Summary:
Satellite data shows an ash plume is extending about 52 km to the south-west from volcano.
A moderate eruptive activity of the volcano continues. Ash explosions up to 13,100-19,700 ft (4-6 km) a.s.l. could occur at any time. Ongoing activity could affect low-flying aircrafts.
Volcanic cloud height:
6560-8200 ft (2000-2500 m) AMSL Time and method of ash plume/cloud height determination: 20190821/0200Z – MODIS AQUA (31m32)
Other volcanic cloud information:
Distance of ash plume/cloud of the volcano: 32 mi (52 km)
Direction of drift of ash plume/cloud of the volcano: WSW / azimuth 241 deg
Time and method of ash plume/cloud determination: 20190821/0200Z – MODIS AQUA (31m32)
Source : Kvert.
Photo : Dmitry Melnikov.
Colombia, Chiles / Cerro Negro :
Weekly activity bulletin of Chiles and Cerro Negro volcanoes
The activity level of volcanoes continues at the level: YELLOW LEVEL ■ (III): CHANGES IN THE BEHAVIOR OF THE VOLCANIC ACTIVITY.
Following the activity of VOLCANOES CHILES AND CERRO NEGRO, the COLOMBIAN GEOLOGICAL SERVICE (SGC) reports that:
Between 13 and 19 August 2019, seismic activity in the Chiles – Cerro Negro volcanoes region showed an increase in seismicity, mainly reflected by the occurrence of volcanic-tectonic events (associated with the fracture of rock materials in the volcanic building), from 392 earthquakes the previous week to 1329 during this period. This seismicity was located mainly south of the volcanic complex, at epicentral distances of less than 8 km from the Chiles volcano, at depths of up to 10 km and with a maximum local magnitude of M 2.9 on the Richter scale.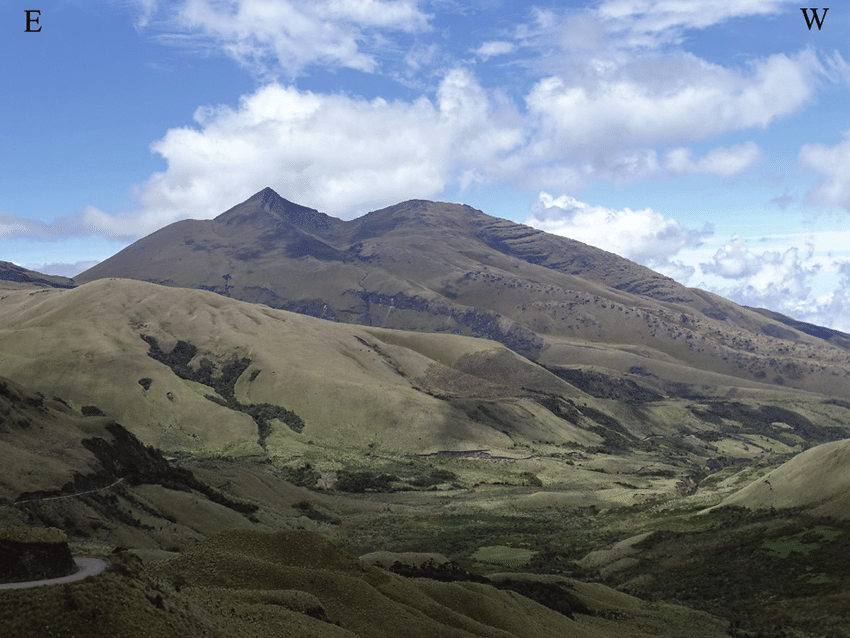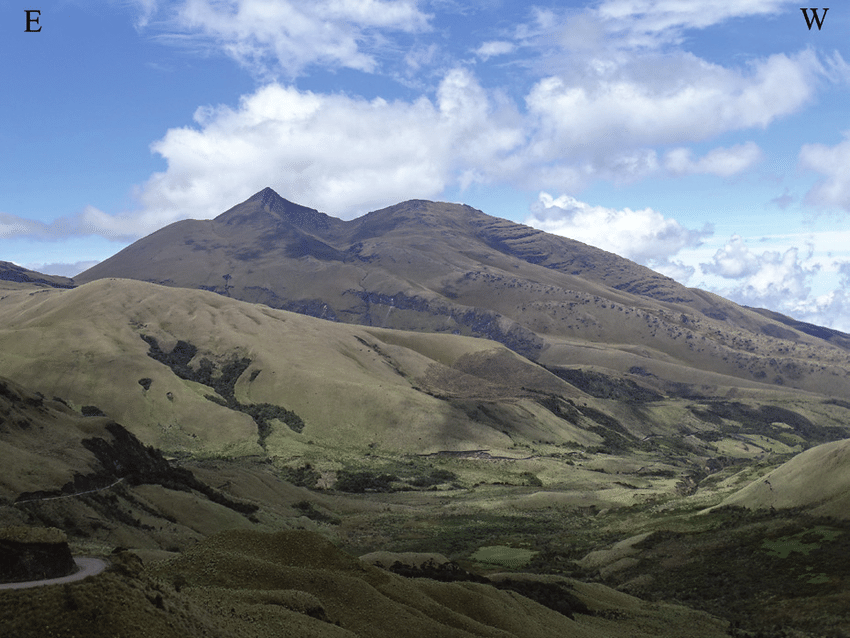 No recorded earthquakes were felt by residents of the Chiles – Cerro Negro volcanic complex. Other geophysical and geochemical parameters of volcanic monitoring did not show significant variations.
The Colombian Geological Service and the Institute of Geophysics of the National Polytechnic School of Ecuador are attentive to the evolution of the volcanic phenomenon and inform in a timely manner the observed changes. Due to the fluctuating and permanent development of seismic activity in the region of these volcanoes, the possibility of occurrence of earthquakes with higher energy levels than those reported can not be ruled out.
Source : SGC.
Photo : researchgate.
Guatemala , Fuego :
SPECIAL VOLCANOLOGICAL BULLETIN. LAHARES LOW TO MODERATE IN THE BARRANCA LAS LAJAS , TRIBUTARY OF THE RIO GUACALATE. Guatemala 20 August 2019, 18:20 (local time).
Precipitation in the Fuego Volcano region over the last few hours and moisture accumulation is currently causing the descent from low to moderate lahars into the Las Lajas ravine, a tributary of the Guacalate River. The lahar is registered by the FG13 station located in the lower part of the Las Lajas ravine.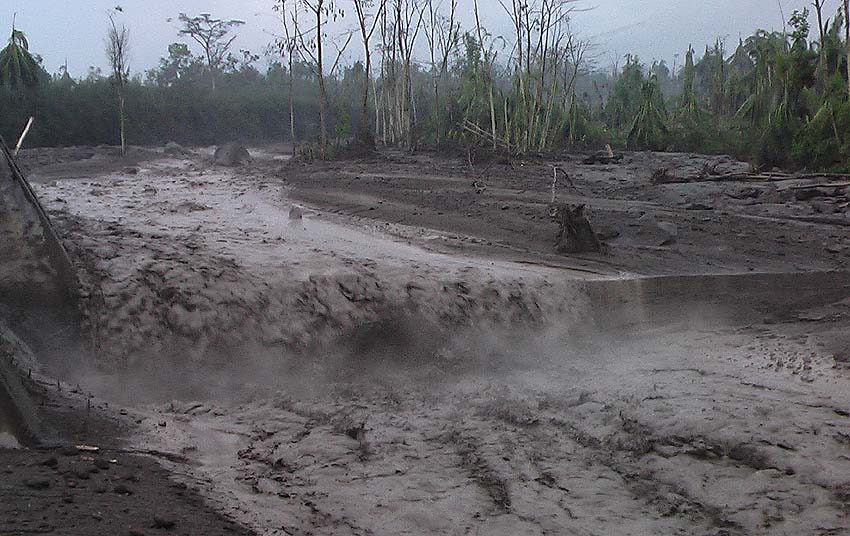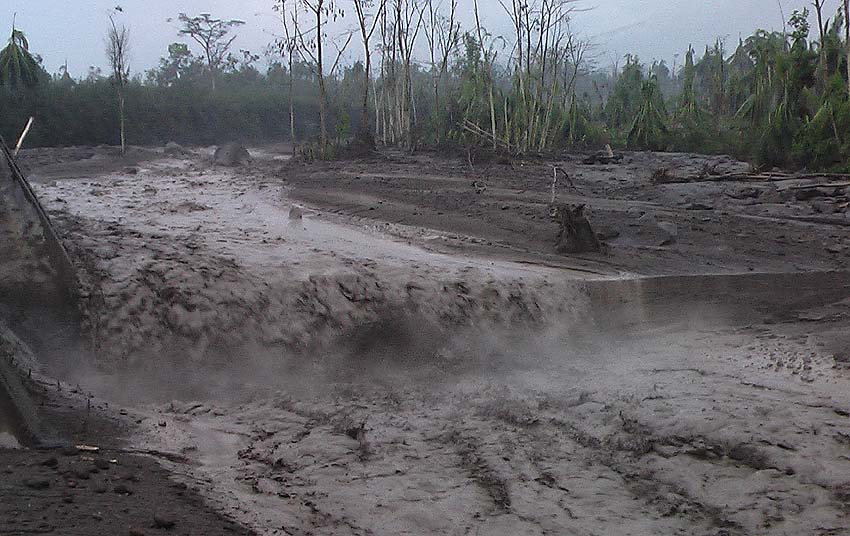 The lahar carries volcanic materials such as ash, sand and blocks 1 to 2 meters in diameter that vibrate the soil. The resulting material has been deposited by constant eruptive activity and it is expected that similar events will continue, the probability that they may increase and become stronger in their downstream descent should not be excluded.
As the rains continue, the probability that lahars can be generated in any of the canyons of the Fuego volcano is not excluded. It is recommended to take the necessary precautions when crossing the ravines.
Source : Insivumeh.
Photo : Caroline Sarrazin , Rés-EAUx .