May 23, 2015. EN. Japan : Azumayama , Mexico : Popocatepetl , Ecuador : Reventador , Indonesia : Agung .
May 23 , 2019.
Japan , Azumayama :
37.735°N, 140.244°E
Elevation 1949 m
The number of volcanic earthquakes at Azumayama increased on 5 May and data from a tiltmeter about 1 km SE of Ohana Crater showed inflation on 9 May, prompting JMA to raise the Alert Level to 2 (on a 5-level scale). Field observations on 7 and 10 May indicated no changes in the fumarolic and thermal areas around Ohana. Seismicity began to decrease on 10 May, though continued to fluctuate through 20 May. Deformation continued but at a slower rate.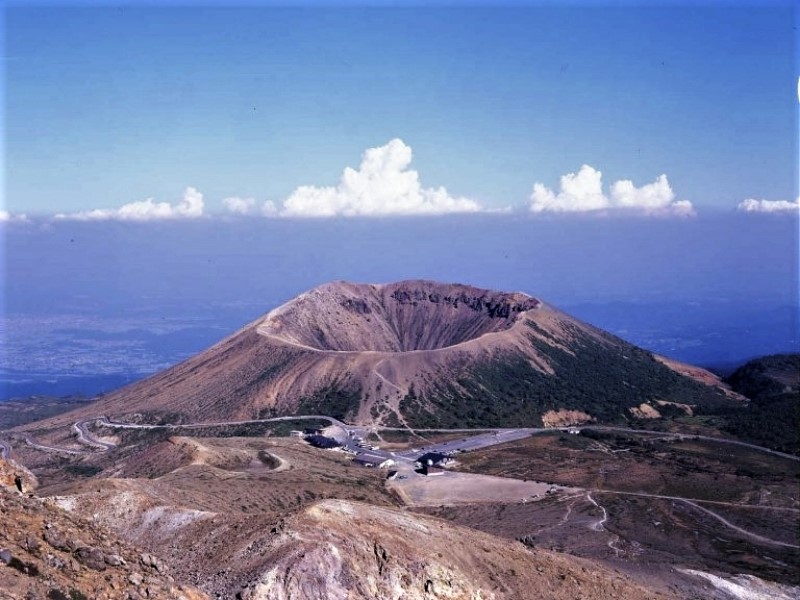 The Azumayama volcanic group consists of a cluster of stratovolcanoes, shield volcanoes, lava domes, and pyroclastic cones. The andesitic and basaltic complex was constructed in two E-W rows above a relatively high basement of Tertiary sedimentary rocks and granodiorites west of Fukushima city. Volcanic activity has migrated to the east, with the Higashi-Azuma volcano group being the youngest. The symmetrical Azuma-Kofuji crater and a nearby fumarolic area on the flank of Issaikyo volcano are popular tourist destinations. The Azumayama complex contains several crater lakes, including Goshikinuma and Okenuma. Historical eruptions, mostly small phreatic explosions, have been restricted to Issaikyo volcano at the northern end of the Higashiyama group.
Source: Japan Meteorological Agency (JMA) , GVP .
Photo : fukushima-guide.
Mexico , Popocatepetl :
May 22, 10:30 am (May 22, 15:30 GMT).
In the last 24 hours, thanks to the surveillance systems of the Popocatépetl volcano, 32 low intensity exhalations have been identified, accompanied by steam, gas and ash. In some cases, ash emission has increased. The longest emission was recorded yesterday at 17:57, reached a height of 500 m and was initially dispersed to the southeast, then to the southwest. In addition, 50 minutes of low amplitude tremor were recorded.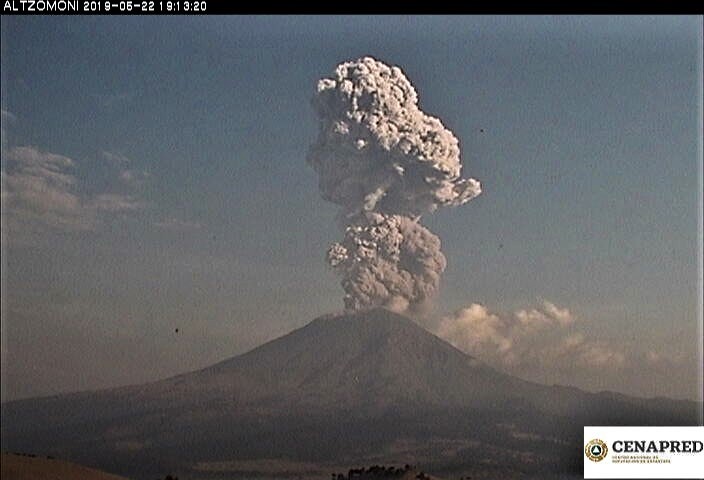 Updated May 22 at 7:50 pm (May 23 at 00:50 GMT).
At 19:10, an explosion was recorded, accompanied by volcanic gases and a moderate ash content, whose altitude reached 3.5 km above the crater. Initially, it was dispersed towards the South-West and by taking altitude, changed direction towards the North-East. It is therefore probable that ashes fell on the municipalities of Achllla, Ecatzingo, Ozumba and Tepetlixpa, belonging to the State of Mexico; Atlatlahucan, Cuautla, Ocuituco, Tetela del Volcan, Tlayacapan, Totolapan, Yautepec and Yecapixtla, in the state of Morelos. .
At the time of this update, continuous emissions of gas and ash dispersed in the South-West and whose height does not exceed 500 m are still observed. .
This type of activity is envisaged at the level of yellow signal of volcanic alert phase 2, any change will be reported in due course.
Updated May 22 at 9:00 PM (May 23 at 2:00 GMT).
At the time of this update, it was reported that the remaining ash and gas emissions after the end of the explosion at 19:10 had been completed. The total duration of the event was 44 minutes. Seismic activity returns to previous levels. So far, no ash drop has been reported.
This type of activity is envisaged at the level of yellow signal of volcanic alert phase 2, any change will be reported in due course.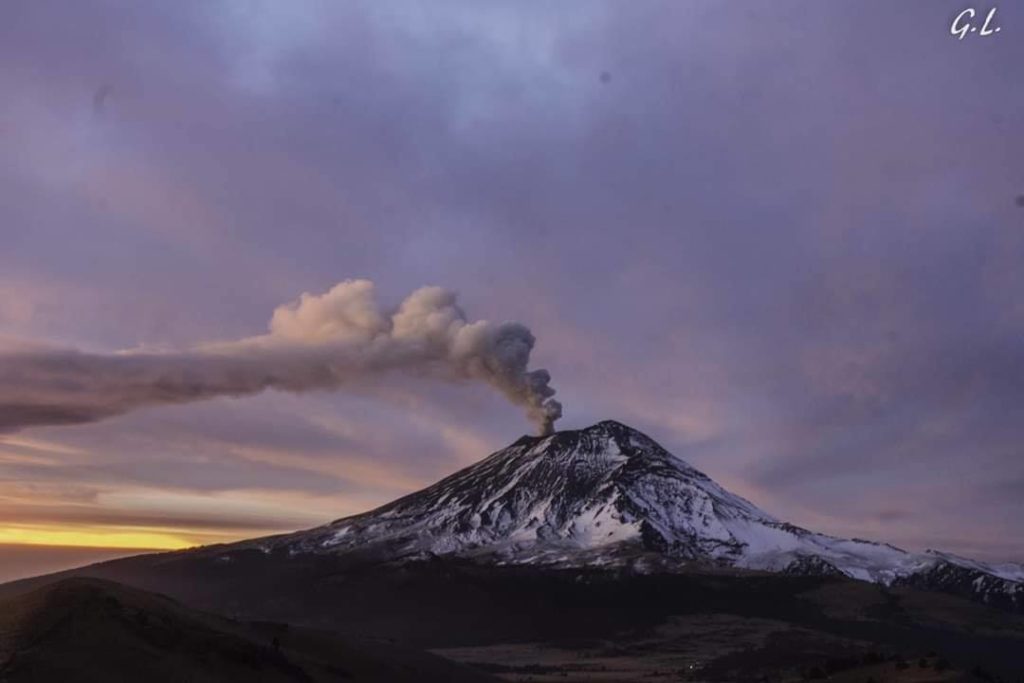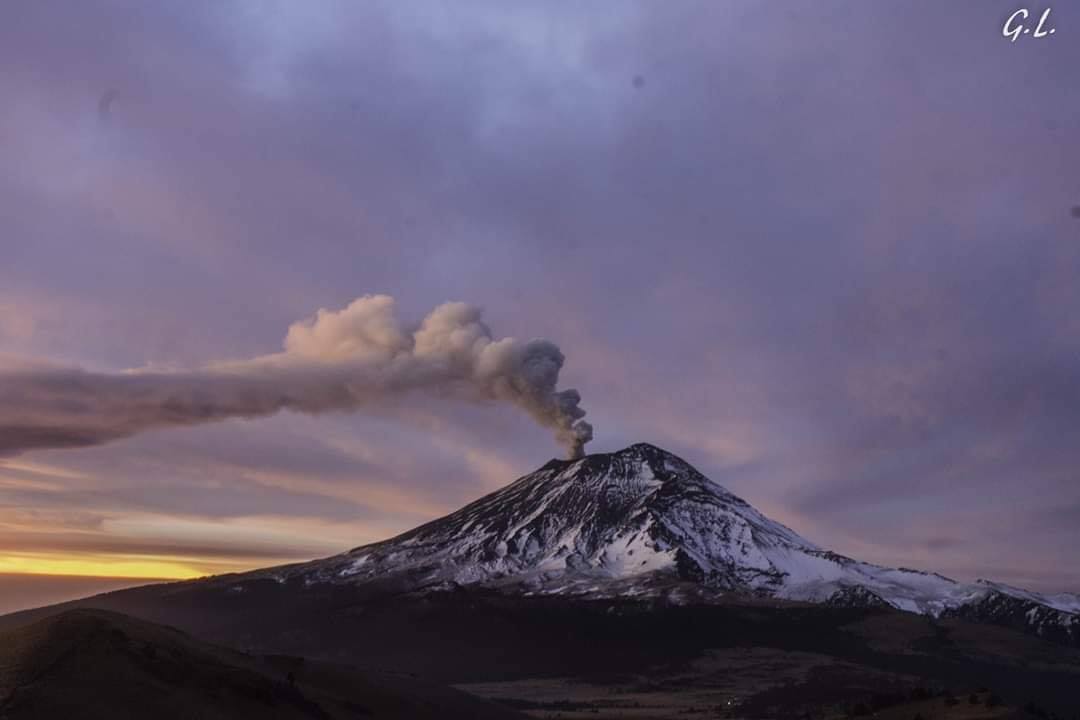 During the night, an incandescence was observed on the crater.
Since this morning and until the release of this report, the continuous emission of volcanic gases and ash scattered to the southwest has been observed.
The monitoring system of the Popocatepetl volcano operates 24 hours a day. CENAPRED closely monitors any event. Any changes to the monitoring parameters will be reported promptly.
CENAPRED urges NOT to APPROACH the volcano and especially the crater, because of the danger of falling ballistic fragments, and in case of heavy rains, to stay away from ravine bottoms because of the danger of mudslides and debris.
The Popocatepetl Volcanic Warning Light is located at YELLOW PHASE 2.
Source : Cenapred.
Photos : Cenapred , GL/volcan Popocatepetl .
Ecuador , Reventador :
0.077°S, 77.656°W
Elevation 3562 m
IG reported that during 14-21 May seismic data from Reventador's network indicated a high level of seismic activity, including explosions, long-period earthquakes, harmonic tremor, and signals indicating emissions. Weather conditions often prevented views of the summit area, although when clear (during 17-18 and 20-21 May) several ash plumes were visible rising as high as 1 km above the crater rim and drifting W and NW. Crater incandescence was visible on some mornings and evenings. On 19 May a 500-m-long pyroclastic flow deposit on the N flank was visible. Blocks were observed rolling 800 m down the flanks on 21 May.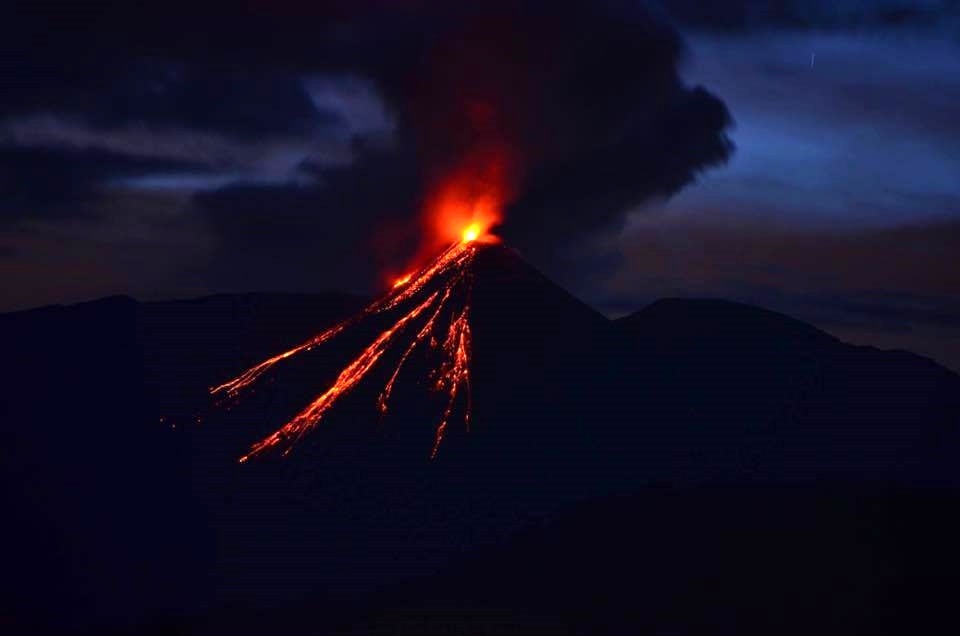 Reventador is the most frequently active of a chain of Ecuadorian volcanoes in the Cordillera Real, well east of the principal volcanic axis. The forested, dominantly andesitic Volcán El Reventador stratovolcano rises to 3562 m above the jungles of the western Amazon basin. A 4-km-wide caldera widely breached to the east was formed by edifice collapse and is partially filled by a young, unvegetated stratovolcano that rises about 1300 m above the caldera floor to a height comparable to the caldera rim. It has been the source of numerous lava flows as well as explosive eruptions that were visible from Quito in historical time. Frequent lahars in this region of heavy rainfall have constructed a debris plain on the eastern floor of the caldera. The largest historical eruption took place in 2002, producing a 17-km-high eruption column, pyroclastic flows that traveled up to 8 km, and lava flows from summit and flank vents.
Source: Instituto Geofísico-Escuela Politécnica Nacional (IG) , GVP.
Photo : juan-carlos.jpg , 2017 .
Indonesia , Agung :
The Agung volcano has returned to an eruption phase since November 21, 2017 and until today, after having rested more than 53 years. The current level of activity is Level III (SIAGA).
Since yesterday and until this morning, the volcano was clearly visible until it was covered with fog. Smoke from the main crater was observed at a maximum height of 50 meters from the top, low pressure and intensity, and a white color.
The seismographs, on May 22, 2019, recorded:
1 volcanic earthquake
6 distant tectonic earthquakes
On May 23, 2019 (between 00:00 and 06:00 WITA) it was recorded:
1 local tectonic earthquake
1 distant tectonic earthquake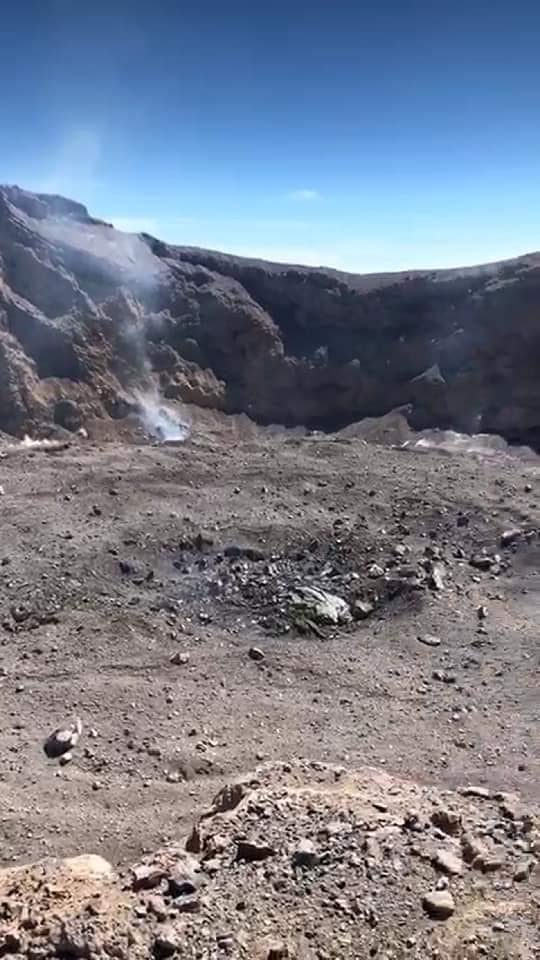 Recommendation:
The communities around G. Agung and mountaineers / visitors / tourists, should not be present, or be active in the estimated risk area, which is within 4 km radius of Mount Agung crater.
People who live and move around rivers downstream of Gunung Agung are aware of the potential secondary threat of descent from lahars.
VONA:
The latest code VONA sent the color code ORANGE, published on May 17, 2019 at 02:09 WITA, relating to an eruption with a maximum height of the ash column of 5,142 meters above sea level or approximately 2,000 meters above the summit.
Source : PVMBG.
Photo : Suryana Arimbawa via Sherine France.