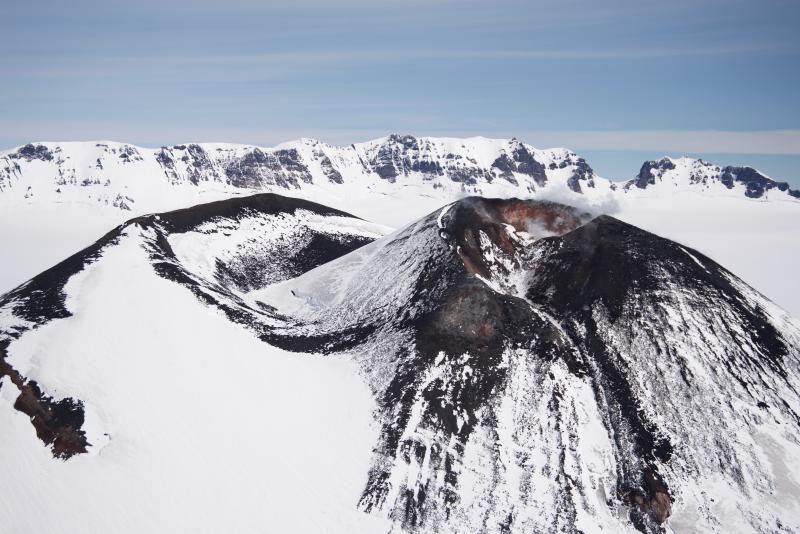 April 27 , 2019 . EN . Alaska : Veniaminof , Colombia : Galeras , Guatemala : Fuego , Indonesia : Anak Krakatau .
April 27 , 2019.
Alaska , Veniaminof :
56°11'52 » N 159°23'35 » W,
Summit Elevation 8225 ft (2507 m)
Current Volcano Alert Level: ADVISORY
Current Aviation Color Code: YELLOW
Slightly elevated surface temperatures consistent with cooling lava flows were observed during periods of clear weather this week. Occasional clear web-camera views showed minor steam emissions. Low-level seismicity continued throughout the past week. The level of unrest observed over the past several months indicates that eruptive activity has paused or stopped. Pauses in eruptive activity are common at Veniaminof. Lava effusion, ash emissions, or both could resume at any time without significant associated seismicity.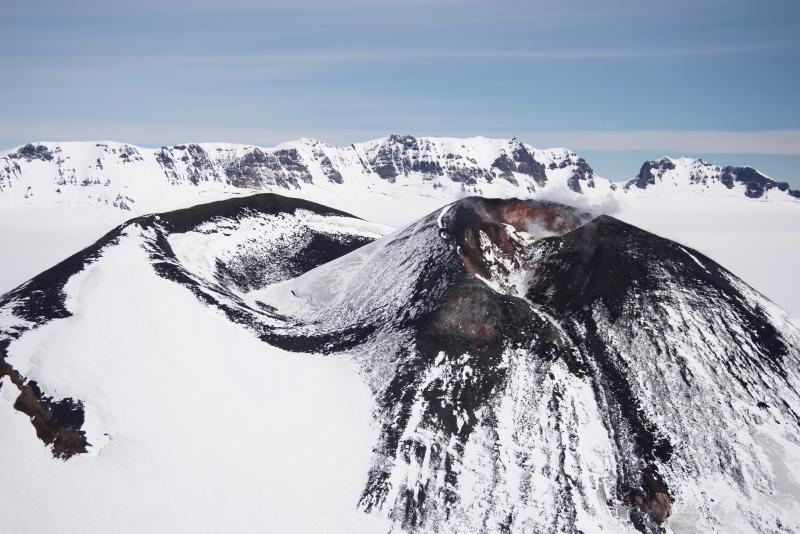 Veniaminof volcano is monitored with a local real-time seismic network, which will typically allow AVO to detect changes in unrest that may lead to a more significant explosive eruption. AVO combines seismic, infrasound, lightning, and satellite data for rapid detection of such events.
Mount Veniaminof volcano is an andesitic stratovolcano with an ice-filled 10-km diameter summit caldera located on the Alaska Peninsula, 775 km (480 mi) southwest of Anchorage and 35 km (22 mi) north of Perryville. Veniaminof is one of the largest (~300 cubic km; 77 cubic mi) and most active volcanic centers in the Aleutian Arc and has erupted at least 13 times in the past 200 years. Recent significant eruptions of the volcano occurred in 1993-95, 2005, and 2013. These were Strombolian eruptions that produced lava fountains and minor emissions of ash and gas from the main intracaldera cone. During the 1993-95 activity, a small lava flow was extruded, and in 2013, five small lava flows effused from the intracaldera cone over about five months. Minor ash-producing explosions occurred nearly annually between 2002 and 2010. Previous historical eruptions have produced ash plumes that reached 20,000 ft above sea level (1939 and 1956) and ash fallout that blanketed areas within about 40 km (25 mi) of the volcano (1939).
Source : AVO
Photo : Read, Cyrus , July 11, 2018 .
Colombia , Galeras :
Weekly activity bulletin of the Galeras volcano.
The level of activity of the volcano continues at the level: YELLOW LEVEL ■ (III): CHANGES IN THE BEHAVIOR OF THE VOLCANIC ACTIVITY.
Following the activity of the VOLCÁN GALERAS, the COLOMBIAN GEOLOGICAL SERVICE (SGC) informs that:
For the period from 16 to 22 April 2019, low levels of activity continued to occur, both in terms of earthquake numbers and energy released. The events recorded were mainly related to the fracture of the rock inside the volcanic building, scattered around the volcanic building, mainly in the northeast sector of the volcano, at distances less than 15 km and at depths less than 14 km. km from the summit (4200 m) and local magnitude values up to 1.0 on the Richter scale.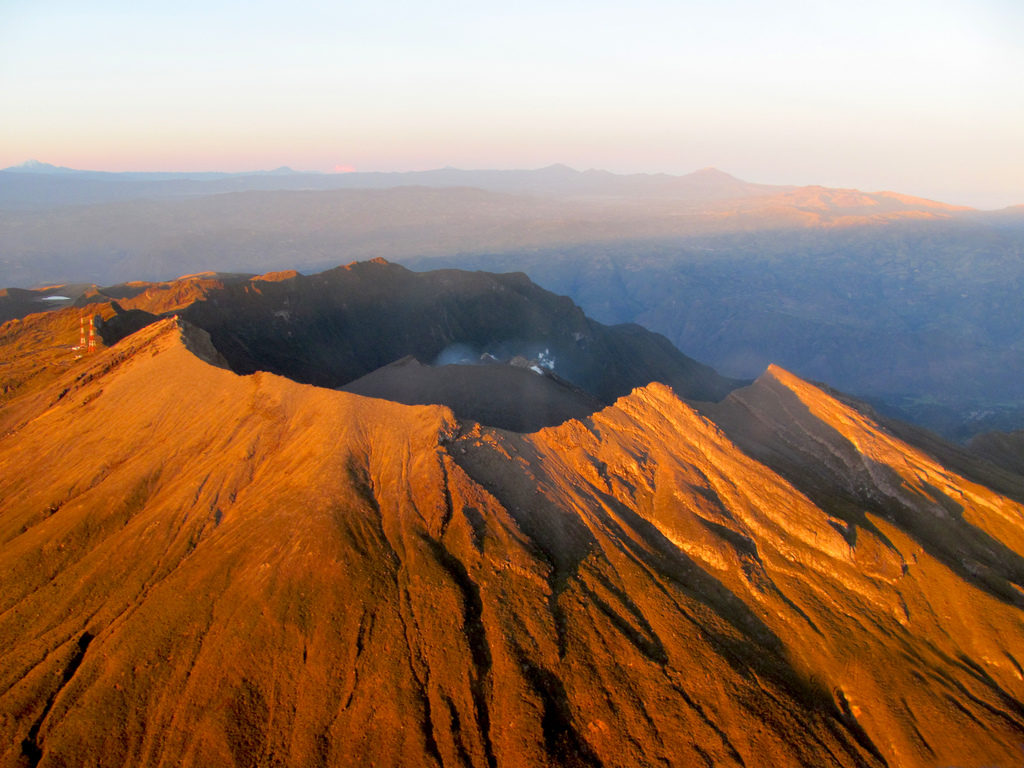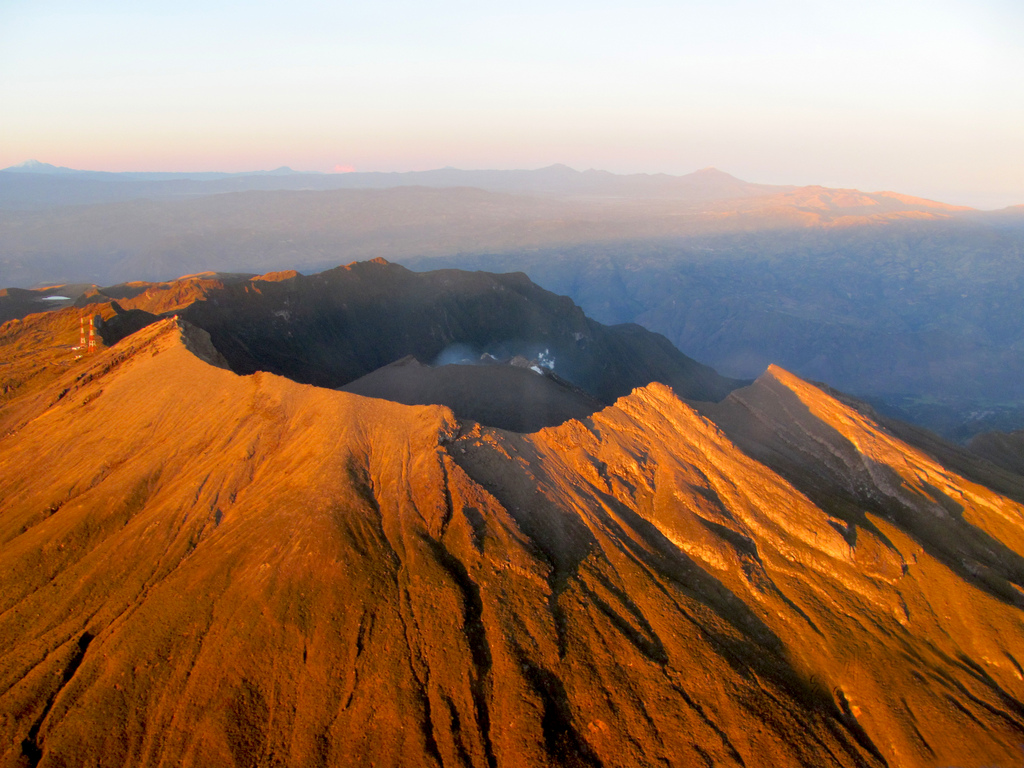 Throughout the evaluated period, it was possible to observe white gas emissions, of low height, with a variable direction under the action of the winds.
The other geophysical and geochemical parameters of Galeras volcano monitoring did not show any significant variations.
The COLOMBIAN GEOLOGICAL SERVICE is attentive to the evolution of the volcanic phenomenon and will continue to inform in a timely manner of the observed changes.
Source : SGC .
Photo : capra
Guatemala , Fuego :
Type of activity: Vulcanian
Morphology: Composite Stratovolcano
Geographical location: 14 ° 28'54˝ Latitude N; 90 ° 52'54˝ Longitude O.
Height: 3,763msnm.
Weather conditions: Cloudy
Wind: 5 mph
Precipitation: 0.0 mm.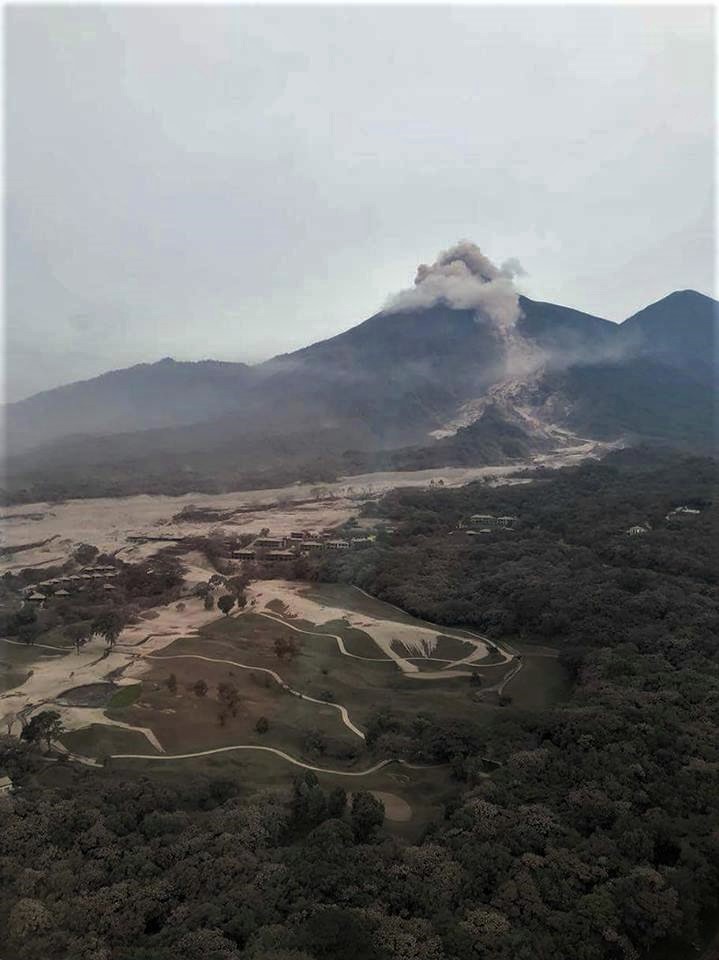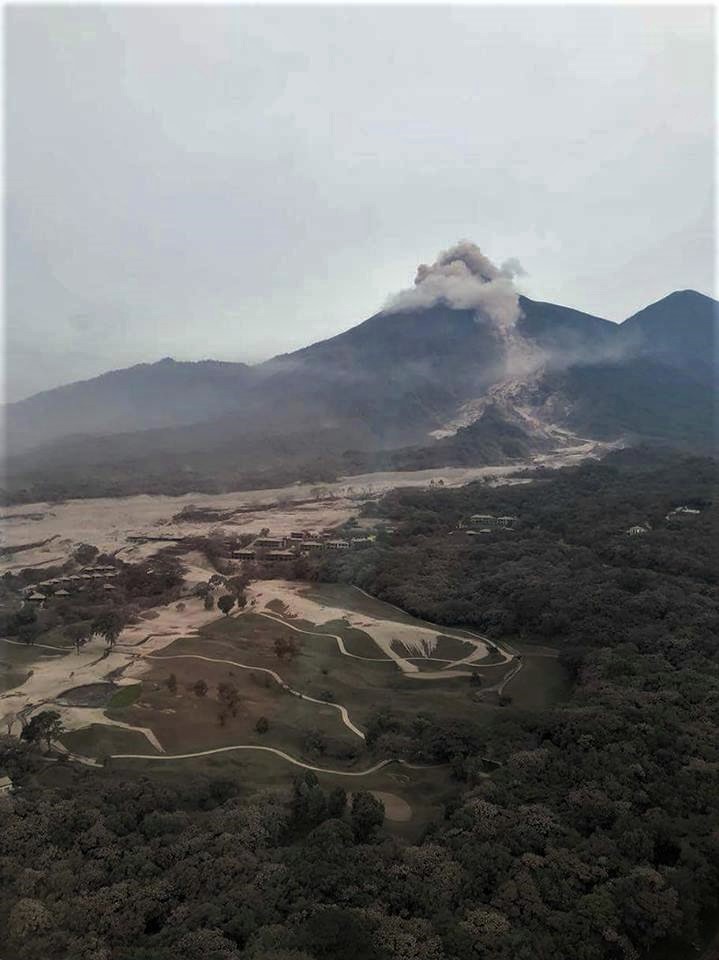 Activity:
Presence of white degassing fumaroles at a height of 4200 meters which are dispersed towards the South-West. There are 20 to 24 low to moderate explosions per hour that expel columns of gray ash at a height of 4600 to 4700 meters (15090-15420 feet) that are scattered 15 to 20 km to the southwest and south. At night and early in the morning, incandescence was observed at an altitude of 300 to 350 m, with weak to moderate avalanches on the crater contour towards the Seca, Taniluyá, Ceniza, Trinidad and Las Lajas ravines. Low, moderate and strong rumblings are heard generating low to moderate shock waves, which cause vibration in the roofs of community houses on the west and southwest flanks of the volcano. These noises resemble those of a train locomotive. Falls of fine particles of ash are noted at Panimache I, Morelia, Santa Sofia, El Porvenir and other villages.
Source : Insivumeh
Photo : Auteur inconnu .
Indonesia , Anak Krakatau :
VOLCANO OBSERVATORY NOTICE FOR AVIATION – VONA.
Issued: April 27 , 2019
Volcano: Anak Krakatau (262000)
Current Aviation Colour Code: ORANGE
Previous Aviation Colour Code: orange
Source: Anak Krakatau Volcano Observatory
Notice Number: 2019KRA69
Volcano Location: S 06 deg 06 min 07 sec E 105 deg 25 min 23 sec
Area: Lampung, Indonesia
Summit Elevation: 502 FT (157 M)
Volcanic Activity Summary:
Eruption with volcanic ash cloud at 03h04 UTC (10h04 local).
Volcanic Cloud Height:
Ash-cloud is not visible
Other Volcanic Cloud Information:
Ash-cloud moving to northeast.
Remarks:
Eruption recorded on seismogram with maximum amplitude 47 mm and duration 35 second.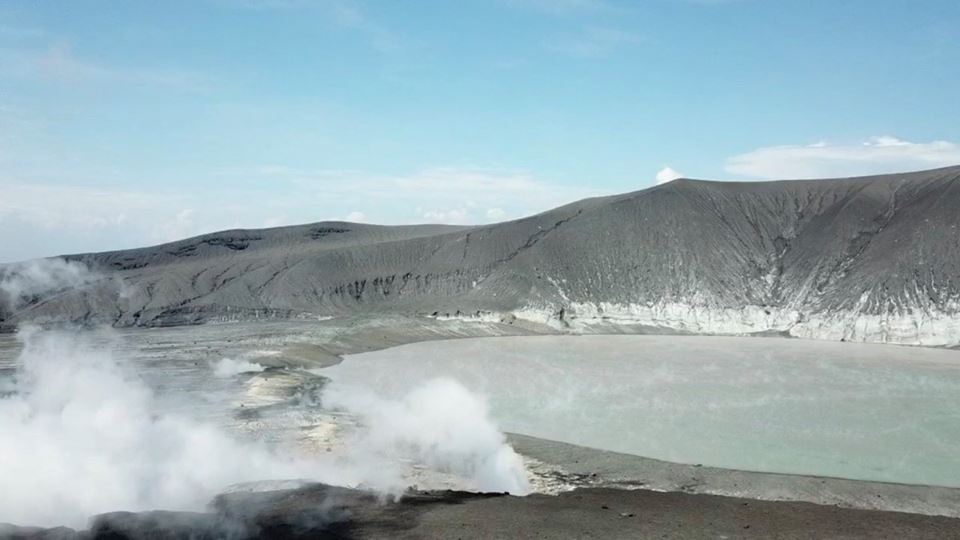 Level of activity at level II (Waspada), since March 25, 2019. G. Anak Krakatau (167 m altitude) has increased its volcanic activity since June 18, 2018 and was followed by a series of eruptions from September 2018 to February 2019. In April 2019, eruptions still occur but decreasing intensity.
Since yesterday until this morning, the visual of the volcano seems covered with fog. The smoke from the crater is not observed.
The seismograph of April 26, 2019 recorded:
1 eruption earthquake
6 earthquakes
10 low frequency earthquakes
Continuous tremor with a dominant amplitude of 2 mm.
Recommendation: People / tourists are not allowed to approach the crater within 2 km.
Source : Magma Indonésie , Pvmbg.
Photo : James reynolds via wulkanyswiata.blogspot.com