March 12 , 2022.
Indonesia , Merapi :
Merapi activity report from March 4 to 10, 2022.
– This week, a hot avalanche cloud descended in the South-West (Bebeng river) with a slip distance of 2,000 m as well as 18 times in the South-East (Gendol river) with a maximum slip distance of 5,000 Mr.
Ash rains were reported in several areas, including Kemalang, Sawangan, Dukun and Selo districts. Lava avalanches were observed 101 times towards the South-West, towards the Bebeng River with a maximum slip distance of 2,000 m and 17 times towards the South-East (upstream of the Gendol River) with a maximum slip distance of maximum of 1500 m.
– Analysis showed that there were morphological changes in the Southwest lava dome in the form of avalanches, but no elevation changes were observed.
For the central dome, it was observed that there was a volume reduction of 646,000 m3 following the hot cloud collapses of avalanches that occurred on March 9 and 10, 2022. According to photo analysis, the volume of the Southwest lava dome was 1,578,000 m3 and the central dome was 2,582,000 m3.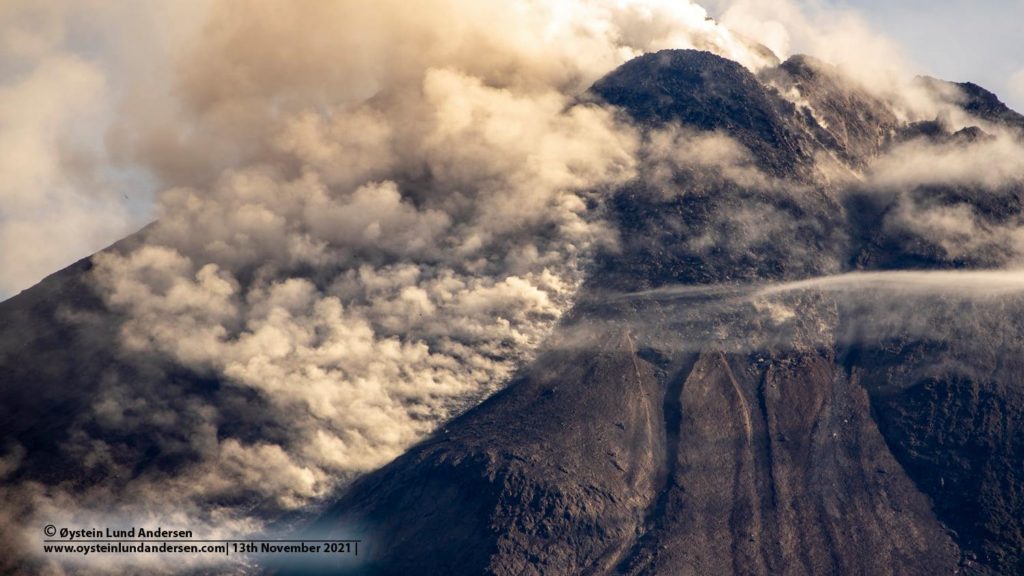 – The intensity of seismicity this week is higher than last week. It was recorded:
– 13 avalanche hot cloud earthquakes
– 343 avalanche earthquakes
– 7 times emissions earthquakes
– 3 hybrid/multi-phase earthquakes
– 2 shallow volcanic earthquakes.
Mount Merapi's deformation, which was monitored using EDM this week, showed a distance shortening rate of 0.4 cm/day.
– Rainfall intensity was 52 mm/hour for 295 minutes at Pos Kaliurang on March 10, 2022. There were no reports of lahars or additional flow in the rivers that originate at Mount Merapi.
Conclusion:
1. The volcanic activity of Mount Merapi is still quite high in the form of effusive eruption activity. The state of the activity is defined at the « SIAGA » level.
2. The current potential danger is lava avalanches and hot clouds in the South-South-West sector covering the Boyong River for a maximum of 5 km, the Bedog River, Krasak, Bebeng for a maximum of 7 km. The Southeast sector covers the Woro River for a maximum of 3 km and the Gendol River for a maximum of 5 km. Meanwhile, the ejection of volcanic material in the event of an explosive eruption can reach a radius of 3 km around the summit.
Sources : BPPTKG , PVMBG.
Photo : Oystein Lund Andersen
Indonesia , Ili Lewotolok :
VOLCANO OBSERVATORY NOTICE FOR AVIATION – VONA
Issued : March 11 , 2022
Volcano : Ili Lewotolok (264230)
Current Aviation Colour Code : ORANGE
Previous Aviation Colour Code : orange
Source : Ili Lewotolok Volcano Observatory
Notice Number : 2022LEW08
Volcano Location : S 08 deg 16 min 19 sec E 123 deg 30 min 18 sec
Area : East Nusa Tenggara, Indonesia
Summit Elevation : 4554 FT (1423 M)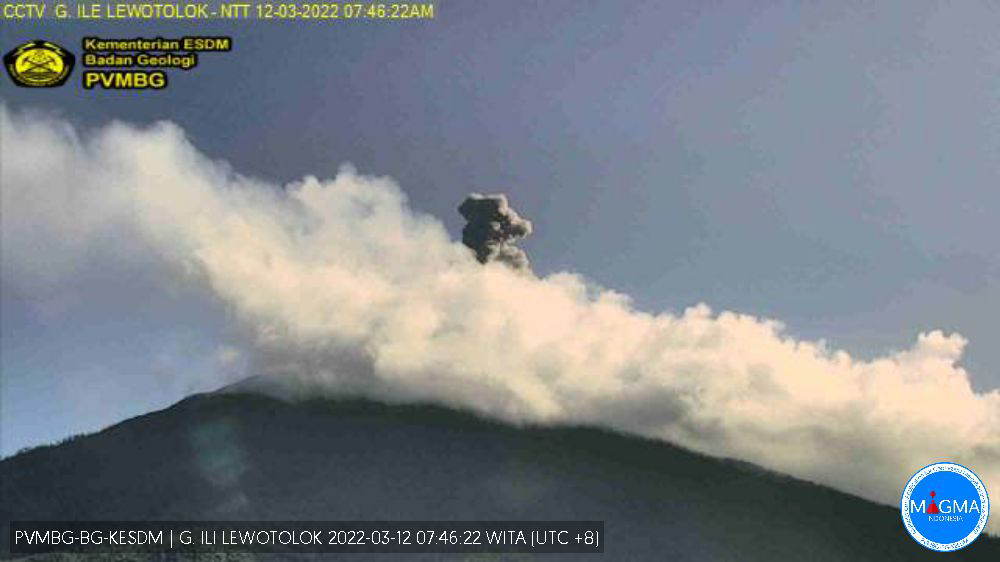 Volcanic Activity Summary :
Eruption with volcanic ash cloud at 09h26 UTC (17h26 local). Eruption and ash emission is not continuing.
Volcanic Cloud Height :
Best estimate of ash-cloud top is around 7754 FT (2423 M) above sea level, may be higher than what can be observed clearly. Source of height data: ground observer.
Other Volcanic Cloud Information :
Ash-cloud moving to southwest
Remarks :
Seismic activity is Dominated by hembusan (gas emission) earthquake
The volcano is clearly visible until it is covered in fog. Smoke from the main crater is white and gray with low to moderate intensity, about 50-300 meters from the summit. The weather is sunny, the wind is weak in the east and west. The air temperature is around 23 -35°C.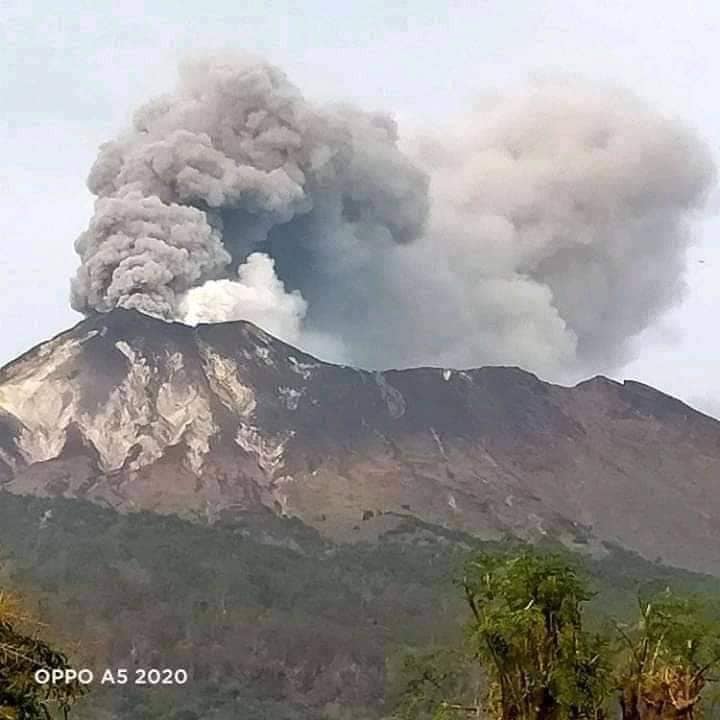 The eruption was observed at a height of 100 to 300 meters above the summit, the eruption ash column was white / gray.
Seismicity linked to magmatic activity as well as tectonic activity.
– 22 earthquakes of eruptions/explosions
– 92 emissions earthquakes
– 14 harmonic tremors
– 43 non-harmonic tremors
– 4 shallow volcanic earthquakes
– 7 deep volcanic earthquakes
– 1 local tectonic earthquake
– 1 distant tectonic earthquake
– Continuous tremor, amplitude 0.5-1 mm (dominant value 1 mm)
Sources : Magma Indonésie , PVMBG.
Photos :PVMBG , Kodi Setiawan/ OPPO A5 2020.
Philippines , Taal :
TAAL VOLCANO BULLETIN 12 March 2022 8:00 AM
In the past 24-hour period, the Taal Volcano Network recorded forty-nine (49) volcanic earthquakes, including forty-five (45) volcanic tremor events having durations of two (2) to thirty-two (32) minutes, three (3) low-frequency volcanic earthquakes, and one (1) hybrid event. Activity at the Main Crater was dominated by upwelling of hot volcanic fluids in its lake which generated plumes 2,400 meters tall that drifted west-southwest. Sulfur dioxide (SO2) emission averaged 15,306 tonnes/day on 09 March 2022. Temperature highs of 63.7°C were last measured from the Main Crater Lake on 25 February 2022. Based on ground deformation parameters from electronic tilt, continuous GPS and InSAR monitoring, Taal Volcano Island and the Taal region has begun deflating in October 2021.

Alert Level 2 (Increased Unrest) prevails over Taal Volcano. DOST-PHIVOLCS reminds the public that at Alert Level 2, sudden steam- or gas-driven explosions, volcanic earthquakes, minor ashfall, and lethal accumulations or expulsions of volcanic gas can occur and threaten areas within and around TVI. DOST-PHIVOLCS strongly recommends that entry into Taal Volcano Island, Taal's Permanent Danger Zone or PDZ must be strictly prohibited, especially the vicinities of the Main Crater and the Daang Kastila fissure, and extended stays on Taal Lake.
Source : Phivolcs.
Photo : Phivolcs
La Martinique , Montagne Pelée :
Weekly report on the activity of Mount Pelée for the period from March 04 to 11, 2022.
Between March 04, 2022 at 4 p.m. (UTC) and March 11, 2022 at 4 p.m. (UTC), the OVSM recorded at least 6 volcano-tectonic earthquakes of magnitude less than or equal to 0.1. These earthquakes were located inside the volcanic edifice between 0.7 and 1.1 km deep below the surface. This superficial volcano-tectonic seismicity is associated with the formation of micro-fractures in the volcanic edifice.
None of these earthquakes were felt by the population.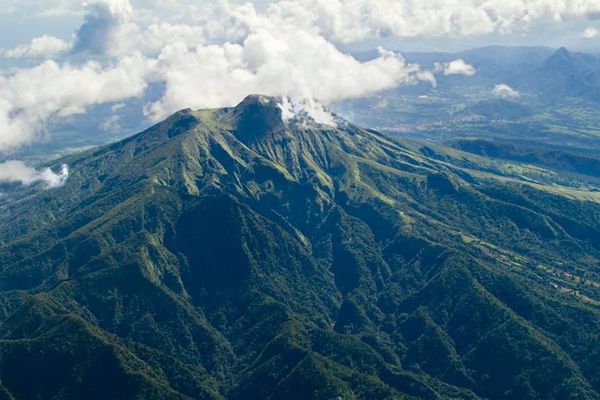 The zone of degassing at sea at shallow depth between St Pierre and le Prêcheur is still observed. The IGP took fluid samples in order to understand the origin of this degassing and to assess its possible relationship with the Mount Pelée hydrothermal system.
An extension of two areas of degraded vegetation located between Morne Plumé and the Chaude River was observed during a helicopter flight carried out on February 9, with the support of the Dragon 972, and confirmed by analysis of satellite images.
The alert level remains YELLOW: vigilance.
Source : Direction de l'OVSM IPGP.
Photo : Parc naturel Martinique.
Alaska , Davidof :
51°57'15 » N 178°19'34 » E,
Summit Elevation 1076 ft (328 m)
Current Volcano Alert Level: ADVISORY
Current Aviation Color Code: YELLOW
An earthquake swarm in the vicinity of Davidof volcano that began on Monday, January 24, has continued with small earthquakes detected throughout this past week. The rate of earthquakes was variable over the past week, and similar to the overall number over the previous week. Satellite observations were obscured by clouds. This earthquake activity may be associated with volcanic unrest, or it could be due to regional tectonic activity.
There is no real-time seismic monitoring network at Davidof volcano. The closest seismometers are approximately 9 miles (15 km) to the east of the volcano on Little Sitkin Island. Davidof is also monitored by satellite data and remote infrasound and lightning networks.
Davidof volcano is a mostly submerged stratovolcano in the Rat Islands group in the western Aleutian Islands, about 218 miles (350 km) west of Adak. The subaerial part of the volcano comprises Davidof, Khvostof, Pyramid, and Lopy islands, which encircle Crater Bay, a 1.5-mile (2.5 km) diameter caldera. The islands are built up from interbedded lava flows and explosive deposits. The volcano has been sparsely studied, but visits by Alaska Volcano Observatory geologists in 2021 documented thick sequences of rhyolite to dacite pyroclastic flow and fall deposits that represent the most recent explosive eruptions. The age of these deposits is unknown, but they appear older than Holocene deposits from nearby Segula and Little Sitkin. There are no known historical eruptions from Davidof.
Source : AVO.
Photo : Clifford, Roger