March 01 , 2023.
Italy , Stromboli :
Statement on Stromboli activity, February 28, 2023 21:12 (20:12 UTC).
The National Institute of Geophysics and Volcanology, Osservatorio Etneo, communicates that from the analysis of the images of the surveillance cameras, it has been observed that in the last 24 hours the supply that produced the flow of lava described in the press release of 02/27 (06:32 UTC) gradually decreased, until it ended. In particular, the various arms cool down, even if there are still areas with strong thermal anomalies due to the accumulation of the products emitted. Since approximately 23:00 UTC on 02/27, intense spattering activity has also been observed from the North Crater area and is currently ongoing.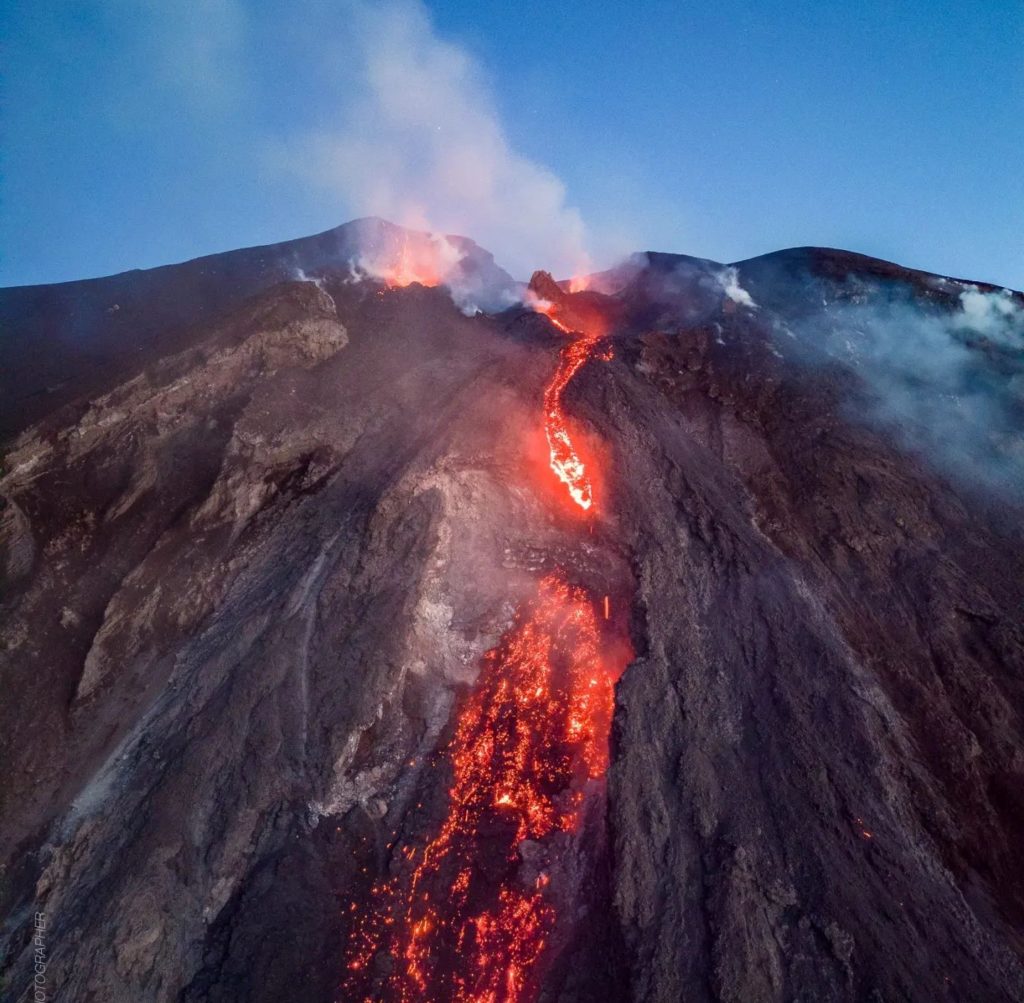 From a seismic point of view, the average amplitude of the volcanic tremor, starting around 17:00 UTC today after some fluctuations around medium-high values, showed a downward trend. Currently, the amplitude of the volcanic tremor is at average levels, comparable to those before the press release of 02/27. There are no significant variations in the occurrence rate and amplitude of explosive earthquakes.
Data from stress monitoring networks on the island show no significant changes in the past 24 hours.
Further updates will be communicated soon.
Source : INGV.
Photo : Stromboli stati d'animo.
Colombia , Purace – Los Coconucos volcanic Range:
Puracé Volcano Weekly Activity Bulletin – Los Coconucos Volcanic Range
The activity level of the volcano continues at the yellow Activity Level or (III): changes in the behavior of volcanic activity.
From the analysis and evaluation of the information obtained through the monitoring network of the Puracé volcano – Los Coconucos volcanic chain, during the week of February 21 to 27, 2023, the COLOMBIAN GEOLOGICAL SERVICE – Volcanological and Seismological Observatory of Popayán reports that:
During the week evaluated, a total of 897 seismic events were recorded, of which 113 were associated with rock fracturing processes (type VT) and 784 with fluid dynamics in volcanic conduits.
The geodetic network of GNSS (Global Navigation Satellite System) stations monitoring ground deformation continues to record a process related to inflation.
By monitoring the surface activity with the images obtained during the week thanks to the Mine, Lavas Rojas and Cerro Sombrero web cameras, a degassing of the volcanic system was highlighted, with a white column preferentially oriented towards the North-West. .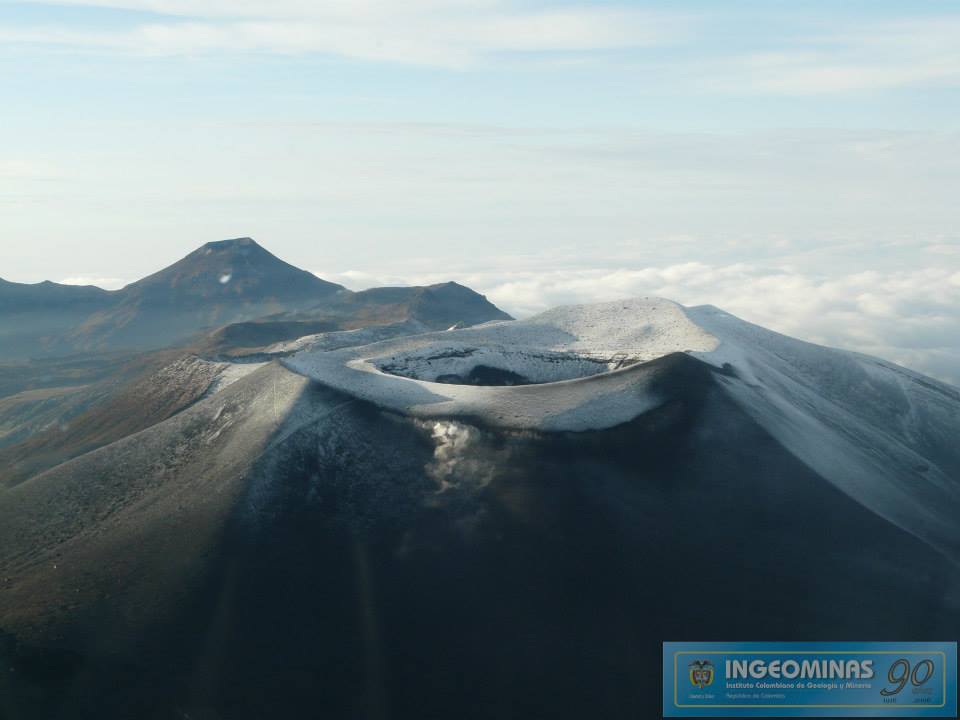 The monitoring of volcanic gases showed a maximum flow of 995 t / day for SO2 and a concentration greater than 10,000 ppm for CO2, relevant values in the degassing process of this volcanic system.
Electromagnetic field and infrasound wave monitoring sensors did not record variations associated with changes in volcanic activity.
In conclusion, variations in volcanic activity continue to be recorded, consistent with the behavior expected in a level of activity III (yellow level), which could evolve towards states of greater activity.
Source : SGC.
Photo : Ingeominas.
Indonesia , Papandayan :
Press release: G. Papandayan crater monitoring results, March 01, 2023.
On February 22, 2023, surveillance camera footage from Papandayan was seen to show incandescence in the new crater area and the Center for Volcanology and Geological Hazard Mitigation sent a team to examine the 'activity.
The results of Papandayan volcano crater examination are as follows:
A visual inspection of the crater was carried out at night between 9:00 p.m. and 11:00 p.m. WIB, with the aim of identifying the appearance of a point of incandescence detected by a camera which occurred on the evening of February 22, 2023 in the night .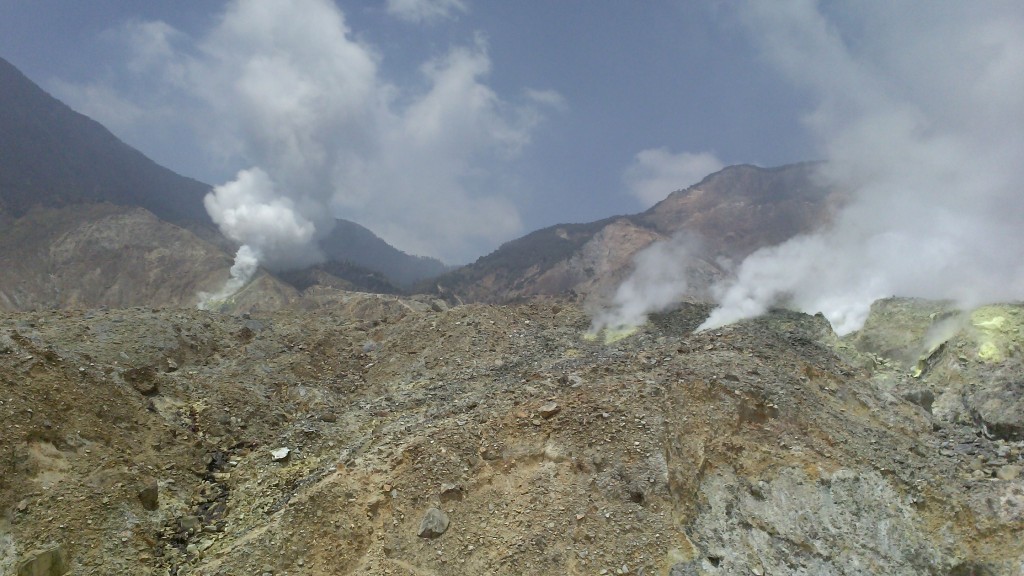 The results of a visual inspection at night showed that smoke was coming from the new high pressure crater. A slight roaring sound was heard and a strong smell of sulfur gas was smelled. There was no visible point of fire in the pit. Smoke from the Kawah Baru solfatara has been observed to reach up to 300 m above the point of smoke exit. Noise can be heard weak to loud from the Kawah Mas and Kawah Baru solfatara complexes, and moderate to strong gassing pressures are observed in both complexes. In Kawah Manuk, there is no noise and low pressure gas emissions. It is observed that the water of Lake Kawah Baru is greenish in color.
Solfatara temperature measurements in the new crater using a thermal camera, temperature gauge and heat gun show varying temperatures, this is influenced by solfatara smoke and the flow of air around solfatara manifestations which are spread over a dynamic crater zone. The temperature of the solfatara distributed over the areas of the Mas crater, the Manuk crater and the Baru crater measured a maximum of 123.8°C.
Measurement of ambient air gases around the crater area using a multi-gas detector detected volcanic gases such as SO2 with high concentrations at a distance of 500 meters from the source.
Seismic data shows an increase in shallow volcanic earthquakes in the period of January 2023, and an increase in low frequency earthquakes that fluctuate from January 2023 to February 2023. The existence of these earthquakes may provide a indication of the fracture dynamics in the area around the crater and the movement of fluid flow towards the surface.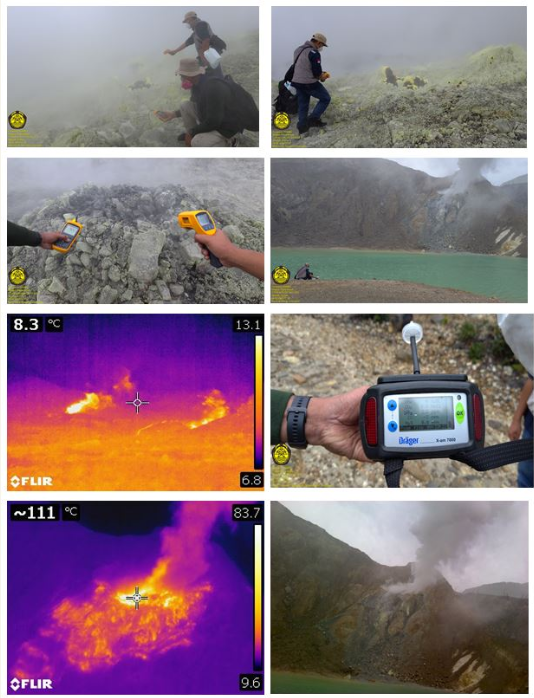 Conclusion
The results of field observations show that the solfatara activity of Manuk Crater, Mas Crater and Baru Crater in the Papandayan Crater area is still relatively normal. Compared to the results of previous measurements made by observers, the smoke height, emission pressure and gas temperature were relatively the same and showed no increase.
SO2 and H2S gas concentrations can be measured to exceed the normal threshold in an area of 500 meters from Kawah Mas (normal healthy threshold for SO2 = 5 ppm, H2S = 10 ppm). Therefore, visitors/tourists should be aware of the adverse health effects of exposure to sour gas. The harmful effects of SO2 and H2S gases can cause eye irritation, coughing, shortness of breath, headache, nausea, weakness, which can lead to death.
Based on the results of a thorough assessment, the activity level of the Papandayan volcano on March 1, 2023 at 06:00 WIB is still at level I (normal).
Source : PVMBG
Photos : G Vitton , PVMBG.
Alaska , Aniakchak :
56°54'21 » N 158°12'32 » W,
Summit Elevation 4400 ft (1341 m)
Current Volcano Alert Level: ADVISORY
Current Aviation Color Code: YELLOW
Small earthquakes occurred at the rate of about 10 per hour over the past day. No significant activity was observed in some clear web camera views and satellite images.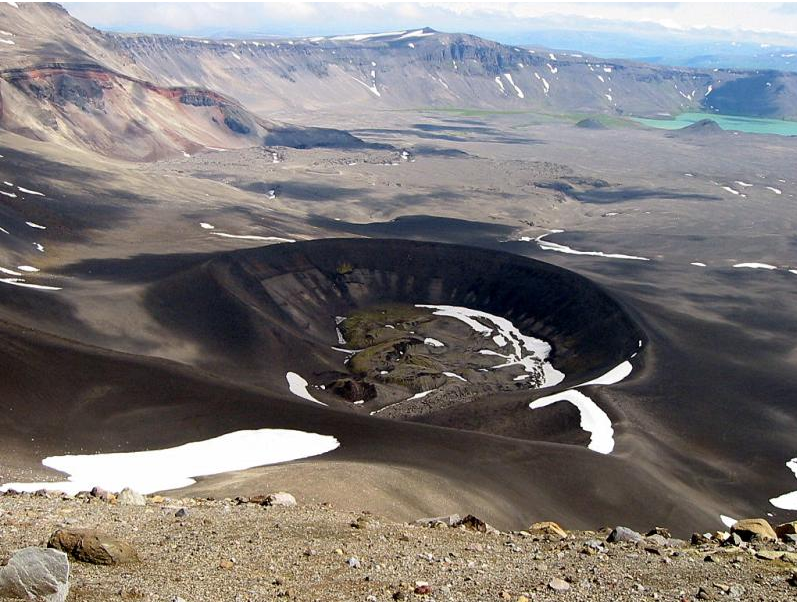 The current period of seismic unrest began in October 2022. Increases in seismic activity have been detected previously at other similar volcanoes, with no subsequent eruptions. We expect additional shallow seismicity and other signs of unrest, such as gas emissions, elevated surface temperatures, and surface deformation to precede any future eruption, if one were to occur.
AVO monitors Aniakchak with a local network, which consists of six seismometers, a web camera, and a single infrasound sensor, as well as satellite remote sensing data and regional infrasound and lightning networks.
Source : AVO
Photo : Plucinski, T. A. / Alaska Volcano Observatory / U.S. Geological Survey.
Ecuador , Sangay : 
DAILY REPORT OF THE STATE OF SANGAY VOLCANO, Tuesday February 28, 2023.
Information Geophysical Institute – EPN.
Surface Activity Level: High, Surface Trend: Unchanged
Internal activity level: High, Internal trend: No change
Seismicity: From February 27, 2023, 11:00 a.m. to February 28, 2023, 11:00 a.m.:
There were data transmission problems for about 3 hours, which is why the seismic statistics are incomplete
Blast (EXP) 191
Emission Tremors (TREMI ) 45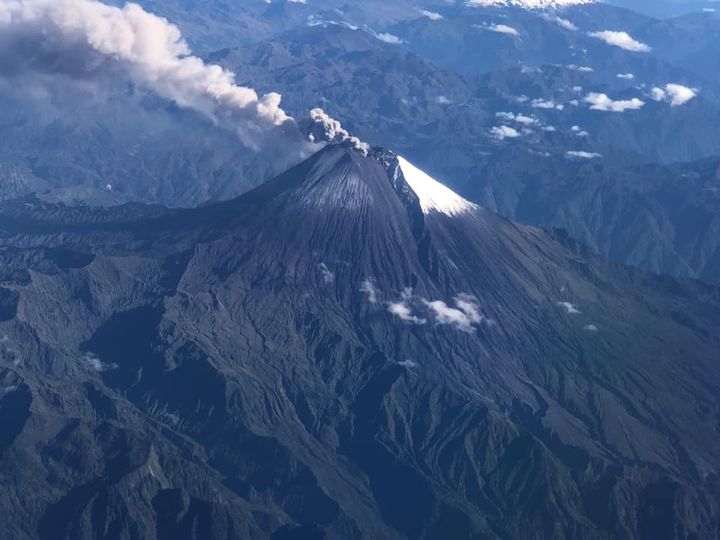 Rains / Lahars:
No rain was recorded. **In case of heavy rains, secondary lahars can be generated in the Volcán, Upano rivers and other tributaries**
Emission / Ash Column:
Yesterday afternoon, the volcano cleared up, an emission of ash could be observed at a height of 1500 meters above the summit towards the West. The Washington VAAC reported 2 ash emission alerts with a maximum height of 1170 west and northwest.
Gas:
The MOUNTS satellite system recorded 1516.5 tons of sulfur dioxide (SO2), measured on 02/27/2023 at 13:23 TL.
Observation:
Due to the cloudiness of the area, there are no more observations of surface level activity.
Alert level: Orange.
Source : IGEPN
Photo : volcan sangay FDB / auteur inconnu