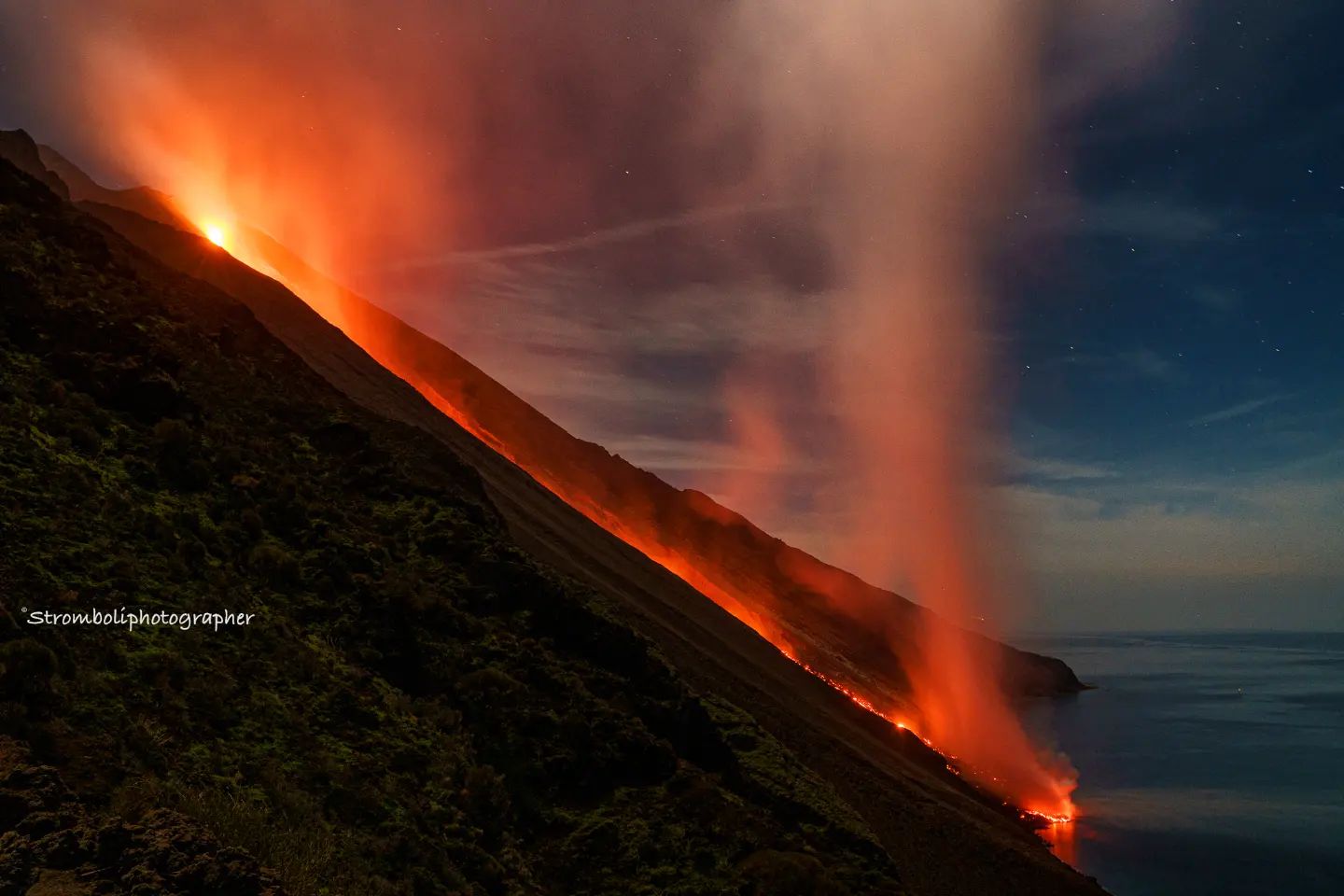 December 06 , 2022.
Italy , Stromboli :
Statement on Stromboli activity, 05 December 2022, 12:42 (11:42 UTC).
The National Institute of Geophysics and Volcanology, Osservatorio Etneo, communicates that the lava flow described in the press release of 4/12 (17:53 UTC) continues to be fed and that the front reaches the coast. The flow emerges from an eruptive fissure that opened just downstream of the N2 vent in the North Zone of the crater. From around 7:30 UTC today, modest explosions are observed at the eruptive vent, with the launch of coarse material that reaches a height of a few tens of meters above the vent and falls nearby immediate; Explosive activity almost absent at the vent in the northern zone of the crater. Rolling rocks along the Sciara del Fuoco produce dilute ash which quickly disperses into the atmosphere. The flows described in the press releases of 4/12 (at 15:35 and 17:35 UTC) produced fine reddish material which fell abundantly on the town of Ginostra.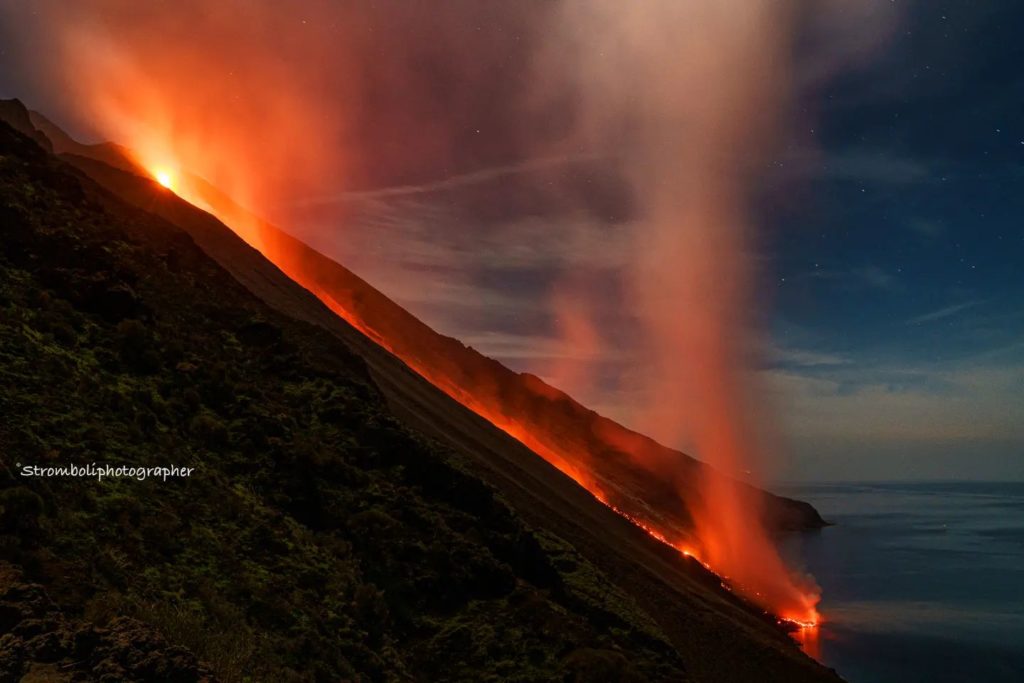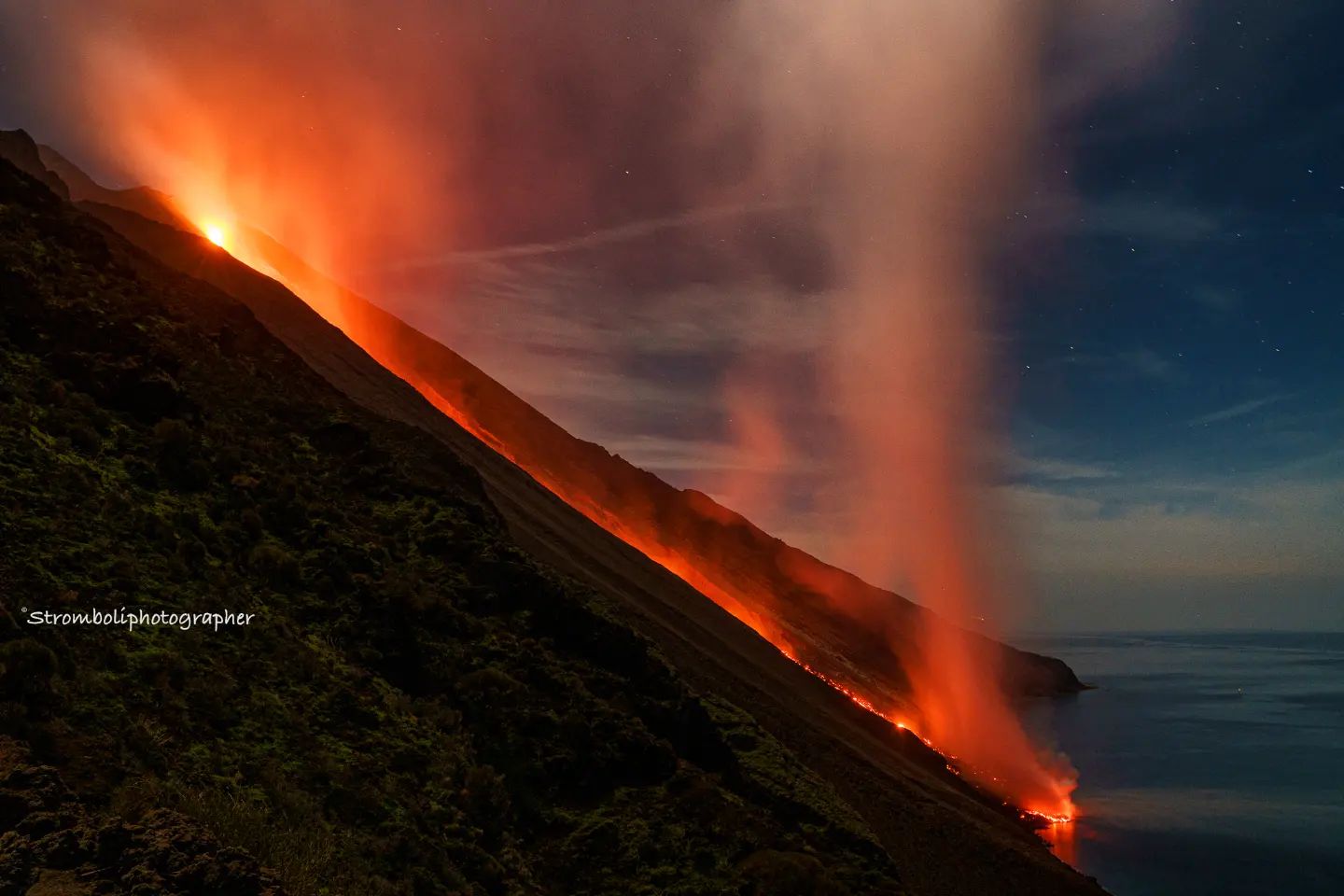 From a seismic point of view, the amplitude of the volcanic tremor is currently at average levels. At 06:59 UTC, we report the occurrence of an earthquake with a local magnitude of 1.2 located about 2 km east of the town of Ginostra at a depth of 1 km.
Since the last press release published, the signals from the ground deformation monitoring networks (GNSS and tilt) have not shown any significant variations.
Further updates will be communicated soon.
Source : INGV.
Photo : Stromboli stati d'animo
Hawaii , Mauna Loa :
Monday, December 5, 2022, 4:23 PM HST (Tuesday, December 6, 2022, 02:23 UTC)
19°28'30 » N 155°36'29 » W,
Summit Elevation 13681 ft (4170 m)
Current Volcano Alert Level: WARNING
Current Aviation Color Code: ORANGE
The Northeast Rift Zone eruption of Mauna Loa continues. One active fissure, fissure 3, is feeding a lava flow downslope.
Fissure 3 is generating a lava flow traveling to the north toward Saddle Road that has reached relatively flatter ground and slowed down significantly over the past several days, as expected.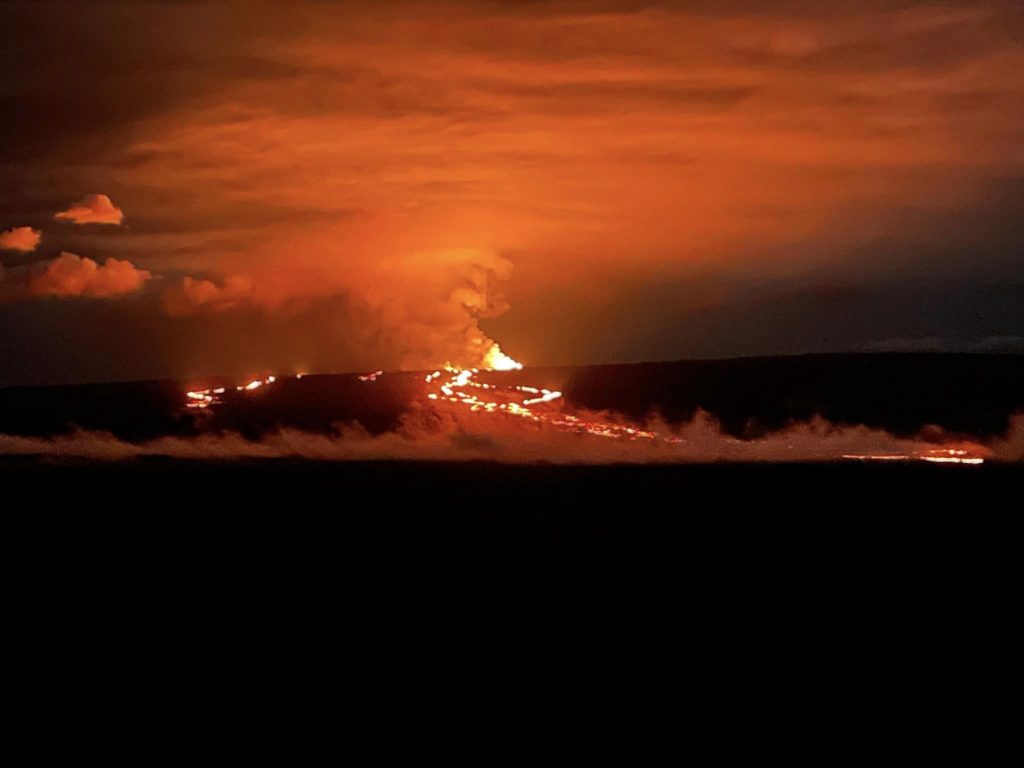 As of 12 p.m. today, December 5, the flow front was about 2.15 mi (3.5 km) from the Daniel K. Inouye Highway (Saddle Road). There continued to be several small overflows from main channels recorded over the past day. During the past 24 hours, the lava flow advanced at an average rate of about 20 feet per hour (6 meters per hour). Though the advance rate has slowed over the past several days, the lava flow remains active with a continuous supply from the fissure 3 vent.
Advance rates may be highly variable over the coming days and weeks. On the flat ground between Mauna Loa and Mauna Kea, lava flows advance more slowly, spread out, and inflate. Individual lobes may advance quickly, and then stall. Additional breakouts may occur if lava channels get blocked upslope. There are many variables at play and both the direction and timing of flow advances are expected to change over periods of hours to days, making it difficult to estimate when or if the flow will impact Daniel K. Inouye Highway.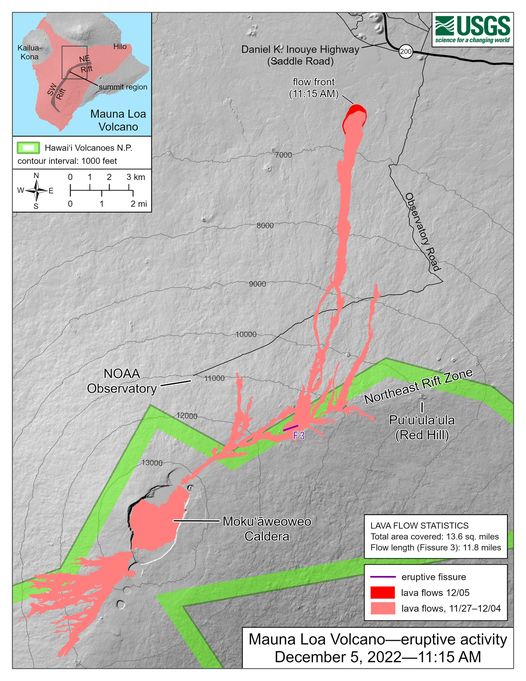 Sulfur dioxide (SO2) emission rates of approximately 120,000 tonnes per day (t/d) were measured on December 4, 2022. These are decreased from the rate of 180,000 t/d measured on December 1, 2022, but elevated emissions of this magnitude can still have moderate to severe impacts on regional air quality, depending on plume rise rate and wind direction. Volcanic gas is rising high and vertically into the atmosphere before being blown to the west at high altitude, generating vog (volcanic air pollution) in areas downwind.
Tremor (a signal associated with subsurface fluid movement) continues beneath the currently active fissure. This indicates that magma is still being supplied to the fissure, and activity is likely to continue as long as we see this signal.
There is no active lava within Moku'āweoweo caldera nor the Southwest Rift Zone. We do not expect any eruptive activity outside the Northeast Rift Zone.
Source : HVO
Photos : Jose Encinas , USGS.
Indonesia , Semeru :
An eruption of G. Semeru occurred on Monday, December 05, 2022 at 11:13 p.m. WIB. No visual rash was observed. This eruption was recorded on a seismograph with a maximum amplitude of 20 mm and a duration of 0 seconds.
VOLCANO OBSERVATORY NOTICE FOR AVIATION – VONA
Issued : December 05 2022
Volcano : Semeru (263300)
Current Aviation Colour Code : ORANGE
Previous Aviation Colour Code : orange
Source : Semeru Volcano Observatory
Notice Number : 2022SMR715
Volcano Location : S 08 deg 06 min 29 sec E 112 deg 55 min 12 sec
Area : East java, Indonesia
Summit Elevation : 11763 FT (3676 M)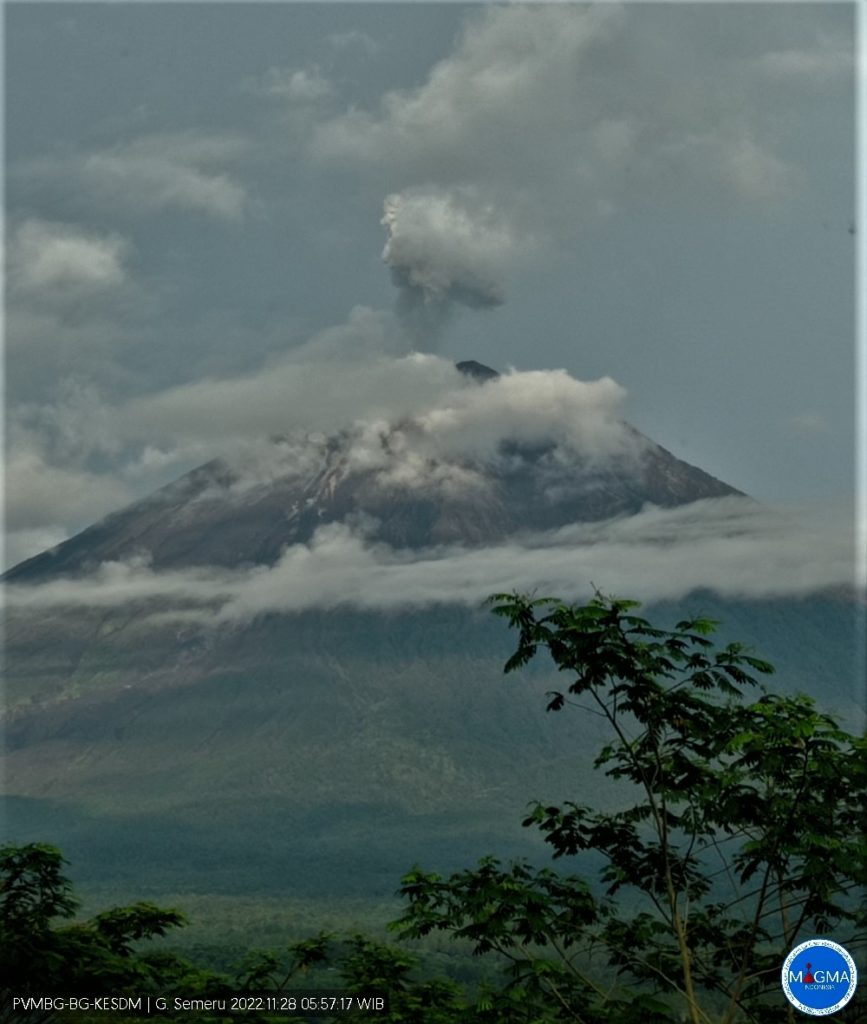 Volcanic Activity Summary :
Eruption with volcanic ash cloud at 22h03 UTC (05h03 local).
Volcanic Cloud Height :
Best estimate of ash-cloud top is around 13043 FT (4076 M) above sea level or 1280 FT (400 M) above summit. May be higher than what can be observed clearly. Source of height data: ground observer.
Other Volcanic Cloud Information :
Ash cloud moving from south to southwest. Volcanic ash is observed to be white to gray. The intensity of volcanic ash is observed from medium to thick.
Remarks :
Eruption recorded on seismogram with maximum amplitude 23 mm and maximum duration 73 second.
Source et photo : Magma Indonésie.
Colombia , Cerro Machin :
Manizales, December 2, 2022 (1:20 p.m. local time)
Cerro Machín volcano activity bulletin. The yellow activity level is maintained at the Yellow activity level or (III): changes in the behavior of volcanic activity.
Regarding the monitoring of the activity of the Cerro Machín volcano, the COLOMBIAN GEOLOGICAL SERVICE reports that:
Since 11:23 a.m. today, December 2, 2022 (local time), there has been an increase in seismic activity associated with the fracturing of rock within the volcanic edifice, including the 12:36 p.m. (local time) stands out, with a magnitude of 4.5 ML (local magnitude), located 0.9 km south-southwest of the main dome, at a depth of 3.0 km. This earthquake was reported as felt in Cajamarca and Ibagué and other municipalities in Tolima. Up to the time of the report, there have been approximately 393 seismic events.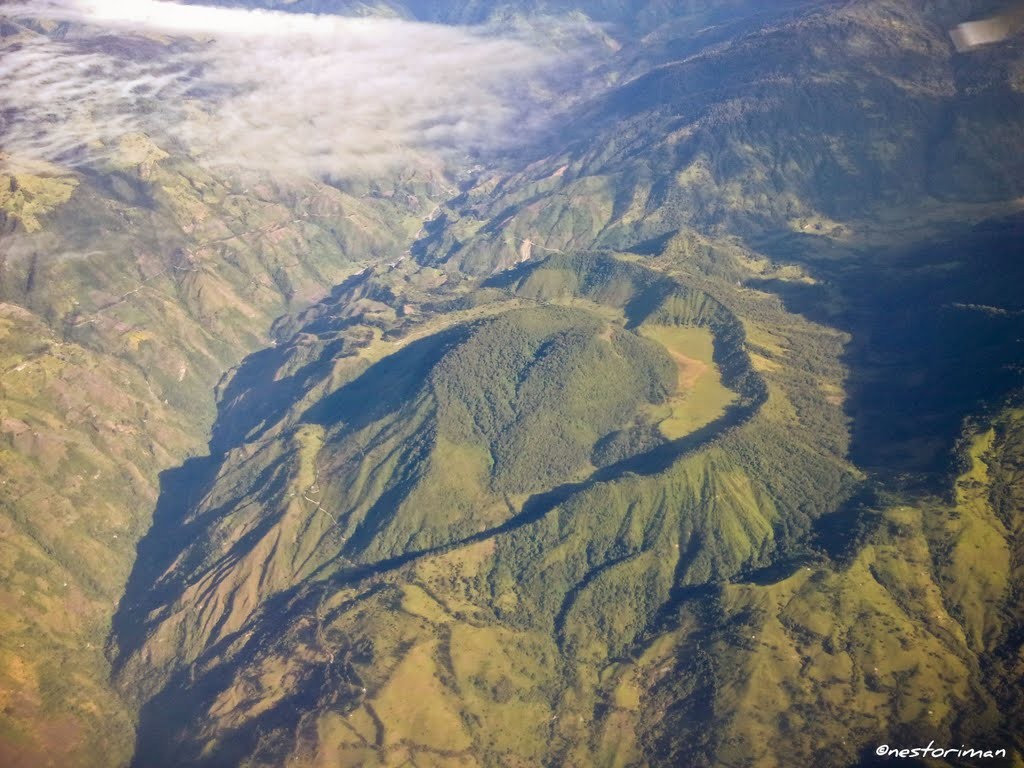 It is recommended that the community continue to be alert to any changes that occur in the activity of the volcano.
The COLOMBIAN GEOLOGICAL SERVICE remains attentive to the evolution of the volcanic phenomenon and will continue to report in a timely manner any changes that may occur. In addition, it is recommended to access only official information and visit the website www.sgc.gov.co as well as its social networks, where additional information to this bulletin will continue to be published.
Source : SGC.
Photo : Nestorima.
Alaska , Cleveland :
52°49'20 » N 169°56'42 » W,
Summit Elevation 5676 ft (1730 m)
Current Volcano Alert Level: ADVISORY
Current Aviation Color Code: YELLOW
A clear webcam images from Cleveland showed no sign of steam or other emissions, while satellite images were obscured by clouds. No significant seismic activity was observed over the past day.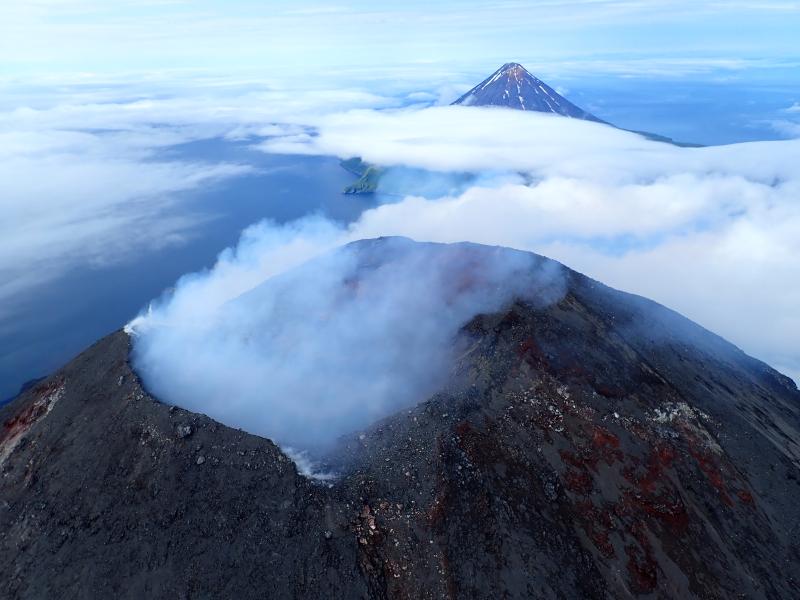 Episodes of lava effusion and explosions can occur without advance warning. Explosions from Mount Cleveland are normally short-duration and only present a hazard to aviation in the immediate vicinity of the volcano. Larger explosions that present a more widespread hazard to aviation are possible but are less likely and occur less frequently.
When the seismic network is operational, Mount Cleveland is monitored by only three local seismic stations, which restricts AVO's ability to precisely locate earthquakes and detect precursory unrest that may lead to an explosive eruption. Rapid detection of an ash-producing eruption may be possible using a combination of seismic, infrasound, lightning, and satellite data.
Source : AVO.
Photo : avec Carlite Island , Kaufman, Max