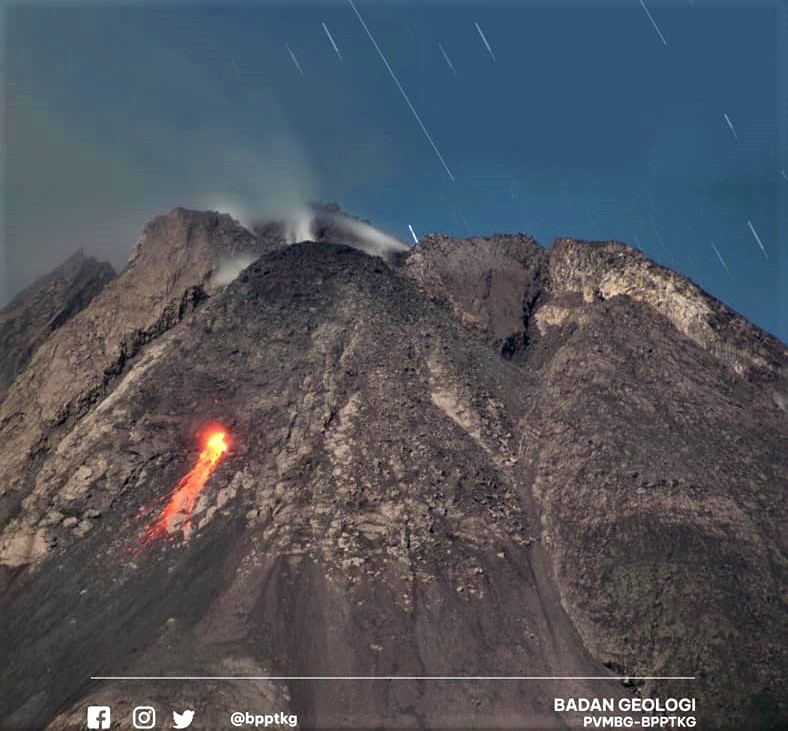 August 27 , 2022.
Indonesia , Merapi :
Report on the activity of Mount Merapi from August 19 to 25, 2022, Published on August 26, 2022
RESULTS OF OBSERVATIONS
Visual
The weather around Mount Merapi is usually sunny in the morning and afternoon, while the evening is foggy. White smoke, thin to medium thickness, low pressure and 225 m high was observed from the Mount Merapi observation post of Babadan on August 23, 2022 at 07:30 WIB.
This week, 19 lava avalanches were observed in the Southwest, descending the Bebeng River with a maximum slip distance of 1,800 m.
On the Southwest dome, there is no change in the height of the dome. For the central dome, no significant morphological change was observed. Based on photo analysis, the volume of the dome is still calculated at 1,664,000 m3, and for the central dome it is 2,772,000 m3.
Seismicity
This week, the seismicity of Mount Merapi showed:
176 deep volcanic earthquakes (VTA),
36 shallow volcanic earthquakes (VTB),
229 multi-phase earthquakes (MP),
1 low frequency earthquake (LF),
448 avalanche earthquakes (RF),
50 emission earthquakes (DG),
9 tectonic earthquakes (TT).
The intensity of this week's seismicity is still quite high.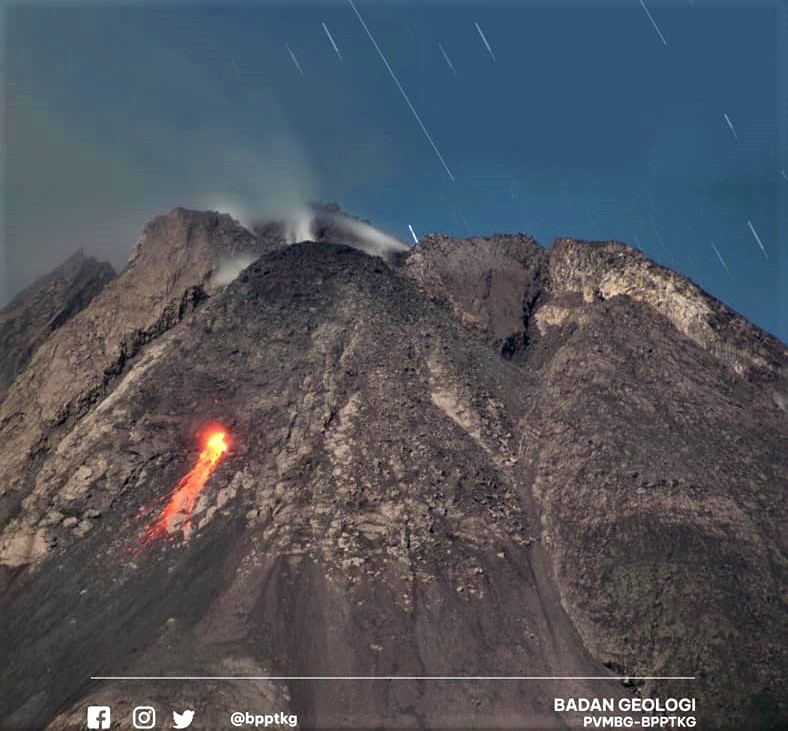 Deformation
Mount Merapi's deformation that was monitored using EDM and GPS this week showed no significant changes.
Rain and lahars:
This week, no rain was reported at the Mount Merapi observation post. There are no reports of lahars or additional flow in the rivers that originate on Mount Merapi.
Conclusion
Based on the results of visual and instrumental observations, it is concluded that:
The volcanic activity of Mount Merapi is still quite high in the form of effusive eruption activity. The state of the activity is defined at the « SIAGA » level.
Source et photo : BPPTKG.
Samoa Islands , Ta'u :
Volcanic Activity Summary:
Ofu-Olosega Islands volcano has been ruled out as the source of the ongoing Manuʻa Islands earthquake swarm. Data from seismometers installed in the Manuʻa Islands this week confirms that the ongoing earthquake activity is related to Taʻū Island volcano and not Ofu-Olosega. Accordingly, the USGS is lowering the volcano alert level to NORMAL and the aviation color code to GREEN for Ofu-Olosega. Taʻū Island remains at ADVISORY/YELLOW.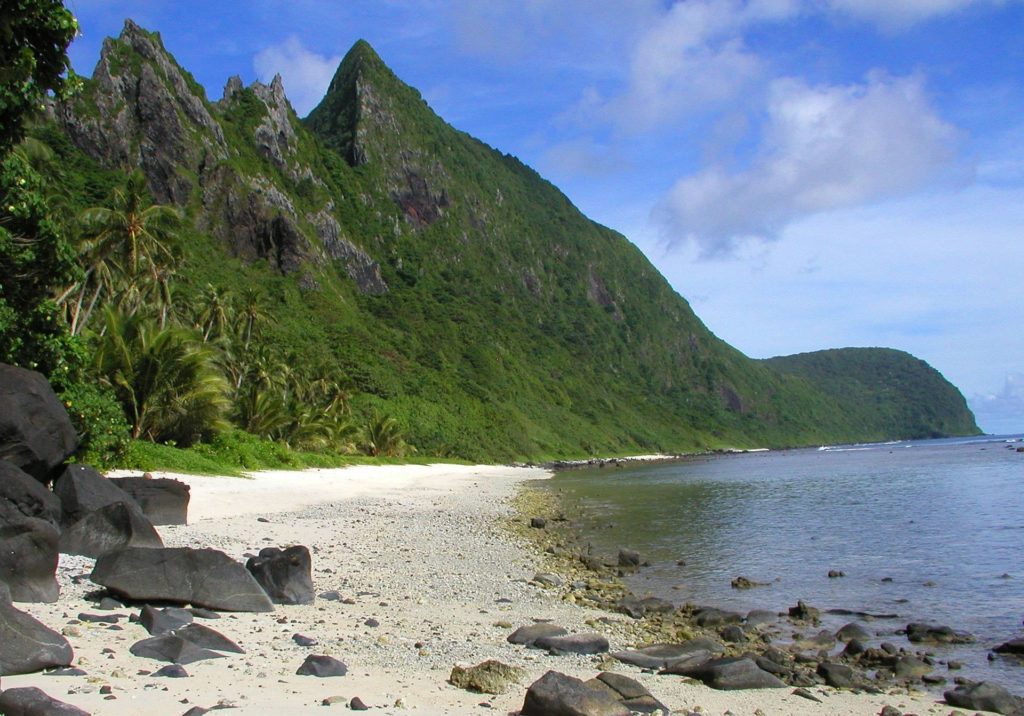 Due to the closeness of the Ofu-Olosega Islands to Taʻū Island, residents of Ofu-Olosega could still be significantly affected by events that may take place on or around Taʻu Island. The earthquake swarm is still ongoing, and people on Ofu-Olosega are likely to feel shaking from future events. Residents of Ofu-Olosega can now find updates on relevant hazards and other important information in the Daily Reports for Taʻū Island. Possible hazards that could impact residents of Ofu-Olosega include shaking related to strong, damaging earthquakes, local tsunamis or large waves related to underwater volcanic activity or landslides, and/or ash and gas from volcanic eruptions.
USGS scientists continue to monitor the earthquake swarm with six microseismometers placed on Tutuila, Taʻū, and Olosega Islands and two more sensitive seismometers on Taʻū and Ofu Islands. We are working to bring a third advanced seismometer online on eastern Ta'u Island.
Source : HVO.
Photo : Ofu Beach , Wikiwand / Parcs nationaux des Samoa américaines
Alaska , Semisopochnoi :
51 55'44 » N 179 35'52 » E,
Summit Elevation 2625 ft (800 m)
Current Volcano Alert Level: WATCH
Current Aviation Color Code: ORANGE
Unrest continues at Semisopochnoi volcano. On Sunday, August 21, 2022, a low-level ash cloud was observed in web camera data and recorded in seismic and infrasound data. Due to this increase in activity, the Aviation Color Code and Volcano Alert Level were raised to ORANGE/WATCH. Steam emissions have subsequently been observed from the north crater of Mount Cerberus in clear webcam images throughout the week. Occasional small earthquakes and periods of seismic tremor were observed in seismic data.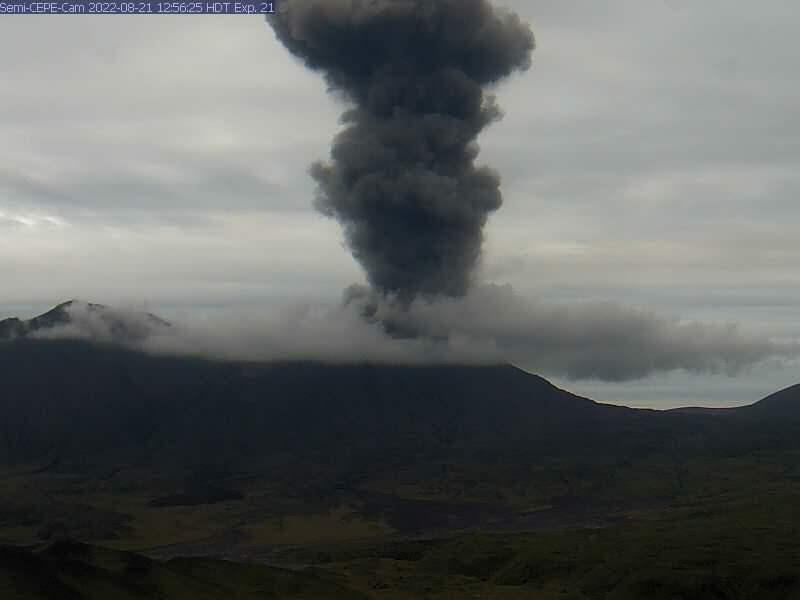 Ash plume from the North Cerberus crater at Semisopochnoi 9 minutes after the start of the eruption. This event was the first confirmed ash emission since June 12, 2022, and resulted in an increase in the color code at Semisopochnoi to ORANGE.
Prior to this low-level ash plume on August 21, there had been no observations of ash emissions from the north crater of Mount Cerberus since mid-June 2022. Small eruptions producing minor ash deposits within the vicinity of the active north crater of Mount Cerberus and ash clouds usually under 10,000 ft (3 km) above sea level have characterized the current eruptive period, which started in February 2021 and could begin again with little warning.
Semisopochnoi is monitored by local seismic and infrasound sensors, satellite data, web cameras, and regional infrasound and lightning networks.
Source : AVO.
Photo : Loewen, Matt / Alaska Volcano Observatory / U.S. Geological Survey .
Kamchatka , Klyuchevskoy :
VOLCANO OBSERVATORY NOTICE FOR AVIATION (VONA)
Issued: August 26 , 2022
Volcano: Klyuchevskoy (CAVW #300260)
Current aviation colour code: GREEN
Previous aviation colour code: orange
Source: KVERT
Notice Number: 2022-95
Volcano Location: N 56 deg 3 min E 160 deg 38 min
Area: Kamchatka, Russia
Summit Elevation: 4750 m (15580 ft)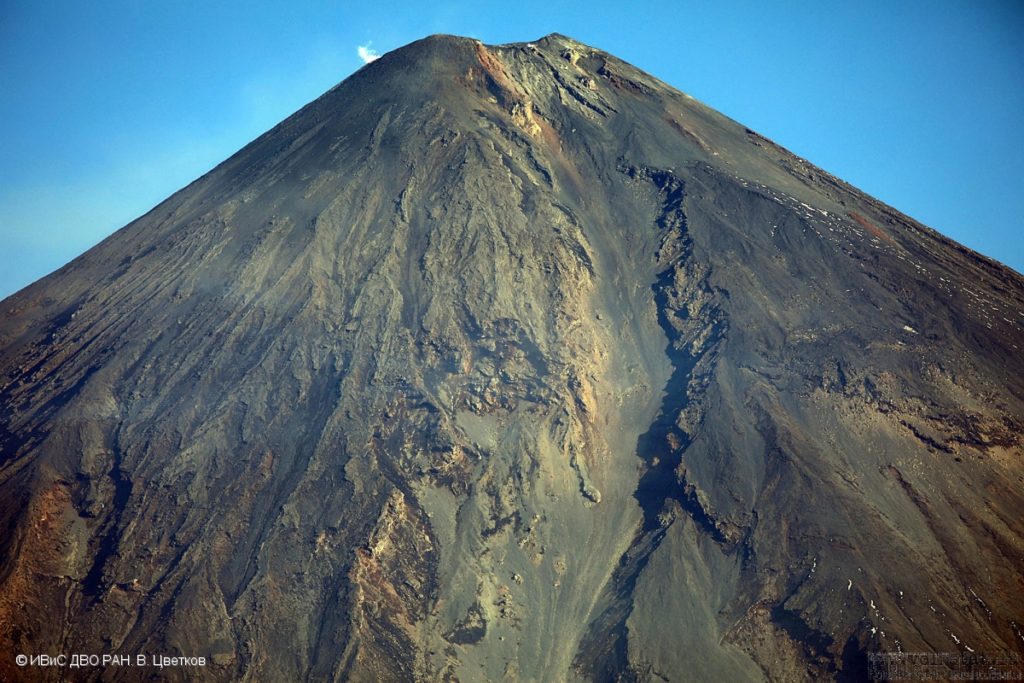 The state of Klyuchevskoy volcano on 09 August, 2022. In the foreground is the Apakhonchichsky chute.
Volcanic Activity Summary:
A strong wind lifted ash from the eastern slopes of Klyuchevskoy volcano on 25-26 August, 2022. Satellite data by KVERT shows: a plume of resuspended ash is not observe from 22:00 UTC on 26 August, 2022. KVERT continues to monitor Klyuchevskoy volcano.
Klyuchevskoy volcano is quiet. The volcano has no eruption at now, but its gas-steam activity could affect low-flying aircraft.
Source : Kvert.
Photo : V. Tsvetkov, IVS FEB RAS
La Martinique , Mount Pelée :
Weekly report on the activity of Mount Pelée for the period from August 19, 2022 to August 26, 2022.
Between August 19, 2022 at 4 p.m. (UTC) and August 26, 2022 at 4 p.m. (UTC), the OVSM recorded at least 9 volcano-tectonic earthquakes of magnitude less than 0.1. These low energy earthquakes were located inside the volcanic edifice between 0.5 / 0.9 km depth below the surface. This superficial volcano-tectonic seismicity is associated with the formation of micro-fractures in the volcanic edifice. None of these earthquakes was felt by the population.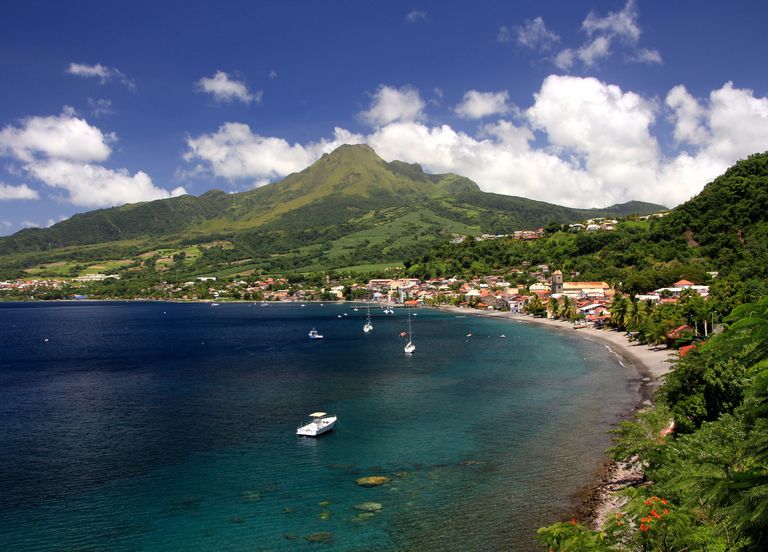 During volcanic reactivation phases, periods of higher seismic activity often alternate with phases of lower seismicity. Since the reactivation of the hydrothermal-magmatic system (end of 2018), the OVSM has not recorded any earthquakes of volcanic origin during the month of May 2019 and less than 3 earthquakes in October 2019 and August 2020. This variability in the number of earthquakes has already, for example been observed following the reactivation of Soufrière de Montserrat.
An extension of two areas of degraded vegetation located between Morne Plumé and the Chaude River was observed during a helicopter flight carried out on February 9 and May 5, with the support of Dragon 972, and confirmed by analysis of satellite images. and drone (overflight of May 11).
The alert level remains YELLOW: vigilance.
Source : OVSM-IPGP.
Photo : tameteo.com