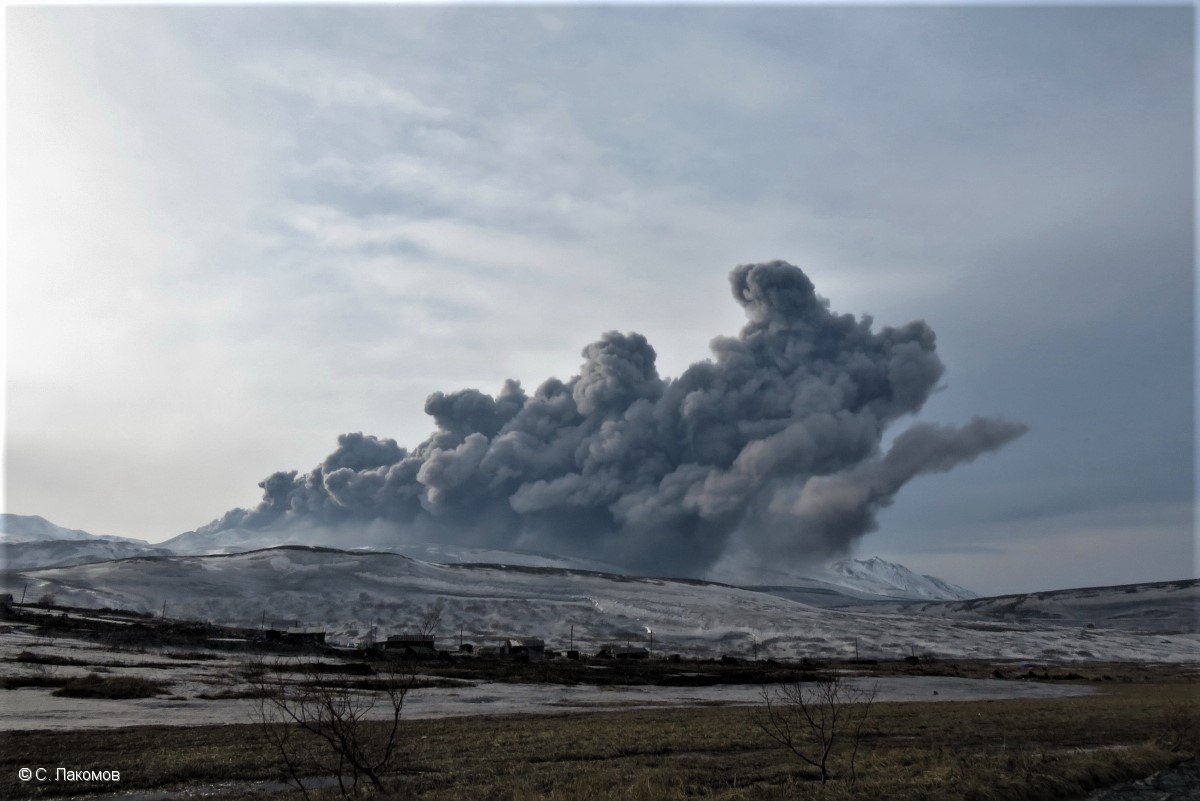 July 11, 2021. EN . Russia / Northern Kurils : Ebeko , Philippines : Taal , Chile : Nevados de Chillan , Hawaii : Kilauea , Ecuador : Reventador , Saint Vincent : Soufrière Saint Vincent .
July 11 , 2021 .
Russia / Northern Kurils , Ebeko :
VOLCANO OBSERVATORY NOTICE FOR AVIATION (VONA).
Issued: July 10 , 2021
Volcano: Ebeko (CAVW #290380)
Current aviation colour code: ORANGE
Previous aviation colour code: orange
Source: KVERT
Notice Number: 2021-66
Volcano Location: N 50 deg 41 min E 156 deg 0 min
Area: Northern Kuriles, Russia
Summit Elevation: 1156 m (3791.68 ft)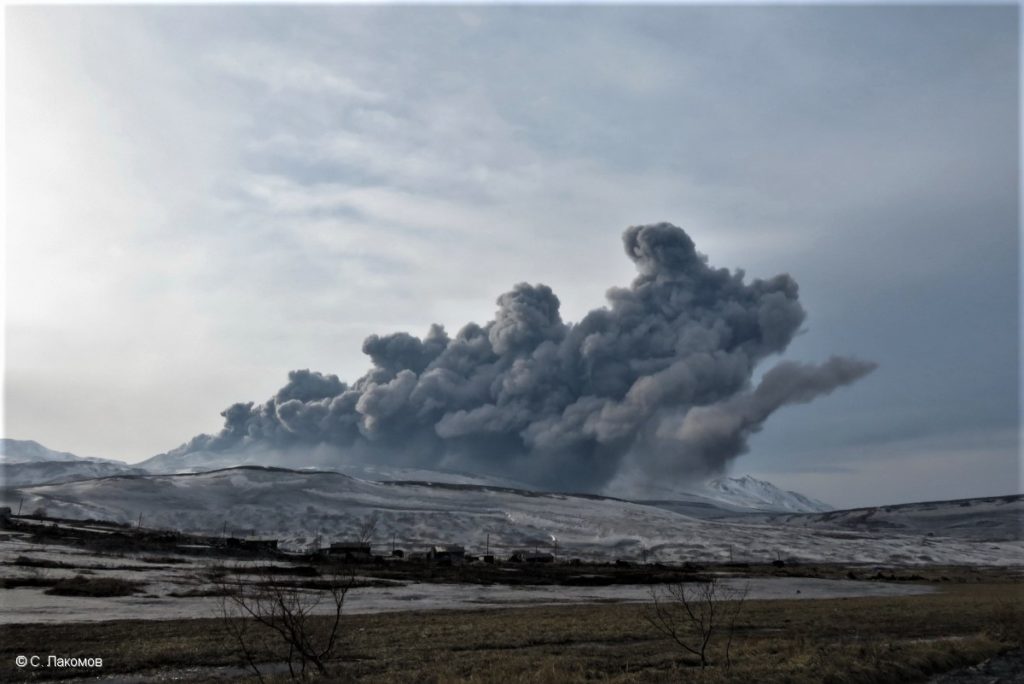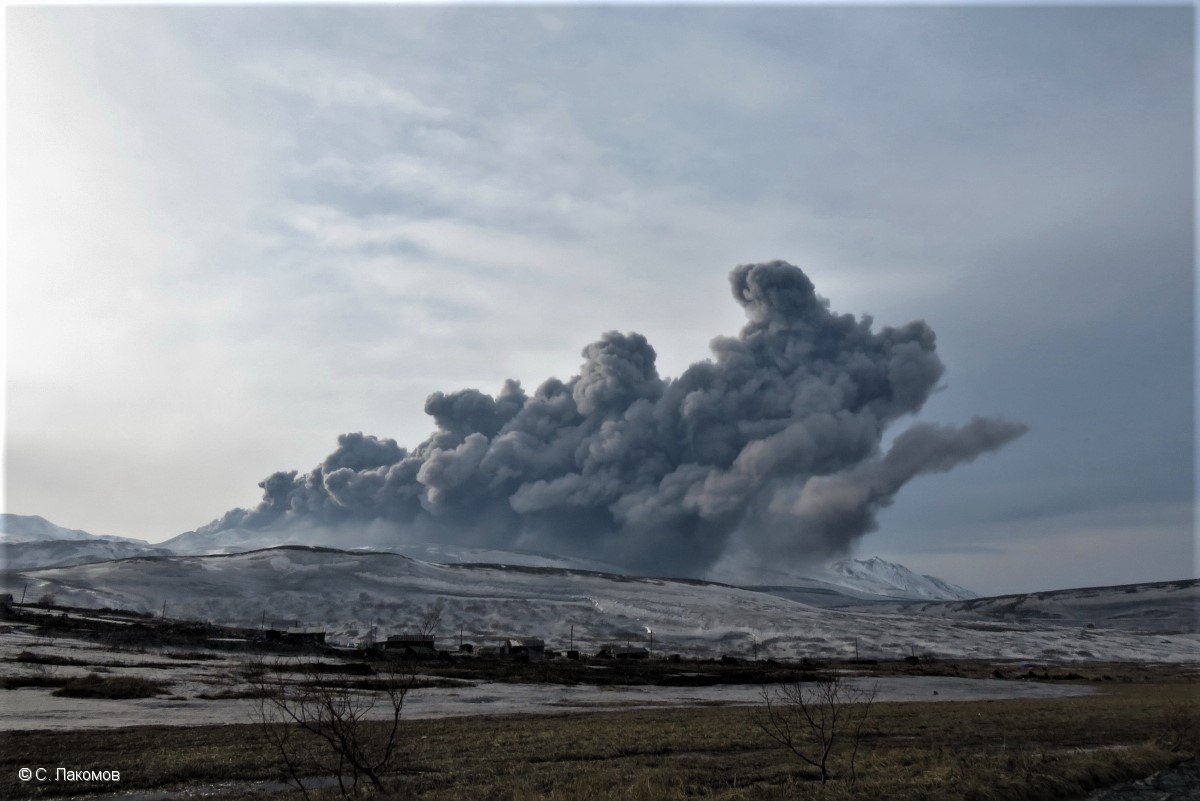 Volcanic Activity Summary:
A moderate eruptive activity of the volcano continues. According to visual data by volcanologists from Severo-Kurilsk, explosion sent ash up to 3 km a.s.l., an ash cloud is drifting to the east from the volcano.
This activity continues. Ash explosions up to 6 km (19,700 ft) a.s.l. could occur at any time. Ongoing activity could affect low-flying aircraft and airport of Severo-Kurilsk.
Volcanic cloud height:
2500-3000 m (8200-9840 ft) AMSL Time and method of ash plume/cloud height determination: 20210710/0428Z – Visual data
Other volcanic cloud information:
Distance of ash plume/cloud of the volcano: 5 km (3 mi)
Direction of drift of ash plume/cloud of the volcano: E
Time and method of ash plume/cloud determination: 20210710/0428Z – Visual data.
Source : Kvert.
Photo : S. Lakomov.
Philippines , Taal :
TAAL VOLCANO BULLETIN 11 July 2021 8:00 AM
In the past 24-hour period, the Taal Volcano Network recorded seventy-four (74) volcanic earthquakes, including thirteen (13) low frequency volcanic earthquakes, sixty-one (61) volcanic tremor events having durations of one (1) to twenty-five (25) minutes, and low-level background tremor that has persisted since 07 July 2021. High levels of volcanic sulfur dioxide or SO2 gas emissions and steam-rich plumes that rose one thousand (1,000) meters before drifting west-northwest and southwest were generated from the Taal Main Crater. Sulfur dioxide (SO2) emission averaged 6,488 tonnes/day on 10 July 2021. Based on ground deformation parameters from electronic tilt, continuous GPS and InSAR monitoring, Taal Volcano Island has begun deflating in April 2021 while the Taal region continues to undergo very slow extension since 2020.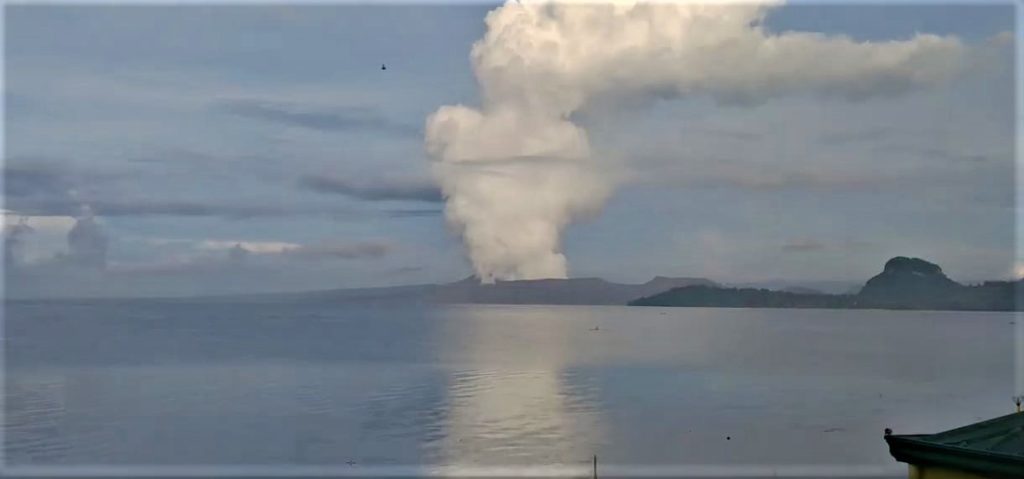 Alert Level 3 (Magmatic Unrest) now prevails over Taal Volcano. At Alert Level 3, magma extruding from the Main Crater could drive explosive eruption. The public is reminded that the entire Taal Volcano Island is a Permanent Danger Zone (PDZ), and entry into the island as well as into the high-risk barangays of Agoncillo and Laurel must be prohibited due to the hazards of pyroclastic density currents and volcanic tsunami should strong eruptions occur. All activities on Taal Lake should not be allowed at this time. Communities around the Taal Lake shores are advised to remain vigilant, take precautionary measures against possible airborne ash and vog and calmly prepare for possible evacuation should unrest intensify. Civil aviation authorities must advise pilots to avoid flying over Taal Volcano Island as airborne ash and ballistic fragments from sudden explosions and pyroclastic density currents such as base surges may pose hazards to aircraft.
DOST-PHIVOLCS maintains its close monitoring of Taal Volcano and any new development will be communicated to all concerned stakeholders.
Source : Phivolcs.
Photo : Stefan Wagner
Chile , Nevados de Chillan :
Special Report on Volcanic Activity (REAV), Ñuble region, Nevados de Chillán volcanic complex, July 10, 2021, 9:30 a.m. local time (Continental Chile).
The National Service of Geology and Mines of Chile (Sernageomin) publishes the following PRELIMINARY information, obtained thanks to the monitoring equipment of the National Volcanic Monitoring Network (RNVV), processed and analyzed at the Volcanological Observatory of the Southern Andes ( Ovdas):
On Saturday July 10, at 08:33 and 09:05 local time (12:33 and 13:05 UTC), the monitoring stations installed near the volcanic complex of Nevados de Chillán recorded two earthquakes associated with fluid dynamics (long period type) in the volcanic system.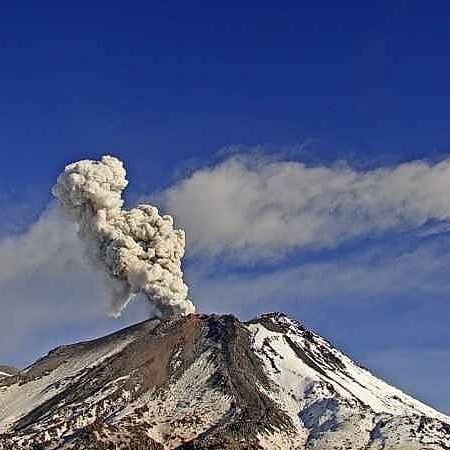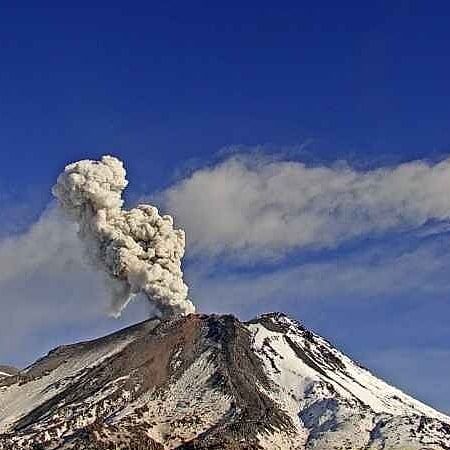 The characteristics of the earthquake after its analysis are as follows:
TIME OF ORIGIN: 08:33 and 09:05 local time (12:33 and 13:05 UTC)
LATITUDE: 36.856 ° S
LONGITUDE: 71.370 ° W
DEPTH: 2.0 km
REDUCED DISPLACEMENT: 658 and 999 (cm2)
ACOUSTIC SIGNAL: 1.4 and 2.2 Pascals (Pa) reduced to 1 km.
The characteristics of the surface activity are as follows:
Maximum column height: 300 m above the emission point.
Direction of dispersion: East.
OBSERVATIONS:
The two earthquakes have a very similar waveform and frequency spectrum, so it is assumed that they belong to the same source.
The volcanic technical alert remains at the Yellow level.
Source : Sernageomin.
Photo : Sernageomin .
Hawaii , Kilauea :
19°25'16 » N 155°17'13 » W,
Summit Elevation 4091 ft (1247 m)
Current Volcano Alert Level: ADVISORY
Current Aviation Color Code: YELLOW
Activity Summary:
Kīlauea Volcano is not currently erupting and no changes were noted following yesterday's M5.2 earthquake north of Waipiʻo Valley. No surface activity has been observed by field crews or in webcam images since May 23, 2021. Seismicity has slowly increased in recent weeks in the summit region, with continued summit inflation over the past several months. Sulfur dioxide emission rates remain slightly elevated. It is possible that the Halema'uma'u vent could resume eruption or that Kīlauea is entering a longer period of quiescence prior to the next eruption.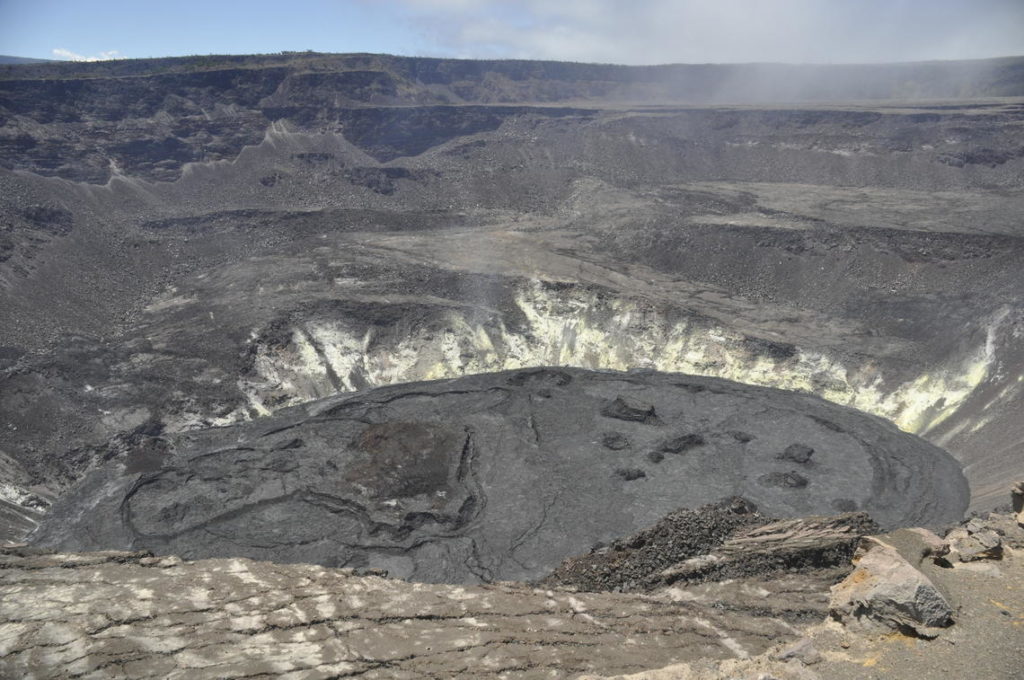 A view north of Halema'uma'u Crater on July 2, 2021. Although eruptive activity has halted at the summit of Kīlauea, HVO geologists still regularly monitor the lava lake and summit area. The surface depths of the lava lake have remained the same over the past few weeks. The field team heard two rock falls on July 2 coming slightly east (right) of the field of view from the southern wall of the Halema'uma'u caldera.
Summit Observations:
The most recent sulfur dioxide (SO2) emission rate, measured on June 30, 2021, was 110 tonnes per day (t/d). SO2 emission rates have been approaching levels associated with the non-eruptive period from late 2018 to late 2020 (30-35 t/d) and are significantly lower than emission rates that averaged over 800 t/d from mid-February to mid-April. Summit tiltmeters recorded two deflation-inflation cycles over the past week, along with continued gradual inflation. Continued inflation was also recorded by summit GPS instruments; however, the pattern of tilt and GPS motions indicates that the inflation center may have shifted slightly to the southern part of the caldera. Seismicity has been slowly increasing in recent weeks, though it has not yet reached levels seen immediately prior to the December 2020 eruption.
Halemaʻumaʻu Lava Lake Observations:
The lake's surface is completely covered by solidified lava crust. No surface activity or evidence of recent surface activity has been observed over the past week.
East Rift Zone Observations:
No unusual activity noted in the region. Geodetic monitors indicate that the summit and upper East Rift Zone—between the summit and Puʻuʻōʻō—is refilling at rates similar to those measured over the past 2 years and before the December 2020 eruption. SO2 and hydrogen sulfide (H2S) emissions from Puʻuʻōʻō were below instrumental detection levels when last measured on January 7, 2021.
Source : HVO.
Photo : USGS / N. Deligne.
Ecuador , Reventador :
DAILY REPORT OF THE STATE OF THE REVENTADOR VOLCANO, Saturday July 10, 2021.
Information Geophysical Institute – EPN.
Surface activity level: High, Surface trend: No change.
Internal activity level: Moderate, Internal trend: No change.
Seismicity: From July 9, 2021, 11:00 a.m. to July 10, 2021, 11:00 a.m.
Explosions (EXP): 70 events
Long period type events (LP): 45
Emission tremor (TREMI): 10.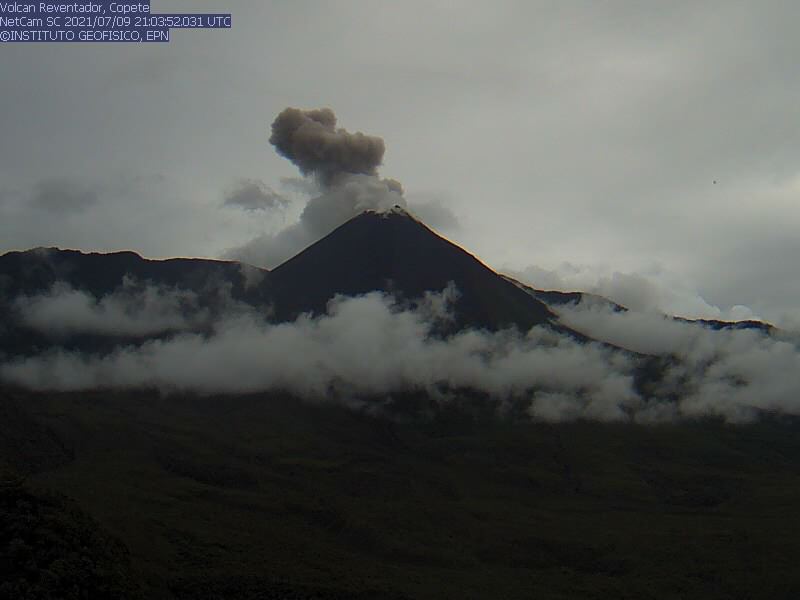 Rains / lahars: Light rains were recorded in the volcano region, without generating lahars.
Emission / ash column: In the late afternoon yesterday, the area was partially cleared, and gas emissions were observed up to 700 meters above crater level in a westerly direction. The VAAC reported 2 emission alerts observed by satellites at altitudes 700 meters above crater level in a westerly direction.
Other monitoring parameters: FIRMS records 1 thermal alert on the Reventador in the last 24 hours.
Observations: An incandescence was observed in the crater at night. At the moment the volcano sector is cloudy
Alert level: Orange.
Source et photo : IGEPN.
Saint Vincent , Soufrière Saint Vincent :
La Soufriere Volcano – SCIENTIFIC UPDATE 09/07/21 1:00PM
-Seismic activity at La Soufrière, St Vincent has remained low since the tremor associated with the explosion and ash venting on 22 April. In the last 24 hours, only a few small earthquakes have been recorded.
– Persistent steam emissions from a few regions inside the crater continue to be the dominant observable feature.
– Thermal anomalies continue to be detected but do not indicate an explosive event is imminent but that there is a source of heat, most likely from a small body of magma left over, close to the floor of the summit crater.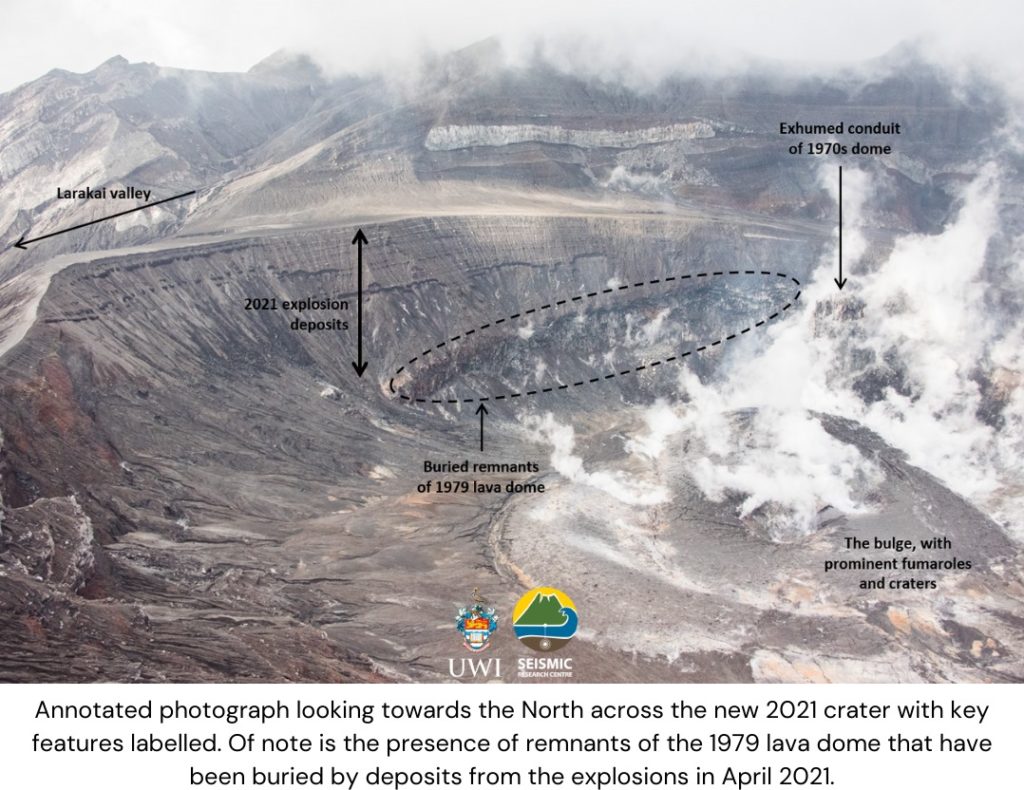 – Measurements of the sulphur dioxide flux at La Soufrière were carried out by boat off the west
coast on 6 July, with the assistance of the coastguard. Several traverses were completed and yielded an average SO2 flux of 346 tons per day.
– Work is underway to restore capacity lost during the explosive phase of the eruption. This will continue into July.
– Current activity is consistent with a period of unrest after an eruption. This can continue for weeks to months. While volcanic activity has been on a decline, there is the continued presence of near surface hot spots, daily seismic activity and substantial degassing.
– There is a small, but not insignificant, possibility that magmatic activity might restart with little warning, should there be an influx of new magma from depth
– The volcano is at alert level ORANGE.
Source et photo : UWI