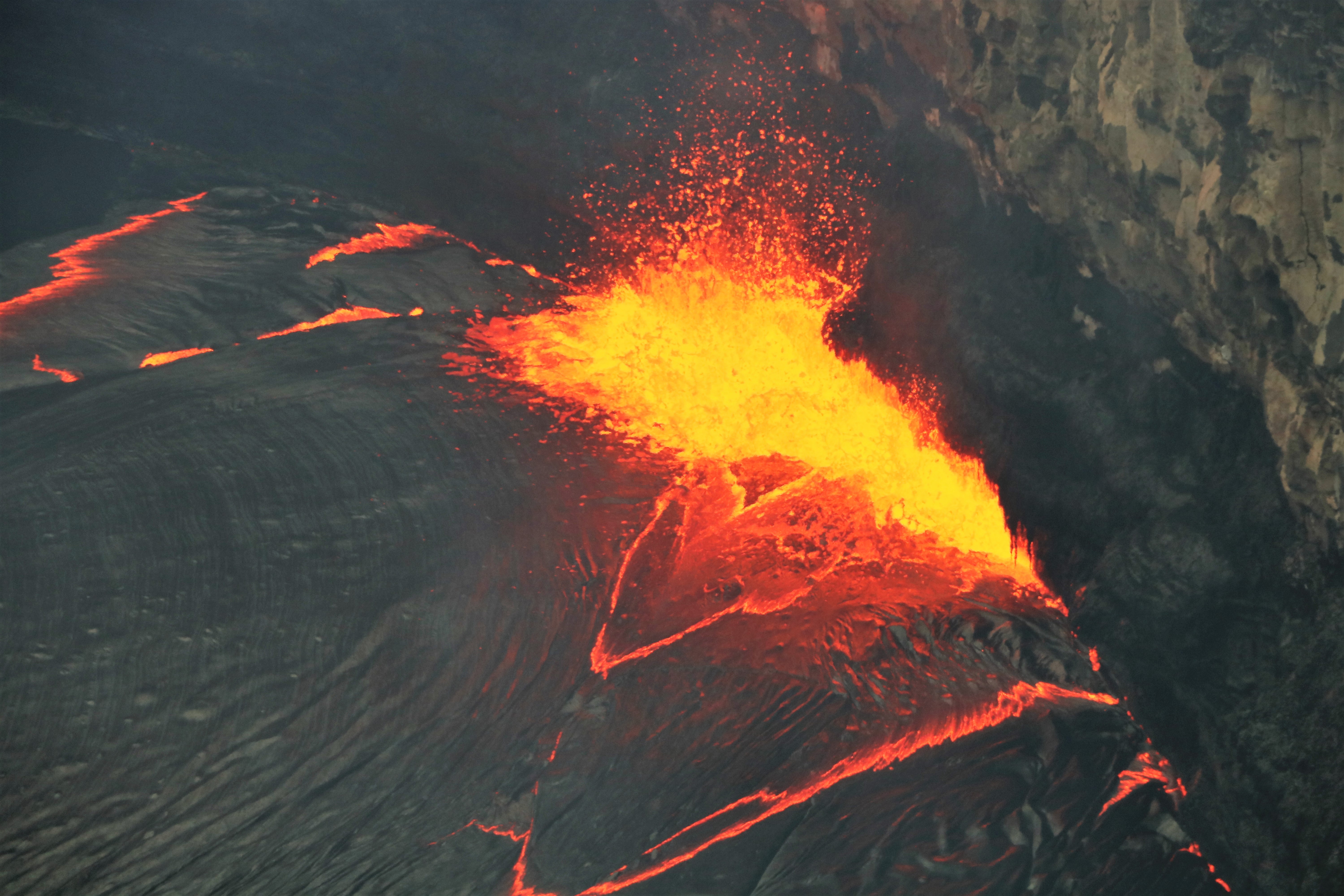 February 23 , 2018. EN. Mayon , Kilauea , Cleveland , Cumbal , Popocatepetl .
February 23 , 2018.
Mayon , Philippines :
MAYON VOLCANO BULLETIN 23 February 2018 08:00 A.M.
Mayon's activity in the past 24 hours was characterized by generally quiet lava effusion, degassing from the summit crater and a brief, 200-meter tall lava fountain at 7:17 PM. During daytime yesterday, between 5:49 AM and 5:03 PM, twenty-one (21) episodes of lava-collapse pyroclastic density currents (PDC) were visually observed on the Miisi, Basud and Bonga-Buyuan Gullies within 2-4 kilometers of the summit crater. At night, lava effusion from the vent continued to feed lava flows that have maintained fronts at 3.3 kilometers, 4.5 kilometers and 900 meters on the Miisi, Bonga and Basud Gullies, respectively, from the summit crater.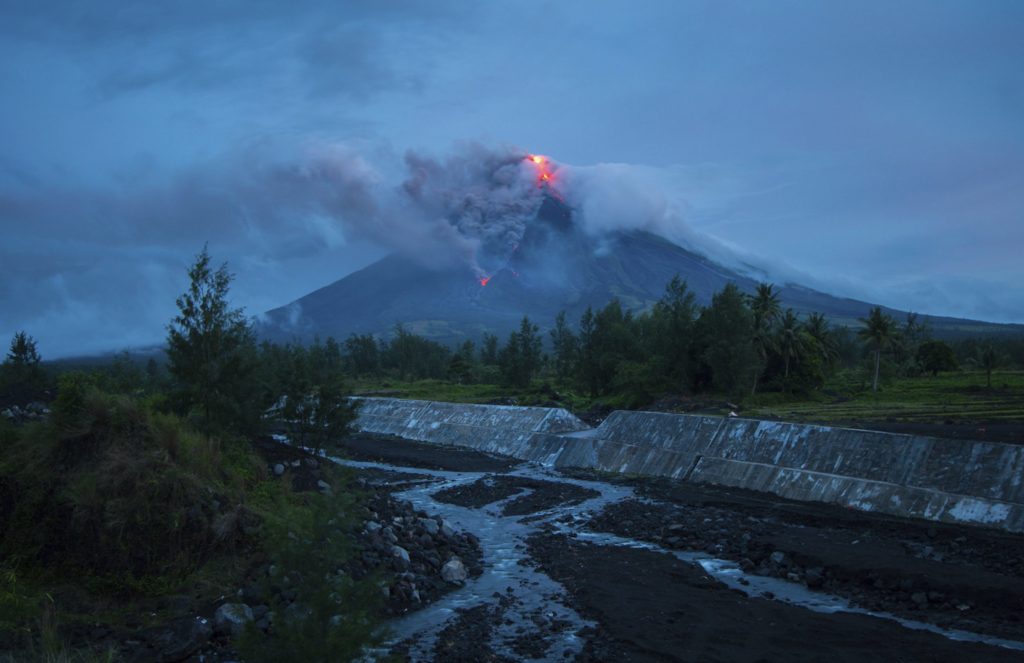 A total of seven (7) volcanic earthquakes and nineteen (19) rockfall events were recorded by Mayon's seismic monitoring network. Sulfur dioxide (SO2) emission was measured at an average of 1,459 tonnes/day on 22 February 2018. Electronic tilt and continuous GPS indicate that the edifice is still swollen or inflated relative to November and October 2017 due to pressurization by magmatic intrusion, consistent with campaign Precise Leveling data acquired this week.
Alert Level 4 still remains in effect over Mayon Volcano. The public is strongly advised to be vigilant and desist from entering the eight (8) kilometer-radius danger zone, and to be additionally vigilant against pyroclastic density currents, lahars and sediment-laden stream flows along channels draining the edifice. Civil aviation authorities must also advise pilots to avoid flying close to the volcano's summit as ash from any sudden eruption can be hazardous to aircraft.
DOST-PHIVOLCS maintains close monitoring of Mayon Volcano and any new development will be communicated to all concerned stakeholders.
Source : Phivolcs
Photo : Dan Amaranto
Kilauea , Hawai :
19°25'16 » N 155°17'13 » W,
Summit Elevation 4091 ft (1247 m)
Current Volcano Alert Level: WATCH
Current Aviation Color Code: ORANGE
Activity Summary:
Eruptions at Kīlauea Volcano's summit and East Rift Zone continue with no significant changes. Episode 61g lava flow activity persists on the upper portion of the flow field and on Pulama pali. Lava is not entering the ocean at this time. These lava flows pose no threat to nearby communities. The lava lake surface is approximately 36 m (118 ft.) below the floor of Halemaʻumaʻu. Low rates of ground deformation and seismicity continue across the volcano.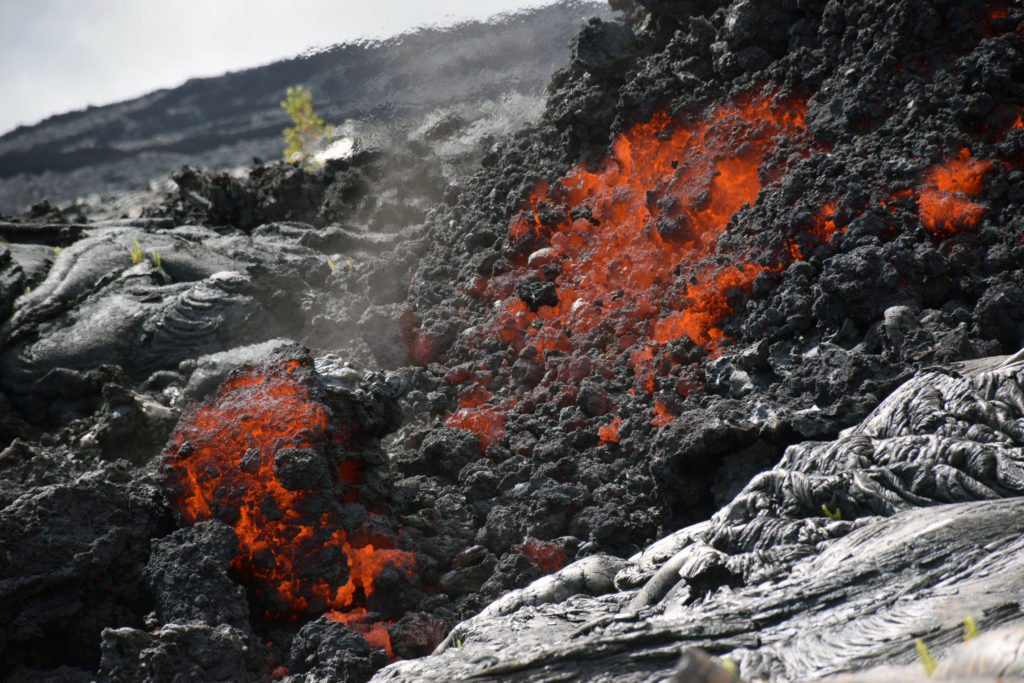 Summit Observations:
Summit tiltmeters began recording deflationary tilt starting at about 2:00AM this morning, consistent with the beginning phase of a summit DI event . The lava lake level accordingly lowered to 36 m (118 ft.) below the rim of the Overlook Vent, as measured this morning. A small flurry of earthquakes occurred in the upper East Rift Zone yesterday; the largest event was a M2.3. Seismicity is within normal, background rates with tremor fluctuations associated with lava lake spattering. Summit sulfur dioxide emission rates remain high.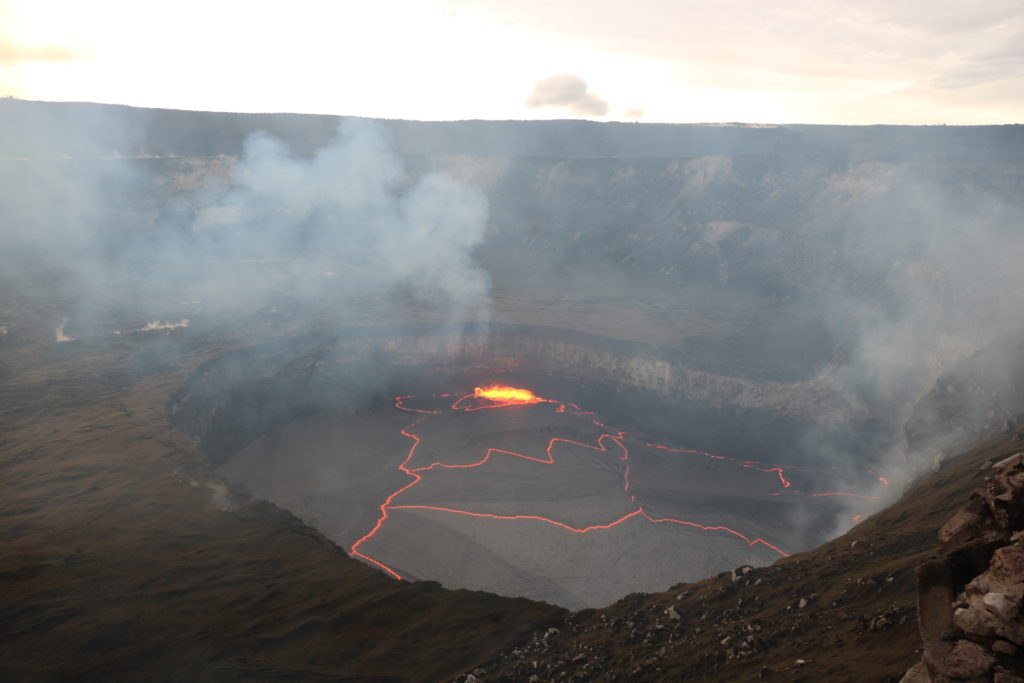 Puʻu ʻŌʻō Observations:
Webcam images over the past 24 hours show persistent glow at long-term sources within the crater and from a small lava pond on the west side of the crater. There were no significant changes in seismicity or tilt over the past 24 hours. The sulfur dioxide emission rate from the East Rift Zone vents has been steady over the past several months and remains significantly lower than the summit emission rate.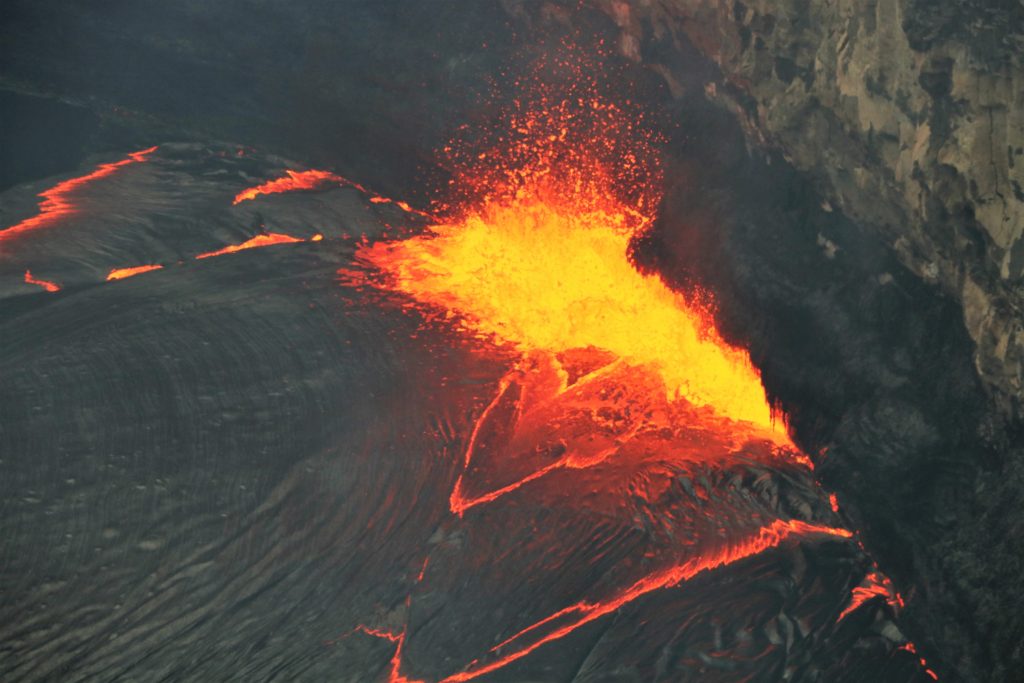 Lava Flow Observations:
The episode 61g flow is still active, but no lava is flowing into the ocean. Webcams views show continuing surface flow activity on the upper portion of the flow field and on Pulama pali. None of these flows poses any threat to nearby communities at this time.
Source : HVO
Cleveland , Alaska :
52°49'20 » N 169°56'42 » W,
Summit Elevation 5676 ft (1730 m)
Current Volcano Alert Level: ADVISORY
Current Aviation Color Code: YELLOW
Unrest continues at Cleveland volcano. Seismic and infrasound data from 06:54 UTC (21:54 AKST 21 Feb) suggests that a small explosion may have occurred. Clear satellite views around this time do not show an ash cloud or other signs of volcanic activity; however, a later image from 14:15 UTC (05:15 AKST) shows moderately elevated surface temperatures extending about 2 km ESE from the summit, indicative of a warm deposit.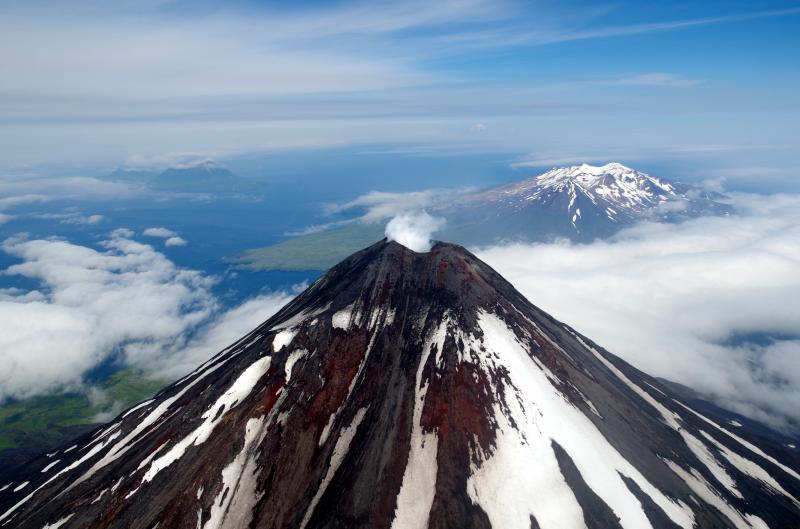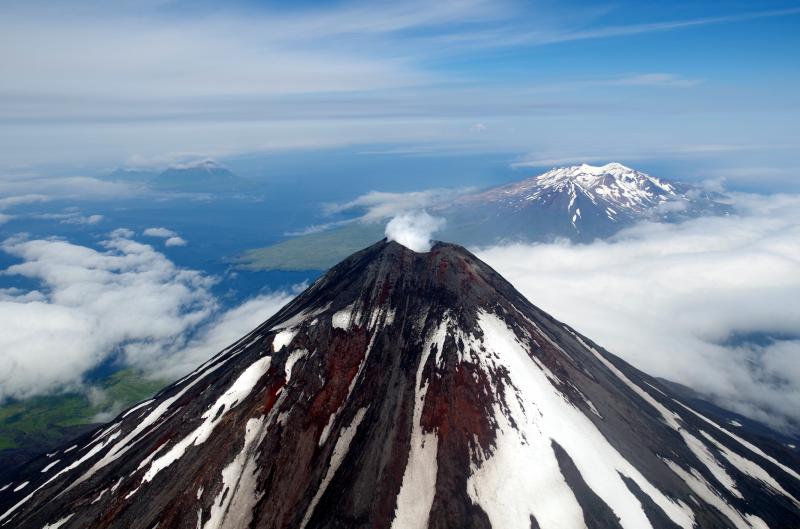 Cleveland volcano is monitored with a limited real-time seismic network, which inhibits AVO's ability to detect precursory unrest that may lead to an explosive eruption. Rapid detection of an ash-producing eruption may be possible using a combination of seismic, infrasound, lightning, and satellite data.
Source : AVO
Photo : Izbekov, Pavel , Juillet 2015.
Cumbal , Colombia :
Subject: Cumbal Volcano Activity Bulletin.
The level of activity of the volcano is maintained at the level:
YELLOW LEVEL ■ (III): CHANGES IN THE BEHAVIOR OF VOLCANIC ACTIVITY.
Following the activity of the CUMBAL VOLCANIC COMPLEX, the COLOMBIAN GEOLOGICAL SERVICE informs that:
During the period from February 13 to 19, 2018, seismic activity decreased slightly from that of the previous week, from 428 to 370 events. The predominance of earthquakes associated with fluid movements from a transient source over time has been maintained. The events associated with rock fracturing have been dispersed in the volcanic complex zone, at depths of less than 7 km from the summit (4700 m) and with a maximum local magnitude of M0.6.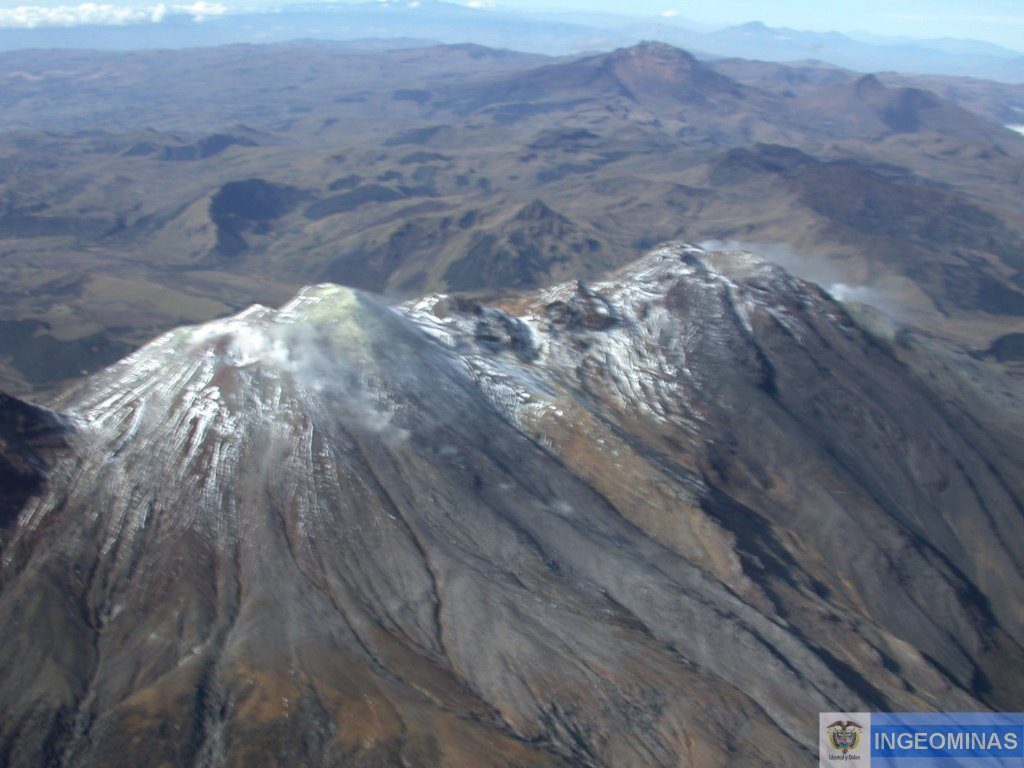 Favorable climatic conditions made it possible to observe gas emissions from the El Verde fumarole field, situated to the north-east of the volcanic complex, with white emission columns, of low height and with a dispersal direction. variable by wind action.
The COLOMBIAN GEOLOGICAL SERVICE is attentive to the evolution of the volcanic phenomenon and will continue to inform in a timely manner of the detected changes.
Source : SGC
Popocatépetl , Mexico:
February 22, 11:00 am (February 22, 5:00 pm GMT)
In the last 24 hours, according to the monitoring systems of the Popocatepetl volcano, 183 low intensity exhalations have been identified, accompanied by water vapor and gas. In addition four explosions occurred, which occurred during the first two hours of yesterday at 20:03 and 23:07 pm, the other two occurred during this morning at 6:32 and 07:39 pm, both were generated columns 1 to 1.2 km high, scattered in the direction East-Southeast.
In the afternoon of yesterday and this morning, episodes of short harmonic tremors were recorded, totaling 47 minutes.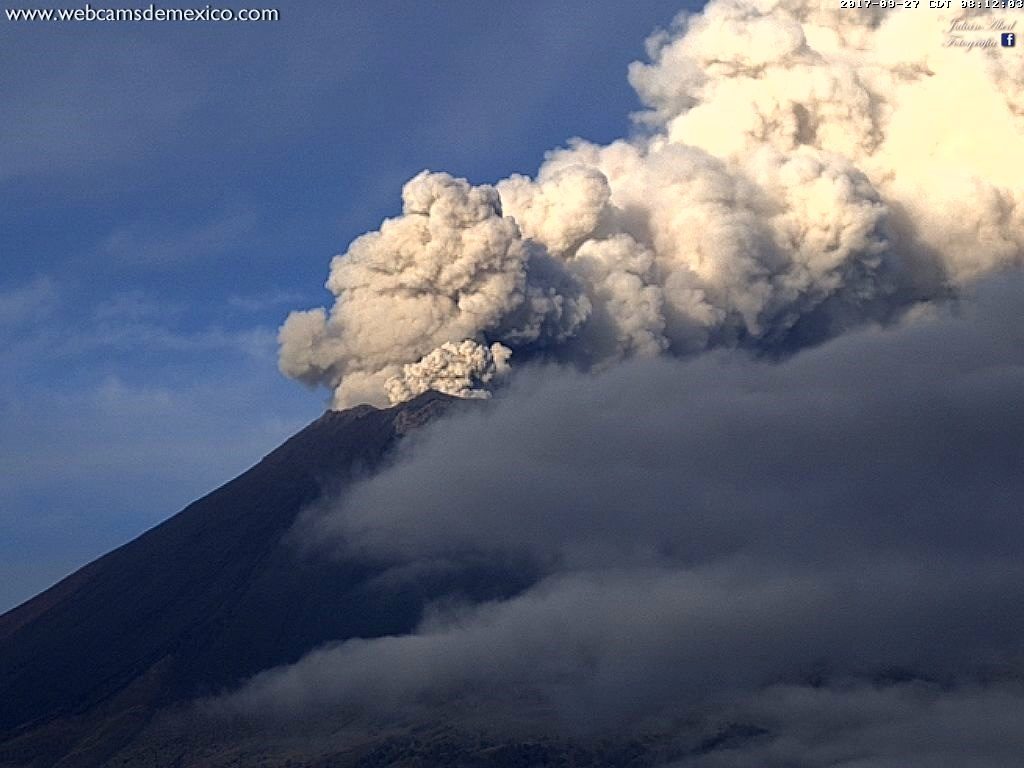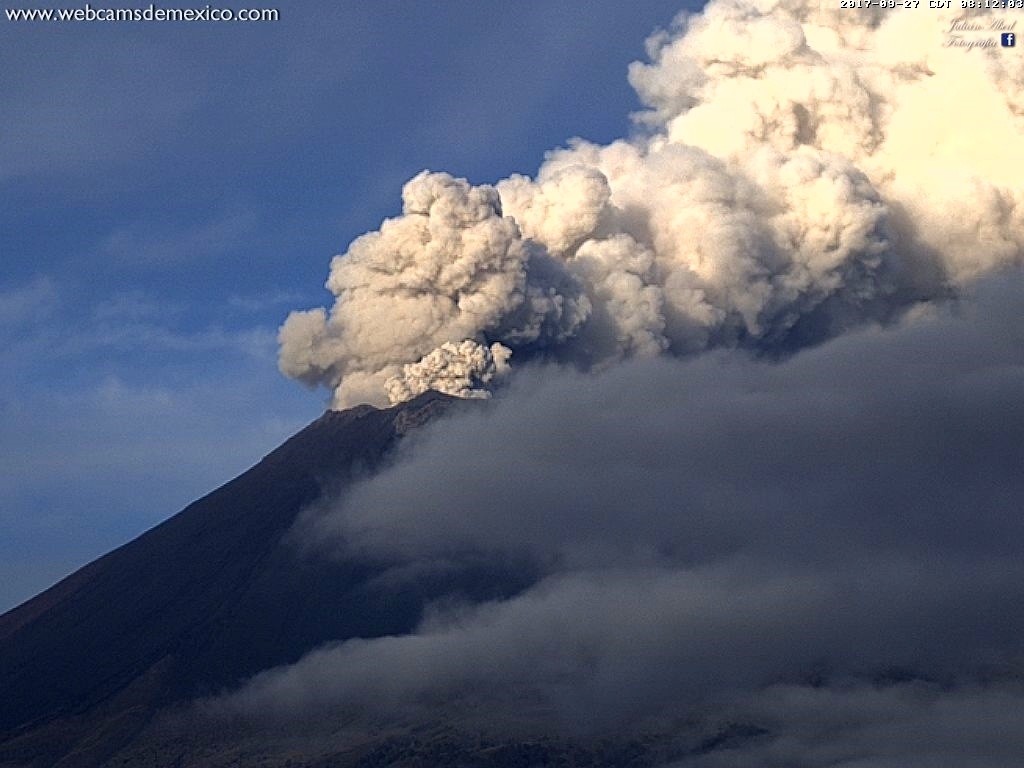 Moreover, two volcano-tectonic events yesterday at 11:27 and 13:19 h were recorded, with respective magnitudes of M2,1 and M2,8
During this report, there is a slight emission of water vapor and other gases that disperse in the east direction.
CENAPRED asked not to approach the volcano and in particular the crater, because of the risk of falling of projectiles, and in case of heavy rain to stay away from the bottom of gullies because of the danger of landslides and flows of mud.
The volcanic warning light of the Popocatepetl volcano is located at Amarillo Phase 2.
Source : Cenapred