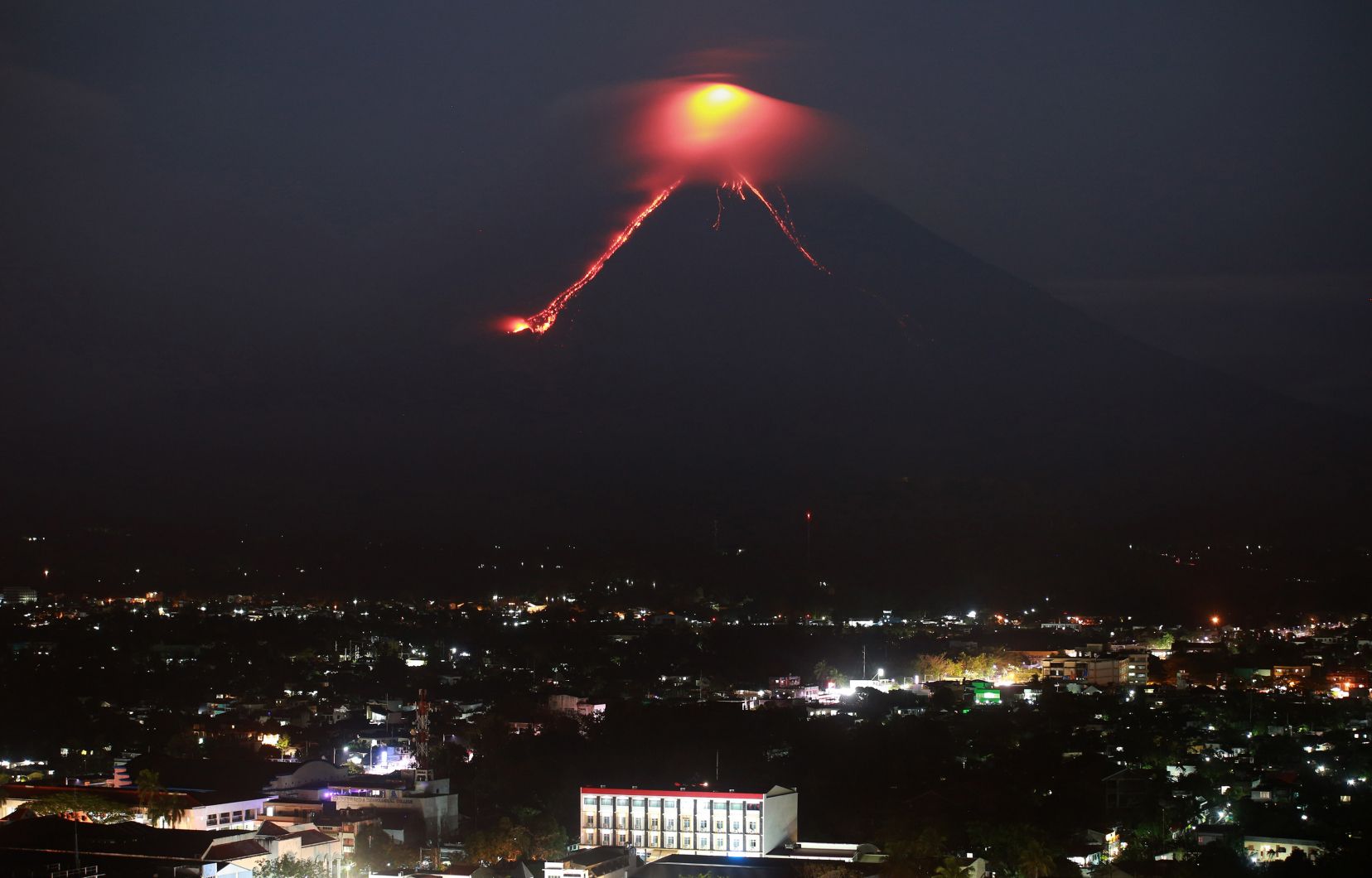 February 10 , 2018.
Mayon , Philippines :
MAYON VOLCANO BULLETIN 10 February 2018 08:00 A.M.
Mayon's activity in the past 24 hours was characterized by near continuous lava fountaining, lava flow and degassing from the summit crater. Sixty-six (66) successive lava fountaining episodes since 08:08 AM last February 9, 2018 have been recorded by the seismic network. Discrete episodes lasted three (3) to forty-six (46) minutes and were accompanied by rumbling sounds audible beyond 10 kilometers of the summit crater. Incandescent lava fountains 200 meters tall generated steam-laden plumes that rose up to 800 meters from the summit before drifting northeast. Throughout the night, lava flows and consequent incandescent rockfalls were observed in the Miisi and Bonga-Buyuan channels. Effused volumes of incandescent lava flows have advanced to 3.3 kilometers, 4.5 kilometers and 900 meters down the Miisi, Bonga and Basud Gullies, respectively, from the summit crater. Pyroclastic density currents or PDCs have deposited to the 4.6, 4.5 and 4.2 kilometer reaches of the Miisi, Bonga and Basud Gullies, respectively.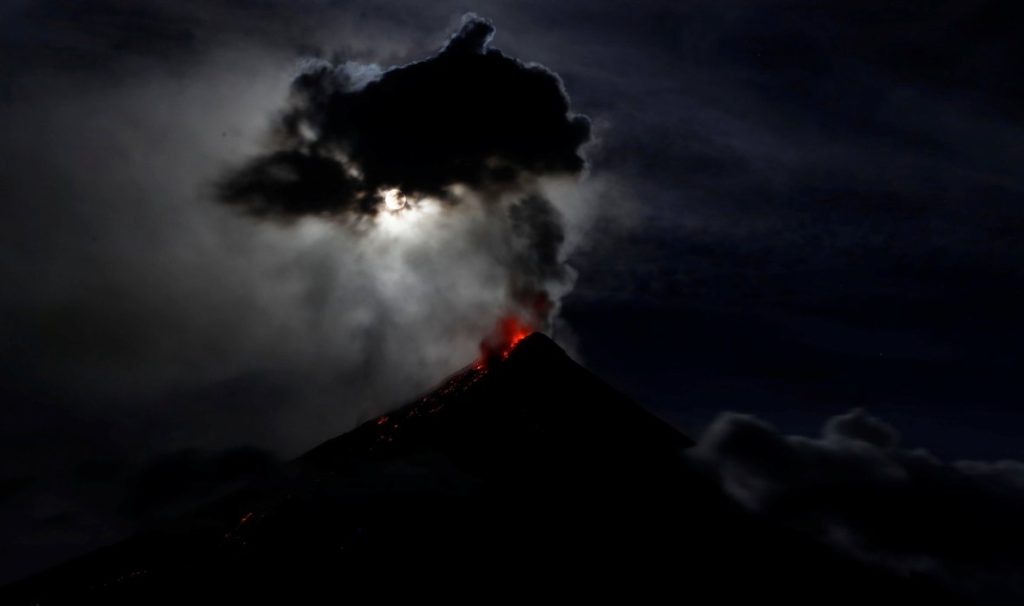 A total of seventy-six (76) volcanic earthquakes, most of which corresponded to lava fountaining events were recorded by Mayon's seismic monitoring network. Sulfur dioxide gas emission was measured at an average of 336 tonnes/day on 09 February 2018. Electronic tilt and continuous GPS still record sustained swelling or inflation of the edifice since November and October 2017, consistent with pressurization by magmatic intrusion.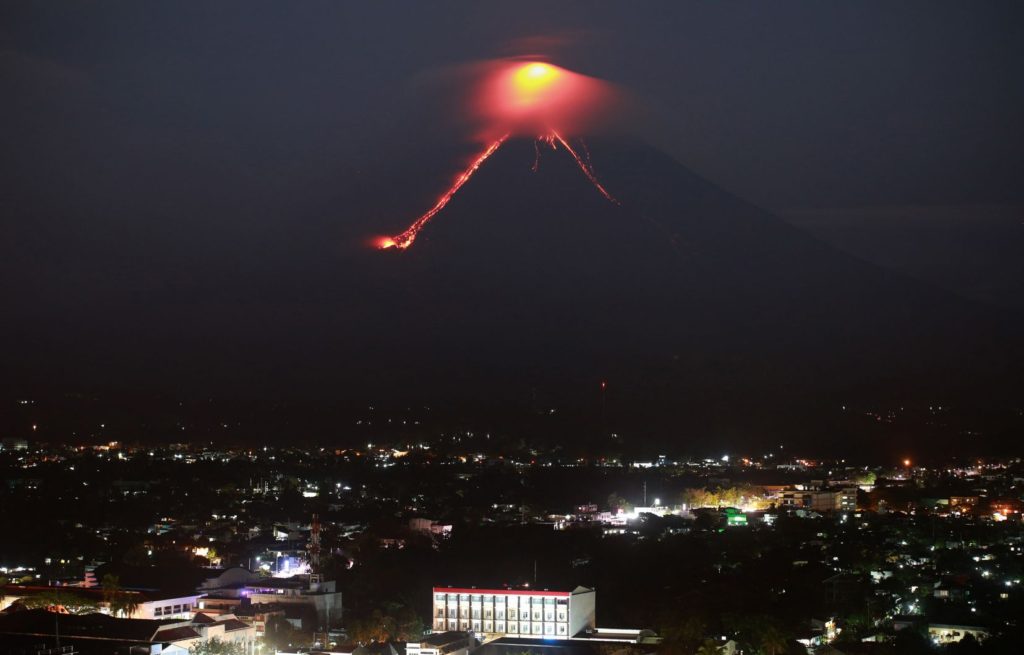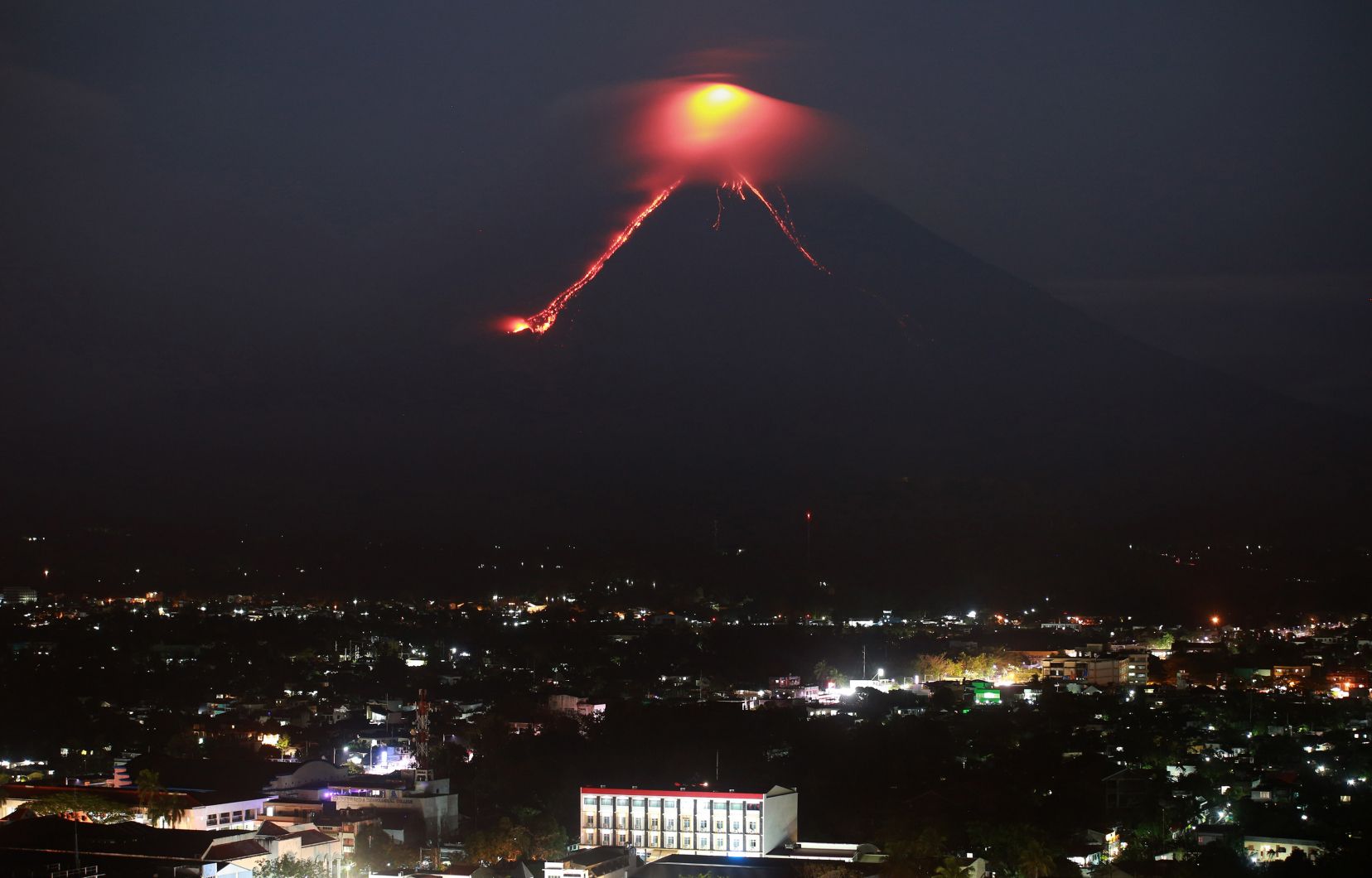 Alert Level 4 remains in effect over Mayon Volcano. The public is strongly advised to be vigilant and desist from entering the eight (8) kilometer-radius danger zone, and to be additionally vigilant against pyroclastic density currents, lahars and sediment-laden stream flows along channels draining the edifice. Civil aviation authorities must also advise pilots to avoid flying close to the volcano's summit as ash from any sudden eruption can be hazardous to aircraft.
DOST-PHIVOLCS maintains close monitoring of Mayon Volcano and any new development will be communicated to all concerned stakeholders.
Source : Phivolcs
Photos : REUTERS/Erik De Castro , Charism Sayat .
Cleveland , Alaska :
AVO/USGS Volcanic Activity Notice
Current Volcano Alert Level: ADVISORY
Previous Volcano Alert Level: WATCH
Current Aviation Color Code: YELLOW
Previous Aviation Color Code: ORANGE
Issued: Friday, February 9, 2018, 1:44 PM AKST
Source: Alaska Volcano Observatory
Notice Number: 2018/A92
Location: N 52 deg 49 min W 169 deg 56 min
Elevation: 5676 ft (1730 m)
Area: Aleutians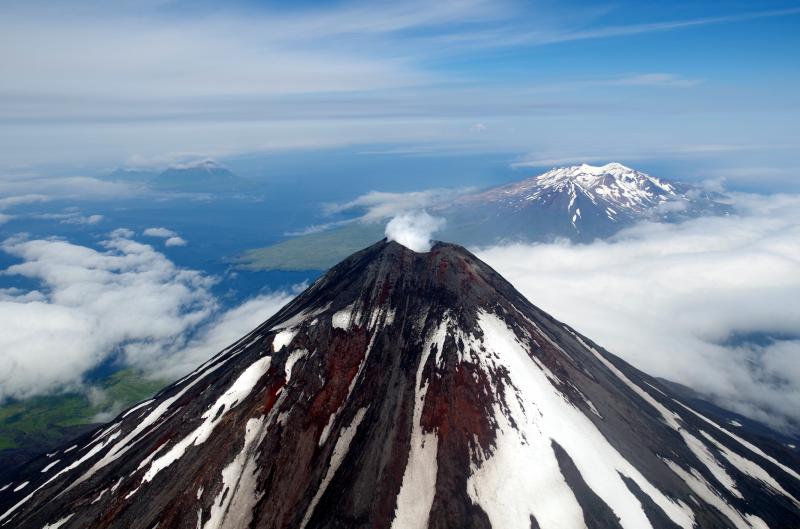 Volcanic Activity Summary:
The last detected explosive activity at Cleveland Volcano was on December 18, 2017. There is no evidence of significant activity since that time. Thus, AVO is reducing the Aviation Color Code to YELLOW and the Volcano Alert Level to ADVISORY. Future explosive activity is likely, and would occur without warning. Previous explosions have produced hazardous conditions primarily near the summit crater, but occasionally they have been large enough to produce a drifting ash cloud.
Cleveland Volcano is not monitored with a full real-time seismic network and this inhibits AVO's ability to detect unrest that may lead to future activity. We are able to detect explosive activity using infrasound and limited seismic instruments on the island.
Recent Observations:
[Volcanic cloud height] None
[Other volcanic cloud information] n/a
Source : AVO
Photo : Izbekov, Pavel , 24 Juillet 2015.
Kadovar , Papua New Guinea :
According to RVO report released today, it appears that there has been some explosion between 9 and 10am today resulting in the complete disappearance of the SE Lava Dome formed out off the ocean (see image) . No Tsunami / wave generation is observed.
RVO reps stationed at Blupblup will inspect island by boat today and an update will be made following inspection.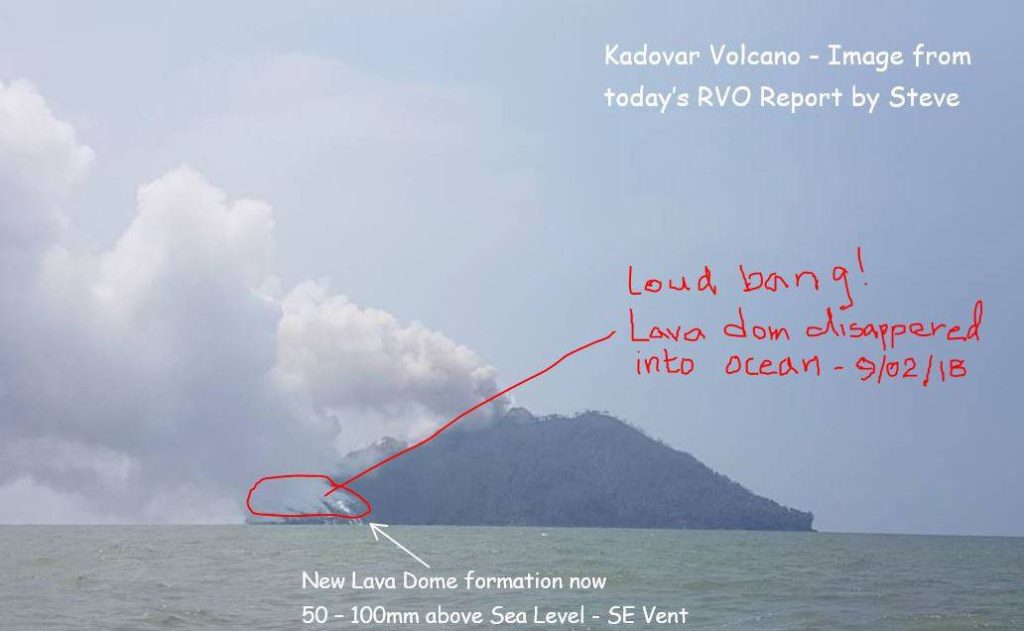 VOLCANO INFORMATION BULLETIN
(No. 21 – 09/02/2018
Issue Date: 9th February, 2018
Volcano: Kadovar – East Sepik Province- Papua New Guinea Reporting
Period: 8th – 9th February 2018
Current Activity:
The eruption continues as the Main Crater produced continuous moderate emissions of thick white vapour clouds, rising 20m before being blown to the SE.
Steady continuous dull glow was observed at night. A continuous white steam plume is rising from the SE Coastal Vent to 10s of m above the island and is then blown to the SE.
At 8:45 am (LT) this morning, large explosions commenced from the lava flow at the SE Coastal Vent, these continued until 10:50 at which time the flow was seen to collapse and disappear beneath the sea.
Viewed from Blupblup the SE Lava dome build up from sea Level appears to have completely disappeared.
Some steaming from the site and ash plume is also observed.
The weather has tended to be clear during the day, but some showers at night. Mainly steam with minor ash is being emitted and is being blown to the SE. A weak plume extends for a few tens of kilometres.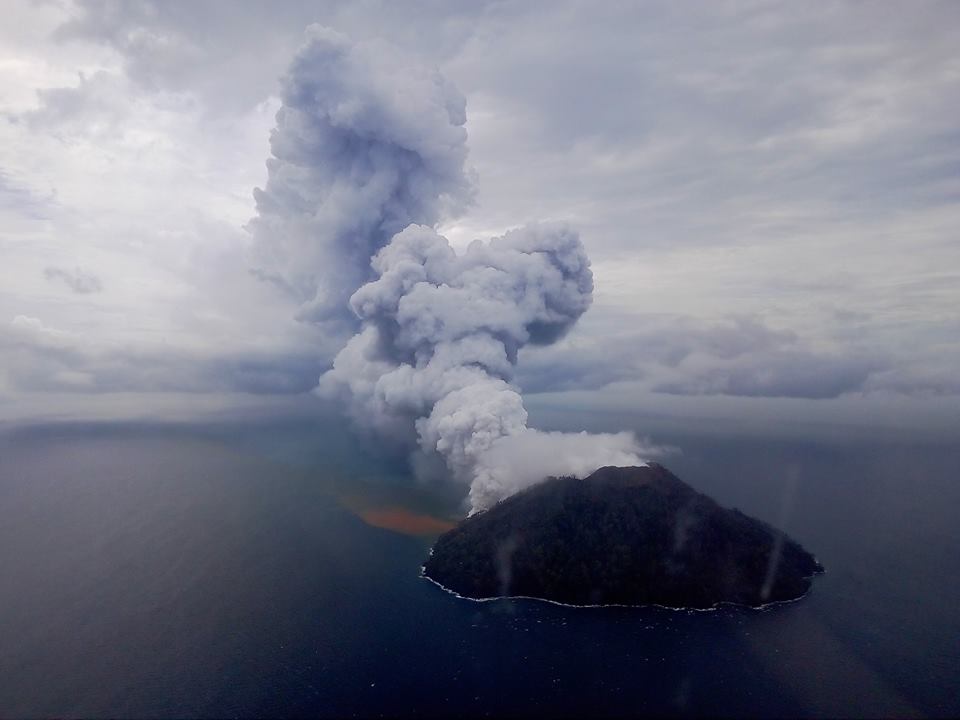 The main crater of the volcano collapsed today sending a minor tsunami across to nearby Ruprup island. No casualties were reported.
Areas affected by ash fall: Downwind areas some light haze.
Seismicity: Described as low to moderate, with numbers of events fluctuating from day to day. There is no trend at present.
Other monitoring: The situation is also being monitored by various satellite techniques.
No significant SO2 emission was observed during this period.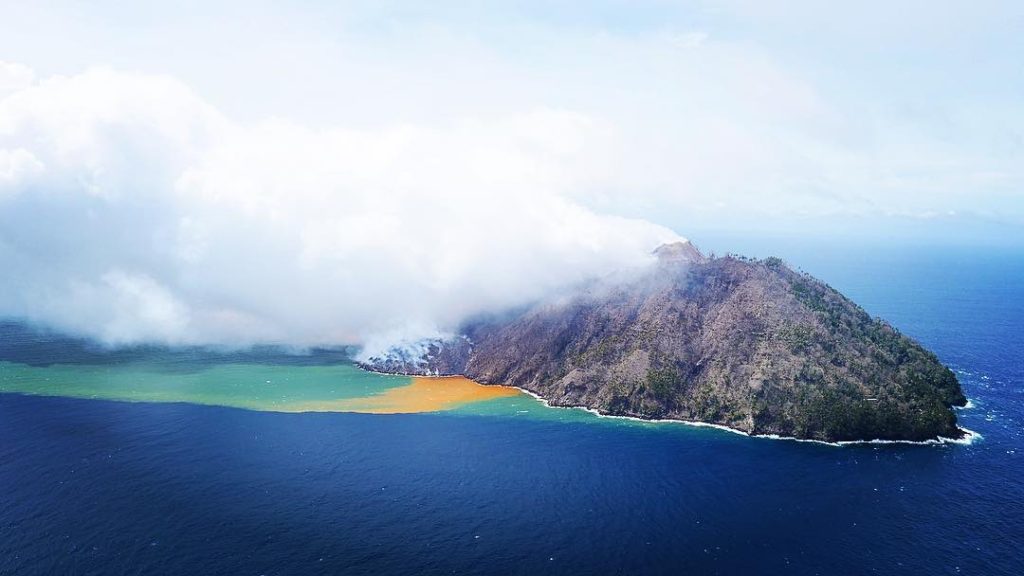 Prognosis: The collapse of the SE lava flow, may have been due to collapse of the seabed it was sitting on, sliding of the flow on a sloping flank, or entry of water causing explosions as it flashed to steam and disrupting the flow.
The site of the flow will be visited this afternoon by boat. There were no immediate reports of any unusual waves having been generated.
The re-occurrence of small explosions at the summit is part of the natural variability and unless they become more numerous or larger do not necessarily mean a change in the situation.
There is a slight possibility that small tsunamis may be generated.
Risk: On the Kadovar Island is high due to explosions and hazards associated with toxic gas emissions. On the Mainland and other nearby Island there is a small risk of tsunamis.
Sources : RVO via John Kawatt
Photos : RVO , Sylverter Gawi , Jared Wakana.
Copahue , Chile :
During this period, one hundred and fifty-one (151) seismic events, of which forty (40) were classified as being of the volcano-tectonic (VT) type, associated with fracturing processes of rigid materials were recorded. The most energetic event had a local magnitude (ML) equal to M2.6 and was located 4.6 km in the north-northeast direction (NNW) of the active crater El Agrio, at a depth of 1.8 km . Similarly, one hundred and eleven (111) seismic events associated with dynamic earthquakes of fluids within the volcano, of which sixty-two (62) were classified as long-period type (LP) events were noted , with a small offset (DRC) of 9.7 cm2. In addition, forty-nine (49) very long-lived earthquakes (VLPs) occurred, with a maximum displacement value reduced by 3.4 cm2.
Throughout the period, a constant, low amplitude tremor signal mainly associated with sporadic gas and particle release from the El Agrio crater was recorded.
IP cameras installed in the vicinity of the volcano showed constant degassing of the active crater (El Agrio), characterized by sporadic ash emissions with a maximum height of 550 m. For a few days, during the night periods, an incandescence was visualized when weather conditions made it possible to observe the volcano.
According to data provided by two active GNSS stations installed on the volcano, no surface deformation due to changes in the internal dynamics of the volcano is observed.
Sulfur dioxide (SO2) emissions from the differential absorption spectrometry equipment at the Mellizas station, 5 km east-northeast (ENE) of the active crater, had an average value for the period 604 ± 499 t / day, and a daily maximum value of 2438 t / day reported on January 5th. S02 emissions are at basic levels for this volcano.
No emissions of sulfur dioxide (SO2) to the atmosphere in the volcano area have been reported, according to data published by the Ozone Monitoring Instrument (OMI) Sulfur Dioxide Group (http: / /so2.gsfc.nasa.gov/).
No thermal warning has been reported on the volcano, according to data processed by Mirova (http://www.mirovaweb.it/).
The monitoring parameters indicate that the stability of the volcanic system continues, although the observed VLP seismic activity and incandescence suggest the presence of a magma body at relatively low levels that induce the activity of a hydrothermal system. superficial.
Therefore, the technical alert level remains at the level:
GREEN LEVEL: Active volcano with stable behavior – No immediate risk – Time for possible eruption: MONTH / YEARS.
Observation: It is recommended to apply precautionary access restrictions to an area close to the crater with a radius of 1000 meters.
Source : Sernageomin .