February 08 , 2018. EN. Mayon , Planchon Peteroa , Turrialba , Kadovar , Shishaldin .
February 08 , 2018.
Mayon , Philippines :
MAYON VOLCANO BULLETIN 08 February 2018 08:00 A.M.
Mayon's activity in the past 24 hours was characterized by near continuous lava fountaining, lava flow and degassing from the summit crater. Thirty-five successive lava fountaining episodes since 12:35 PM yesterday have been recorded by the seismic network. Discrete episodes lasted nine to 233 minutes and were accompanied by rumbling and heaving sounds audible beyond 10 kilometers of the summit crater. Incandescent lava fountains 150 meters tall generated steam-laden plumes that rose 800 meters from the summit before drifting northeast. Throughout the night, lava flows and consequent incandescent rockfalls were observed in the Miisi and Bonga-Buyuan channels. Effused volumes of incandescent lava flows have advanced to 3.3 kilometers, 4.5 kilometers and 400 meters down the Miisi, Bonga and Basud Gullies, respectively, from the summit crater. Pyroclastic density currents or PDCs have deposited to the 4.6, 4.4 and 4.2 kilometer reaches of the Miisi, Bonga and Basud Gullies, respectively.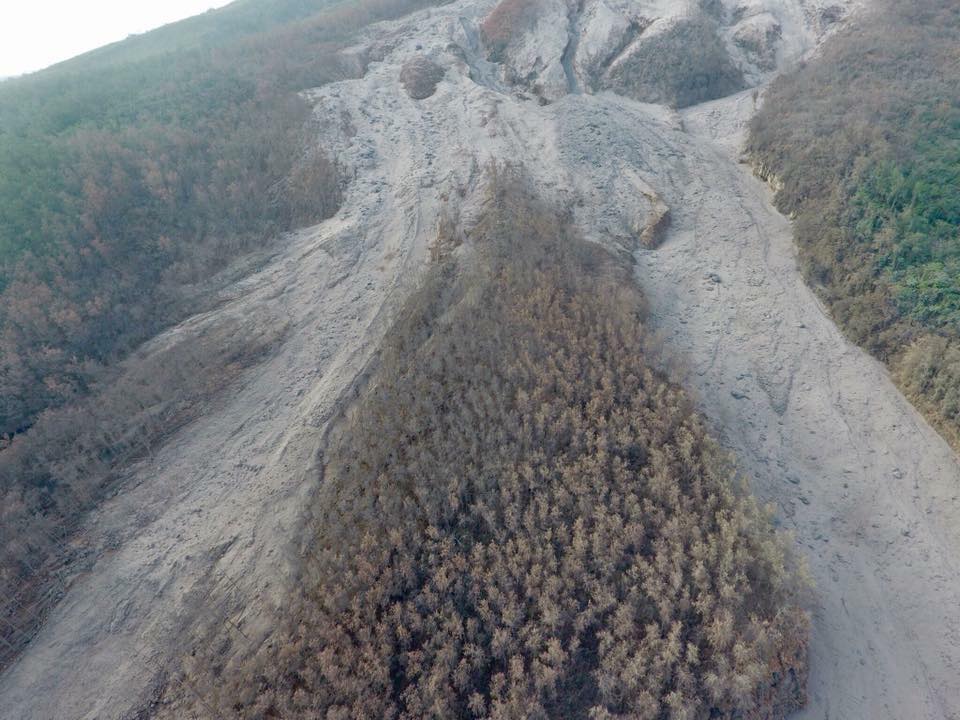 Pyroclastic deposit along the Mi-isi gully of Mayon volcano. Burnt trees indicate how hot the pyroclastic density current or uson may have been when it rolled down the slopes of the volcano.
A total of thirty-six (36) volcanic earthquakes, most of which corresponded to lava fountaining events were recorded by Mayon's seismic monitoring network. Sulfur dioxide gas emission was measured at an average of 2526 tonnes/day on 07 February 2018. Electronic tilt and continuous GPS still record sustained swelling or inflation of the edifice since November and October 2017, consistent with pressurization by magmatic intrusion.
‪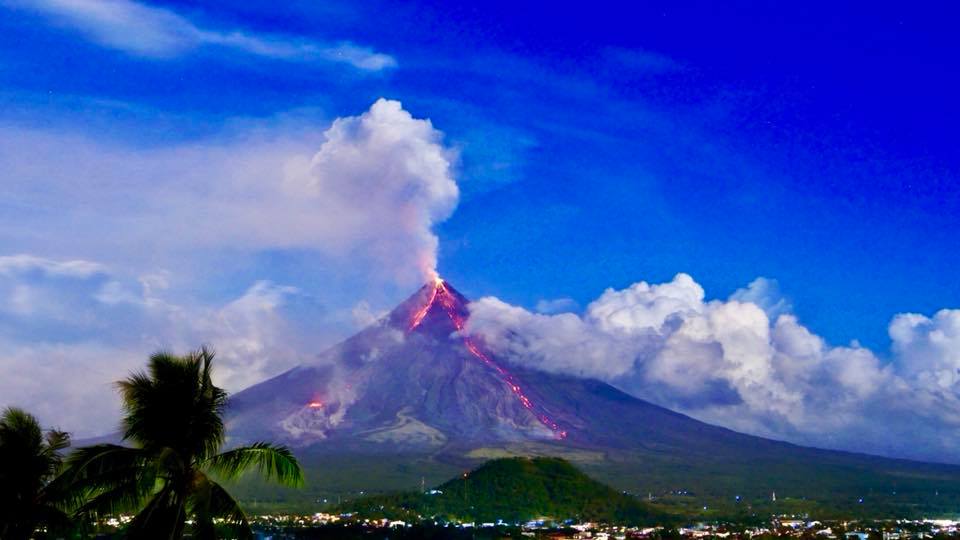 Alert Level 4 remains in effect over Mayon Volcano. The public is strongly advised to be vigilant and desist from entering the eight (8) kilometer-radius danger zone, and to be additionally vigilant against pyroclastic density currents, lahars and sediment-laden stream flows along channels draining the edifice. Civil aviation authorities must also advise pilots to avoid flying close to the volcano's summit as ash from any sudden eruption can be hazardous to aircraft.
DOST-PHIVOLCS maintains close monitoring of Mayon Volcano and any new development will be communicated to all concerned stakeholders.
Source : Phivolcs .
Photos : Raffy Tima
Planchon Peteroa , Chile :
⦁ During the recorded period, a total of thirty-five (35) events classified as Volcanotectonic (VT) are recorded, associated with the fracturing of rigid materials, with a maximum local amplitude (ML) of 2.5. The sites were concentrated mainly under the volcano, at depths between 4 and 8 kilometers. The highest energy earthquake was located under the craters, 2.7 km deep.
⦁ In addition, three hundred and twenty (320) long-period (LP) type earthquakes were recorded, related to fluid dynamics in the volcanic system, with a maximum displacement (DRc) of 14.3 cm2. The locations of the most energetic earthquakes are located south-west (SW) of the main crater at a depth of 1.3 km.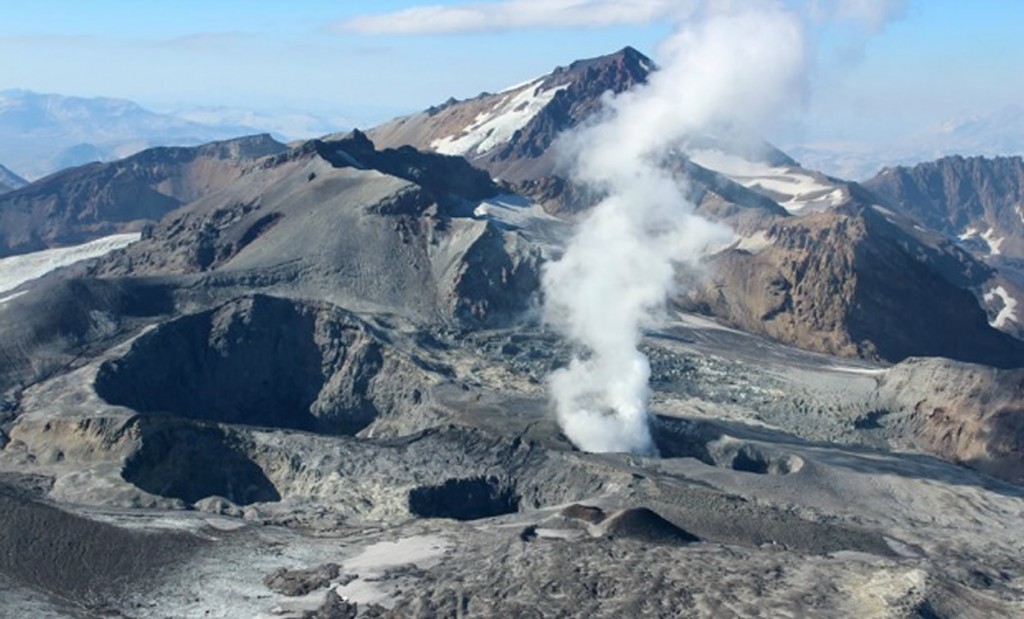 ⦁ The images provided by the IP camera show persistent degassing, low energy, whitish coloration, with column heights not exceeding 400 m above active crater level.
⦁ From data obtained from three (3) GNSS stations, which measure the deformation of the volcanic complex, no significant variation was observed. On the other hand, the data provided by one (1) electronic inclinometer installed on the complex, maintains the trend posted since September.
⦁ No anomalies were reported in sulfur dioxide (SO 2) emissions to the atmosphere in the volcanic complex sector, according to data obtained by the Ozone Monitoring Unit (OMI), Dioxide Group. group sulfur (http: //so2.gsfc.nasa.gov/) and NESDIS (http://satepsanone.nesdis.noaa.gov).
⦁ No thermal warnings have been reported in the Volcanic Complex Associated Zone according to data published by the Middle Observation InfraRed of Volcanic Activity (Mirova) on its website (http://www.mirovaweb.it/).
Previous monitoring parameters suggest that the volcanic system remains in a state of equilibrium.
Therefore, the volcanic alert is maintained at the level:
GREEN LEVEL: Active volcano with stable behavior – No immediate risk – Time for possible eruption: MONTH / YEARS.
Similarly, taking into account the fact that it is an active volcano, is considered as a dangerous zone that contained within a radius of 500 meters around the zone of active craters, recommending to restrict it access.
Source : Senageomin .
Turrialba , Costa Rica :
Daily activity report of Turrialba volcanoes.
February 6, 2018, Updated at 11:00 hours.
Turrialba Volcano: activity over the last 24 hours:
The Turrialba volcano continues to emit ashes passively and this continues since the weekend, due to a very slight magmatic intrusion. An explosion occurred at 0812, but the ash did not exceed 500 m above the top of the crater.
The seismic activity during the last 24 hours has been kept low with a tremor of variable but weak amplitude.
Ash falls have been reported in San Ramón de la Union, Zapote, Goicoechea, Curridabat, Guadalupe, Coronado, Concepción de Tres Ríos, Lourdes de Montes de Oca, and a strong smell of sulfur. At the time of this report, the winds at the summit of the volcano are mainly directed to the southwest.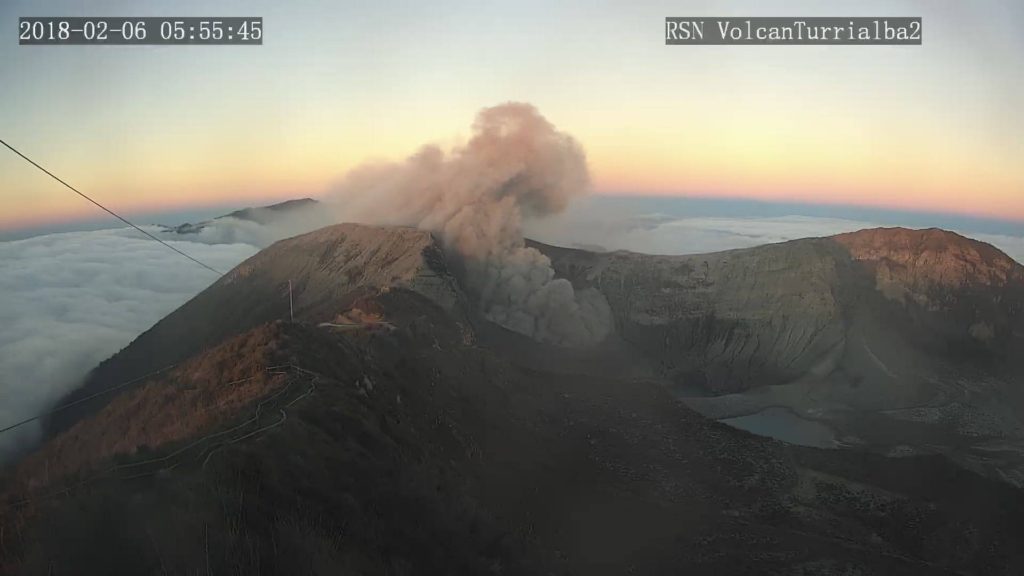 The Turrialba volcano maintains an ash emanation continuously and passively, but with a variable discharge volume. The column rises to less than 200 above the active crater and is dispersed westward according to the IMN data. The seismic activity is weak, dominated by a volcanic tremor of low amplitude (continuous signal produces vibrations generated by the passage of the fluids – water, gas or magma – through the cavities or cracks inside the volcano).
Source : Ovsicori. RSN ( Dr R. Mora)
Kadovar , Papua New Guinea :
VOLCANO INFORMATION BULLETIN- No. 20 08/02/2018
Issue Date: 8th February, 2018
Volcano: Kadovar, East Sepik. Papua New Guinea
Reporting Period: 6th – 8th February 2018
Current Activity: The eruption continues.
The Main Crater produced continuous moderate emissions of thick white vapour clouds, rising 20m before being blown to the SE.
On the 7th infrequent booming / rumbling noises could be heard coming from the Main Crater accompanied by brighter glow at night.
Some incandescent projections were also reported.
The Western Vent and Southern Vent were obscured by fume from the Main Crater. A continuous white steam plume is rising from the SE Coastal Vent to 10s of m above the island and is then blown to the SE.
The lava flow appears to have thickened when seen from Blup blup. Minor collapses of the edges of the lava flow give occasional puffs of ash.
The lava flow glows dull red at night.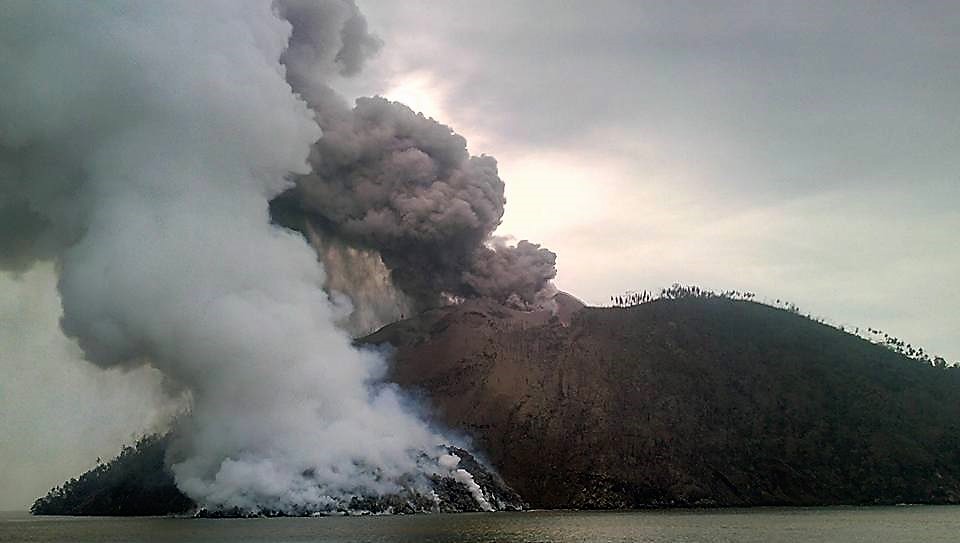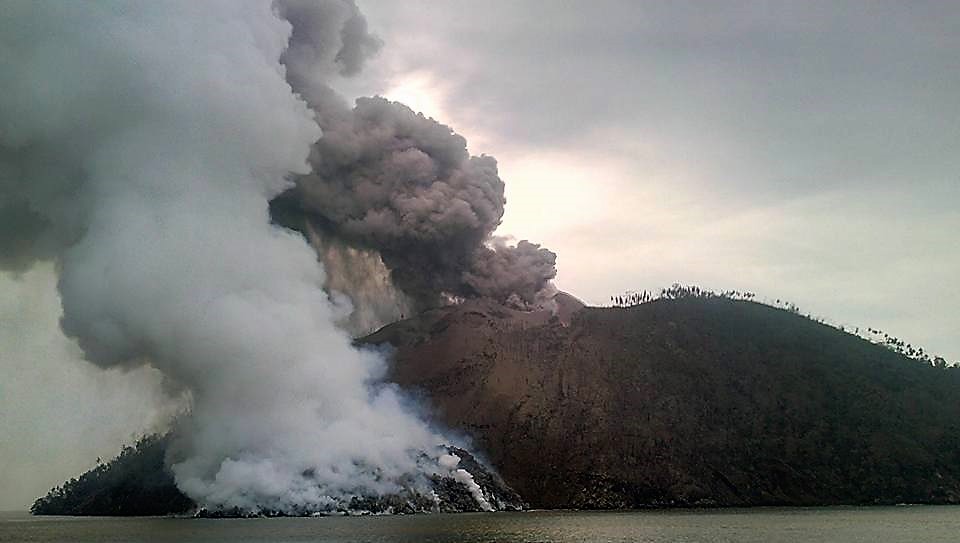 Ash plume: The weather has tended to be clear during the day, but some showers at night. Mainly steam with minor ash is being emitted and is being blown to the SE.
A weak plume extends for a few tens of kilometres.
Areas affected by ash fall: Downwind areas some light haze.
Seismicity: Described as low to moderate, with numbers of events fluctuating from day to day. There is no trend at present.
Other monitoring: The situation is also being monitored by various satellite techniques. No significant SO2 was observed during this period.
Prognosis: Eruptive activity continues at low levels. It has settled into a reasonable stable situation, but it is still possible for there to be variations in eruptive strength. The re-occurrence of small explosions is part of the natural variability and unless they become more numerous or larger do not necessarily mean a change in the situation. There is a slight possibility that small tsunamis may be generated, but the situation is stabilizing.
Risk: On the Island, High.
On the Mainland and other nearby Island, A small risk of tsunamis.
Source : RVO via John Kawatt .
Shishaldin , Alaska :
AVO/USGS Volcanic Activity Notice
Current Volcano Alert Level: NORMAL
Previous Volcano Alert Level: ADVISORY
Current Aviation Color Code: GREEN
Previous Aviation Color Code: YELLOW
Issued: Wednesday, February 7, 2018, 2:01 PM AKST
Source: Alaska Volcano Observatory
Notice Number: 2018/A88
Location: N 54 deg 45 min W 163 deg 58 min
Elevation: 9373 ft (2857 m)
Area: Aleutians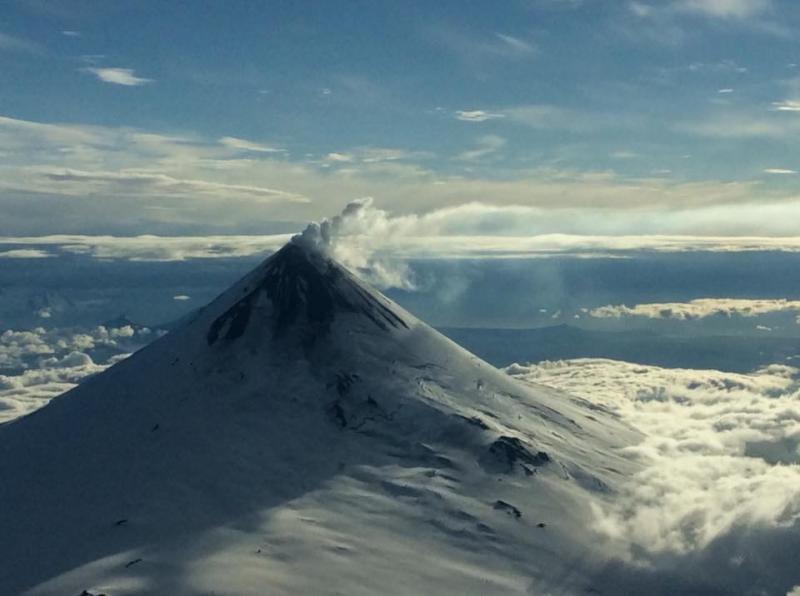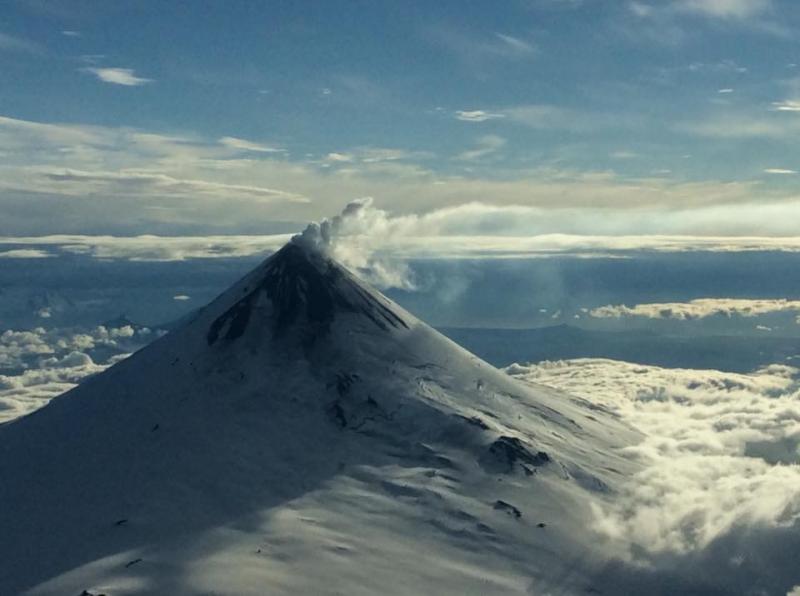 Volcanic Activity Summary:
The Alaska Volcano Observatory is decreasing the Aviation Color Code to GREEN and the Alert Level to NORMAL at Shishaldin Volcano based on declining seismic and infrasound activity over the past month. These observations represent a return to normal background activity at Shishaldin.
Shishaldin is monitored by local seismic and infrasound sensors, satellite data, a web camera, a telemetered geodetic network, and distant infrasound networks.
Recent Observations:
[Volcanic cloud height] None
[Other volcanic cloud information] N/A
Remarks:
Shishaldin volcano, located near the center of Unimak Island in the eastern Aleutian Islands, is a spectacular symmetric cone with a base diameter of approximately 16 km (10 mi). A 200-m-wide (660 ft) funnel-shaped summit crater typically emits a steam plume and occasional small amounts of ash. Shishaldin is one of the most active volcanoes in the Aleutian volcanic arc, with at least 54 episodes of unrest including over 24 confirmed eruptions since 1775.
Most eruptions are relatively small, although the April-May 1999 event generated an ash column that reached 45,000 ft above sea level.
Source : AVO
Photo : Wetzel, Tarek , 01 Juillet 2016.