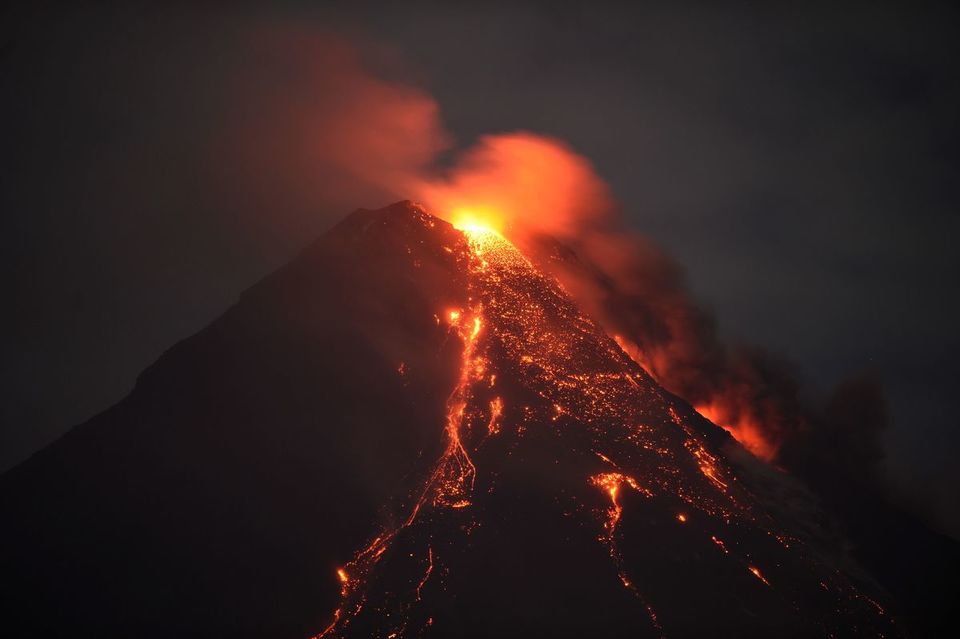 January 30 , 2018.
Mayon , Philippines :
MAYON VOLCANO BULLETIN 30 January 2018 08:00 AM
Beginning 7:50 last night, energetic lava effusion with sporadic lava fountaining events and generation of lava-collapse fed pyroclastic density currents or PDCs or "uson" occurred until 11:06 PM. Although the upper slopes were heavily obscured, the seismic record indicated onset of this eruption cycle with a large-volume lava collapse at 7:50 PM at the summit crater that fed PDCs on the Miisi and Bonga Gullies, followed by lava fountaining at 8:16 that lasted 8 minutes. This was followed by obscured large-volume lava effusion that lasted for an hour and 36 minutes, interspersed with sporadic lava fountaining and/ or PDC generation based on the seismic record. Sporadic lava fountaining was visually and seismically detected and persisted until 11:06 PM. The lava fountains reached 200 meters high and generated ash plumes that reached 1.5 kilometers above the crater. Significant ashfall was reported in Camalig and Guinobatan, Albay before 9:00 PM, possible due to the lava fountaining and PDC events.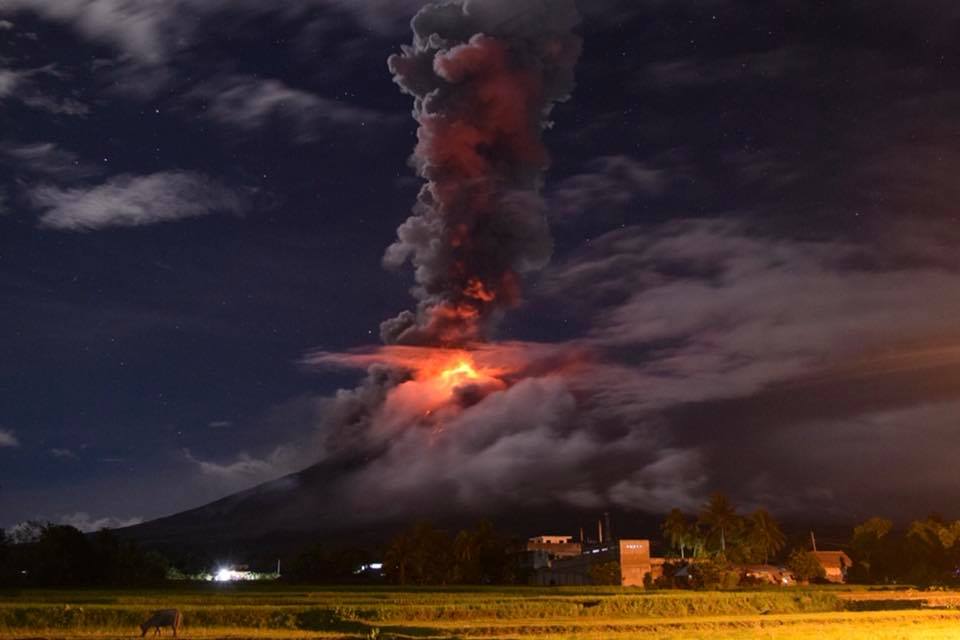 A total of one hundred nineteen (119) volcanic earthquakes, nine (9) tremor events, two (2) of which correspond to lava fountaining events, two (2) distinct episodes of PDC generation from lava collapse, and sixty-eight (68) rockfall events were recorded by Mayon's seismic monitoring network. Rockfall events were generated by the collapsing lava front and margins of the advancing lava flow on the Bonga and Miisi Gullies. Sulfur dioxide gas emission was measured at an average of 1,916 tonnes/day on 25 January 2018. Electronic tilt and continuous GPS measurements indicate a sustained swelling or inflation of the edifice since November and October 2017, consistent with pressurization by magmatic intrusion.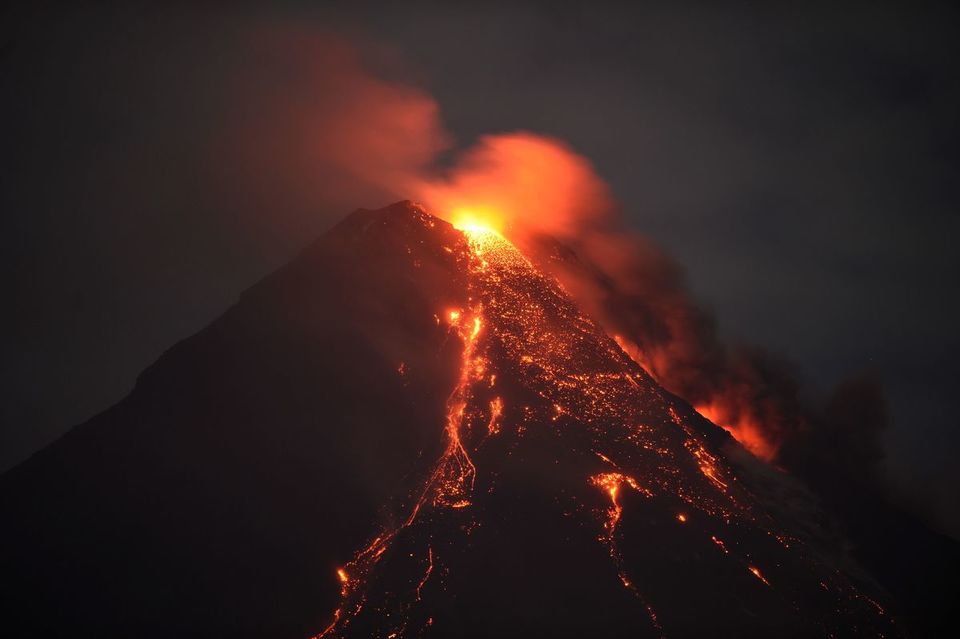 Alert Level 4 remains in effect over Mayon Volcano. The public is strongly advised to be vigilant and desist from entering the eight (8) kilometer-radius danger zone, and to be additionally vigilant against pyroclastic density currents, lahars and sediment-laden streamflows along channels draining the edifice. Civil aviation authorities must also advise pilots to avoid flying close to the volcano's summit as ash from any sudden eruption can be hazardous to aircraft.
DOST-PHIVOLCS maintains close monitoring of Mayon Volcano and any new development will be communicated to all concerned stakeholders.
Source : Phivolcs
Photos : Manuel Soratorio II, AFP.
Sabancaya , Peru :
Explosive activity is down from the previous week, averaging 33 explosions a day. Events associated with Fluid Movement (Long Period Type) and Ash Emissions (Tremor) continue to dominate. Finally, the earthquakes related to the rise of the magma (type Hybrids) remain weak. 
The eruptive columns of gas and ash remained similar to the previous week, reaching a maximum height of 3000 m above the crater. The dispersion of these materials occurred within a radius of about 50 km, mainly to the southwest and northwest. 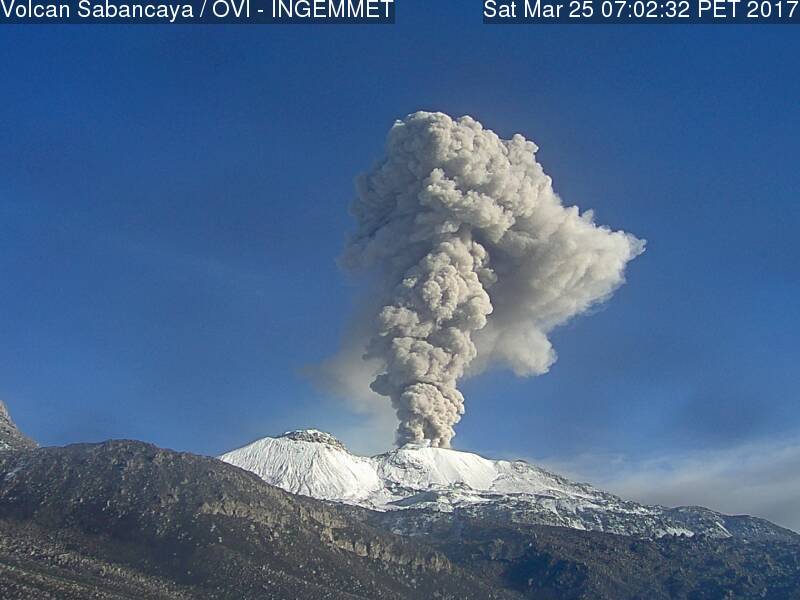 Deformation monitoring at the GNSS station shows that the deformation curves maintain stable levels, without variations. 
The volcanic gas (SO2) flux recorded on January 22 has a maximum value of 3477 tons / day, considered large value. 
Five thermal anomalies were recorded according to the MIROVA system, with values ranging between 4 MW and 6 MW VRP (Radiated Volcano Power).
In general, eruptive activity maintains moderate levels. No major changes are expected in the following days.
Source : IGP.
Photo : Archive Ingemmet
Kusatsu-Shiranesan , Japan :
Volcanic activity still high at Mt.Kusatsu-Shirane.
The Meteorological Agency says another eruption on a similar scale is possible.
Officials are keeping the alert level for the volcano at 3 on a scale of 5. They say there is a risk of projectile rocks within a 2-kilometer range of the craters near the Kagamiike pond on Mount Motoshirane.
The local municipality has designated the area as an off-limits zone.
Many volcanic earthquakes have occurred since the eruption.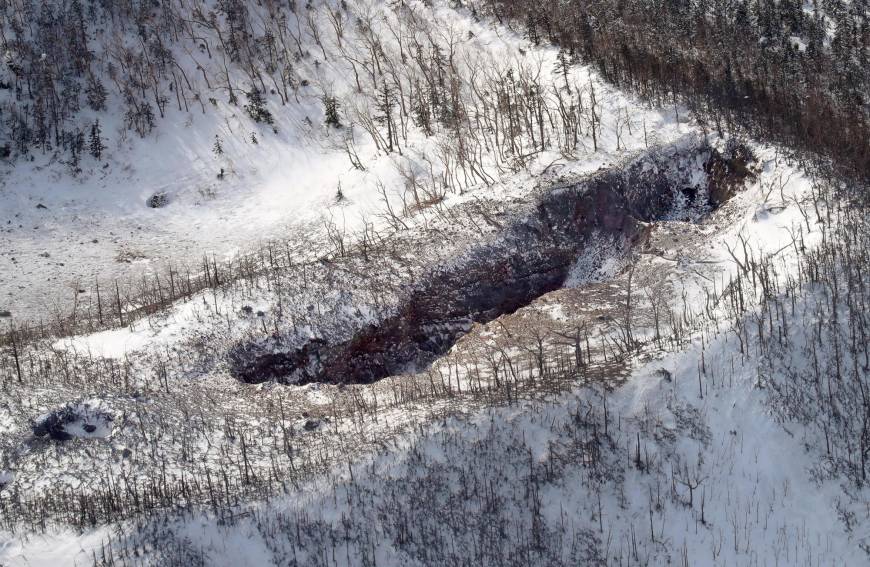 The daily numbers of quakes from Tuesday through Saturday were 639, 23, 50, 3 and 4. Two quakes had occurred as of 3 PM on Sunday.
Volcanic tremors occurred 4 times on Wednesday and twice on Thursday. They are believed to be caused by movements of underground hot water and gas.
No smoke can be seen around Mount Motoshirane in surveillance camera footage.
The agency is warning people to beware of falling rocks, volcanic ash, aerial vibrations and volcanic gas.
The land ministry flew a drone camera to investigate the crater and the area where the rocks landed.
Ministry officials operated the drone from a ski slope about 3 kilometers from the craters, and videotaped the off-limits zone to get a closer look at the crater and slopes.
Following last week's eruption of Mount Moto-Shirane in Gunma Prefecture, both central and local authorities have come under fire for failing to issue a warning to climbers and skiers in the area until about an hour after the blast.
When a volcano erupts, the Meteorological Agency is supposed to issue an alert so people in the area can seek cover. Some experts blamed the tardy response to this incident on overly cautious officials.

The first alert "could just be that the volcano in question appears to have erupted. If they don't know, more information can be provided in a follow-up alert. They should have operated more flexibly," said Kazuhiro Ishihara, head of the Meteorological Agency's Volcano Eruption Prediction Liaison Council, which includes experts from both inside and outside the government.
The agency detected volcanic tremors, usually seen prior to an eruption, around three minutes before the Jan. 23 event. When the mountain erupted at 10:02 a.m., waveforms on the agency's monitor jumped. But due to poor weather, agency officials couldn't confirm via its cameras whether any smoke and ash was being spewed.
They finally issued an alert at 11:05 a.m. and raised the volcano alert from level 2 to 3.
The Meteorological Agency in Tokyo first received information from municipal officials in the town of Kusatsu about 10 minutes after the eruption.
Meanwhile, employees at the Kusatsu International Ski Resort reported a possible eruption several minutes after the blast to the town of Kusatsu, where a task force was immediately set up.
Local authorities had to scramble amid contradictory information about casualties from falling rocks and an avalanche. It turned out later that no avalanche had taken place.
It wasn't until 10:50 a.m. that the local government issued warnings over the public loudspeaker system telling people to take cover.
Many questions remain over how the information was collected and disseminated.
Sources : 3.nhk.or.jp , Japantimes .
Kadovar , Papua New Guinea :
Issue Date: 29th January
Volcano: Kadovar, East Sepik. Papua New Guinea
Reporting Period: 27th – 28th January 2018
Current Activity: Eruption continues unabated but appears to be slowing.
Main Crater still producing moderate emissions of thick white vapor clouds, rising to less than 100m before being blown to the SE. On the night of the 29th non continuous weak glow was observed.
Western Vent also produces weak to moderate thick but sometimes thin columns of steam.
Southern Vent is obscured by flumes of Ash/ Steam from main Crater.
South East Lava Dome emitting continuous white steam plume rising to 100m above the island then blown to the SE by wind. Continuous dull glow not visible at times is observed at night between the 28 -29 January 2018.
Emissions Mainly consist of steam with minor ash is emitted and is being blown to the SE. The ash plume extends for a few tens of kilometers in the SE direction.
Areas affected by ash fall: That will depend on prevailing wind directions will experience by light haze and fine ash fall.
Seismicity: Seismicity is at low insignificant levels.
Other monitoring: The situation is also being monitored by various satellite techniques.
S02 gases are also being emitted from the volcano. No new deformation data.
Prognosis: Levels of SO2 being emitted have dropped and seismicity has also lessened.
Eruptive activity still continues at low levels and situation is considered to be reasonably stable presently.
However it is also variable and situation is still considered to be fluid and dynamic. A low probability of tsunamis generation exists.
Risk:
High on Kadovar Island. A small Risk of Tsunami generation still exists for those on the mainland and islands within the Schouten Island Chain.
Source : Jonh Kawatt via Barbara Short.