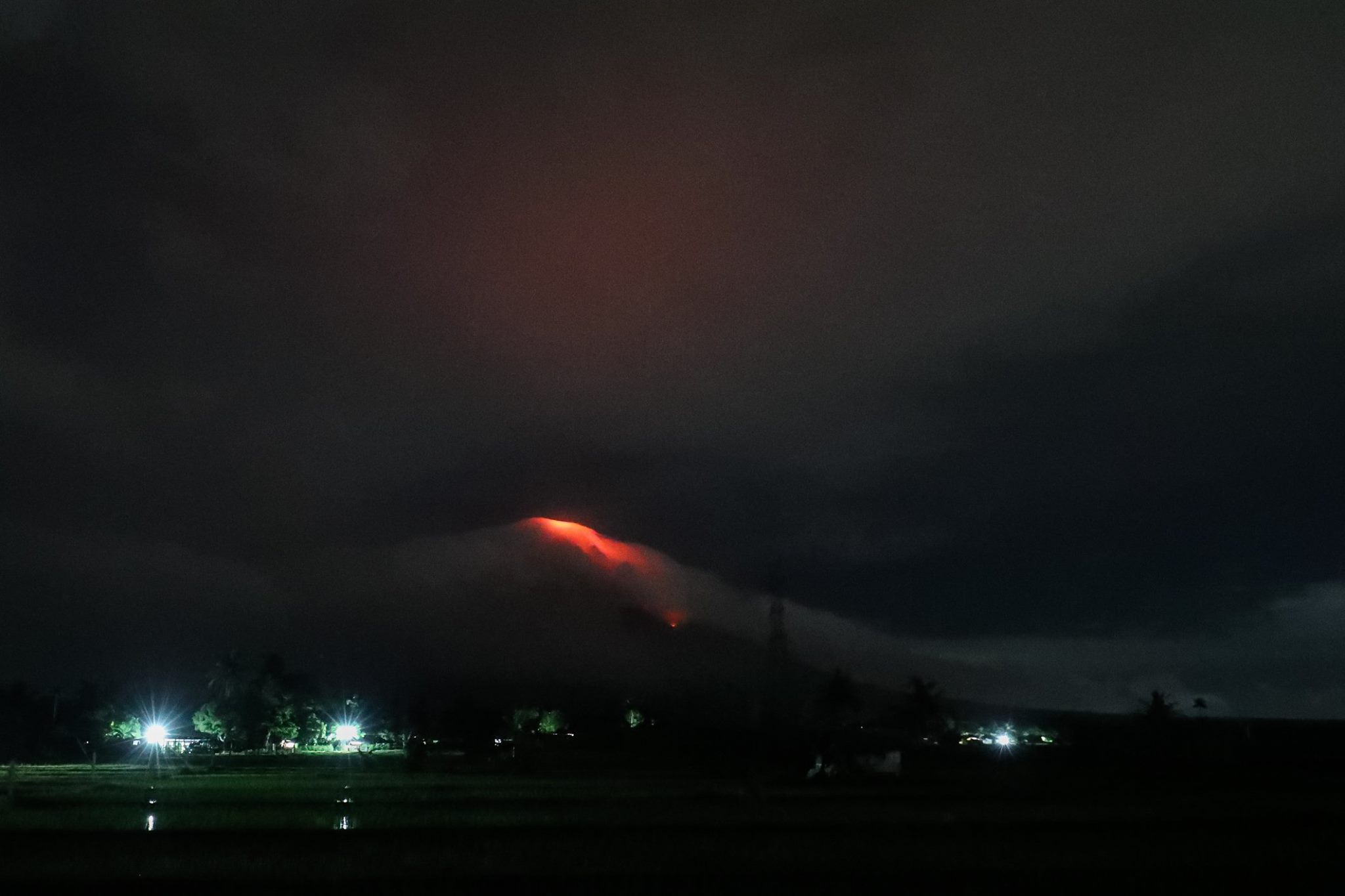 January 15 , 2018. EN . Mayon , Kadovar , Agung , Turrialba , Poas , Tenorio .
January 15 , 2018.
Mayon , Philippines :
MAYON VOLCANO BULLETIN 14 January 2018 8:00 PM
This serves as a notice for the raising of Mayon Volcano's status from Alert Level 2 (increasing unrest) to Alert Level 3 (increased tendency towards hazardous eruption).
For the past 24 hours, Mayon Volcano in Albay Province has noticeably increased its unrest. After three (3) phreatic (steam-driven) eruptions and 158 rockfall events between 4:21 PM 13 January and 7:25 PM 14 January, Mayon's summit crater is now exhibiting bright crater glow that signifies the growth of a new lava dome and beginnings of lava flow towards the southern slopes.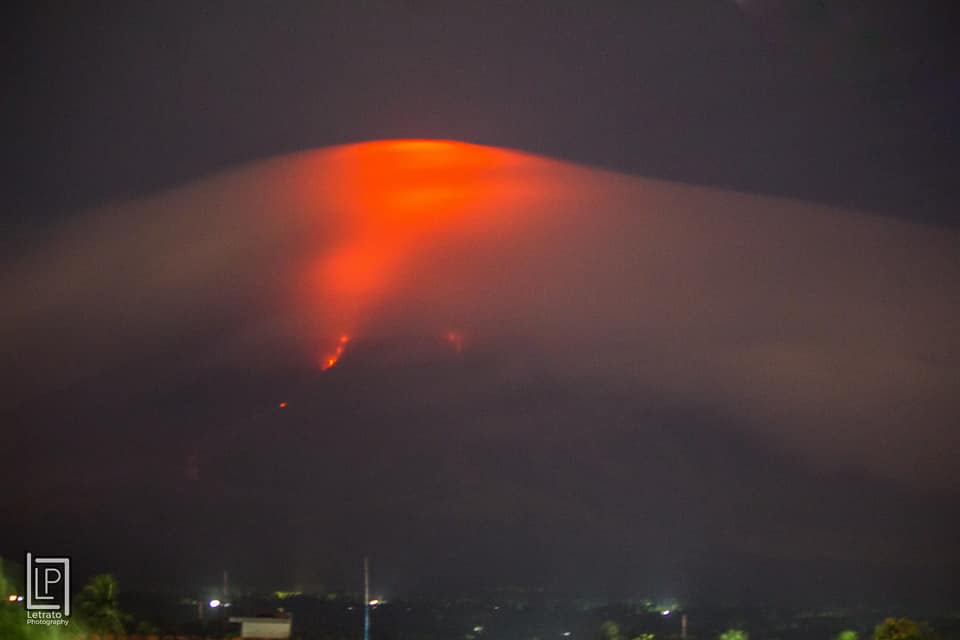 MAYON VOLCANO BULLETIN (UPDATED) 15 January 2018 1:30 P.M.
Two lava collapse events occurred today at Mayon Volcano, Albay that produced rockfall and small-volume pyroclastic density currents. These occurred at 09:41 AM and 10:05 AM that lasted five (5) minutes and seven (7) minutes, respectively, based on seismic record. These events appear to have originated from the lava front and produced an ash cloud that drifted to the southwest sector. Ashfall were reported in Brgys. Travesia, Muladbucad Grande, Maninila, Masarawag, Poblacion, Iraya, Ilawod, Calzada, Inamnan Grande, Inamnan Pequeno, Maguiron, Quitago and Mauraro in the municipality of Guinobatan; Brgys. Cabangan, Anoling, Sua, Tumpa, Quirangay, Gapo, Sumlang, Brgys. 1 to 7, in the municipality of Camalig.
A degassing event at 11:07 AM that lasted eight (8) minutes produced a grayish to dirty white ash column with a maximum of height of approximately 1000 meters above the summit before drifting west-southwest.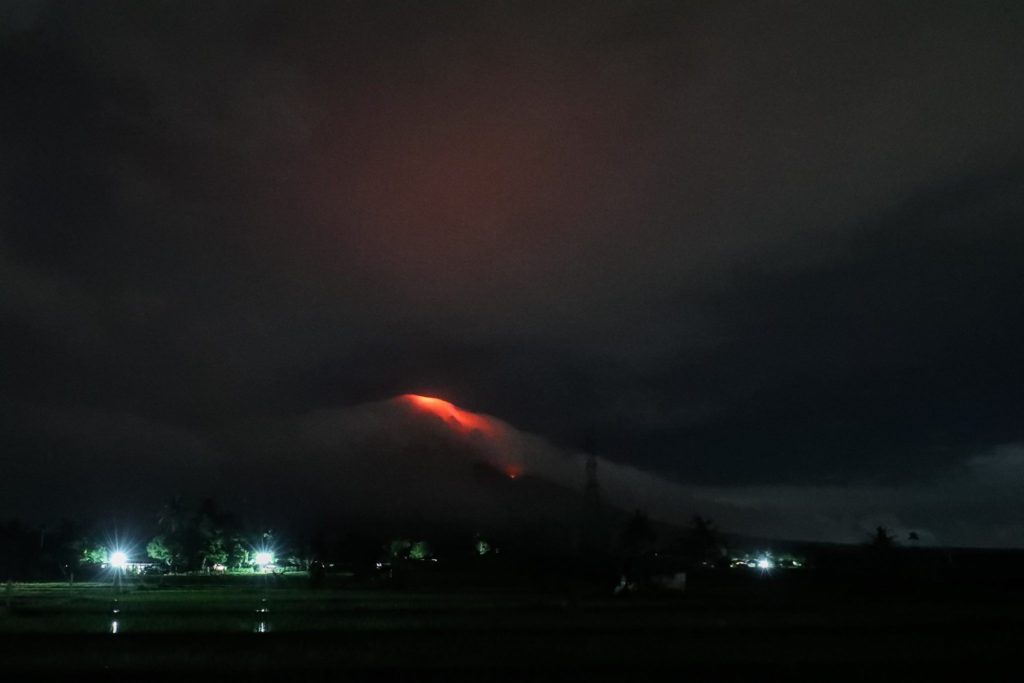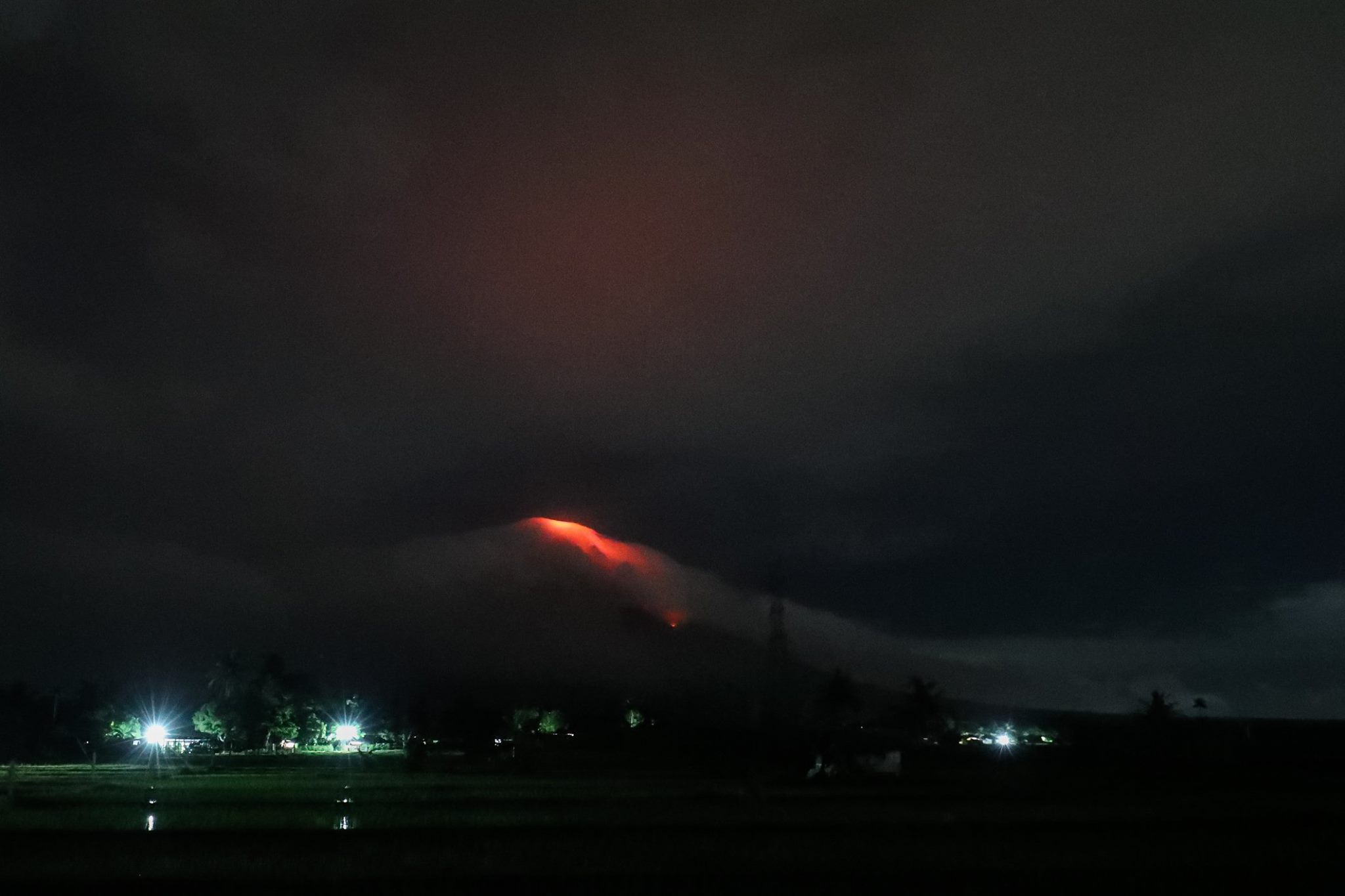 In view thereof, PHIVOLCS-DOST is now raising the alert status of Mayon Volcano from Alert Level 2 to Alert Level 3. This means that Mayon is exhibiting relatively high unrest and that magma is at the crater and that hazardous eruption is possible within weeks or even days. It is therefore recommended that the 6-km radius Permanent Danger Zone (PDZ) and a 7-km Extended Danger Zone (EDZ) on the southern flank be enforced due to the danger of rockfalls, landslides and sudden explosions or dome collapse that may generate hazardous volcanic flows. Increased vigilance against pyroclastic density currents, lahars and sediment-laden streamflows along channels draining the edifice is also advised. Civil aviation authorities must also advise pilots to avoid flying close to the volcano's summit as ash from any sudden eruption can be hazardous to aircraft. Based on the seasonal wind pattern, ash fall events may most likely occur on the southwest side of the volcano.
DOST-PHIVOLCS maintains close monitoring of Mayon Volcano and any new development will be communicated to all concerned stakeholders.
Source : Phivolcs
Photo : Joshua Eric Velasco Dandal , grâce à Sherine France.
Kadovar / Biem , Papua New Guinea :
PNG Governor orders evacuation of second volcano as eruption fears mount.
Papua New Guinea authorities have ordered the evacuation of some 3,000 people from Biem Island amid fears of a volcanic eruption, as the country's Prime Minister directed national resources to neighbouring Kadovar island.
Biem Island is only around 12 kilometres west of Kadovar Island, where giant plumes of ash and cloud have forced around 700 people to be evacuated in the past week.
The Prime Minister's office warned tremors from that volcano posed a tsunami risk to the mainland's north coast and surrounding islands — including Biem Island and nearby Ruprup Island, where evacuees from Kadovar had been sent.
A statement from Prime Minister Peter O'Neill said national government agencies had been stood up to respond to the activity on Kadovar Island.
« Volcanoes are very unpredictable, we are hearing various reports that activity has been building up and we need to take all precautions to keep our people safe, » the statement said.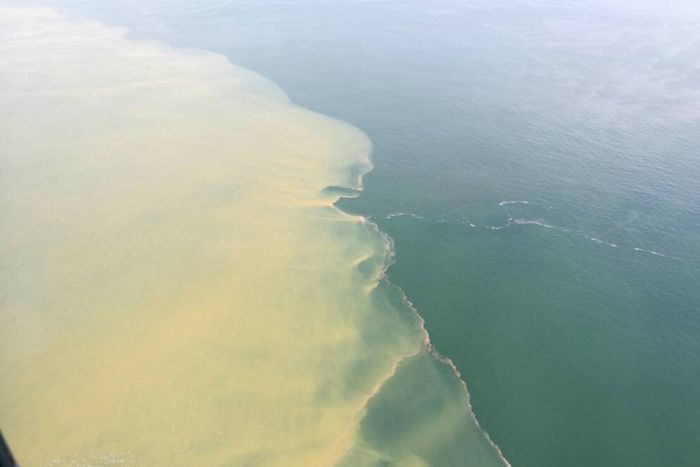 Photo: Aerial flyover teams took photos of the yellowing waters off Biem's coast. (Supplied: Office of East Sepik Governor)
Meanwhile the Governor of East Sepik province, Allan Bird, said military personnel had warned of an « imminent volcanic eruption » on Biem Island.
On the advice he had from experts, Mr Bird said the island is « a time bomb, » and ordered its residents to be evacuated.
« Our priority right now is we're hoping to get all the people off before the volcanos explode, and we have no idea when that's going to happen. »
Neither Biem or Kadovar islands have dedicated seismic monitoring technology, so scientists and authorities had been monitoring the volcano from aerial flyovers and satellite imagery.
« There is yellowing of the ocean around the island, which the volcanologists tell me is magma moving up, it is forcing iron to dissolve into the sea water and that is causing the discolouration, » Mr Bird said.
Eruption on Biem 'unlikely', says volcanologist
Despite reports of tremors and plumes from Biem Island, volcanologist Steve Saunders said any sort of chain reaction started by the Kadovar activity was « unlikely ».
« Reports of hot springs … or sulphur plumes in the sea [near Biem] are probably old thermal springs, they've been there for decades, » said Mr Saunders, the Chief Geodetic Surveyor at the Rabaul Volcano Observatory.
« It's just an ongoing situation on the islands, that they've got thermal activity. »
The Observatory, which is PNG's national body for monitoring volcanos, was planning to send a team to Kadovar and Ruprup islands in coming days for an official seismic reading.
Mr Saunders said reports of tremors on Biem Island could likely be attributed to the seismic activity on Kadovar, which remained the biggest risk for the region, rather than from the Biem volcano itself.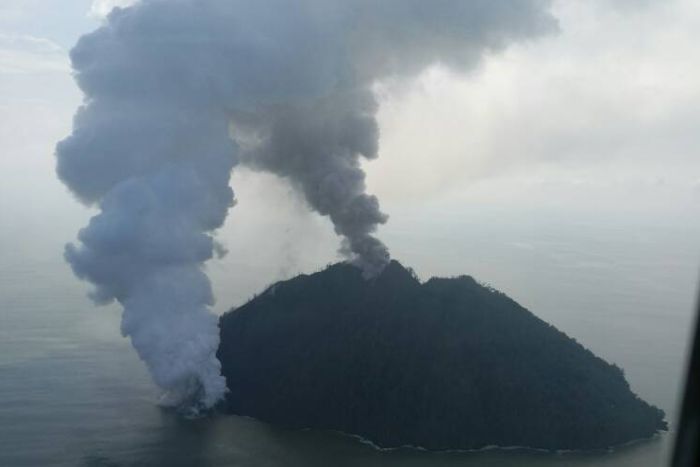 Photo: Plumes of smoke from Kadovar Island continued billowing into the weekend. (Supplied: Office of East Sepik Governor)
Around 5,000 people on three islands to be relocated
Although there was uncertainty surrounding the Biem volcano's activity, authorities in East Sepik were working on moving civilians away from any possible eruption.
Mr Bird said the province had been waiting for the PNG Defence Force to send landing craft to Ruprup Island to begin evacuating people to the mainland, but following the weekend's reports he turned his attention to Biem Island.
He said he had requested a civilian vessel, owned by a Tuna company, to head towards Ruprup Island « so we can try to evacuate both locations concurrently ».
Mr Bird said around 3,000 people lived on Biem Island, so officials were facing the prospect of relocating about 5,000 people from the three islands to the mainland.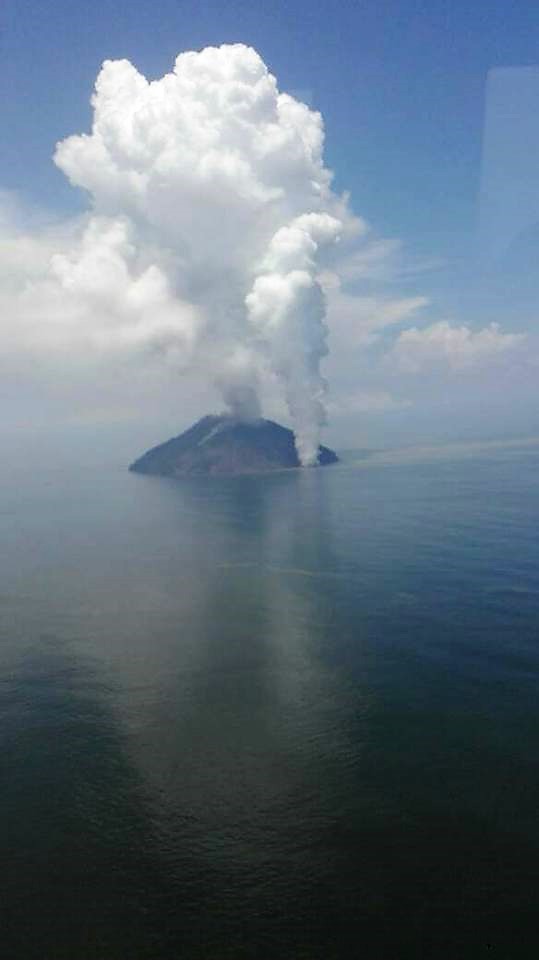 Latest report from Hon. Governor of ESP Allan Bird:
These are the latest pictures from Kadovar island. As of last night magma broke the surface and has produced a 12km high ash and steam cloud. I woke up this morning and Wewak was covered in a smokey haze. We noticed a similar 12km high steam cloud over Biem island and we have sent a team to investigate. We circled Biem island in the chopper and noticed a sulphur plume next to shore on the south west of Biem. You can see this in the picture above. I hope Biem does not blow as well.
A Second island volcano is erupting off Wewak in East Sepik Province.
Biem Island, east of the erupting Kavodar Island, became active at the weekend, East Sepik Governor Allan Bird said yesterday.
"At 1am (on Saturday), I was informed that Biem island volcano, as we feared, is now also becoming active," Mr Bird said in an email.
"We now have two volcanoes in the process of erupting concurrently. We are doing our best and deploying all our assets to this effort."
Last week the Rabaul Volcanic Observatory had warned that the ongoing eruption at Kadovar could stir volcanoes on the nearby islands of Ruprup and Biem to follow suit.
Mr Bird said following the latest eruption he had dispatched the PNG Defence Force landing craft to evacuate the 1700 Kavodar evacuees who had been moved to Ruprup Island.
"I have changed our engagement in the disaster.
"Biem is now our priority because there are more than 3000 people on that island.
"I have directed all efforts to Biem Island as our top priority. I have also requested the use of the South Sea Tuna vessel to immediately steam to Ruprup island and begin evacuating our people there," Mr Bird.
Source : ABC.net .au, News PNGfacts.com
Photos : Office of East Sepik Governor , Tweedy Malagian
Agung , Indonesia :
On the basis of the results of the visual and instrumental data analysis and considering the potential threats of danger, on November 27, 2017 at 06:00, the status of G. Agung was raised from Level III (SIAGA) to Level IV (AWAS) . Since yesterday and until today visually the volcano is usually covered with fog. The emission of white fumes, low intensity and low pressure, reaches a height of about 100 m above the summit and tilts to the east. At night, the glow of the incandescent lava is not observed.
The records of the seismographs dated January 14, 2018 noted:
24 emission earthquakes
6 shallow volcanic earthquakes (VB)
7 deep volcanic earthquakes (VA)
No local tectonic earthquake (TL)
No low frequency earthquake (LF)
A continuous tremor with an amplitude of 1 to 5 mm and a dominant value of 1 mm.
As of January 15, 2018 (00:00 to 18:00) it has been registered:
No earthquake emission
1 shallow volcanic earthquakes (VB)
2 deep volcanic earthquakes (VA)
No local tectonic earthquake (TL)
No low frequency earthquake (LF)
A continuous tremor with an amplitude of 1 to 2 mm and a dominant value of 1 mm.
Recommendations:
The communities around G. Agung and mountaineers / visitors / tourists should not climb, climb or do any activity in the danger zone around the G. Agung crater area and in all areas within 6 km from the crater of G. Agung. The estimated area risks are dynamic and continuously assessed and can be modified at any time based on the most recent observational data from G. Agung.
Level IV (AWAS) is only valid for a 6 km radius as mentioned above. Outside the activity area, everything can work like NORMAL and always SAFE.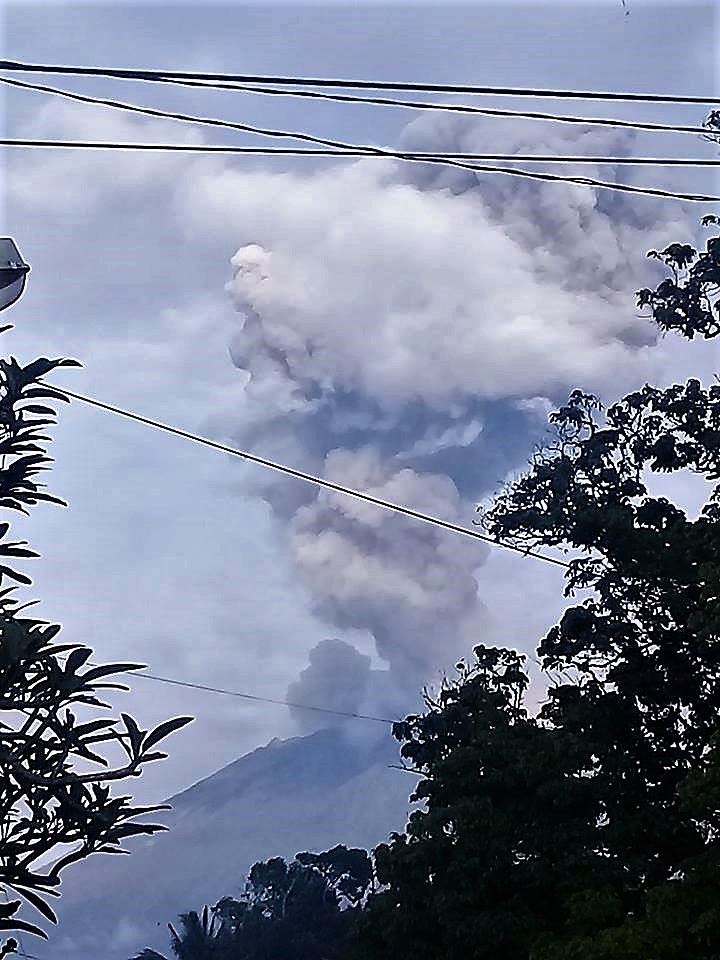 VOLCANO OBSERVATORY NOTICE FOR AVIATION – VONA.
Issued: January 14 , 2018.
Volcano: Agung (264020)
Current Aviation Colour Code: ORANGE
Previous Aviation Colour Code: orange
Source: Agung Volcano Observatory
Notice Number: 2018AGU07
Volcano Location: S 08 deg 20 min 31 sec E 115 deg 30 min 29 sec
Area: Bali, Indonesia
Summit Elevation: 10054 FT (3142 M)
Volcanic Activity Summary:
Eruption with volcanic ash cloud at 23h23 UTC ( 07h23 local). Eruption and ash emission is not continuing
Volcanic Cloud Height:
Best estimate of ash-cloud top is around 16454 FT (5142 M) above sea level, may be higher than what can be observed clearly. Source of height data: ground observer.
Other Volcanic Cloud Information:
Ash-cloud moving to North – Northeast
Remarks:
Seismic activity is dominated by shallow volcanic earthquake events
Sources : VSI , Magma .
Photos : Pandeni Addhe Dewii , Rai Dananjaya .
Turrialba , Poas , Tenorio , Costa Rica :
Activity report of volcanoes Turrialba, Poás, and Tenorio:
January 14, 2018, Updated at 11:00 o'clock.
Turrialba Volcano: activity over the last 24 hours:
The Turrialba volcano continues its permanent degassing. No ash emission was detected.
Seismic activity over the last 24 hours has remained at a low level.
At the time of this report, winds at the top of the volcano are heading southward.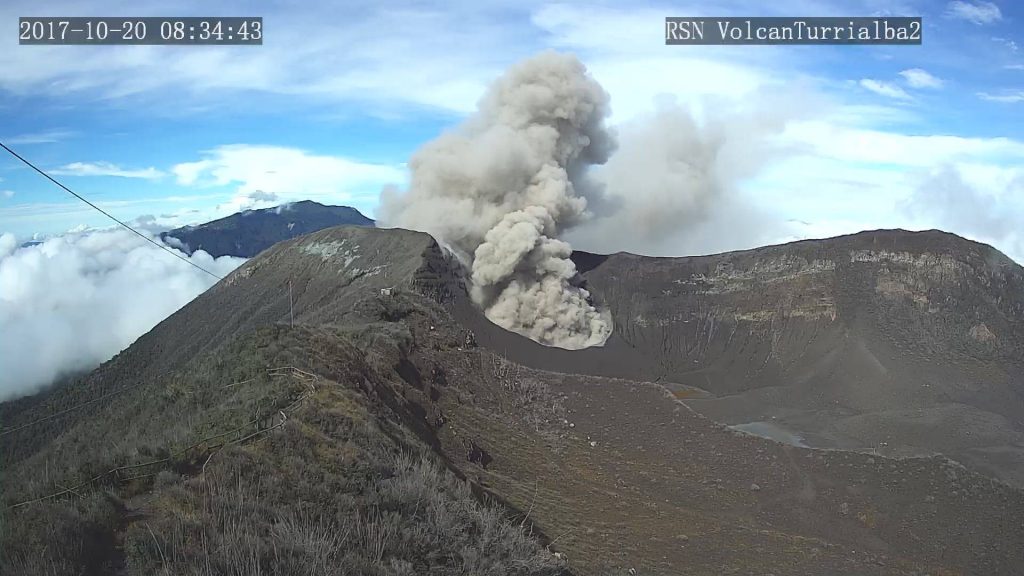 Poás Volcano : activity over the last 24 hours:
Poás continues with permanent degassing. The plume rises less than 500m above the bottom of the crater. No ash emission was detected.
The level of seismic activity is low. In general, most of the seismic signals recorded on the Poas are essentially generated by background noise produced by external factors.
At the time of this report, the winds at the top of the volcano are variable, but they are oriented mainly to the southwest.
Tenorio Volcano: activity over the last 24 hours:
No earthquakes were located in the area by the automatic system.
OVSICORI-UNA remains vigilant on seismic and volcanic activity.
Source : Ovsicori
Photo : Archive RSN