January 07 , 2018 . EN. Kadovar , Mount St Helens , Ebeko , Nevados of Chillan .
January 07 , 2018 .
Kadovar Island , Papua New Guinea :
More than 500 people living on Kadovar Island, East Sepik Province of Papua New Guinea have been evacuated following the first eruption of Kadovar volcano in known history. This volcano, dormant until yesterday, is part of the Schouten Islands, and lies off the coast of New Guinea, about 25 km (15 miles) N of the mouth of the Sepik River. The latest activity at this volcano was a period of heightened thermal phenomena in 1976. The Aviation Color Code for the volcano was raised to Orange. 50 – 60 percent of the island is already covered in lava.
Kadovar started erupting around 12:00 local time Friday, January 5, 2018 (02:00 UTC), prompting authorities to send out boats to evacuate more than 500 people living on Kadovar Island. The boats were sent from Kopar, the nearest island, some 30-minutes boat ride from Kadovar.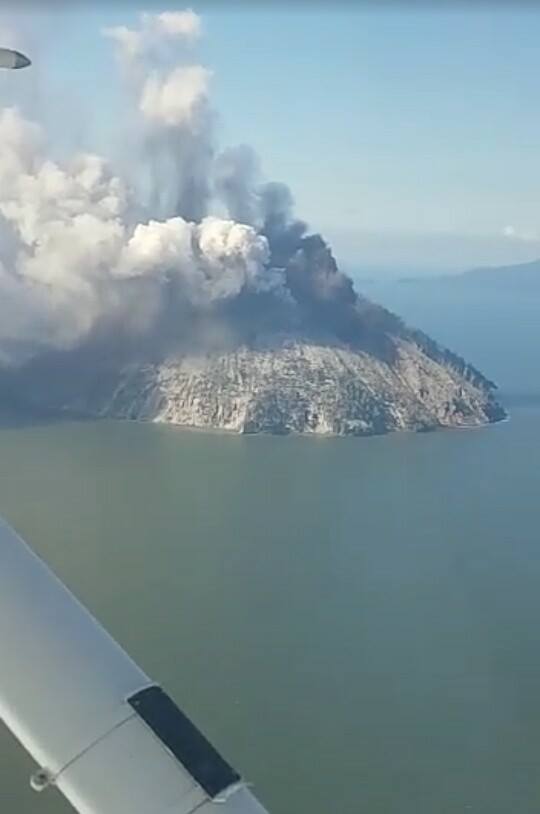 According to Loop PNG, immediately after sending boats to Kadovar, Kopar councilor Tom Kelly said that thick clouds can be seen rising from the island. « The clouds are darker and increasing at an alarming rate, » Kelly said.
Places like Kairuru Island, Mt Uru in Yangoru and Woginara in the West coast of Wewak District are under thick clouds and dust, Loop PNG reported 00:53 UTC, January 6. Kairuru is not visible from Wewak and Mushu is covered by dust, it said.
According to Darwin VAAC, the volcanic emission was clearly visible on Himawari-8 imagery acquired 02:30 UTC today. The volcanic ash cloud was reaching an altitude of 2.1 km (7 000 feet) above sea level. The Aviation Color Code is at Orange.
Update for Kadovar Island!
A resident of the island told us that the volcano on Kadovar which has been dormant for decades, has became active. Kadovar is a small island which is located about 18 miles offshore near the mouth of the Sepik River. Director of East Sepik Provincial Planning Tom Fandim said after the flight that they will be looking at sending supplies and possible relocation of the 600 people living on the island. Mr Fandim is shown here with Samaritan Pilots Luke Hamer and Forrest Williamson. Please pray that a solution can be found quickly for those living on this small island.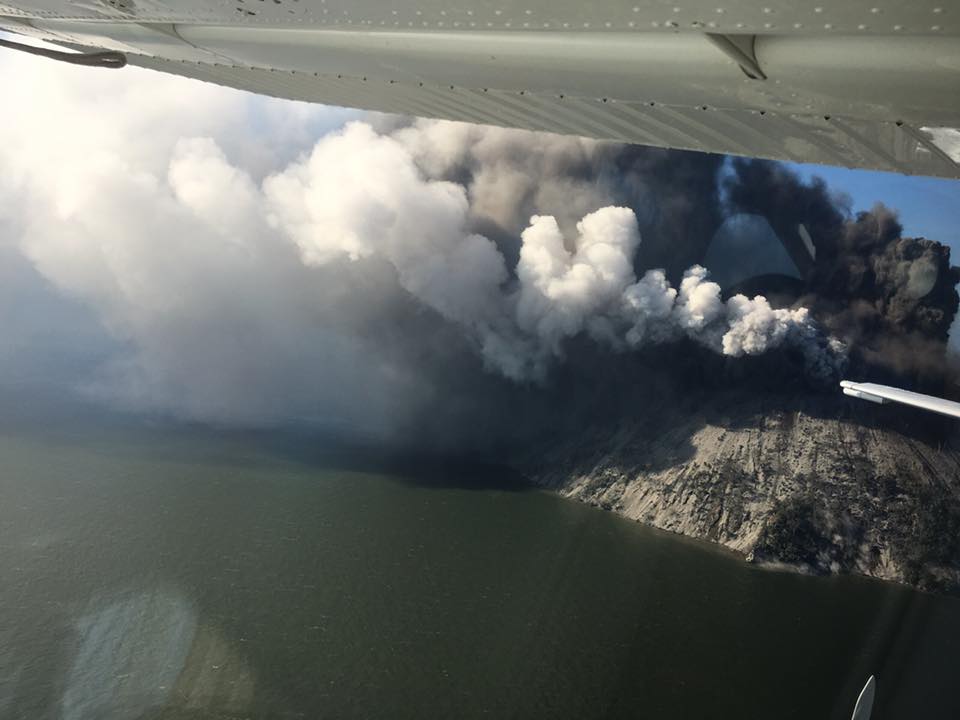 -We just returned from another flight to check on the current conditions of Kadovar. As you can see from this picture the volcano increased dramatically in activity from yesterday. The reports we have is that all of the residents of the island have been evacuated and that their has not been any loss of life. We do not have any details yet as where all of the families have gone to and hope to have further information in the near future. Your continued prayers for those displaced are appreciated.
Source : Watchers news , Samaritan aviation
Mount St Helens , Cascade Range , United States :
Current Volcano Alert Level: NORMAL
Current Aviation Color Code: GREEN
Activity Update:
All volcanoes in the Cascade Range of Oregon and Washington are at normal background levels of activity. These include Mount Baker, Glacier Peak, Mount Rainier, Mount St. Helens, and Mount Adams in Washington State; and Mount Hood, Mount Jefferson, Three Sisters, Newberry, and Crater Lake in Oregon.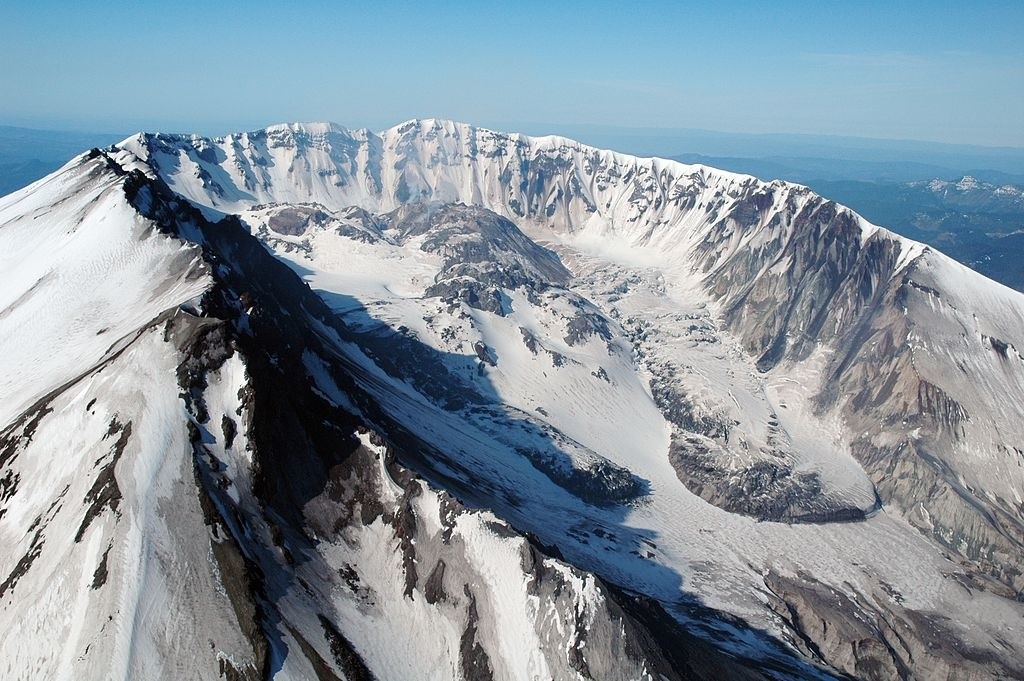 Recent Observations:
Conditions at the Cascades volcanoes remain at background levels. In this past week, earthquakes were detected at Mount St. Helens and Newberry Volcano. Throughout the week, a swarm of very small earthquakes occurred below Mount St. Helens, similar to activity that has been observed there since early December. A tectonic earthquake of magnitude M3.9 occurred 12 km (7.5 mi) NE of Mount St. Helens on January 3. The mainshock was aligned with the regional stress field and was followed by a number of smaller aftershocks.
The U.S. Geological Survey and Pacific Northwest Seismic Network (PNSN) continue to monitor these volcanoes closely and will issue additional updates and changes in alert level as warranted.
Source : USGS
Ebeko , Kamchatka :
VOLCANO OBSERVATORY NOTICE FOR AVIATION (VONA).
Issued: January 07 , 2018
Volcano:Ebeko (CAVW #290380)
Current aviation colour code:ORANGE
Previous aviation colour code:orange
Source:KVERT
Notice Number:2018-09
Volcano Location:N 50 deg 41 min E 156 deg 0 min
Area:Northern Kuriles, Russia
Summit Elevation:3791.68 ft (1156 m)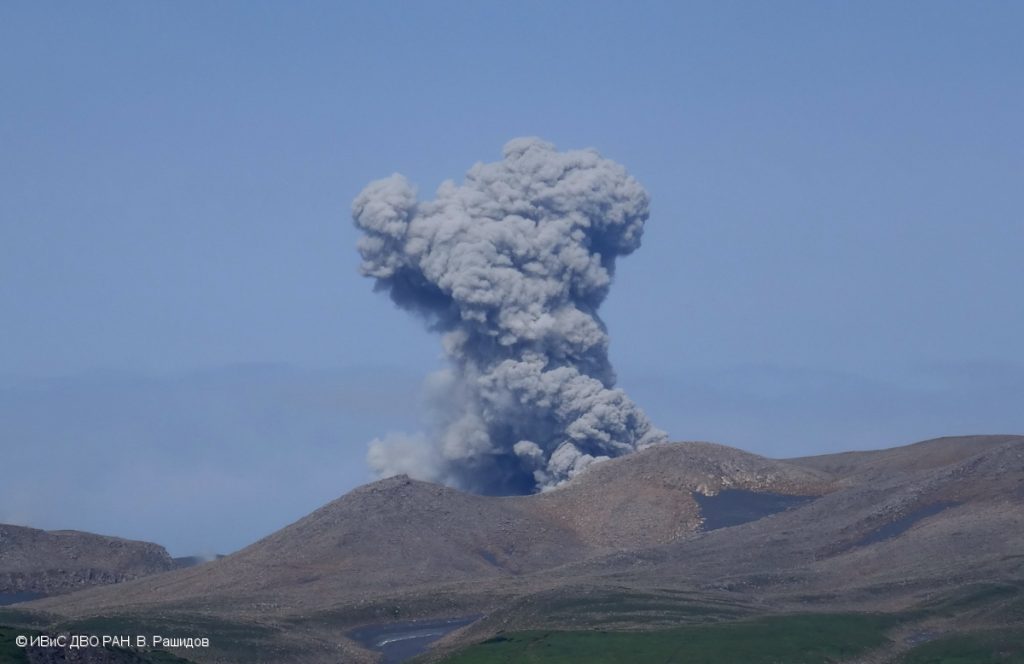 Explosive event of Ebeko volcano on 10 August, 2017.
Volcanic Activity Summary:
The moderate eruptive activity of the volcano continues. A gas-steam plume containing some amount of ash drift to the east-south-east from the volcano.
A moderate eruptive activity of the volcano continues. Ongoing activity could affect low-flying aircraft.
Volcanic cloud height:
4920-5248 ft (1500-1600 m) AMSL Time and method of ash plume/cloud height determination: 20180107/0400Z – Video data
Other volcanic cloud information:
Distance of ash plume/cloud of the volcano: 1 mi (2 km)
Direction of drift of ash plume/cloud of the volcano: ESE
Time and method of ash plume/cloud determination: 20180107/0400Z – Video data
Source : Kvert
Photo : V. Rashidov, IVS FEB RAS , 10/8/2017
Nevados of Chillan , Chile :
During this period, 5988 seismic events were recorded, of which 100 were classified as volcano-tectonic (VT) type events in relation to rock fracturing processes, with maximum local magnitudes of M 2.3. The largest magnitude earthquake was located 2.7 km from the active crater at a depth of 4.8 km.
Similarly, earthquakes associated with fluid movements within the volcanic building were recorded, of which four thousand sixty-two (4062) were classified as long-period (LP) events, with a value of maximum reduced displacement (DRC) of 180 cm2. In addition, one thousand eight hundred and twenty six (1826) tremor-type earthquakes (TR) were recorded, with a maximum displacement value reduced by 96 cm2. From 17 December, the observation of tremor – type signals with harmonic characteristics began, with an increase in the number of explosions and their seismic energy, which nevertheless continues to be of medium – low level.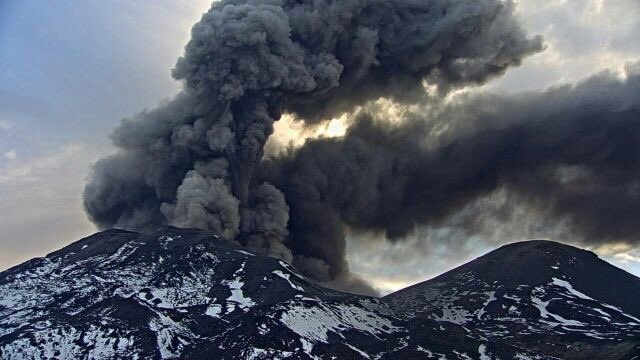 A detailed review of the images taken during the overflight on December 21 has revealed the opening of a crack of 30-40 meters in length, oriented North-West at the bottom of the crater « Recent », active in the process of current activity initiated in 2016.
The images obtained through the cameras installed near the volcanic complex mainly showed ash and water vapor emissions associated with explosions with column heights lower than 3000 m compared to the crater level. During the nights the cameras recorded a sporadic incandescence of time punctually associated with certain explosions that became permanent from December 20, likely date of the opening of said crack. The temperatures measured with the thermal camera during the flyover showed measurements up to 204 ° C, higher than the previous ones and located in the crack zone.
According to the data provided by the five (5) GNSS stations operating on the volcanic building, minor variations are observed in two stations located on the volcano. In addition, there is a slight shortening (between 3 and 5 mm) of the distances between two stations that cross the active cone (control lines) since July. The data provided by the inclinometer stations show stable positions during the last fortnight.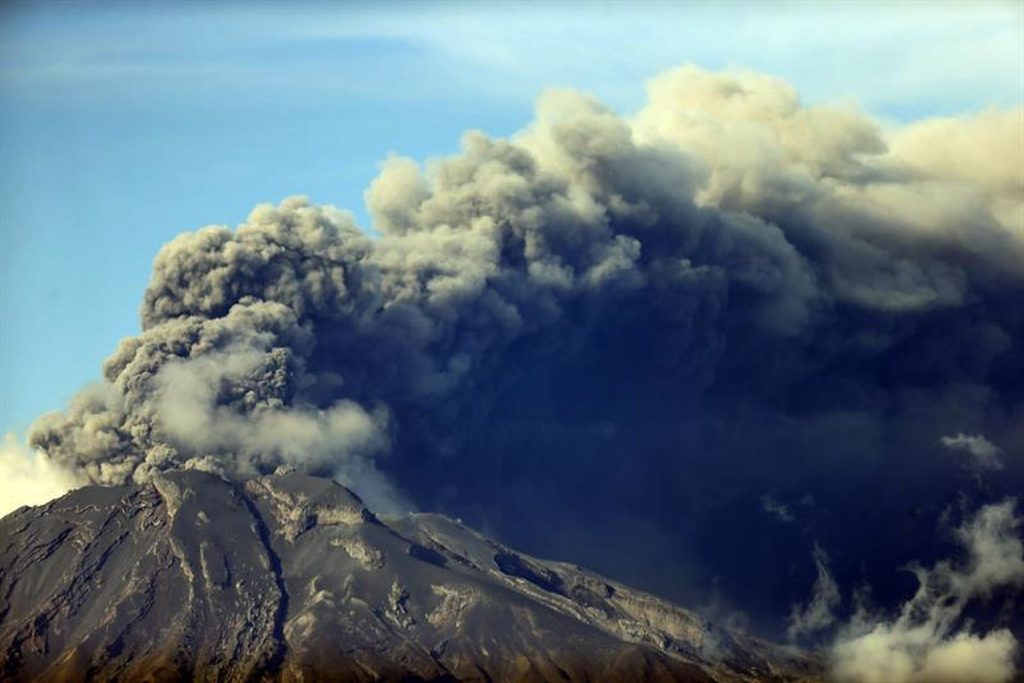 No sulfur dioxide (SO 2) emissions have been reported to the atmosphere in the volcanic complex area, according to data published by the Ozone Monitoring Instrument (OMI) Sulfur Dioxide Group. http://so2.gsfc.nasa.gov/) and the National Environmental Satellite Data and Information Service (NESDIS) (http://satepsanoine.nesdis.noaa.gov).
No thermal warnings were reported in the Volcanic Complex Associated Area from the data processed by the MIARVA (http://www.mirovaweb.it/). near-real-time thermal tracking of global hot-spots (MODVOLC) (http://modis.higp.hawaii.edu/).
The increase in seismic energy and the opening of the crack in the crater indicate an increase in the internal pressure of the volcanic system possibly associated with an increased degassing of the underlying magma body and / or higher heat input and interaction with the hydrothermal system, possibly in a slow and deep rise of this body. Changes in the characteristics of seismic events may be related to changes in geometry and / or flow regime in the ducts and are associated with the crack generation process. In the current scenario, explosive pulsatile processes with the generation of explosions of similar size or greater than those recorded are expected to continue.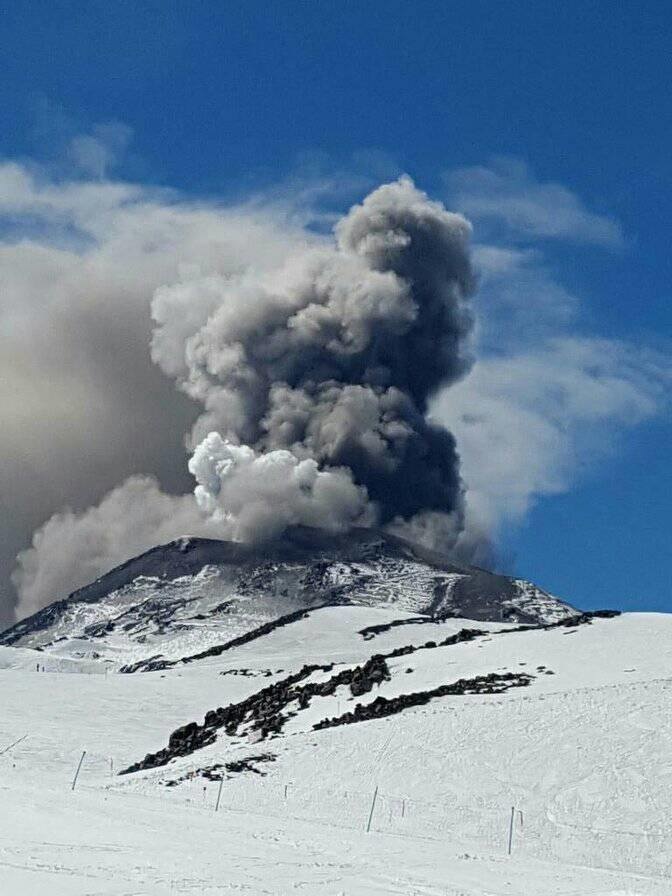 For this reason, special attention and a volcanic technical alert are maintained at:
YELLOW LEVEL: Changes in the behavior of volcanic activity – Probable time for an eruption: WEEKS / MONTH.
Observation: It is recommended to apply precautionary access restrictions in an area close to the crater with a radius of 3 kilometers.
Source : Sernageomin
Photos : Archives Sernageomin