January 02 , 2018.
Agung , Indonesia :
On the basis of the results of the visual and instrumental data analysis and considering the potential threats of danger, on November 27, 2017 at 06:00, the status of G. Agung was raised from Level III (SIAGA) to Level IV (AWAS) . Since yesterday and until today visually the volcano is usually covered with fog. The emission of gray ash – white, thick, medium pressure, reaches a height of about 500 to 1500 mm above the summit and tilts towards the West and Southwest. Ash falls fell on the observation post in Rendang. At night, the glow of incandescent lava is observed.
Seismograph records as of 01 January 2018 have noted:
13 shallow volcanic earthquakes (VB)
14 deep volcanic earthquakes (VA)
21 earthquakes of emission.
No local tectonic earthquake (TL)
A continuous tremor with an amplitude of 1 to 4 mm and a dominant value of 2 mm.
As of January 2, 2018 (00:00 to 18:00) it has been registered:
4 emission earthquakes
3 deep volcanic earthquakes (VA)
A continuous tremor with an amplitude of 1 to 4 mm and a dominant value of 1 mm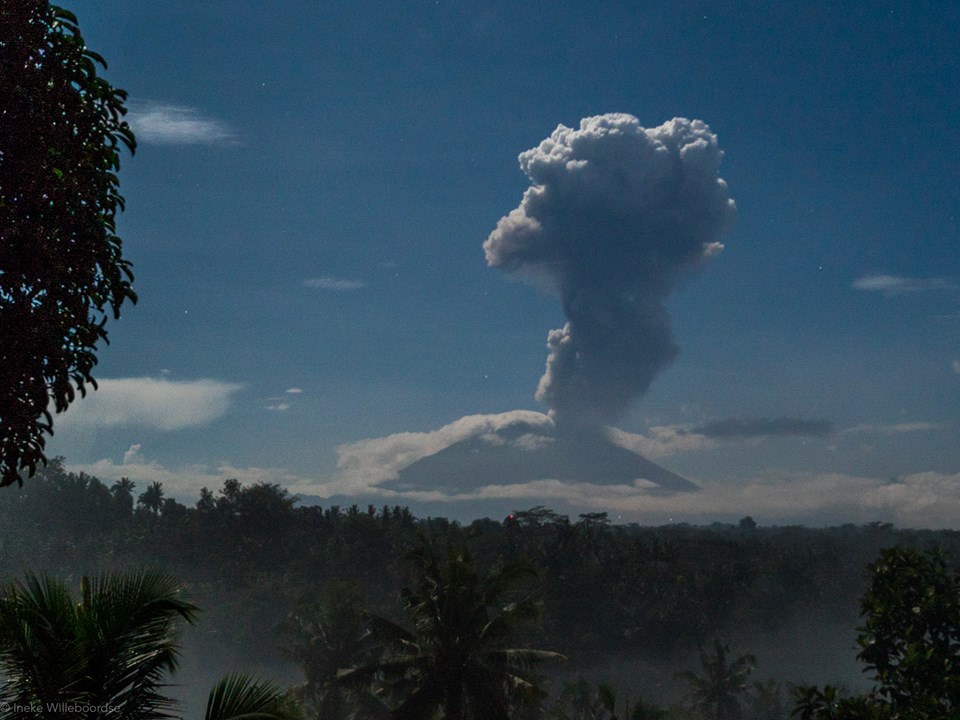 Mount Agung last night 22:03 After a few quiet days, everything suddenly started to explode under the full moon.
Recommendations:
Communities around G. Agung and mountaineers / visitors / tourists must not climb, climb or do any activity in the danger zone around the G. Agung crater area and in all areas within 8 km from the crater of G. Agung. With a sectoral extension to the North-East and South-East-South-South-West up to 10 km from the crater of G. Agung. The estimated area risks are dynamic and continuously assessed and can be modified at any time based on the most recent observational data from G. Agung.
Level IV (AWAS) is only valid for a radius of 8 to 10 km as mentioned above. Outside the activity area, everything can work like NORMAL and always SAFE.
VONA:
The latest aviation color code issued was ORANGE, published on December 24, 2017 at 22:05, linked to the eruptions / maximum emissions of gray volcanic ash with a height of 5642 m above sea level or 2500 meters above sea level. Mountain peak. The column of ash was inclined to the northeast.
Sources : VSI , Magma.
Photo : Ineke Willeboordse.
Popocatepetl , Mexico :
Update of January 1, 2018, 11:30 am (January 1st, 5:30 pm GMT)
During the last 24 hours, through the surveillance systems of the Popocatepetl volcano, 198 low intensity exhalations have been identified, accompanied by water vapor and gas. Similarly six volcano-tectonic events (VTS) were recorded at 16:57 (M = 1,9), 19:31 (M = 1,7) and 20:08 (M = 2,2), on December 31 , and at 00h31 (M = 1.4), 01h17 (M = 1.3) and 04h29 (M = 1.8) on 01 January 2018. The rest of the time, there was a continuous emission of water vapor and gas directed to the Northeast. In addition, 585 minutes of harmonic tremor of low amplitude were recorded.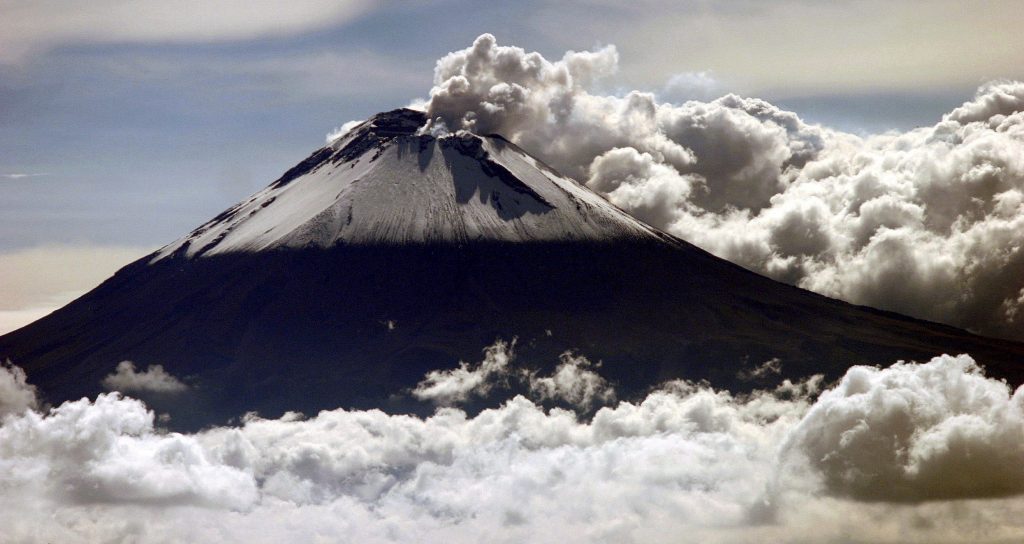 From this morning we observe a continuous emission of water vapor and gas to the northeast.
The other monitoring parameters remain without relevant modifications.
CENAPRED asked not to approach the volcano and in particular of the crater, the risk of falling of projectiles is high, and in case of heavy rain, to remain far from the bottom of the ravines because of the danger of landslides and flows mud.
The Popocatepetl volcanic warning light is located at Amarillo Phase 2.
Source : Cenapred .
Turrialba, Poas , Rincon de la Vieja , Costa Rica :
Daily report of the state of the Turrialba, Poás and Rincón de la Vieja volcanoes:
Update at 12:00 hours.
Turrialba Volcano: activity in the last 24 hours
The Turrialba Volcano remains with constant degassing, the direction of the wind according to the IMN is towards the South West, with influence towards the central valley, the seismic activity is maintained with bands of tremor of little amplitude, as well as small earthquakes type VT.
Poás Volcano: activity in the last 24 hours
Degassing is also observed towards the southwest, and little tremor activity is recorded in the stations near the crater.
Rincón de la Vieja Volcano: activity in the last 24 hours
There are no reports of eruption.
Source : Ovsicori
Photo : Archive Ovsicori ( 7/12/2016)