December 30 , 2017. EN. Sabancaya , Misti , Ubinas , Ticsani , Cleveland , Ibu , Ebeko .
December 30 , 2017.
Sabancaya, Misti , Ubinas , Ticsani , Peru :
The volcanoes of southern Peru currently monitored by the IGP showed different behaviors throughout the year. Three of them remain on green alert, while one of them, Sabancaya, continues at the orange alert level to perpetuate its full eruption.
In the South of the country there are 402 volcanoes, of which 16 are considered active or potentially active. The Geophysical Institute of Peru (IGP) monitors in real time 4 of them, which presented different levels of activity in 2017. Here is the general summary of the analysis of the behavior of these volcanoes.
Sabancaya Volcano.
The scientific and technical direction for volcanic risk in the region of Arequipa, composed of the Geophysical Institute of Peru, INGEMMET, SENAMHI and IG-UNSA, has published 52 reports describing the activity in 2017 from Sabancaya. This volcano recorded about 15,000 explosions in the year, with an average rate of 43 explosions per day. For this reason, in addition to the fact that earthquakes related to the movement and ascent of magmatic fluids continue to be recorded, the alert level of this volcano remains orange.
In addition, the height of the ash columns has oscillated between 3 km and 5 km, so that the recommendation is kept to the population living within 40 km of the volcano to protect themselves and avoid contact with this volcanic product. In addition, rainfall in the rainy season can cause the possible appearance of lahars that can hit the flanks of Ampato volcano, Sabancaya and Nevado de Hualca Hualca. The ravine that goes down to the town of Pinchollo, where is the geyser of the same name, is the most dangerous.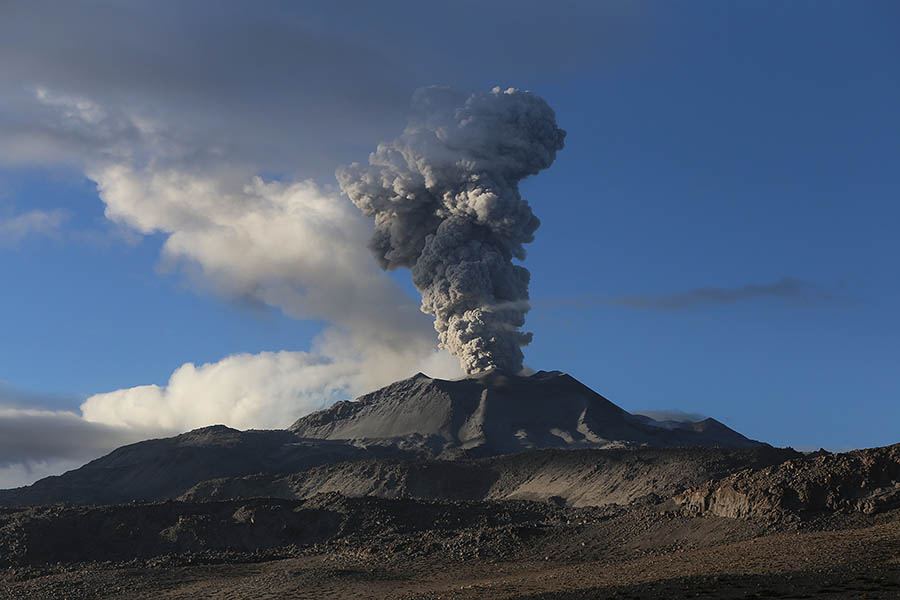 Emission of ashes after an explosion recorded on the Sabancaya volcano.
Misti Volcano
Located only 17 km from the center of Arequipa, the Misti is an active volcano that threatens the million inhabitants who live in this city. Fortunately, in 2017, its activity continued at very low levels and without major changes compared to previous years. On average, 45 earthquakes were recorded daily, most of them related to rock fractures inside the volcanic building. Much of the earthquakes that occurred under the Misti were located at a depth of between 1 km and 4 km below the crater. Sporadic vapor fumaroles have been observed, which is a common feature of this active volcano.
The Misti volcano and the city of Arequipa.
Ubinas volcano.
The Ubinas registered on January 24, 2017 its only explosion in the year. This volcano, the most active in Peru, went from yellow to green in May, after observing a significant decrease in its seismic and fumarolic activity. Although throughout the year, specifically in June and August, there were earthquakes associated with deep magma pressure, this was not enough to trigger the next phases preceding the start of a new explosive phase. In 2017, Ubinas reported an average of 22 earthquakes per day, a value well below the 102 daily earthquakes that the volcano had recorded in 2014 when it was in full eruption.
Steam emissions on the Ubinas volcano in January this year.
Ticsani Volcano.
Ticsani is the fourth volcano in southern Peru to have real-time monitoring networks. The activity of this volcano in 2017, monitored since 2015 by the IGP, showed low levels. The earthquakes recorded in its vicinity were mainly related to rock fracturing processes, although sporadic events were observed related to the movement of magmatic fluids. The average daily earthquake on the Ticsani in 2017 was 28 events.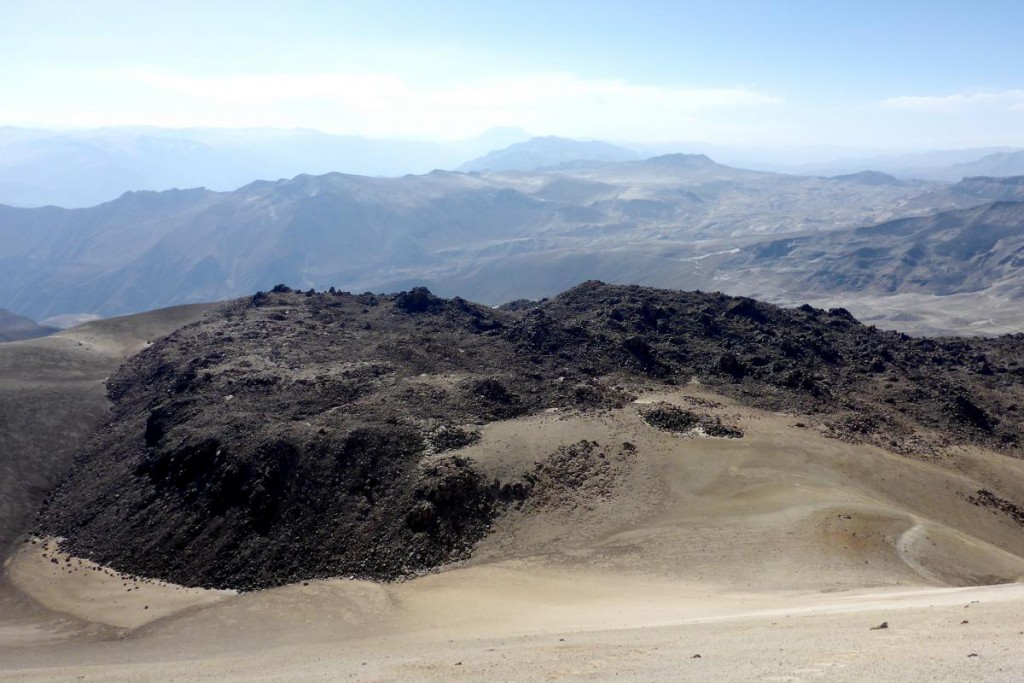 Recent dome of Ticsani volcano, located 60 km from the city of Moquegua.
In 2017, the IGP also launched preliminary studies for the installation of surveillance networks on 6 other active volcanoes in the country, in the context of the implementation of the investment project « Improvement and warning system of volcanic hazards, Extension to southern Peru. « Over the next three years, this project will be implemented, allowing the IGP to monitor in detail the activity of all volcanoes in southern Peru and will provide useful information to 1.6 million people living in these areas of different volcanic hazards.
Source : IGP
Cleveland , Alaska :
52°49'20 » N 169°56'42 » W,
Summit Elevation 5676 ft (1730 m)
Current Volcano Alert Level: WATCH
Current Aviation Color Code: ORANGE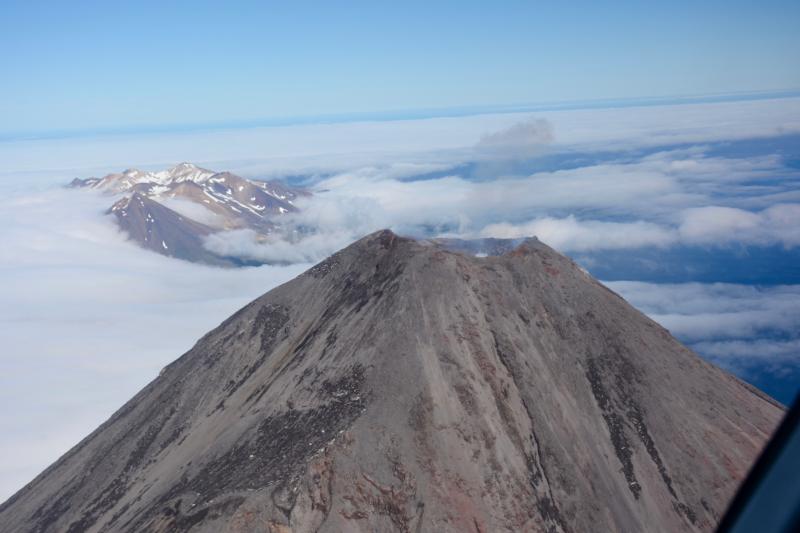 Volcanic gases rise from the crater of Mount Cleveland, with the snowy peaks of Tana Volcano in the background.
Moderately elevated surface temperatures were observed at the summit of Cleveland on Wednesday of this week. No other activity was noted in satellite imagery, though most satellite views were obscured by cloudy weather. A few very small local earthquakes were detected over the past day. Otherwise, seismic and infrasound data have been at background levels over the past week. Elevated surface temperatures may indicate low-level lava effusion or cooling of recently erupted lava in the summit vent. The last small explosion at Cleveland occurred on December 17, which may have cleared the vent making way for new lava to effuse into the crater.
Cleveland volcano is monitored with a limited real-time seismic network, which inhibits AVO's ability to detect precursory unrest that may lead to an explosive eruption. Rapid detection of an ash-producing eruption may be possible using a combination of seismic, infrasound, lightning, and satellite data.
Source : AVO
Photo : Power, John , 25 Juillet 2016 , 7:13 PM
Ibu , Indonesia :
Activity Level of Level II (WASPADA). G. Ibu (1340 m above sea level) is erupting continuously. Since yesterday at this morning visually, the mountain is usually covered with fog. High gray smoke rises from 200 to 500 m above the summit. The wind was blowing eastward.
Thanks to seismographic recordings, on December 29, 2017, it was recorded:
84 earthquakes of eruption
49 emission earthquakes
26 tremor harmonic earthquake
1 tectonic earthquake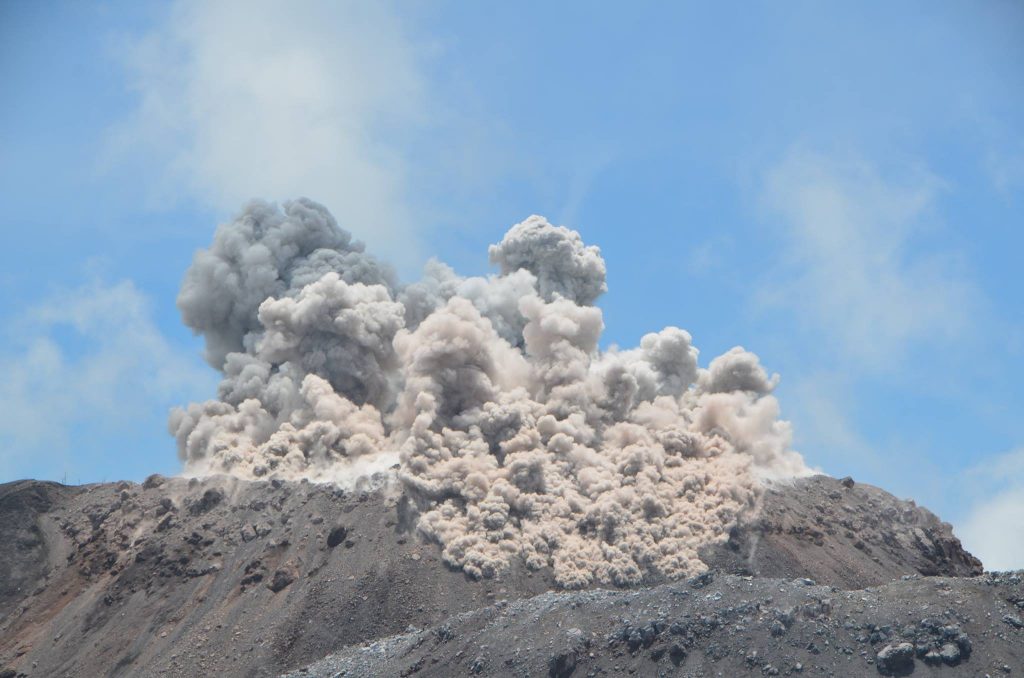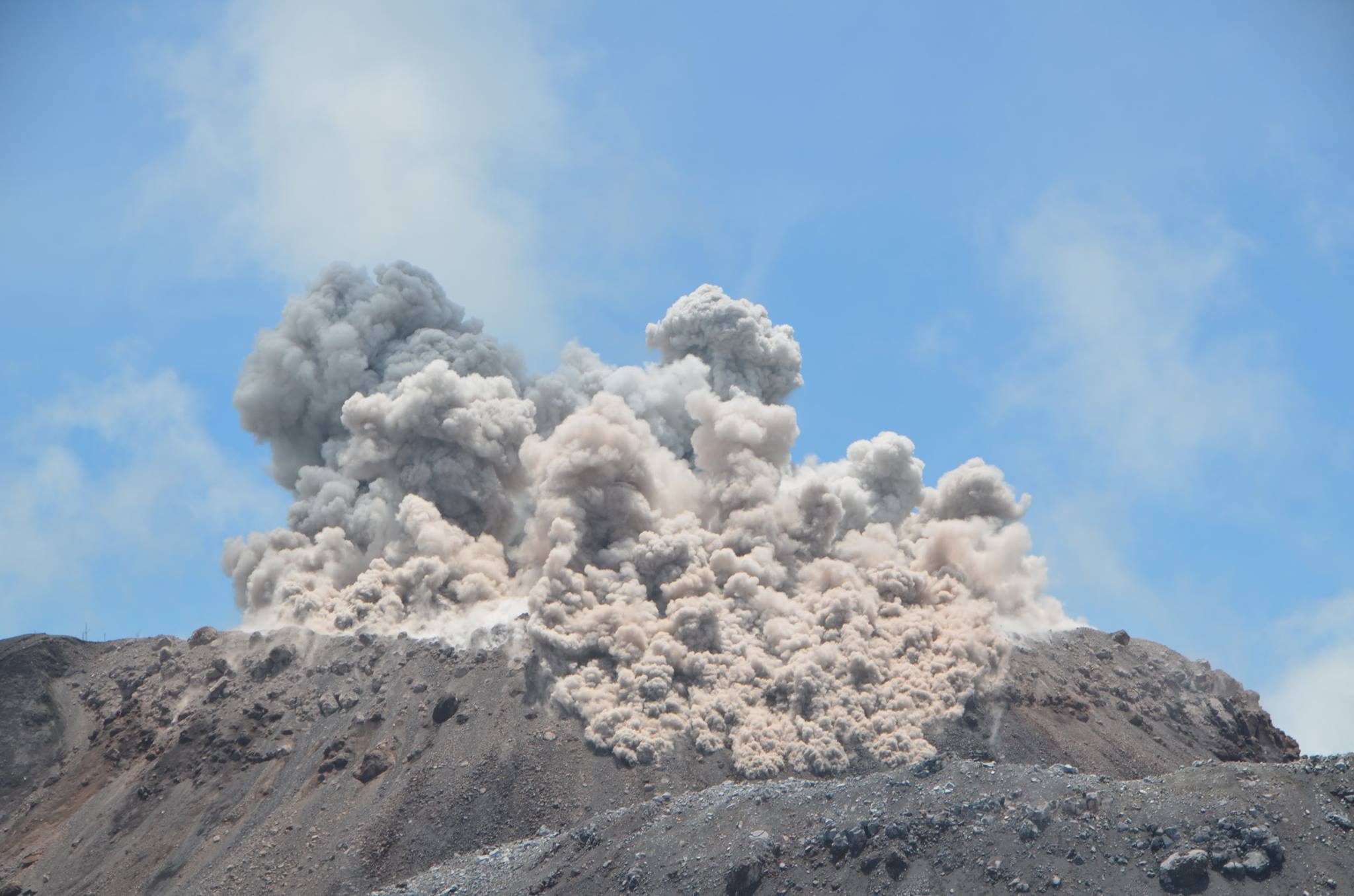 Recommendations:
Communities around G. Ibu and visitors / tourists must not have activity, climb and approach within 2 km, with a sectoral expansion of 3.5 km towards the opening in the northern part of active crater of G. Ibu.
VONA: The last recorded ORANGE color code was published on August 28, 2017 at 06:12, related eruption with an ash height of 1725 m above sea level or 400 m above the peak, inclined ash column to the north.
Source : VSI
Photo : S. Chermette ( 80joursvoyages.com )
Ebeko , Kamchatka :
50.69 N, 156.01 E;
Elevation 3792 ft (1156 m)
Aviation Colour Code is ORANGE
A moderate gas-steam with some amount of ash activity of the volcano continues. Ash explosions up to 16,400 ft (5 km) a.s.l. could occur at any time. Ongoing activity could affect low-flying aircraft and airport of Severo-Kurilsk.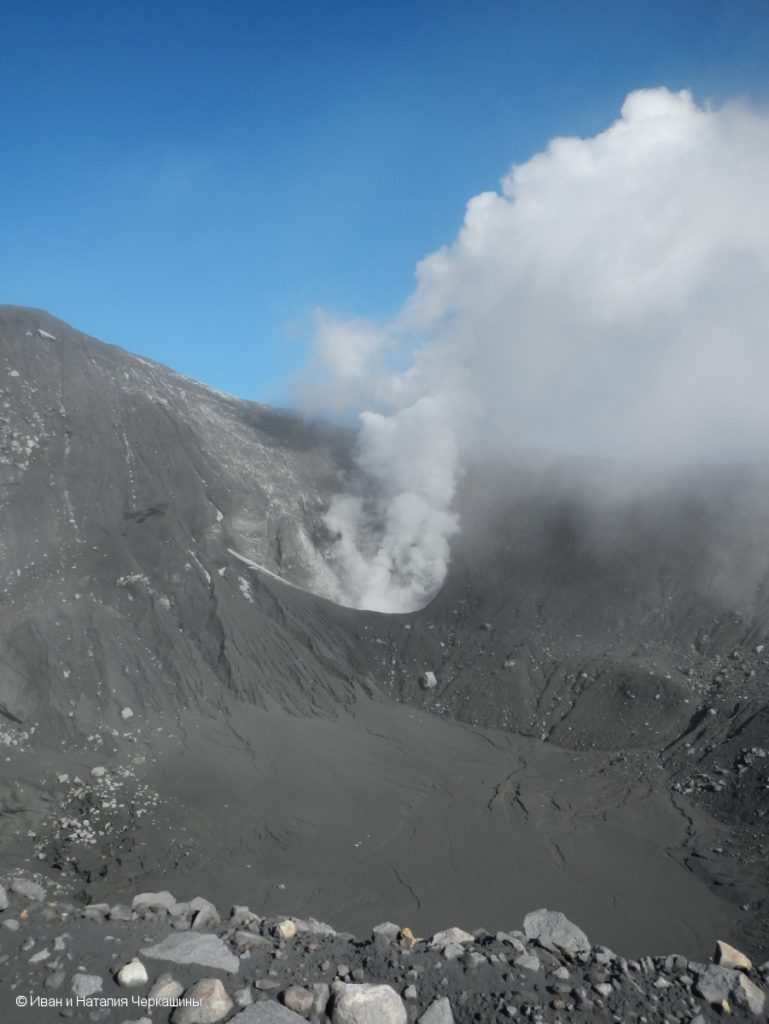 Active crater of Ebeko volcano on 13 September, 2017.
A moderate eruptive activity of the volcano continues. According to visual data by volcanologists from Severo-Kurilsk, explosions sent ash up to 1.5 km a.s.l. on 25 December. Satellite data by KVERT showed the volcano was quiet or obscured by clouds last week.
Source : Kvert.
Photo : Ivan and Nataliya Cherkashiny , 13/9/2017 .