December 19 , 2017. EN. Sabancaya , Cleveland , Ebeko , Reventador , Poas .
December 19 , 2017.
Sabancaya , Peru :
Explosive activity continues to decline, averaging 55 explosions / day. Fluid movement events (long period type) have decreased slightly, but continue to predominate among volcanic seismicity. The events associated with the ash emission (tremor type) increased to 3 hours / day. Finally, events that indicate the rise of magma (hybrid type) are very sporadic and low energy. 
The eruptive columns of gas and ash remained similar during the last week, reaching up to 2500 m above the crater. The dispersion of these materials occurred within a radius of approximately 50 km, mainly in the northwest, west and southwest directions. Ash falls have been reported in the city of Huambo. 
Deformation monitoring at the SBSS GNSS station has maintained a positive trend. 
The volcanic gas (SO2) flow recorded on December 15 has a maximum value of 2200 tonnes / day, a value considered moderate. 
Six thermal anomalies were recorded according to the MIROVA system, with values between 1 MW and 8 MW VRP (Irradiated Volcano Power)
In general, eruptive activity maintains moderate levels. It is necessary to prepare against possible mud flows (lahars).
Source : IGP
Cleveland , Alaska :
52°49'20 » N 169°56'42 » W,
Summit Elevation 5676 ft (1730 m)
Current Volcano Alert Level: WATCH
Current Aviation Color Code: ORANGE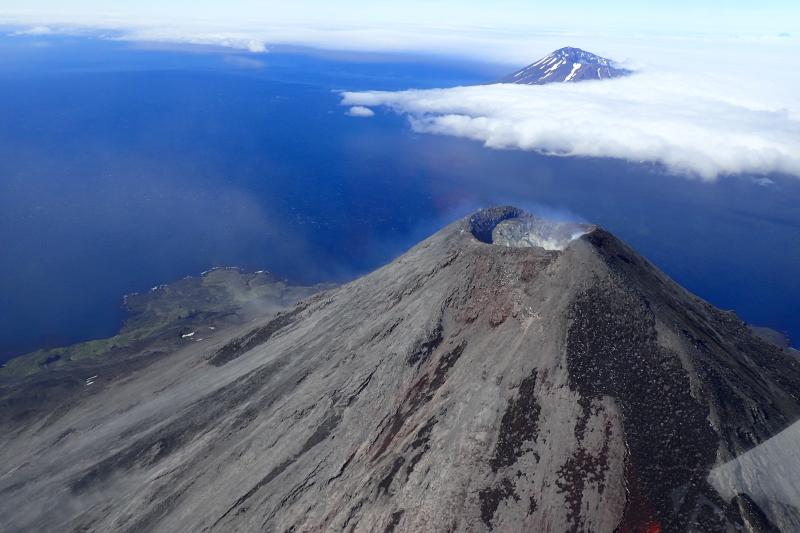 A small explosion was detected at Cleveland Volcano in seismic and infrasound data yesterday evening (12/17) at 6:17 PM AKST (03:17 UTC on 12/18). Conditions were cloudy at the time and no eruption cloud was observed in satellite images.
Source : AVO
Ebeko , Kamchatka :
VOLCANO OBSERVATORY NOTICE FOR AVIATION (VONA).
Issued: December 19 , 2017
Volcano:Ebeko (CAVW #290380)
Current aviation colour code:ORANGE
Previous aviation colour code:orange
Source:KVERT
Notice Number:2017-265
Volcano Location:N 50 deg 41 min E 156 deg 0 min
Area:Northern Kuriles, Russia
Summit Elevation:3791.68 ft (1156 m)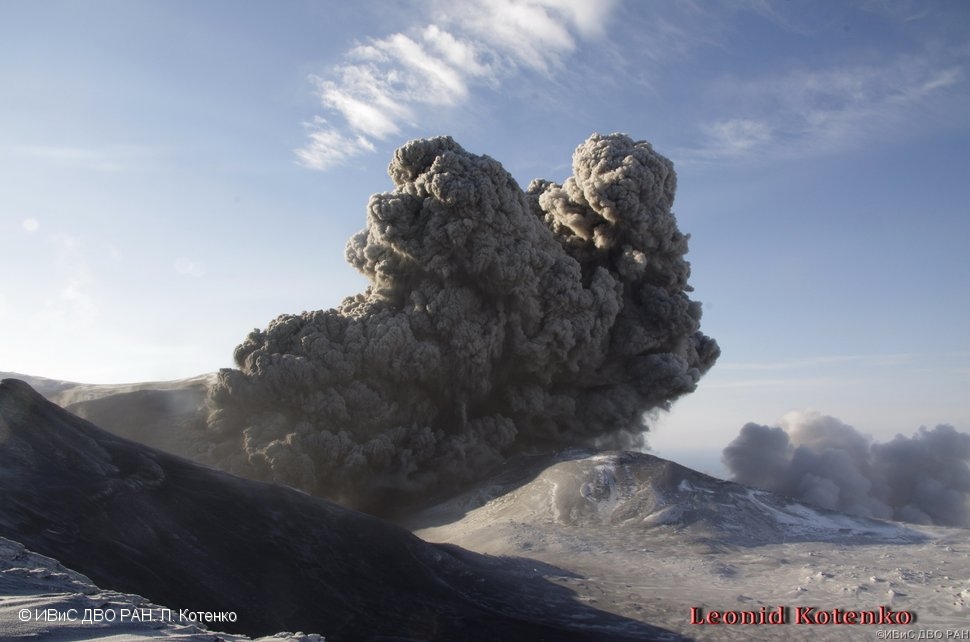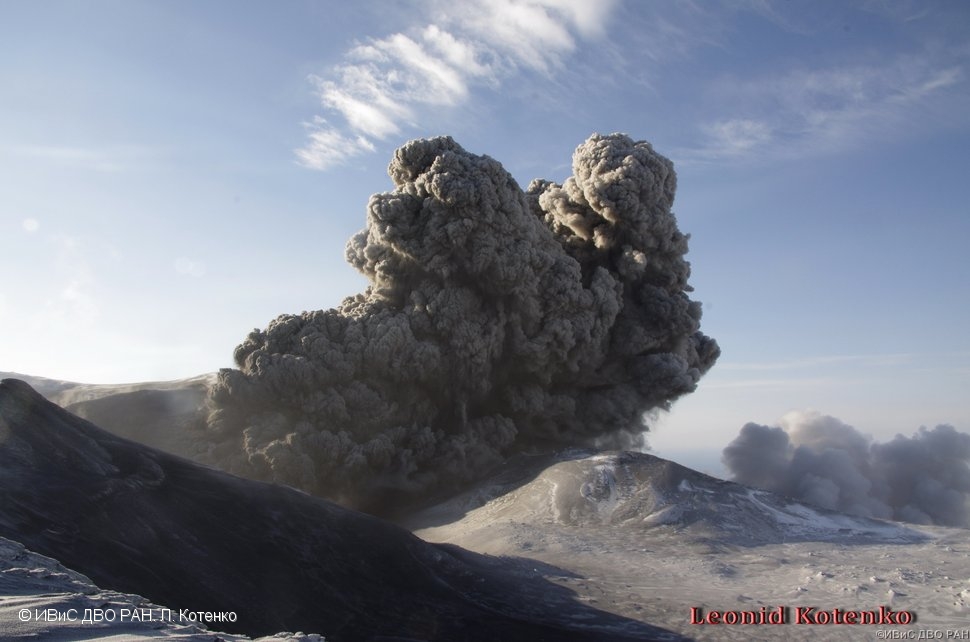 Volcanic Activity Summary:
A moderate explosive activity of the volcano continues. According to visual data by volcanologists from Severo-Kurilsk, explosions sent ash up to 2.0-2.5 km a.s.l. and extend about 8 km to the north-east from the volcano.
A moderate gas-steam with some amount of ash activity of the volcano continues. Ash explosions up to 16,400 ft (5 km) a.s.l. could occur at any time. Ongoing activity could affect low-flying aircraft and airport of Severo-Kurilsk.
Volcanic cloud height:
6560-8200 ft (2000-2500 m) AMSL Time and method of ash plume/cloud height determination: 20171219/0017Z – Visual data
Other volcanic cloud information:
Distance of ash plume/cloud of the volcano: 5 mi (8 km)
Direction of drift of ash plume/cloud of the volcano: NE / azimuth 45 deg
Time and method of ash plume/cloud determination: 20171219/0017Z – Visual data
Source : Kvert
Photo : Leonid Totenko
Reventador , Ecuador :
Institute of Geophysics of Information – EPN
Surface activity level: high
Superficial trend: No change
Internal: no data
Internal trend: no data
Seismicity (events): There is no recorded seismicity for the present.
Rain / lahars: Light rains were recorded during the night.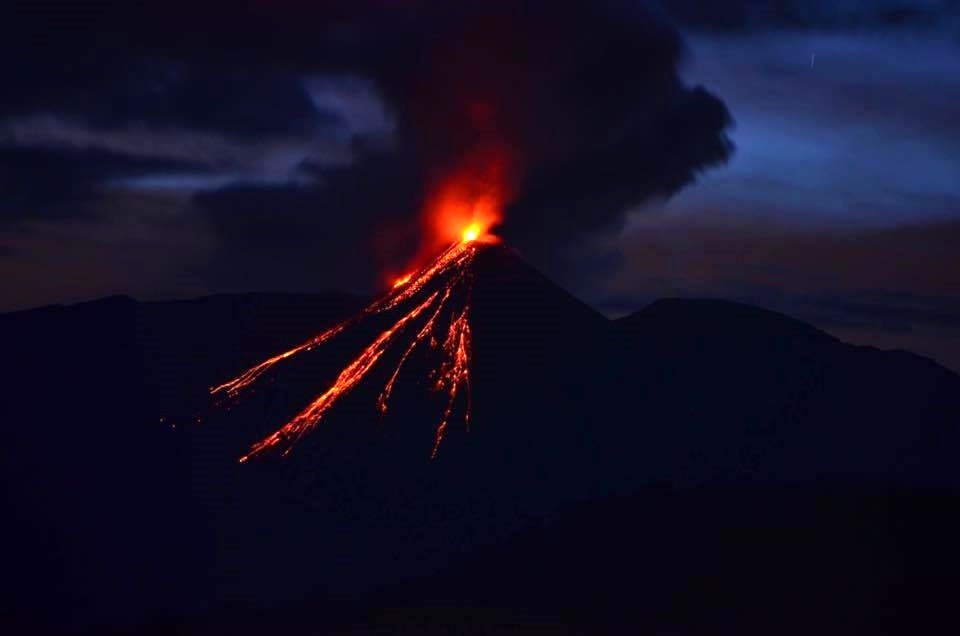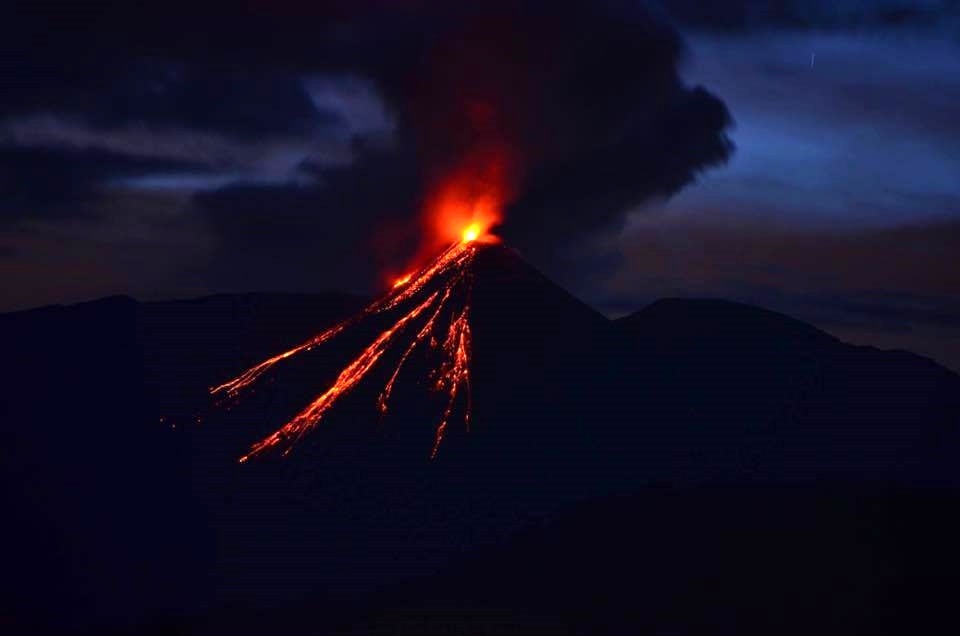 Emission / Ash Column: In the afternoon, the area was discovered at times and low-ash emissions of gas and vapor were observed at altitudes above 600 meters above the crater, with dispersion directions that oscillate from north to northwest.
Other monitoring parameters: No change
Observations: During the night, the area became cloudy and the rest so far.
Alert level: Orange
Source : IGEPN
Photo : Juan Carlos
Poas , Costa Rica :
The volcanic seismic activity on the Poás volcano has been zero in the last 24 hours.
Degassing of a plume of vapor, magmatic gases and fine aerosols (tiny particles of rock and minerals such as native sulfur) continues in continuous, passive and weak form, through the vents in the bottom of the crater. It has been recorded temperatures around 100 degrees Celsius. The plume rises between 50 and 400 meters above the crater and is dispersed by the winds mainly to the East, South-West and West Poas volcano region and includes such sites as the Poas Volcano National Park, Zarcero, Bajos del Toro, Laguna, Picado, Alto Palomo, Cabuyal, Naranjo, San Ramon, Atenas, Esquipulas, Palmares, Cirri, Grecia, Tacares, among other places nearby.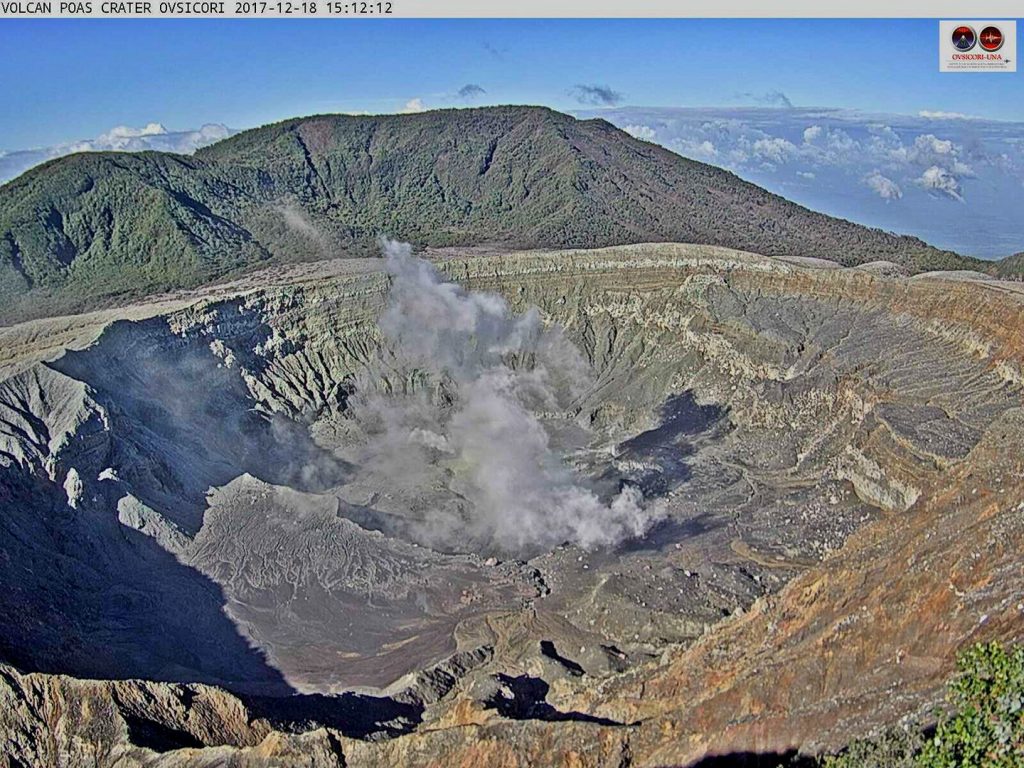 Between December 12 and 18, 2017, concentrations of sulfur dioxide (SO2) emitted from the crater mouths, detected with the real-time magma gas multigas monitoring system that is located on the western edge of the active crater, have fluctuated. relatively low between 4 and 15 parts per million (ppm), while CO2 / SO2 ratios varied between 0.5 and 1.0.
Source : Ovsicori