December 15 , 2017. EN. Ertaale , Agung , Kanlaon , Bezymianny , Fuego .
December 15 , 2017.
Ertaale , Ethiopia :
EXCLUSIVE: From our correspondent on site:
The summit lake has changed (the well has tripled in volume) and contains a very agitated bean-shaped lake with a platform on which there are 2 or 3 hornitos whose activity is mainly gaseous with sometimes some projection.
The convection currents are mainly oriented South-North and very active a little like a river of lava (cf video of today on youtube ). There is a lot of gas, so it takes time on site to be sure to observe the inside of the crater. Basically it takes moments with little wind to prevent the gases are reconnected to the inside of the crater … Some groups that we met only saw gas for lack of time on site!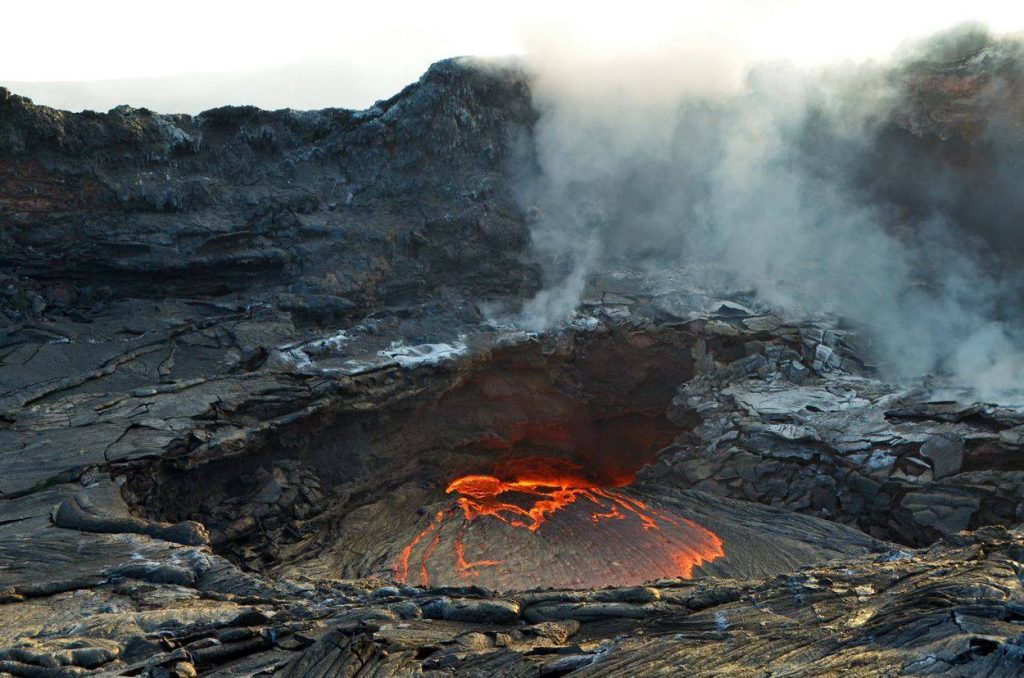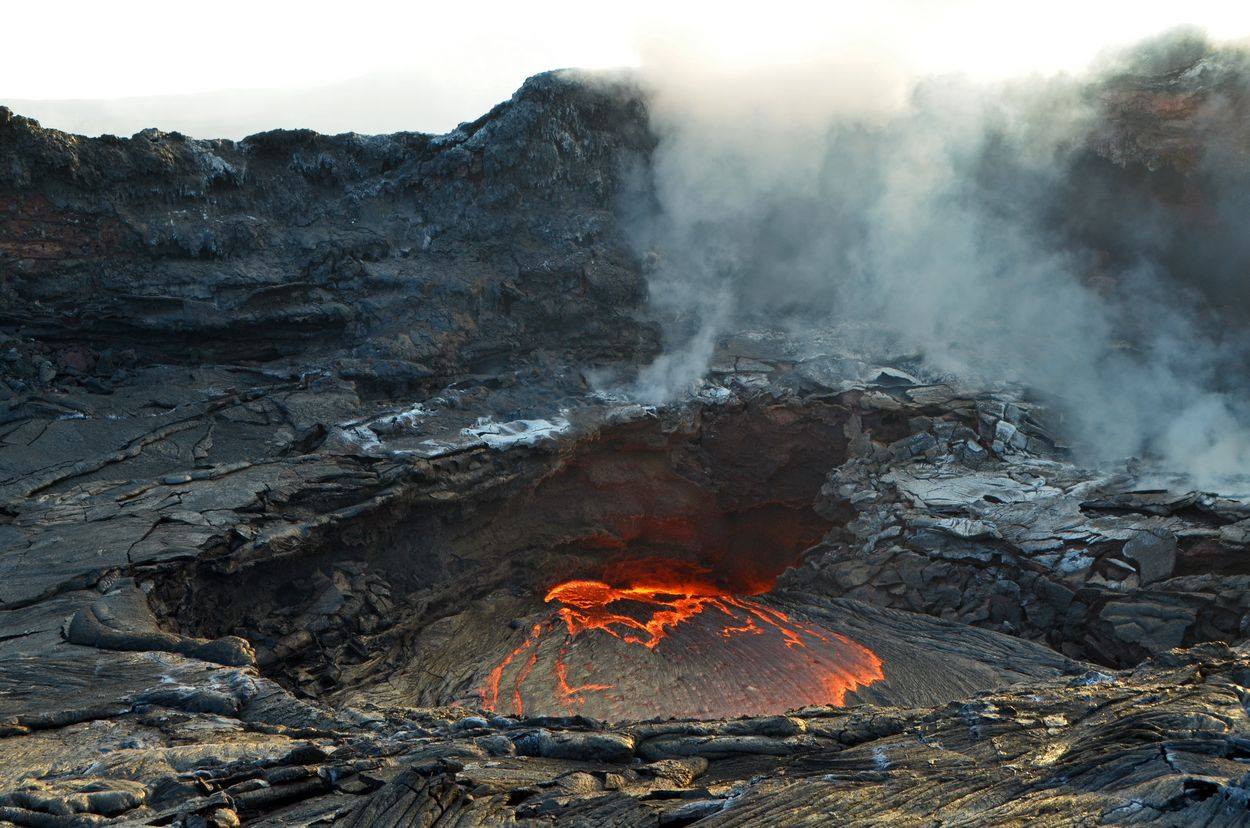 The second active part was reached on the flanks and up to the new lava lake. There is a large, well-filled lake interconnected with a smaller lake, which I suppose is feeding the tunnel of the still active stream … (there is another small upstream but which was very quiet, almost frozen). Access is not very easy because we walk on very recent lava, very brittle and hot …
We also passed near the hornito under construction last year which is now inactive and much higher …
Source : Sylvain Chermette http://80joursvoyages.com/
Agung , Indonesia :
On the basis of the results of the visual and instrumental data analysis and considering the potential threats of danger, on November 27, 2017 at 06:00, the status of G. Agung was raised from Level III (SIAGA) to Level IV (AWAS) . Since yesterday and until today visually the volcano is clearly visible until the appearance of the mist. Eruptions and puffs of gray ash – white, thick, of medium pressure, reach a height of about 1500 m above the summit and incline towards the West and the East. At night, the glow of the incandescent lava in the crater of the volcano is observed.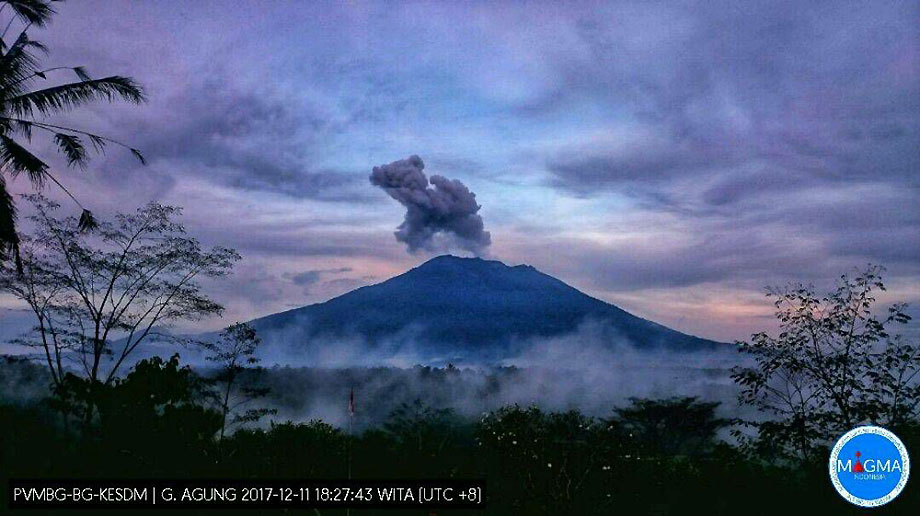 Seismograph records as of December 14, 2017 have noted:
4 shallow volcanic earthquakes (VB)
3 deep volcanic earthquakes (VA)
5 local tectonic earthquakes.
No earthquakes of eruption.
16 Low Frequency events.
32 earthquakes of emission.
No harmonic tremor.
A continuous tremor with an amplitude of 1 to 2 mm and a dominant value of 1 mm.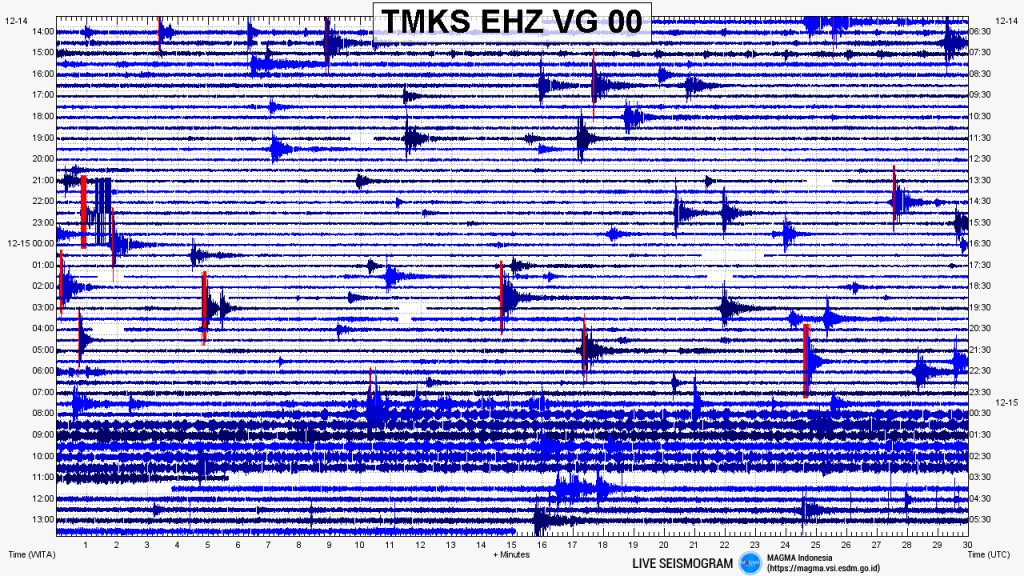 As of December 15, 2017 (00:00 to 18:00) it has been registered:
9 emission earthquakes
No earthquakes of eruption.
5 low frequency earthquakes.
5 shallow volcanic earthquakes (VB)
6 deep volcanic earthquakes (VA)
No local tectonic earthquakes.
1 harmonic tremor.
A continuous tremor with an amplitude of 1 to 2 mm and a dominant value of 1 mm.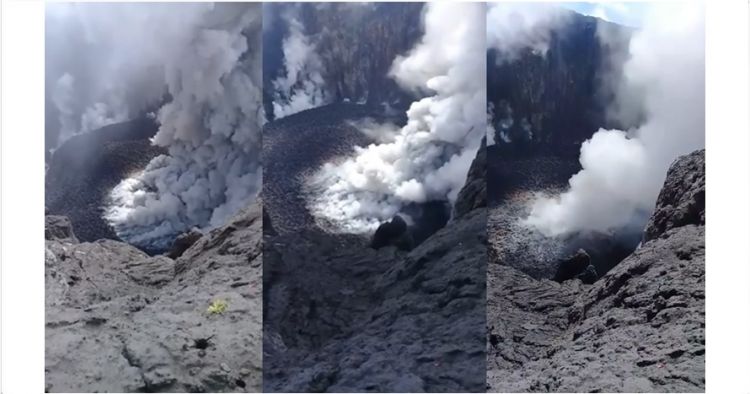 Recommendations:
Communities around G. Agung and mountaineers / visitors / tourists must not climb, climb or do any activity in the danger zone around the G. Agung crater area and in all areas within 8 km from the crater of G. Agung. With a sectoral extension to the North-East and South-East-South-South-West up to 10 km from the crater of G. Agung. The estimated area risks are dynamic and continuously assessed and can be modified at any time based on the most recent observational data from G. Agung.
Source : VSI , Magma .
Photos : Magma , Brillio.
Kanlaon , Philippines :
Kanlaon Volcano Activity Bulletin, December 15, 2017 08:00 A.M.
Kanlaon Volcano's seismic monitoring network recorded one thousand and two hundred seventeen (1217) volcanic earthquakes during the past 24 hours. Wispy emission of white steam-laden plumes was observed from the summit crater. Ground deformation data from continuous GPS measurements indicate slight inflation of the edifice since December 2015. Sulfur dioxide (SO2) emission was measured at an average of 687 tonnes/day on 13 December 2017.

Alert Level 2 status prevails over Kanlaon Volcano, which means that the volcano is undergoing a moderate level of unrest. There is probable intrusion of magma at depth which may or may not lead to a magmatic eruption. The local government units and the public are strictly reminded that entry into the 4-kilometer radius Permanent Danger Zone (PDZ) is strictly prohibited due to the further possibilities of sudden and hazardous steam-driven or phreatic eruptions. Civil aviation authorities must also advise pilots to avoid flying close to the volcano's summit as ejecta from any sudden phreatic eruption can be hazardous to aircraft.
DOST-PHIVOLCS is closely monitoring Kanlaon Volcano's activity and any new development will be relayed to all concerned.
Source : Phivolcs
Bezymianny , Kamchatka :
55.97 N, 160.6 E;
Elevation 9453 ft (2882 m)
Aviation Colour Code is YELLOW
A gas-steam activity of the volcano continues. Ongoing activity could affect low-flying aircraft.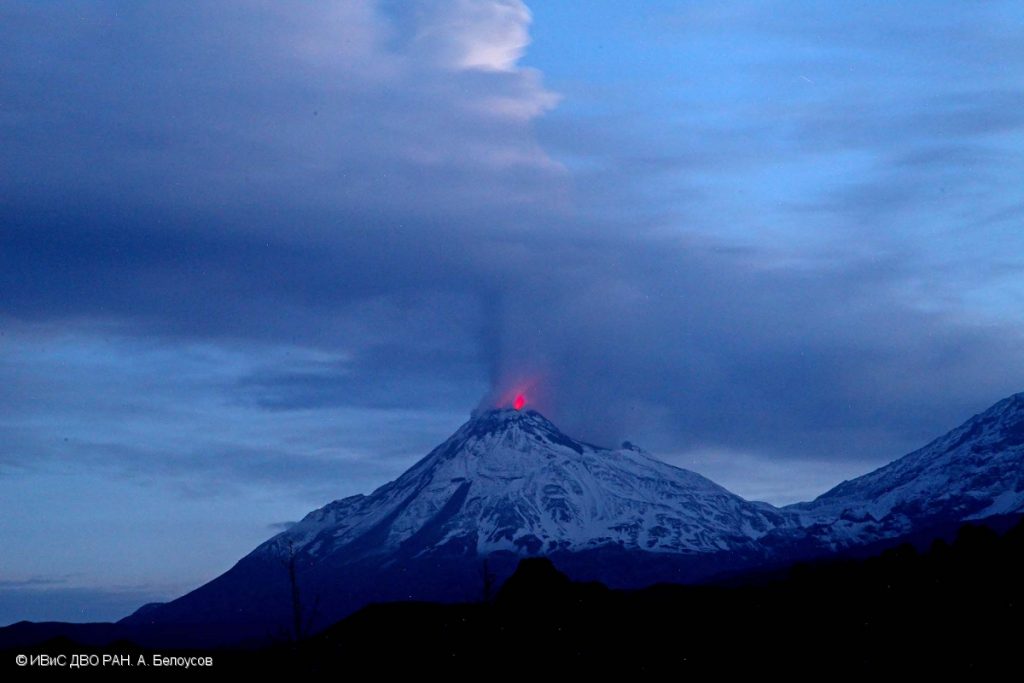 A moderate gas-steam activity of the volcano continues. Satellite data by KVERT showed a thermal anomaly over the volcano on 07, 11 and 13-14 December, it was obscured by clouds during other days of the week.
Source : Kvert
Photo : A. Belousov, IVS FEB RAS
Fuego , Guatemala :
In recent hours, there has been an increase in explosive activity that consists of constant vulcanian explosions, heavily laden with ashes. The column reaches an approximate height of 4,500 to 5,500 meters (14,764 to 18,045 feet), and travels more than 15 kilometers to the northwest, north and northeast. Ash falls are reported in San Miguel Dueñas, Alotengango and Ciudad Vieja, with ash-fall opportunities in Antigua Guatemala and some municipalities in Chimaltenango. Slight to moderate avalanches are noted on the crater contour.
The explosions are accompanied by moderate rumblings that give rise to a weak to moderate shock wave, causing vibrations in the roofs of homes near the volcano, sounds similar to those of an airplane turbine associated with constant degassing.
According to the observations, the energy of the explosions is maintained, with the possibility that the ashes are transported further because of the wind conditions.
Source : Insivumeh