December 09 , 2017. EN. Agung , Öræfajökull , Sheveluch , Shishaldin , Kanlaon .
December 09 , 2017.
Agung , Indonesia :
On the basis of the results of the visual and instrumental data analysis and considering the potential threats of danger, on November 27, 2017 at 06:00, the status of G. Agung was raised from Level III (SIAGA) to Level IV (AWAS) . Since yesterday and until today visually the volcano is clearly visible until the appearance of the mist. A thick gray-white, medium-pressure ash column reaches a height of about 500 to 2100 m above the summit and slopes westward. At night, the glow of the incandescent lava in the crater of the volcano is observed. That day, there was an explosive eruption / ash emission, the height of the ash column rose to 2100 m above the summit.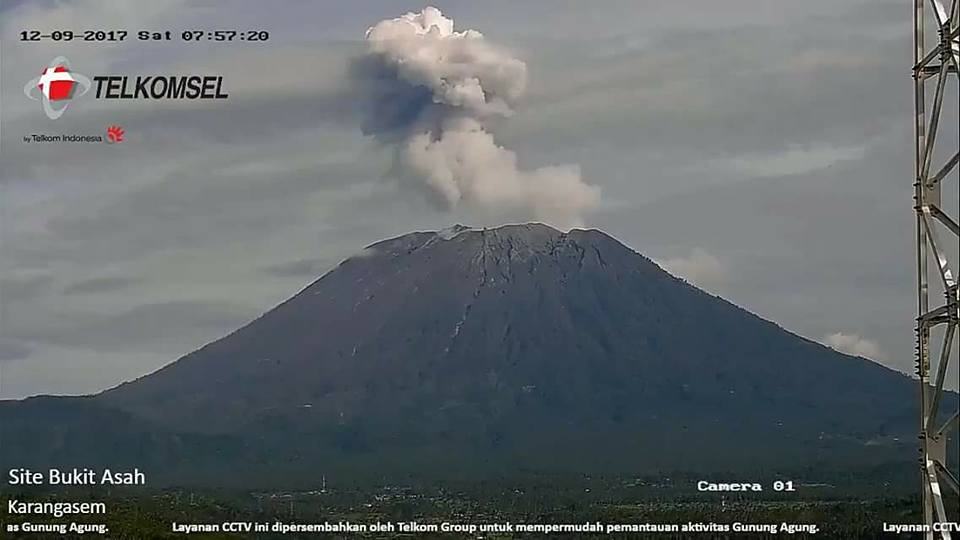 Seismograph records as of December 08, 2017 have noted:
1 shallow volcanic earthquake (VB)
5 deep volcanic earthquakes (VA)
2 local tectonic earthquakes.
1 earthquake of eruption.
40 Low Frequency events.
28 earthquakes of emission.
No harmonic tremor.
A continuous tremor with an amplitude of 1 to 2 mm and a dominant value of 1 mm.
As of December 9, 2017 (00:00 to 18:00) recorded:
3 emission earthquakes
6 eruption earthquake.
5 low frequency earthquakes.
1 shallow volcanic earthquake (VB)
5 deep volcanic earthquakes (VA)
No local tectonic earthquakes.
A continuous tremor with an amplitude of 1 to 2 mm and a dominant value of 1 mm.
Recommendations:
Communities around G. Agung and mountaineers / visitors / tourists must not climb, climb or do any activity in the danger zone around the G. Agung crater area and in all areas within 8 km from the crater of G. Agung. With a sectoral extension to the North-East and South-East-South-South-West up to 10 km from the crater of G. Agung. The estimated area risks are dynamic and continuously assessed and can be modified at any time based on the most recent observational data from G. Agung.
AMLAPURA, BALIPOST.com – The number of eruptions that occurred on Mount Agung continues to increase. This Saturday (9/12) in the last 12 hours from 00h00 to 12h00 there were eight eruptions and eight emissions.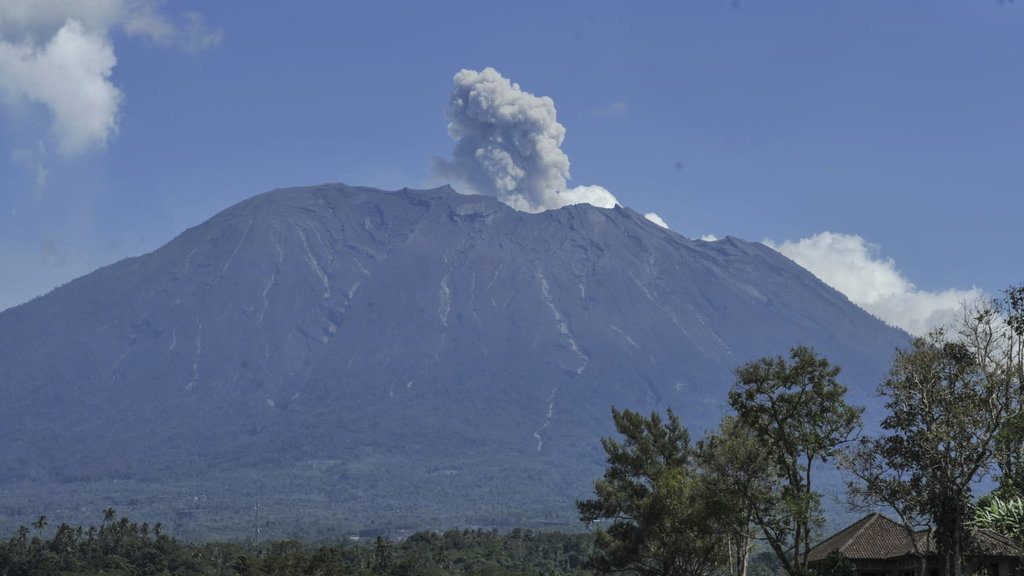 Following the eruption with a cloud of smoke reaching a height of 2,000 meters, which dispersed to the west, the village of Ban, Kubu was exposed to a lapili rain.
Meanwhile, Gede Suantika, head of the Center for Volcanology and Geological Risk Mitigation, explained that the objects that fell in the village of Ban, less than 3 km from the top of the mountain, were lapilli. The lapili is a volcanic material, but has a size slightly larger than ash. « The issue of Lapili is commonplace when the mountain is erupting.
Meanwhile, the PVMBG volcano monitoring sub-division chief, Devy Kamil Syahbana explains the emission of the circular gray granular product of Mount Agung in terms of volcanology is called accretion or lapilli. It can form on eruption columns due to moisture conditions and electrostatic forces.
The condition in question occurs when the ash material interacts with water, (so it is often associated with phreatomatic magmatic eruptions). But this moisture can also come from weather conditions, for example, sprayed ashes interact with rain clouds.
« When these conditions are met, the ashes become round, so it's actually still ash, but collected as a pellet, » said Syahbana. (Eka Parananda / Balipost)
Source : VSI , Magma , Balipost.
Öræfajökull , Iceland :
Record number of earthquakes in Öræfajökull volcano.
The seismic monitoring system of the Icelandic Meteorological Office has detected a record number of 160 earthquakes in Öræfajökull volcano in the past week. The quakes, most of which have been relatively minor, have been detected in and around the volcano's caldera at a depth of up to 10 km (6.4 miles).
Öræfajökull has been showing increasing signs of activity in recent weeks and months. Heightened level of seismic activity and growing geothermal activity in the caldera are caused by magma which is being pushed up into the crust, developments which could be consistent with the volcano preparing for an eruption.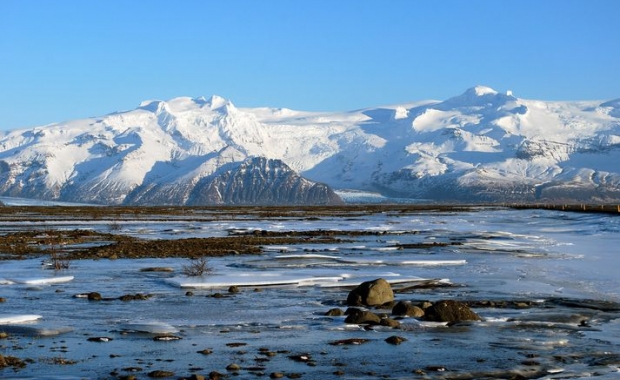 The cauldron in the ice cap which covers the volcano's caldera has continued to deepen in recent weeks, which is consistent with continued geothermal activity in the caldera. According to the Civil Protection Agency there have been no changes in the outflow of meltwater from the caldera.
The scientific advisory board of the Civil Protection Agency met yesterday to discuss the situation in Öræfajökull. The authorities have stepped up the monitoring of Öræfajökull in recent weeks, adding new seismic monitors, river monitors, GPS measuring stations and webcams which will allow scientists to keep close tabs on every move of the volcano.
Read more: Emergency evacuation plan in case of eruption in Öræfajökull glacier
The scientific advisory board of the Civil Protection Agency met yesterday to discuss the situation in Öræfajökull.
Recent measurement of Öræfajökull volcano have confirmed a dyke intrusion, the dyke intrusion is located in south part of Öræfajökull volcano and that area is showing inflation. At the moment the amount of magma is now estimated at being close to the total of what erupted in 2010 eruption of Eyjafjallajökull volcano. At the moment the dyke is at depth of 2 – 6 km and that explains current hydrothermal activity in Öræfajökull volcano and why it is increasing. How long this is going to go on is not known at the moment.
Source : Visir . is , Jonfr .is
Sheveluch , Kamchatka :
56.64 N, 161.32 E;
Elevation 10768 ft (3283 m), the dome elevation ~8200 ft (2500 m)
Aviation Colour Code is ORANGE
Explosive-extrusive eruption of the volcano continues. Ash explosions up to 32,800-49,200 ft (10-15 km) a.s.l. could occur at any time. Ongoing activity could affect international and low-flying aircraft.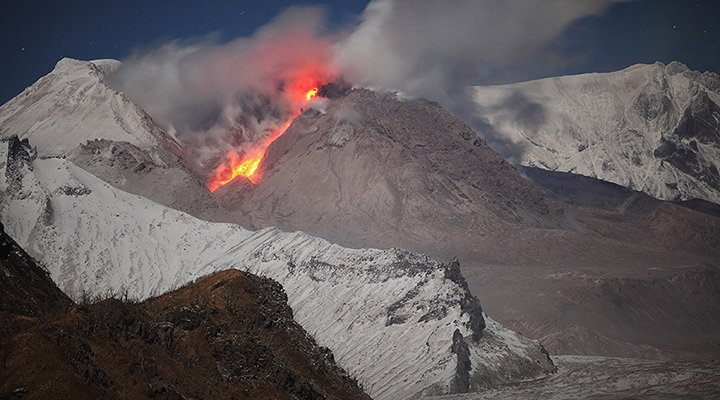 A growth of the lava dome continues (a viscous lava flow reveal in the northern its part), strong fumarole activity, ash explosions, hot avalanches and an incandescence of the dome blocks and hot avalanches accompany this process. A strong explosive event occurred on 04 December: explosions sent ash up to 10.5 km a.s.l. According to satellite data by KVERT, ash plumes drifted for about 500 km in two different directions – on the height about 10.5 km a.s.l. to the northeast and on the height about 5 km a.s.l. to the east from the volcano. A thermal anomaly over the volcano was noting on 02 and 04-06 December; the volcano was obscured by clouds during other days of the week.
Source : Kvert
Shishaldin , Alaska :
54°45'19 » N 163°58'16 » W, Summit Elevation 9373 ft (2857 m)
Current Volcano Alert Level: ADVISORY
Current Aviation Color Code: YELLOW
The status of Shishaldin Volcano was increased to Aviation Color Code YELLOW and Volcano Alert Level ADVISORY on December 6 following a several week-long increase in the amplitude of seismic activity and of pressure waves recorded by infrasound sensors. The uptick in seismic and infrasound amplitudes is likely the result of more energetic degassing at this open vent volcano and may indicate that the magma level has risen closer to the surface in the summit crater.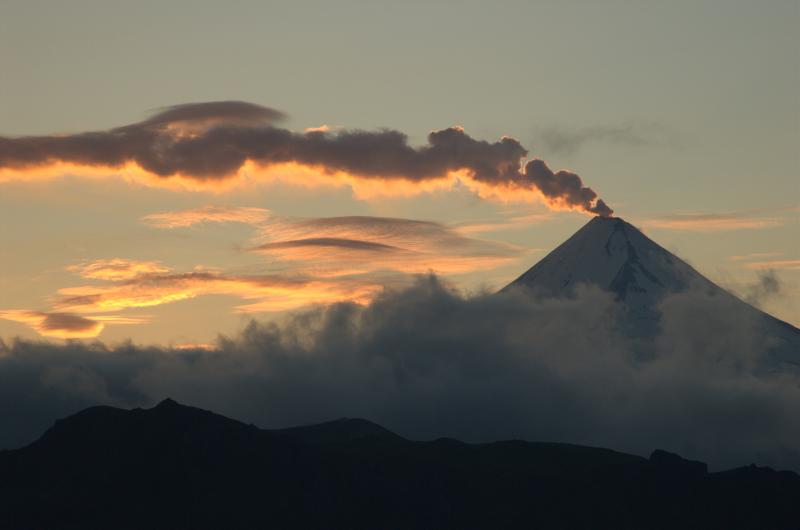 Continuous robust steaming rising hundreds of feet above the summit crater was observed in clear web cam images throughout the week. At times, these steam emissions were accompanied by infrasound signals indicating episodes of short-duration energetic gas emissions and/or small explosions. Current observations represent a departure from normal background activity at Shishaldin, but do not necessarily indicate that an eruption will occur. Shishaldin is monitored by local seismic and infrasound sensors, satellite data, a web camera, a telemetered geodetic network, and distant infrasound networks.
Source : AVO
Photo : Read , Cyrrus.
Kanlaon , Philippines :
KANLAON VOLCANO BULLETIN 09 December 2017 11:30 AM
Kanlaon Volcano in Negros Island generated a low-energy phreatic (steam-driven) eruption at 09:47 AM today, 09 December 2017. The eruption lasted approximately ten (10) minutes based on the seismic record. The event ejected steam and dark ash but was poorly observed due to clouds covering the summit region. Rumbling sound was reportedly heard in Brgy. Manghanoy, La Castellana, and thin ash fell on Sitio Guintubdan, Brgy. Ara-al, La Carlota City. Notably, today's eruption was preceded by resumption of degassing at the summit crater at 06:34 AM, which was last observed September 2016.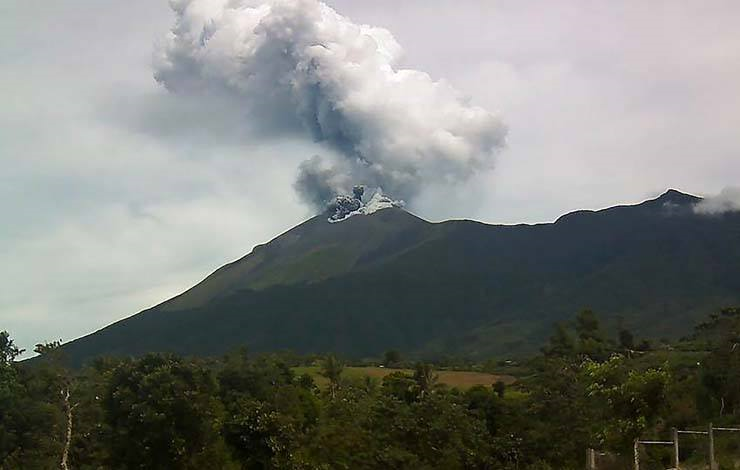 Alert Level 2 status prevails over Kanlaon Volcano, which means that the volcano is undergoing a moderate level of unrest. There is probable intrusion of magma at depth which may or may not lead to a magmatic eruption. The local government units and the public are strictly reminded that entry into the 4-kilometer radius Permanent Danger Zone (PDZ) is strictly prohibited due to the further possibilities of sudden and hazardous steam-driven or phreatic eruptions. Civil aviation authorities must also advise pilots to avoid flying close to the volcano's summit as ejecta from any sudden phreatic eruption can be hazardous to aircraft. DOST-PHIVOLCS is closely monitoring Kanlaon Volcano's activity and any new development will be relayed to all concerned.
Source : Phivolcs