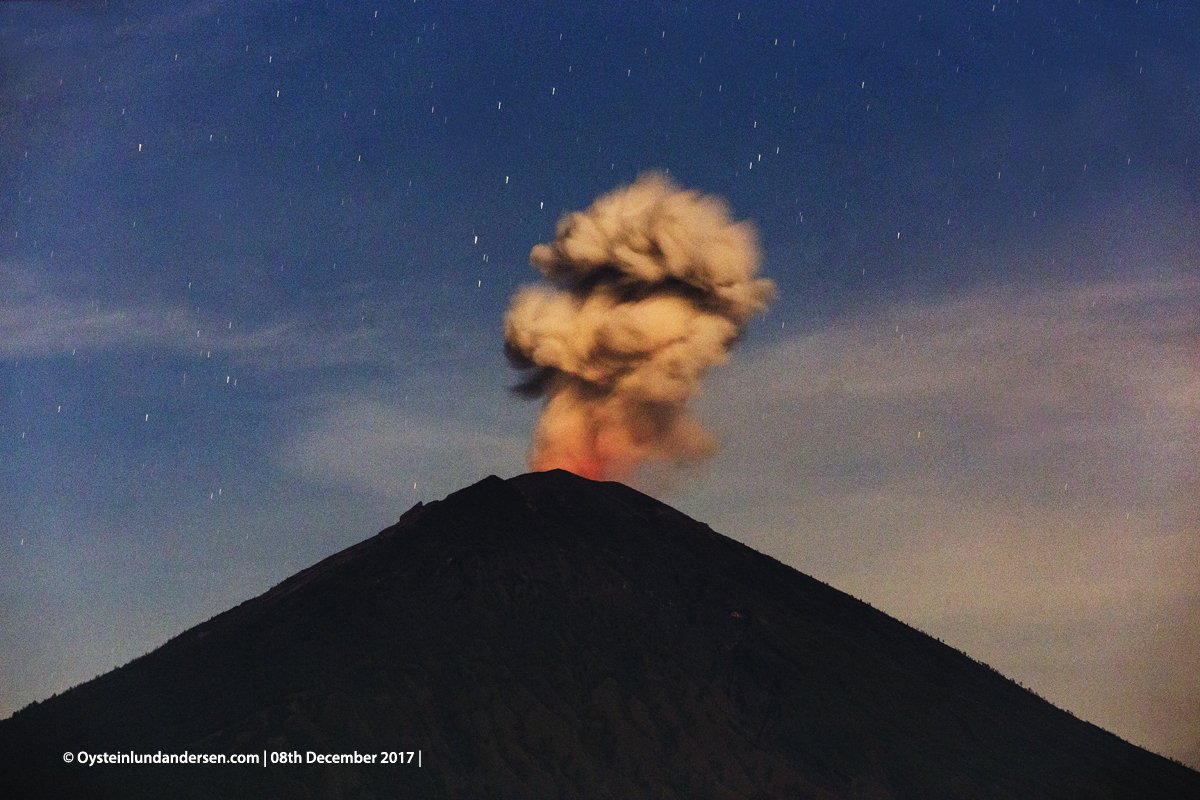 December 08 , 2017. EN. Agung , Öræfajökull , Kilauea , Ebeko , Fuego .
December 08 , 2017.
Agung , Indonesia :
On the basis of the visual and instrumental data analysis and taking into account the potential threats of danger, on November 27, 2017 at 06:00, G. Agung returned from Level III (SIAGA) status to Level IV (AWAS). Since yesterday and until today visually the volcano is clearly visible until the coming of the mist. The smoke emitted from the crater is of low pressure, white / greyish, which reaches an altitude of about 500 to 2600 m above the peak and which inclines towards the West, the Southwest and the East. At night, the visible glow of the incandescent lava in the crater of the volcano was observed. This day, there is no explosive eruption.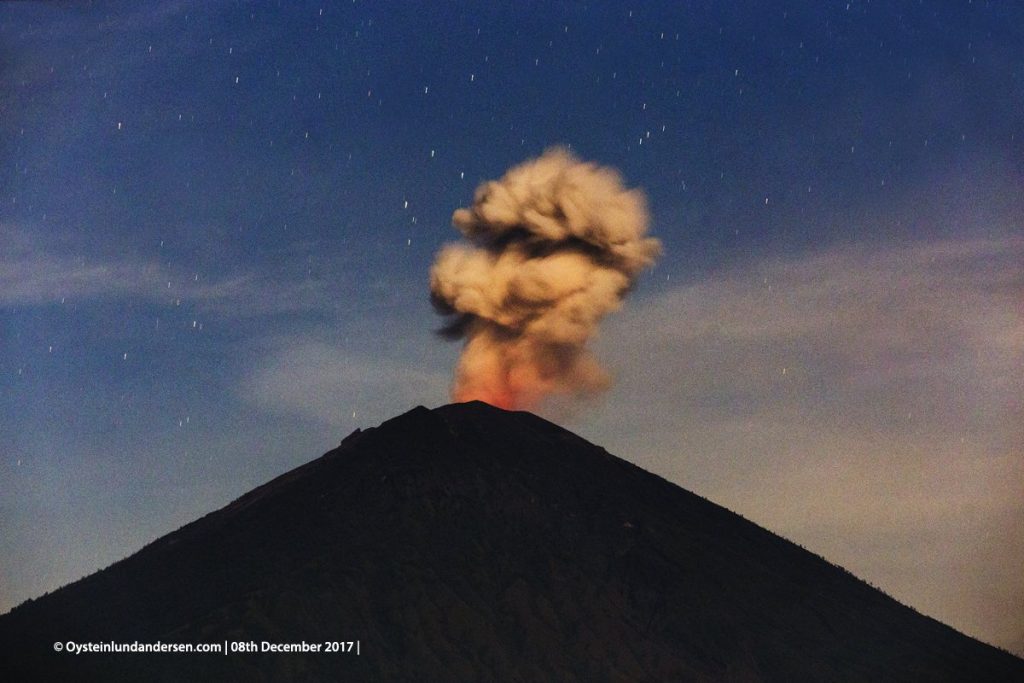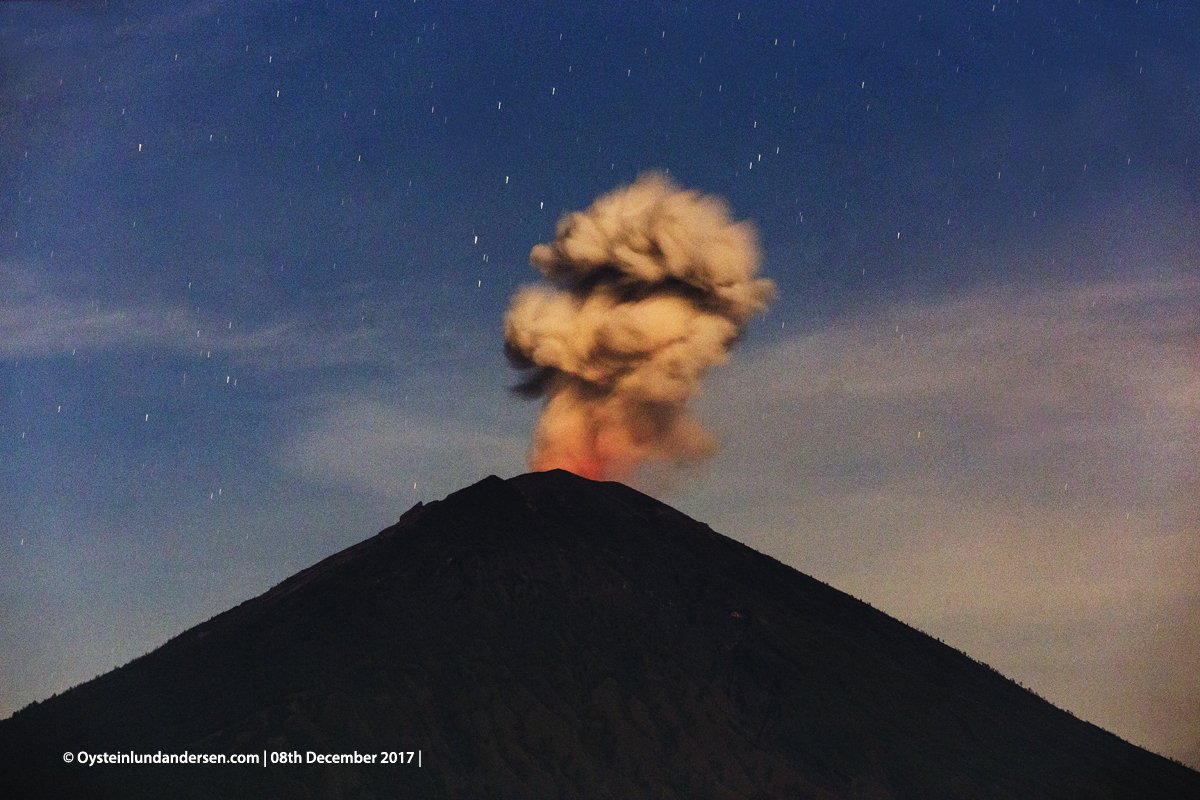 Seismograph records as of December 07, 2017 have noted:
6 shallow volcanic earthquakes (VB)
10 deep volcanic earthquakes (VA)
No local tectonic earthquakes.
No earthquakes of explosive eruption.
50 low frequency earthquakes.
18 emission tremors.
A continuous tremor with an amplitude of 1 to 2 mm and a dominant value of 1 mm.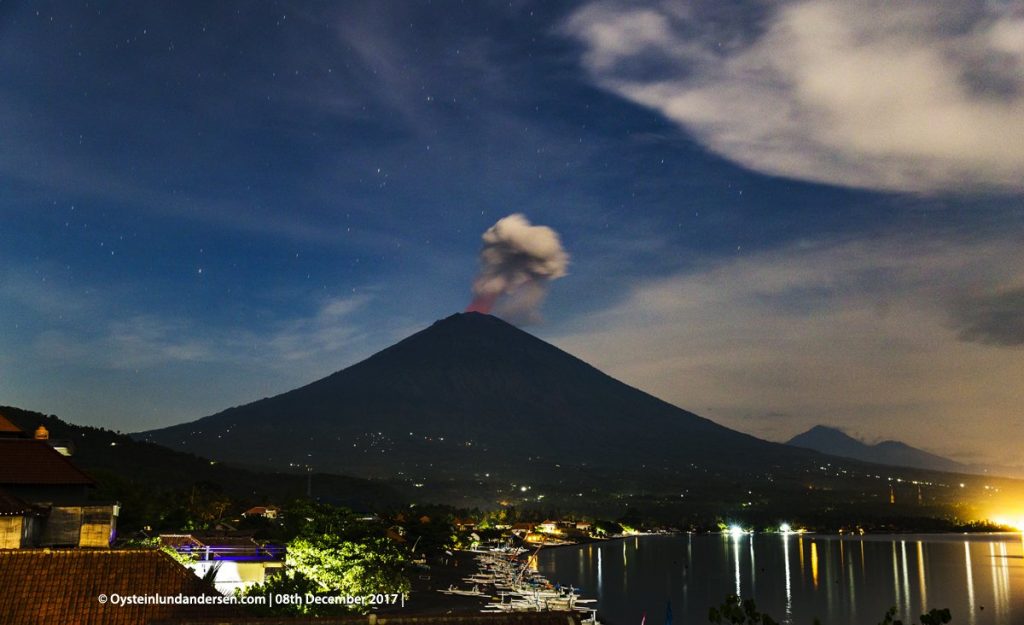 As of December 08, 2017 (from 00:00 to 18:00) it has been registered:
8 emission earthquakes
6 Low frequency earthquakes.
No shallow volcanic earthquakes (VB)
No deep volcanic earthquakes (VA)
No local tectonic earthquakes ..
A continuous tremor with an amplitude of 1 to 2 mm and a dominant value of 1 mm.
Recommendations:
The communities around G. Agung and mountaineers / visitors / tourists should not climb, climb or work in the danger zone of the G. Agung crater and in all areas within 8 km. around the crater of G. Agung. A sectoral extension has been added to the Northeast and South-East-South-South-West up to 10 km from the crater of G. Agung. The estimated area risks are dynamic and continuously assessed and can be modified at any time based on the most recent observational data from G. Agung.
VOLCANO OBSERVATORY NOTICE FOR AVIATION – VONA.
Issued: December 08 , 2017
Volcano: Agung (264020)
Current Aviation Colour Code: ORANGE
Previous Aviation Colour Code: orange
Source: Agung Volcano Observatory
Notice Number: 2017AGU22
Volcano Location: S 08 deg 20 min 31 sec E 115 deg 30 min 29 sec
Area: Bali, Indonesia
Summit Elevation: 10054 FT (3142 M)
Volcanic Activity Summary:
Eruption with volcanic ash cloud at 23h59 UTC (07h59 local). Eruption and ash emission is not continuing.
Volcanic Cloud Height:
Best estimate of ash-cloud top is around 16774 FT (5242 M) above sea level, may be higher than what can be observed clearly. Source of height data: ground observer.
Other Volcanic Cloud Information:
Ash-cloud moving to west.
Remarks:
Seismic activity is characterized by low Frequency earthquakes.
Source : VSI , Magma.
Photos : Ostein Lund Andersen
Öræfajökull , Iceland :
Öræfajökull caldera has deepened considerably.
Volcanologist Ármann Höskuldsson says that the situation at Öræfajökull volcano is « Far from normal. » There's still geothermal heat in the area and the caldera has deepened by some 20 metres.
A 3-D image made by specialists at the Geological Institute of the University of Iceland indicates that the caldera has deepened by twenty metres and that crevasses have become larger since it was first spotted.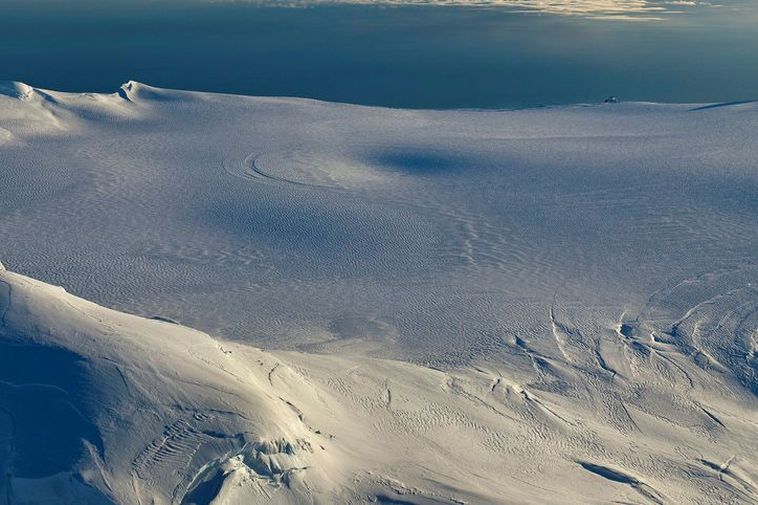 The image was made using various information, not in the least the photographs of Morgunblaðið photographer Ragnar Axelsson who flew over the glacier on November 19th and again on November 28th.
« We see a greatly increased pattern of fissures around the caldera. It's now more of a drop shape than a circle, lengthening towards the South West, » says Ingibjörg Jónsdóttir at the University of Iceland speaking to Morgunblaðið today.
Source : icelandmonitor.mbl.is
Photo : mbl.is/RAX
Kilauea , Hawai :
19°25'16 » N 155°17'13 » W,
Summit Elevation 4091 ft (1247 m)
Current Volcano Alert Level: WATCH
Current Aviation Color Code: ORANGE
Activity Summary:
Kīlauea Volcano continues to erupt at its summit and from the Puʻu ʻŌʻō vent on its East Rift Zone. The episode 61g lava flow is still producing scattered surface flow activity. These lava flows pose no threat to nearby communities at this time. The height of the lava lake at Kīlauea's summit is about 46 m (149 ft) below the floor of Halemaʻumaʻu crater this morning. There have been no significant changes in ground deformation or seismicity rates across the volcano.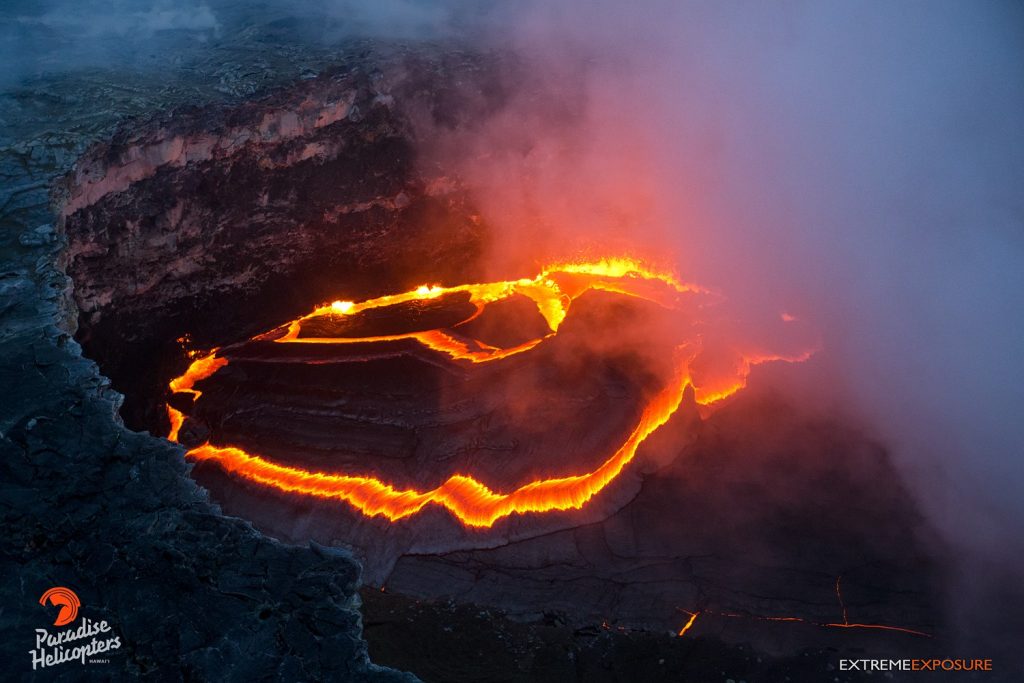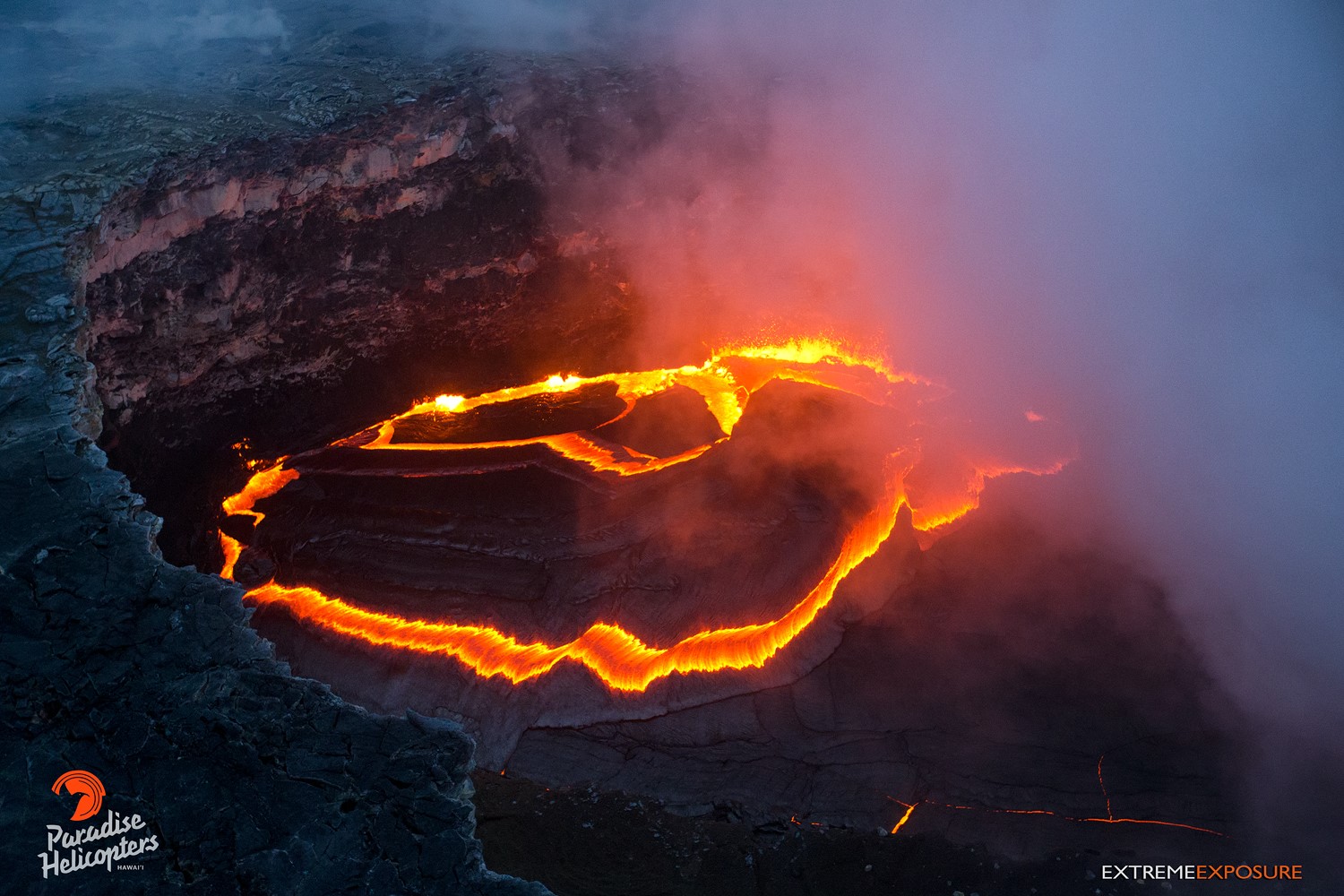 Summit Observations:
The lava lake surface was measured at approximately 46 m (149 ft.) below the rim of the Overlook Vent this morning. Summit tiltmeters recorded the switch to deflationary tilt, associated with the deflation phase of a DI event, just before 7 am yesterday. Summit sulfur dioxide emission rates remain high. Seismicity rates were at normal, background levels, with tremor fluctuations related to lava lake spattering. Webcam views of the lava lake can be found at http://hvo.wr.usgs.gov/cams/region_kism.php.
Puʻu ʻŌʻō Observations:
No significant changes are evident at Puʻu ʻŌʻō. Glow has been persistent at long-term sources within the crater and from a small lava pond on the west side of the crater. The tiltmeter on Puʻu ʻŌʻō cone continued recording slight deflationary tilt during the last day. The sulfur dioxide emission rate from the East Rift Zone vents has been steady over the past several months and remains significantly lower than the summit emission rate.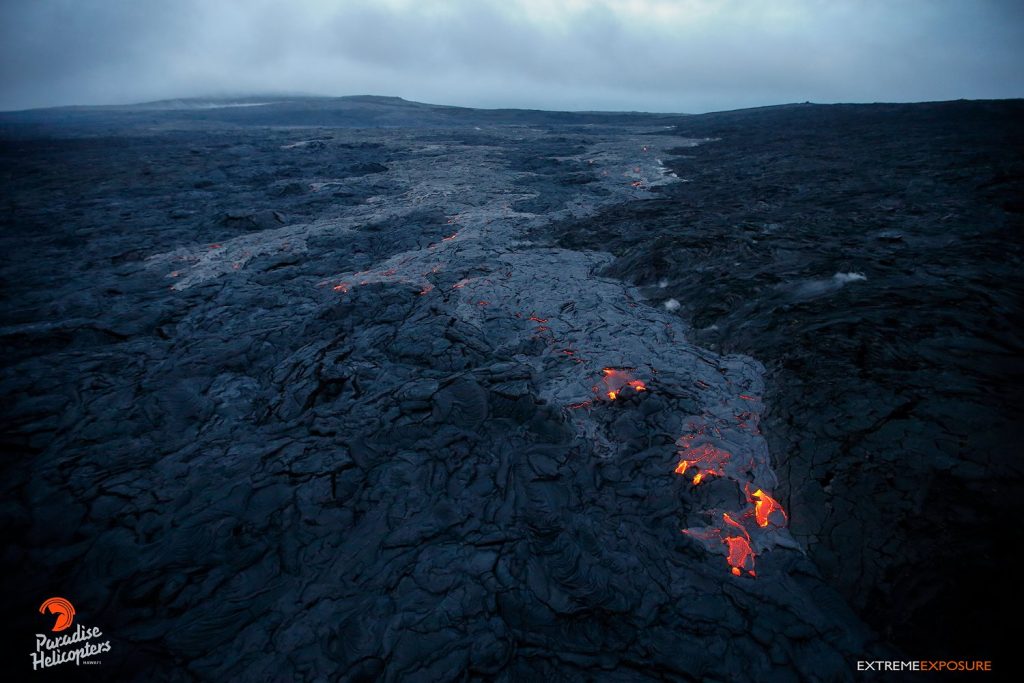 Lava Flow Observations:
The episode 61g flow is still active. Based on overnight web camera images, surface lava flow activity persists on the upper portion of the flow field, on the pali and in scattered areas along the coastal plain. These lava flows pose no threat to nearby communities at this time. A plume from the Kamokuna ocean entry area is not evident.
Source : HVO
Photo : Bruce Omori
Ebeko , Kamchatka :
50.69 N, 156.01 E;
Elevation 3792 ft (1156 m)
Aviation Colour Code is ORANGE
A moderate gas-steam with some amount of ash activity of the volcano continues. Ash explosions up to 16,400 ft (5 km) a.s.l. could occur at any time. Ongoing activity could affect low-flying aircraft and airport of Severo-Kurilsk.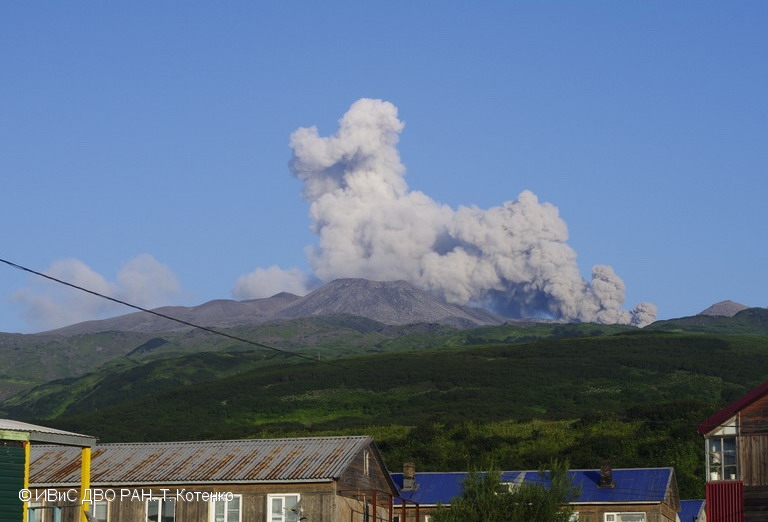 A moderate eruptive activity of the volcano continues. According to visual data by volcanologists from Severo-Kurilsk, explosions sent ash up to 2.0 km a.s.l. on 02-05 and 07 December, ashfalls were noting at Severo-Kurilsk on 01-04 and 07 December. Satellite data by KVERT showed the volcano was quiet or obscured by clouds.
Source : Kvert
Photo : T. Kotenko, IVS FEB RAS , 22 /08/2017
Fuego , Guatemala :
Type of activity: Vulcanian
Morphology: Composite stratovolcano
Geographical location: 14 ° 28'54˝LatitudeN, 90 ° 52'54˝Longitude O.
Height: 3,763msnm.
Weather conditions: Clear
Wind: North East 5 km / h
Precipitation: 0.0mm.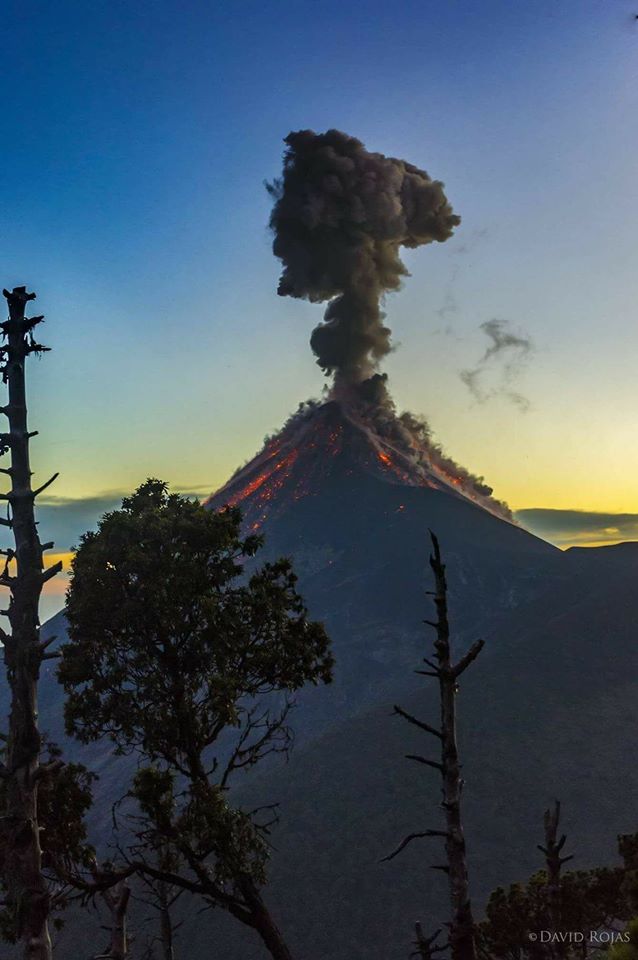 Activity:
Persistence of a white fumarole. The volcano continues with a high level of activity, we observe between 5 to 8 explosions, moderate to strong per hour, ejecting columns of gray ash at a height of 4500 to 4700 m (14765-15420 feet) which are scattered on 8 to 15 km west and south-west. Incandescent pulses were emitted at 200 and 250 m above the crater, moderate and strong avalanches were generated on the crater contour. The explosions were accompanied by moderate to loud rumbling and fine ash particles fell on the villages of Panimache I, Morelia, Santa Sofia, El Porvenir and some other villages.
Source : Insivumeh
Photo : David Rojas