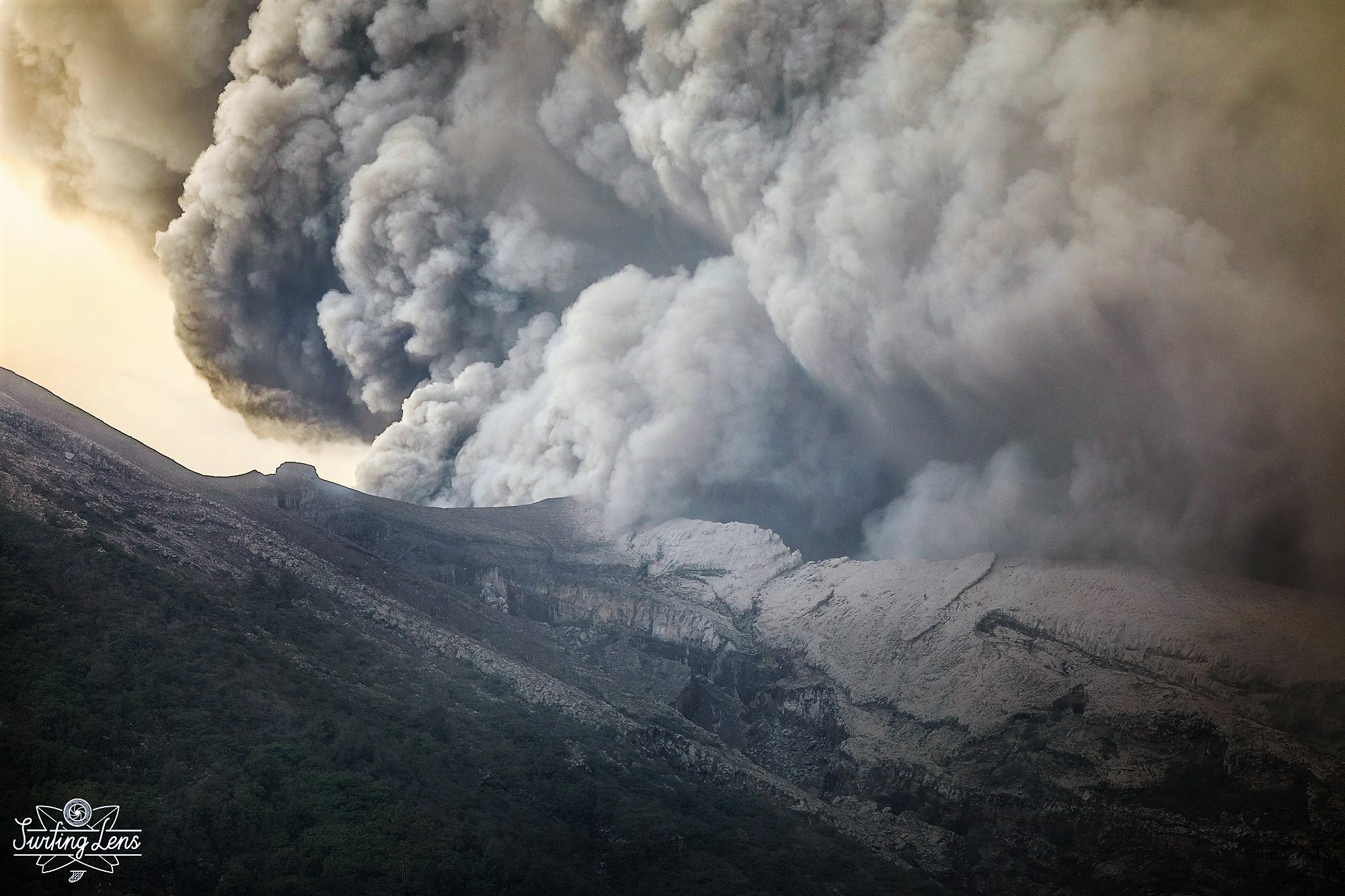 November 28 , 2017. EN . Agung , Sabancaya , Santiaguito , Popocatepetl .
November 28 , 2017.
Agung , Indonesia :
JAKARTA, BALIPOST.com – The eruption of Mount Agung has gone from a phreatic eruption to a magmatic eruption, which is expected to cause a major eruption. To this end, the parties involved must prepare a variety of technical issues, including considering the status of Gunung Agung's disaster management as a national disaster.
« This could be a national disaster, all the economic workings are disrupted.With many canceled flights, of course, the economic sections have been affected, » said Tutik Kusuma Wardhany, a member of the House, contacted in Jakarta on Monday. / 11).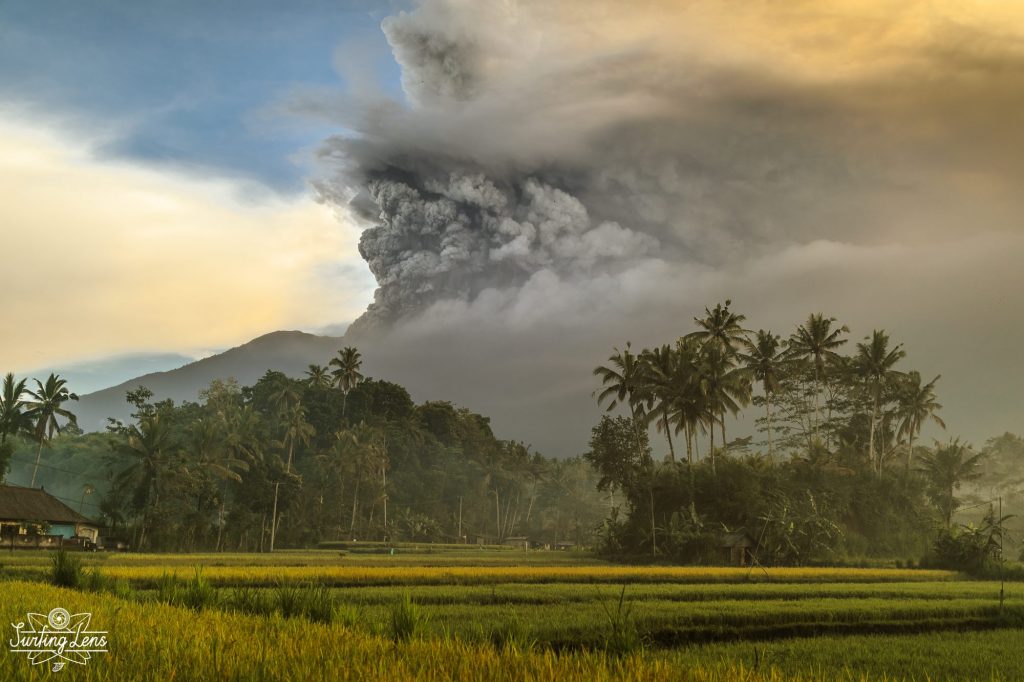 Members of the House of Representatives of the Bali constituency who are still in Bali to monitor the treatment of refugees from Mount Agung said the Bali tourism sector has been affected. Therefore, it invites all stakeholders to find the best solution to the economic impact.
The National Disaster Management Agency (BNPB) said Mount Agung is entering a critical phase. This means that according to all observations of the instrumentation, there is a process of rising magma reaching the surface but stuck by existing rock materials. « We pray that the Gunung Agung eruption will not last long, as we are very dependent on tourism in Bali, » he said.
Meanwhile, in his written statement, the Commander of the Aksi Cepat Tanggap Emergency Response Action (ACT) Kusmayadi revealed that the economic activities of the people along the tourist route to the Besakih Temple were paralyzed.
« Dozens of houses and kiosks that normally sell various Balinese souvenirs seem closed. » The village of Besakih is like a dead village, with no community activities at all, « said Kusmayadi.
The conditions in this area, according to Kusmayadi, are also difficult because the area is covered with volcanic ash from Mount Agung. « The visibility on the ground is only 300 meters, » he said.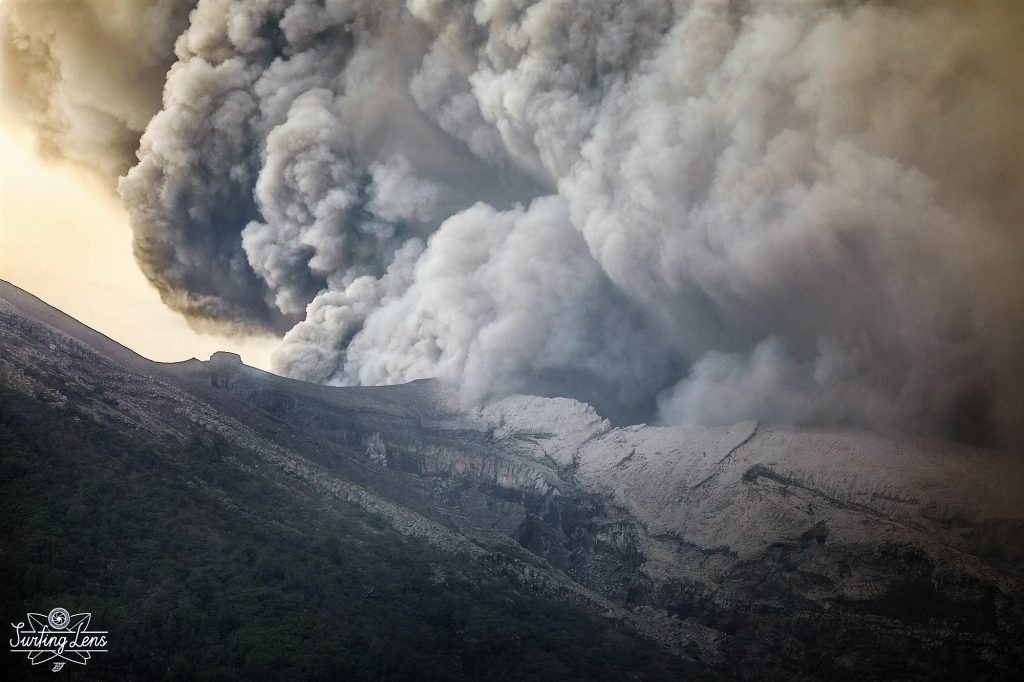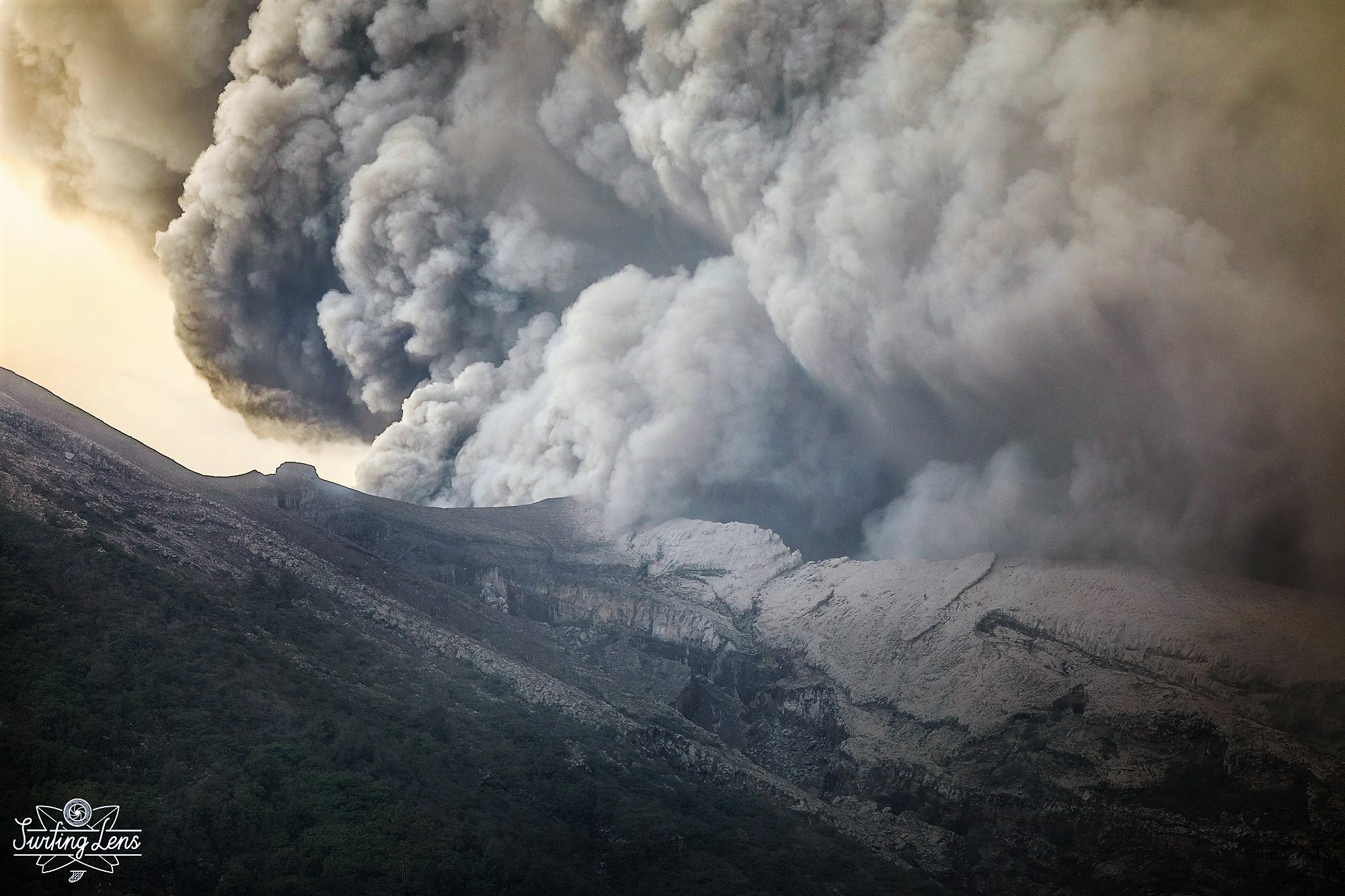 In addition to eye irritation, breathing is also difficult. His village, which was conducting sweeping and evacuation efforts, had to wear a mask to avoid inhaled ash. The Besakih Temple, which has become one of Bali's main attractions, is currently included in Disaster-prone Areas (KRB) III or in areas considered to be the most vulnerable and affected.
In this area, villages or the area may be exposed to hot clouds, lava flows, rock falls, incandescent rocks and dense ashfall. The zone is between 6 and 7.5 KM or red zone / danger.
On the basis of the results of the visual and instrumental data analysis and considering the potential threats of danger, on November 27, 2017 at 06:00, the status of G. Agung moves from Level III (Siaga) to Level IV (Awas). Since yesterday, visually the volcano is clearly visible until the appearance of the mist. The gray and thick smoke from the emission column reaches an altitude of about 2000 to 3000 m above the peak and disperses to the east-southeast and southwest. There was 1 eruption / emission with gray columns – a medium darkness, high pressure, with a height of 3000 m above the peak.
The seismographic recording of November 27, 2017 noted:
6 shallow volcanic earthquakes (VB)
2 volcanic earthquakes (VA)
2 local tectonic earthquakes
1 earthquake of eruption
1 low frequency earthquake
3 non-harmonic tremor events
A continuous tremor with an amplitude of 1 to 10 mm and a dominant of 1 to 3 mm
Recommendations:
Communities around G. Agung and climbers / visitors / tourists must not climb and do activities in the danger zone around the crater of G. Agung in all areas within a radius of 8 km, with sectoral extension North-North-East and South-East-South-South-West up to 10 km from the crater of G. Agung. The estimated area risks are dynamic and continuously assessed and can be modified at any time based on the most recent observational data.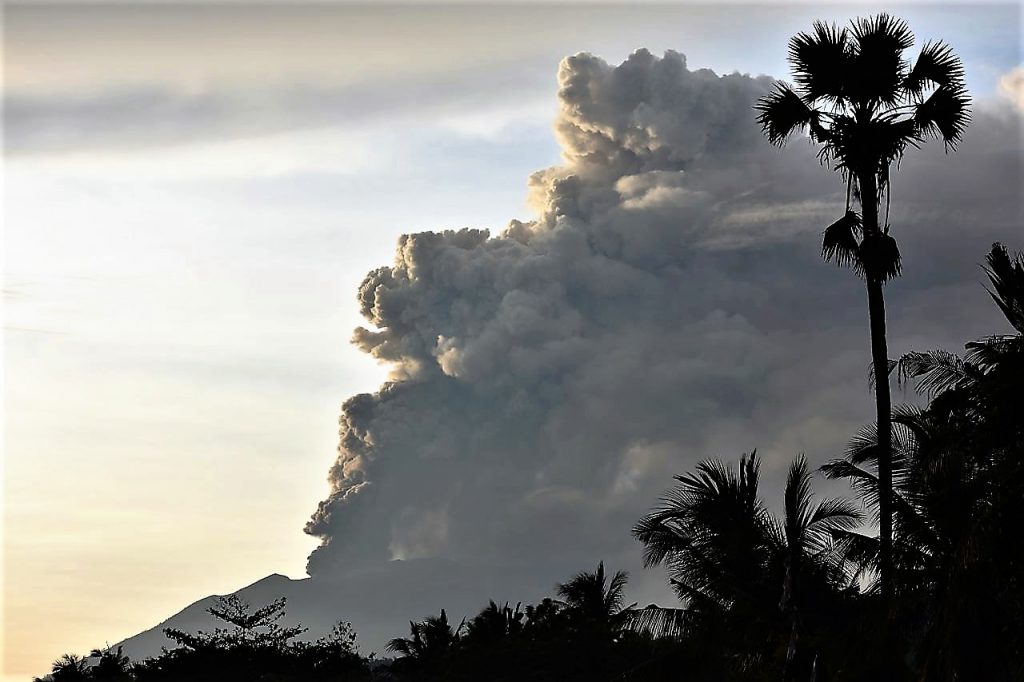 VOLCANO OBSERVATORY NOTICE FOR AVIATION – VONA.
Issued: 20171127/2316Z
Volcano: Agung (264020)
Current Aviation Colour Code: RED
Previous Aviation Colour Code: red
Source: Agung Volcano Observatory
Notice Number: 2017AGU20
Volcano Location: S 08 deg 20 min 31 sec E 115 deg 30 min 29 sec
Area: Bali, Indonesia
Summit Elevation: 10054 FT (3142 M)
Volcanic Activity Summary:
Eruption with volcanic ash cloud at 23h10 UTC (07h10 LT). Eruption and ash emission is continuing.
Volcanic Cloud Height:
Best estimate of ash-cloud top is around 22854 FT (7142 M) above sea level, may be higher than what can be observed clearly. Source of height data: ground observer.
Other Volcanic Cloud Information:
Ash cloud moving to west – southwest.
Remarks:
Seismic activity is characterized by tremor and low freq earhtquakes.
Source : Balipost, VSI / Magma
Photos : Jenya Ivkov
Sabancaya , Peru :
The number of explosions decreased slightly during this week, averaging 78 explosions a day. The predominance of earthquakes related to the movement of fluids (Long Period type) continues, followed by events associated with ash emissions (Tremors). Events that indicate the rise of magma (Hybrids) continue to be low in number and energy. 
Eruptive columns of gas and ash remained similar to the previous week, reaching a maximum height of about 4200 m above the crater. The dispersion of these materials occurred within a radius of approximately 50 km, mainly in the North, North-West and North-East directions. 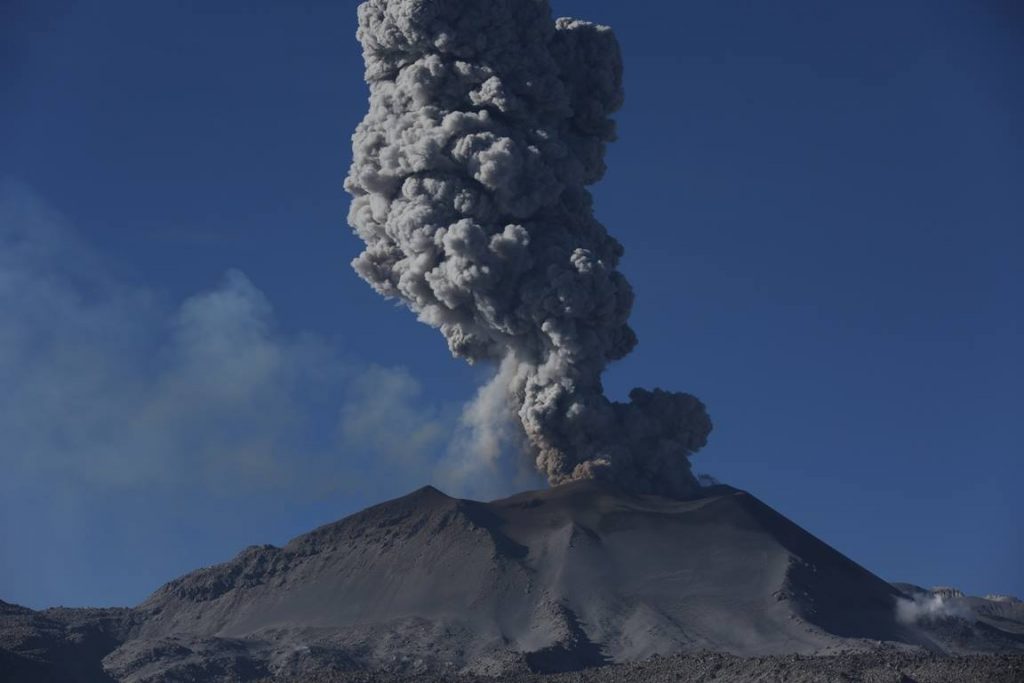 The monitoring of the deformation in the GNSS station SBSE during the last week did not record any changes in the deformation. 
The volcanic gas (SO2) flow recorded on 23 November reached a maximum value of 2944 tonnes / day, a value considered large. 
11 thermal anomalies were recorded according to the MIROVA system, with values ​​between 3 MW and 43 MW VRP (Irradiated Volcano Power).
Despite the slight decrease in the number of explosions, the eruptive activity remains constant. We hope this behavior will continue in the coming days.
Source : IGP
Santiaguito , Guatemala :
Attraction type: Peléan
Morphology: Complex of dacitic domes
Geographical location: 14 ° 44 '33 ˝ Latitude N; 91 ° 34'13˝ Longitude W.
Height: 2,500msnm.
Weather conditions: Claires
Wind: East 6 km / h
Precipitation: 0.0 mm.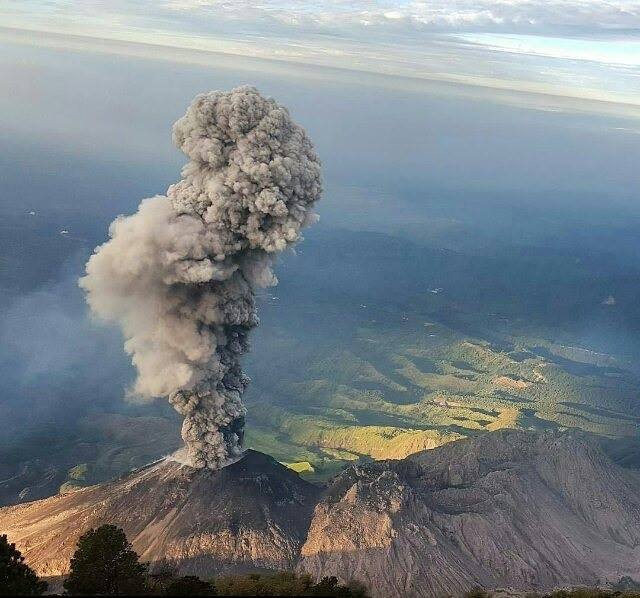 Activity:
Persistent white outgassing of approximately 3 000 m (9 842 ft) in the southwestern direction. The seismic station STG3 records weak explosions in the early morning, reaching an approximate height of 3,200 meters (10,498 feet). Slight to moderate avalanches are noted on the southeast flank. Ash falls are reported in the mountainous areas of Finca la Florida.
Source : insivumeh
Popocatépetl , Mexico :
November 27, 11:00 am (November 27, 17:00 GMT)
In the last 24 hours, through the monitoring systems of the Popocatépetl volcano, 685 low intensity exhalations accompanied by water vapor and gas have been identified. There was 93 minutes of low amplitude tremor. In addition, 9 volcano-tectonic earthquakes were detected yesterday, with a magnitude between Mc 1,4 and M2,8.
Update of November 27, 15:55 (November 27, 21:55 GMT)
After 3:29 pm, a continuous emission of water vapor, gas and ashes with a column height of at least 3 km, moving to the South-South-East and up to moment of this update, the program continues. Ash falls are to be expected in localities in this area. This type of activity is considered in the Phase 2 scenarios of the Yellow Volcanic Warning Semaphore.
Update of November 27, 6:30 pm (November 28, 00:30 GMT)
At 15h29, a steam, gas and ash emission was recorded, which lasted a total of 121 minutes and generated a column of ash 3 km high facing South-Southeast. At the time of this update, the volcano returns to stable levels. The volcanic warning level of Popocatepetl remains in yellow phase 2.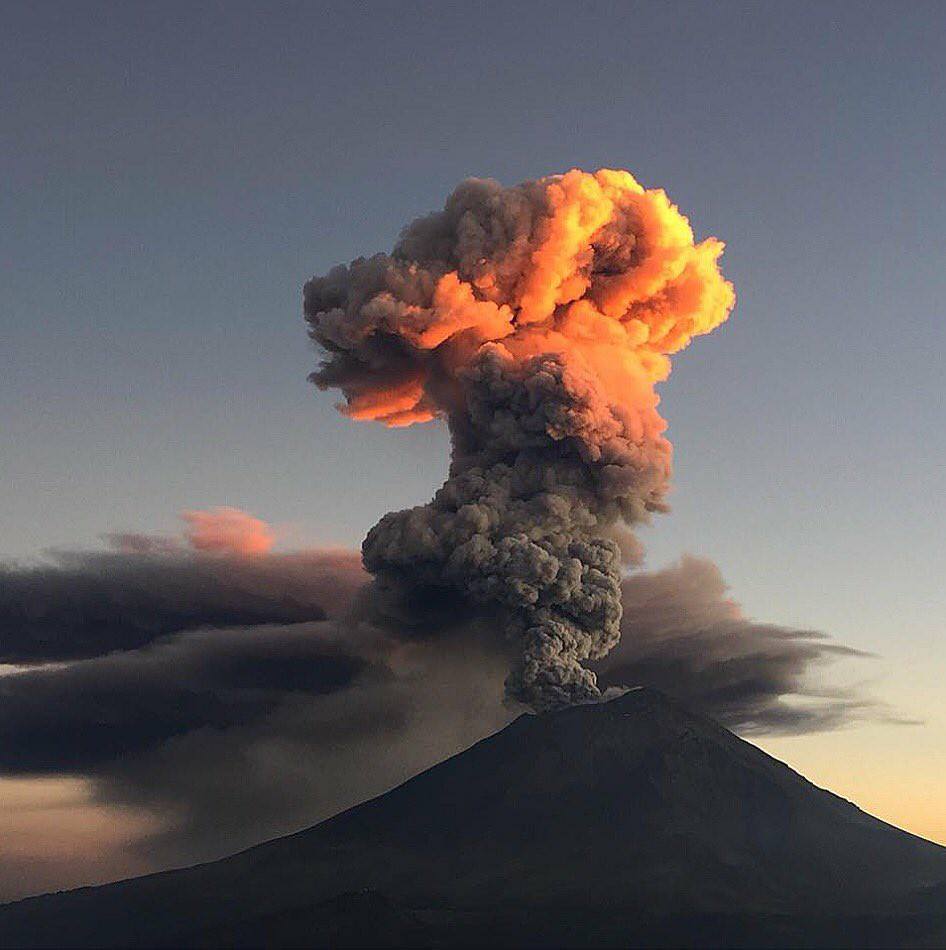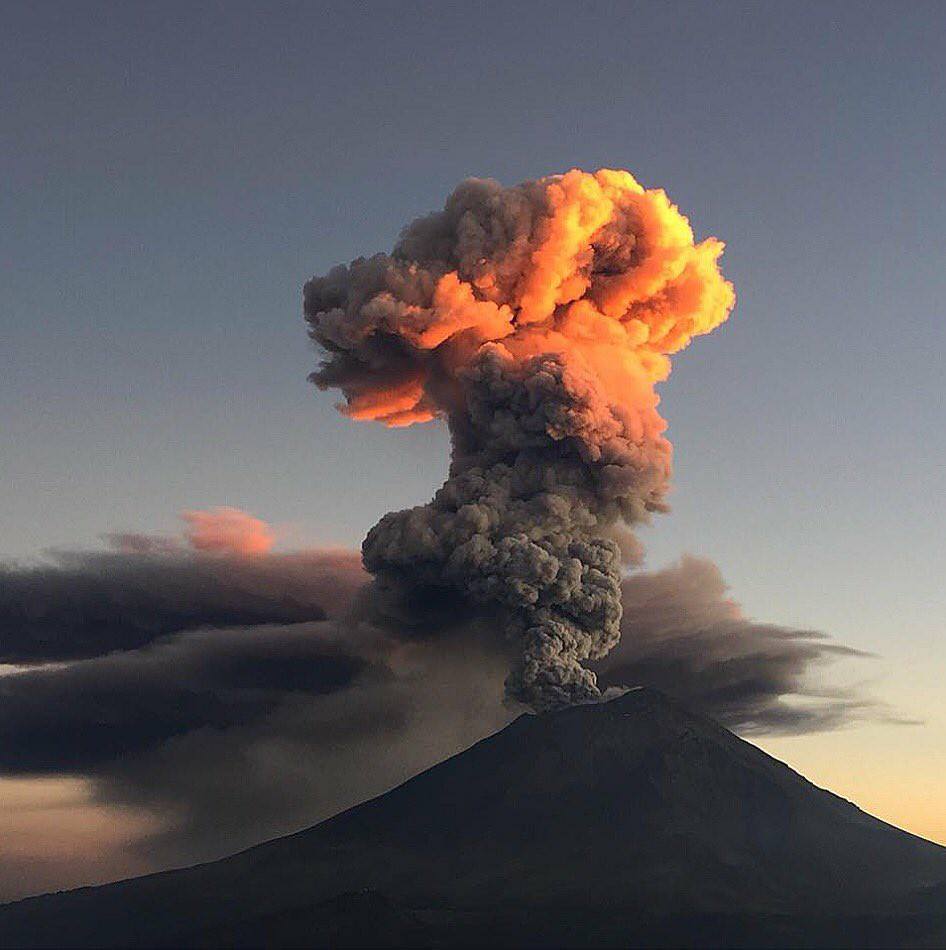 On November 25, with the participation of the staff of the National Center for Disaster Reduction (CENAPRED) and the support of the Federal Police, was conducted on the volcano Popocatepetl, overflights to assess the conditions inside the crater. According to the observations made during this surveillance, it has been determined that the explosive activity recorded in recent days has dug the inner crater to increase its size, reaching a diameter of 370 meters and a depth of 110 meters.
It is possible that in the days or weeks to come the contribution of new materials to the surface continues, as happened the previous weeks and that, little by little, the internal crater is filled, at least partially, by a new lava dome. For this reason, the CENAPRED recommends not to approach the volcano and especially the crater, because of the risk of falling of ballistic fragments, and in the event of heavy rains to move away from the bottom of the ravines because of the risks of landslides and mudslides.
Source : Cenapred
Photo : Israël Breton,