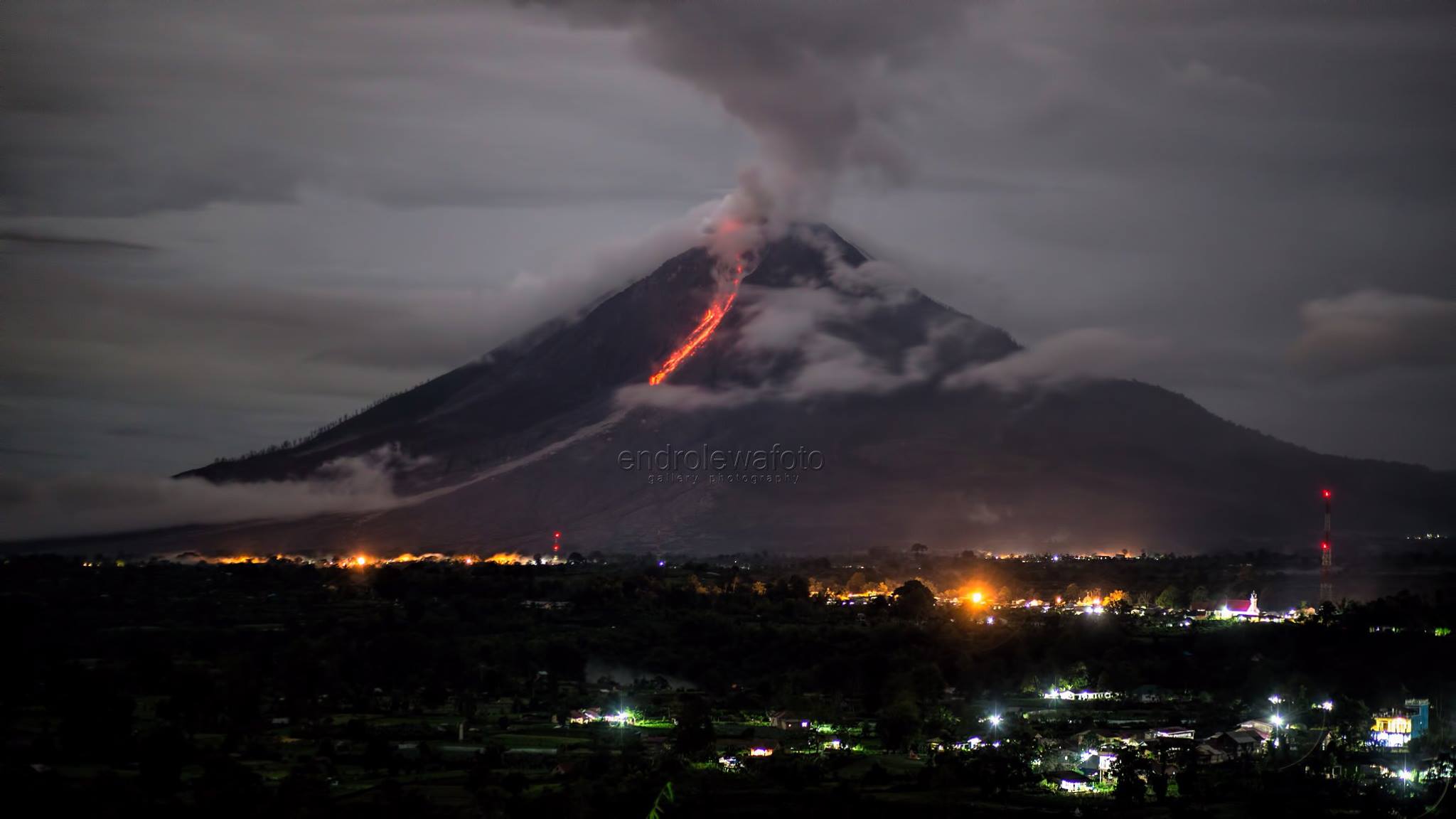 November 05 , 2017 . EN. Ambae , Sinabung , Mayon , Ubinas , Popocatepetl .
November 05 , 2017 .
Ambae , Vanuatu :
Vanuatu Meteorology and Geohazards Department (VMGD) Media Release about « Ambae volcanic hazards: remobilisation of volcanic ash and acid rain » issued on 2nd November 2017:
Ambae volcano activity is continuing in the minor eruptive state (Alert Level 3). The activity consists of ongoing small explosions and ejection of hot rocks, similar to what is seen and experienced at Yasur on Tanna Island, continued emission of ash and gas column. The ash and gas column are a typical volcanic hazard (risk) of the current activity that may cause nuisance to people life, crops, animals and equipment. The impact of ash and gas are often widespread driven from the wind direction. On Ambae Island especially those exposed to trade wind direction (southern and western part of the island) may continue to get ash more often. We discuss the implication's of these hazards for the people of Ambae below.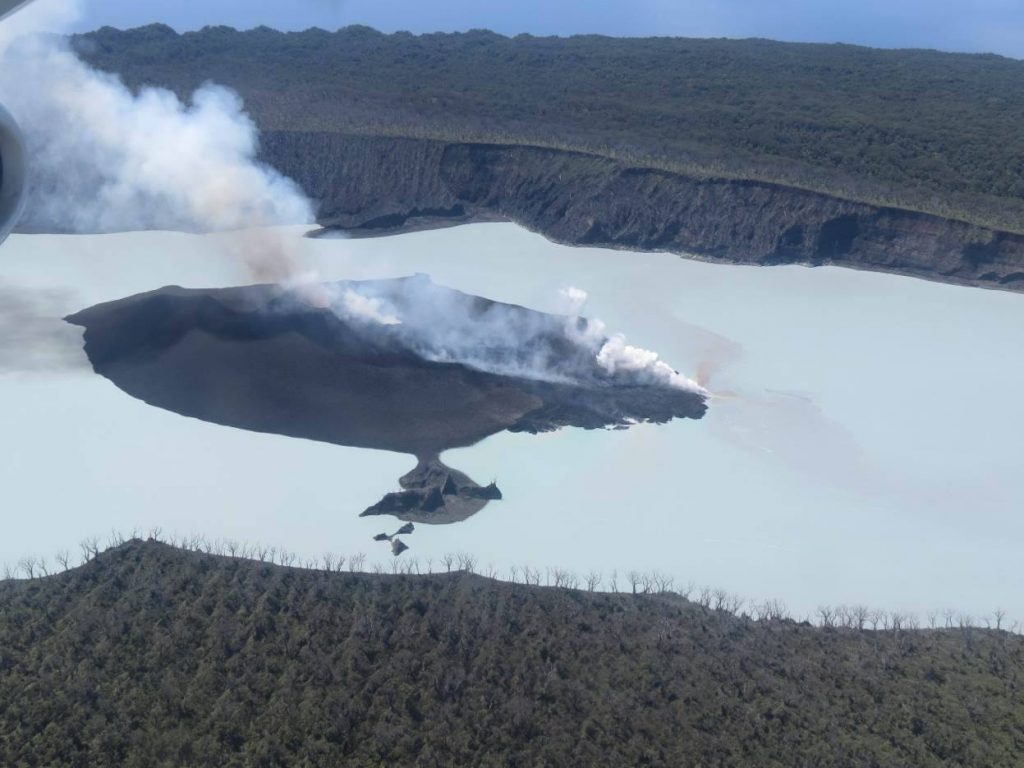 Entering the wet season (rain season: November 2017 to April 2018) volcanic ash that have fallen to the ground, high on the volcano, near the active vent will be washed off the volcano. The wet season rain flowing off the summit area will make muddy floods. This type of event is well known from many volcanoes both in Vanuatu and around the world. Muddy floods will make the streams discoloured, change the type of runoff and be more eroding. This event can damage stream and river crossing location such as bridges and fords. This is a new problem for Ambae, but has been seen at Gaua after the eruptions in 2009-2010. Gas in a volcanic column will also join with the rain and maybe experienced on the ground as mild acid rain. Acid rain is detected by unusual taste and irritating eyes. If a lot of acid rain occurs there maybe damage crops and water reservoir (such as water tank, water catchment)..
It is not possible to stop muddy floods, so people need to be aware. The hazards during rainfall may make changes for crossing streams (the sediment in the stream will make water more "heavy" to walk through). Fresh water supplies may be affected such as appearance and taste. Fresh water animal such as prawns may also be affected. It can be a problem even if it is dry near the coast, as rain near the summit will start the water flows. This can occur in many/all streams from the summit area (rain high on the island will wash ash off) and some stream flows maybe larger than normal.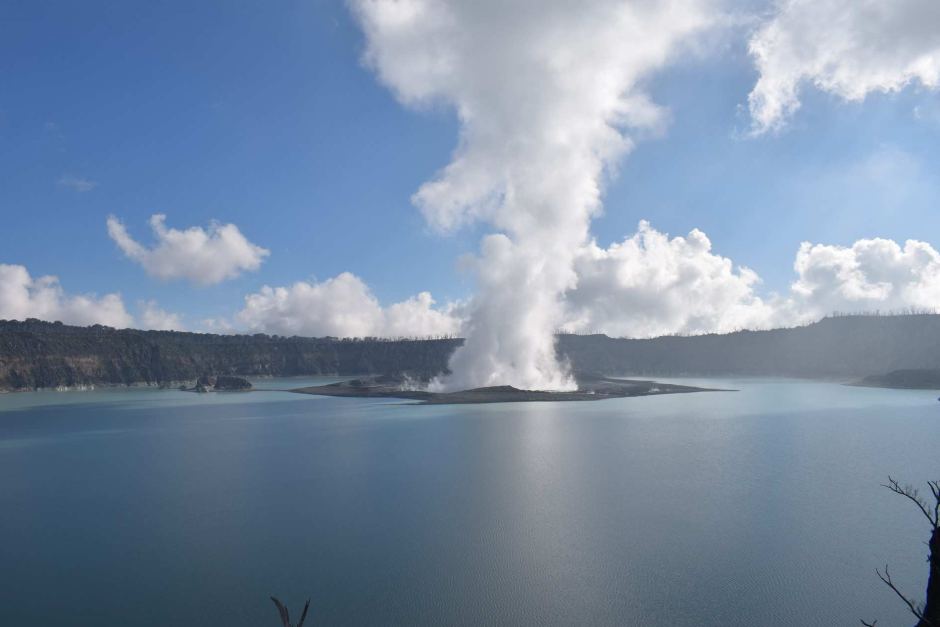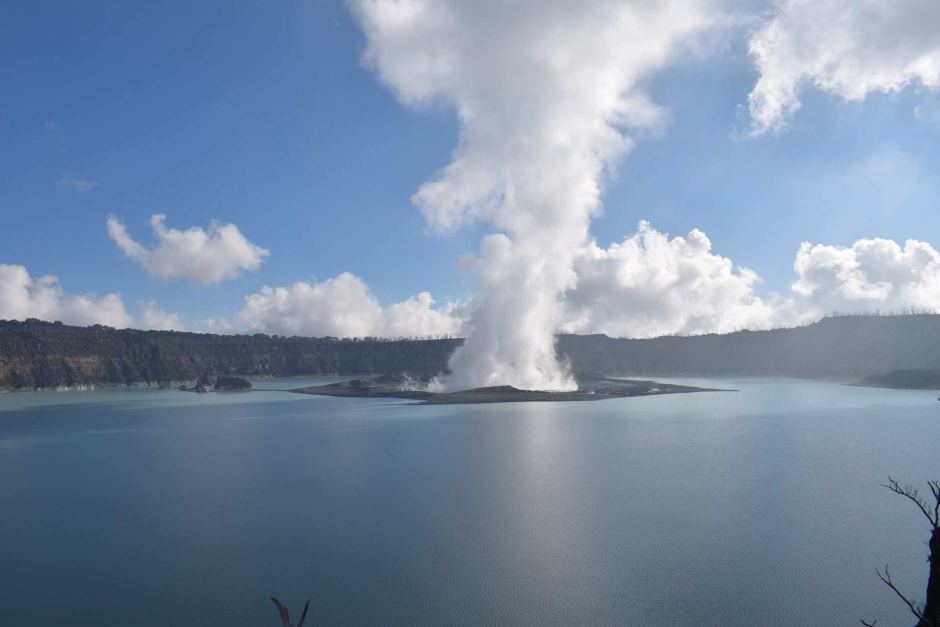 To minimise the impact of these small muddy floods, people living near creeks and streams may want to clear the channels of debris such as branches, stone etc…. so flood can pass easy. Tie off one end of small bridges so it cannot wash way. Stop using water supplies from streams for cooking and drinking when dirty and flooded. During acid rain, as explained in the last VMGD awareness campaign in mid-October 2017 before Ambaeans repatriation, make sure to remove the water spout from your tanks and wells and avoid collecting this water into the tanks.
It is important people are aware of the possible changes and stay safe. Understanding the hazards will allow people to protect their bridges and water supplies.
Source : Vanuatu Meteorology and Geohazards Department
Sinabung , Indonesia :
Level IV Activity Level (AWAS). The Sinabung (2460 m altitude) since yesterday until this morning was visually observed clear until the appearance of fog. The smoke coming out of the crater is usually observed rising 300-500 above the peak. The wind is oriented to the east, south-east and south. Thanks to the seismographic recording, 2 eruptions / emissions were recorded whose altitude could not be observed because the mountain is covered with fog, and recorded 94 earthquakes due to the descent of hot clouds.
Recommendations:
Communities / visitors should not engage in activities within a radius of 3 km around the summit, and sectorally within 7 km south-southeast, 6 km southeast and 4 km east. Northeast.
-The volcanic deposits formed a dam upstream on the River Laborus, and people living in river basins downstream must maintain vigilance because these dams can collapse at any time and no longer retain the volume of water, with consequences downstream, lahars / floods.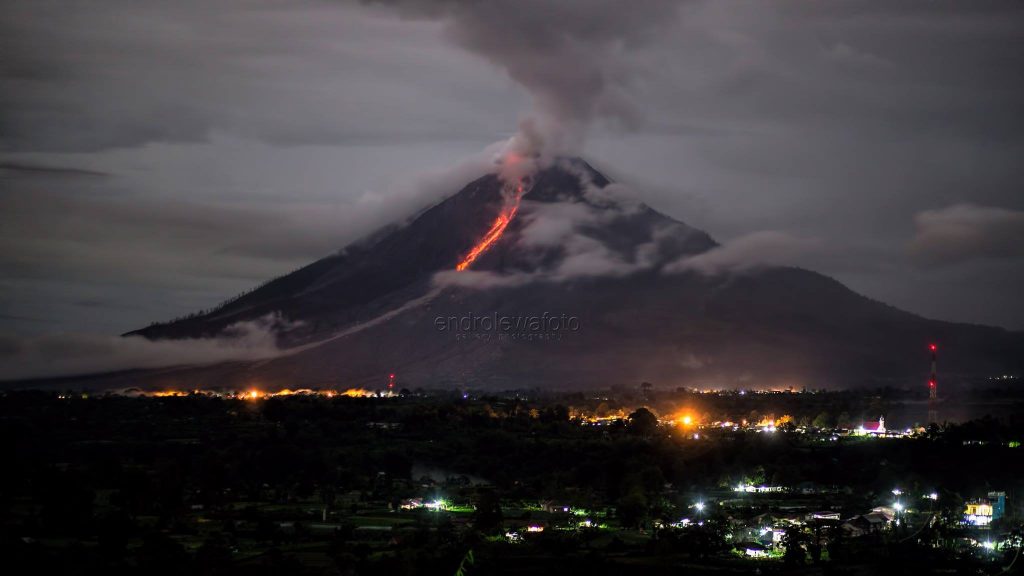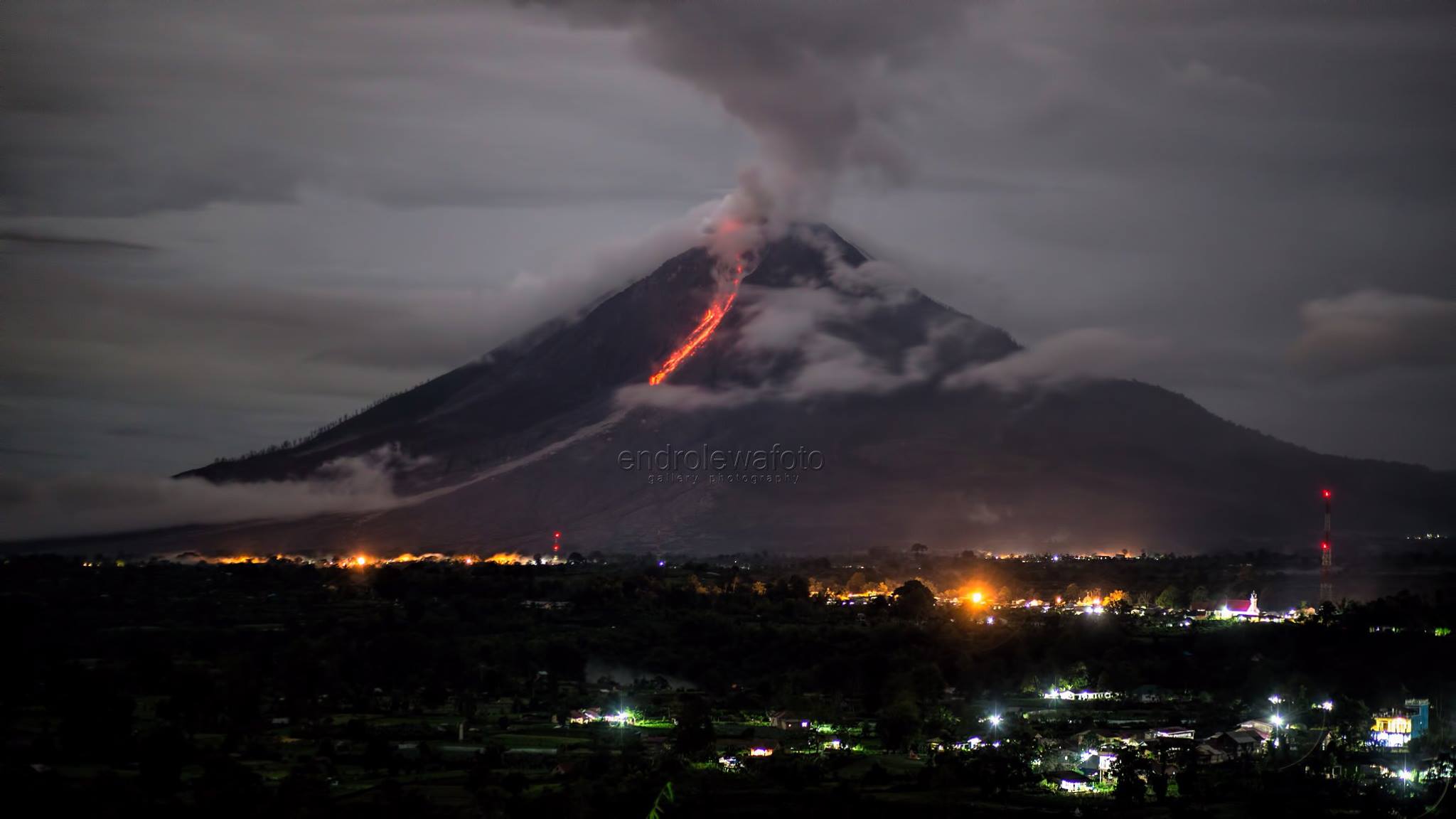 VOLCANO OBSERVATORY NOTICE FOR AVIATION – VONA.
Issued: November 04 , 2017
Volcano: Sinabung (261080)
Current Aviation Colour Code: ORANGE
Previous Aviation Colour Code: orange
Source: Sinabung Volcano Observatory
Notice Number: 2017SIN587
Volcano Location: N 03 deg 10 min 12 sec E 98 deg 23 min 31 sec
Area: North Sumatra, Indonesia
Summit Elevation: 7872 FT (2460 M)
Volcanic Activity Summary:
Eruption with ash clouds at 23:08 UTC ( 06:08 local time). The eruption lasted for 277 seconds
Volcanic Cloud Height:
Best estimate of ash-cloud top is around 15232 FT (4760 M) above sea level, may be higher than what can be observed clearly. Source of height data: ground observer.
Other Volcanic Cloud Information:
Ash-cloud moving to south – southwest.
Remarks:
Seismic activity is characterized by the Deep Volcanic Earthquake, Low Frequency Earthquake, and Hybrid Earthquake.
Source : VSI
Photo : Endro Lewa
Mayon , Philippines :
MAYON VOLCANO BULLETIN 04 November 2017 8:00 A.M.
Mayon Volcano's seismic monitoring network recorded five (5) volcanic earthquakes during the past 24 hours. Moderate emission of white steam-laden plumes that drifted west-southwest was observed. Precise leveling data obtained on September 16 to 21, 2017 indicated slight inflation of the edifice relative to May 2017 survey. Continuous GPS and tiltmeter measurements also indicate inflationary trend since July 2016. Sulfur dioxide (SO2) emission was measured at an average of 441 tonnes/day on October 17, 2017.

Alert Level 1 remains in effect over Mayon Volcano, which means that it is at abnormal condition. Although this means that presently no magmatic eruption is imminent, it is strongly advised that the public refrain from entering the 6-kilometer radius Permanent Danger Zone (PDZ) due to the perennial life-threatening dangers of rockfalls, landslides/avalanches at the middle to upper slope, sudden ash puffs and steam-driven or phreatic eruptions from the summit. Active stream/river channels and those identified as perennially lahar-prone areas on all sectors of the volcano should also be avoided especially during extreme weather conditions when there is heavy and prolonged rainfall. DOST-PHIVOLCS maintains its close monitoring of Mayon Volcano and any new development will be communicated to all concerned stakeholders.
Source : Phivolcs
Photo : Dost Pagasa
Ubinas , Peru :
Seismo-volcanic surveillance:
 In general, the Ubinas volcano shows very low levels of activity since the end of August. The dominant seismic activity of this week was represented by events related to rock fractures, earthquakes called volcano-tectonics (VT). The number of proximal VTs has been reduced by 50% compared to the previous period. In addition, the energy values ​​of the VT type events are low.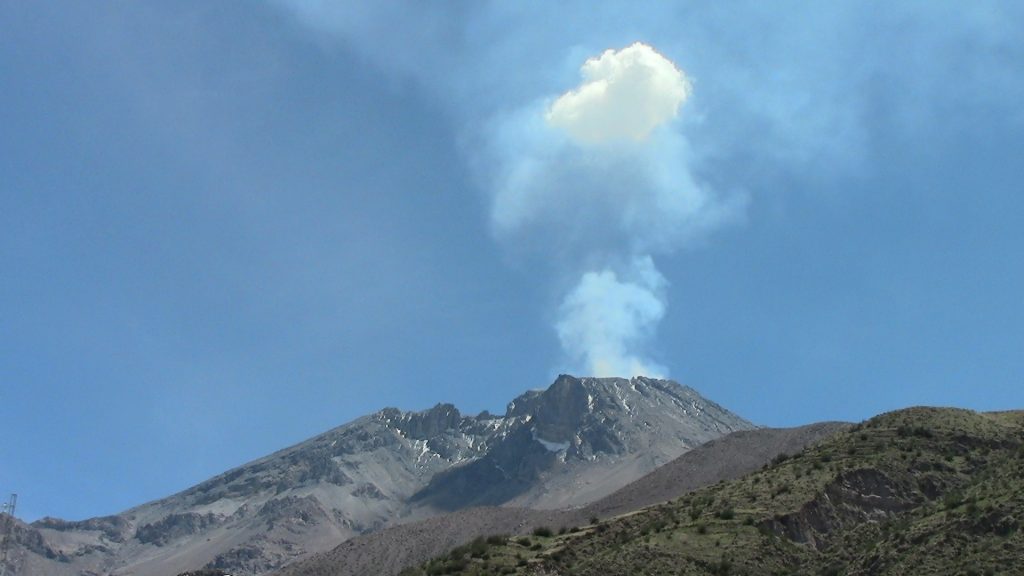 Satellite monitoring:
 Thermal anomalies and SO2: the MIROVA system (www.mirovaweb.it) did not detect thermal anomalies for this period. In addition, the satellite system « EOS Aura » GSDMNASA (http://so2.gsfc.nasa.gov/) not detected significant anomalies of SO2.
Visual monitoring:
 No major fumarolic activity was observed on the Ubinas volcano during the last half of October. This characteristic has been appreciated in the last periods of study.
Conclusion:
 In general, the volcanic-volcanic activity of Ubinas has kept levels low. The dominant seismicity in this period corresponds to events related to rock fracture (VT). The average VT event continued to decline during this period, showing 50% fewer earthquakes compared to the previous period.
Source : IGP
Popocatépetl , Mexico :
In the last 24 hours, thanks to the monitoring systems of the Popocatepetl volcano, 200 low intensity exhalations have been identified, accompanied by water vapor, gas and light amounts of ash. In addition, three explosions were recorded, the first yesterday at 10:27 and the two remaining today at 1:45 and 06:08. Due to the explosion of 06:08 am, at 07:35, a slight ash drop was reported in the municipalities of Yecapixtla and Zacualpan de Amilpas, belonging to the state of Morelos. Three volcano-tectonic earthquakes were also recorded, two yesterday at 09:39 and 21:24, the third events today at 08:08, with a magnitude of M2.0, M1,8 and M2,1 respectively, with in addition 150 minutes of tremor low amplitude.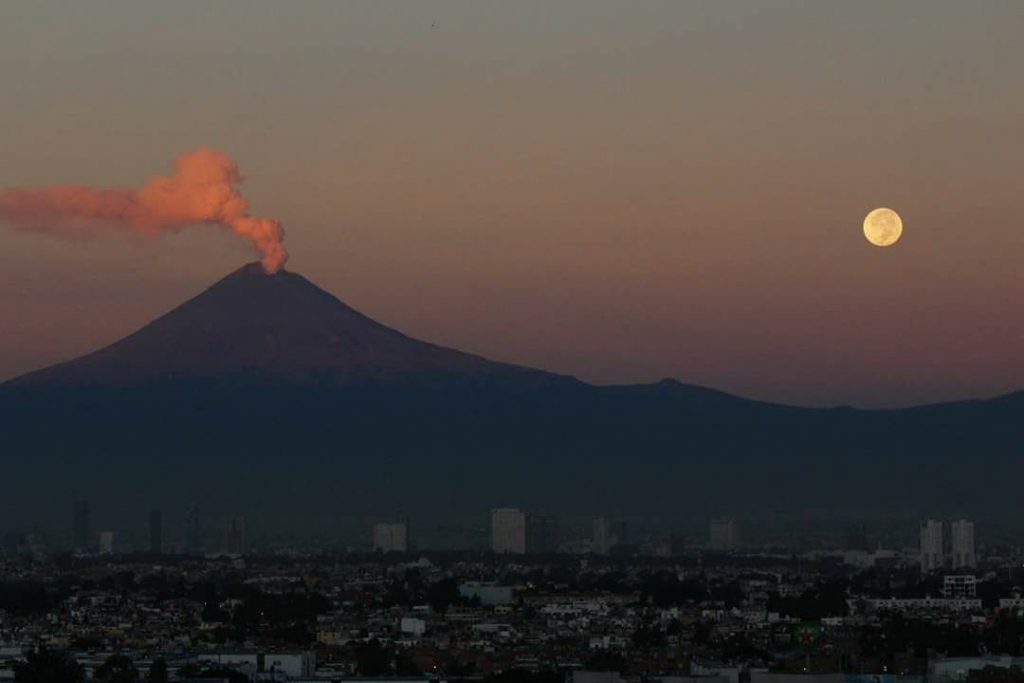 Following the explosion recorded at 06:08, a continuous emission of volcanic gases and light amounts of ash towards the West-South-West was observed, however from 10h27, the height of the column has increased, as well as the quantity of ashes, so ash falls are to be expected in the localities of this sector.
CENAPRED urges not to approach the volcano and especially the crater, because of the danger of falling ballistic fragments and in case of heavy rains, to stay far from ravine bottoms, following the danger of landslides and of mudslides.
The volcanic alert semaphore of the Popocatepetl volcano is located at Amarillo Phase 2.
Source : Cenapred .
Photo : Teresa Lopez Muñoz