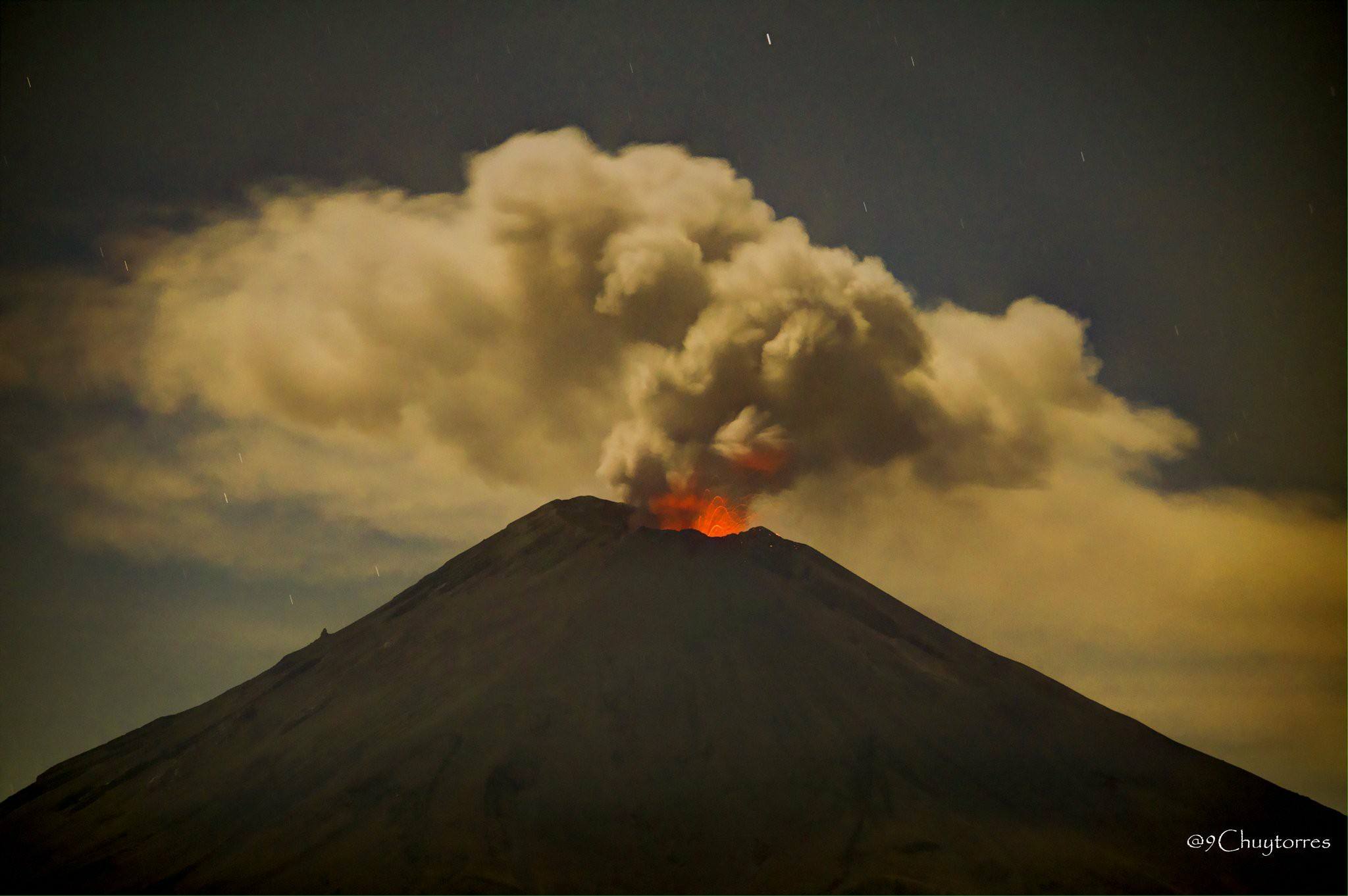 November 04 2017. EN. Fuego , Popocatepetl , Misti , Öræfajökull , Cleveland .
November 04 2017.
Fuego , Guatemala :
MINISTRY OF RESEARCH AND GEOPHYSICAL SERVICES, SPECIAL VULCANOLOGICAL BULLETIN # 169 – 2017 Guatemala 03 November 2017, 10:00 pm (Local time)
INCREASE ACTIVITY.
Type of activity: Vulcanian
Morphology: Composite Stratovolcan
Location: 14 ° 28'54˝ Latitude N; 90 ° 52'54˝ West longitude.
Height: 3,763msnm.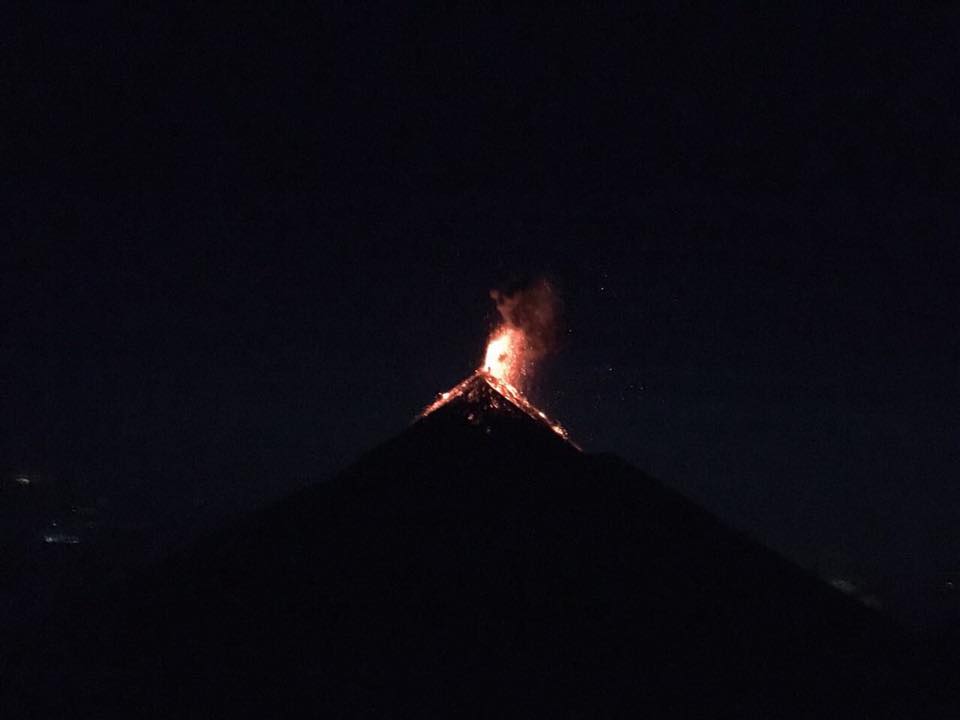 The Fuego volcano has increased its activity, as shown by the seismograph of the seismic station FG3. The internal tremor has greatly increased, so the possibility that a new eruptive cycle occurs is not ruled out.
According to OVFGO reports, 6 to 8 explosions are recorded per hour, generating ash columns ranging from 4,500 to 4,800 meters (14,763 to 15,748 feet), spreading to the west and southwest, to a distance of 15 kilometers from the volcanic complex, as well as machine-like degassing sounds from a train locomotive with gaps of up to 5 minutes.
Due to the increase that is occurring, the possibility of pyroclastic flows down the main ravines is not excluded, so it is recommended not to stay in or near them.
Source : Insivumeh.
Photo : A. Lautenbach
Popocatépetl , Mexico :
November 03, 11:15 am (November 3, 16:15 GMT)
In the last 24 hours, thanks to the monitoring systems of the Popocatépetl volcano, 318 low intensity exhalations have been identified, accompanied by water vapor, gas and light amounts of ash.
Nine volcano-tectonic earthquakes were also recorded, five yesterday at 10h21, 10h22, 10h38, 18h44 and 23h13 h, and four others today at 00h01, 00h39, 01h28 and 09h40 with magnitudes between M 1,3 and M 2.7.
In addition, in the early hours of the morning, a Strombolian episode with ejection of incandescent fragments was recorded, which began at 1:46 and ended at 5:35, with a total duration of 230 minutes. It was also possible to observe the glow on the crater.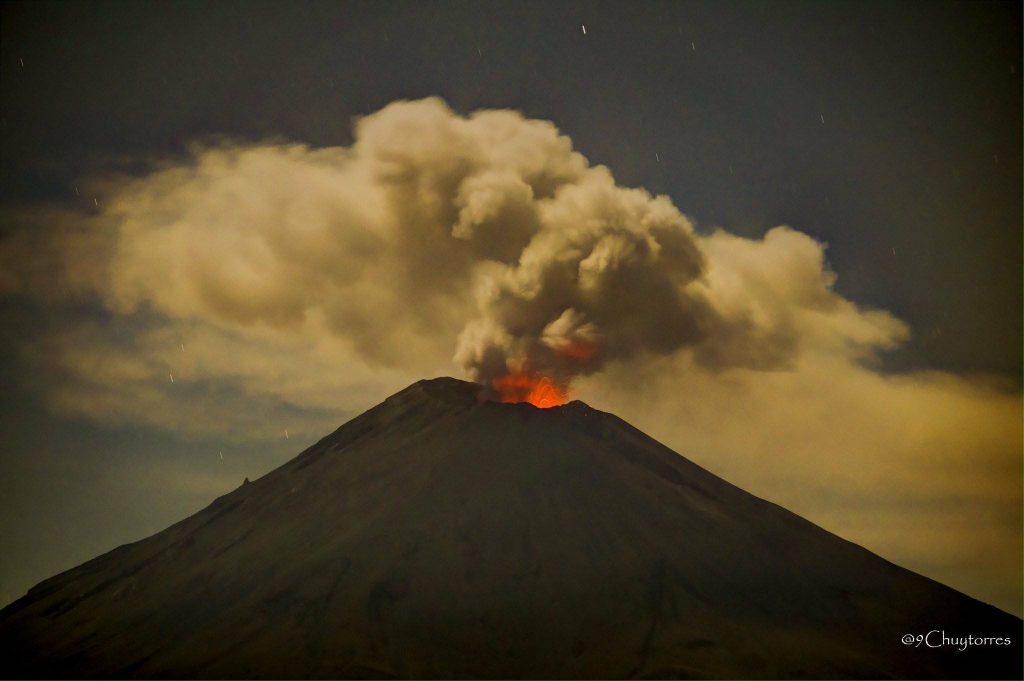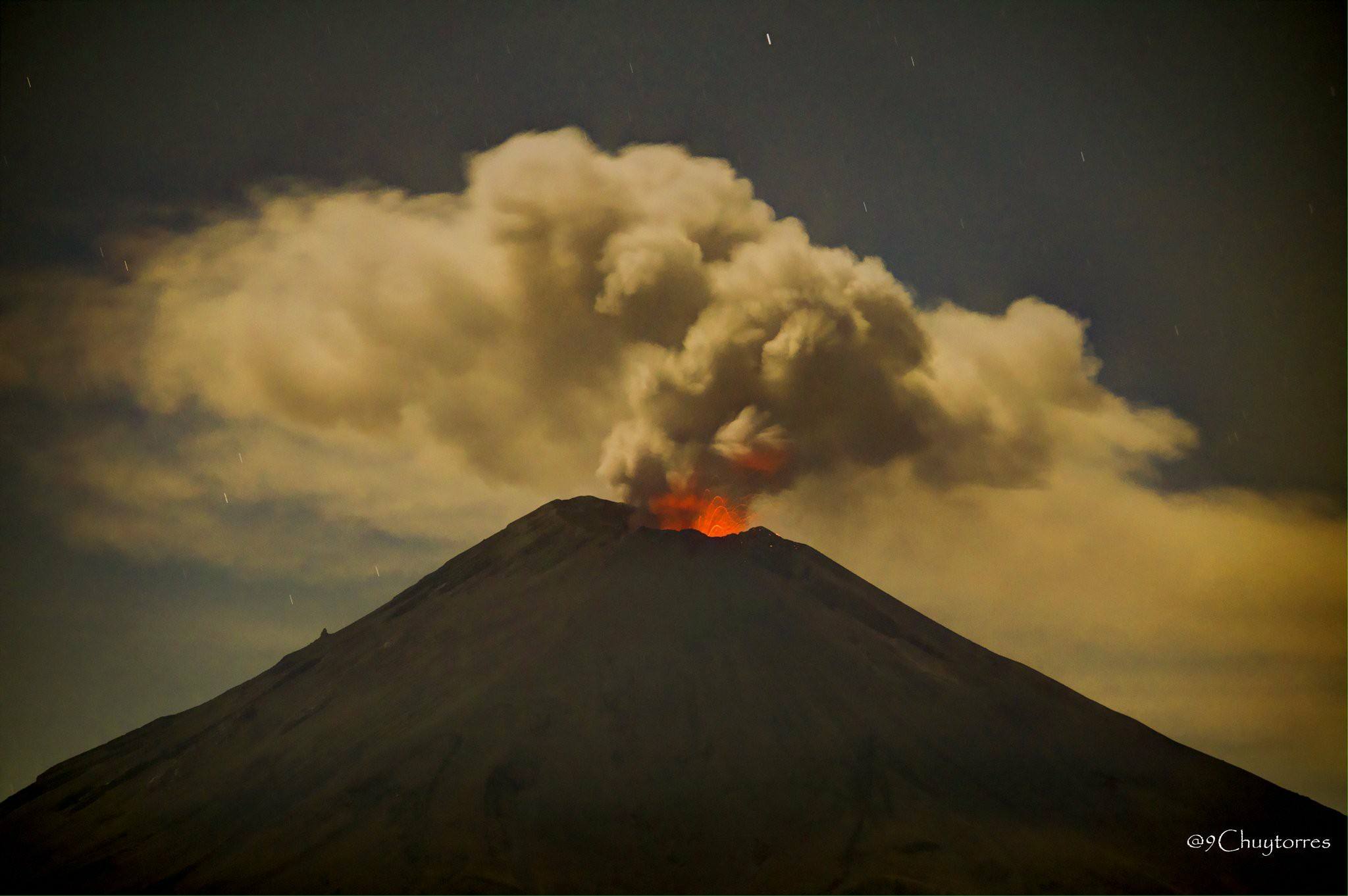 During the morning and at the time of this report, a slight emission of water vapor and gas is observed directed towards the Southwest.
CENAPRED asked not to approach the volcano and in particular the crater, because of the risk of falling of projectiles, and in the event of heavy rain, to stay far from the bottoms of ravines because of the danger of landslides and flows mud.
Popocatepetl's volcanic warning signal level is located at Amarillo Phase 2.
Source : Cenapred
Photo : 9Chuytorres
Misti , Peru :
Seismo-volcanic surveillance:
The seismic activity of the Misti volcano remains at low levels.
Volcano-Tectonic (VT) seismic events, associated with the fracturing of rocks within the volcanic massif, showed a slight decrease compared to the previous period. During the last fortnight, an average of 34 earthquakes per day were recorded. These values ​​are considered normal in the seismic activity of Misti. In addition, the energy of these events remain at low levels.
Long-period type (LP) earthquakes, associated with the circulation of volcanic fluids (gas and water vapor) inside the volcano, presented a total of 4 LP events, a level considered in the parameters of the normal activity.
For this period, the recording of a « Tornillo » event was highlighted, which took place on October 26 at 19:19 (local time).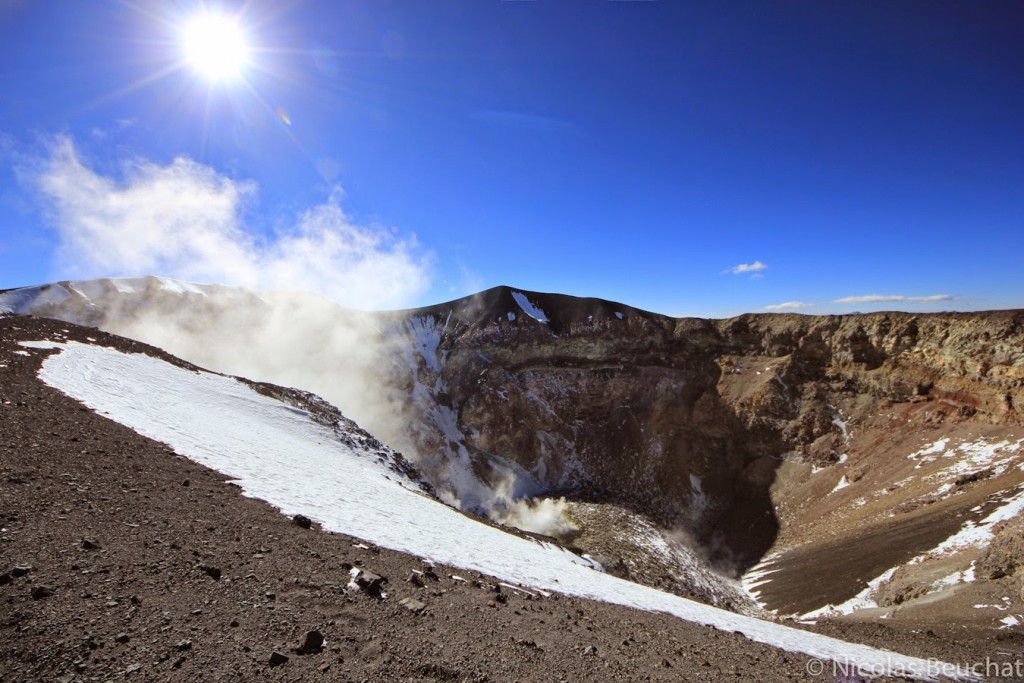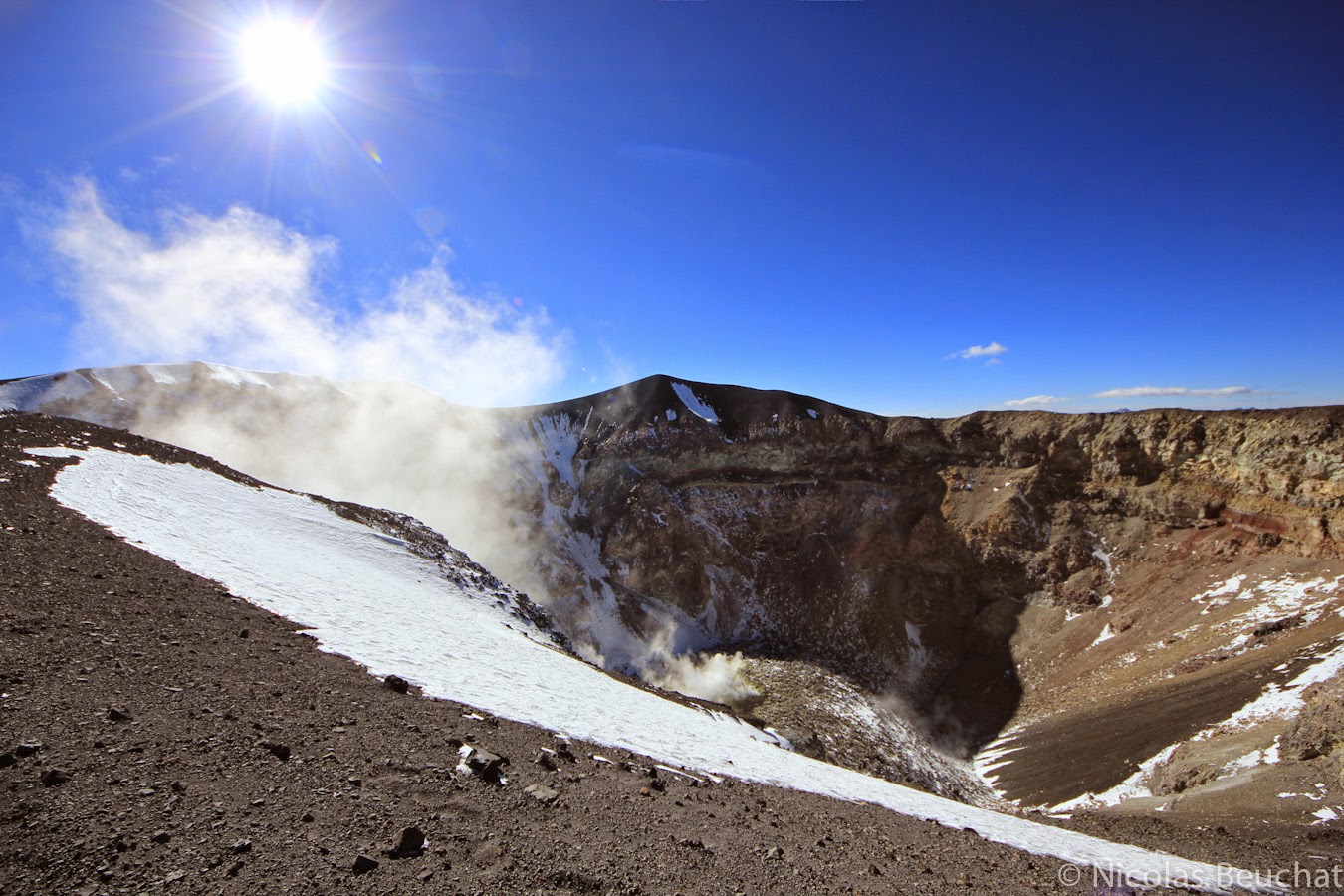 Satellite monitoring:
Thermal anomalies: The MIROVA system (www.mirova.unito.it) from the University of Turin (Italy) did not detect thermal anomalies on the Misti volcano for this period (VPR = 0 megawatts).
SO2 anomalies: The GSDM-NASA « EOS Aura » satellite system (http://so2.gsfc.nasa.gov/) did not record any significant SO2 (magmatic gas) gas density anomalies for the volcano Misti.
conclusions:
The volcanic activity of Misti continues to maintain a low level.
VT type seismicity maintains its usual level. During this period, an average of 34 events per day were reported.
Earthquakes associated with the movement of volcanic fluids have not shown much variation; it is necessary to emphasize the appearance of a « Tornillo » type earthquake that occurred on October 26 at 19:19 HL.
Source : IGP
Photo : Nicolas Beuchat
Öræfajökull , Iceland:
Öræfajökull: Community Meeting Held Due To Increased Seismic Activity.
3 NOVEMBER 2017. The Department of Civil Protection and Emergency Management, as well as the Met Office, held a meeting with residents of Öræfar yesterday. RÚV reports.
Over 26 small earthquakes were detected under Öræfajökull glacier for the past 48 hours. "The Met Office has placed more seismographs in the area and more similar devices are on their way. Alongside this we've begun work at evacuation plans and other necessary work that we need to keep in mind if Öræfajökull starts to show any further signs," Víðir Reynisson at the Department of Civil Protection and Emergency Management told RÚV.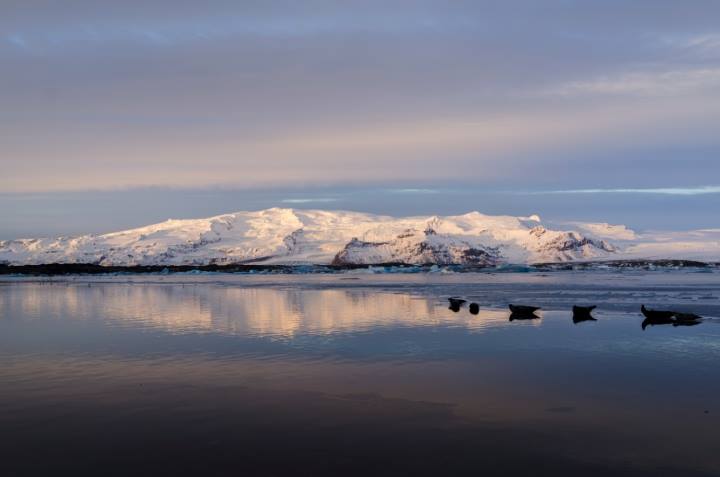 According to Víðir, Öræfajökull began to show increased seismic activity during the latter parts of the year. The area contains one of the most active volcanoes in Iceland, and although there is no guarantee anything will happen, Víðir feels it important to always be prepared. "I always say that we ought to respect our volcanoes and maybe show them some fear as well."
Nearby residents appear to be quite calm over the situation, which is to be expected of anyone living near such an area. An evacuation plan ought to be finished early next year.
Öræfajökull has erupted two times over the past millennia. The last eruption was 290 years ago. Although increased seismic activity is always a reason for caution, the chances of an eruption in the near future aren't necessarily high.
Source : ICELAND REVIEW / Jeanie Curtis
Photo : Páll Stefánsson.
Cleveland , Alaska :
52°49'20 » N 169°56'42 » W,
Summit Elevation 5676 ft (1730 m)
Current Volcano Alert Level: WATCH
Current Aviation Color Code: ORANGE
The eruption of Cleveland volcano continues. Small explosions on October 28 and October 30 partly destroyed the lava dome within the summit crater. Since then, slightly to moderately elevated surface temperatures have been occasionally observed in satellite imagery.
Lava effusion is typically confined to the summit crater at Cleveland, with the last significant lava flow (that extended to the ocean) occurring in 2001. The lava domes that have been erupted since 2001 have all been destroyed by explosive activity within weeks to months after lava effusion. These explosions typically produce relatively small volcanic ash clouds that dissipate within hours, however more significant ash emissions have occurred. It has not yet been determined if there has been new lava effusion in the crater since the most recent explosions. No seismic or infrasound signals indicating significant eruptive activity were detected over the past week.
Cleveland volcano is monitored with a limited real-time seismic network, which inhibits AVO's ability to detect precursory unrest that may lead to an explosive eruption. Rapid detection of an ash-producing eruption may be possible using a combination of seismic, infrasound, lightning, and satellite data.
Source : AVO