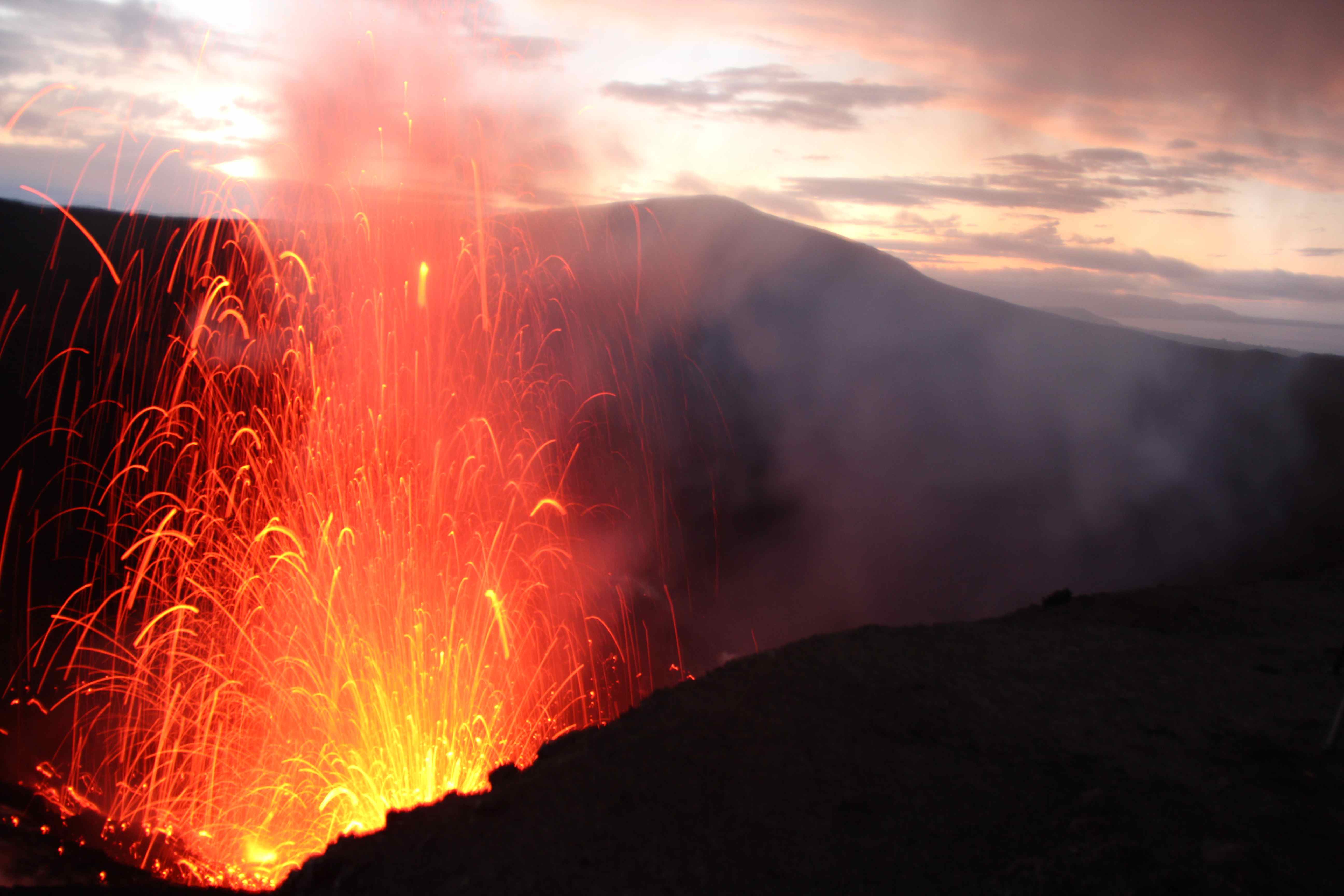 November 03 , 2017. EN. Shinmoedake , Yasur , Yellowstone , Sheveluch , Piton de La Fournaise .
November 03 , 2017.
Shinmoedake , Kyushu , Japan :
31.934°N, 130.862°E
Elevation 1700 m
JMA reported that during 25-31 October activity at Shinmoedake (Shinmoe peak), a stratovolcano of the Kirishimayama volcano group, continued to be slightly elevated.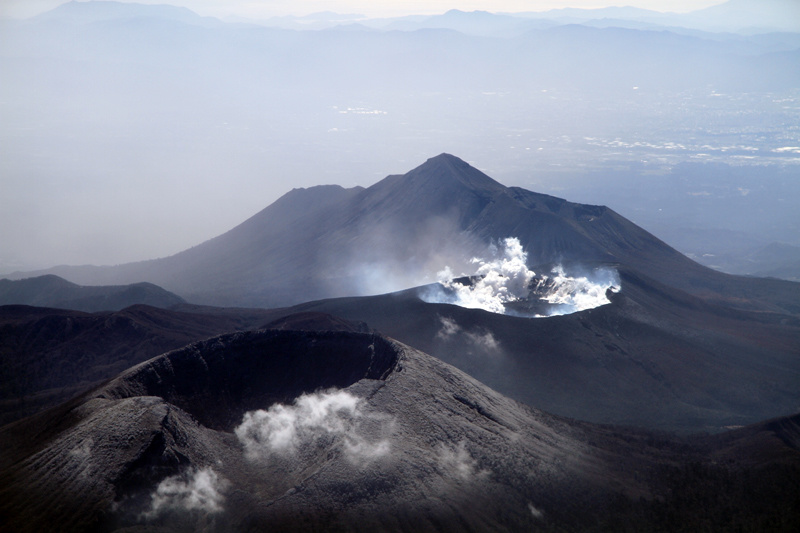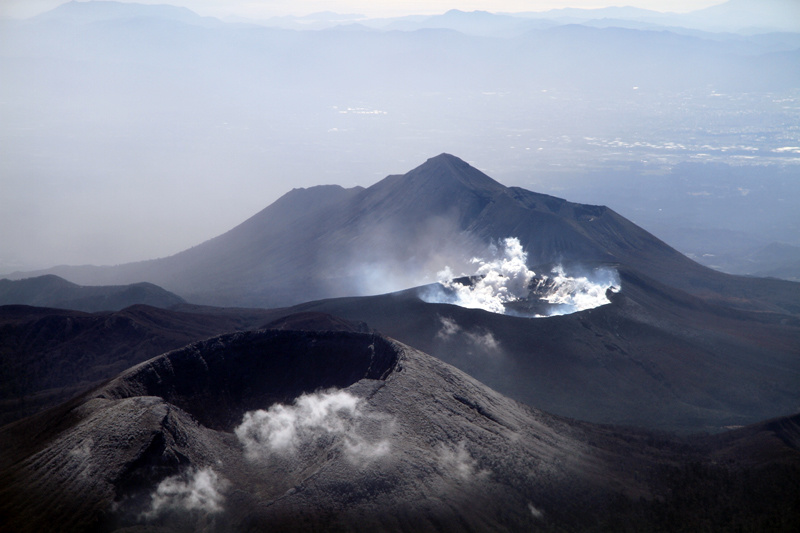 White plumes rose 100-500 m above the crater rim, though weather clouds sometimes prevented visual observations. Almost daily field surveys revealed no particular changes in the fumarolic and fissure areas near the cracks on the W flank of Shinmoedake, nor to the thermally anomalous zone below the crack. Sulfur dioxide fluxes were as high as 200 tons/day. The Alert Level remained at 3 (on a scale of 1-5).
Source: Agence météorologique japonaise (JMA), GVP.
Yasur , Vanuatu :
TANNA VOLCANO ALERT BULLETIN No10 issued by the Vanuatu Meteorology and Geohazards Department (VMGD) on 31st October 2017 at 11:32AM :
Yasur volcanic activity continue to remain at the level of major unrest state. The Alert Level for this volcano remains at Level 2.
Yasur volcanic activity is continuing at the level of major unrest. New scientific analyses confirm that the risk of the activity is around the volcanic craters. The alert level for Yasur remains at Level 2. Danger is restricted to visitors approaching the active craters; Risk is in the permanent Exclusion Zone which is always closed (Shouldn't be Access) and is about 395 m around the eruptive vents (See photo below).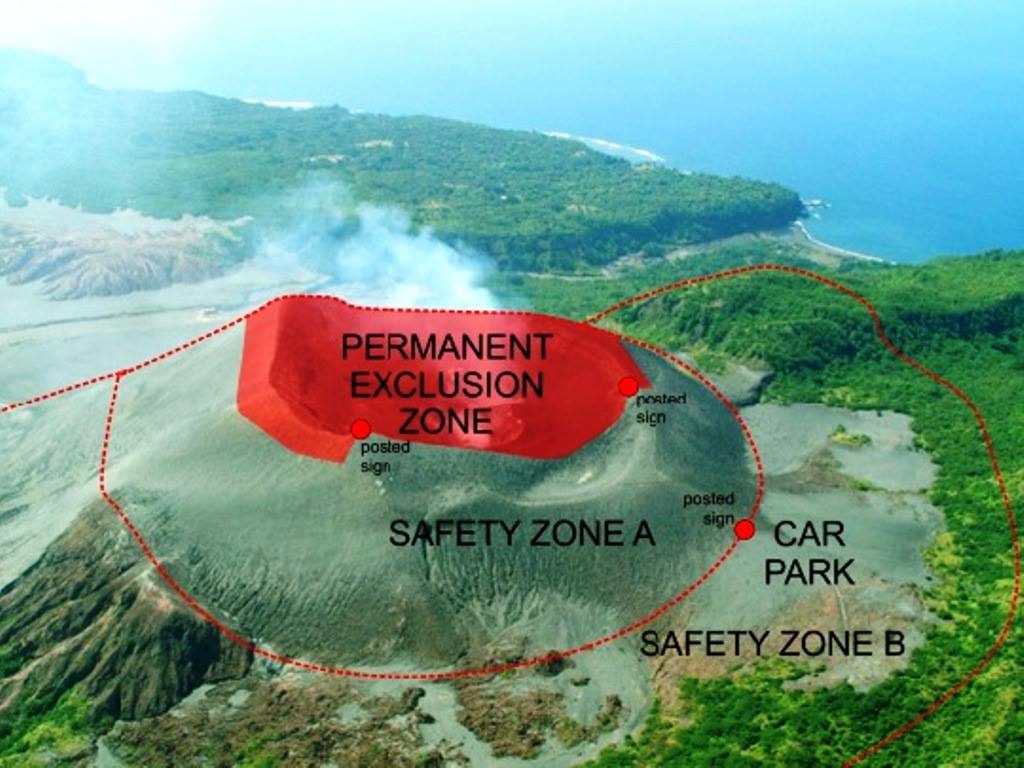 Latest observation and analysis of seismic data confirm that explosions remain strong and volcanic bombs may fall in and/or around the crater. Eruptive vents may emitted volcanic ash and gas cloud. Nearby villages from the volcano may affected by ash falls and volcanic gas especially those exposed to trade wind direction.
Alert Level for Yasur was at the Level 2 since 18th October 2016. Current observations are consistent to Level 2. Level 2 indicates 'Major Unrest'; Danger is around the crater rim and specific area, considerable possibility of eruption and also chance of flank eruption.
Yasur is the best known and most frequently visited of the Vanuatu volcanoes, has been in more-or-less continuous Strombolian and Vulcanian activity since Captain Cook observed ash eruptions in 1774. This type of activity may have continued since ages. The active cone is largely contained within the small Yenkahe caldera, and is the one of the youngest Holocenes volcano (11 700 years to present) of Vanuatu.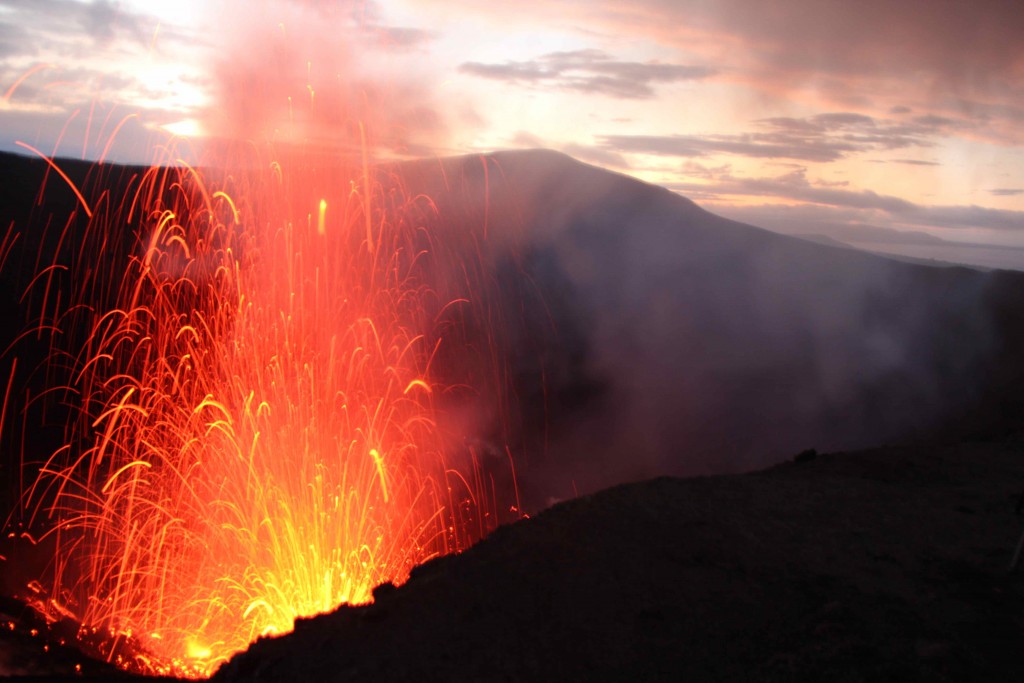 This is another reminder that all tourism agencies, visitors, local authorities, people from Tanna Island and general public to must not access the Exclusion Zone which is about 395 m around the eruptive vents. In this area volcanic bombs, ash and gases may generally be present (See photo below)
See the safety map and visitors Fact-Sheet of Yasur at the website www.vmgd.gov.vu/…/index.php/…/volcano/volcano-info/resources.
Villages located close to the volcano may be impacted by ash falls and volcanic gas, especially those exposed to prevailing trade winds direction.
The Department of Meteorology and Geohazards will continue to closely monitor this volcano activity.
Source : Geohazard.
Yellowstone , United – States :
44°25'48 » N 110°40'12 » W,
Summit Elevation 9203 ft (2805 m)
Current Volcano Alert Level: NORMAL
Current Aviation Color Code: GREEN
Recent work:
Field operations in the Yellowstone region during October included the recovery of semi-permanent GPS stations from 12 sites in and around the National Park. These sites, which augment the existing network of continuously operating GPS stations during spring, summer, and fall months, will be reinstalled in May 2018, continuing a pattern of deployment begun in 2008. In addition, a gravity survey was completed in mid-October. This was the last of four surveys conducted over the course of 2017 with the purpose of assessing seasonal variations in gravity due to changes in surface water and groundwater levels in the area. Finally, maintenance visits to seismic stations were conducted to harden the sites against the harsh conditions of winter months.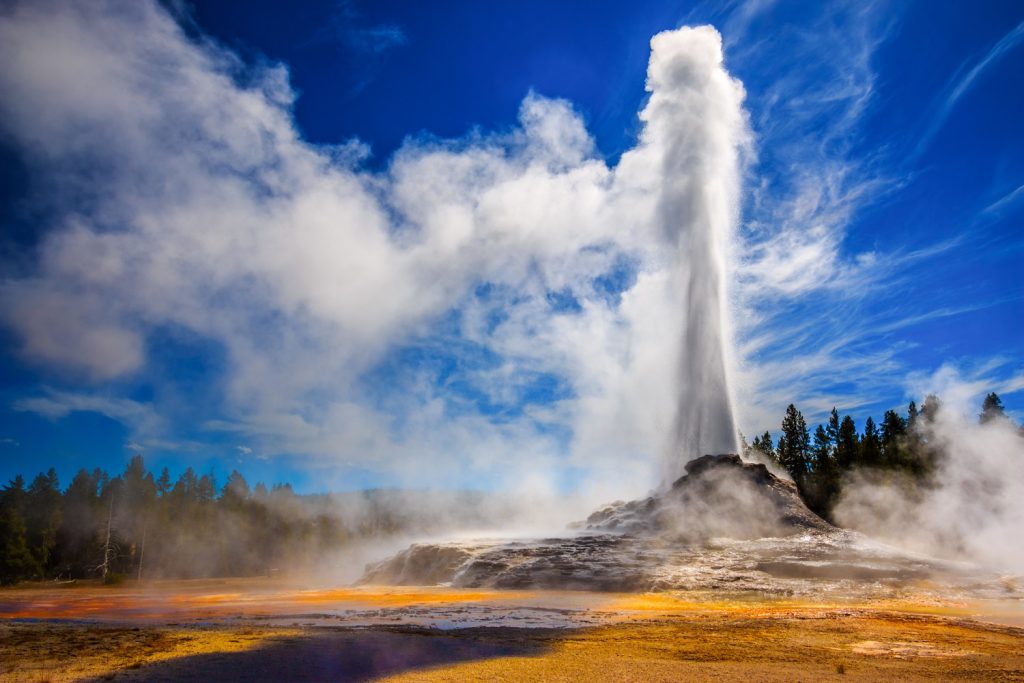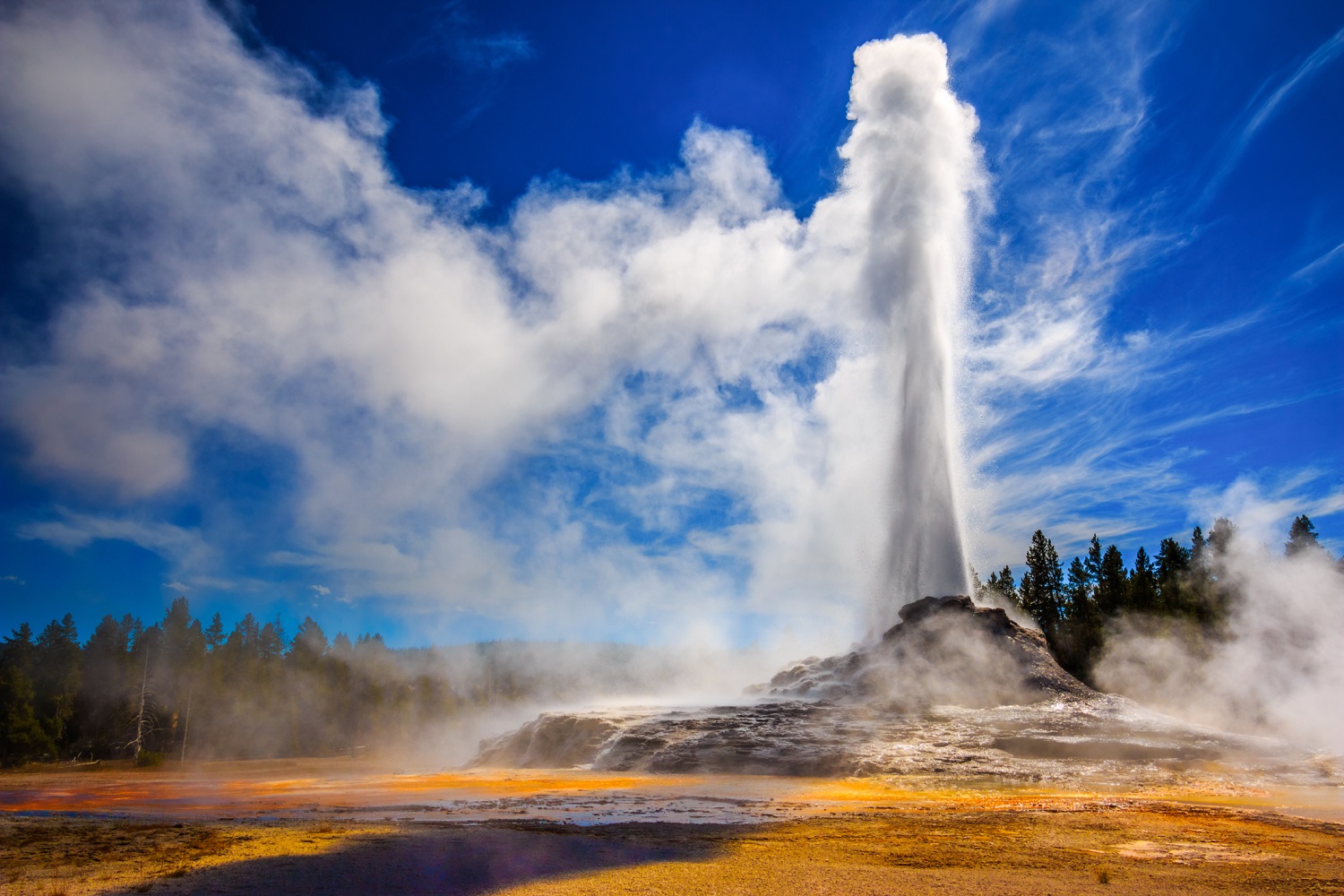 Seismicity
During October 2017, the University of Utah Seismograph Stations, responsible for the operation and analysis of the Yellowstone Seismic Network, reports that 111 earthquakes were located in the Yellowstone National Park region. The two largest earthquakes of the month both registered magnitude 2.2 and occurred on October 30, one about seven miles northeast of West Yellowstone, MT, at 03:29 AM MDT, and another about three miles north-northeast of West Thumb, WY, at 11:12 PM MDT.
October seismicity in Yellowstone was marked by the ongoing but waning swarm north of West Yellowstone, MT, contributing 60 earthquakes to the existing catalog of 2475 events located in the area since June. The largest event of the swarm during the month was the October 30, 03:29 AM MDT, magnitude 2.2 earthquake. Overall activity in this swarm since its June 12 initiation includes one earthquake of magnitude 4.4, 12 earthquakes in the magnitude 3 range, and 186 earthquakes in the magnitude 2 range. There are several additional earthquakes visible on the webicorders that cannot be located because they are too small or overlap another event, and these are not included in earthquake counts.
Additionally, October 2017 seismicity includes a small swarm of 21 located earthquakes that occurred on October 30 (MDT) about three miles north-northeast of West Thumb, WY. The largest event in the series was the other aforementioned magnitude 2.2 earthquake (11:12 PM MDT).
Earthquake sequences like these are common and account for roughly 50% of the total seismicity in the Yellowstone region.
Yellowstone seismicity is at normal levels compared with typical background activity.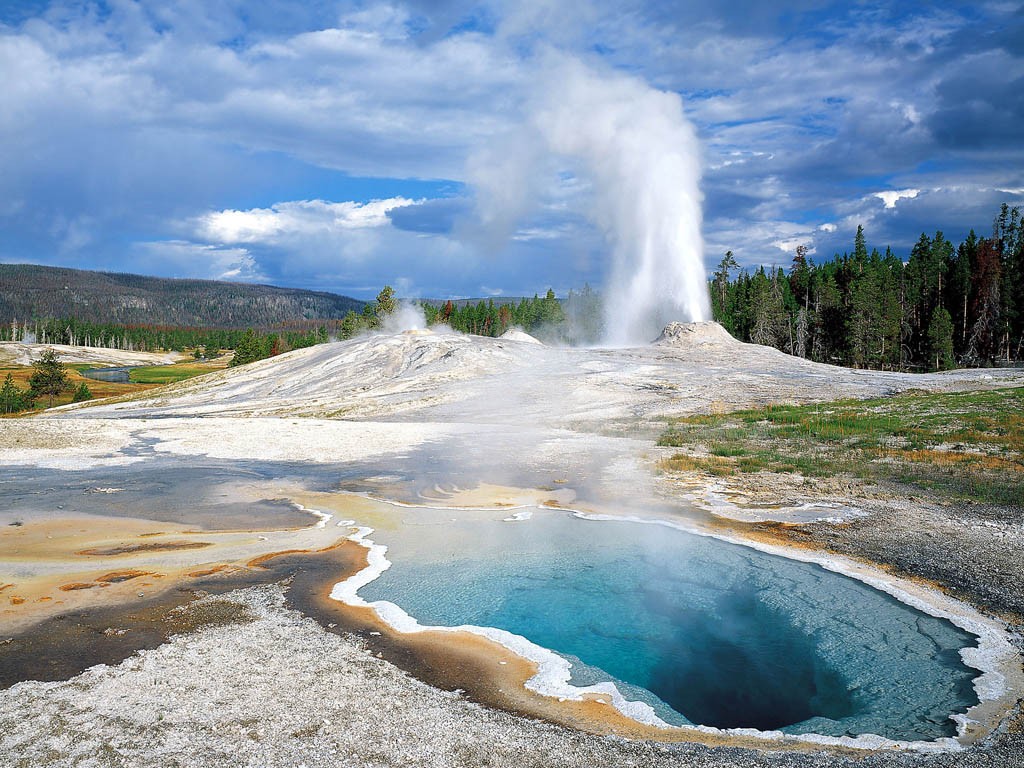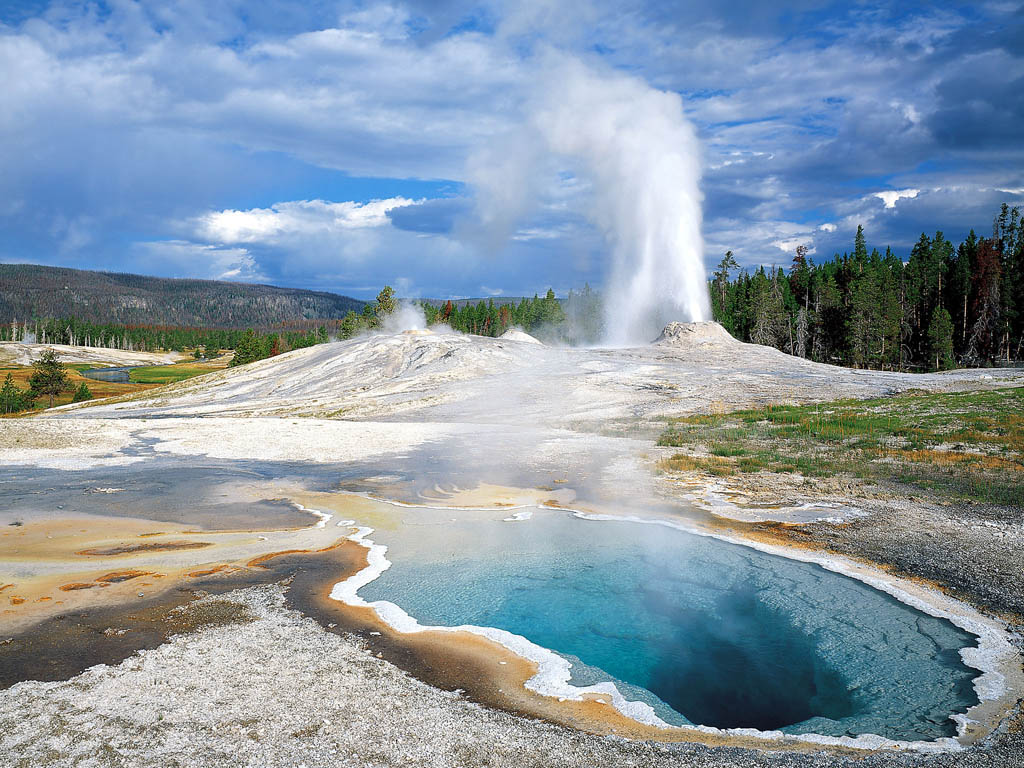 Ground deformation
Styles and rates of ground deformation in the Yellowstone region have been steady for the past several months. Uplift near the Norris Geyser Basin and subsidence within the caldera are both occurring a rates of a few millimeters per month. These deformation patterns are consistent with historical activity.
An example of GPS data can be found at http://www.unavco.org/instrumentation/networks/status/pbo/data/WLWY (click on Static Plots / Cleaned)
The Yellowstone Volcano Observatory (YVO) provides long-term monitoring of volcanic and earthquake activity in the Yellowstone National Park region. Yellowstone is the site of the largest and most diverse collection of natural thermal features in the world and the first National Park. YVO is one of the five USGS Volcano Observatories that monitor volcanoes within the United States for science and public safety.
Source : YVO
Sheveluch , Kamchatka :
56.64 N, 161.32 E;
Elevation 10768 ft (3283 m), the dome elevation ~8200 ft (2500 m)
Aviation Colour Code is ORANGE
Explosive-extrusive eruption of the volcano continues. Ash explosions up to 2,800-49,200 ft (10-15 km) a.s.l. could occur at any time. Ongoing activity could affect international and low-flying aircraft.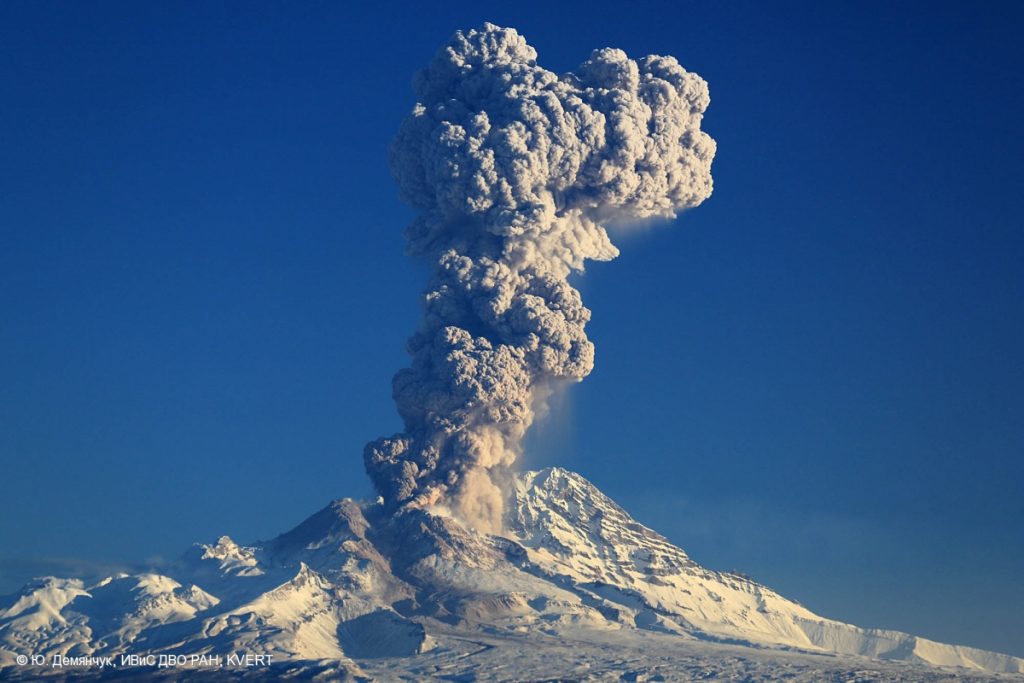 A growth of the lava dome continues (a viscous lava flow reveal in the northern its part), strong fumarole activity, ash explosions, hot avalanches and an incandescence of the dome blocks and hot avalanches accompany this process. According to satellite data by KVERT, a thermal anomaly over the volcano was noting on 26-30 October and 01-02 November; the volcano was obscured by clouds in the other days of week. Explosive events occurred on 02 November: explosion sent ash up to 8 km a.s.l., ash plumes drifted to the north-east from the volcano.
Source : Kvert.
Photo : Yu Demyanchuck.
Piton de la Fournaise , La Réunion :
Monthly bulletin for Wednesday, November 1, 2017
Seismicity:
In October 2017, the OVPF recorded in total:
• 29 superficial volcano-tectonic earthquakes (0 to 2 km deep) beneath the summit craters;
• 3 deep earthquakes (> 2 km deep);
• 570 collapses (in the Crater Dolomieu, at the level of the Enclos Fouqué ramparts as well as at the eruptive site of July / August 2017);
• 42 local earthquakes (under the island, Piton des Neiges side);
• 2 regional earthquakes (in the Indian Ocean zone).
The superficial volcano-tectonic seismicity was maintained throughout October at an average of 1 event per day with a slight increase since October 22 (Figure 1).

Figure 1: Histogram showing the number of superficial volcano-tectonic earthquakes recorded under the summit craters in October 2017. (© OVPF / IPGP)
Deformation:
Following a lull in September and early October, inflation (swelling) of the volcano resumed in mid-October (Figure 2).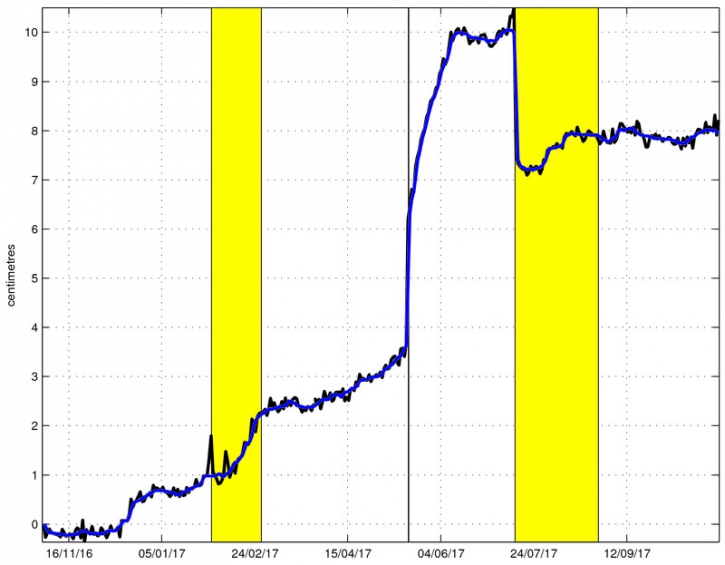 Figure 2: Illustration of the deformation during the last twelve months (the eruptions of January 31-February 27, 2017 and July 14-August 28, 2017 are represented in yellow and the injection of magma of May 17, 2017 is represented by a bar black). Here is shown a baseline (distance between two GPS receivers) crossing the Dolomieu crater from north to south (in black the raw data, in blue the data smoothed over a week). A rise is synonymous with elongation and therefore swelling of the volcano; conversely, a decrease is synonymous with contraction and therefore deflation of the volcano. (© OVPF / IPGP)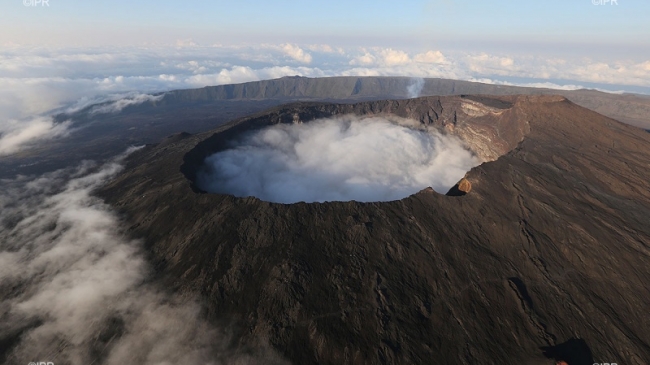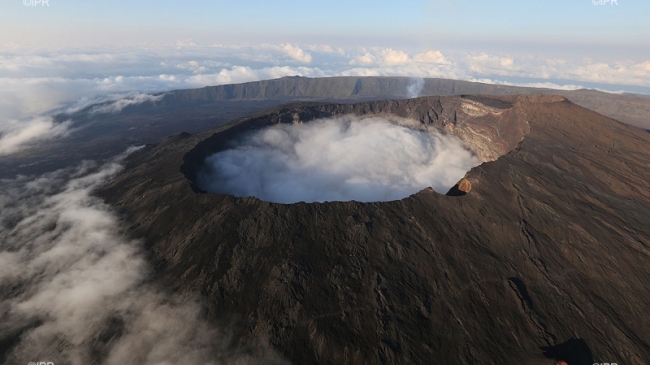 Geochemistry of gases:
– Low concentrations of SO2 (coupled with CO2) and H2S (coupled with H2O vapor) were recorded in October in the Piton de la Fournaise top emissions.
– The CO2 concentrations in the soil measured at the remote stations of the Plaine des Cafres and at the level of the volcano deposit show high values.
 Source : Ovpf