October 30 , 2017. EN. Agung , Cleveland , White Island , Turrialba , Poas , Rincon de la Vieja .
October 30 , 2017.
Agung , Indonésia :
The head of the Center for Volcanology and Geological Hazard Mitigation (PVMBG), Mr Kasbani said that the state of activity of Mount Agung is lowered from Level IV (AWAS) to Level III (SIAGA).
« The state of activity of Mount Agung as of today, Sunday October 29, 2017 16:00 pm, is lowered from Level IV (AWAS) to Level III (SIAGA), » said Kasbani from the position of monitoring of Mount Agung in the village of Rendang, Karangasem, Bali, on Sunday (29/10/2017).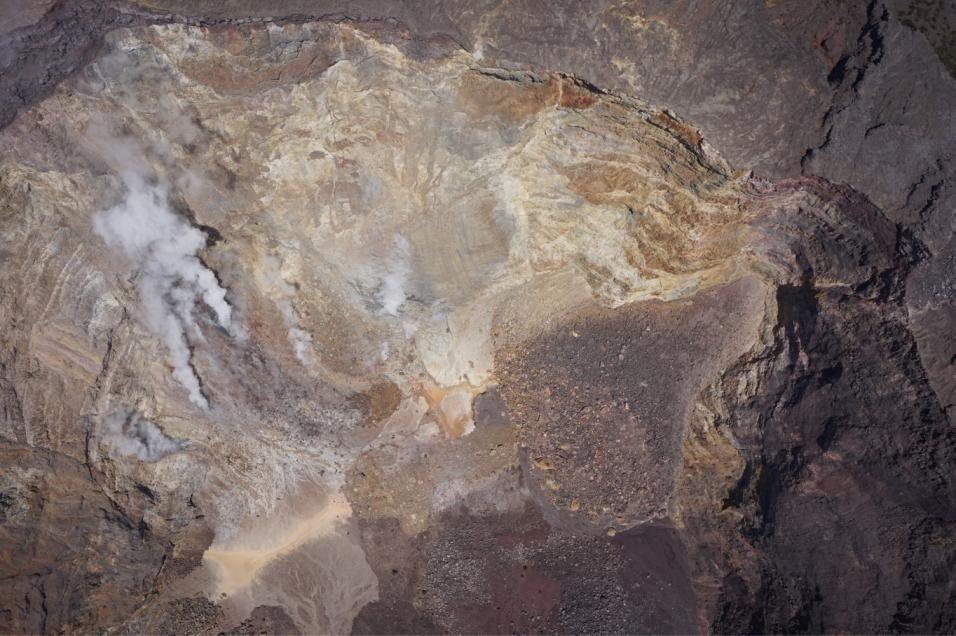 Kasbani said that the decline in this status was decreed after seeing a number of indicators, including seismicity, deformation, visual observations and satellite imagery.
« Earthquakes tend to decrease and GPS data showed a slowing down of the deformation; the thermal quotient has also dropped, « Kasbani said.
The PVMBG defined the alert status of Mount Agung on 22 September 2017.
Then on October 22, we saw a drastic reduction in seismicity. It usually fluctuated between 600 and 1,000 earthquakes a day, it went down to 200 to 400 events per day.
As the status of Mount Agung is lowered, the radius of danger is reduced from 9 km to 6 km with the sectoral decrease from 12 km to 7.5 km. Citizens and tourists are prohibited from activities in this area.
« The danger potential still exists, and we expect it to diminish, » Kasbani said.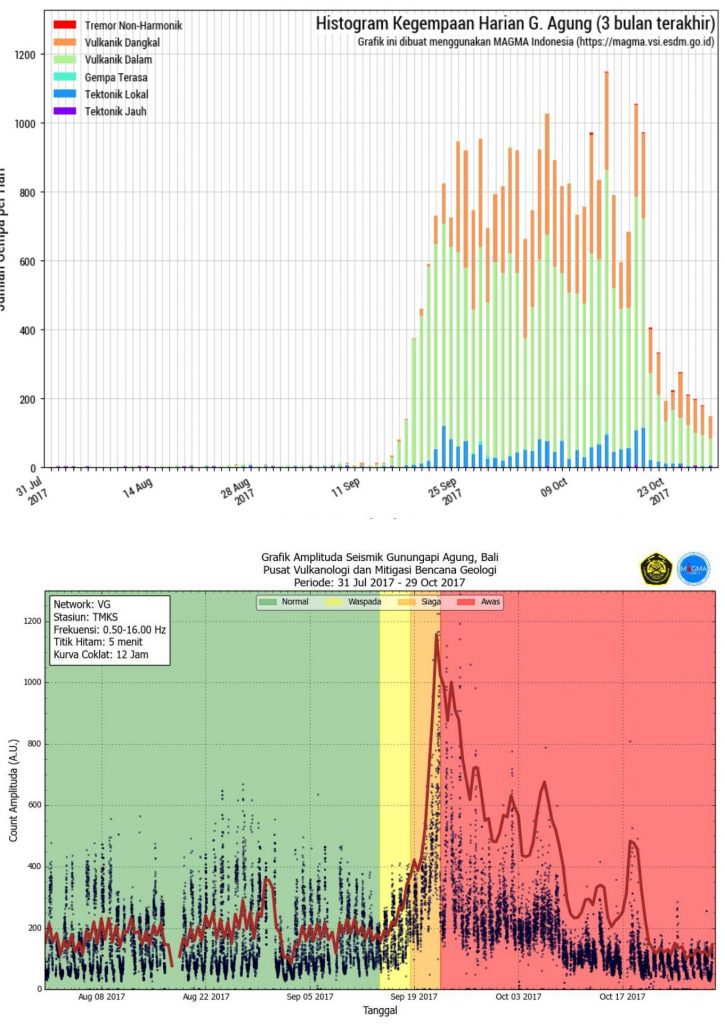 Conclusions
On the basis of the analysis of visual and seismic data and taking into account the potential threats of danger, on 29 October 2017 at 16:00, the activity status of G. Agung was lowered from level IV (Awas) to level III ( Siaga).
Although the status of the volcano's activity has been lowered to Level III (Siaga), it should be understood that the volcanic activity of Gunungapi Agung has not completely diminished and that the volcano still has the potential to enter in eruption.
Source : Vsi , Kompass.
Cleveland , Alaska :
52°49'20 » N 169°56'42 » W,
Summit Elevation 5676 ft (1730 m)
Current Volcano Alert Level: WATCH
Current Aviation Color Code: ORANGE
Unrest at Cleveland volcano continues. A small, short duration (30 seconds) explosion was detected on October 28 at 10:45 AKDT (18:45 UTC) in seismic and infrasound data. Conditions were overcast with clouds at approximately 15,000 ft AMSL. No volcanic clouds associated with this explosion were observed in satellite views above the cloud level.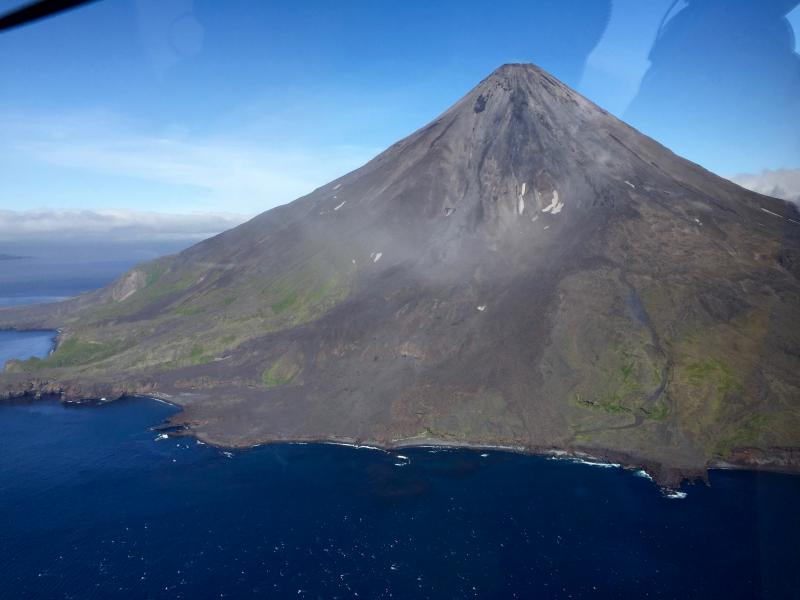 Approaching the east side of Mount Cleveland.
Lava domes that have been erupted since 2001 have all been destroyed by explosive activity within weeks to months after lava effusion. These explosions typically produce relatively small volcanic ash clouds that dissipate within hours, however more significant ash emissions are possible. There is no way to predict how long this lava dome will grow, or when it might be destroyed by an explosion.
Cleveland volcano is monitored with a limited real-time seismic network, which inhibits AVO's ability to detect precursory unrest that may lead to an explosive eruption. Rapid detection of an ash-producing eruption may be possible using a combination of seismic, infrasound, lightning, and satellite data.
Source : AVO
Photo : Lyons, John ( 26 Juillet 2016 11:26 )
White Island , New Zealand :
Earthquakes near but not at White Island . Published: Mon Oct 30 2017 12:00 PM
Late yesterday evening a sequence of small-moderate sized earthquakes occurred about 12-15 km northeast of White Island.
Sunday evening's sequence of small-moderate sized earthquakes occurred about 12-15 km northeast of White Island. As White Island is the nearest geographic location our automated location software naturally reported them as being nearby. White Island is a large volcano with a significant footprint under the sea, being about 6 x 10 km at 300 m depth. However, these earthquakes are beyond the footprint of the volcano, hence we consider them to be caused by regional faulting, rather than related to the volcano.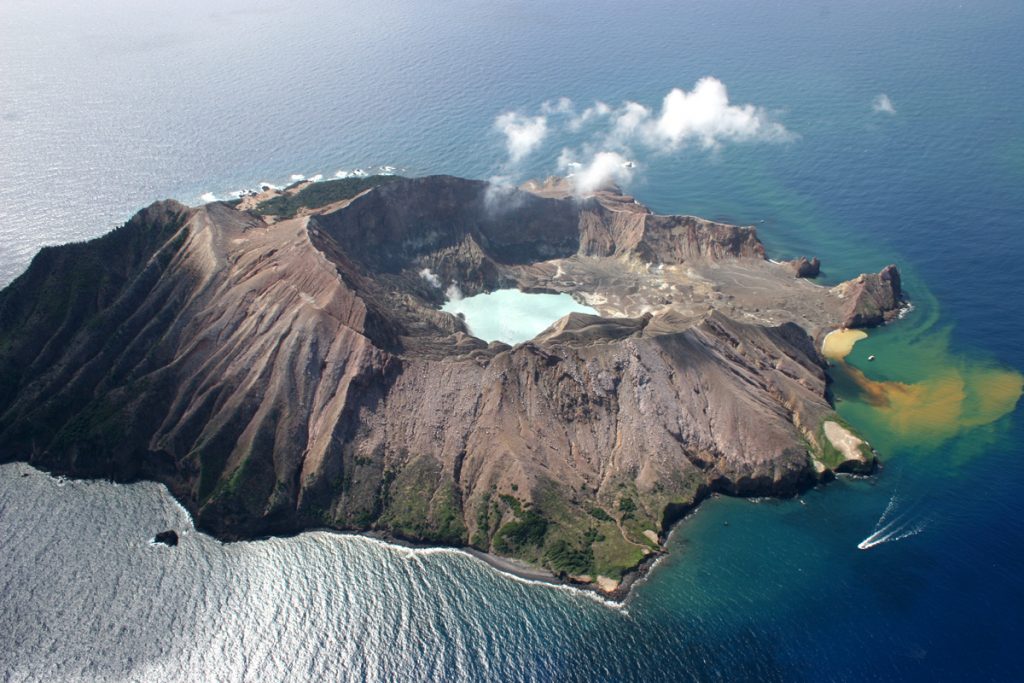 The locatable earthquakes in the series overnight show they started around 6 pm on Sunday evening with a couple of M2.2 events, two more smaller events followed, then a M3.5 event occurred about 30 minutes before the largest event in the series – a M4.1 event at 11.24 pm and 9 km depth. Since then we have located 13 aftershocks that range in magnitude from M1.8 to 2.9. The depths range 4-5 km deep.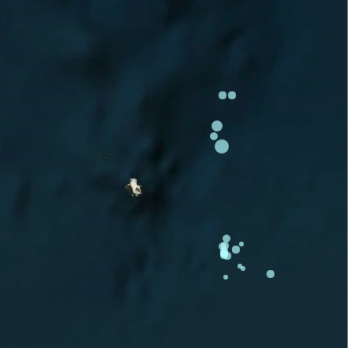 Many active faults are mapped in the offshore Bay of Plenty area; hence it is seismically active and we record numerous earthquakes every year in the area. In the last 12 months, we have located 114 earthquakes in the same area as the earthquakes overnight (see plots above). These have ranged in magnitude from M1.6 to 4.1, while the depths have ranged from around 2-10 km. In the last 5 years there have been 3 earthquakes over M4.0 in the same area.
Source : Geonet
Turrialba , Poas , Rincon de la Vieja , Costa Rica :
Daily report on the activity of the volcanoes Poás, Turrialba and Rincón de la Vieja: October 29, 2017
Turrialba Volcano: activity over the last 24 hours:
Observations made on the webcam located at the top of the volcano show a constant degassing. The seismogram at the VTUN station indicates that the simit activity has been maintained; with low amplitude volcanic earthquakes and sporadic volcanic tremors, also of low amplitude.
The winds are oriented from the South to the North-West with a variable speed less than 10 Km / h (observation made in the weather station of the Turrialba Volcano IMN).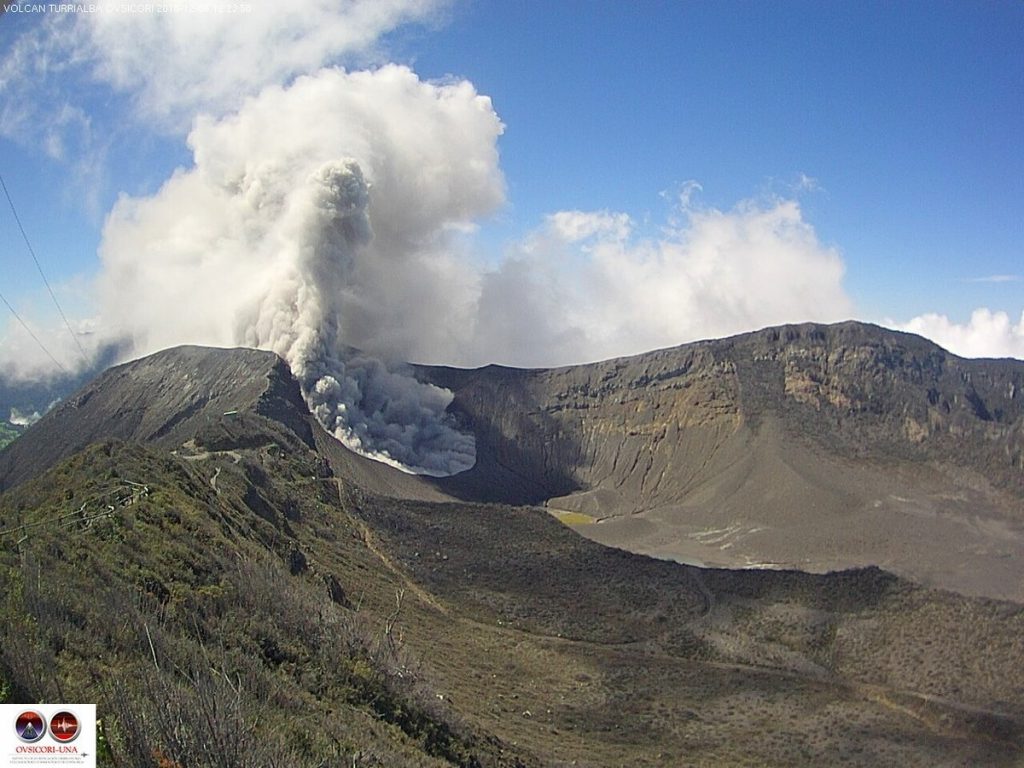 Volcano Poás: activity over the last 24 hours:
The quantity of volcanic earthquakes is very low and the degassing continues.
The IMN weather station located on the Poás volcano indicates that the winds come from the northwest at 6 km / h
Rincón de la Vieja Volcano: activity over the last 24 hours:
The observation of the seismogram at the VRLE station located on the Rincón de la Vieja volcano shows no relevant activity; like what was observed in the cams pointed up
of the volcano.
OVSICORI-UNA remains vigilant on seismic and volcanic activity.
Source : Ovsicori