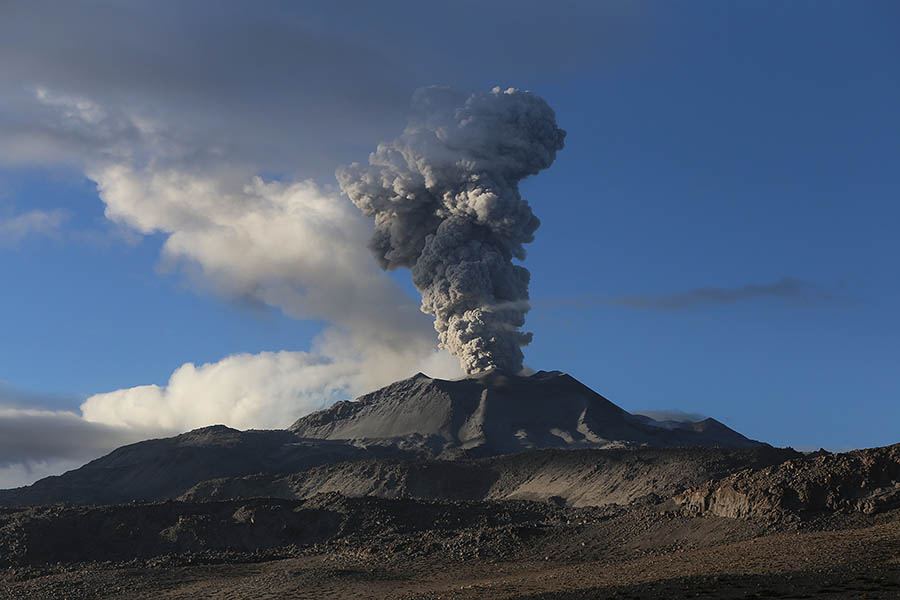 October 24 ,  2017.
 
Sabancaya , Peru :
Explosive activity increased slightly during the week, compared with the previous week, averaging 47 events per day. In the same way, the activity of  Tremor type (ash emissions) has increased approximately 3 hours per day. The dominance of earthquakes related to the movement of fluids (long-period type) continues, while the events that indicate the rise of magma (hybrid type) still maintain a low activity. 
The eruptive columns of gas and ash increased compared to the previous week, reaching a maximum height of about 3800 m above the crater. The dispersion of these materials occurred within a radius of about 60 km, mainly to the northeast, east and southeast.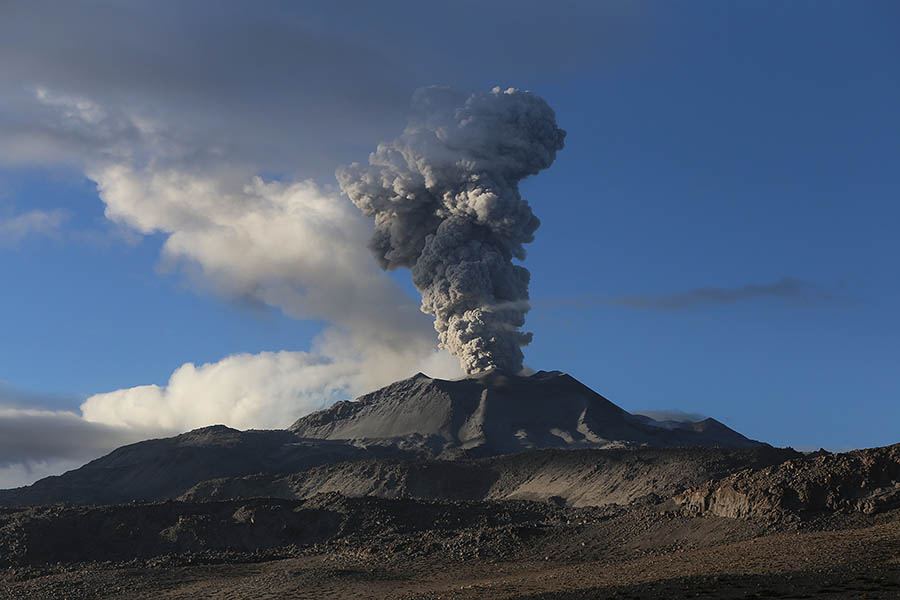 
The control of the deformation of the SBS GNSS station during the last period did not show any significant changes. 
The volcanic gas (SO2) flow recorded a peak value of 2196 tonnes / day on October 16th, a value considered large. 
The MIROVA system has detected up to 4 thermal anomalies, with VRP values ​​(Irradiated Volcano Energy) between 2 MW and 31 MW.
Eruptive activity showed a slight increase over the previous week. This level can be maintained for the next few days.
Source : IGP
Photo : Photovolcanica ( http://www.photovolcanica.com. ).
Stromboli , Italy :
A strong explosion occurred at the volcano this afternoon ( 23/10) at 16:04:40 local time. An ash plume of several hundred meters was produced that quickly dissipated.
Bombs were landing on a vast area around the crater terrace including the viewing area on Pizzo, but fortunately, it seems that no people were there at the time of the eruption.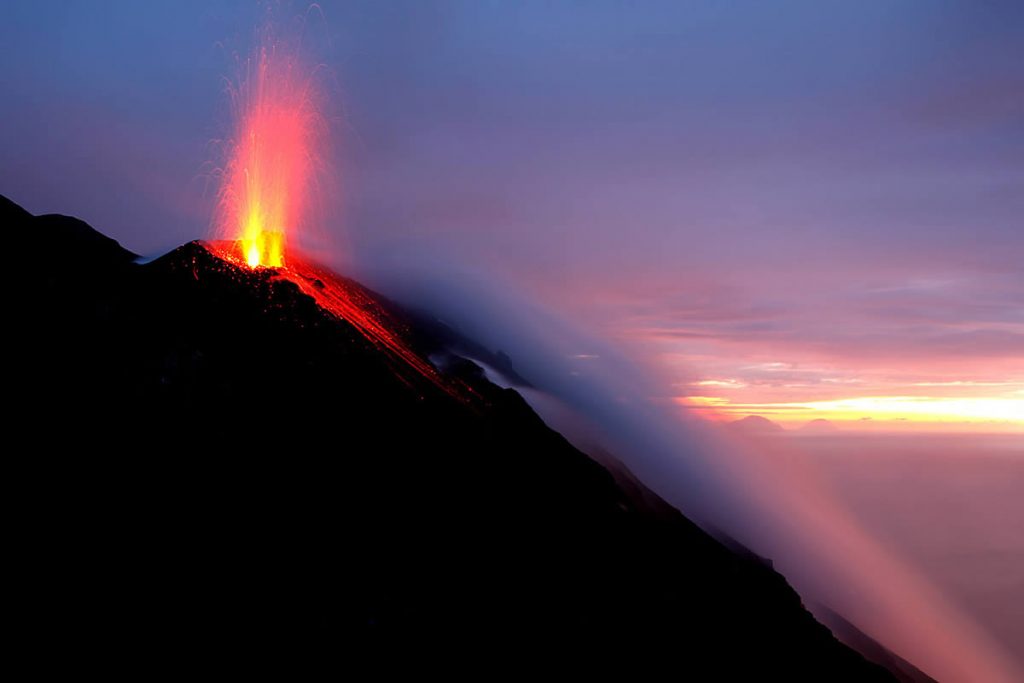 It appears that there were no significant precursors to the event which illustrates that even during periods of relatively low activity, Stromboli volcano can be dangerous. There are no reports of damage or injuries.
Source : Volcanodiscovery ( T Pfeiffer ) https://www.volcanodiscovery.com.
Photo : iles éoliennes infos.
Sinabung , Indonesia :
Level of activity Level 4 (AWAS). The Sinabung (2460 m altitude) since yesterday until this morning was visually observed clear until the arrival of fog. Crater smoke is observed up to 100-500 m. altitude and winds disperses it to the East, the Southeast, and the South. By seismographs and visual recordings it was noted 2 eruptions / emissions. The eruption columns observed were greyish and rose up to 1500 m above the peak, facing south. 81 hot cloud descents were observed, up to 500-2000 m to the east, south-east and south.
Dams on the Laborus River, formed by the accumulation of sediments from warm clouds, can potentially cause lahars or floods if these dams give way.
Recommendations:
Community / visitors should not do activities within 3 km of the summit, and by sector around the summit 7 km to the South-East, 6 km to the East-South-East. and 4 km to the northeast.
VOLCANO OBSERVATORY NOTICE FOR AVIATION – VONA.
Issued: 20171024/0314Z
Volcano: Sinabung (261080)
Current Aviation Colour Code: ORANGE
Previous Aviation Colour Code: orange
Source: Sinabung Volcano Observatory
Notice Number: 2017SIN582
Volcano Location: N 03 deg 10 min 12 sec E 98 deg 23 min 31 sec
Area: North Sumatra, Indonesia
Summit Elevation: 7872 FT (2460 M)
Volcanic Activity Summary:
Hot cloud avalanches with ash clouds at 02:59 UTC (09:59 local time). The eruption lasted for 615 seconds
Volcanic Cloud Height:
Best estimate of ash-cloud top is around 14272 FT (4460 M) above sea level, may be higher than what can be observed clearly. Source of height data: ground observer.
Other Volcanic Cloud Information:
Ash cloud is moving to East
Remarks:
Seismic activity is characterized by the Deep Volcanic Earthquake, Low Frequency Earthquake, and Hybrid Earthquake. Hot clouds is observed through the East-Southeast slope and reaches a distance of 4500 meters from the summit.
Source : VSI / Magma.
Photo : Endro Lewa
Soufrière Hills , Montserrat :
MVO Weekly Report for the Period 13 to 20 October 2017
Activity at the Soufrière Hills Volcano remains low.
The seismic network recorded no volcanic earthquakes this week.
No measurements of the SO2 flux have been made since 14 September.
The smell of volcanic gases has been noticeable at times during the week when the volcanic plume was blown over inhabited areas.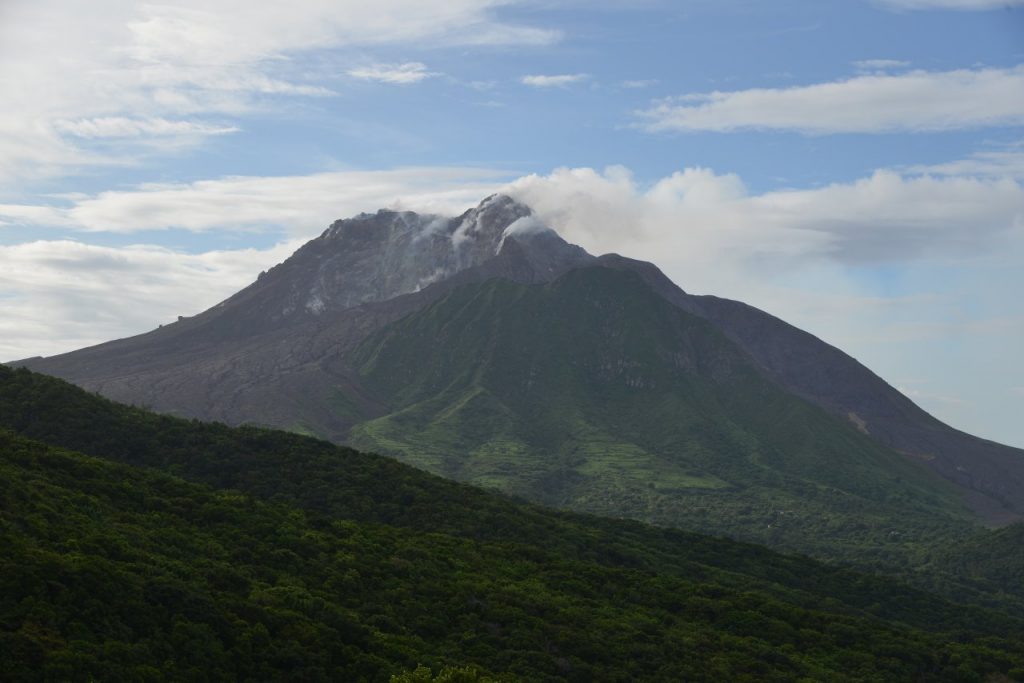 Pyroclastic flows can occur at any time without warning on any side of the volcano, including Gages from where they can travel rapidly into Plymouth. Tracks across the Belham Valley can be destroyed or heavily modified by flash flooding or lahars, and caution should be exercised crossing the valley during and after rainfall.
The Hazard Level is 1. There is no public access to Zone V, including Plymouth. Maritime Zones E and W are daytime transit only between sunrise and sunset (boats may sail through the zone but must not stop). Anyone who ignores these restrictions is liable to be prosecuted.
Source : MVO