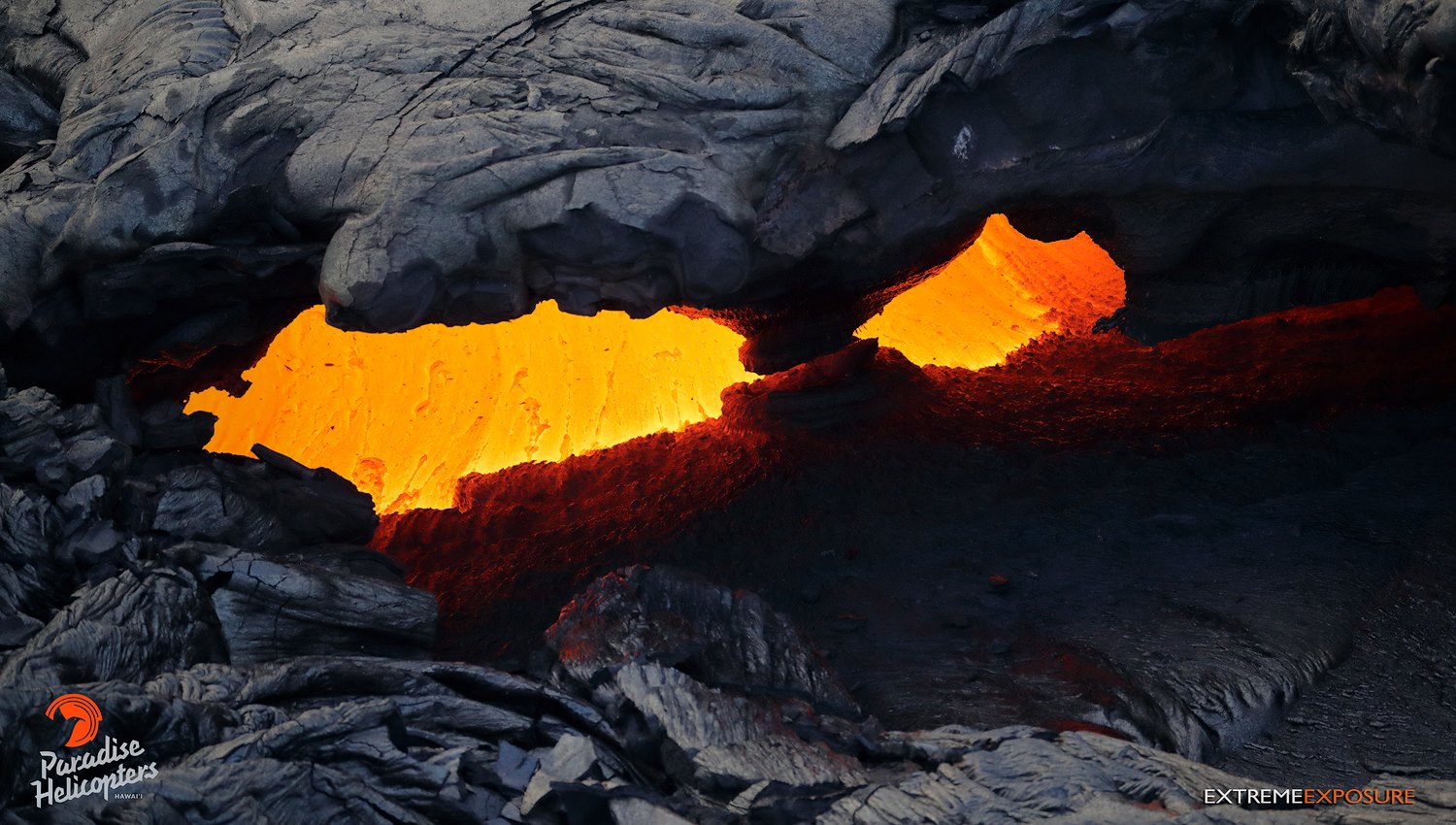 October 23 , 2017.
Kilauea , Hawaï :
19°25'16 » N 155°17'13 » W,
Summit Elevation 4091 ft (1247 m)
Current Volcano Alert Level: WATCH
Current Aviation Color Code: ORANGE
Activity Summary:
Kīlauea Volcano continues to erupt at its summit and from the Puʻu ʻŌʻō vent on its East Rift Zone. The episode 61g lava flow is still entering the ocean at Kamokuna and producing scattered surface flow activity. These lava flows pose no threat to nearby communities at this time. The height of the lava lake at Kīlauea's summit has risen very slightly since it was measured at about 36 m (120 ft) below the Overlook crater rim Wednesday afternoon. There have been no significant changes in ground deformation or seismicity rates across the volcano.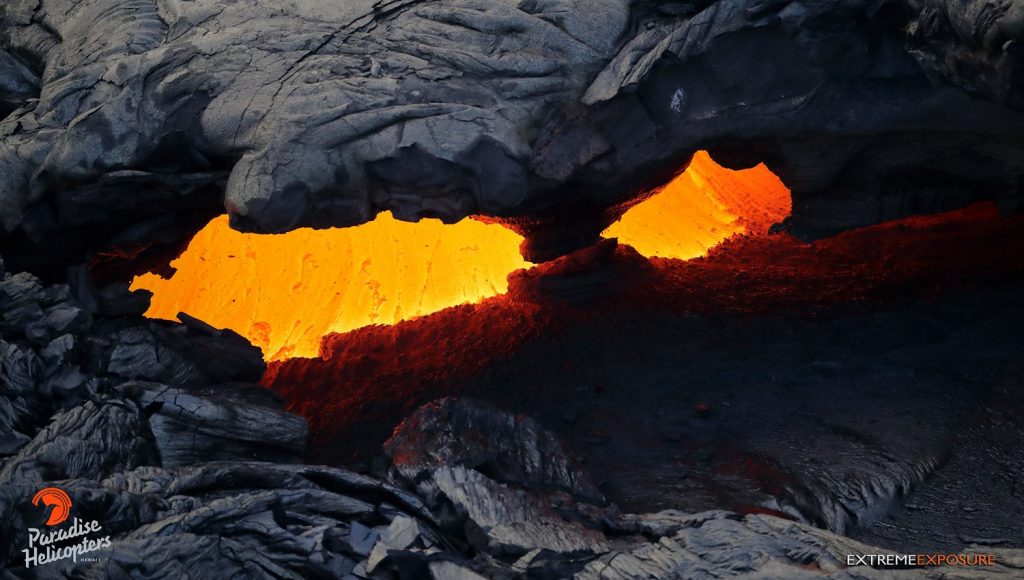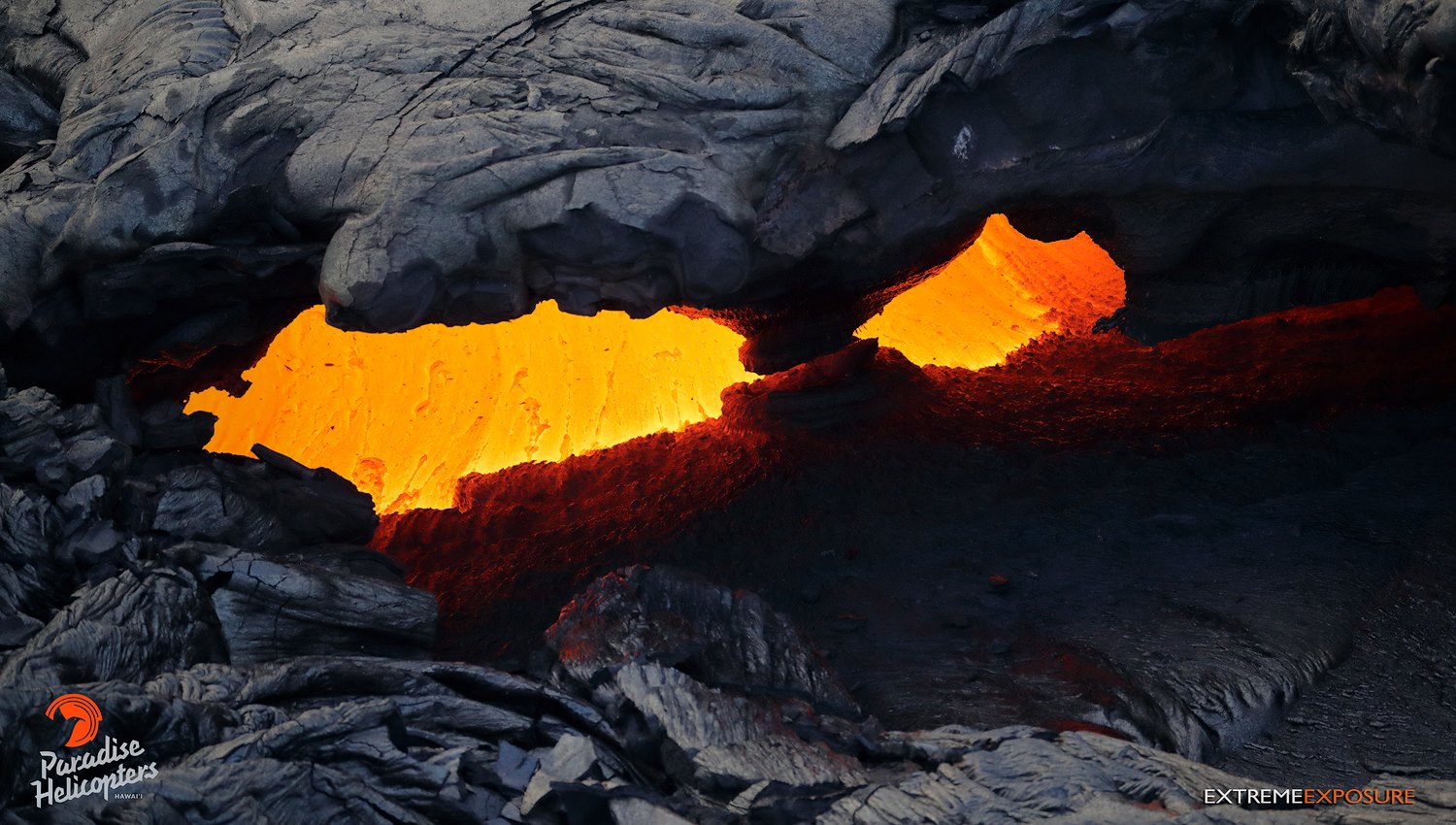 Summit Observations:
No significant change in ground tilt was recorded by summit tiltmeters in the past several days, but there was a slight inflationary signal late yesterday evening, coinciding with a slight rise in lava lake level. The height of the lava lake was last measured at about 36 m (120 ft) below the rim of the Overlook crater on Wednesday afternoon, and is only slightly higher this morning. Measured sulfur dioxide gas emission rates continue to be high and ranged between roughly 2,500 and 5,400 metric tons/day over the past week. Seismicity rates were at normal, background levels, with tremor fluctuations related to lava lake spattering. Webcam views of the lava lake can be found at http://hvo.wr.usgs.gov/cams/region_kism.php.
Puʻu ʻŌʻō Observations:
In the past day, seismic activity has continued at normal, background rates and no significant ground tilt was recorded by a nearby tiltmeter. Webcams show persistent glow from long-term sources within the crater and from a small lava pond on the west side of the crater. The sulfur dioxide emission rates from the East Rift Zone vents have been steady over the past several months, and remain significantly lower than the summit emissions.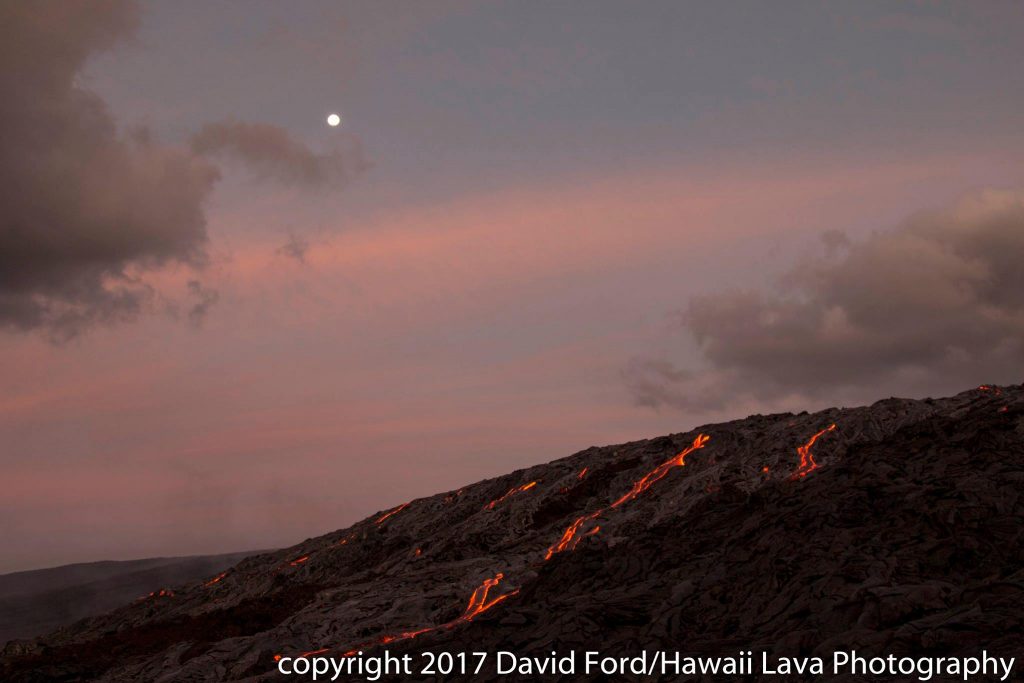 Lava Flow Observations:
Lava from the episode 61g flow continues to flow down the pali and onto the Kamokuna delta. Webcam views during the past day showed that surface flow activity on the upper flow field and small breakouts on the coastal plain remained active. At the ocean entry, the plume was visible intermittently in the webcam. When the plume is not visible, it indicates one of three possible scenarios: 1) if the plume is weak, it may not be seen on the webcam (even though lava is still entering the ocean) if there are strong winds because it becomes too diffuse to see or stays below the see cliff; or 2) if there is no plume, then lava has stopped entering the ocean, but there may still be lava flow activity on the delta or lava falls on the sea cliff or 3) there is no plume because there is no lava activity on the delta or entering the ocean. The episode 61g flows do not pose a threat to nearby communities at this time.
Source : HVO
Photos : Bruce Omori , David Ford.
Reventador , Ecuador :
REVENTADOR VOLCANO ACTIVITY REPORT N ° 295 Sunday 22 October 2017
SUMMARY OF THE ACTIVITY OF THE VOLCANO:
The volcano maintains a high eruptive activity. Emissions of gas and ash have been observed, accompanied by avalanches of incandescent blocks along all sides of the volcano. No rain was recorded.
TECHNICAL ANNEX AND COMMENTS
Seismicity:
Since 11:00 (TL) yesterday until 11:00 (TL) today, 8 episodes of emission tremor (ERT), 2 episodes of harmonic tremor (TRA), 31 long period type events (LP) and 22 explosions have have been registered (EXP).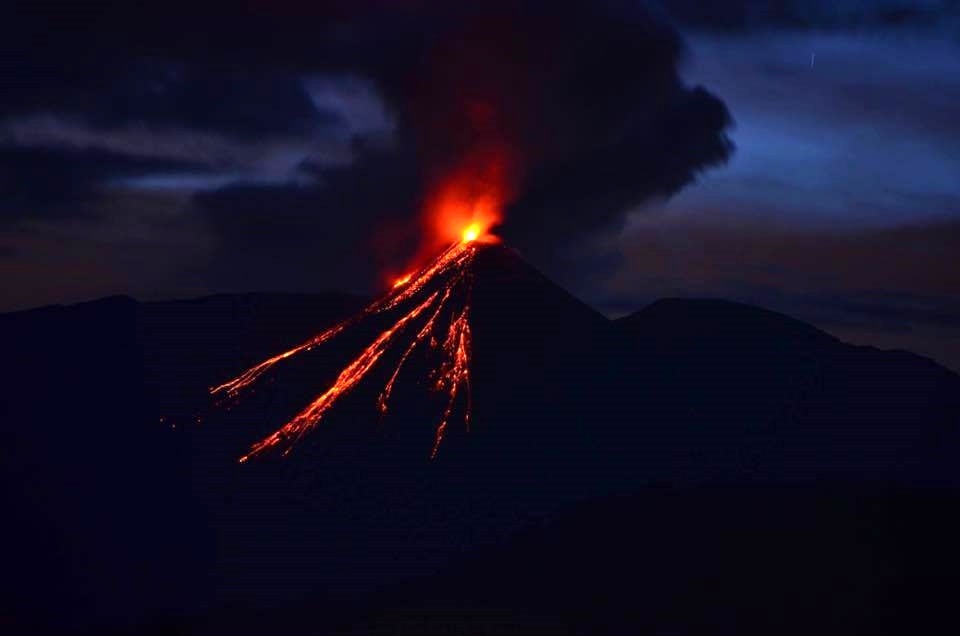 Observations, emissions and ashes:
In the afternoon, steam and ash emissions were observed up to 500 meters above the crater level, oriented West. During the night and early in the morning the area was overcast and several explosions that generated crater glow were observed. In addition, incandescent blocks descended up to 800 meters below the crater, on all sides of the volcano. At this moment the area of ​​the volcano is cloudy.
Rains and lahars:
No rain was recorded.
GENERAL INFORMATIONS
• This daily report will be issued at 12:00 (TL) and as long as the level of activity of the volcano justifies it. In the event of an increase or change in the behavior of the volcano, a special report will be published immediately.
Source: IGEPN
Photo : Juan Carlos.
Tinakula , Salomon Islands :
No timeline for Tinakula volcano eruption.
22 OCTOBER 2017. There are no predictions on when the eruption of the Tinakula volcano in Temotu Province will stop.
The volcano sent black ash into nearby communities when it started erupting early Saturday morning, and authorities do not have a scientific way to monitor the situation and determine when it will end, according to Loti Yates, director of the National Disaster Management Office.
"From what we know currently, the danger of the volcano's impact on Santa Cruz is very small or very limited," Mr Yates said. He said ashfall in nearby communities and effects of the ash on civil aviation are the main concerns. An aviation warning was issued on Saturday for the Santa Cruz Islands.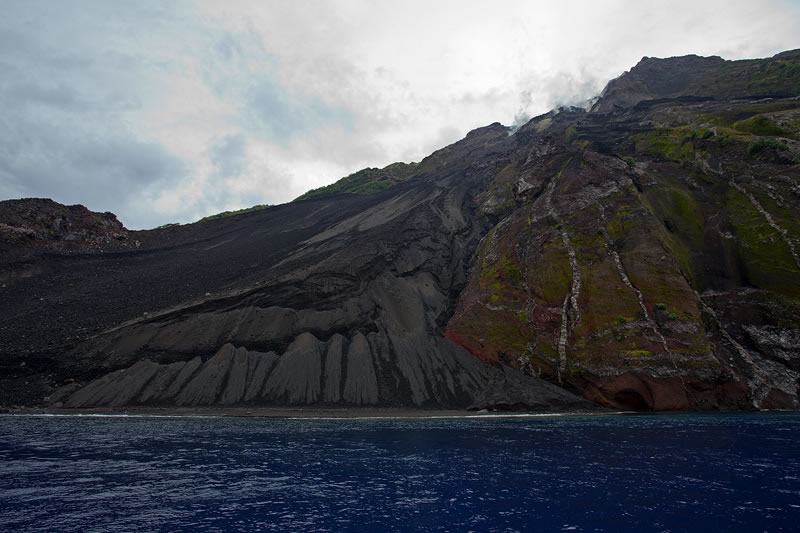 Mr Yates said ashfall is expected to continue for the duration of the eruption. He advised residents in the area to take steps to minimise the harmful effects of sharp particles in the ash, which can irritate the skin and other parts of the body.
"As much as possible, people need to stay indoors," he said. Mr Yates said windows and doors should be closed to prevent ash from coming inside. He said when outside, people should breathe into a mask or handkerchief and wear protective clothing and glasses.
To protect water supplies, Mr Yates recommended covering water tank inlets and disconnecting gutters and downpipes. Other precautions include washing vegetables from the garden thoroughly to remove ash, not using air conditioners, and sweeping ashes off roofs to prevent them from collapsing.
Mr Yates said his office plans to collaborate with Lata police on the ground in the area and the Ministry of Health in Lata to raise awareness about how communities should respond to the situation.
Source : SIBC ONLINE
Photo : Living océan fondation
Agung , Indonesia :
Bali's Mount Agung has been on the highest alert level for just over a month now and despite declining seismic activity, the volcano remains a level IV, as of Monday morning.
Volcanologists are keeping Agung on level IV, based on a comprehensive analysis of various parameters, including seismic activity, deformation, geochemical activity, and satellite imagery, according to Kasbani, head of the Volcanology and Geology Disaster Mitigation Agency (PVMBG).
"Although the activity has declined, it (seismicity) remained high, Antara Bali quoted Kasbani as saying.
In the past month since the alert level was raised to level IV for Agung on Sept. 22, seismic activity has greatly fluctuated, with the highest frequency being 1,047, but on Friday, Oct. 20, just 379 volcanic earthquakes were recorded.
But eruptions elsewhere on the Indonesian archipelago are another factor that have volcanologists hesitant to downgrade Agung. Mount Merapi in Central Java erupted in 2006 after seismic activity had been low, while Mount Sinabung in Sumatra erupted in 2013 after its status was reduced to level III, according to Kasbani.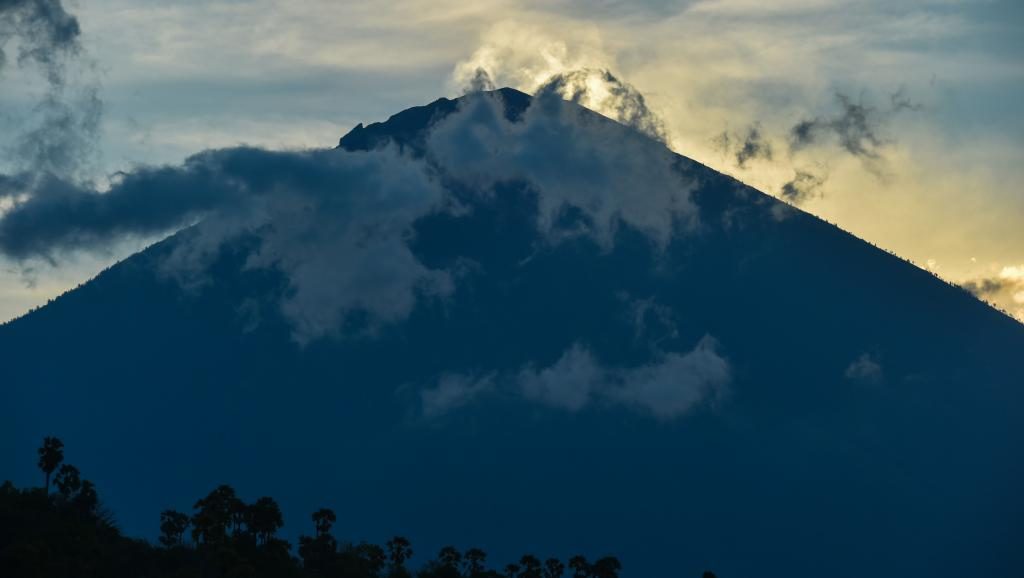 And visual observation has shown significant structural change at Agung, including cracks at the crater. White steam clouds going up into the sky, 100 to 500 meters high, have bee observed, along with the formation of new hot areas on the northeastern and central part of Agung's crater surface.
Satellite imagery additionally showed water coming out from the crater, suggesting a hydrologic disturbance deep inside Agung, due to the movement of magma.
Kasbani also said that GPS readings showed Agung experienced volcanic inflation at its peak, with an increase of as much as six centimeters, from September to October 2017, so far.
All this has led analysts to believe an eruption from Agung is more likely no eruption, it's just a matter of when.
As long as Agung remains on the highest alert level for an eruption, tens of thousands of evacuees who fled their homes from inside the danger zone of 12 kilometers from Agung's crater must live as refugees. The government has declared a state of emergency to handle evacuees from Agung and will keep extending the status if Agung continues to be a level IV.
Source: Coconuts.co