October 17 , 2017.
 
Shinmoedake , Japan :
No-go zone around Kyushu volcano expanded .
16 OCTOBER 2017. The government expanded the no-go zone around Mt Shinmoedake in Kyushu on Sunday as volcanic activities intensified.
The Japan Meteorological Agency issued a warning to stay at least 3 kilometers away from the crater of the 1,421-meter volcano straddling Kagoshima and Miyazaki prefectures which erupted Wednesday and continues to spew ash.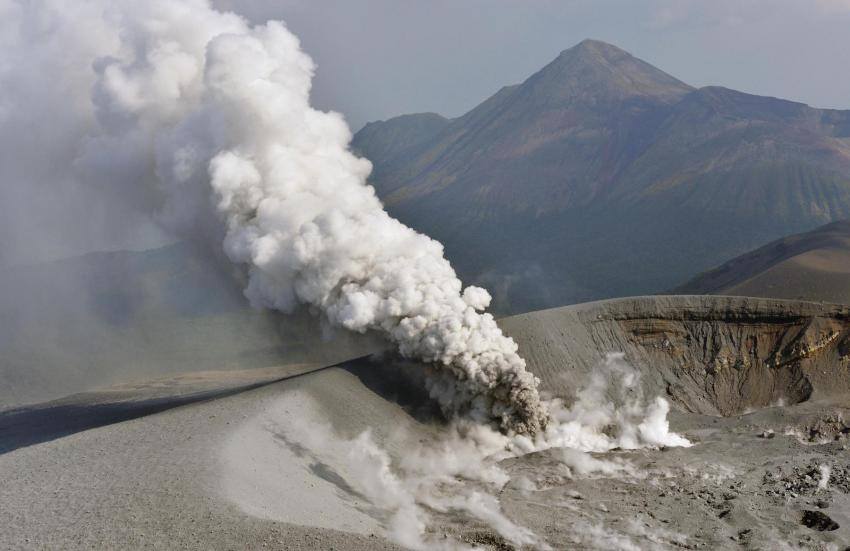 The latest warning follows a significant increase in volcanic gas emitted, the agency said, warning of a possible escalation of eruptions. Mt Shinmoedake last erupted in 2011.
Source : Japan today
Photo : Tomoaki Ito /Associated Press
Sabancaya , Peru :
The explosive activity maintained an average similar to that recorded the previous week (41 events per day). The predominance of earthquakes related to the movement of fluids is continuing (Long period type). Events that indicate the rise of magma (hybrids) and ash emissions (tremor) maintain a low level of activity. Friday 13, a major seismic activity near the Sabancaya (5 km north-northeast of the volcano), associated with rock fracturing was recorded.
The eruptive columns of gas and ash have decreased slightly from the previous week, reaching a maximum height of about 3100 m above the crater. The dispersal of this material occurred in a radius of more than 35 km, mainly in the south and south-east direction.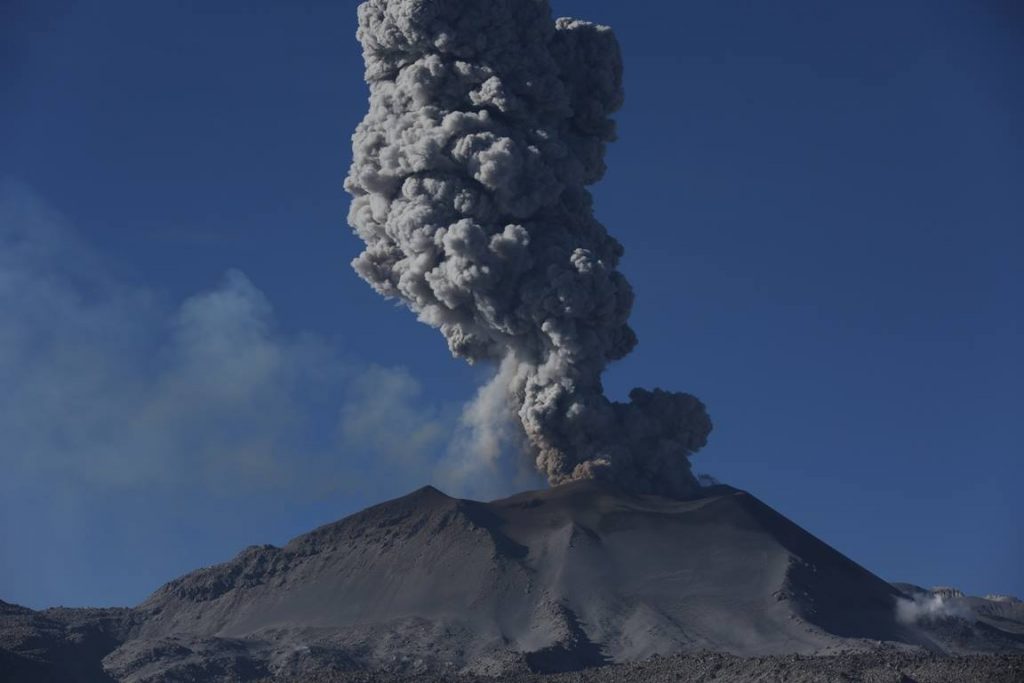 
Monitoring of soil deformation at the GNSS SBSE during this period did not record any significant changes. 
The volume of volcanic gas (SO2) recorded a maximum value of 2313 tonnes / day on October 15, considered large. 
The MIROVA satellite system detected up to 4 thermal anomalies with Irradiated Volcanic Power (VRP) values ​​between 1 MW and 24 MW.
Eruptive activity maintained levels similar to those recorded the previous week. No major changes are expected in the coming days
Source : IGP
Sinabung , Indonésia :
Level of activity : level 4 (AWAS). The Sinabung (2460 m altitude) since yesterday and until this morning was visually observed clearly until the appearance of the mist. Smoke from the crater was not observed. The wind was blowing towards the east. No eruption / vertical emission was recorded. It was observed 8 descent of warm clouds in the direction of Selatran up to 1500-2000 m of Puncak.
The Laborus River dams formed by the accumulation of hot cloud deposits can still cause lahars or floods if they collapse.
recommendations:
Communities / visitors should not operate within a radius of 3 km around the summit, and by sector around the summit, up to 7 km south – south – east, up to 6 km to the east -South-East and 4 km to the Northeast.
Considering the formation of a dam upstream on the Laborus River, people living in downstream river basins must remain vigilant because these dams may collapse at any time and not retain the volume of water, downstream consequences, lahar / flood.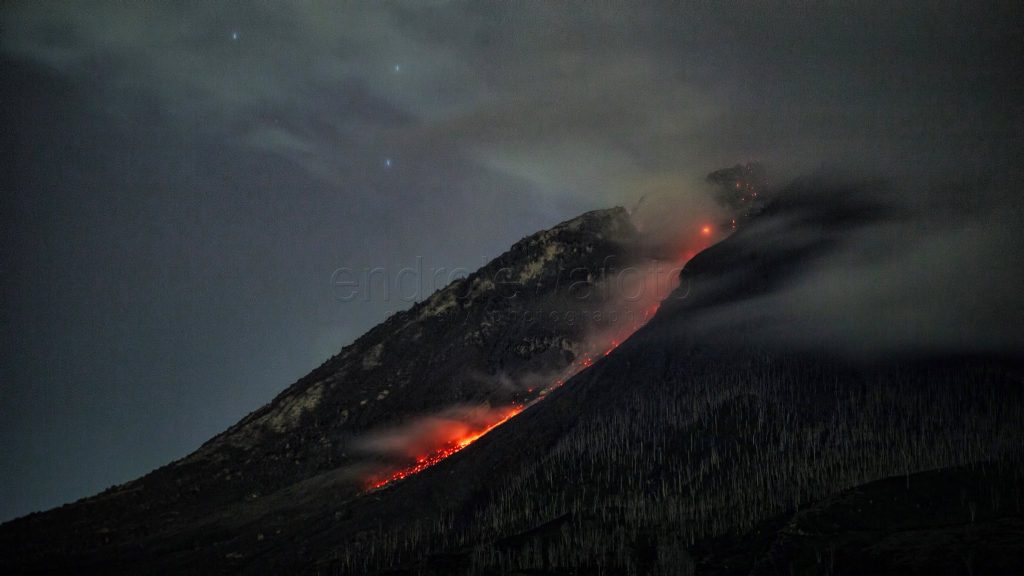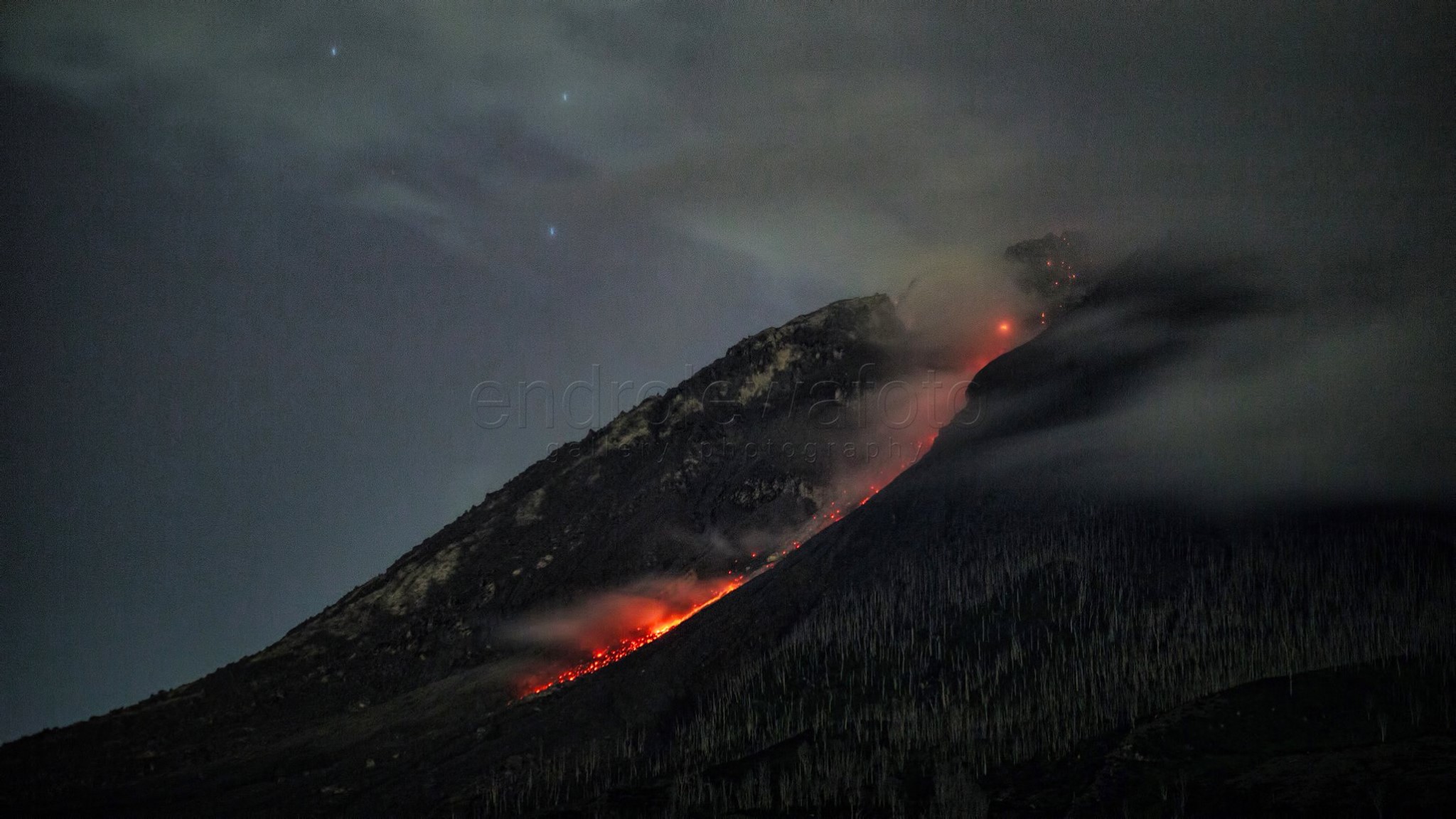 VOLCANO OBSERVATORY NOTICE FOR AVIATION – VONA.
Issued: October 14 , 2017
Volcano: Sinabung (261080)
Current Aviation Colour Code: ORANGE
Previous Aviation Colour Code: orange
Source: Sinabung Volcano Observatory
Notice Number: 2017SIN573
Volcano Location: N 03 deg 10 min 12 sec E 98 deg 23 min 31 sec
Area: North Sumatra, Indonesia
Summit Elevation: 7872 FT (2460 M)
Volcanic Activity Summary:
Eruption with ash clouds at 14h11 UTC on 14/10 (21h11 local time). The eruption lasted for 415 seconds.
Volcanic Cloud Height:
Best estimate of ash-cloud top is around 17472 FT (5460 M) above sea level, may be higher than what can be observed clearly. Source of height data: ground observer.
Other Volcanic Cloud Information:
Ash cloud is moving to East- Southeast
Remarks:
Seismic activity is characterized by the Deep Volcanic Earthquake, Low Frequency Earthquake, and Hybrid Earthquake. Hot clouds is observed through the East-Southeast slope and reaches a distance of 2000 meters and Hot clouds is observed through the South slope and reaches a distance of 1500 meters from the summit.
Source : VSI/ Magma
Photo : Endro Lewa
Misti , Peru : 
Sismo – volcanic monitoring:
• The seismic activity of the Misti volcano maintains low levels.
• Volcano-tectonic (VT) seismic events associated with fracturing of rocks in the volcanic mass occurred less than the previous period (32 VT per day). Over the past two weeks, an average of 18 earthquakes per day has been recorded, representing a reduction of up to 50%. These values ​​are considered normal in the seismic activity of Misti. In addition, the VT energy values ​​are maintained at low levels.
• Long-period (LP) earthquakes associated with volcanic fluids (gas and water vapor) within the volcano were very low during this period. On the other hand, the activity of the Volcanic Tremor showed a very slight increase in the number of events. This activity is below normal values.

Satellite Surveillance:
• Thermal anomalies: The MIROVA system (www.mirova.unito.it) of the University of Turin (Italy) did not detect any thermal anomalies on the Misti volcano during this period (VPR = 0 megawatts).
• SO2 abnormalities: The GSO-NASA satellite system « EOS Aura » (http://so2.gsfc.nasa.gov/) did not record any significant anomalies in the SO2 gas density for the Misti volcano.
CONCLUSIONS
• The volcanic activity of Misti remains weak.
• TV seismicity has decreased. During this period, an average of 18 events per day were reported.
Any changes will be reported in a timely manner.
Source : IGP