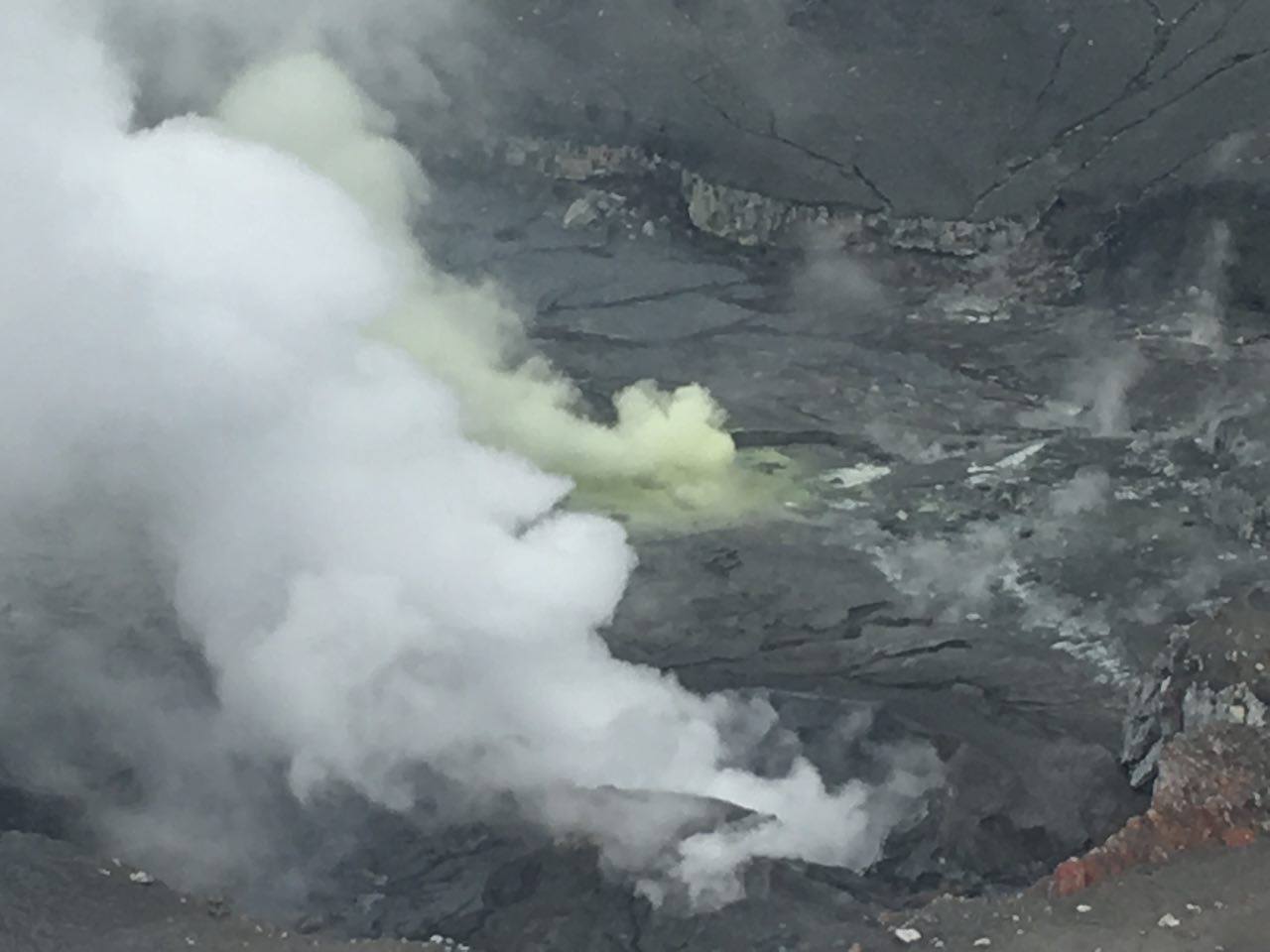 October 14 , 2017. EN.  Poas , Turrialba , Rincon de la Vieja , Irazú , Karymsky , Cleveland .
October 14 , 2017.
 
Poas , Turrialba , Rincon de la Vieja , Irazú , Costa Rica :
Activity report of the Volcanoes Poás, Turrialba and Rincon de la Vieja: 12 October 2017, updated at 13.30 and 13 October, updated at 11.00.
Poas Volcano
In the last 24 hours, the Poás continues with a persistent and passive degassing which generates a column of water vapor, magmatic gases and aerosols whose height oscillates between 200 and 500 m from the bottom of the crater. The plume is scattered near the surface to the northwest-west-southwestern region of the volcano. There is no emission of ash or reports of perception of sulfur odor.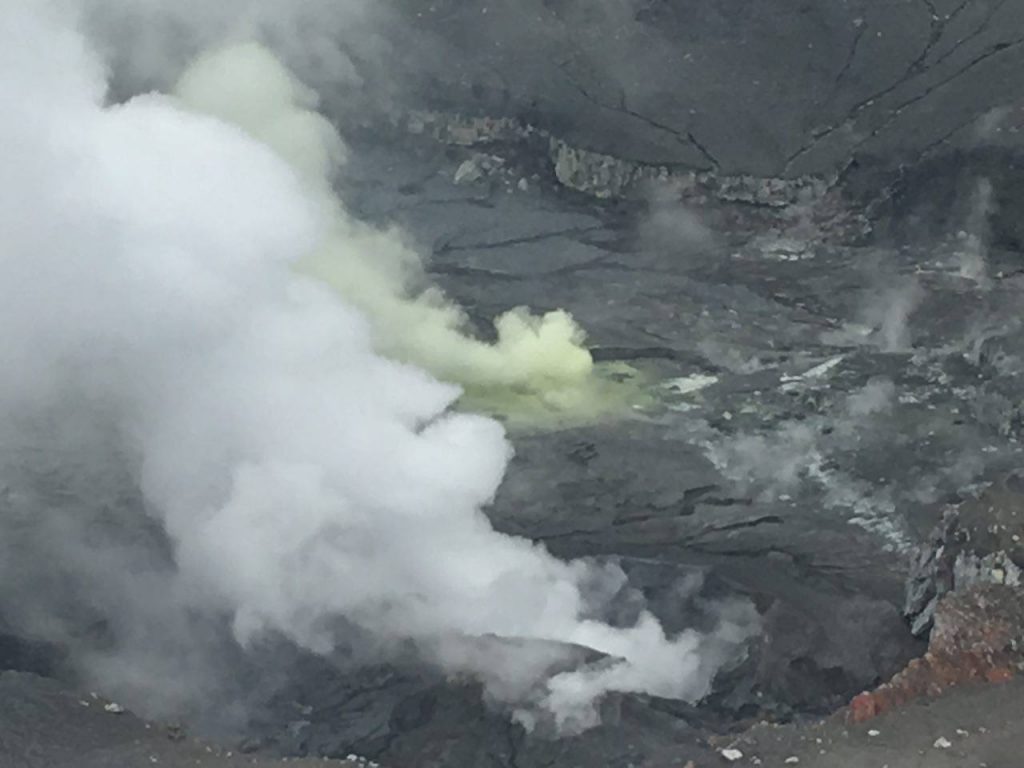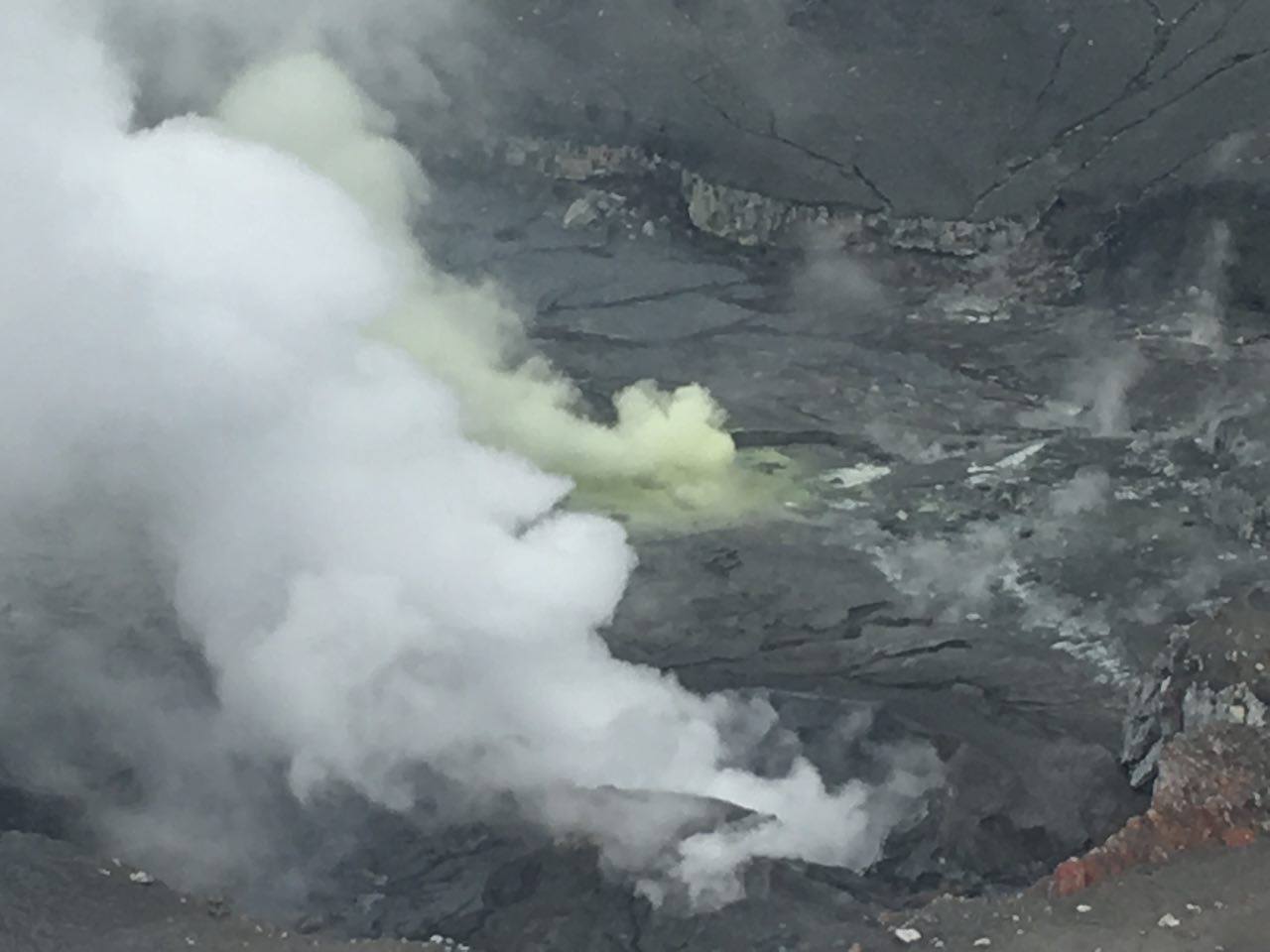 The level of seismic or volcanic activity is so low that it is practically at the level of the ambient and instrumental noise of the seismographs of the volcano Poás.
Turrialba Volcano
The Turrialba continues to show discontinuous volcanic tremors of small amplitude and variable. It also records, in discrete form, LP type earthquakes of low magnitude. The fumaric degassing continues persistently and vigorously as well as the release of a heat flow through the western crater, which continues to show an incandescence during the night.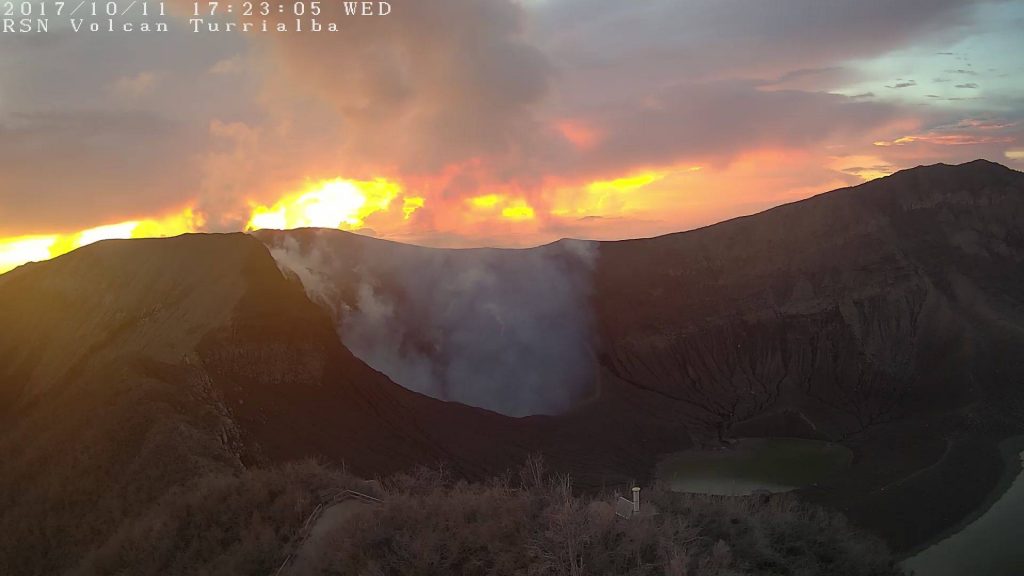 The volcanic plume has a height that fluctuates between 500 and 1000 meters from the bottom of the active crater and is dispersed by winds to the northwest of the volcano. Small amounts of ash spread sporadically during brief episodes.
Rincón de la Vieja Volcano
The Rincón de la Vieja continues to show a passive degassing through the crater where the hyperacid lake is located. A plume of water vapor, gas and aerosols is observed almost constantly above the crater with heights that fluctuate between 100 and 1000 meters. On October 10, 2017 at 23:08, there was an exhalation of steam and gas which generated a plume of about 500 meters of altitude and a small seismic tremor signal in the station VORIS OSIVAM-ICE (Waldo Taylor, Henriette Bakkar, Mauricio Mora, OSIVAM, RSN-ICE-DUC,).

In September and October 2017, the Rincón frequently recorded volcanic tremors that fluctuate between continuous and spasmodic. This tremor is associated with phreatic / phreato-magmatic eruptions and exhalations of steam and gas.
Irazu Volcano
On October 12, 2017 at 2:00 am, the seismographs of the OVSICORI-A, located on the Irazu volcano, detected a seismic signal associated with a landslide. Depending on the amplitude of the signal, it is a slip of smaller dimensions than that which occurred on the northwest flank of Irazú in 2015.
The OVSICORI-UNA remains vigilant on seismic and volcanic activity.
Source : Ovsicori
Karymsky , Kamchatka :
VOLCANO OBSERVATORY NOTICE FOR AVIATION (VONA).
Issued: October 14 , 2017
Volcano : Karymsky (CAVW #300130)
Current Aviation Color Code : ORANGE
Previous Aviation Color Code : orange
Source : KVERT
Notice Number : 2017-250
Volcano Location : N 54 deg 2 min E 159 deg 26 min
Area : Kamchatka, Russia
Summit Elevation : 4874.08 ft (1486 m)
Volcanic Activity Summary:
According to satellite data, the plume of resuspended ash blowing from the vicinity of Karymsky area drift for about 80 km to the east from the volcano.
A moderate activity of the volcano continues. A danger of ash explosions up to 16,400-23,000 ft (5-7 km) a.s.l. is remains. Ongoing activity could affect low-flying aircraft.
Volcanic cloud height:
4920-6560 ft (1500-2000 m) AMSL
Time and method of ash plume/cloud height determination: 20171014/0300Z – Himawari-8
Other volcanic cloud information:
Distance of ash plume/cloud of the volcano: 50 mi (80 km)
Direction of drift of ash plume/cloud of the volcano: E / azimuth 98 deg
Time and method of ash plume/cloud determination: 20171014/0300Z – Himawari-8
Source : Kvert
Photo :  A. Belousov, IVS FEB RAS ( 18/07/2017)
Cleveland , Alaska :
52°49'20 » N 169°56'42 » W,
Summit Elevation 5676 ft (1730 m)
Current Volcano Alert Level: WATCH
Current Aviation Color Code: ORANGE
The eruption of Cleveland volcano continues. The lava dome within the summit crater that was first observed in satellite data on September 30 has doubled in size between October 1 and 11. The current dome covers an area of about 8,300 square meters (9,926 square yards) and has approximate dimensions of 115 by 95 meters. The number and intensity of elevated surface temperatures seen in satellite imagery has declined this week possibly indicating slowed or paused dome growth.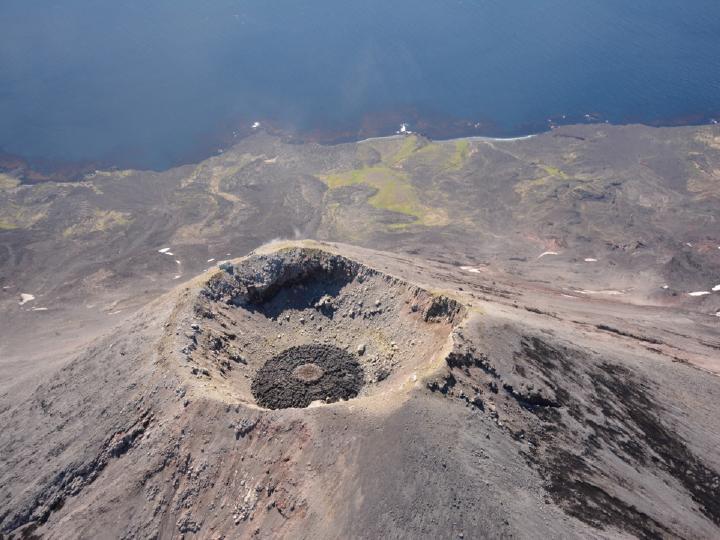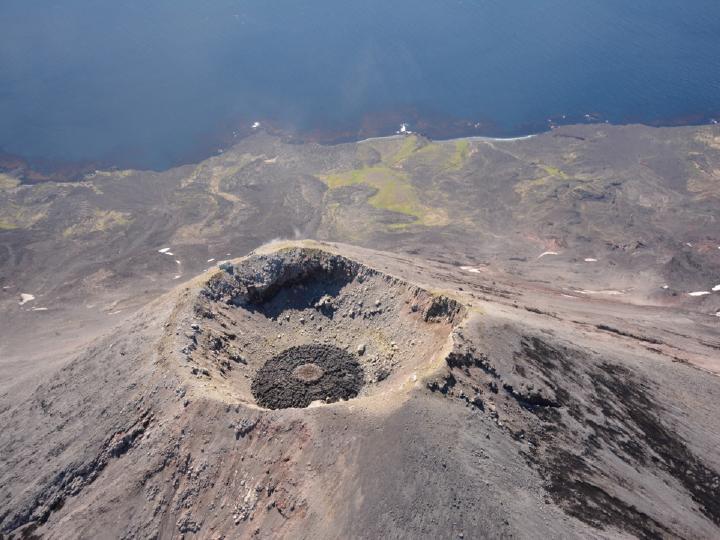 Lava effusion is typically confined to the summit crater at Cleveland, with the last significant lava flow (that extended to the ocean) occurring in 2001. The lava domes that have been erupted since 2001 have all been destroyed by explosive activity within weeks to months after lava effusion. These explosions typically produce relatively small volcanic ash clouds that dissipate within hours, however more significant ash emissions have occurred. There is no way to predict how long this lava dome will grow, or when it might be destroyed by an explosion. No significant activity related to lava effusion was observed in seismic data (from the limited network on Cleveland) and no explosive activity was detected in infrasound data over the past week.
Cleveland volcano is monitored with a limited real-time seismic network, which inhibits AVO's ability to detect precursory unrest that may lead to an explosive eruption. Rapid detection of an ash-producing eruption may be possible using a combination of seismic, infrasound, lightning, and satellite data.
Source : AVO
Photo : Lyons, John; Schmitt, Joe (2015)