October 13 , 2017.
 
Sinabung , Agung , Indonesia :
JAKARTA – Indonesia's Mount Sinabung volcano, located in Karo regency in North Sumatra province, erupted on Thursday (Oct 12) early, sending an ash column as high as 2km into the sky.
A disaster agency senior official said the eruption took place at 2.45 am local time. There was no casualties.
Mount Sinabung, one of Indonesia's 129 active volcanoes, has been on top alert since July 2015.
It has had multiple eruptions in recent months. Residents have been told to stay outside a no-go zone of 7km in radius surrounding the volcano.
In May last year, seven people were killed in one of Sinabung's eruptions, while 16 were killed by similar eruptions in 2014.
VOLCANO OBSERVATORY NOTICE FOR AVIATION – VONA.
Issued: 20171013/0336Z
Volcano: Sinabung (261080)
Current Aviation Colour Code: ORANGE
Previous Aviation Colour Code: orange
Source: Sinabung Volcano Observatory
Notice Number: 2017SIN572
Volcano Location: N 03 deg 10 min 12 sec E 98 deg 23 min 31 sec
Area: North Sumatra, Indonesia
Summit Elevation: 7872 FT (2460 M)
Volcanic Activity Summary:
Eruption with ash clouds at 03:28 UTC (10:28 local time). The eruption lasted for 75 seconds.
Volcanic Cloud Height:
Best estimate of ash-cloud top is around 11392 FT (3560 M) above sea level, may be higher than what can be observed clearly. Source of height data: ground observer.
Other Volcanic Cloud Information:
Ash cloud is moving to East
Remarks:
Seismic activity is characterized by the Deep Volcanic Earthquake, Low Frequency Earthquake, and Hybrid Earthquake. Rock avalanche (Incandescent lava) is not identified.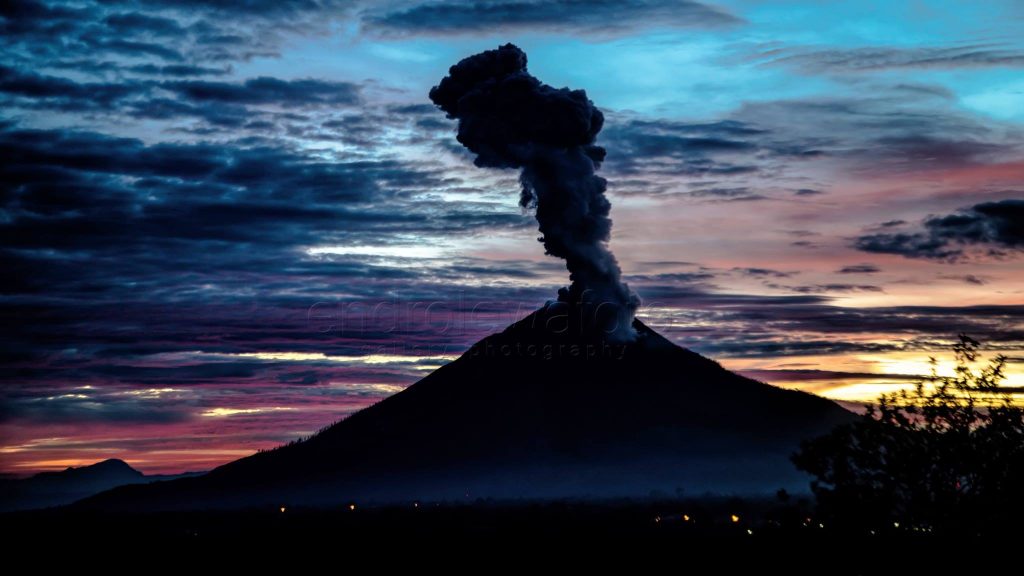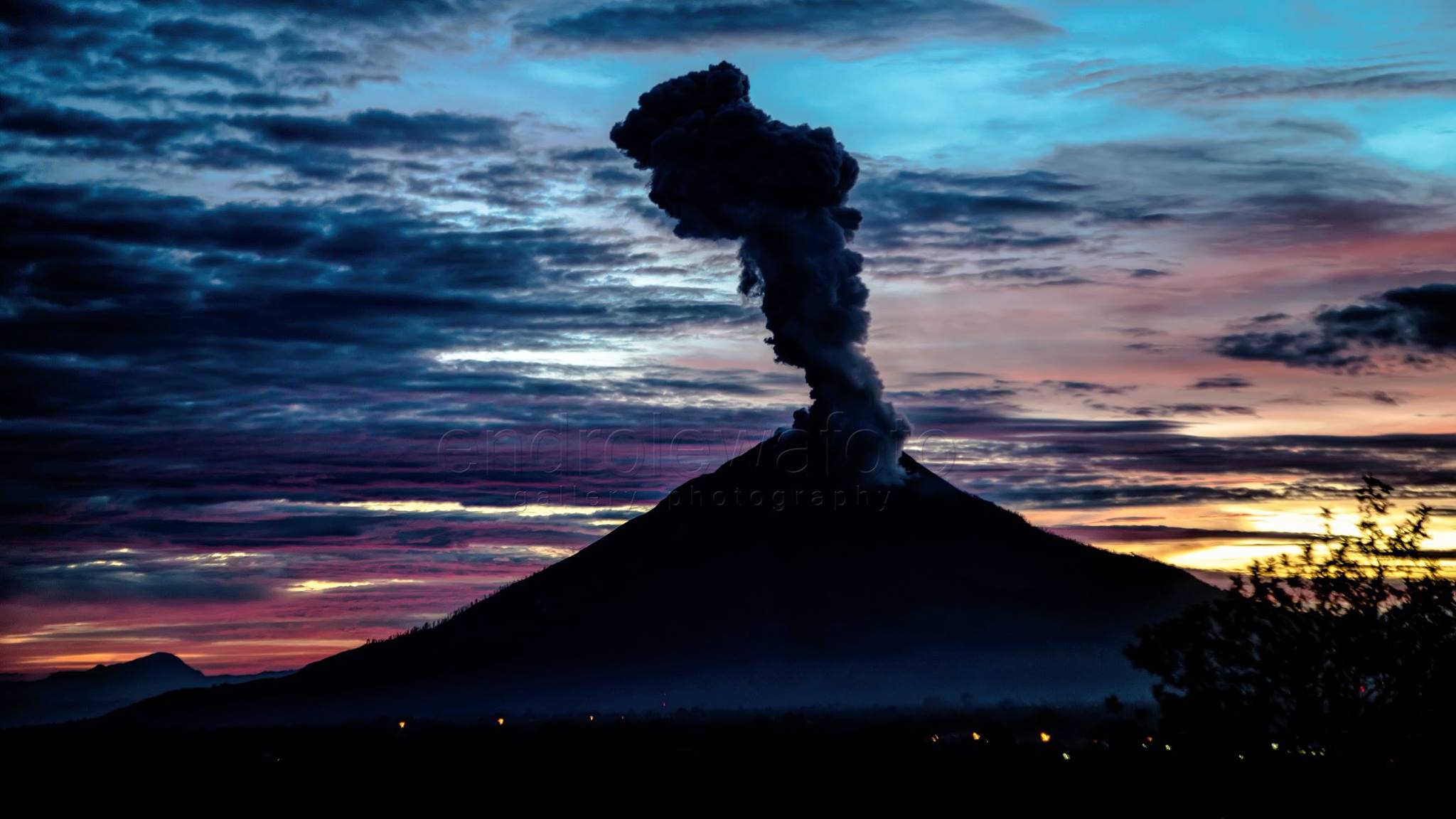 Meanwhile, the popular resort island of Bali remains on heightened alert over the possible eruption of the Mount Agung volcano.
Indonesia's National Disaster Mitigation Agency (BNPB) will be using three kinds of drones to monitor the development of Mount Agung, reported Antara news agency.
The head of BNPB, Willem Rampangilei, told reporters in Karangasem, on Wednesday, that the drones will be used to capture images and footage of the activity inside the crater and areas surrounding the volcano, the highest peak in Bali.
According to the Head of Volcano Mitigation of PVMBG, Gede Suantika, using drones to monitor the volcano will help get the details on the colour of smoke rising from the crater.
The volcanic fumes are usually white, gray, yellow, or even dark, he explained.
« The dark colour signals the presence of volcanic ash » .
Recommendation: Communities around G. Agung and climbers / visitors / tourists should not climb or engage in any activity in the hazardous area located from the G. Agung crater within a 9 km radius around the upper crater of G. Agung with a sectoral extension north-north-east, south-east and south-south-west for 12 km.
Source : straitstimes.com , VSI.
Sheveluch , Kamchatka :
VOLCANO OBSERVATORY NOTICE FOR AVIATION (VONA).
Issued: October 13 , 2017
Volcano:Sheveluch (CAVW #300270)
Current Aviation Color Code:ORANGE
Previous Aviation Color Code:orange
Source:KVERT
Notice Number:2017-249
Volcano Location:N 56 deg 38 min E 161 deg 18 min
Area:Kamchatka, Russia
Summit Elevation:10768.24 ft (3283 m), the dome elevation ~8200 ft (2500 m)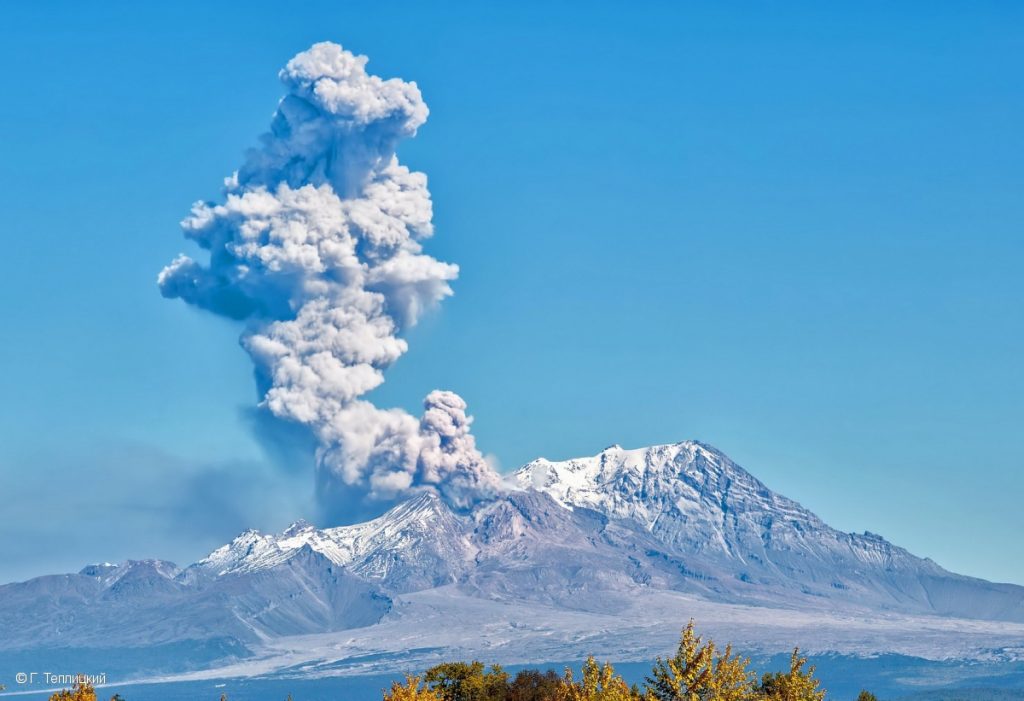 Volcanic Activity Summary:
According to satellite data, the plume of resuspended ash blowing from the vicinity of the volcano area continues to drift for about 230 km to the east from the volcano.
Explosive-extrusive eruption of the volcano continues. Ash explosions up to 32,800-49,200 ft (10-15 km) a.s.l. could occur at any time. Ongoing activity could affect international and low-flying aircraft.
Volcanic cloud height:
4920-6560 ft (1500-2000 m) AMSL
Time and method of ash plume/cloud height determination: 20171013/0250Z – Himawari-8
Other volcanic cloud information:
Distance of ash plume/cloud of the volcano: 143 mi (230 km)
Direction of drift of ash plume/cloud of the volcano: E / azimuth 92 deg
Time and method of ash plume/cloud determination: 20171013/0250Z – Himawari-8
Start time of explosion and how determined: 20171012/1530Z – Satellite data
Source : Kvert
Photo : G. Teplitsky
Kilauea , Hawai :
19°25'16 » N 155°17'13 » W,
Summit Elevation 4091 ft (1247 m)
Current Volcano Alert Level: WATCH
Current Aviation Color Code: ORANGE
Activity Summary:
Kīlauea Volcano continues to erupt at its summit and from the Puʻu ʻŌʻō vent on its East Rift Zone. The episode 61g lava flow is still entering the ocean at Kamokuna and producing scattered surface flow activity. These lava flows pose no threat to nearby communities at this time. The height of the lava lake at Kīlauea's summit changed very little over the past several days and is about 33 m (108 ft) below the Overlook crater rim. Low rates of ground surface deformations and seismic activity persist across the volcano.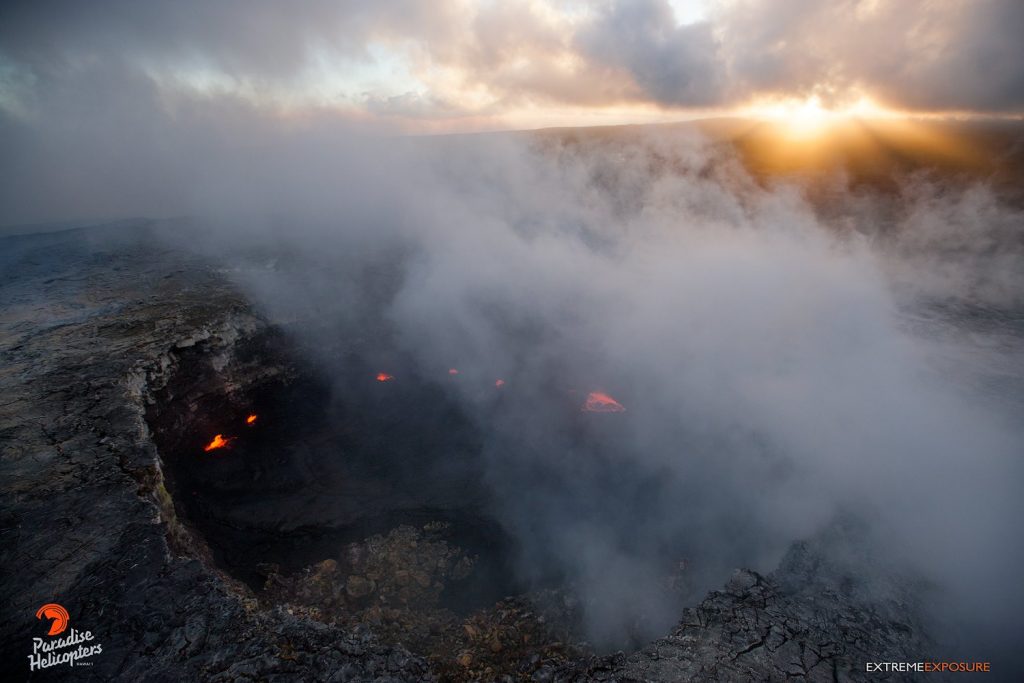 Above the Pu'u 'O'o at sunset. The sun sets behind the world's largest active volcano, Mauna Loa, with the world's most active volcano, Kilauea, in the foreground
Summit Observations:
The lava lake within the Overlook crater remains active, with only minor fluctuations in its height over the past several days. Yesterday afternoon, it was again measured to be 33 m (108 ft) below the adjacent Halemaʻumaʻu floor and has changed little since that time. Summit tiltmeters have similarly shown insignificant changes in ground slope since completion of the most recent summit DI cycle on September 27. Measured sulfur dioxide gas emission rates continue to be high and ranged between roughly 2500 and 5400 metric tons/day over the past week. Seismicity rates have been low, with tremor fluctuations related to lava lake spattering.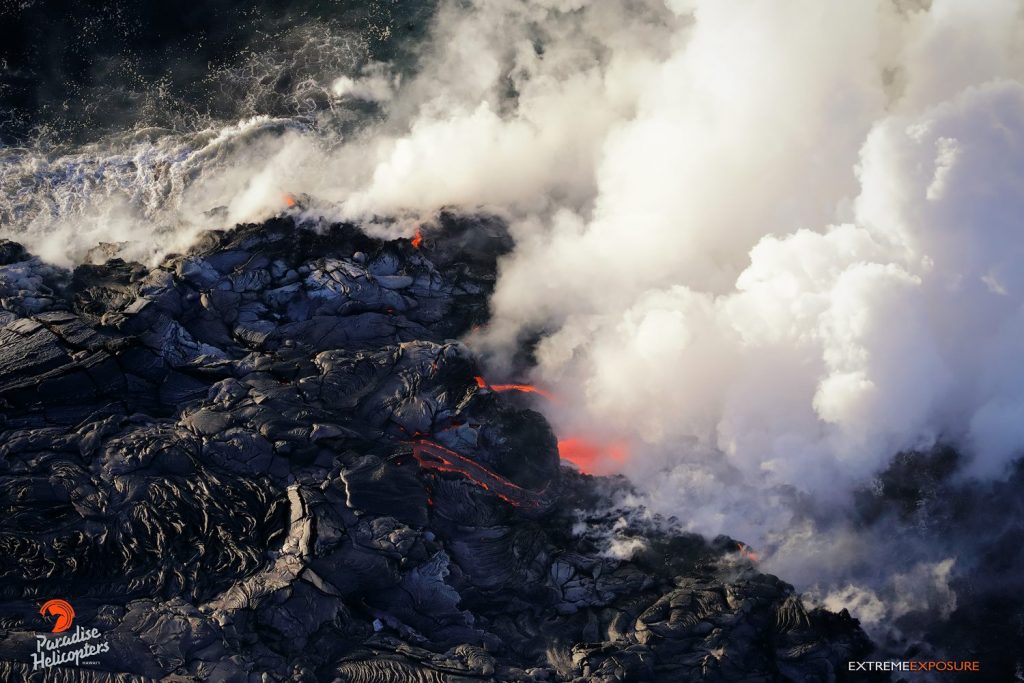 Puʻu ʻŌʻō Observations:
Low rates of surface deformations and low levels of seismic activity continue. Webcams show persistent glow from long-term sources within the crater and from a small lava pond on the west side of the crater. The sulfur dioxide emission rates from the East Rift Zone vents have been steady over the past several months, and remain significantly lower than the summit emissions.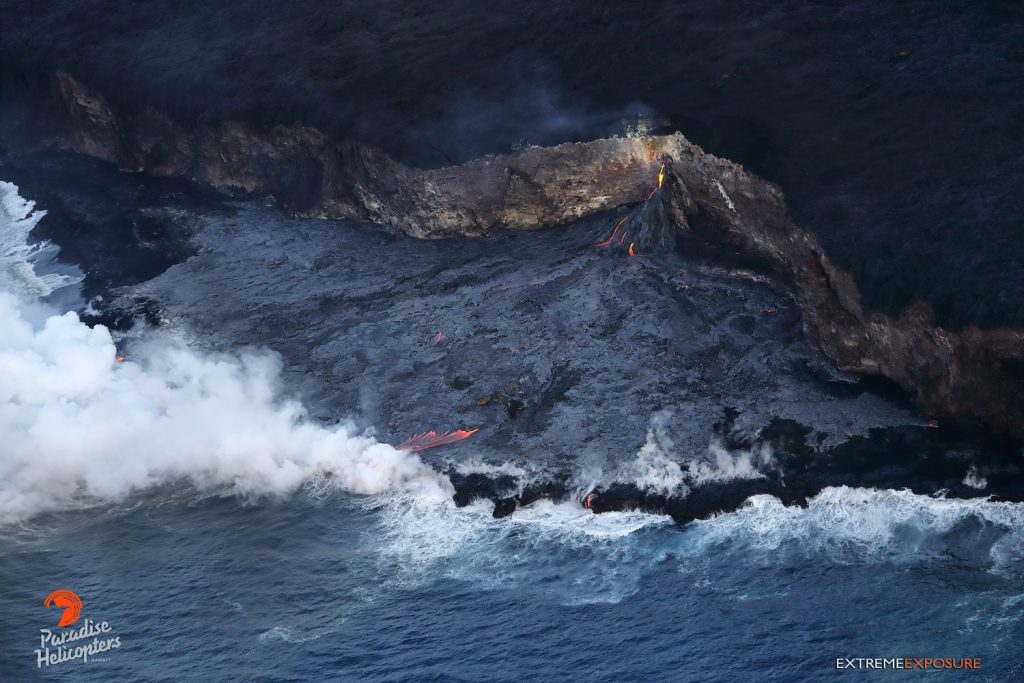 Lava Flow Observations:
Lava from the episode 61g flow continues to enter the ocean at Kamokuna. A plume was consistently present at the ocean entry yesterday, during daylight hours when it is detectable on webcam images, indicating continuing activity. Intermittent lava flows over the cliff and onto the lava delta (« lavafalls »), have been reported on the western side of the ocean entry. Recent activity has built up the height of the lava delta and covered over several large cracks, which previously had been visible on the surface. Webcam views show continued surface flow activity on the upper portion of the flow field, southeast of Puʻu ʻŌʻō and on the coastal plain. The episode 61g flows do not pose a threat to nearby communities at this time.
Source : HVO
Photos : Bruce Omori  .
Ambae , Vanuatu :
VMGD update on Ambae volcano activity issued on 13th October 2017 at 13:42 pm :
Observations (webcam) and seismic analysis shows ongoing minor explosive activity and minor ash emission at the summit crater Lake, (Lake Voui). Local population from neighbouring islands may hear some of the explosions and observed ash cloud over Ambae island . The Volcano Alert Level for Ambae remains at Level 3.
For further information, please contact Geohazards office at the Vanuatu Meteorology and Geohazards Department on 24686 or email at geohazards@meteo.gov.vu.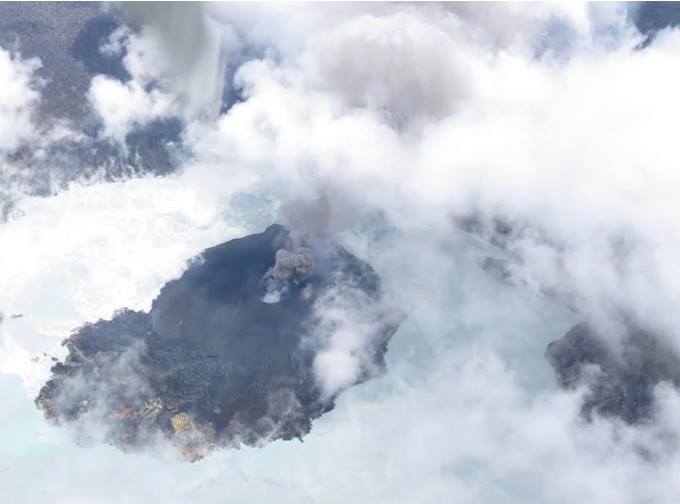 The frequent volcano rumblings felt on Ambae and surface events seen from neighboring islands of Maewo, Pentecost and even Santo in Vanuatu are ideal settings of a volcano experiencing minor eruption categorised at alert level 3, say volcanologists.
This was the reply from the Manager of the Geohazards Department, Esline Bule, when she was asked to clarify public concerns on the increasing number of eruptions at the Manaro Voui volcano causing more fear among people.
The volcano seems to be making more smoke and rumblings that can be felt far away compared to when it was experiencing major unrest stage – the second highest alert level. The entire 11,000 population of Ambae island was evacuated to other islands in Vanuatu earlier this month.
Locals from Maewo reported seeing flames and lava cascading down slope from the volcano recently. These activities are related to the volcano being in a minor eruption state, the Geohazards Manager explained.
About the continuous erupting sounds, Bule said the reason they are louder is because they are coming out from a dry cone. "Before, activities were happening beneath the lake (Lake Voui)," she said. "Current eruptions are occurring from a dry cone.
Source : VMGD , asiapacificreport.