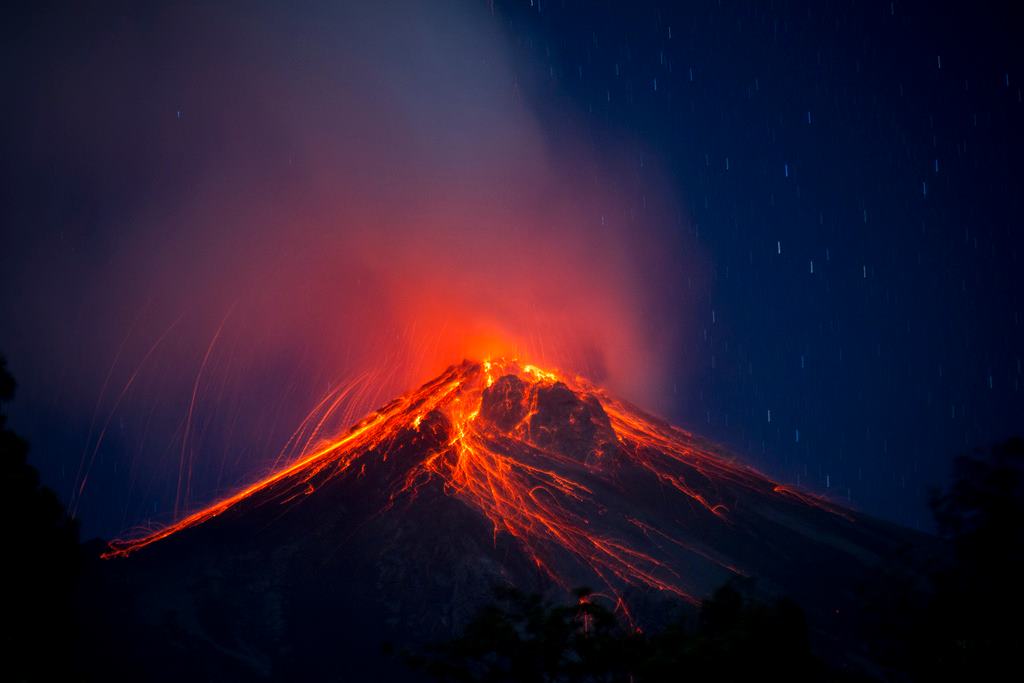 September 29 , 2017.  EN. Agung , Ambae , Cleveland , Fuego , Ebeko .
September 29 , 2017.
 
Agung , Indonésia :
A. Volcano Monitoring Data:
Seismicity:
Recorded volcanic earthquakes still show high numbers. These earthquakes indicate brittle failure inside the volcano caused by magma movement.
Calculated magnitudes of earthquakes have continued to increase. Magnitude of the largest volcanic earthquake during the crisis period is M4.3 on September 27, 2017 at 13:12 Central Indonesian Time (UTC+8) and more earthquakes are being felt recently by people around Agung and Batur areas, and some of the biggest earthquakes are even felt in Denpasar and Kuta areas.
Volcanic earthquakes are estimated to be located within 20 km of the volcano's summit.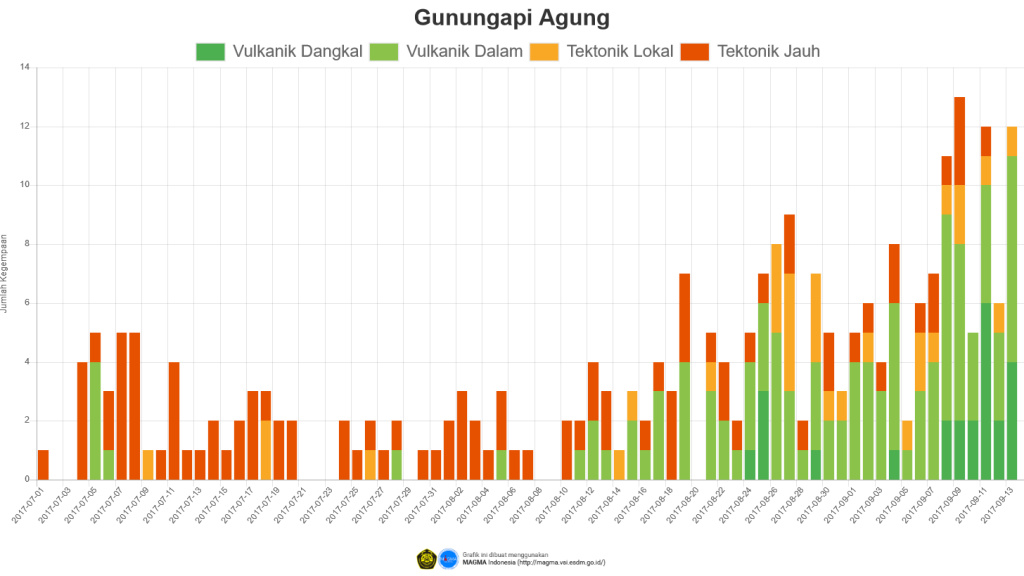 Satellite remote sensing :
Satellites have detected new steam emissions and thermal areas within the summit crater; these areas have expanded during the past week and now include a new area of emissions in the center of the crater.
Visual observations:
White steam clouds are occasionally observed rising 50-200 m above the summit; and currently, the emissions activity are observed to be more frequent.
After a M4.2 earthquake on September 26, 2017 at 16:27 Central Indonesian Time (UTC+8), a larger white steam cloud was emitted to a height of around 500 m above the summit.
Deformation:
Analysis of tiltmeter data suggests some inflation (swelling) of Mount Agung.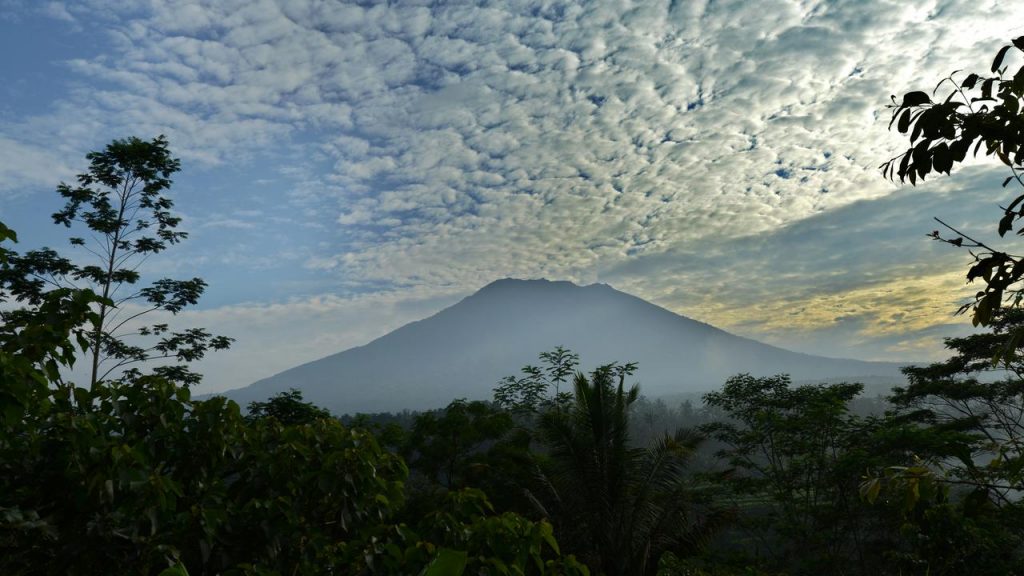 B. Analysis:
Based on the analysis of current monitoring data, at this moment, the probability of an eruption is higher than the probability of no eruption; however, the probability may change at any time depending on current monitoring data.
If an eruption does occur, it is most likely to be small at first; however, a large eruption may follow. The size of future eruptions cannot be determined with certainty.
The exact date and time of future eruptions cannot be predicted, however; CVGHM will issue warnings when conditions change and eruptions are more certain.
It is still safe to travel to Bali; however, visitors should not enter the restricted areas near the volcano (currently at distances of 12 km to the southeast to southwest and north to northeast and 9 km elsewhere. CVGHM has worked with the Indonesian National Agency for Disaster Management (BNPB) to develop warnings for eruptive activity.
Visitors to Bali and local people should stay aware of hazard warnings from Indonesian government officials. Current information can be obtained via CVGHM's web and mobile phone application Magma Indonesia (magma.vsi.esdm.go.id) and via Google Playstore.
Source : Kasbani,Chef du CVGHM, Geological Agency  ,
Ministry of Energy and Mineral Resources
Ambae , Vanuatu :
Vanuatu orders mass evacuation from Ambae  .
28 SEPTEMBER 2017. Vanuatu's Prime Minister has ordered a compulsory evacuation of the population of Ambae due to the volcanic threat. Prime Minister, Charlot Salwai, says he expects the mass evacuation of up to eleven thousand people to begin immediately and be completed by 6 October.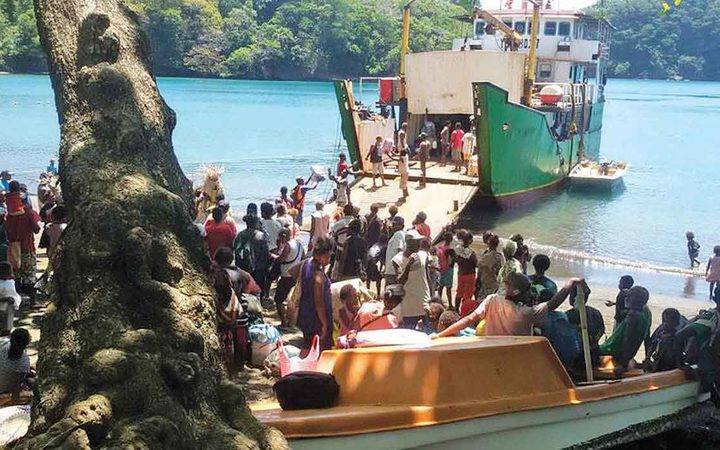 Media director of the Vanuatu Daily Post Dan McGarry said most people will be relocated to two publicly owned stretches of land on the neighbouring island of Pentecost.
« They'll be travelling by ship, that's the only reasonable way to ferry that number of people involved. In conjunction with this exodus they will be issuing travel restrictions in the immediate area so that people won't be able to travel in to the affected area and this should facilitate the flow of people. »
Mr McGarry said the Prime Minister had taken the precaution in order to potentially save lives given the volcano's unpredictability. The alert level for the erupting Monaro volcano was raised to four recent days – level five is the highest – and Vanuatu's Meteorology and Geohazards Department warned of flying rocks, volcanic gas, acid rain and ash falls.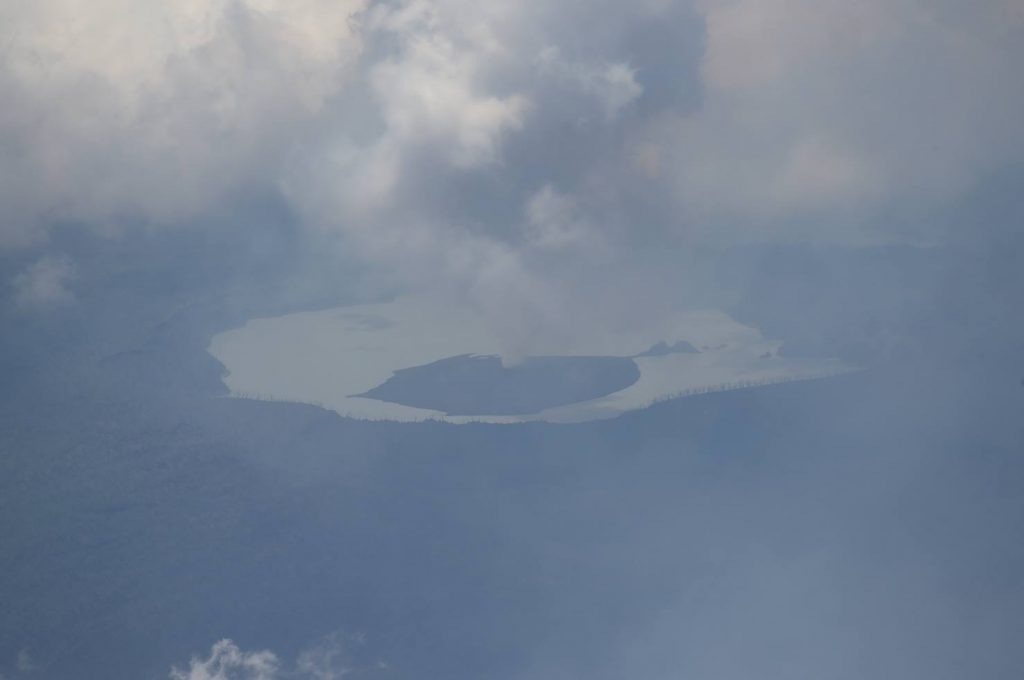 Plumes of smoke, ash and volcanic rocks have been filmed erupting from its crater by New Zealand Defence Force (NZDF) aircraft which flew over the island on Tuesday. A state of emergency was declared, but authorities have said they were struggling to cope. Vanuatu Red Cross coordinator Dickenson Tevi said shipping vessels were on standby awaiting
Source : RADIO NZ
Photo : Royal New Zealand Air Force
Cleveland , Alaska :
52°49'20 » N 169°56'42 » W,
Summit Elevation 5676 ft (1730 m)
Current Volcano Alert Level: WATCH
Current Aviation Color Code: ORANGE
Low-level unrest continues at Cleveland Volcano. Two small explosions were detected in infrasound and seismic data this morning (13:19 and 13:58 UTC / 05:16 and 05:58 AKDT). These events were many times smaller than the explosion on September 26th. Elevated surface temperatures were observed in satellite data, and a weak plume emanating from the summit crater can be seen in recent web camera images.
Cleveland volcano is monitored with a limited real-time seismic network, which inhibits AVO's ability to detect precursory unrest that may lead to an explosive eruption. Rapid detection of an ash-producing eruption may be possible using a combination of seismic, infrasound, lightning, and satellite data.
Source : AVO
Photo : Schaefer, Janet , ( 17 Aout 2017).
Fuego , Guatemala :
SPECIAL VULCANOLOGICAL BULLETIN, Guatemala 28 September 2017, 12.30 (local time)
ERUPTION OF VOLCAN FUEGO.
The eruption n ° 10-2017 of the volcano Fuego retains the same characteristics as those observed in the seismogram of the station FG3. The Observatory of the OVFGO Fuego Volcano reports constant explosions with moderate characteristics, generating columns of ash that reach an altitude of about 4,700 meters (15,420 feet) traveling more than 10 kilometers to the west, south and the Southwest. The incandescent source reaches a height of approximately 300 meters above the crater and feeds a flow of lava to the 800-meter long in the ravine of Seca (Santa Teresa).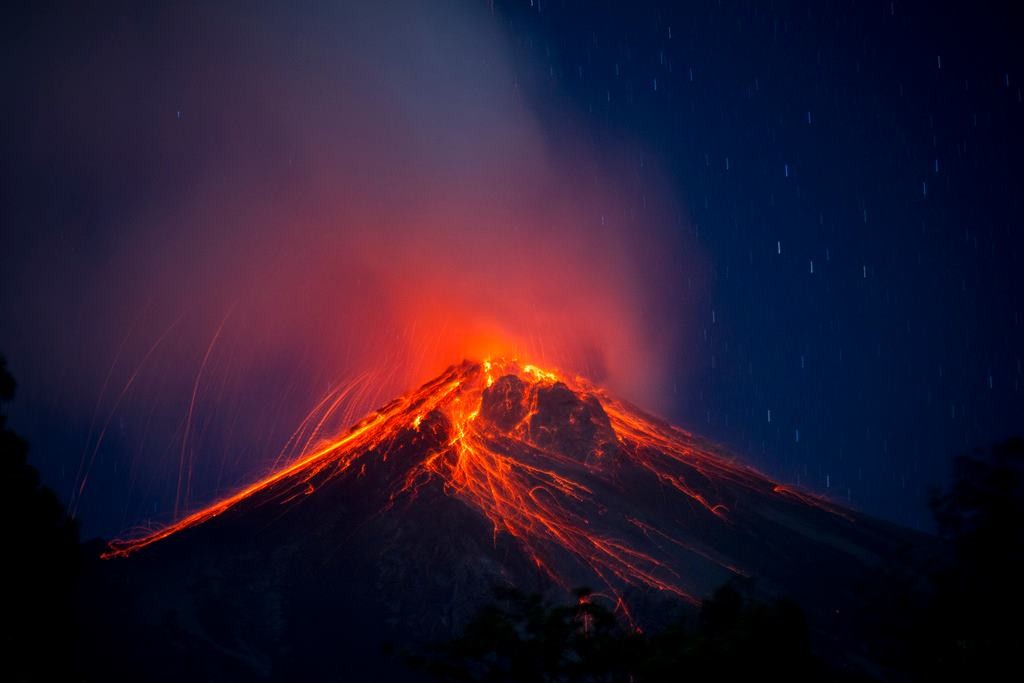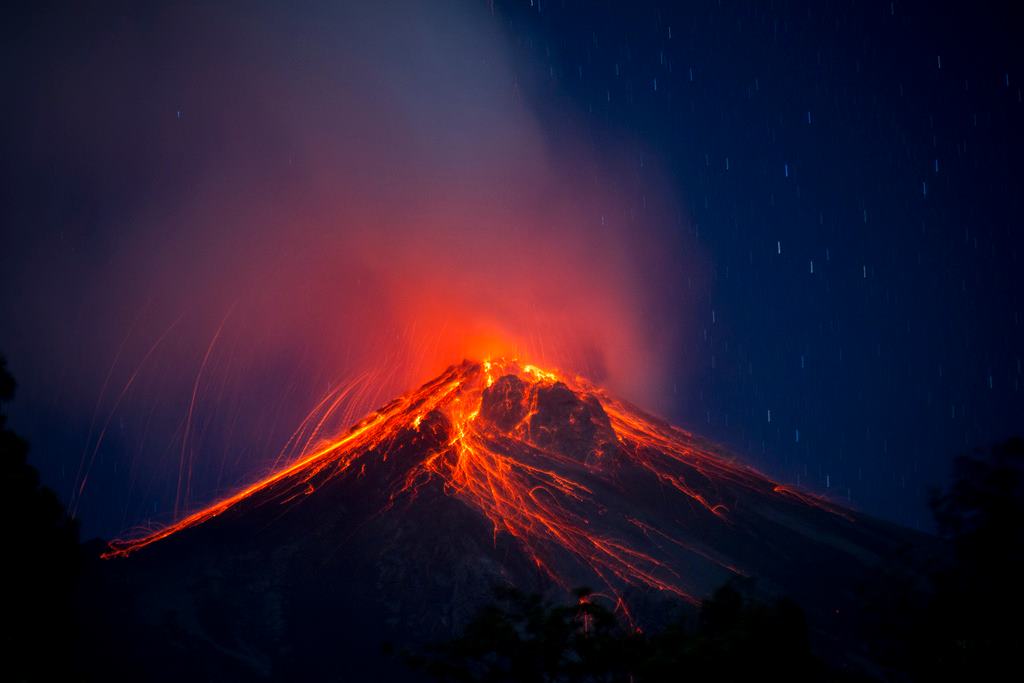 The explosions are accompanied by moderate rumblings which give rise to a moderate to strong shock wave, causing vibrations in the roofs of houses near the volcano, constant sounds similar to those of a locomotive engine. A fall of ash is generated in the border regions: Sangre de Cristo, Finca Palo Verde, Santa Sofia, Morelia, Panimaché I and II.
According to the observations of the seismic activity, the energy of the explosions is maintained, there is a possibility of pyroclastic flows and new lava flows, so it is not advisable to remain inside or near the ravines.
Source : Insivumeh
Photo : Ivan Castro
Ebeko , Kamchatka :
50.69 N, 156.01 E;
Elevation 3792 ft (1156 m)
Aviation Color Code is ORANGE
A moderate gas-steam with some amount of ash activity of the volcano continues. Ash explosions up to 16,400 ft (5 km) a.s.l. could occur at any time. Ongoing activity could affect low-flying aircraft and airport of Severo-Kurilsk.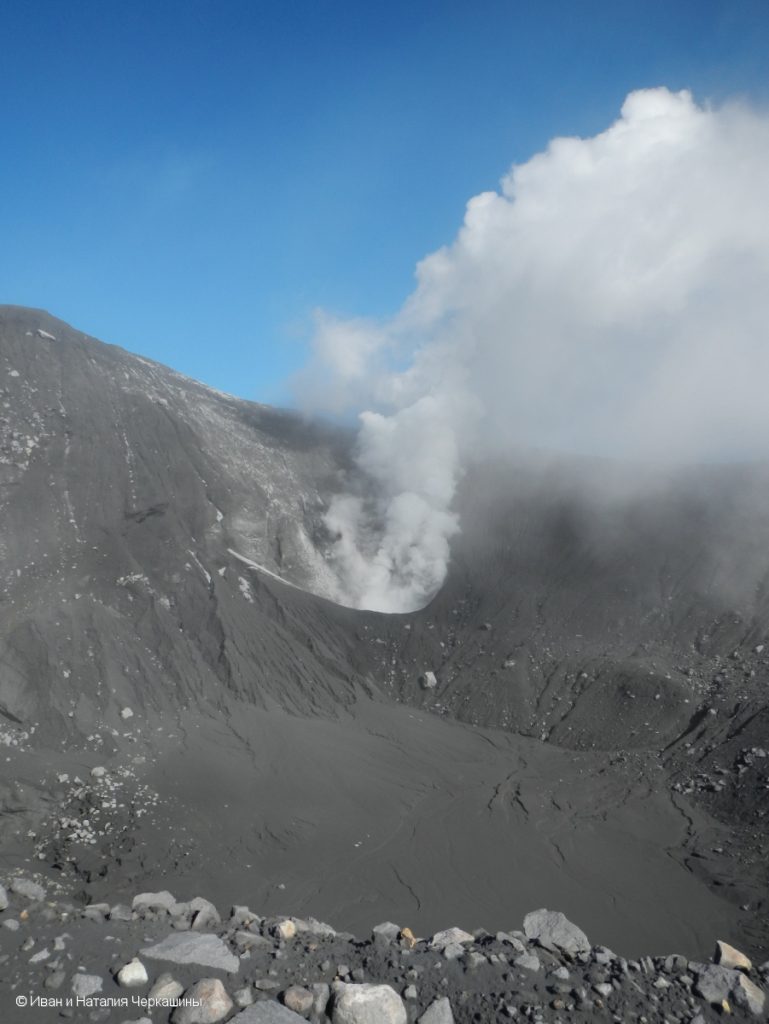 A moderate explosive activity of the volcano continues. According to visual data by volcanologists from Severo-Kurilsk, explosions sent ash up to 2 km a.s.l. on 24 September. Satellite data by KVERT showed the volcano was quiet or obscured by clouds.
Source : Kvert
Photo : Ivan and Nataliya Cherkashiny ( 13/09)