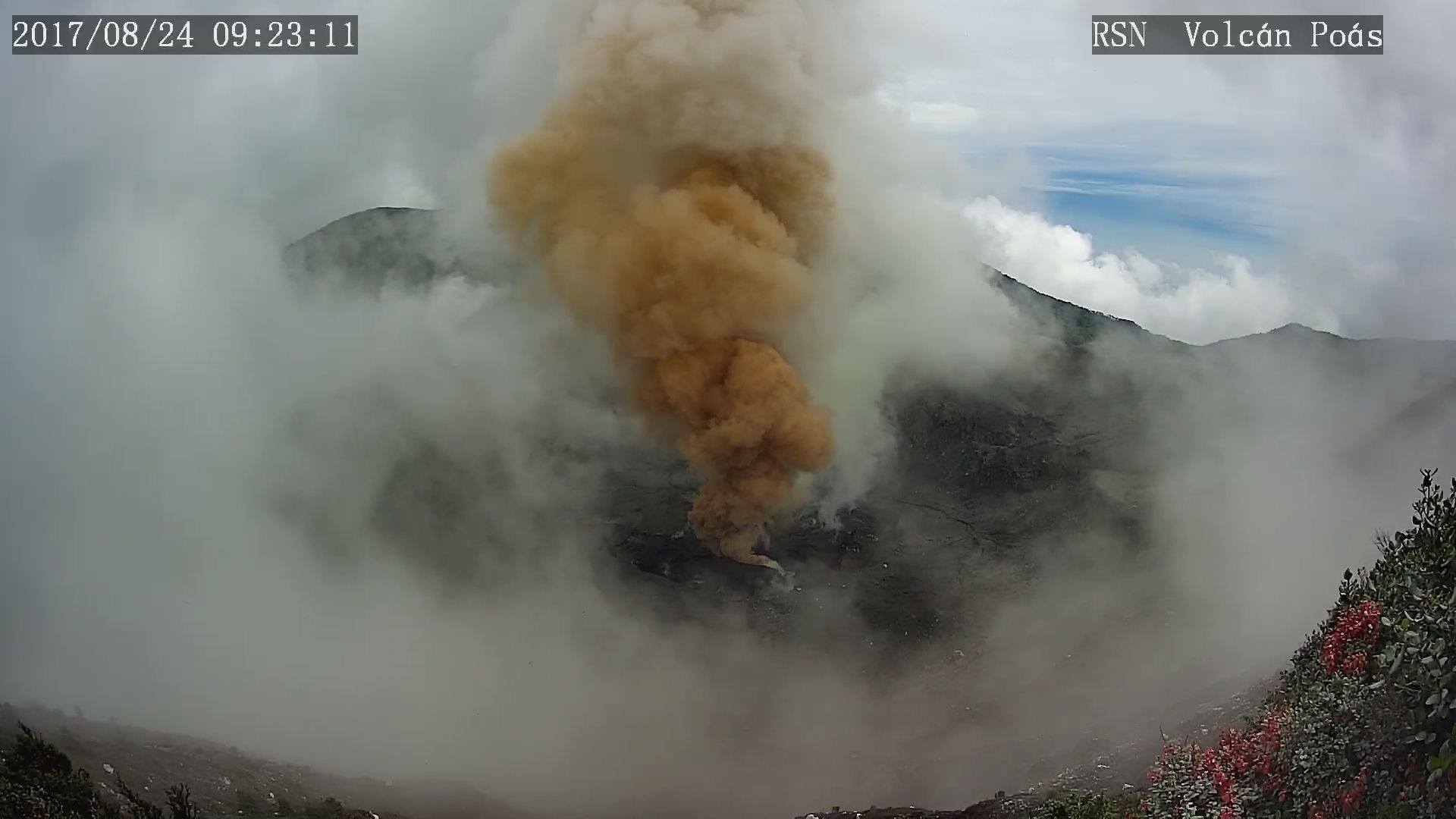 September 03 , 2017. EN. Ebeko , Yellowstone , Ubinas , Poas , Turrialba .
September 03 , 2017.
 
 
Ebeko , Kamchatka :
VOLCANO OBSERVATORY NOTICE FOR AVIATION (VONA).
Issued: 20170902/0107Z
Current Aviation Color Code: ORANGE
Previous Aviation Color Code: orange
Source: KVERT
Notice Number: 2017-223
Volcano Location:N 50 deg 41 min E 156 deg 0 min
Area:Northern Kuriles, Russia
Summit Elevation:3791.68 ft (1156 m)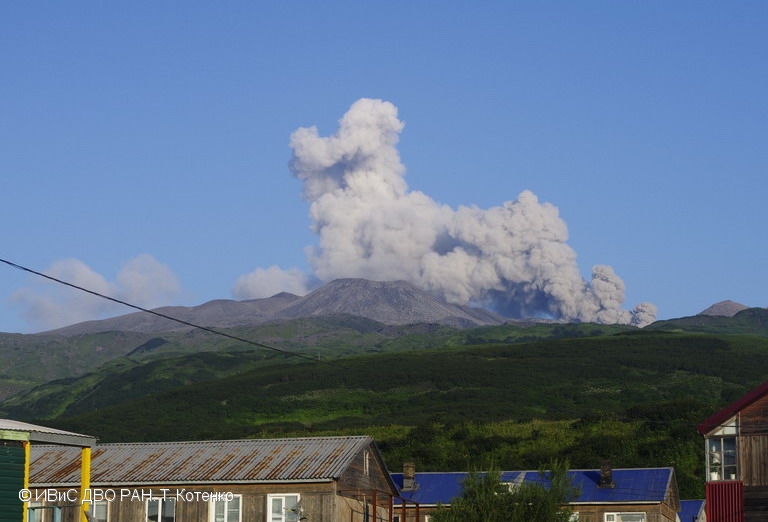 Volcanic Activity Summary:
A moderate explosive activity of Ebeko volcano continues. According to the data by observers from Severo-Kurilsk (Paramushir Island, Northern Kuriles), an ash plume rose up to 3.3 km a.s.l. and extended about 7 km to the east from the volcano on September 2, 00:42 UTC.
A moderate gas-steam with some amount of ash activity of the volcano continues. Ash explosions up to 16,400 ft (5 km) a.s.l. could occur at any time. Ongoing activity could affect low-flying aircraft and airport of Severo-Kurilsk.
Volcanic cloud height:
10824 ft (3300 m) AMSL
Time and method of ash plume/cloud height determination: 20170902/0042Z – Visual data
Other volcanic cloud information:
Distance of ash plume/cloud of the volcano: 4 mi (7 km)
Direction of drift of ash plume/cloud of the volcano: E / azimuth 85 deg
Time and method of ash plume/cloud determination: 20170902/0042Z – Visual data
Duration of explosion: ~ 30 minutes
Source : Kvert
Photo : T. Kotenko, IVS FEB RAS
Yellowstone , Etats – Unis :
44°25'48 » N 110°40'12 » W,
Summit Elevation 9203 ft (2805 m)
Current Volcano Alert Level: NORMAL
Current Aviation Color Code: GREEN
Seismicity
During August 2017, the University of Utah Seismograph Stations, responsible for the operation and analysis of the Yellowstone Seismic Network, reports 1029 earthquakes were located in the Yellowstone National Park (YNP) region. The largest event was a minor earthquake of magnitude 3.3 on August 20, at 09:00 PM MDT, located about 10 miles north of West Yellowstone, MT, where the earthquake was reported felt. This earthquake is part of a continued energetic sequence in the same area that began on June 12.
August seismicity in Yellowstone was marked by the ongoing earthquake activity ~six miles north of West Yellowstone, MT, where an energetic swarm added an additional 894 locatable earthquakes to the 475 in July and 1028 earthquakes in June. The swarm includes the largest event of the month on August 20 (magnitude 3.3). Swarm activity for August consists of five earthquakes in the magnitude 3 range and 69 earthquakes in the magnitude 2 range. Including the events from the prior two monthly reports beginning on June 12, total swarm seismicity includes one earthquake of magnitude 4.4, 12 in the magnitude 3 range, and 181 earthquakes in the magnitude 2 range. There are potentially thousands of additional earthquakes visible on the webicorders that cannot be located because they are too small or overlap another event, and they are not included in these numbers.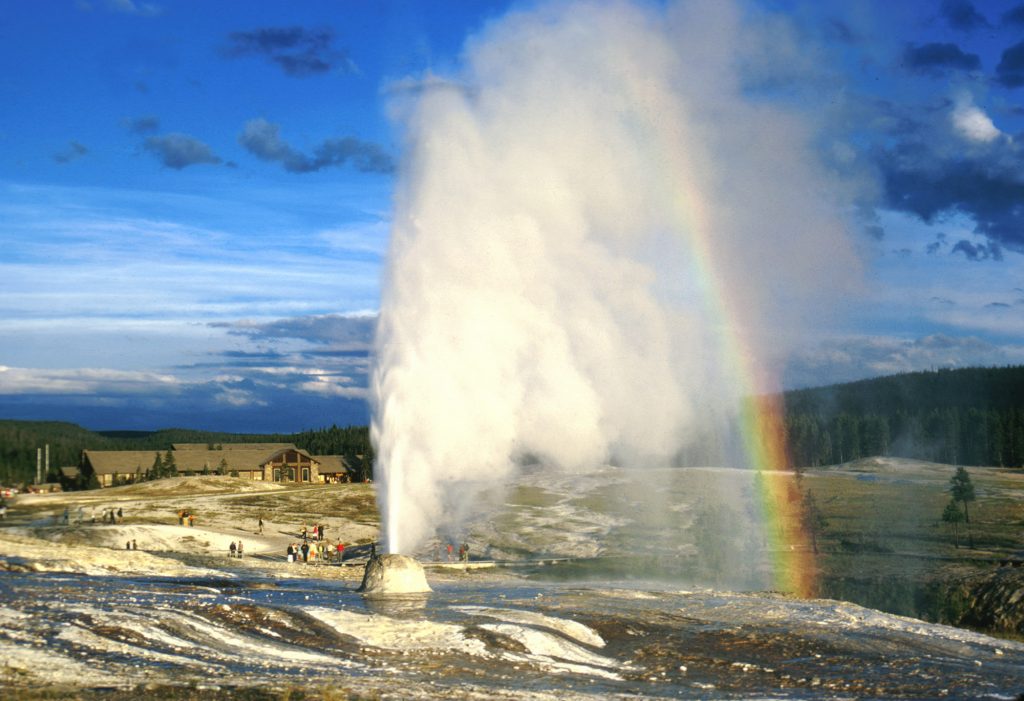 Additionally, August 2017 seismicity contained two separate small earthquake swarms
1) A small series of 34 earthquakes occurred August 14-18. The largest earthquake in the series (magnitude 2.7) occurred on August 14, 08:04 AM MDT, located nine miles north northeast of Old Faithful, WY.
2) A small series of 22 earthquakes occurred August 19 and 20. The largest earthquake in the series (magnitude 1.9) occurred August 19, 10:04 PM MDT, located 10 miles south of West Thumb, WY.
Earthquake sequences like these are common and account for roughly 50% of the total seismicity in the Yellowstone region.
Yellowstone earthquake activity is currently at elevated levels compared with typical background activity.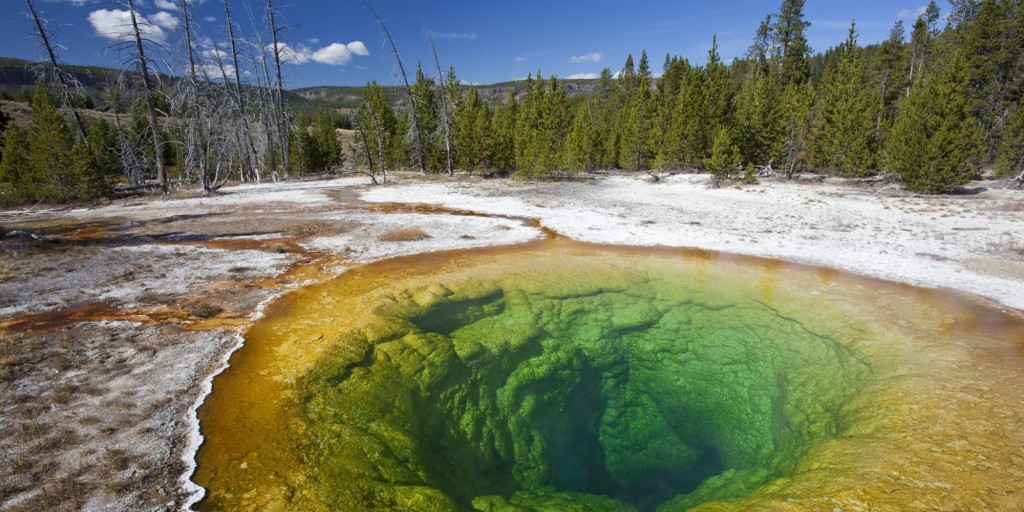 Ground deformation
Monitored locations within the Yellowstone Caldera show little change this month. Uplift north of the caldera, centered near the Norris Geyser Basin, continues at a low rate (a few millimeters per month), similar to what has been occurring since late 2015. Current deformation patterns at Yellowstone remain within historical norms.
An example of GPS data can be found at http://www.unavco.org/instrumentation/networks/status/pbo/data/WLWY (click on Static Plots / Cleaned)
The Yellowstone Volcano Observatory (YVO) provides long-term monitoring of volcanic and earthquake activity in the Yellowstone National Park region. Yellowstone is the site of the largest and most diverse collection of natural thermal features in the world .
Source : YVO
Ubinas , Peru :
Sismo – volcanic monitoring:
In general, the Ubinas volcano has low levels of activity. During this period, up to 7 volcanic earthquakes were recorded per day. The magma activity associated with hybrid-type tremors increased slightly, albeit with low energy levels. In fact, between 10 and 24 August, up to 3 HIB per day were recorded with a peak of 10 events. In addition, volcano-tectonic (VT) events associated with rock fracturing increased slightly between August 23 and 26, resulting in an occurrence rate of 12 earthquakes per day. This activity, which is still weak, was recorded immediately after the recording of the hybrid events.
According to the analysis of seismic activity, the VT-Hybrid relationship, preceded by « Tornillos » type earthquakes, was also observed in June of this year. This would probably indicate that a second rise of magma to reach the surface of the crater has developed. However, the volcano did not have enough energy to start a new eruption. Therefore, the possibility of a new eruptive process in the medium term is not excluded.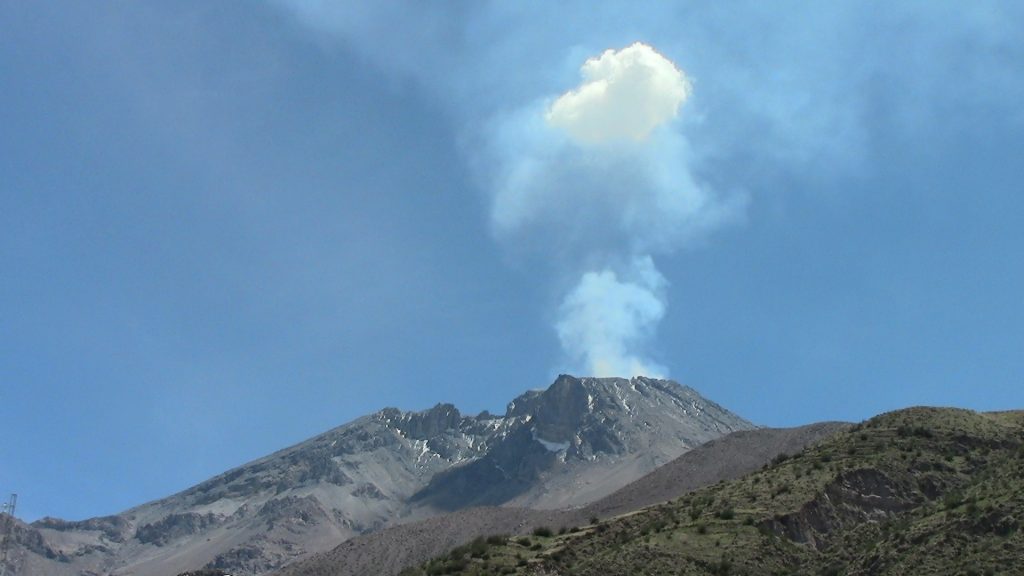 Satellite monitoring:
Thermal anomalies and SO2: The MIROVA system (www.mirovaweb.it) detected no thermal anomaly for this period. Similarly, the satellite system « EOS Aura » GSDMNASA (http://so2.gsfc.nasa.gov/) does not exhibit significant anomalies of SO2.
Visual Surveillance:
There was no greater variation in the activity of Ubinas fumaroles during this period (August 16-31) than in the previous analysis stages. The sporadic emissions of water vapor, with heights up to 200 m above the crater, were the most remarkable aspect.
CONCLUSIONS
In general, the volcanic activity of Ubinas maintains low levels. The relationship of VT and hybrid earthquakes, preceded by Tornillos-type events, maintains the probabilities of the beginning of a new eruptive process in the medium term.
Any changes will be notified in a timely manner.
Source : IGP
Poas , Turrialba , Costa Rica :
Activity report of the volcanoes Poás, Turrialba, September 02 ,  2017, updated at 11.30 am.
Poas Volcano
At 8:10 am today, Poas Volcano exhibited an eruption whose column reached about 500 m above the crater. The column was characterized by its composition of gas, vapor, ashes, fragments of rock and a reddish color. Such coloration is associated with the sporadic emission of pulverized rocks very rich in iron oxide and other metal oxides. Since the Boca B (Azufrada mouth of lower temperature) continues the abundant emission of native sulfur (S◦, ≤110 ° C).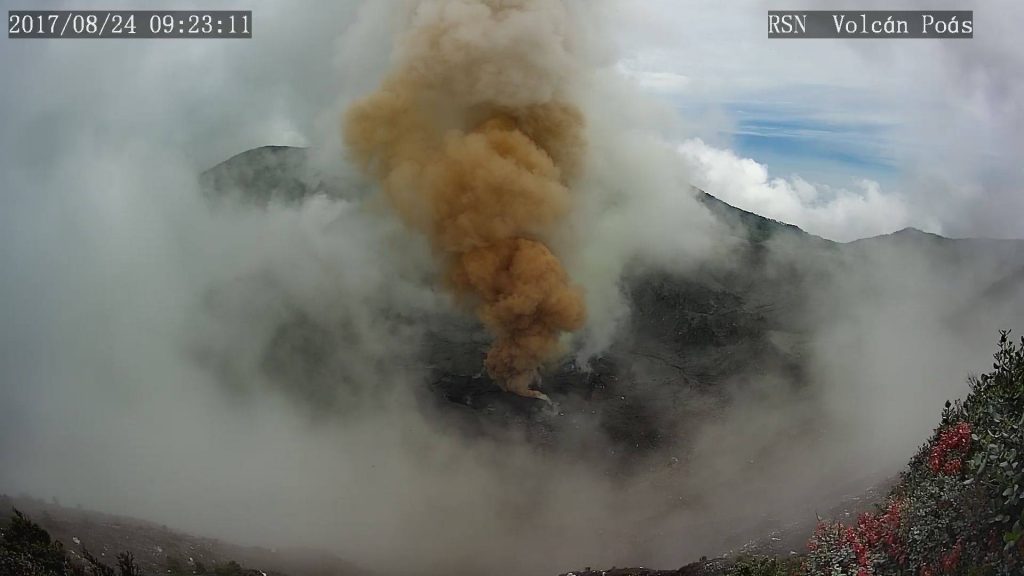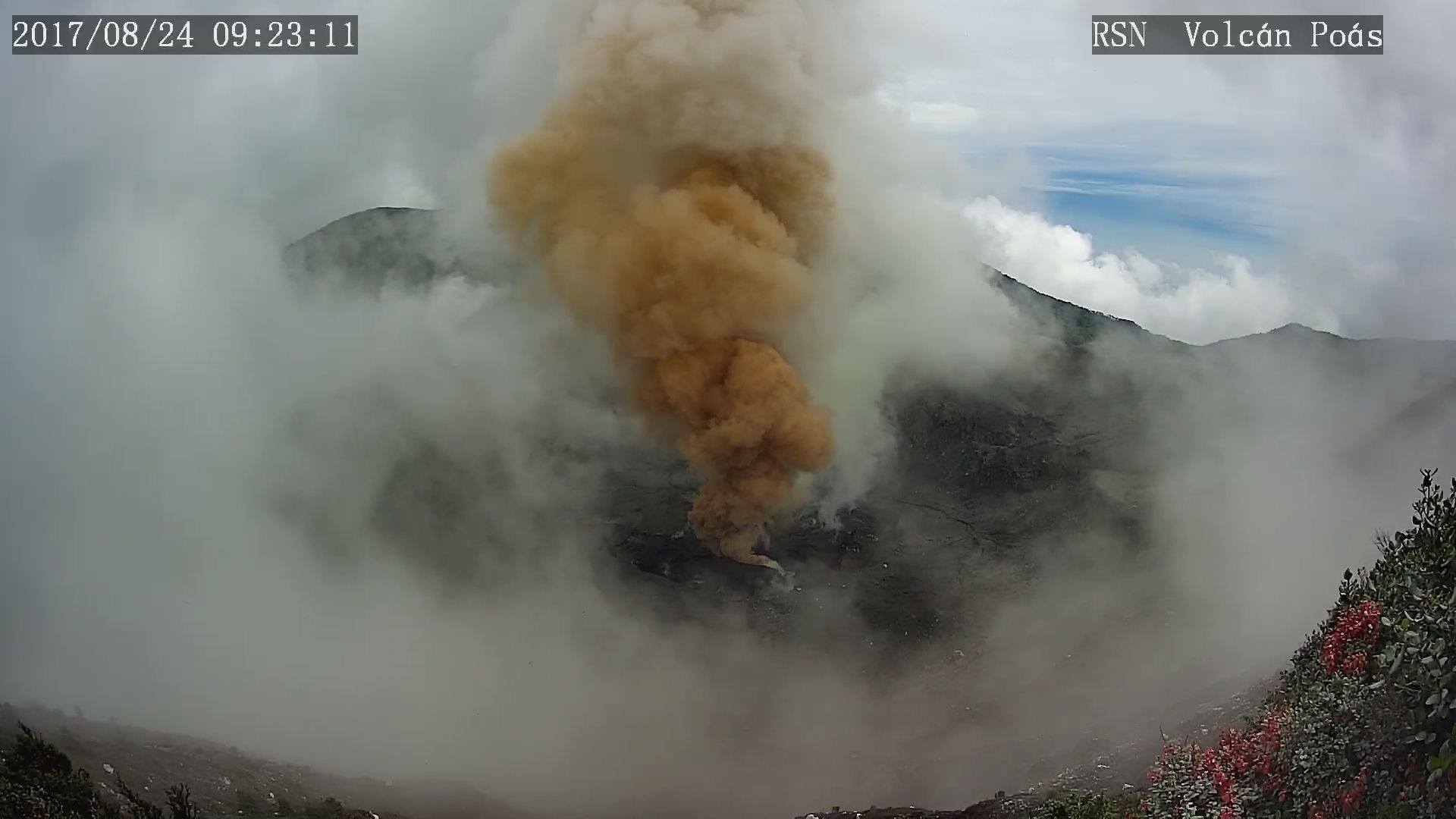 At the time of this report, the plume rises about 200 meters from the bottom of the crater and is scattered by winds near the surface mostly to the southwest of the volcano.
The level of seismic activity over the last 24 hours is low, with few seismic signals and a volcanic tremor of small amplitude and variable duration.
During the morning of today, a strong odor of sulfur was reported in San Juanillo de Naranjo and Sarchí Sur.
Turrialba Volcano
Over the past 24 hours, small ash emissions have been sporadic. In addition, it continues with passive emissions of water vapor, magmatic gases and aerosols. The plume rises less than 500 m above the summit and is scattered by winds to the west-northwest.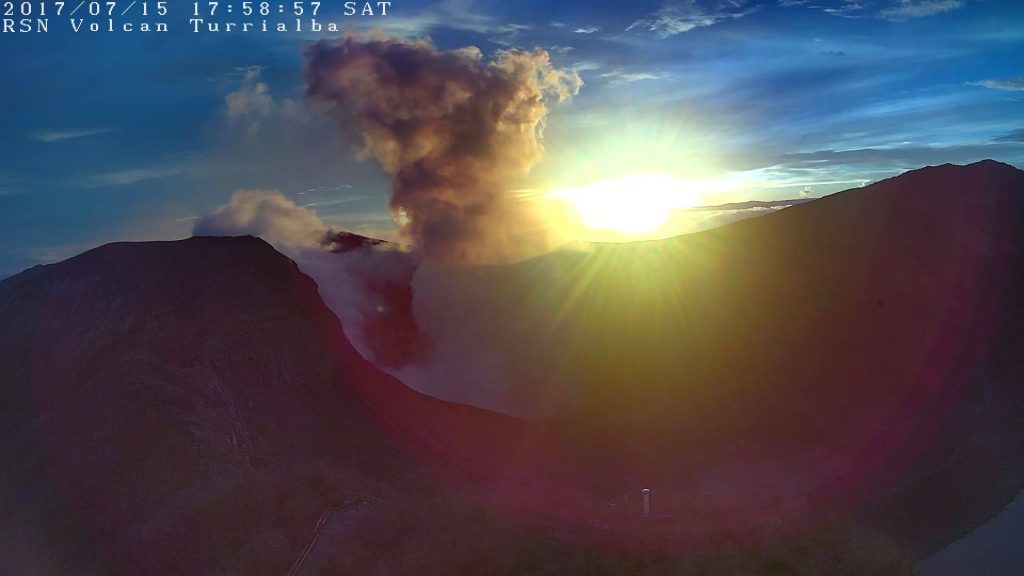 In the morning there were reports of ashes in Tibás and a smell of sulfur in Coronado.
During the last 24 hours, a small amplitude variable tremor and some low amplitude LP events were observed.
Source : Ovsicori
Photos : Archives RSN