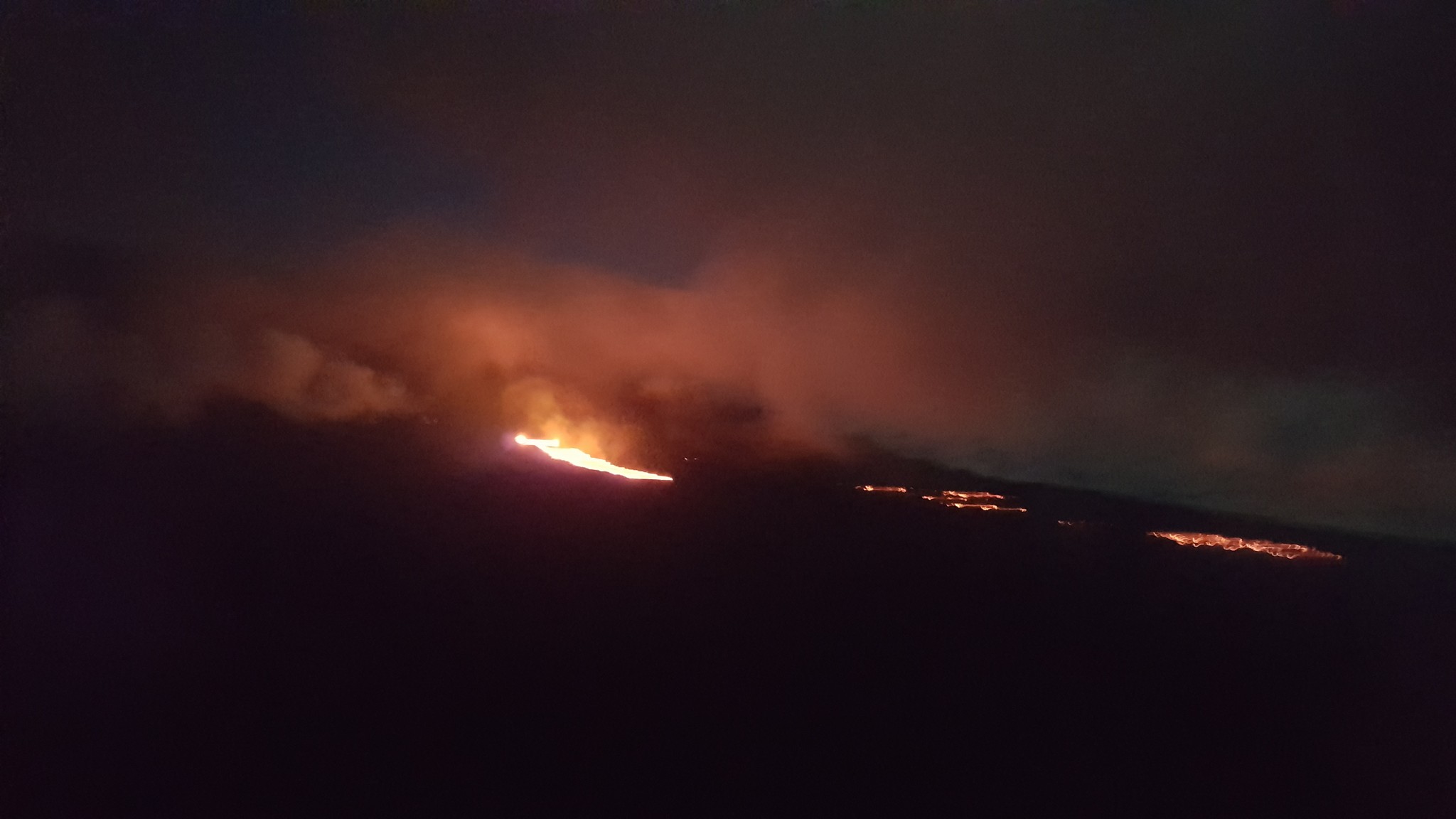 August 09 , 2017. EN. Piton de la Fournaise , Bogoslof , Sheveluch , Sabancaya , Fuego .
August 09 , 2017.
Piton de la Fournaise , La Réunion :
Activity bulletin of Tuesday, August 8, 2017 at 3:30 pm (local time).
The eruption begun on July 14 at 00:50 local time continues. The volcanic tremor (surface eruptive intensity indicator) has been relatively constant for 24 hours and remains at a low intensity level (Figure 1).
Figure 1: Evolution of the RSAM (volcanic and volcanic eruption indicator) between 00:00 (20h UTC) on 14th July and 15h00 (11h00 UTC) on 8th August on the RVL seismic station, located on the flank South of the volcano. (© OVPF / IPGP)
In the field, small projections are visible at the small mouth which remained active on the northern flank of the eruptive vent. The rest of the activity is done in tunnels of lava, with some resurgences of small spatial extension visible on the surface.
Gas emissions remain high.
– A volcano – tectonic earthquake was recorded under the summit craters during yesterday 's day.
– A slight inflation (swelling) of the summit area of the volcano is always observed.
Estimates from satellite imagery via the HOTVOLC platform (OPGC – Clermont Ferrand) show a minimum flow rate between <1 and 2 m3 / s.
Source : OVPF
Photo : C. Chapelle
Bogoslof , Alaska :
AVO/USGS Volcanic Activity Notice.
Current Volcano Alert Level: WATCH
Previous Volcano Alert Level: WARNING
Current Aviation Color Code: ORANGE
Previous Aviation Color Code: RED
Issued: Tuesday, August 8, 2017, 10:19 AM AKDT
Source: Alaska Volcano Observatory
Location: N 53 deg 55 min W 168 deg 2 min
Elevation: 492 ft (150 m)
Area: Aleutians
Volcanic Activity Summary:
No further ash emissions have occurred at Bogoslof Volcano since the three-hour-long eruption on Monday, 7 August that began around 10:00 AKST (18:00 UTC), and seismicity remains low. We are therefore lowering the Aviation Color Code to ORANGE and the Alert Level to WATCH. Additional ash-producing eruptions could occur at any time, however, with no detectable precursors.
No eruptive activity has been detected in seismic, infrasound, lightning, or satellite data since yesterday's eruption. Satellite data from this morning (AKDT) show a significant expansion to the north side of Bogoslof Island from yesterday's sustained eruption. Thick new tephra deposits have surrounded the vent area, forming a new crater lake.
Source : AVO
Photo : Cyrrus Read
Sheveluch , Kamchatka :
VOLCANO OBSERVATORY NOTICE FOR AVIATION (VONA)
Issued: August 09, 2017.
Volcano: Sheveluch (CAVW #300270)
Current Aviation Color Code: ORANGE
Previous Aviation Color Code: orange
Source: KVERT
Notice Number: 2017-185
Volcano Location: N 56 deg 38 min E 161 deg 18 min
Area: Kamchatka, Russia
Summit Elevation: 10768.24 ft (3283 m), the dome elevation ~8200 ft (2500 m)
Volcanic Activity Summary:
Explosive eruption of the volcano was ending, but a large ash cloud continue to drift from the volcano. A front of ash cloud is about 530 km to the south from the volcano. A front of ash cloud is stretching out to west and east: at 0230 UTC on 09 August (by Himawari-8), a western edge of ash cloud is about 490 km (azimuth 209 degrees) from the volcano; an eastern edge of ash cloud is about 600 km (azimuth 137 degrees).
Explosive-extrusive eruption of the volcano continues. Ash explosions up to 32,800-49,200 ft (10-15 km) a.s.l. could occur at any time. Ongoing activity could affect international and low-flying aircraft.
Source : Kvert
Photo : Volkstat ru.
Sabancaya , Peru :
The explosive activity during this period averaged 65 explosions / day, higher than last week. However, such explosions are weak. Earthquakes indicating the rise of magmatic material (hybrid type) and those indicating
Of ash emissions (Tremor) have decreased, while earthquakes associated with fluid movements (long period) continue to predominate.
The eruptive columns of gases and ashes decreased from the previous week, reaching a height of about 4000 m above the crater, and then dispersed in a radius greater than 30 km, mainly in the north and
South East.
The GPS station, located to the southeast of the volcano, shows a slight deformation with a negative tendency.
The volcanic gas flow (SO2) recorded a maximum of 2254 tonnes / day on 2 August.
The MIROVA satellite system recorded 9 thermal anomalies, with values between 1 MW and 71 MW.
In general, explosive volcanic activity is moderate. This type of behavior can be maintained over the next few days.
Source : IGP
Fuego , Guatemala :
The seventh eruption of the Fuego volcano has ended after about 24 hours of initiation, as evidenced by the seismogram of the FG3 station and the reports of the volcanological observatory. This eruption was characterized as being effusive with very little energy compared to those that occurred during the current year.
As a main remnant, two lava flows are visible, the first to the Ash Canyon, which at this time has a length of approximately 1,500 meters and the second to the Santa Teresa Canyon with an approximate length of 700 meters.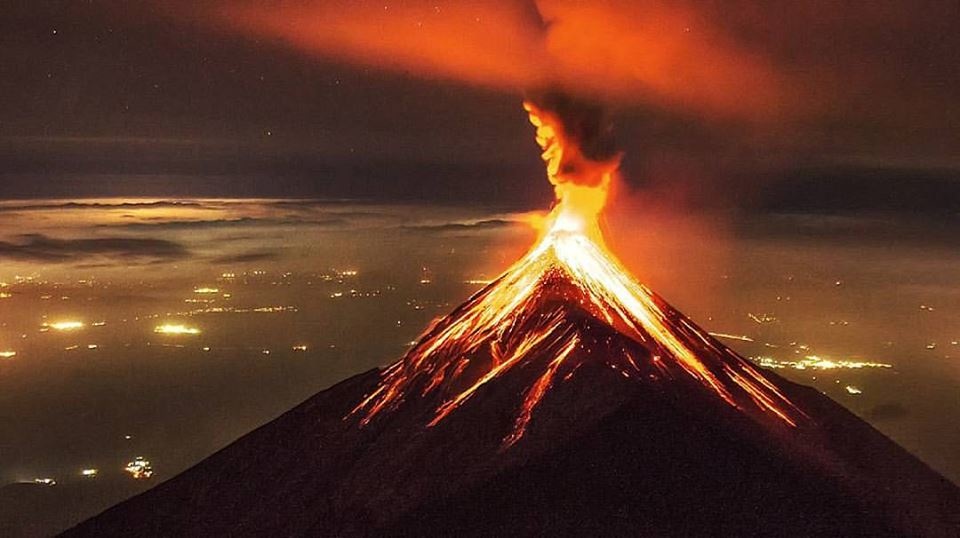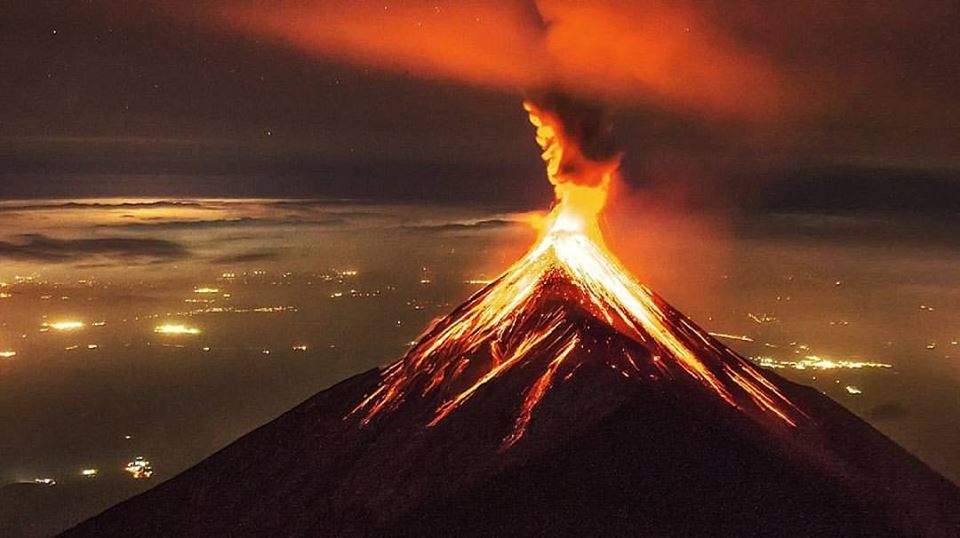 Because the ash reached approximately 4900 m (16,076 ft) and dispersed mainly westward of the volcanic complex so it is not discharged that particles are still perceived in the environment mainly in this direction.
Although the explosions have decreased in frequency they continue registering with characteristics of moderate to strong reason why due to the eruptive behavior of the volcano does not rule out the possibility of a new eruption.
Source : Insivumeh
Photo : David Rojas