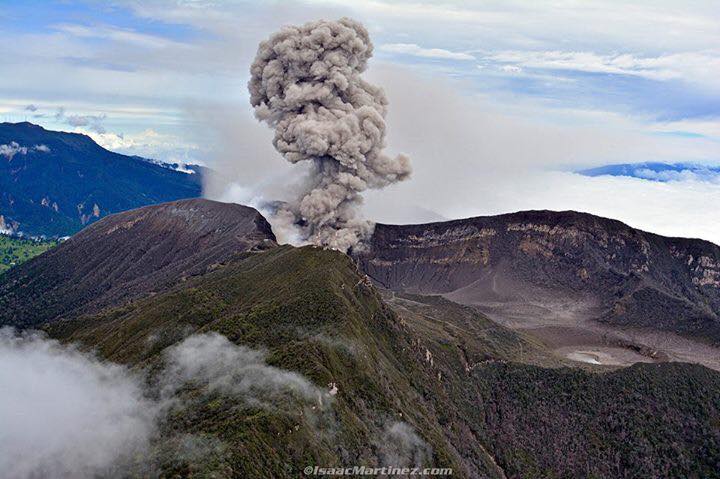 May 30 , 2017. EN . Bogoslof , Poas , Turrialba , Fuego , Cotopaxi , Dukono .
May 30 , 2017.
 Bogoslof , Alaska :
53°55'38 » N 168°2'4″ W,
Summit Elevation 492 ft (150 m)
Current Volcano Alert Level: WATCH
Current Aviation Color Code: ORANGE
There has been no new volcanic emissions observed at Bogoslof volcano since the eruption yesterday, May 28 at 22:16 UTC. No detectable activity has been observed in data from seismic or infrasound stations located on nearby Islands and no new activity has been observed in satellite data. Pilot Reports indicate that a volcanic cloud from yesterday's eruption has been detected drifting to the northeast of Bogoslof and a SIGMET aviation warning message has been issued by the National Weather Service.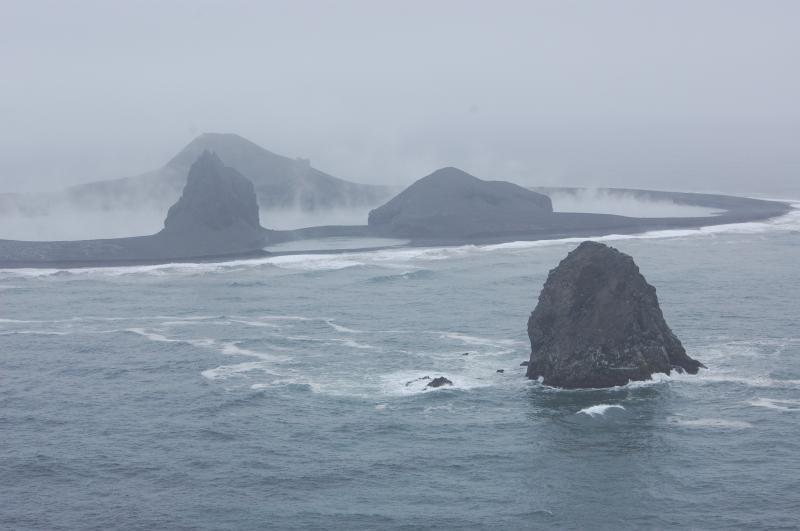 Bogoslof from the NW. Fire Island in foreground. Bogoslof Island aerial recon opportunity courtesy of U.S. Coast Guard Air Station Kodiak and U.S.C.G Cutter Mellon.
Bogoslof volcano remains at a heightened state of unrest and in an unpredictable condition. Activity may ramp back up with additional explosions producing high-altitude (>15,000 ft) volcanic clouds with little precursory activity. Some previous explosions have been preceded by an increase in earthquake activity that allowed for short-term forecasts of imminent significant explosive activity. Although we are able to detect energetic explosive activity in real-time, there is typically a lag of tens of minutes until we can characterize the magnitude of the event and the altitude of the volcanic cloud. It is possible for low-level unrest, including explosive activity, to occur that we are unable to detect with existing data sources. Such low-level periods of unrest and possible explosions could pose a hazard in the immediate vicinity of the volcano.
Source : AVO
Photo : Kaufman, Max
Poas , Turrialba , Costa Rica :
Activity report of the Poas and Turrialba Volcanoes: 29 May 2017, updated at 11:00.
Poas: Volcanic activity in the last 24 hours
Over the last 24 hours, tremors of moderate and high amplitude have been observed, and a series of small LP events of low amplitude. These are very sporadic. The tremor is continuous. Thanks to the web camera, continuous solid degassing was observed with a column of water vapor, gas and magmatic aerosols. This morning, the release of gas was observed from Puriscal and San Jose.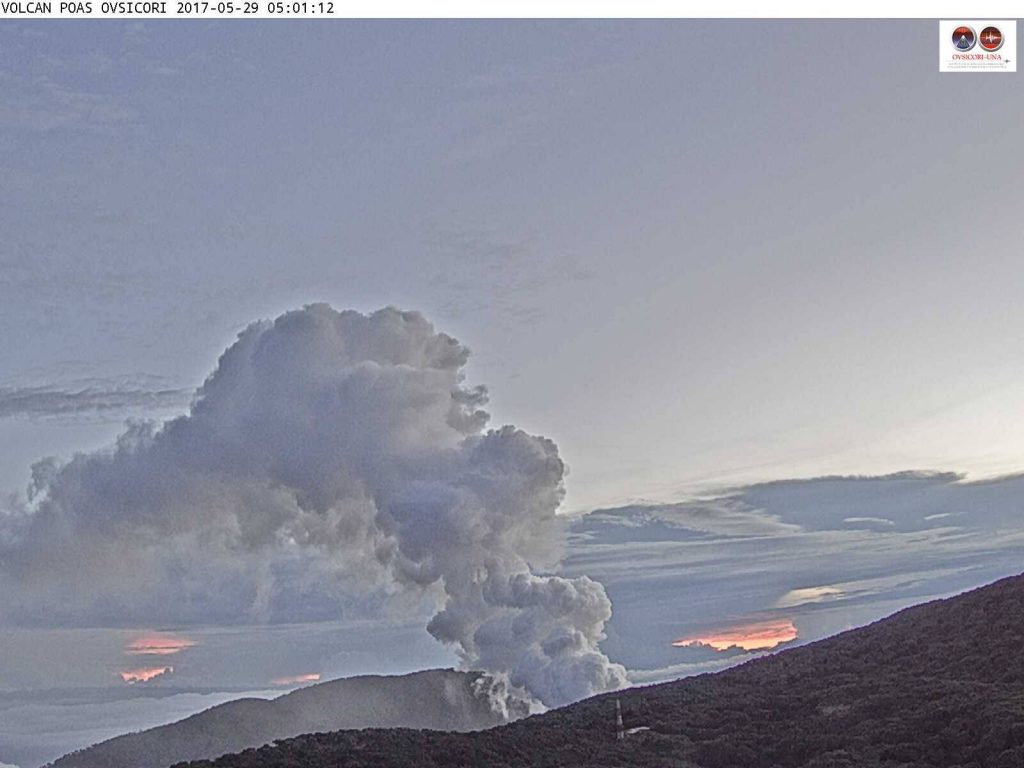 Until now, there have been no reported hydrothermal explosions (eruptions).
At the time of this report, the winds at the top of the volcano are directed towards the west.
Turrialba: Volcanic activity in the last 24 hours
During the last 24 hours, tremors of low amplitude have been observed. There have been a number of small and many very distinct VT type events. The camera showed a strong continuous degassing with a steam column at a height of about 500 meters from the bottom of the active crater. Sometimes the plume has a fine ash content. This morning, degassing was observed from all over the central valley.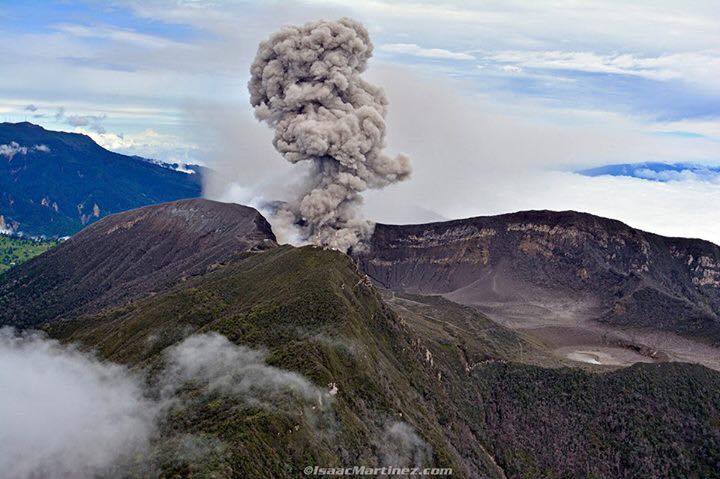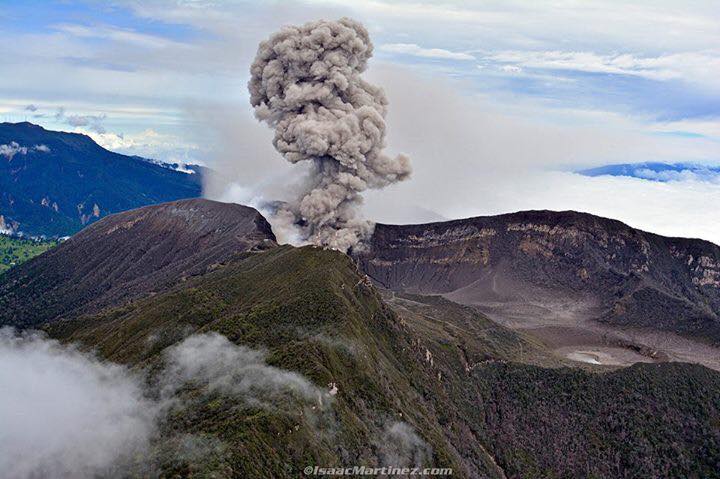 This morning, between 2 and 4 am (local time) it was possible to distinguish several small signals of explosions, similar to those observed yesterday on the seismic network.
So far there have been no reported eruptions and there have been no reports of ash falls.
At the time of this report, the winds at the top of the volcano head west.
OVSICORI-A remains vigilant on seismic and volcanic activity.
Source : Ovsicori
Photo : Isaac Martinez
Fuego , Guatemala :
Activity type: Vulcanian
Morphology: Stratovolcan composite
Geographical location: 14 ° 28 «5 4 ˝ Latitude N; 90 ° 52 '54 ˝ Longitude W.
Altitude: 3,763m s m n.
Wind: N at 3 km / h
Precipitation: 46.3 mm.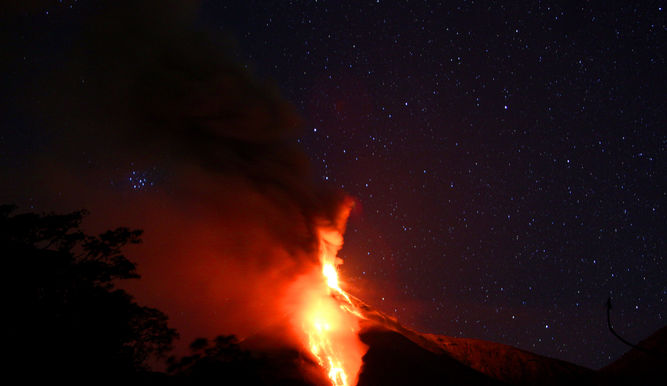 Activity:
Due to weather conditions, it is impossible to observe the volcanic cone at this time. Low emissions were observed at a height of 4,300 m (14,107 feet), 31 explosions, of which 20 were weak and 11 were moderate, emitting gray ash ejection columns at heights of 4,500 to 4,700 m (14,765 to 15,420 Feet). They spread over 12 kilometers to the west and southwest,
Emissions were accompanied by weak to moderate shock waves and generated incandescent pulses about 150/250 m above the crater, producing moderate to strong avalanches to the Ceniza, Taniluya and Santa Teresa gullies.
Source : Insivumeh
Cotopaxi , Ecuador :
Activity Bulletin of the Cotopaxi Volcano, Monday, May 29, 2017.
SUMMARY OF VOLCAN ACTIVITY
Volcano Status: Active
Internal Activity Level: Low
Surface Activity Level: Low
The internal activity on the volcano is low surface emission and further characterized by small and mainly steam and gas.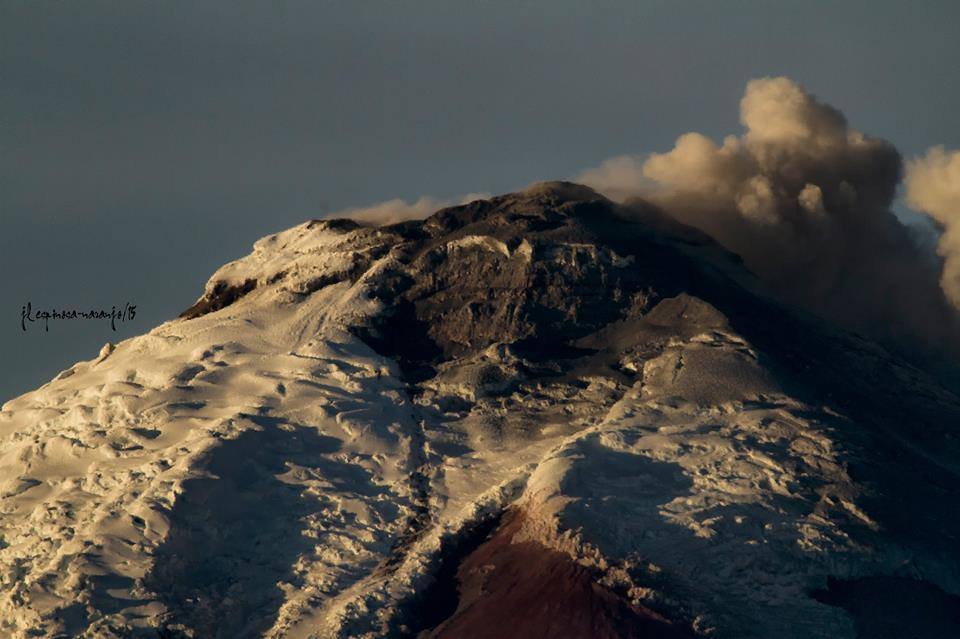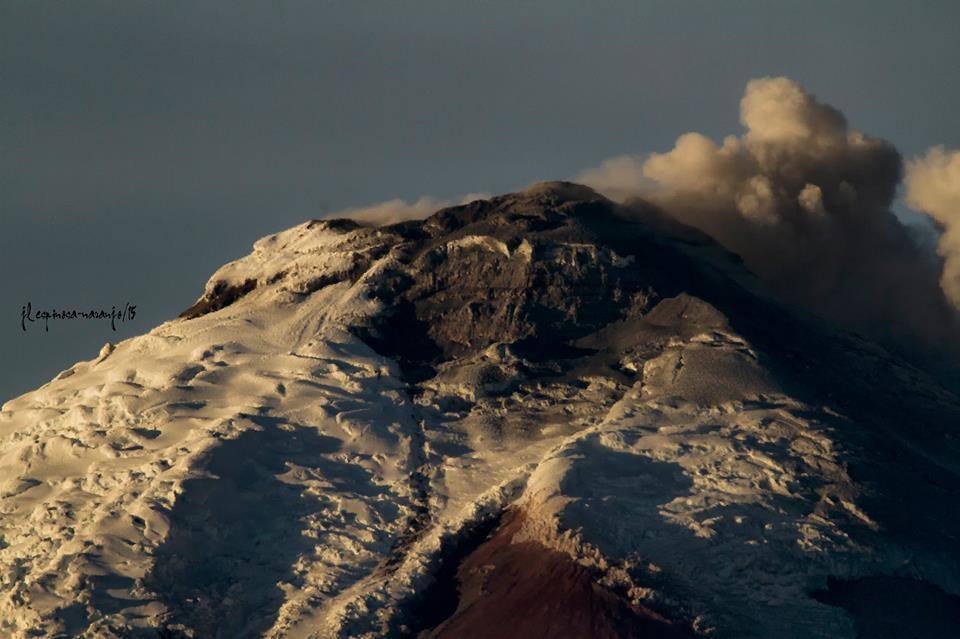 TECHNICAL APPENDIX AND OBSERVATIONS:
Seismicity:
Since 11:00 (TL) yesterday until 11:00 (TL) today, 2 events long period (LP) and 2 volcano – tectonic event (VT) have been recorded.
Observations:
Yesterday afternoon the volcano was discovered for a moment and it was possible to see a low emission at the level of the crater. During the early hours of the evening, the volcano was clear and no activity was observed at the surface level, at dawn the area darkened. In the morning, the volcano appeared clear and it was possible to see a low level of emission from the crater to the east. Currently, the sector is covered ..
Gas:
450 tonnes / day of sulfur dioxide were detected, with four valid measurements.
Rains and lahars:
Light rain in the area, which did not generate lahars were recorded.
Source : IGEPN
Photo : J. L. Espinosa Naranjo .
Dukono , Indonesie :
Volcano Observatory Notice for Aviation (VONA):
Last Issued: 2017 / 05 / 28 /2237Z
Current Aviation Color Code: ORANGE
Volcanic Activity Summary:
Eruption with volcanic ash cloud at 2228 UTC (0728 local).
Volcanic Cloud Height:
Best estimate of ash-cloud top is around 6493 FT (2029 M) above sea level, may be higher than what can be observed clearly. Source of height data: ground observer.
Other Volcanic Cloud Information: Ash cloud moving to West.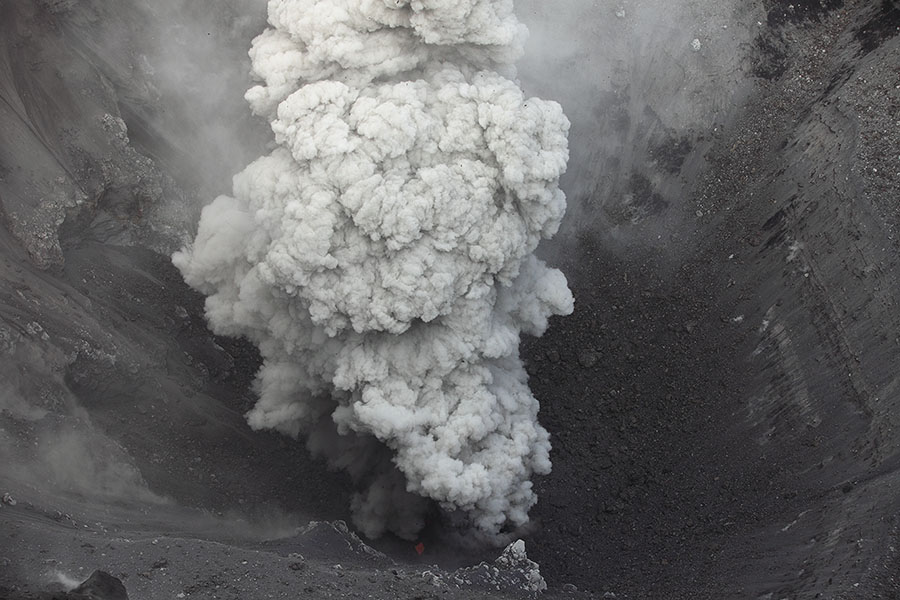 Remarks:
Volcanic tremor recorded continuously.
Administrative and geographical situation: North Halmahera, Maluku Nord
Longitude: 127 894, Latitude: 1693
Altitude: 1229 m.
Period of observation:
29/05/2017 00h 00-23h 59
Visual Observations:
From the Observation Post: Fog 0-III,
Height | Colors | Smoke intensity: 600 m | Gray, White | thick

Conclusion:
Activity of G. Dukono at Level II (Waspada)
Recommendation:
Communities around G. Dukono and visitors / tourists should not climb and approach the Malupang warirang crater within a radius of 2 km. Given the volcanic ash eruptions that occur periodically and the spread of ash in the direction of the wind, the areas affected by the ash are not fixed. It is recommended that people around G. Dukono have a mask to cover the nose and mouth, to be used when needed to avoid the danger of volcanic ash on the respiratory system.
Source : VSI
Photo : Photovolcanica .