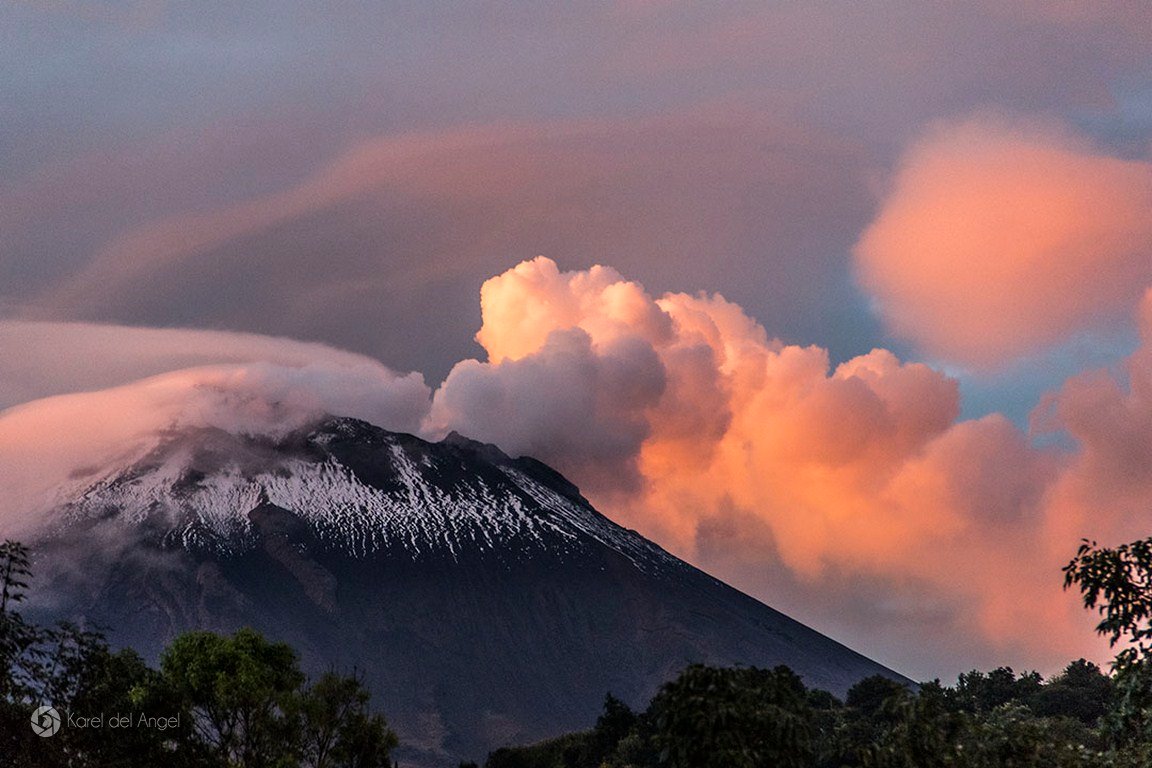 May 29 , 2017. EN . Bogoslof , Ebeko , Fuego , Piton de la Fournaise , Popocatepetl .
May 29 , 2017.
Bogoslof , Alaska :
VOLCANO OBSERVATORY NOTICE FOR AVIATION (VONA)
Issued: (20170529/0509Z)
Volcano: Bogoslof (VNUM #311300)
Current Color Code: ORANGE
Previous Color Code: RED
Source: Alaska Volcano Observatory
Notice Number:
Volcano Location: N 53 deg 55 min W 168 deg 2 min
Area: Aleutians
Summit Elevation: 492 ft (150 m)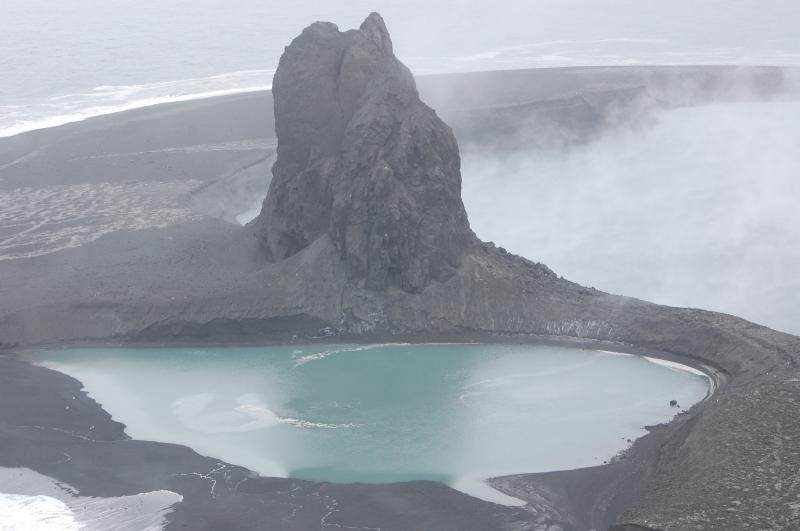 Small side vent on the NW shore of Bogoslof Island formed during one of the later eruptions. Waves can now spill over a section of beach into this small pool. Bogoslof Island aerial recon opportunity courtesy of U.S. Coast Guard Air Station Kodiak and U.S.C.G Cutter Mellon.
Volcanic Activity Summary:
No further ash emissions have occurred at Bogoslof Volcano since the explosion on Sunday, 28 May at 14:16 AKDT (22:16 UTC) and seismicity remains low. We are therefore lowering the Aviation Color Code to ORANGE and the Alert Level to WATCH. Additional ash-producing eruptions could occur at any time, however, with no detectable precursors.
Volcanic cloud height: Not applicable
Other volcanic cloud information: Not applicable
Source : AVO
Photo : Kaufman, Max
Ebeko, Kamchatka :
50.69 N, 156.01 E;
Elevation 3792 ft (1156 m)
Aviation Color Code is ORANGE
A moderate gas-steam with some amount of ash activity of the volcano continues. Ash explosions up to 16,400 ft (5 km) a.s.l. could occur at any time. Ongoing activity could affect low-flying aircraft and airport of Severo-Kurilsk.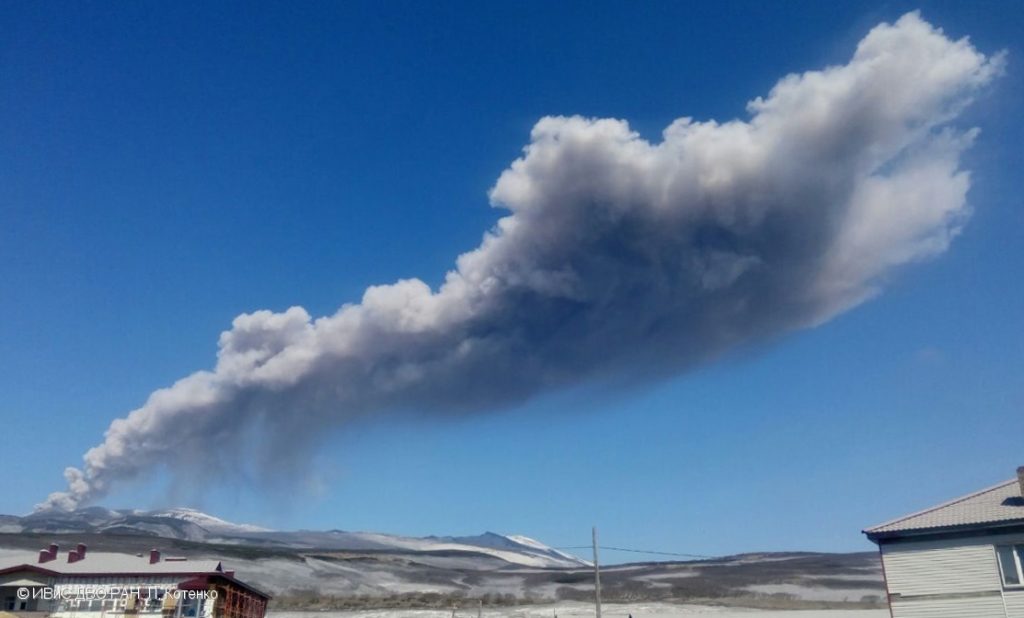 Explosive event at Ebeko volcano on 23 May, 2017.
A moderate explosive activity of the volcano continues. According to the data by observers from Severo-Kurilsk (Paramushir Island, Northern Kuriles), several ash bursts up to 1.5-2 km a.s.l. occurred on 23-24 May. Satellite data by KVERT showed the volcano was quiet or obscured by clouds.
Source : Kvert
Photo : L. Kotenko, IVS FEB RAS
Fuego , Guatemala :
SPECIAL BULLETIN volcanology, Guatemala 27 May 2017, 18:55 pm (local time)
Strong lahar in the ravine Seca or Santa Teresa
Activity type: Vulcanian
Morphology: composite stratovolcan
Geographical location: latitud  14 ° 28'54˝ N; 90 ° 52'54˝ longitud W.
Summit: 3,763msnm.
As previously alerted, the amount of pyroclastic material that the last eruption of the Fuego volcano emitted now generates a strong lahar  that descends into Seca Canyon or Santa Teresa, a tributary of the Pantaleon River, with a width of 30 meters and a height of 2 meters, hot, carrying branches and tree trunks, blocks 1.5 to 2 meters in diameter, with a strong odor of sulfur, and much finer matter.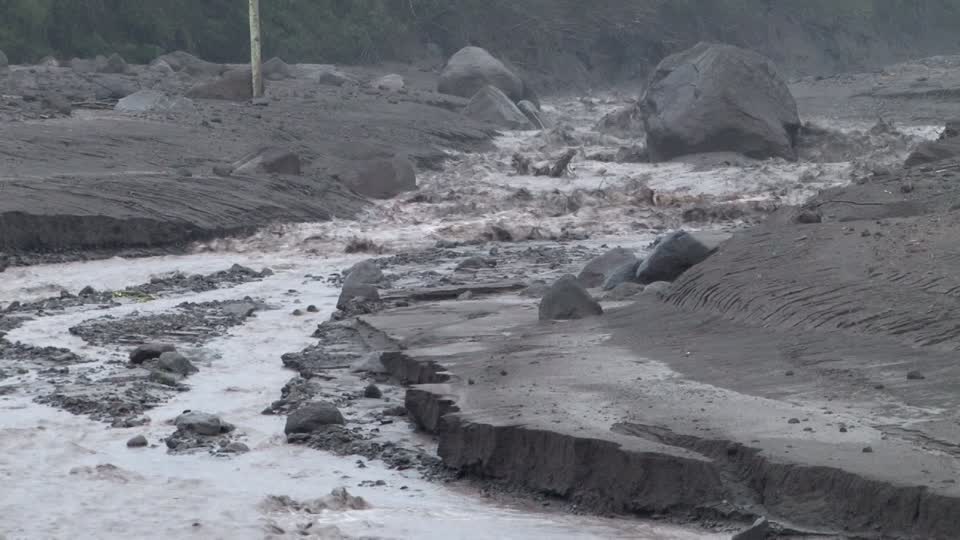 The amount of rain reported by the observatory of the Fuego OVFGO volcano is 38 mm. With these heavy rains in the area, this can generate other lahar in the canyons Ceniza, Las Lajas, Jute  as has happened in recent days. Precautions should be taken primarily for vehicle crossings on rivers.
. Therefore, INSIVUMEH recommends:
At SE-CONRED: Take the necessary precautions before the start of strong lahars for the Seca gulch tributary of the Pantaleon River.
Source : Insivumeh.
Photo : footage.framepool.com ( Merapi)
Piton de la Fournaise , La Réunion :
21 ° 14'38 « S
55 ° 42'29 « E
Altitude: 2632m
Alert level: Alert 1
Seismology
Number of landslides from 28-05-2017: 10
Areas affected by landslides: Summit cone
Enclos
– Number of volcano-tectonic earthquakes (VT) of 28-05-2017: 3
Area affected by VT: Cone sommital
– Volcano-tectonic earthquake of greater magnitude of 28-05-2017:
Duration: 5.08 sec
Time Magnitude: 0.54
Location of earthquakes over 2 months. Only locatable earthquakes have been shown on the map.
The observatory records seismic events not represented on this map because they can not be located due to their too low magnitude.
To see the number of earthquakes detected by the Observatory networks, you can refer to its latest Activity Bulletin.
Deformities
– The GPS of the summit area recorded an inflation, witness of the pressurization of a superficial source.
– The GPS in far field record an inflation, witness of the pressing of a deep source.
Illustration of the top deformation over 2 months. Here is shown a baseline (variation of distance between two GPS receivers) crossing the Dolomieu crater (see location). A rise is synonymous with elongation and therefore swelling of the volcano; Conversely, a decrease is synonymous with contraction and therefore with deflation of the volcano. The possible periods, colored in light pink, correspond to eruptions.
Geochemistry:
CO2 concentrations in the soil at the remote station of Plains of Cafres are stable at a high level.
Source : OVPF
Popocatepetl , Mexico :
28 May 23:00:00 (28 May 16:00:00 GMT)
In the last 24 hours, with the monitoring systems of the Popocatepetl volcano, 61 low-intensity exhalations accompanied by water vapor and gas have been identified. In addition, a volcano-tectonic earthquake occurred yesterday at 23:23 h, with an amplitude of M2,2.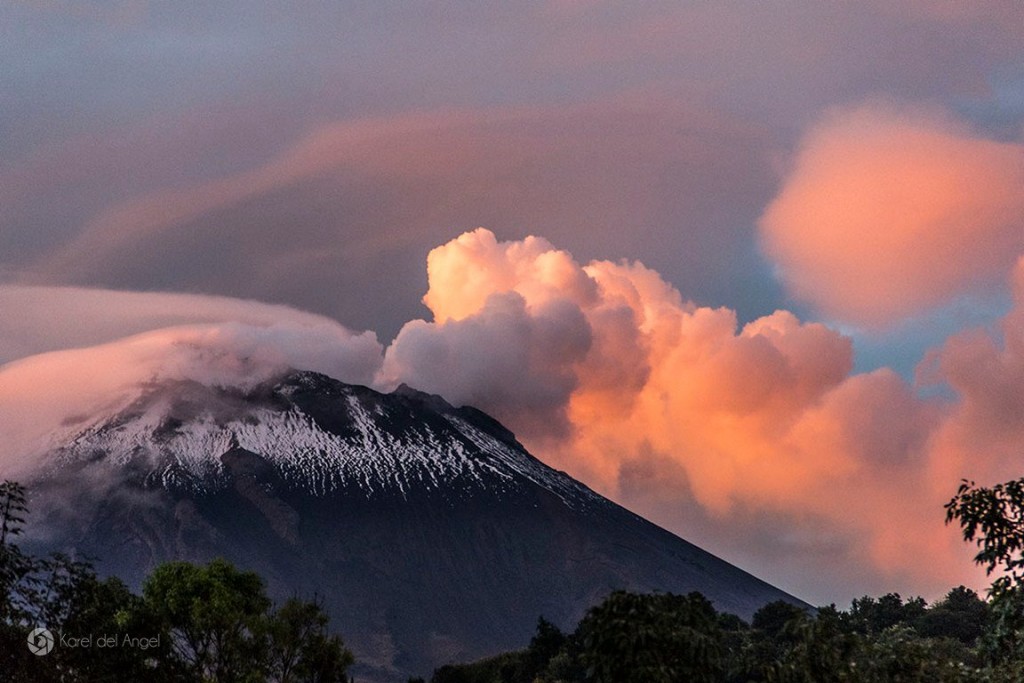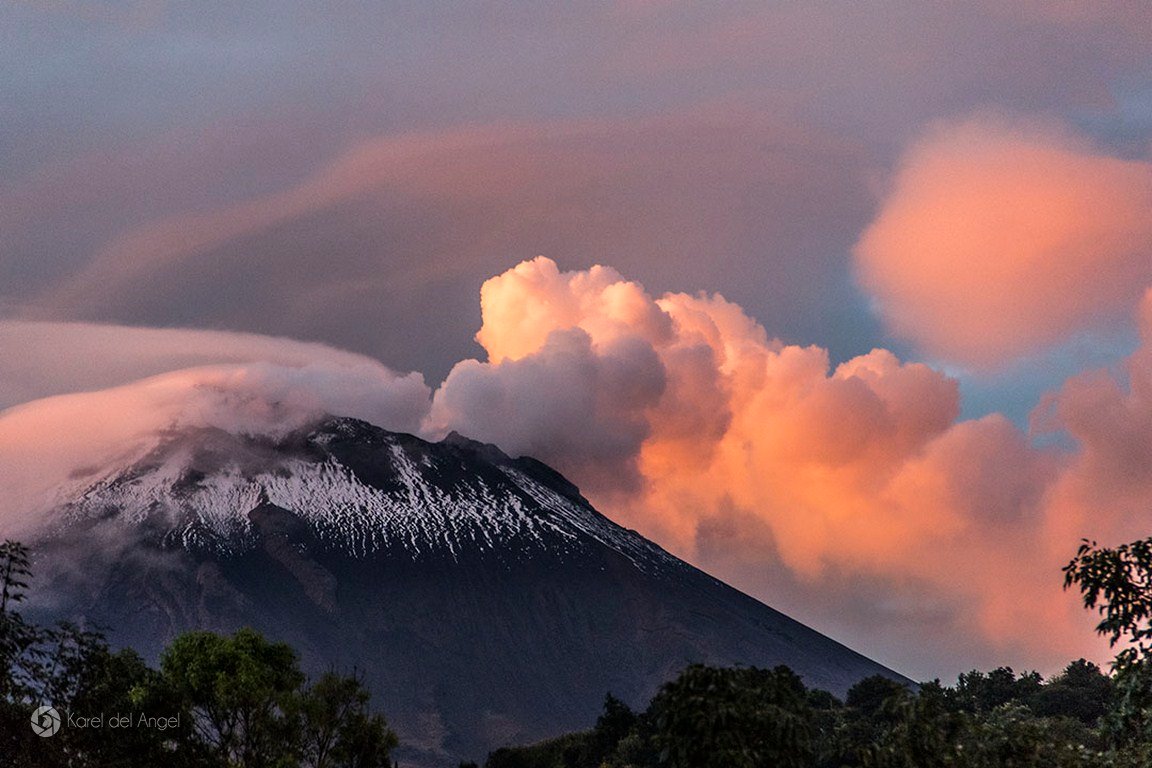 During the night, a gleam was observed on the crater, which increased during some exhalations.
From this morning until the time of this report, there was good visibility, and the volcano exhibited a low emission of gas and steam directed south-west.
CENAPRED asks not to approach the volcano and in particular the crater.
The Semaphore volcanic alert of the Popocatepetl volcano is located in Amarillo Phase 2.

Source : Cenapred .
Photo : Karel Del Angel.