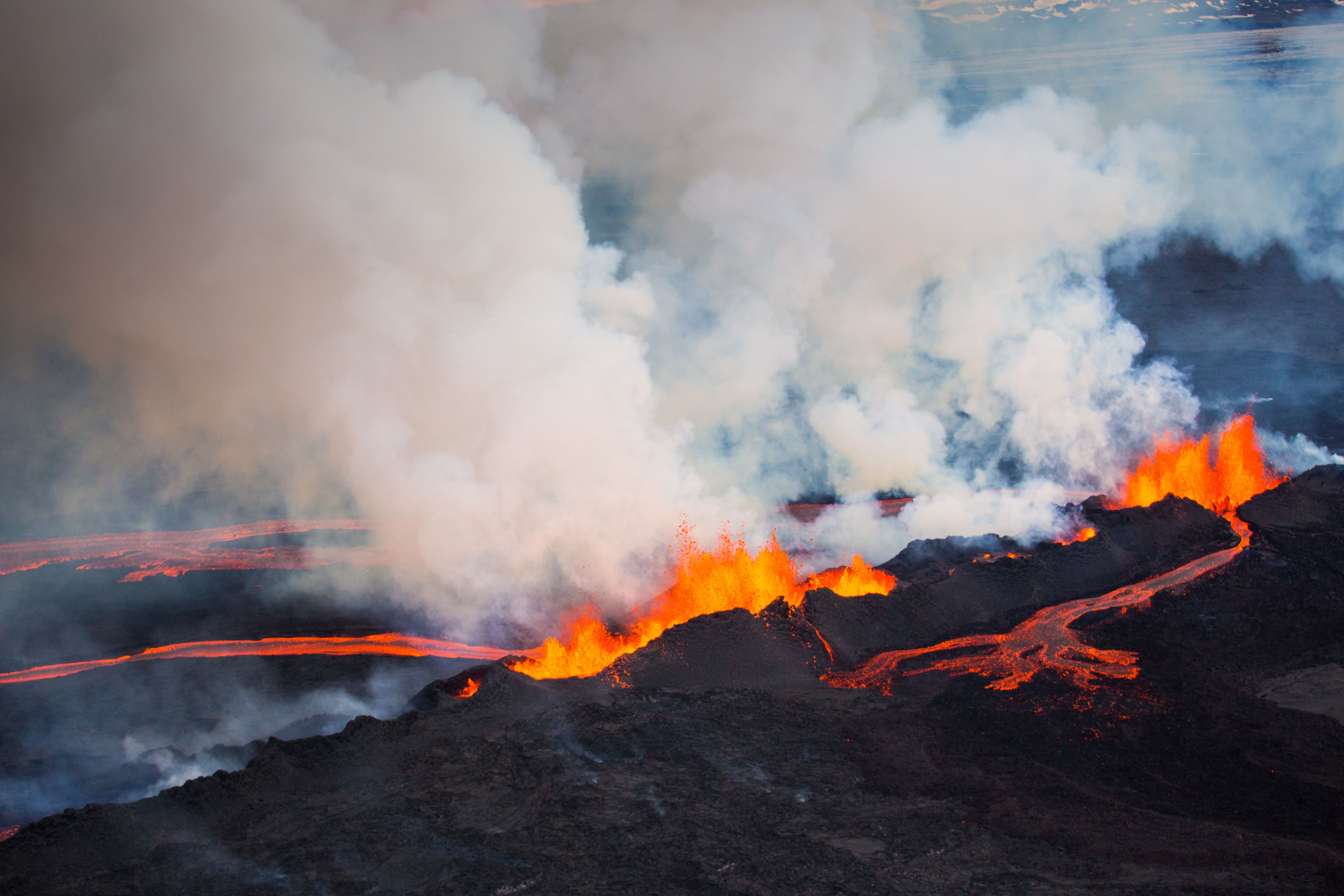 May 28 , 2017. EN. Nishinoshima , Poas , Turrialba , Rincon de la Vieja , Bezymianny , Bárðarbunga .
May 28 , 2017.
Nishinoshima, Japan :
27.247°N, 140.874°E
Elevation 25 m
The Japan Coast Guard reported that during an overflight of Nishinoshima during 1300-1345 on 2 May observers noted frequent (every 40-60 seconds) Strombolian explosions at a new pyroclastic cone in the crater. Ash plumes rose 500 m. Two lava flows originating from the N part of the cone traveled 180 m SW and 170 m W, and entered the ocean. The island continued to grow and was estimated to be 2 km E to W and about 1.9 km N to S, with an area of 2.75 square kilometers (it was 2.68 square kilometers on 15 September 2016).
The eruptive activity does not seem to have evolved.
Despite a strong cloud cover due to the approach of a low pressure regime, the flow of lava is confirmed. The hotspots of the crater and the lava exit on the north side have not moved. On the south-west coast, the lava spectrum has changed the coast line: the measurements made by connecting the hot spot center, the expansion is estimated to be 90,000 m² since the resumption of activity.
Source : GVP, Blog B Duick ( http://www.earth-of-fire.com/tag/actualites%20volcaniques/)
Video : NHK
Poas , Turrialba, Rincon de la Vieja , Costa Rica :
Activity report of the Poas, Turrialba and Rincon de la Vieja volcanoes. May 27, 2017, updated at 11:20.
Poas Volcano :
The Poas remained with seismic signals of volcanic tremor of moderate amplitude until yesterday at 17 hours. From then on the tremor doubled and since then a strong amplitude of the tremor is recorded. This signal is associated with a strong degassing generating a vigorous plume of vapor rich in magmatic gases and aerosols. The plume is scattered on the west-north-west slopes of Poas. Villagers in areas such as Tambor, Sabanilla, Grecia and Naranjo de Alajuela have reported a strong odor of sulfur. Until now, there are no reports of ash falls.
Turrialba Volcano:
The Turrialba volcano was maintained with a sustained volcanic tremor and frequent small explosions raising plumes of ash, gas and aerosols to heights more than 500 meters above the active crater and material projections More than 200 meters high, but falling more than 100 meters from the crater, mainly towards the central crater. It was recorded 4 to 5 explosions per hour with some short intervals of moderate tremor, associated with the passive exit of ash and gas.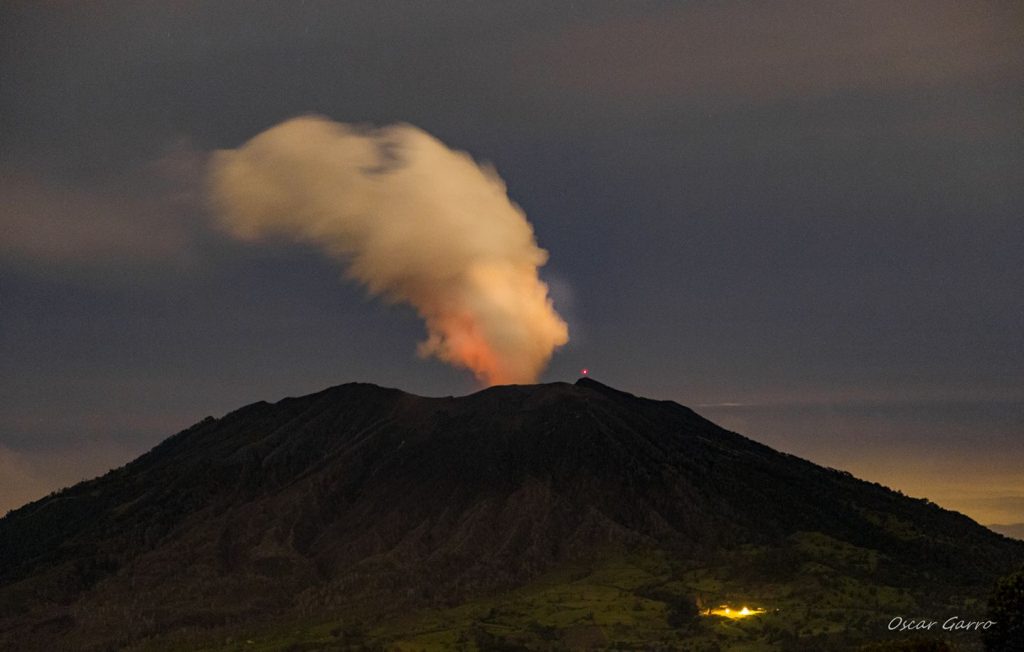 The weak winds scatter the ash on the upper part of the volcano and towards the west-north-west. An odor of sulfur is reported to Juan Viñas, but no report of ash falls.
Rincon de la Vieja Volcano:
After the short days after the hydrothermal explosion (also called phreatic eruption) which took place on 23 May 2017 in the active crater where the acid lake is located and which produced a small lahar in the northern sector of the volcano, The activity of the latter remained relatively calm.
OVSICORI-A remains vigilant on seismic and volcanic activity.
Source : Ovsicori.
Photos : Ovsicori , Oscar Garro
 Bezymianny , Kamchatka :
55.97 N, 160.6 E;
Elevation 9453 ft (2882 m)
Aviation Color Code is YELLOW
Strong gas-steam activity of the volcano continues. Ongoing activity could affect low-flying aircraft.
Strong gas-steam activity of the volcano continues. Satellite data by KVERT showed a thermal anomaly over the volcano on 22 and 25 May; the volcano was obscured by clouds in the other days of week.
Source : Kvert
Photo : videodata KB GS RAS
Bárðarbunga , Iceland :
Another earthquake around Bardarbunga volcano this morning .
27 MAY 2017. An earthquake of 3.9 magnitude was measured in Bardarbunda caldera this morning at 9.35 (local time) according to a RUV report and according to the Icelandic Met Office around seventy tremmors and quakes were measured there last week and an additional thirty the week before that. Three of those earthquakes were above 3.0 magnitude and they all originated by the calderas edge in the evening of 20 May, last week.
A large earthquake also rocked south Iceland in early May 17 with reports of Hekla Volcano being ready to erupt.
Bardarbunga, is a volcano located under Iceland's most extensive glacier, Vatnajokull glacier to the north. Bardarbunga is the second highest mountain in Iceland and is a part of a volcanic system that is approximately 200 kilometers long and 25 kilometers wide, that system includes Hekla Volcano.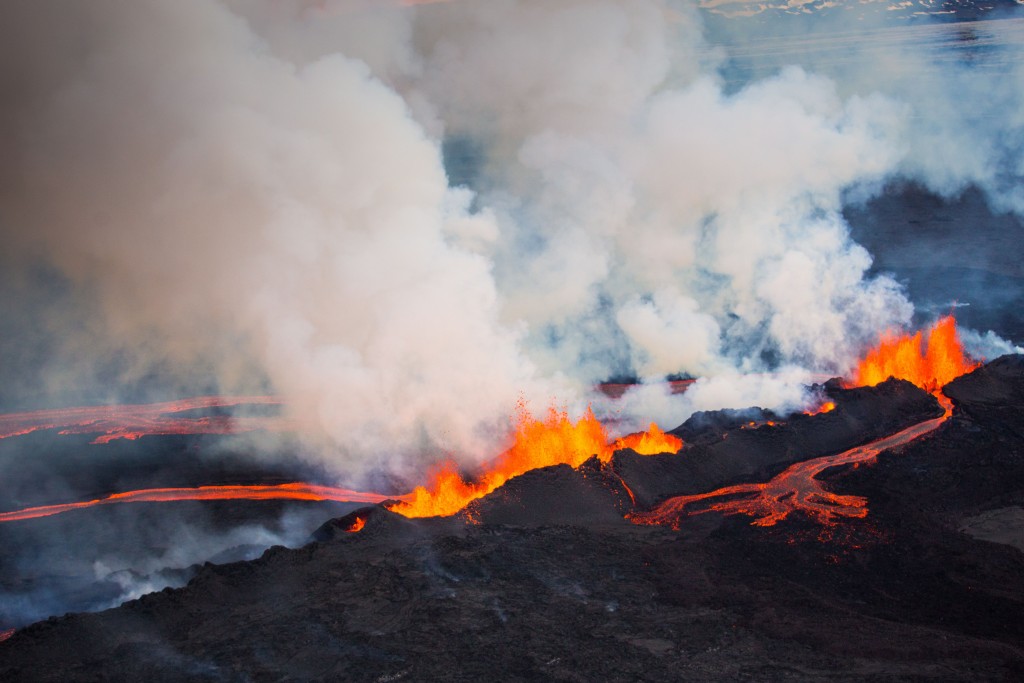 Bardabunga famously erupted in 2014 and had an ongoing fissure eruption for six moths from August 2014 until February 2015 creating a new lava field roughly the size of the greater Reykjavik area. When the eruption ended on 27 February 2015, the Holuhraun lava field measured more than 85 square km and the volume is around 1.6 km³.
Source : ICE NEWS