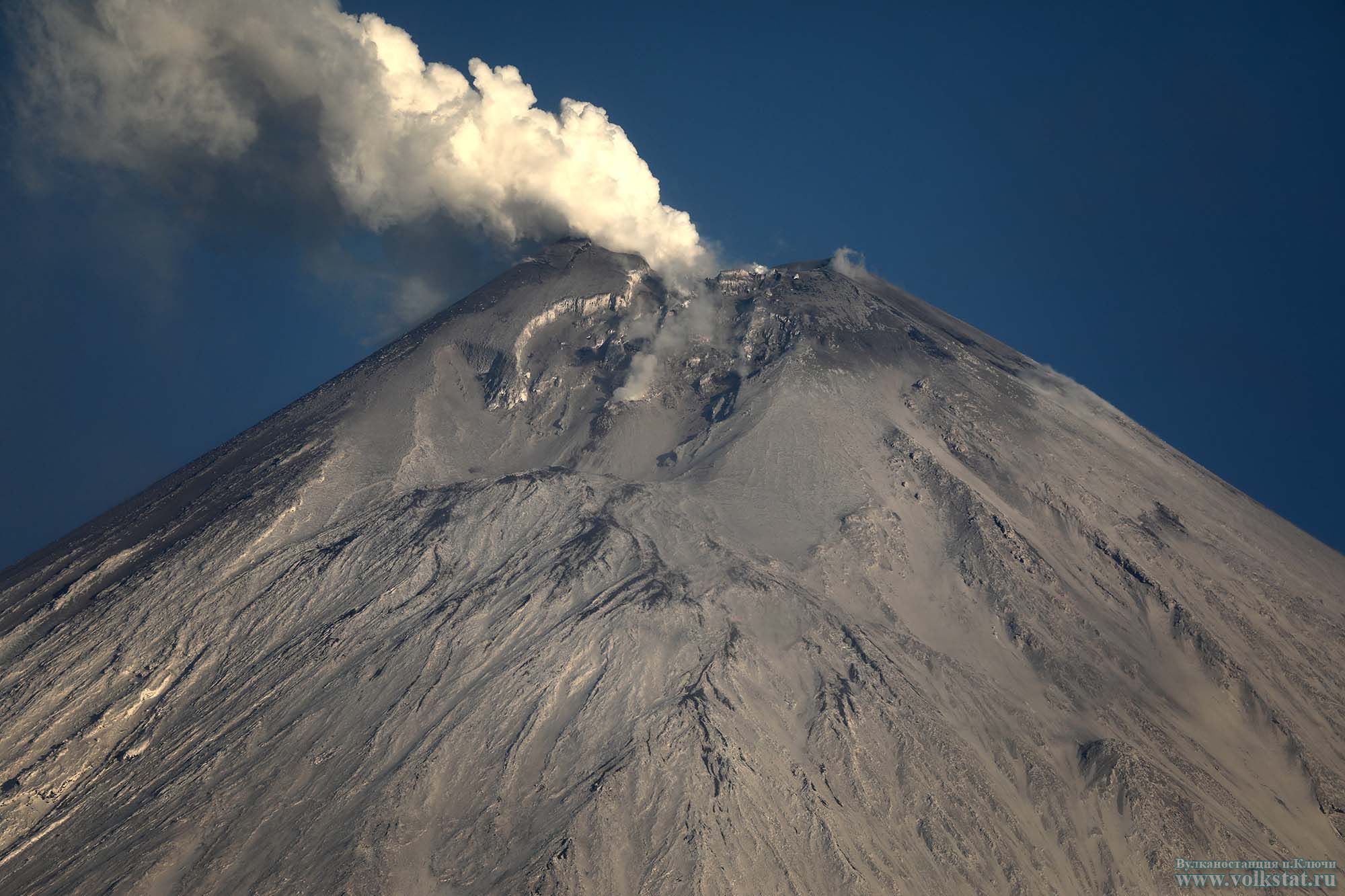 May 13 , 2017. EN. Etna , Kanlaon, Klyuchevskoy , Bogoslof .
May 13 , 2017.
Etna , Sicily :
He tries….
Four times in the past 30 hours, Etna has attempted to resume its eruptive activity with a large increase in the amplitude of the volcanic tremor and a short strombolian activity in the « saddle vent » of the Southeast crater . Each time the attempts failed, the last one about half an hour ago on the evening of May 12, 2017.
At present (last night), 21.15 (G.M.T. + 2) there is no emission of lava flows, but the rhythm of the strombolian explosions is fairly sustained. Through the broadcast images of Radio Studio 7 Maletto, there are about 10 explosions per minute. With this activity, which could soon become more intense, magma spilling out in a few hours is not unlikely.
Source : Boris Behncke, Pippo Scarpinati.
Kanlaon, Philippines :
Phivolcs: Mt. Kanlaon back to normal .
11 MAY 2017. The Philippine Institute of Volcanology and Seismology (Phivolcs) has lowered the alert status of Mount Kanlaon from Alert Level 1 to 0. According to Phivolcs, Alert Level 1 means a low level of volcanic unrest. There is a slight increase in volcanic earthquake and steam or gas activity.
An Alert Level 0 means no alert or normal status. Benjamin Tanatan, science research analyst of Phivolcs in Canlaon City, said the lowering of alert level was done last May 5.
Tanatan said that with the alert level back to normal, no magmatic eruption is foreseen in the immediate future. However, in the event of a renewed increase in any one or combination of the above monitoring parameters, the alert status may step up once again to Alert Level 1.
The public is still reminded to avoid entry into the four-kilometer radius Permanent Danger Zone due to perennial hazards of rockfalls, avalanches, sudden outgassing and steam-driven or phreatic eruption at the summit area.
Phivolcs said it is closely monitoring Kanlaon's condition and any new development will be immediately communicated to all concerned. Since its last phreatic eruption on June 15, 2016, Kanlaon exhibited a general decline of monitoring parameters to normal or baseline values, indicating a return to normalcy.
Source :   SUN STAR
Klyuchevskoy , Kamchatka :
56.06 N, 160.64 E;
Elevation 15580 ft (4750 m)
Aviation Color Code is ORANGE
The activity of the volcano continues. Ash explosions up to 26,200 ft (8 km) a.s.l. could occur at any time. Ongoing activity could affect international and low-flying aircraft.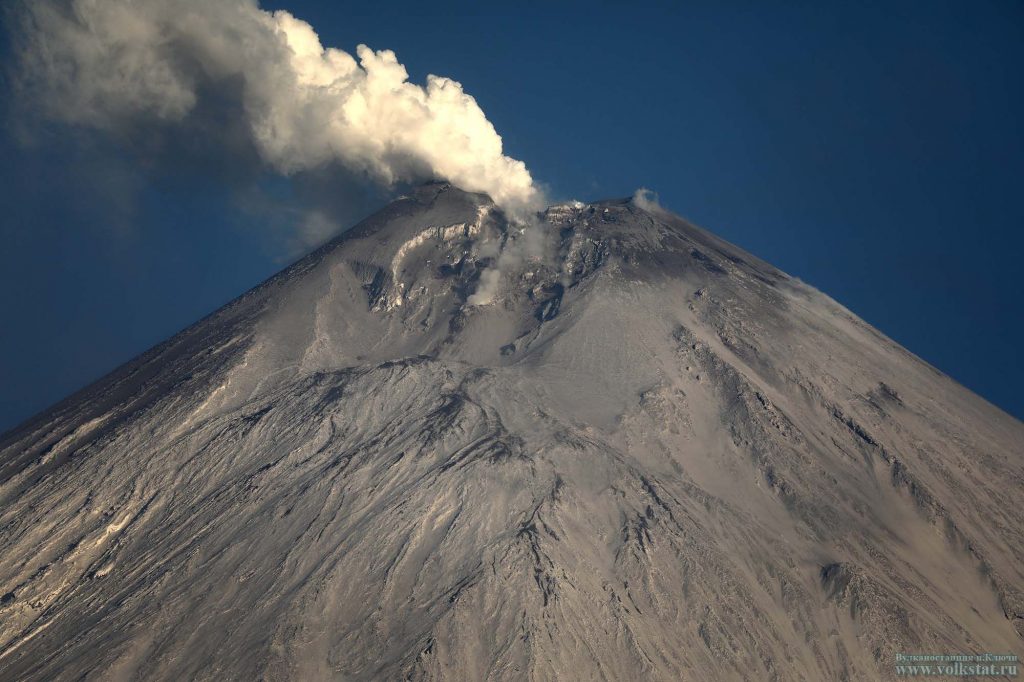 A moderate activity of the volcano continues. Satellite data by KVERT showed: on 05-06 and 10-11 May ash plumes extended for about 270 km to the south-east and north-west from the volcano, respectively; a weak thermal anomaly over the volcano was noted on 05 and 10 May; the volcano was obscured by clouds in the other days of week.
The teams went on land on April 4 in the area of the volcano Klyuchevskoy for the selection of samples of ash.
Source : Kvert , Volkstat ru.
Photo : Volkstat ru , Yu Demyanchuck , IVS FEB RAS KVERT.
Bogoslof , Aleutians , Alaska :
53°55'38 » N 168°2'4″ W,
Summit Elevation 492 ft (150 m)
Current Volcano Alert Level: ADVISORY
Current Aviation Color Code: YELLOW
Bogoslof volcano remained quiet over the past week. AVO did not detect any activity in seismic, infrasound, lightning, or satellite data throughout the week. The last major explosive event occurred on March 8, 2017. Occasional high-spatial resolution satellite images show no significant changes at the surface due to eruptive activity since that time. Bogoslof remains at Aviation Color Code YELLOW and Alert Level ADVISORY.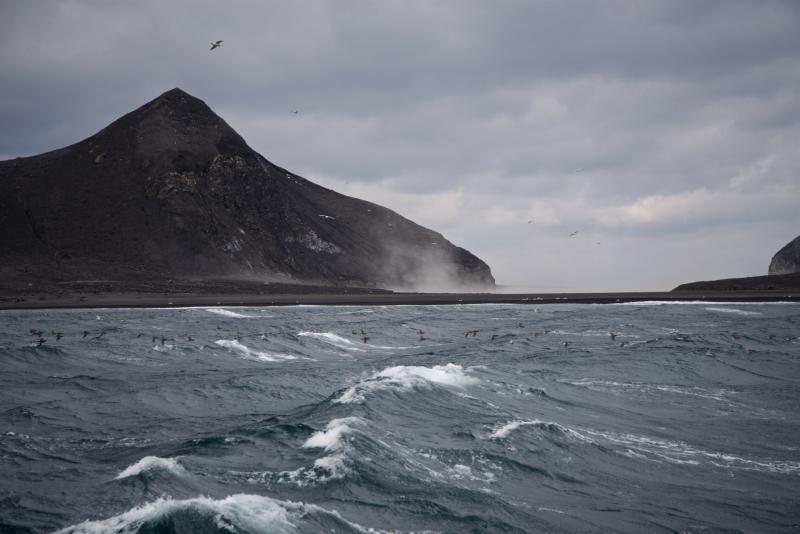 Though the volcano is currently quiet, renewed activity could occur at any time and could include additional explosive events and/or effusion of a lava dome. Lower-level eruptive activity may also occur that is below our ability to detect in seismic, infrasound, or satellite data sources, and could generate hazardous phenomena in the immediate vicinity of the volcano.
We continue to use infrasound (pressure) sensors from Umnak Island and seismic data from Unalaska Island to monitor Bogoslof, which allow for timely detection and sometimes forecasting of significant activity. In addition, we use satellite imagery to track ash clouds and information from the Worldwide Lightning Location Network to identify volcanic lightning.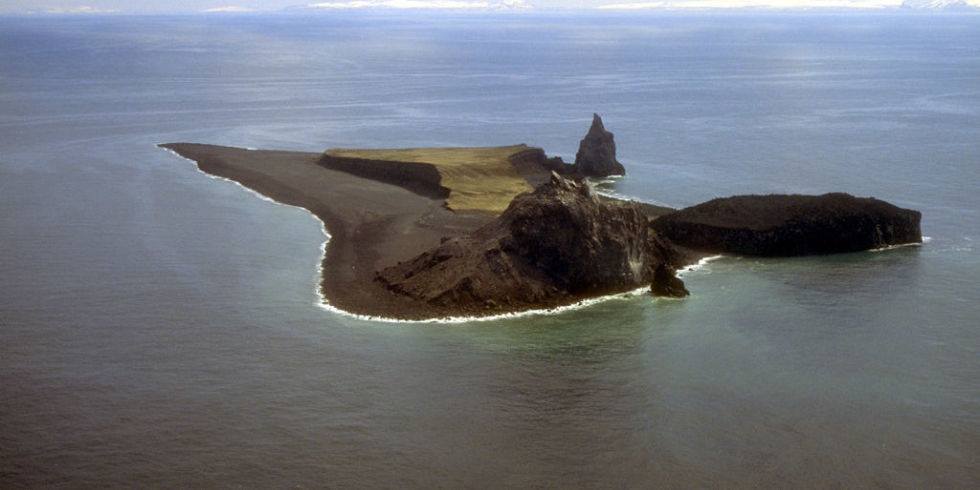 Bogoslof Island is the largest of a cluster of small, low-lying islands making up the emergent summit of a large submarine stratovolcano. The highest point above sea level prior to this eruption was about 100 m (300 ft); however, the volcano is frequently altered by both eruptions and wave erosion and has undergone dramatic changes in historical time. The two main islands currently above sea level are Fire Island and Bogoslof Island, both located about 98 km (61 mi) northwest of Unalaska/Dutch Harbor, 123 km (76 mi) northeast of Nikolski, and 149 km (93 mi) northeast of Akutan. The volcano is situated slightly north (behind) the main Aleutian volcanic front. Bogoslof volcano is within the USFWS Aleutian Maritime Wildlife Refuge and is habitat for marine mammals and seabirds.
At least 8 historical eruptions have been documented at Bogoslof. The most recent prior to 2016 occurred from July 6-24, 1992, and produced episodic steam and ash emissions including an ash cloud up to 26,000 ft (8 km) asl on July 20, followed the next day by extrusion of a new 150 m (500 ft) by 275 m (900 ft) lava dome on the north end of the island. Previous eruptions of the volcano have lasted weeks to months, and have on occasion produced ash fall on Unalaska. Eruptions of the volcano are often characterized by multiple explosive, ash-producing events such as we have seen in 2016-17, as well as the growth of lava domes.
Source : AVO