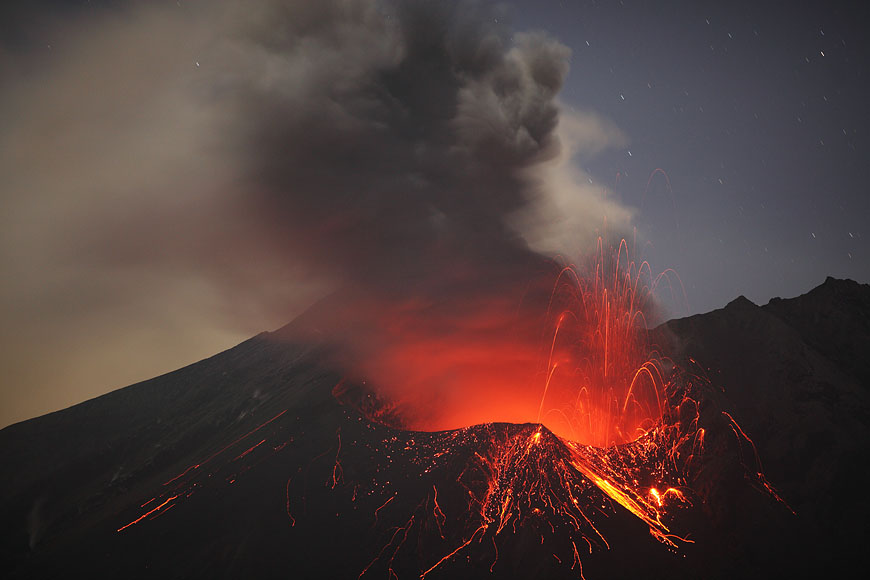 May 11 , 2017. EN. Poas , Manam , Kilauea , Sakurajima ( Aira).
May 11 , 2017.
Poas , Costa Rica :
Activity report of the volcanoes Poas, 10 May 2017, updated at 11:00.
The moderate amplitude tremor that has been present on the Poas volcano in recent days has decreased today towards about 3 am. Since the volcano maintains a tremor of low continuous amplitude, associated with a strong degassing of water vapor, gas and aerosols by the underwater vents of the acid lake, especially those located in the southern part of the lake -this. Small earthquakes of LP and VT type and small sporadic eruptions are also recorded, the one of greater amplitude took place at 1:25 this morning.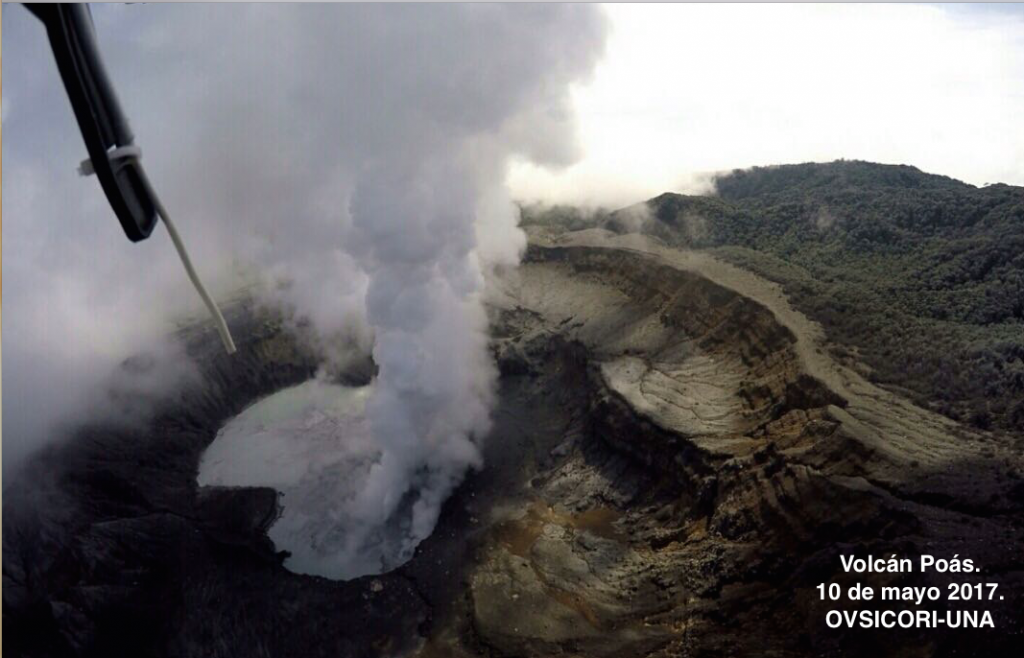 Poas Volcano. May 10, 2017. Gas measurements were made today with a drone. Samples were taken.
The surface of the acid lake has a strong evaporation and vigorous fumaroles from the underwater vents. A dense layer of material floats on its surface. This morning, the plume remained with a height of about 1000 m above the floor level of the crater and is visible from the provinces of Alajuela, Heredia, San José and Limon. No reports of ash falls or sulfur odor were received. The wind was mainly oriented south-southwest. Under present conditions of activity of the Poas volcano, more short-term phreatomagmatic eruptions can be expected.
Source : Ovsicori
Manam , Papua New Guinea :
4.08°S, 145.037°E
Elevation 1807 m
RVO reported that another phase of Strombolian activity at Manam's Southern Crater began around 1700 on 4 May when RSAM values increased to 100-150. A sharp increase in values was detected at 0330 on 5 May, though the highest RSAM value (1,400) occurred between 0500 and 0600. RSAM dropped rapidly to 200 by around 0700, and then by 1400 RSAM values were around 50.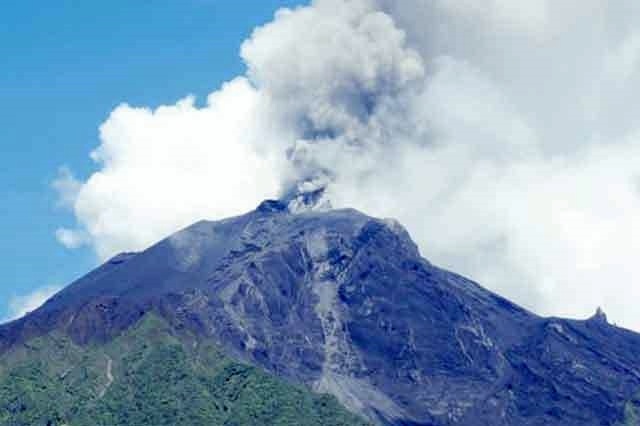 Strombolian activity on 5 May was characterized by loud roaring and rumbling, ejected incandescent material, and ash and scoria fall; some phases of very strong activity occurred during 0530-0600. A lava flow traveled down the SW valley and stopped at 600 m elevation. Minor amounts of ash fell in all parts of the island including Warisi (E), Dugulaba (S), and Boda and Baliab (NW). Though weather clouds prevented visual observations of Manam during 6-8 May, activity in general was very low; noises and crater incandescence were absent, and seismicity was lower than it had been for many weeks (RSAM <50). RVO recommended that the Alert Level be lowered to Stage 2.
Source: Rabaul Volcano Observatory (RVO) , GVP.

Photo : ONE-PNG 17.04.2017
Kilauea , Hawai :
19°25'16 » N 155°17'13 » W,
Summit Elevation 4091 ft (1247 m)
Current Volcano Alert Level: WATCH
Current Aviation Color Code: ORANGE
Activity Summary:
Kīlauea Volcano continues to erupt at its summit in Halemaʻumaʻu Crater and at Puʻu ʻŌʻō on the East Rift Zone. This morning the lava lake surface was measured at 20.5 m (67 ft) below the adjacent crater floor. The Puʻu ʻŌʻō episode 61g lava flow continues to enter the ocean and form a lava delta at Kamokuna. Active surface flows appear to persist above and near the pali southeast of Puʻu ʻŌʻō. These pose no threat to nearby communities. Low rates of ground surface deformations and seismicity continue across the volcano.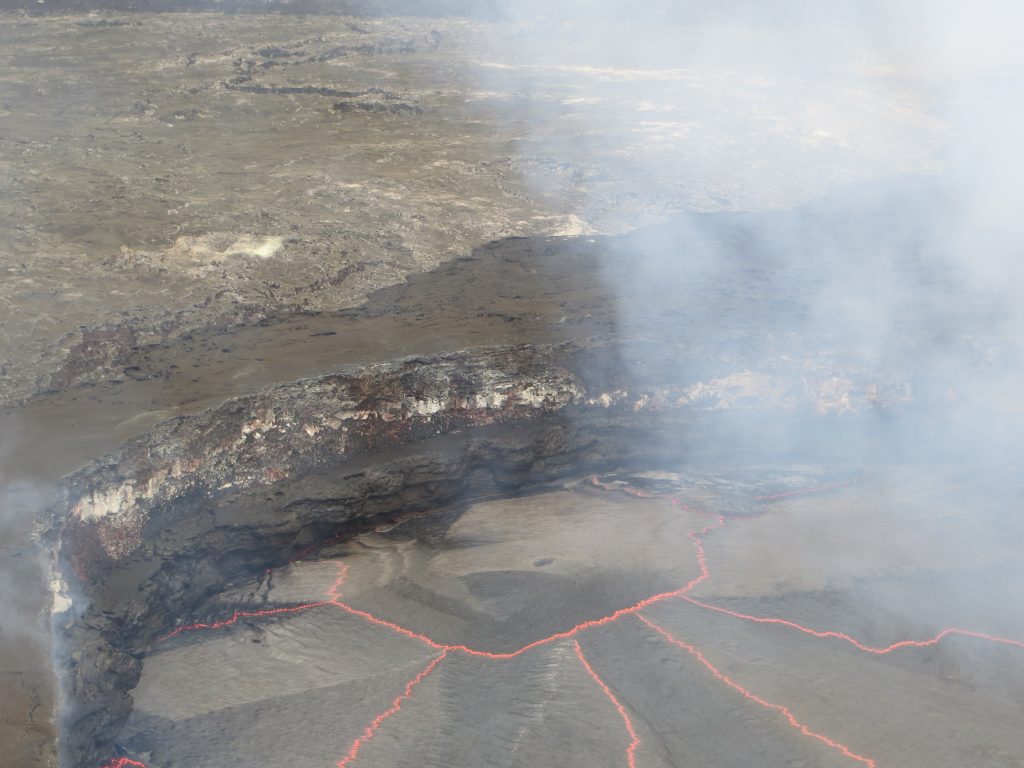 Summit Observations:
Summit tiltmeters recorded deflationary tilt starting about 2:00 a.m. this morning. Webcam views show fluctuations in the level of the lava lake within the Overlook Vent. This morning, the lake surface was measured at 20.5 m (67 ft) below the adjacent floor of Halemaʻumaʻu Crater. Low levels of seismicity continue, with amplitudes of volcanic tremor fluctuating with the strength of lava lake spattering. Summit sulfur dioxide emission rates remain high.
Puʻu ʻŌʻō Observations:
Webcam images show persisting glow at long-term sources within Puʻu ʻŌʻō crater and from a small lava pond on the west side of the crater. The combined sulfur dioxide emission rate from all East Rift Zone vents has been steady over the past several months and remains significantly lower than the summit emission rate.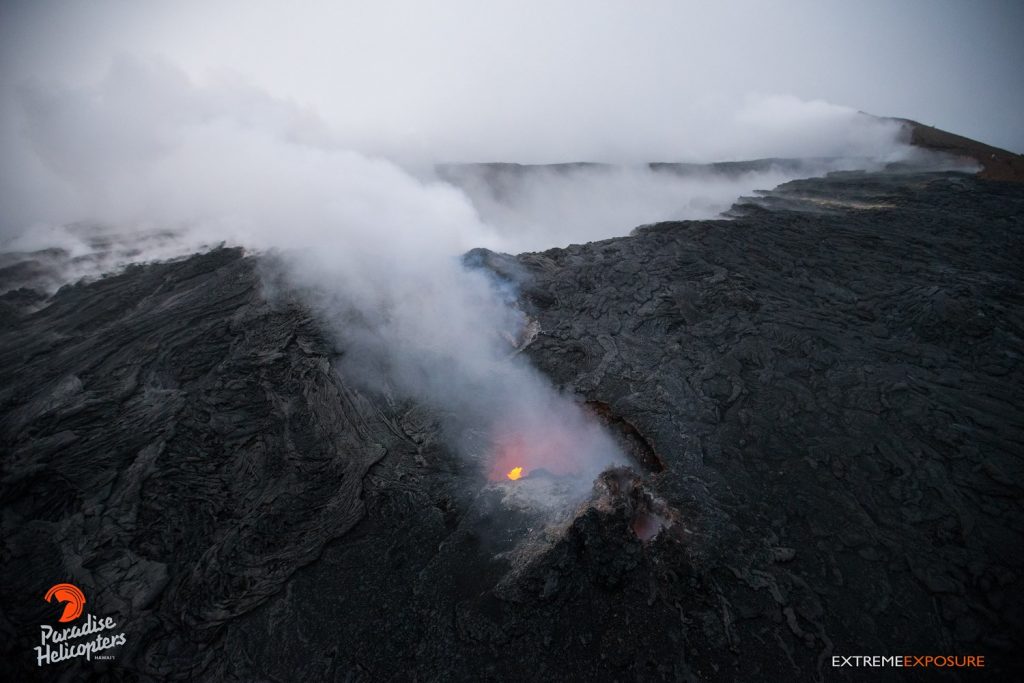 Lava Flow Observations:
The episode 61g flow remains active and entering the ocean at Kamokuna, and development of the lava delta has resumed since its collapse into the ocean last week. Webcam views suggest active breakouts of lava within the 61g flow field near the pali. No obvious surface lava flow activity on the coastal plain is noted between the pali and the ocean entry. The flows pose no threat to nearby communities at this time.
Source : HVO
Photos : HVO , Bruce Omori .
Aira , ( Sakurajima) , Japan :
31.593°N, 130.657°E
Elevation 1117 m
JMA reported that nine events at Showa Crater (at Aira Caldera's Sakurajima volcano) were detected during 1-8 May. One of the events was explosive, generating an ash plume that rose 4 km above the crater rim and ejecting material 300-500 m from the crater. Ashfall was reported in the cities of Kagoshima (3 km NW), Hioki (25 km WNW), and Ichikikushikino (40 km NW).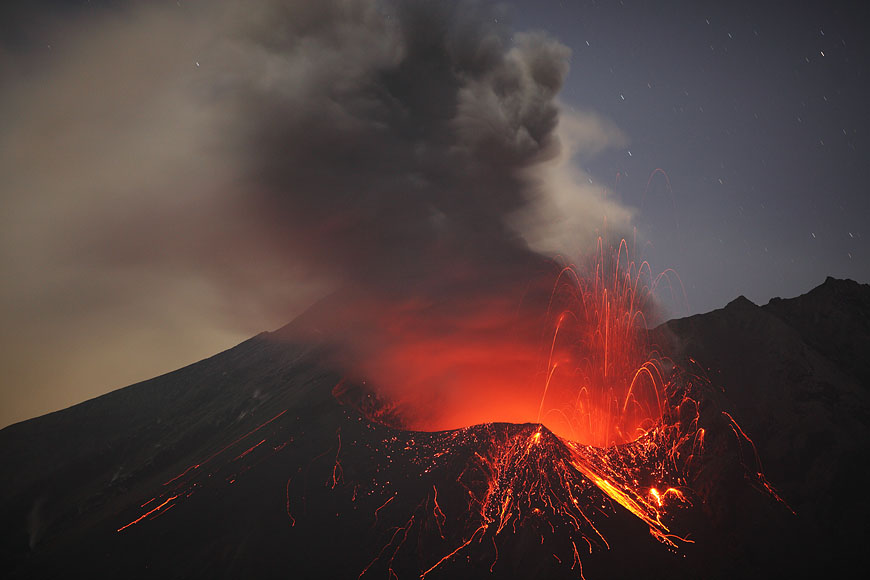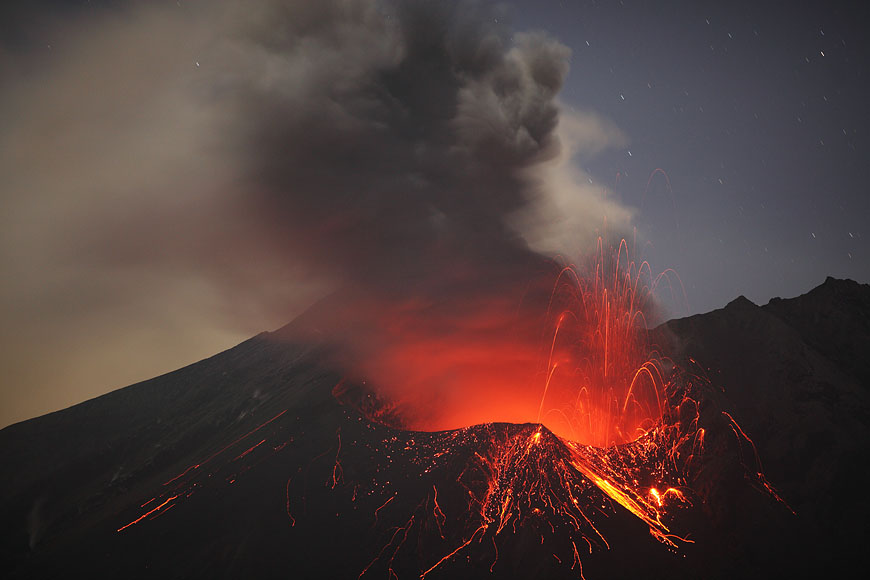 Nighttime crater incandescence was noted on 2 and 5 May. An event at 1213 on 5 May at Minamidake summit crater produced a plume that rose 500 m above the crater rim. The Alert Level remained at 3 (on a 5-level scale).
Source: Japan Meteorological Agency (JMA) , GVP.
Photo : Martin Rietze