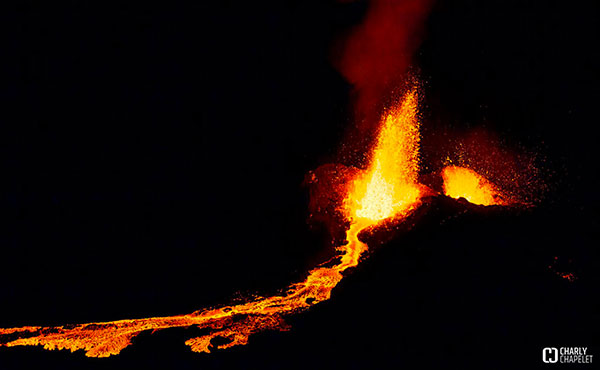 April 30 , 2017. EN. Cleveland , Poas , Turrialba , Piton de la Fournaise , Popocatepetl .
April 30 , 2017.
Cleveland , Alaska :
52°49'20 » N 169°56'42 » W,
Summit Elevation 5676 ft (1730 m)
Current Volcano Alert Level: WATCH
Current Aviation Color Code: ORANGE
The summit lava dome of Cleveland continues to slowly grow. Satellite data from yesterday indicates the dome has widened and grown vertically. Dome extrusion has occurred with little to no detectable seismicity. Slow dome growth with little to no seismicity is typical behavior at Cleveland as observed over the last several years of activity. No significant seismicity or infrasound data was observed over the past day.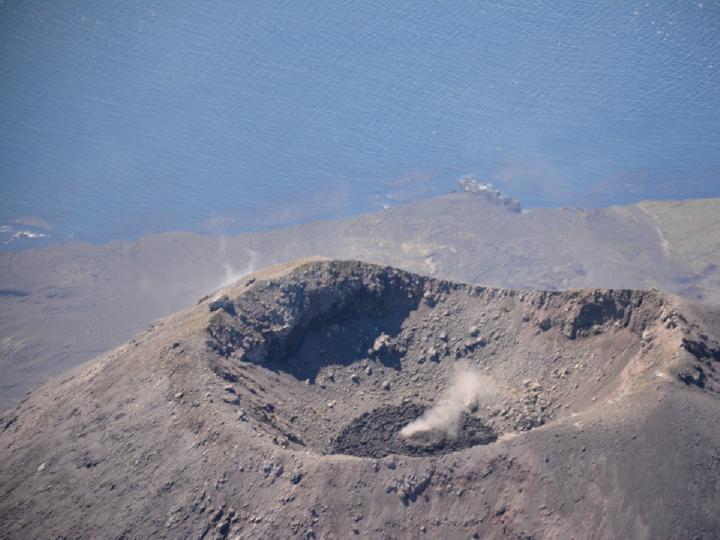 Le volcan de Cleveland est surveillé en temps réel avec un réseau sismique limité , ce qui inhibe la capacité de l'AVO à détecter les troubles précurseurs qui peuvent conduire à une éruption explosive. La détection rapide d'une éruption produisant des cendres peut être possible en utilisant une combinaison de données sismiques, d'infrasons, de foudre et de données satellitaires.
Source : AVO
Photo : AVO
Poas , Costa Rica :
Activity report of the volcanoes Poas, 29 April, 2017, updated at 11: 00 hours.
During the last 24 hours, a low amplitude volcanic tremor seismic signal was recorded. There were also long period earthquakes, LPS, and some volcano-tectonic earthquakes VTS. The sounds of « jet » that had been reported in recent days to several kilometers have recently been reported by a neighbor of Bajos del Toro.
During the day, the Poas plume was scattered mainly to the southwest.
It has been reported an odor of sulfur in San Luis and San Roque de Grecia, San Rafael and San Juanillo de Naranjo, Santa Rosa de Poas and Montecillos de Alajuela.
Source : Ovsicori
Photo : Ovsicori ( 22/04)
Turrialba , Costa Rica :

The Turrialba volcano exhibits LP and VT type earthquakes, and low to moderate amplitude periods suggesting the movement of fluids towards the surface.
The degassing of water vapor, magmatic gases and aerosols continues in persistent but passive form with a blue-white plume, which has not been possible to estimate today, given the weather conditions.
During the day, plume and aerosol gases were dispersed mainly to the south and southwest. So far, the population has not reported any smell of sulfur or ash falls.
OVSICORI-A remains vigilant on volcanic activity and will publish periodic reports on the evolution of its behavior and at each important changes.
Source : Ovsicori .
Photo : Ovsicori ( 22/04)
Piton de la Fournaise , La Réunion :
21°14'38 » S
55°42'29 » E
Altitude: 2632m
Alert level: Vigilance
Seismology
– Number of landslides from 28-04-2017: 7
Area affected by landslides:
Top Cone
– Number of volcano-tectonic (VT) earthquakes from 28-04-2017: 0
– Volcano-tectonic earthquake of greater magnitude of 28-04-2017:
Duration: 0 sec
Magnitude of duration: 0.00
Location of earthquakes over 2 months. Only locatable earthquakes have been shown on the map.
The observatory records seismic events not represented on this map because they can not be located due to their too low magnitude.
To see the number of earthquakes detected by the Observatory networks, you can refer to its latest Activity Bulletin.
Deformations:
– The GPS of the summit area recorded an inflation, witness of the pressurization of a superficial source.
– The GPS in far field record an inflation, witness of the pressing of a deep source.
Illustration of the top deformation over 2 months. Here is shown a baseline (variation of distance between two GPS receivers) crossing the Dolomieu crater (see location). A rise is synonymous with elongation and therefore swelling of the volcano; Conversely, a decrease is synonymous with contraction and therefore with deflation of the volcano. The possible colored periods in light pink correspond to eruptions.
Geochemistry
Tendency to increase the diffuse CO2 concentration in the soil on the west side of the volcano
Emissions of SO2 to the atmosphere: below the detection threshold
Further information:
Vigilance phase: « presence of risks on the sector with lava flows still warm »
Source : OVPF
Photo : Charly Chapelet (2016)
Popocatepetl , Mexico :
29 April 11.00 (16.00 GMT April 29)
In the past 24 hours, using the seismic recordings of the Popocatepetl volcano monitoring system, 45 low intensity exhalations accompanied by steam, gas and sometimes small amounts of ash have been identified. In addition, seven low intensity explosions with ash and gas emissions of less than 1 km altitude were recorded.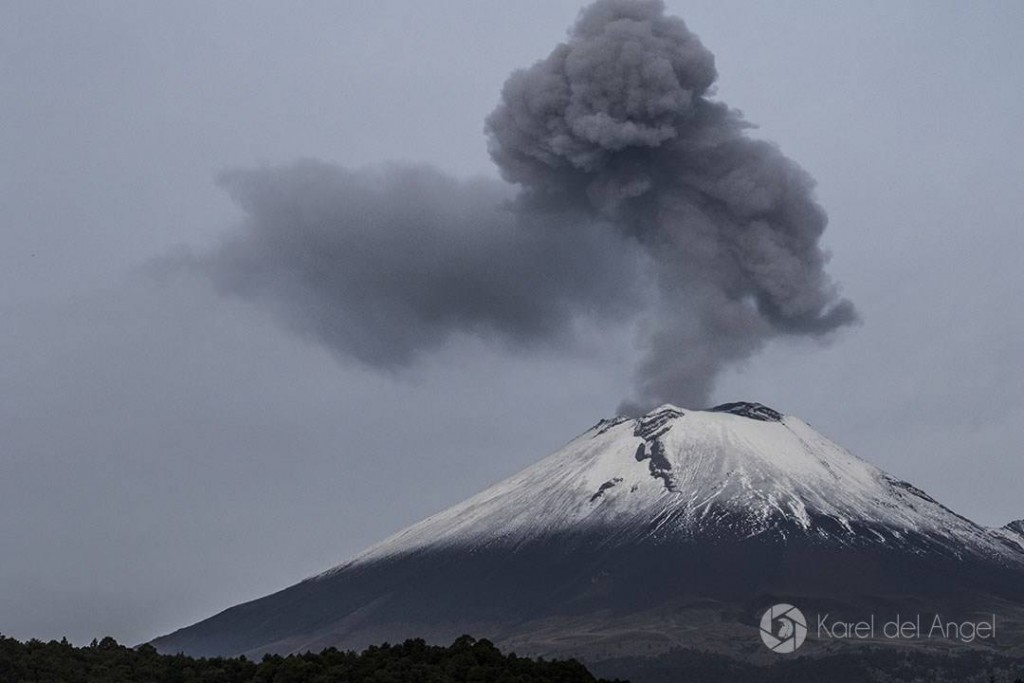 On the other hand, at 00:36 today a volcano – tectonic earthquake of magnitude M2,7 was recorded.
Throughout the night, a gleam in the crater, which increased during the most important exhalations was observed.
From this morning until the time of this report there was a small but continuous emission of steam and gas.
CENAPRED asks not to approach the volcano and in particular the crater.
The volcanic alert semaphore of the Popocatepetl volcano is located in Amarillo Phase 2.
Source : Cenapred .
Photo : Karel Del Angel