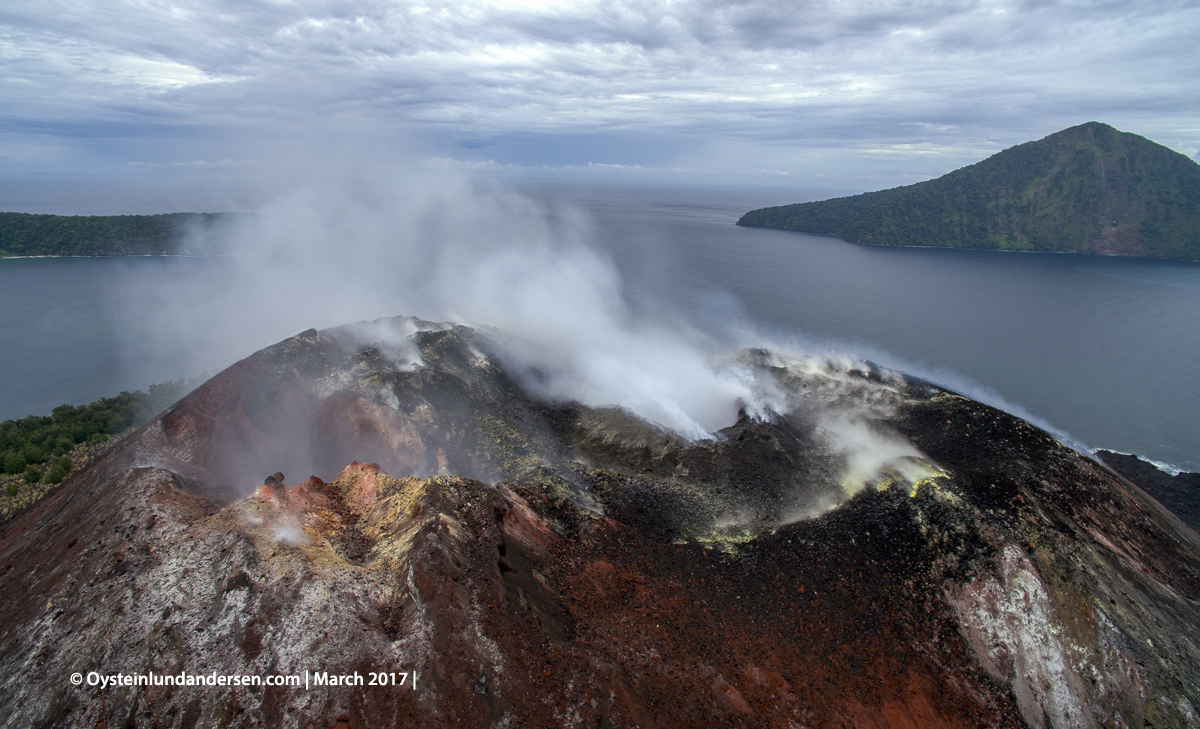 March 28 , 2017. EN. Klyuchevskoy , Anak Krakatau , Nevado Del Ruiz , Sabancaya .
March 28 , 2017.
Klyuchevskoy , Kamchatka :
Current Aviation Color Code: YELLOW
Previous Aviation Color Code: green
Source: KVERT
Notice Number: 2017-37
Volcano Location: N 56 deg 3 min E 160 deg 38 min
Area: Kamchatka, Russia
Summit Elevation: 15580 ft (4750 m)
Volcanic Activity Summary: Gas-steam plume with some amount of ash extended 108 km to the east-north-east from the volcano.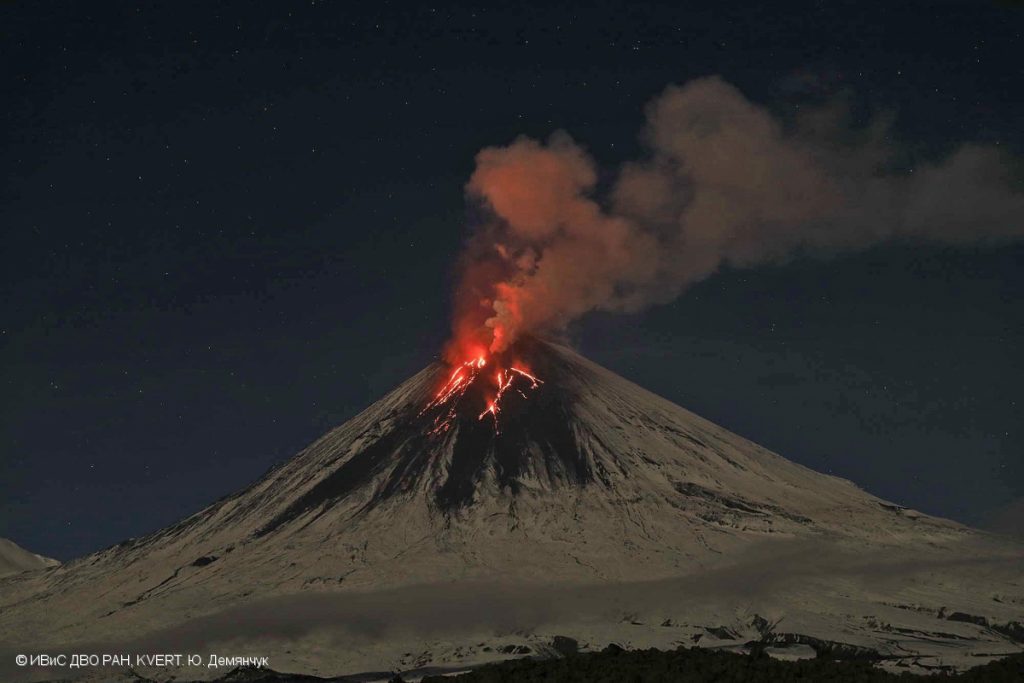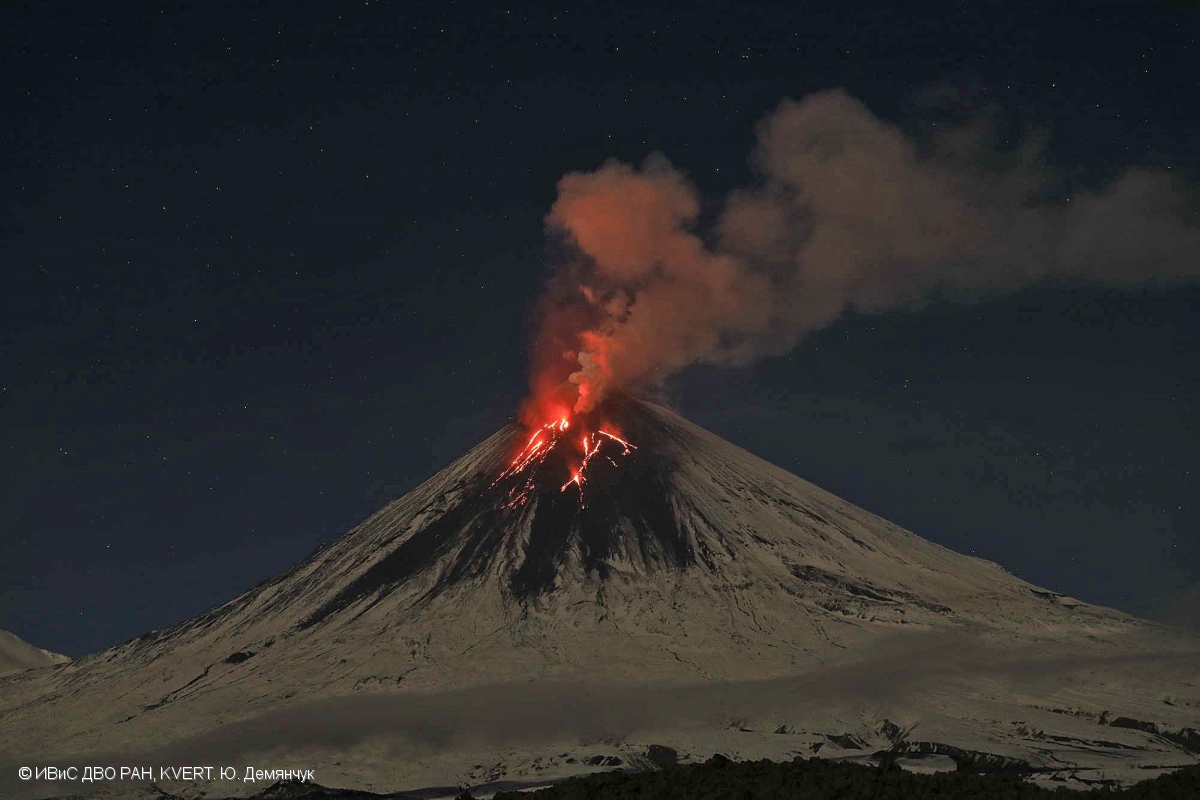 The explosive eruption of the volcano continues. Ash explosions up to 19,700-26,200 ft (6-8 km) a.s.l. could occur at any time. Ongoing activity could affect low-flying aircraft.
Volcanic cloud height: 16400-19680 ft (5000-6000 m) AMSL
Time and method of ash plume/cloud height determination: 20170327/2345Z – MODIS TERRA (31m32)
Other volcanic cloud information: Distance of ash plume/cloud of the volcano: 67 mi (108 km)
Direction of drift of ash plume/cloud of the volcano: ENE / azimuth 71 deg
Source : Kvert
Photo : Yu. Demyanchuk , IVS FEB RAS, KVERT.
Anak Krakatau , Indonésia :
Our friend Oystein Lund Andersen had the good idea to go for a walk on the side of Anak Krakatau and give us news of one of our favorite volcanoes. With splendid photos on its site : http://www.oysteinlundandersen.com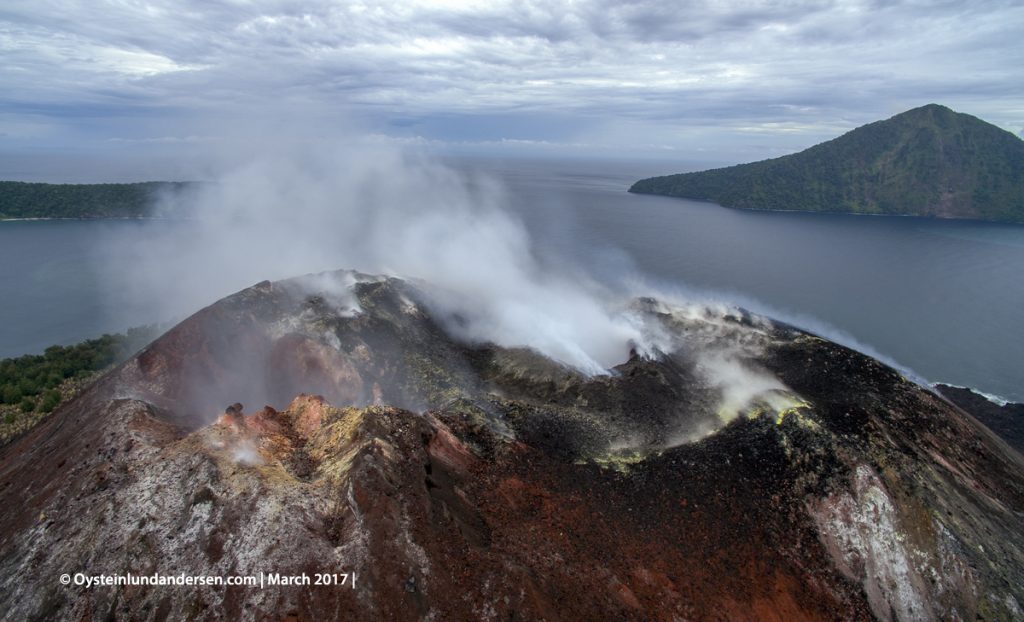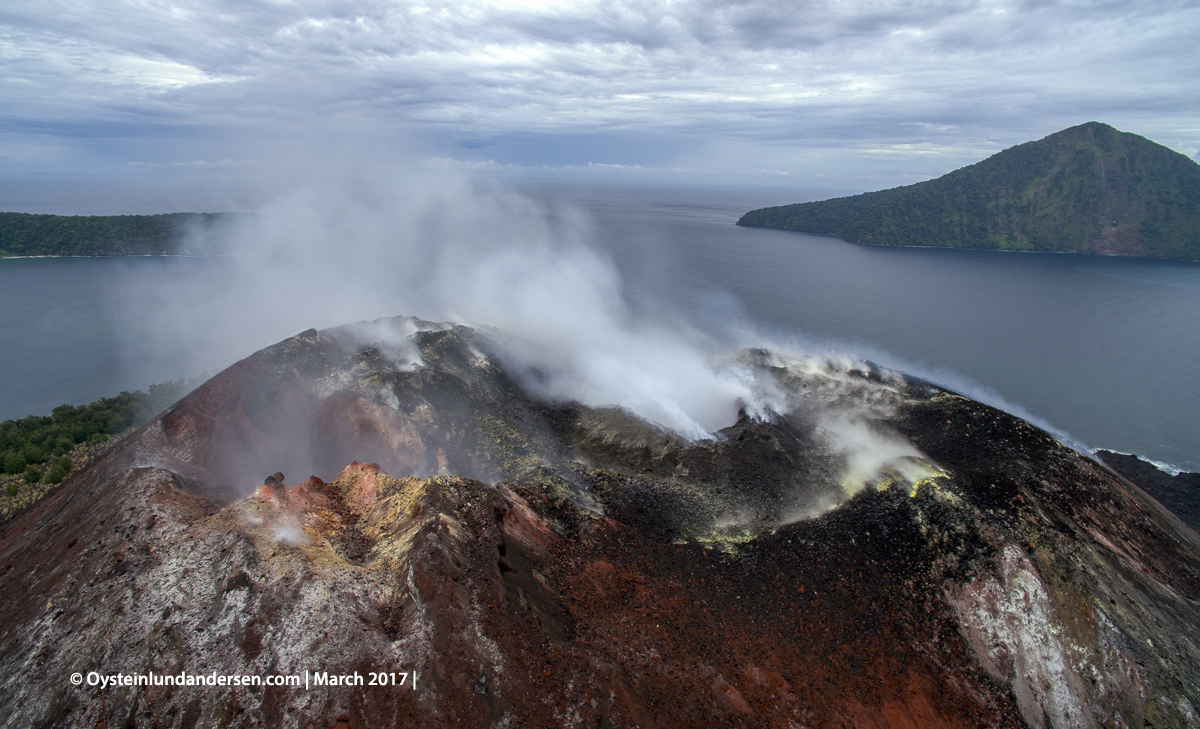 General observations
After the eruption of the 17-18th February, and my visit of 25-26th February, activity at Anak Krakatau remain the same, or have declined slightly. A steady degassing plume could be observed throughout the 3 day visit, however no eruptions was observed. Lava-glow was not seen in the crater like was the case during February.
Source et photo :  Oystein Lund Andersen ( http://www.oysteinlundandersen.com )
Nevado Del Ruiz , Colombia :
Emissions of gases and ash into the atmosphere from the summit of the Nevado del Ruiz volcano were observed on March 25 through the COLOMBIAN GEOLOGICAL SERVICE webcam installed in the Guali area. This emission was associated with a seismic signal related to the movement of fluids inside the volcano, recorded at 08:05 (local time). The ash and gas column reached a maximum height of 1770 m above the top of the volcano and dispersed in the north-northwest direction.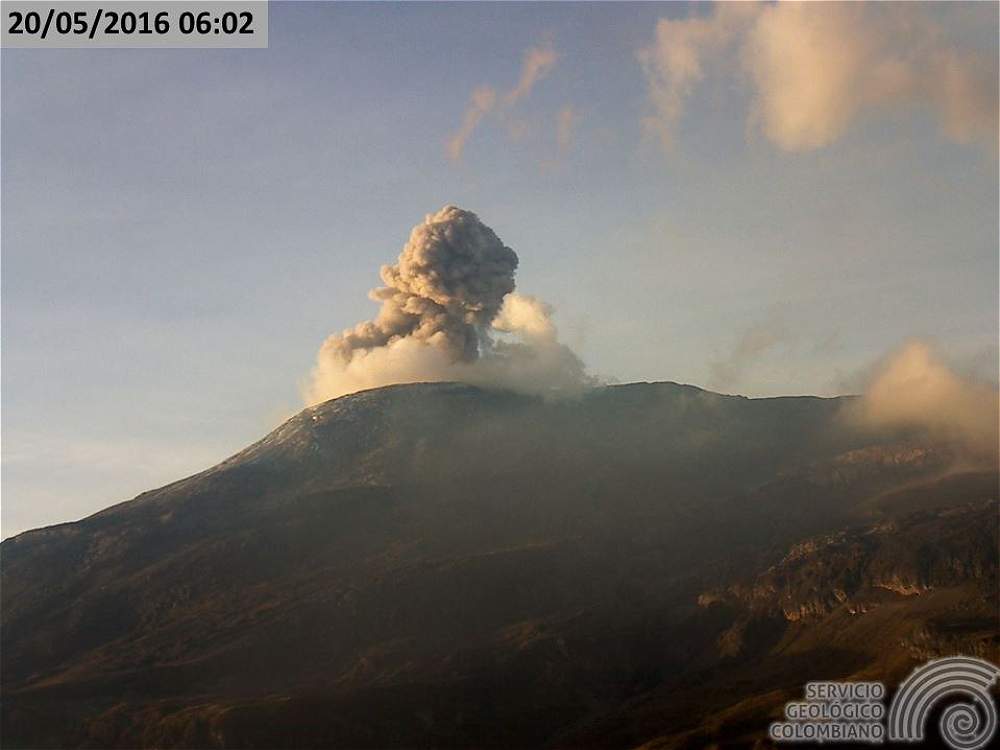 Importantly, the visual appreciation of ash emissions is favored by atmospheric conditions. Although this type of seismic signal occurs several times during the day, the associated ash emissions can not always be visually verified.
Sources : SGC
Image : Archives 2016
Sabancaya , Peru :
As for the seismic data, 37 explosions per day, similar to the values recorded last week were recorded. The maximum displacement magnitudes were reduced to 126 cm2. The earthquakes associated with the rise of magma (hybrid) have decreased in number and in power. There was a volcano-tectonic earthquake of moderate magnitude (3.9 ML), 22 km from the crater, associated with fracturing of the rock.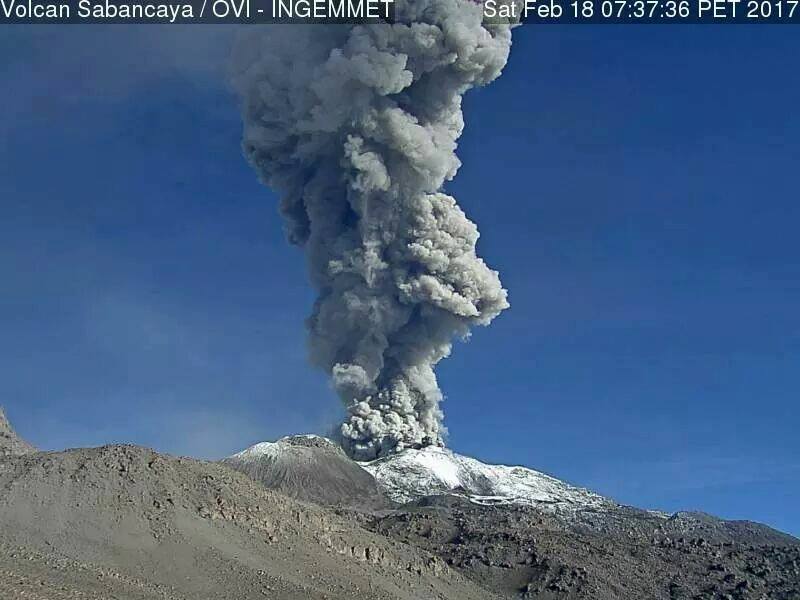 • Eruptive ash and gas columns reached ~ 2700 meters above the crater, spreading over more than 40 km to the northwest, north and south.
• The deformation did not show any significant significant change. Minor variations are recorded in the error range of the equipment.
The flow of volcanic gas (SO2) reached a maximum of 3309 tonnes / day on 21 March.
5 thermal anomalies were detected, with values between 4 MW and 16 MW VRP (volcanic radiated power).
Overall volcanic activity remains moderate, similar to last week.
Source : IGP
Photo : Archive