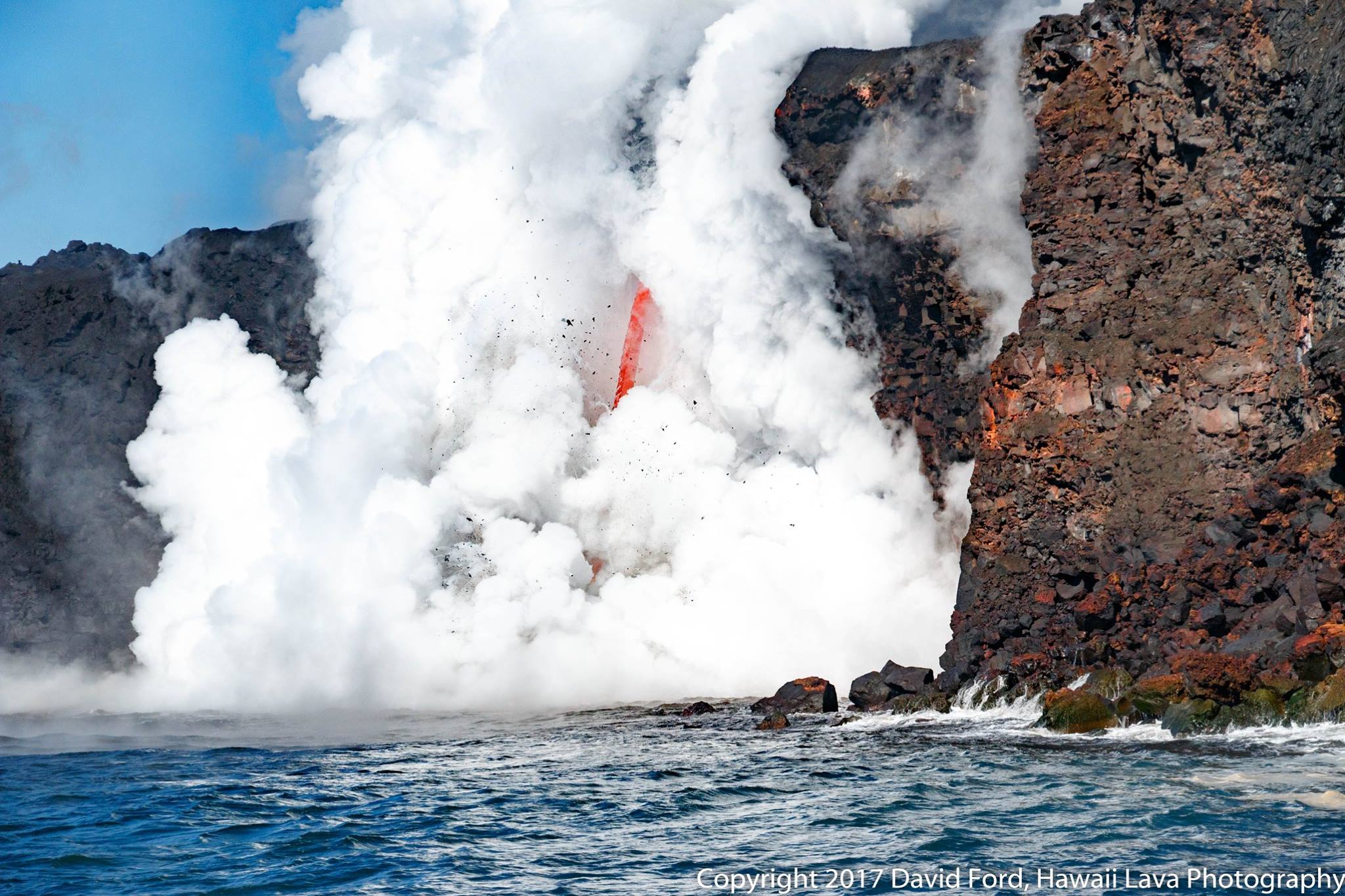 March 25 , 2017. EN. Cleveland , Kilauea , Kambalny , Pacaya .
March 25 , 2017.
Cleveland , Alaska :
Current Volcano Alert Level: WATCH
Previous Volcano Alert Level: ADVISORY
Current Aviation Color Code: ORANGE
Previous Aviation Color Code: YELLOW
Issued: Friday, March 24, 2017, 11:24 AM AKDT
Source: Alaska Volcano Observatory
Location: N 52 deg 49 min W 169 deg 56 min
Elevation: 5676 ft (1730 m)
Area: Aleutians
Volcanic Activity Summary:
A small explosion was detected at Cleveland volcano at 08:15 AKST (16:15 UTC) today in both seismic and infrasound (pressure sensor) data. As a result AVO is increasing the Aviation Color Code to Orange and the Alert Level to Watch. This event was short lived and similar, if not smaller, than recent explosions at this volcano. Cloud cover to 30,000 feet above sea level is obscuring observations of the volcano by satellite views and no ash cloud has been observed. The ash cloud that was likely generated during this explosion has probably dissipated at this time and was likely not above 20,000 feet above sea level.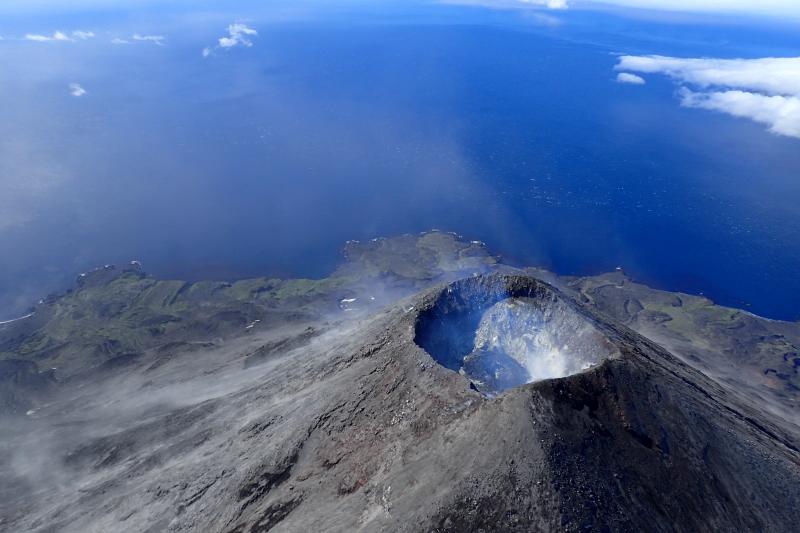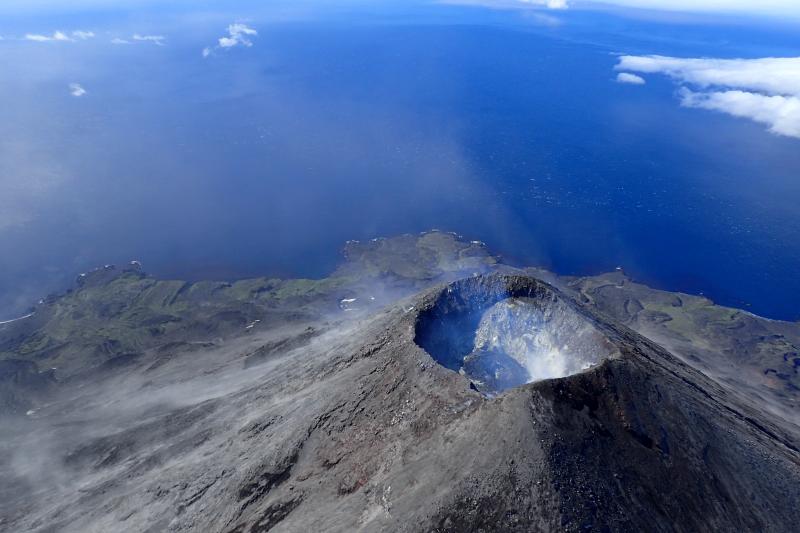 Cleveland volcano is not monitored with a real-time seismic network and this inhibits AVO's ability to detect unrest that may lead to future activity. We are able to detect explosive activity using infrasound and seismic instruments on the island.
Recent Observations:
[Volcanic cloud height] No volcanic cloud observed.
[Other volcanic cloud information] Likely below 20,000 feet above sea level and has likely dissipated at this time.
Hazard Analysis:
[General hazards] local only
[Ash cloud] Likely dissipated at this time
Source : AVO
Photo : AVO
Kilauea , Hawai :
19°25'16 » N 155°17'13 » W,
Summit Elevation 4091 ft (1247 m)
Current Volcano Alert Level: WATCH
Current Aviation Color Code: ORANGE
Activity Summary:
Kīlauea Volcano continues to erupt at its summit and at the Puʻu ʻŌʻō vent on its East Rift Zone. The episode 61g lava flow from Puʻu ʻŌʻō continues to enter the ocean at Kamokuna and surface flows from a March 5 breakout are still active above the pali. These lava flows pose no threat to nearby communities at this time. The summit lava lake was about 19 m (62 ft) below the Overlook crater rim when measured this morning.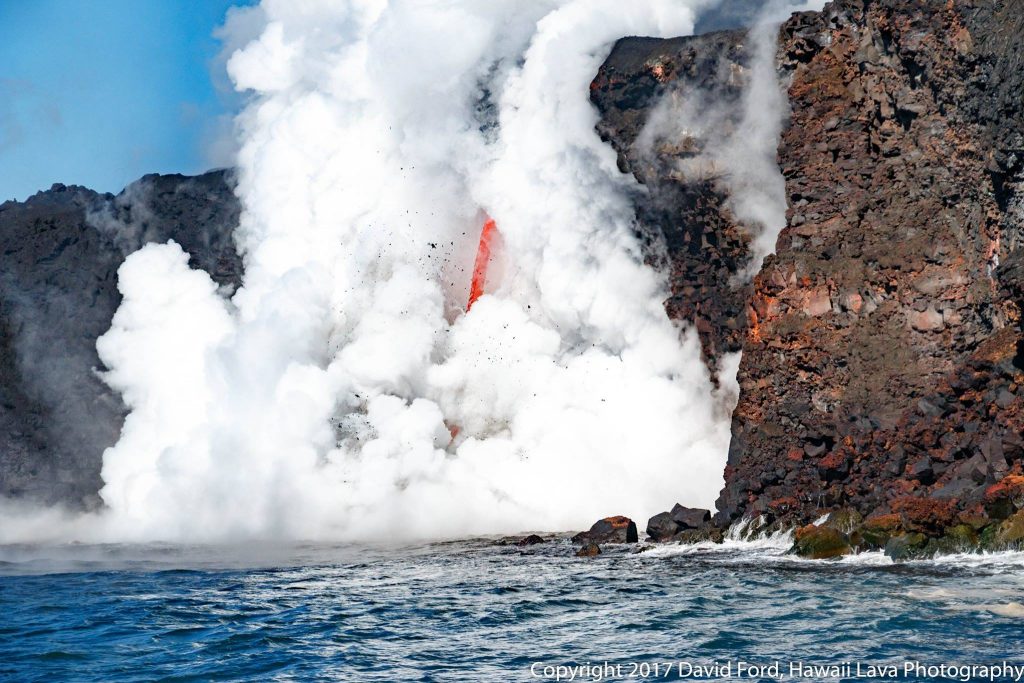 Summit Observations:
A magnitude 4.5 earthquake occurred at 10:27 AM HST yesterday, located at a depth of 8.3 km (5.2 mi) on Kīlauea's South Flank. The event was felt throughout Hawai`i Island and was followed by several aftershocks, which have since subsided. The earthquake had no apparent effect on Kīlauea's ongoing eruptions.
Inflationary tilt, consistent with a summit DI event, continued throughout yesterday and the lava lake level rose slightly to 19 m (62 ft) below the Overlook crater rim when measured this morning. Webcam views of the lava lake can be found at this webpage: http://hvo.wr.usgs.gov/cams/region_kism.php. Summit tremor continues to fluctuate in response to variations in lava lake spattering. Except for the earthquake noted above and its aftershocks, seismicity occurred at normal rates throughout the summit region. Average daily summit sulfur dioxide emission rates were between 3,100 and 4,700 metric tons/day when wind conditions permitted measurements over the past week.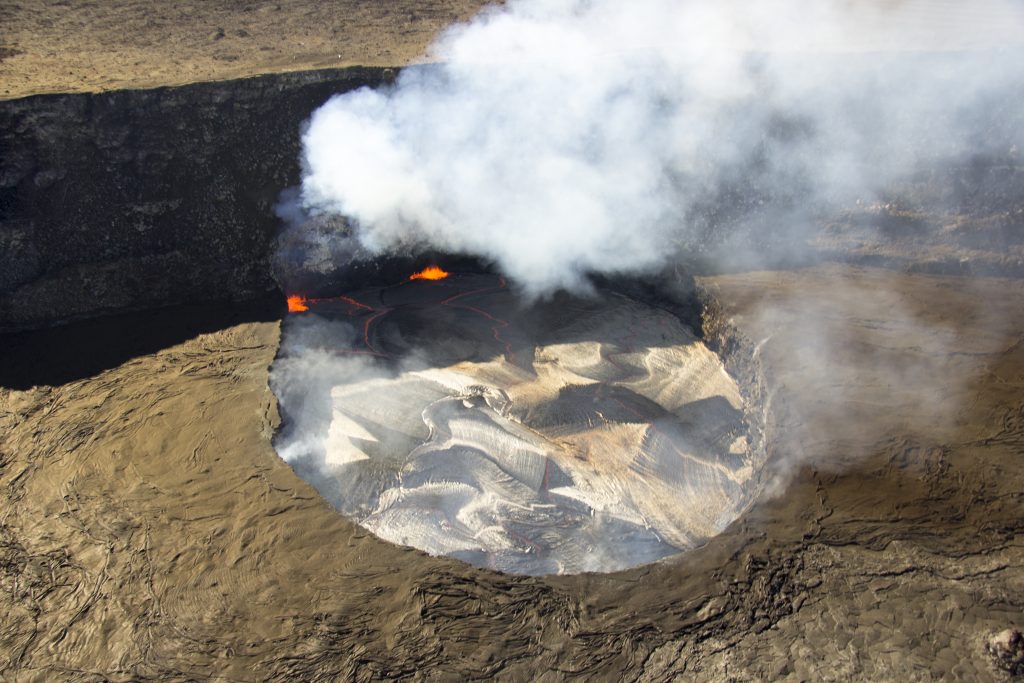 Puʻu ʻŌʻō Observations:
Persistent glow from long-term sources continue to be visible in webcam images at Puʻu ʻŌʻō, including glow from a pit on the west side of the crater that holds a small lava pond. Minor inflationary tilt was recorded by a nearby tiltmeter. A step in the tilt record at the time of yesterday's magnitude 4.5 earthquake, is likely due to shaking of the instrument during the earthquake and not a true reflection of ground motion. Seismicity occurred at normal, background rates throughout the day. The sulfur dioxide emission rate from all East Rift Zone vents was about 250 metric tons/day when last measured on February 22, 2017.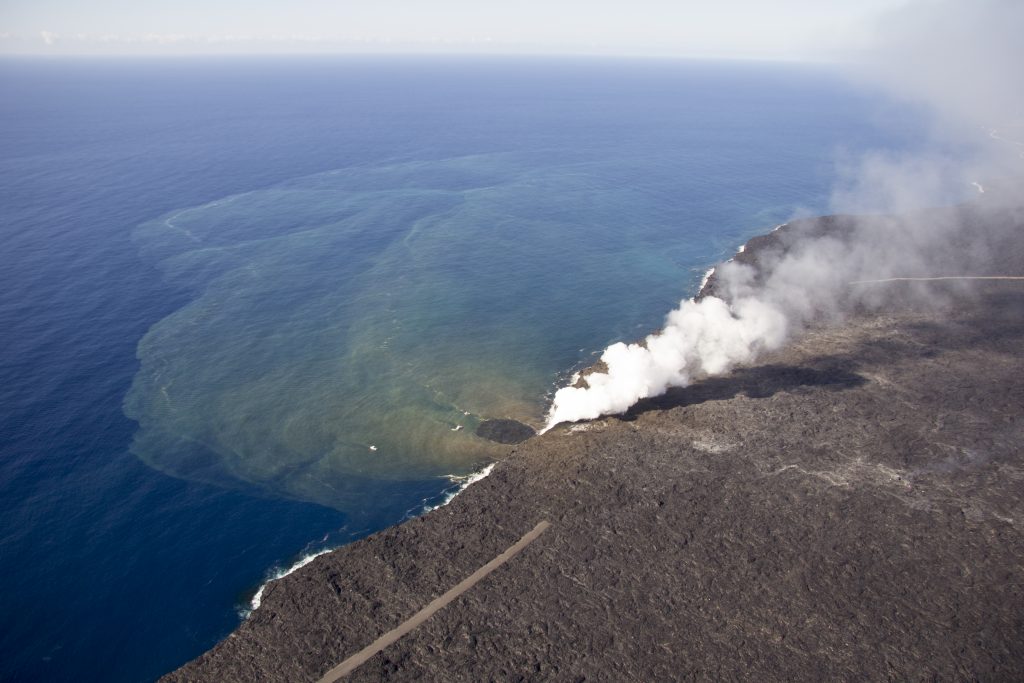 Lava Flow Observations:
The episode 61g flow is still active and entering the ocean at Kamokuna. A breakout on the upper flow field that began March 5 continues to advance downslope and was last measured to be at most 2.9 km (1.8 mi) from the vent. Small, short-lived breakouts have been reported on the coastal plain, but are not visible in webcam images. There are indications that a delta is beginning to form at the ocean entry. This is the first appearance of a new delta since the previous one collapsed on Dec. 31, 2016. None of these flows pose a threat to nearby communities at this time.
Source : HVO
Photos : David Ford , HVO.
Kambalny , Kamchatka :
Current Aviation Color Code: ORANGE
Previous Aviation Color Code: orange
Source: KVERT
Notice Number: 2017-28
Volcano Location: N 51 deg 18 min E 156 deg 52 min
Area: Kamchatka, Russia
Summit Elevation: 7071.68 ft (2156 m)
Volcanic Activity Summary:
Satellite data showed an ash plume about 255 km to the south-west from the volcano.
An explosive eruption of the volcano continues. Ash explosions up to 19,700-26,200 ft (6-8 km) a.s.l. could occur at any time. Ongoing activity could affect international and low-flying aircraft.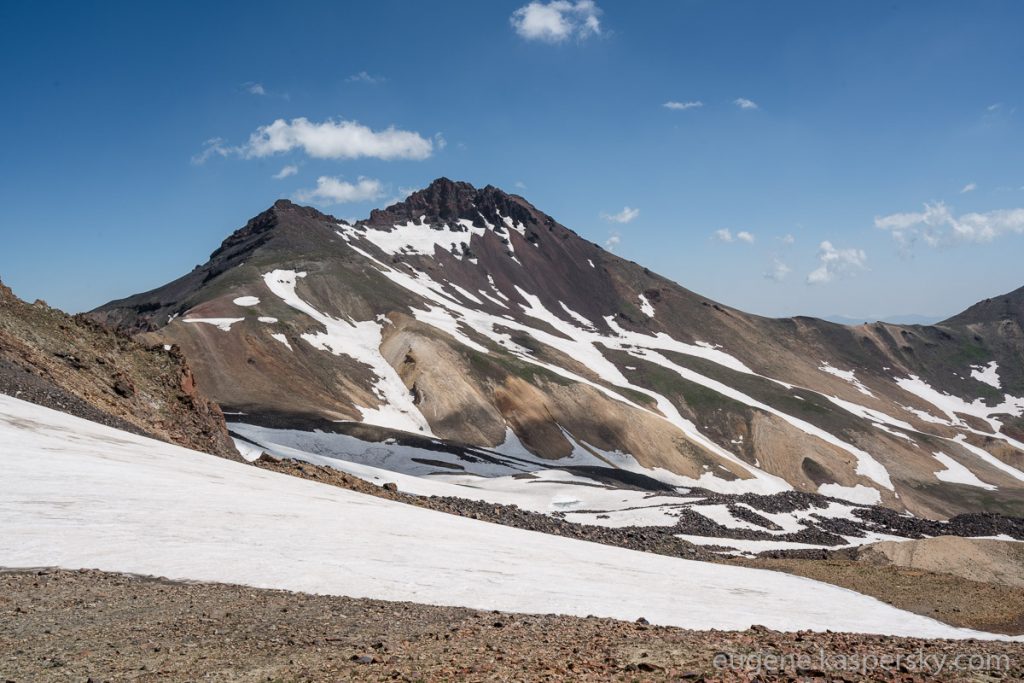 Volcanic cloud height: 16400-22960 ft (5000-7000 m) AMSL Time and method of ash plume/cloud height determination: 20170325/0409Z – NOAA 19 (4m5)
Other volcanic cloud information: Distance of ash plume/cloud of the volcano: 158 mi (255 km)
Direction of drift of ash plume/cloud of the volcano: SW / azimuth 218 deg
The southernmost major stratovolcano on the Kamchatka peninsula, 2116-m-high Kambalny has a summit crater that is breached to the SE. Five Holocene cinder cones on the W and SE flanks have produced fresh-looking lava flows. Beginning about 6300 radiocarbon years ago, a series of major collapses of the edifice produced at least three debris-avalanche deposits. The last major eruption took place about 600 years ago, although younger tephra layers have been found, and an eruption was reported in 1767. Active fumarolic areas are found on the flanks of the volcano, which is located south of the massive Pauzhetka volcano-tectonic depression.

Source : Kvert , GVP
Photo : Eugene Kaspersky
Pacaya , Guatemala :
Activity type: Strombolian.
Morphology: Stratovolcan composite
Geographical location: latitude 14 ° 22'50˝ N; 90 ° 36'00˝ longitude W.
Height: 2,552msnm.
Over the past few hours, there has been reported abundant degassing, ranging from white to blue, which has resulted in an increase in rumbling from moderate to strong but which is only sensitive to the area of the crater and its surroundings without changes.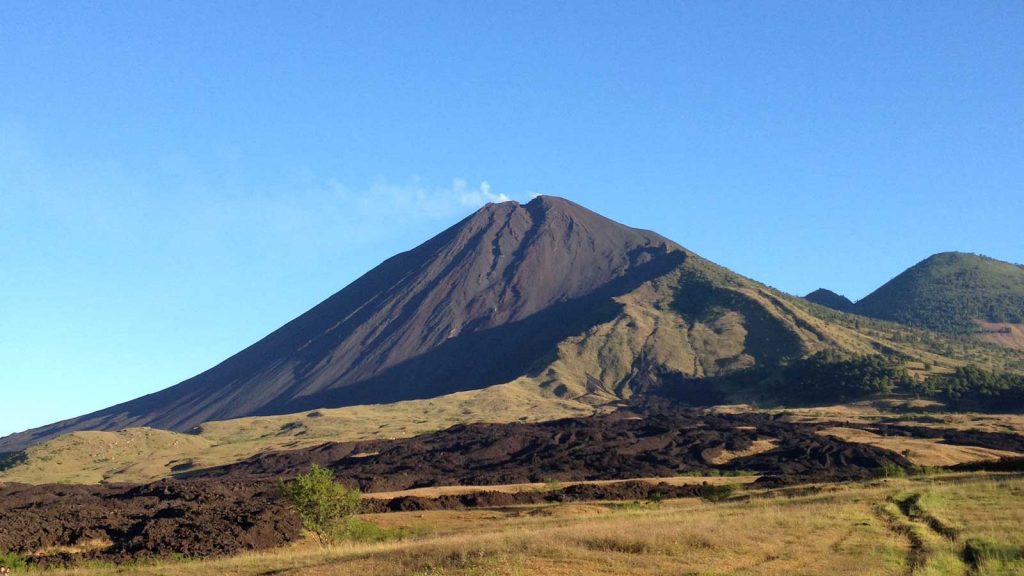 This activity is the result of the accumulation of material and the formation of an intracrateric cone, which constantly generates incandescent pulses reaching heights of 25 to 50 meters and which are observed mostly at night. This caused the crater to fill up and caused an overflow that began to drain from the cracked crater part of the 2010 eruption to the Cerro Chino crater.
With this increase in activity, the possibility of bursts of strong degassing and even of lava flows as those observed during the last days is not excluded.
Source : Insivumeh
Photo : Palasan Tour