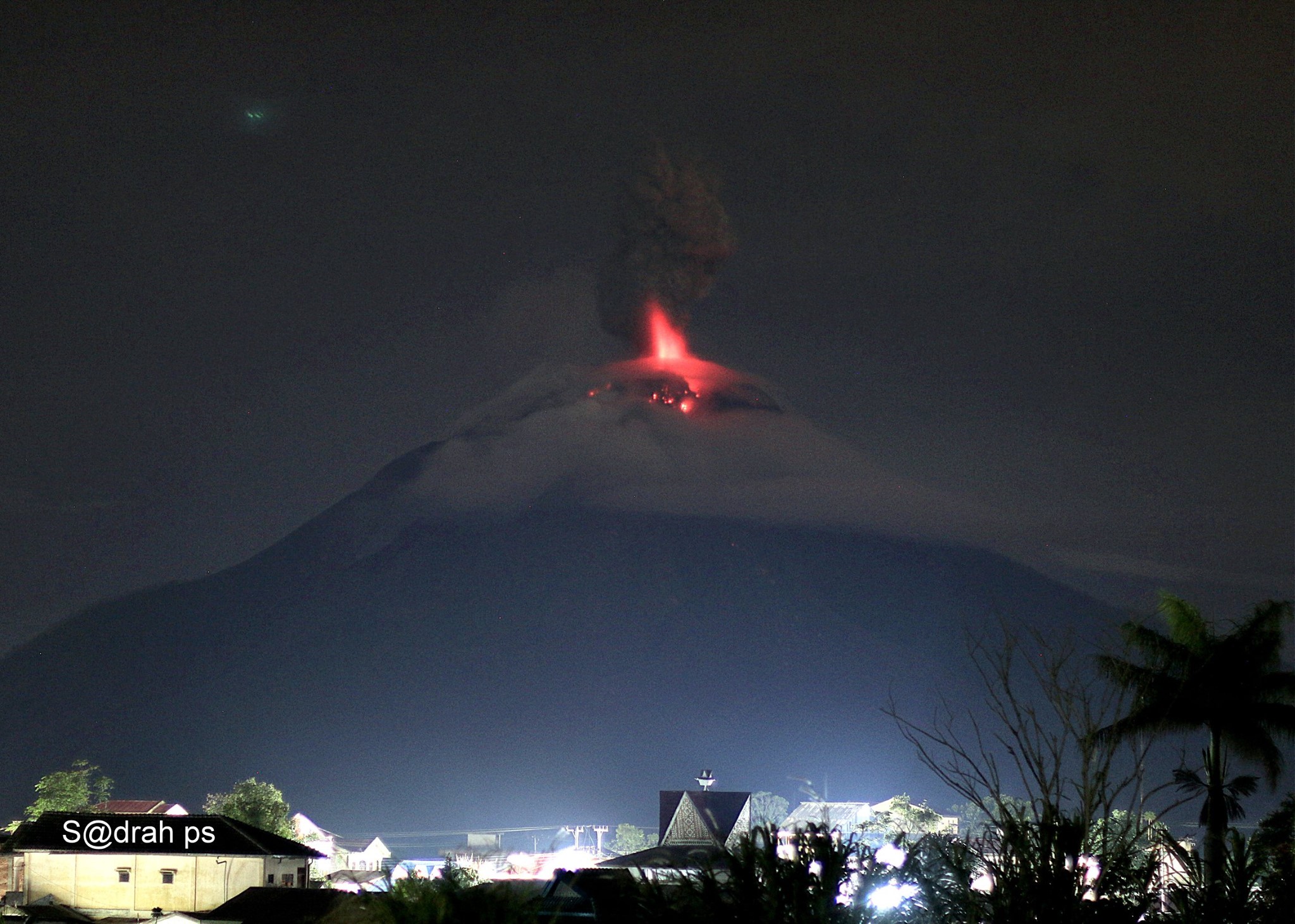 March 03 , 2017. EN. Bulusan , Sinabung , Ubinas , Klyuchevskoy , Yellowstone .
March 03 , 2017 .
Bulusan , Philippines :
BULUSAN VOLCANO BULLETIN 03 March 2017 8:00 A.M.
Bulusan Volcano generated a very weak phreatic eruption yesterday, March 2, at 1:57 PM. The event was recorded by Bulusan's seismic monitoring network as explosion-type earthquake followed by short-duration tremor that lasted approximately 26 minutes. Visual observation of the event was obscured by clouds covering the summit although a small steam plume on the southeast vent was captured in snapshots by IP camera.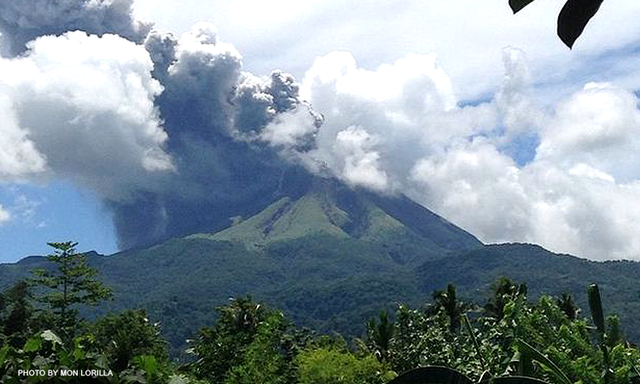 In addition, one (1) volcanic earthquake has been recorded in the past 24 hours. Steaming activity could not be observed due thick clouds covering the summit. Sulfur dioxide (SO2) emission was measured at an average of 80 tonnes per day on February 8, 2017. Precise leveling data obtained on January 29, 2017 – February 03, 2017 indicated deflationary changes since October 2016. This is consistent with data from continuous GPS measurements that indicated short-term deflation of the edifice since November 2016. However the edifice remains generally inflated with respect to July 2016, based on continuous GPS data.
Alert Level 1 (abnormal) remains in effect over Bulusan Volcano. This indicates that hydrothermal processes are underway beneath the volcano that may lead to steam-driven or phreatic eruptions. Local government units and the public are reminded that entry into the 4-kilometer radius Permanent Danger Zone (PDZ) is strictly prohibited and that vigilance in the Extended Danger Zone (EDZ) must be exercised due to the increased possibilities of sudden and hazardous phreatic eruptions.
Source : Phivolcs
Photo : Lon Morilla
Sinabung , Indonésia :
Administratively Sinabung is located in Karo District, North Sumatra Province, and is located at the point of longitude 98.3920 and Latitude Latitude 3170, its height is 2460 meters above sea level,
Visual:
The volcanic activity of Sinabung during February 2017 was observed emitting white to gray, thick smoke from the crater up to a maximum height of 500 m, the incidence of avalanches still dominates. There were 88 events with an eruptive column height between 500-5000 meters above the summit. Hot avalanche clouds descend for a maximum distance of 3500 meters to the east-south-east and 1000 meters to the south.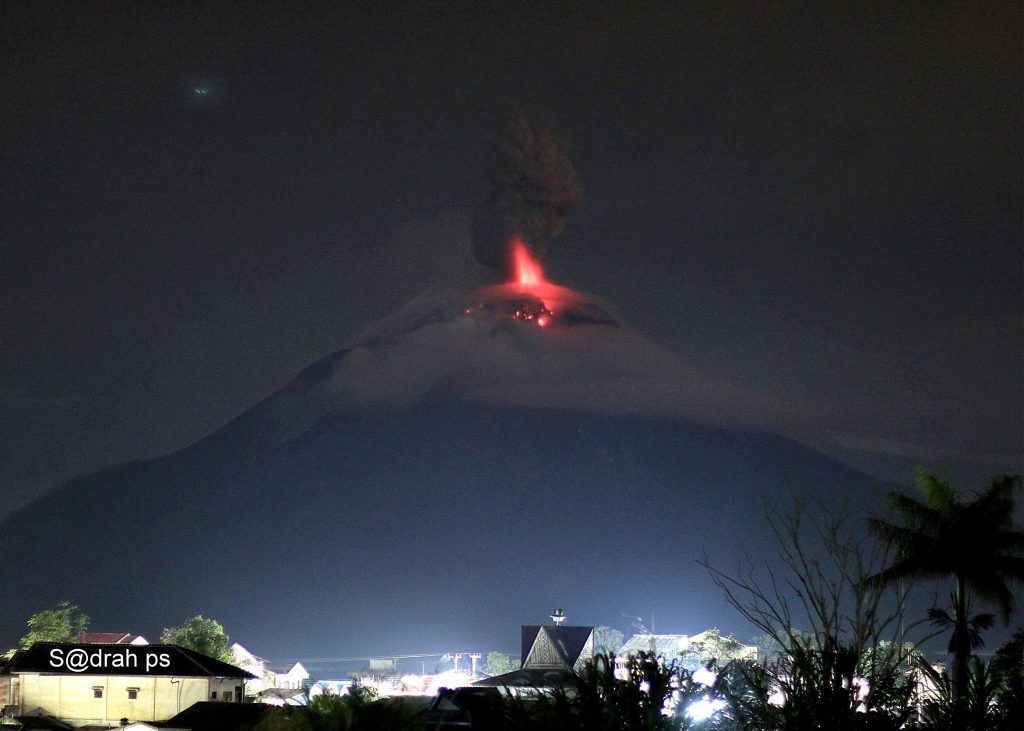 Seismicity:
During February 2017 the seismicity was dominated by avalanche earthquakes and low frequency earthquake. There were recorded 2903 and 1247 events this month. The local tectonic earthquakes (TL) are very numerous, they are associated with the tremor. Sensitive in the northeastern part of Sinabung and located about 7-20 km deep.
Evaluation of the level of volcanic activity as of 2 February 2017
Activity level:
Based on data from visual and seismic activity levels of February 2017, Sinabung remains at level IV (AWAS).
Recommendation:
Communities and visitors / tourists must not engage in activities within 3 km of the summit, and 7 km in the South-East sector, at a distance of 6 km for the East-South-East sector, and At a distance of 4 km in the north sector of Sinabung. People who live near the rivers flowing from Mount Sinabung must remain vigilant about the potential dangers of lahar.
Source : VSI
Photo : S Peranginangin
Ubinas, Peru :
Currently, the Ubinas volcano has shown a seismic and fumarollian increase. These characteristics are monitored by the OVS-PGI using a network of telemetry stations that send real-time information to the Cayma headquarters. Summary of activity between 16 and 28 February 2017.
Sismovolcanic monitoring:
Hybrid events associated with magma uplift and / or movements increased slightly during the last week of analysis. In this period (16-28 February), 8 events were observed on average per day (similar to the previous period). They reached a peak of activity, registering between 21 and 28 hybrid events in 48 hours. This type of event remains at a low level of energy.
With regard to VT type events, related to rock fracturing, these show prior recordings similar to the previous period. On average, 29 earthquakes per day were observed, activity considered low.
Tremor-type seismicity, associated with disturbance of the hydrothermal system under the influence of a magmatic body, dominated the recordings over the last 30 days. These periods of instability are indicators of the possible occurrence of new explosions and / or ash emissions.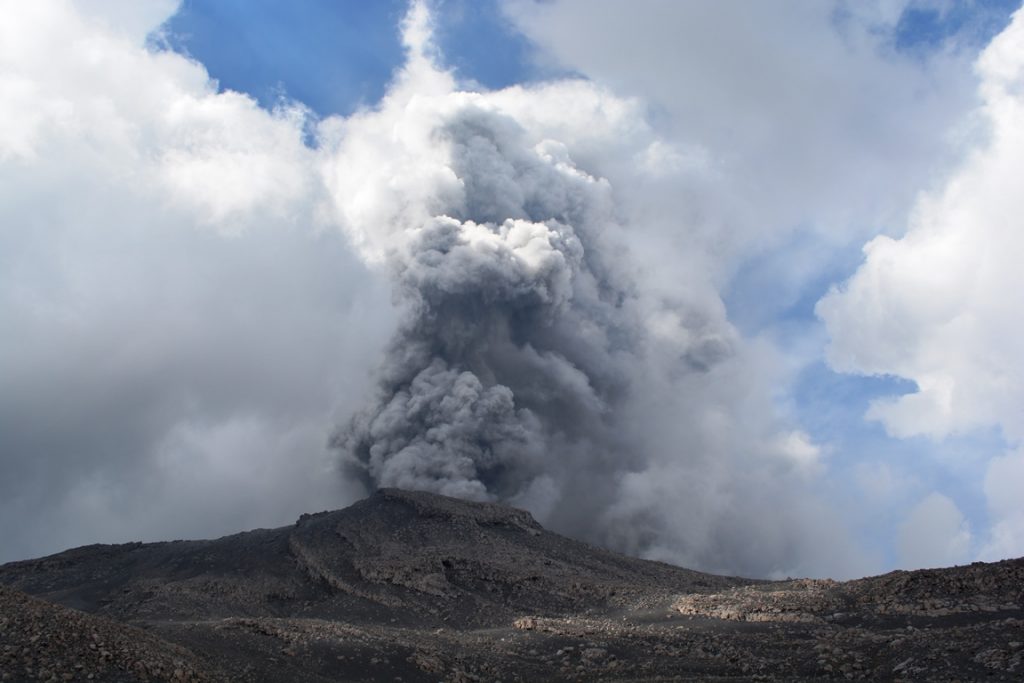 Location of Events
The spatial location of the VT seismicity for the period of January-February 2017, is mainly found in the crater of the volcano. This time, earthquakes were detected at depths of between 0.5 and 6 km. The East-West and North-South profiles show a distribution of earthquakes along the main duct. The main magnitude of these VT earthquakes in this period was 2.4 ML.
 Satellite Surveillance
Thermal anomalies and SO2: The Mirova system (www.mirovaweb.it) did not detect any thermal anomalies for this period. In addition, the satellite system « EOS Aura » GSDM-NASA (http://so2.gsfc.nasa.gov/) did not detect any major anomalies during this fortnight.
Visual control
In this period (16-28 February), there was no condition of complete visibility of the Ubiñas, due to the dense clouds that covered the area around the volcano. During the brief periods of thinning, sporadic emissions of ash and low-density steam were observed, reaching a maximum of 300 meters above the crater.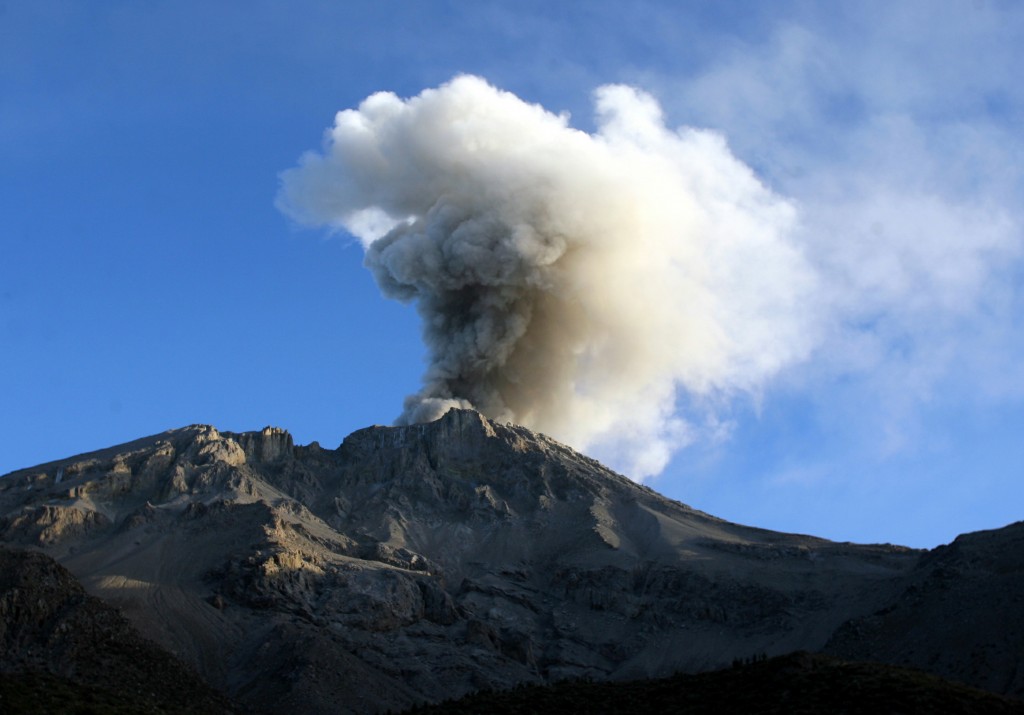 Conclusions:
Activity during this period was dominated by Tremor-type seismic events associated with the disturbance of the volcano's hydrothermal system. These tremors continued, thus maintaining the possibility of explosions and / or ash emissions during the next few days.
Source : IGP
Klyuchevskoy , Kamchatka :
56.06 N, 160.64 E;
Elevation 15580 ft (4750 m)
Aviation Color Code is ORANGE
Gas-steam plume containing ash raise up to 8-9 km a.s.l. and drift to the north-east from the volcano.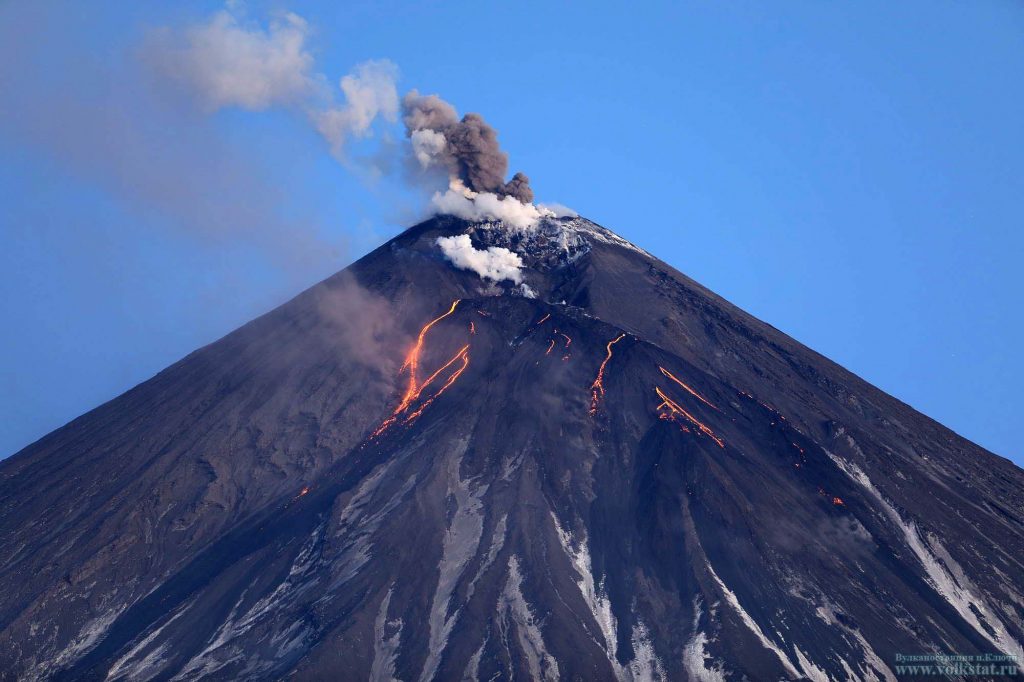 Activity of the volcano increased. Ash explosions up to 26,200-32,800 ft (8-10 km) a.s.l. could occur at any time. Ongoing activity could affect international and low-flying aircraft.
Day 03/02/17 appeared ash emissions in the Kliuchevskoi crater. Volcanic tremor increased dramatically.
Source : Kvert , Volkstat .ru
Yellowstone , United States :
44°25'48 » N 110°40'12 » W,
Summit Elevation 9203 ft (2805 m)
Current Volcano Alert Level: NORMAL
Current Aviation Color Code: GREEN
Seismicity
During February 2017, the University of Utah Seismograph Stations, responsible for the operation and analysis of the Yellowstone Seismic Network, reports 48 earthquakes were located in the Yellowstone National Park (YNP) region. The largest event was a microearthquake of magnitude 2.4 that occurred on February 09, 01:40 PM MST located 16 miles south of Mammoth, YNP, WY.
February seismicity did not include any swarm activity.
Yellowstone earthquake activity in February is at low background levels.
Ground deformation
Uplift centered near the Norris Geyser Basin, which began in late 2015, has now ceased. The region is now slowly subsiding.
Current deformation patterns at Yellowstone remain within historical norms.
The Yellowstone Volcano Observatory (YVO) provides long-term monitoring of volcanic and earthquake activity in the Yellowstone National Park region. Yellowstone is the site of the largest and most diverse collection of natural thermal features in the world and the first National Park. YVO is one of the five USGS Volcano Observatories that monitor volcanoes within the United States for science and public safety.
Source : YVO