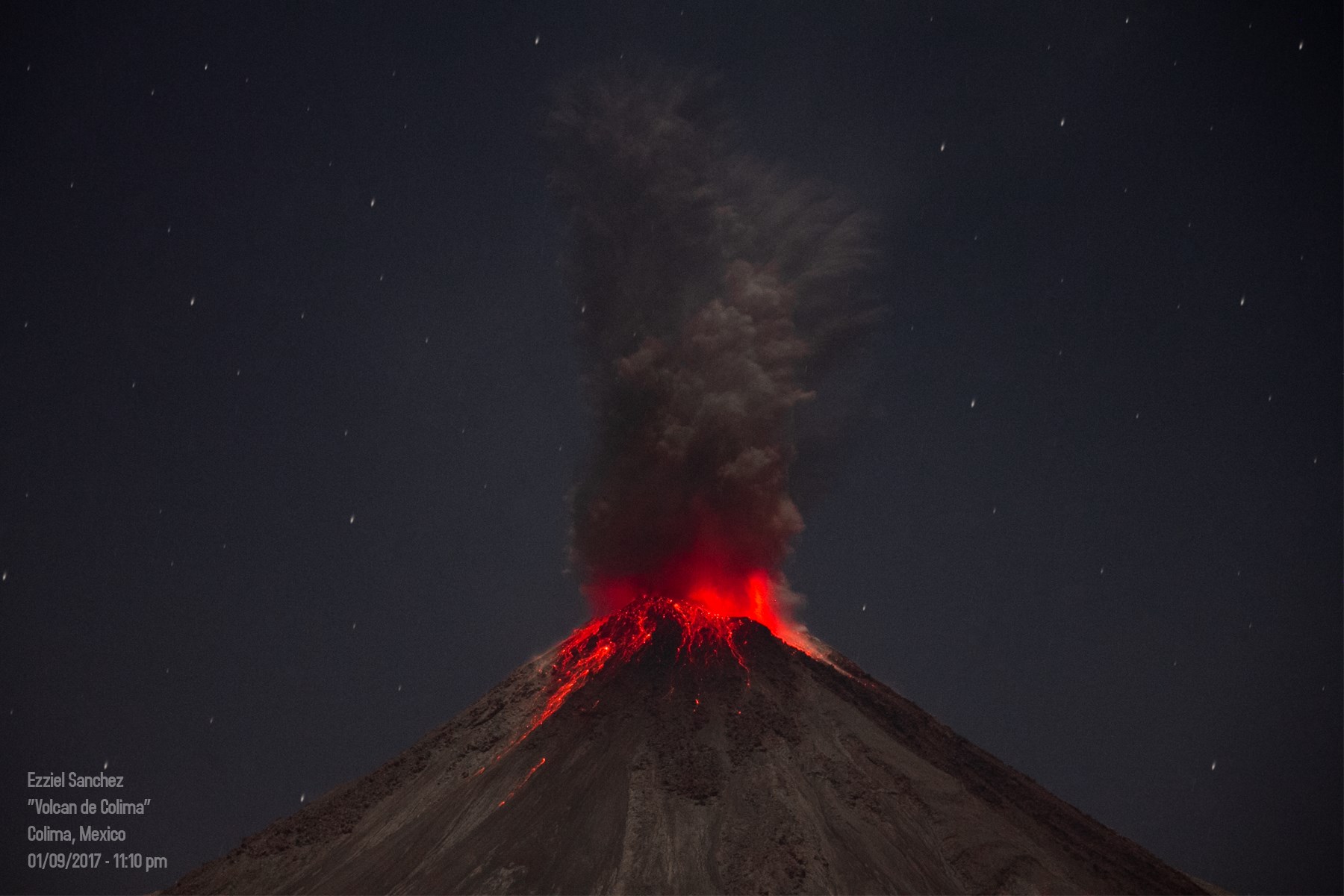 February 17 , 2017. EN. Piton de la Fournaise , Pacaya , Colima , Sheveluch .
February 17 , 2017.
Piton de la Fournaise , La Réunion :
The eruption begun on January 31, 2017 at 7:40 pm local time continues. Following the decline that occurred yesterday, the volcanic tremor (surface eruptive intensity indicator) is again constant, being at a level equivalent to that at the beginning of the eruption (Figure 1).
Figure 1: Evolution of the RSAM (volcanic tremor and eruption intensity indicator) between January 31st and February 16th (5:30 pm local time) on the seismic station of Château Fort, located on the southern flank of the volcano. (© OVPF / IPGP)
– No seismicity was recorded during the day under the summit of Piton de la Fournaise.
– No significant deformation has been observed in the last few days.
Observations made on the ground this morning by the observatory teams indicate that activity continues mainly in « lava tunnels ». Only a few flows of small extensions were visible a hundred meters downstream of the eruptive cone (Figure 2).
Figure 2: Shooting of the eruptive site on 16/02/2017 at 7:45 am, local time. (© OVPF / IPGP)
The front of the flow is now located at the top of the great slopes, about 6 km from the sea, but it is a priori unlikely that it descends lower.
Source : OVPF
Pacaya , Guatemala :
Activity type: strombolian.
Morphology: Stratovolcan composite
Geographical location: 14 ° 22'50˝ Latitude N; 90 ° 36'00˝ Longitude W.
Height: 2,552msnm.
Weather conditions: Clear
Wind: NNE at 23 km / h
Precipitation: 0.0 mm.
Activity:
Presence of a constant white and blue degassing which rises at low altitude, propagating towards the South at night and early in the morning. Incandescent pulses are observed at 10-20 m high, the lava flow is quiet, there has not been heard any sounds.
On 9 February INSIVUMEH reported that moderate explosions at Pacaya's Mackenney cone had been detected during the previous few days. Incandescent material was ejected 30-50 m high and filled a large part of the crater; lava spilled over the crater rim and traveled 300 m down the NW flank. Incandescent material was ejected as high as 30 m during 11-12 February. Small Strombolian explosions were visible on 13 February. The lava flow continued to advance the next day.

Wednesday 15 February. After reports of rumblings and vibrations during the night by the residents of the village of Los Positos , in Villa Canales, and Mesillas Alta and Baja and in Amatitlan, Guatemala, due to the activity maintained by the Pacaya volcano,  the National Coordinator for Disaster Prevention – SE-CONRED – was mobilized on site for monitoring without reporting better conditions in the region.
According to information from the SE-CONRED departmental delegate in Escuintla, communication is maintained with the Pacaya National Park administration, which by guides and guards began monitoring the San Vicente Pacaya areas, noting that everything is in the normal parameters.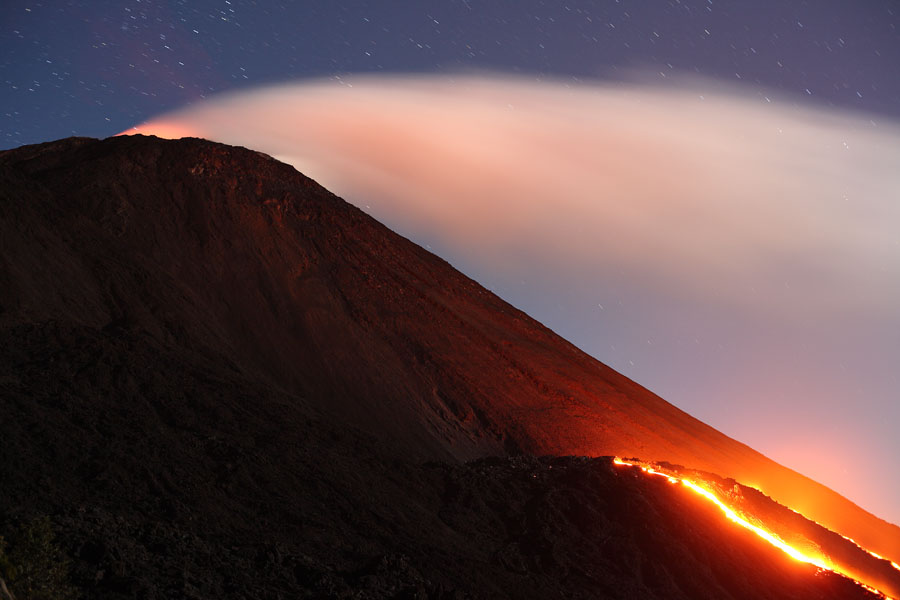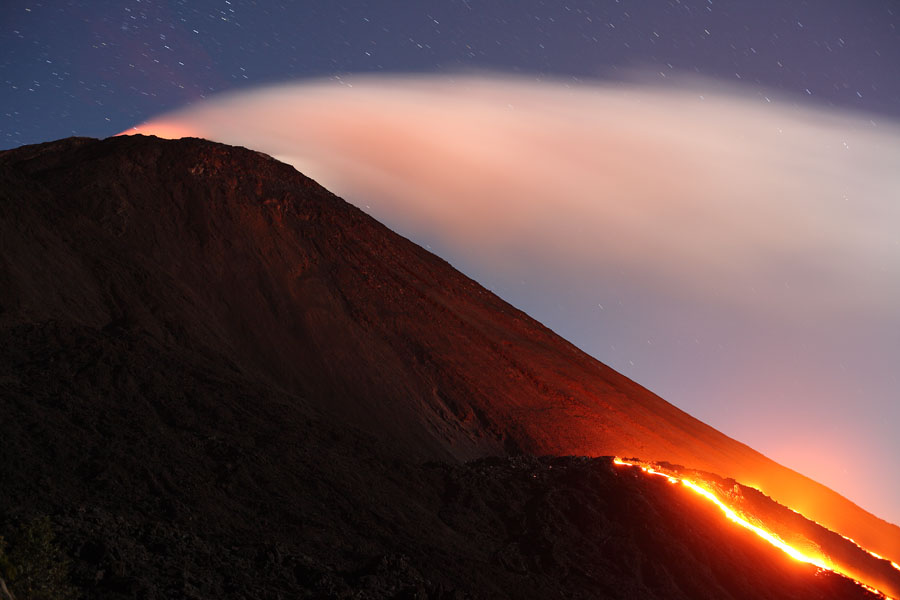 This monitoring will also be conducted in the Rincón Pacaya area, where residents said they had heard half an hour to 45 minutes of rumblings and vibrations.
SE-CONRED recommends that the population near these areas of the volcano maintain constant communication with community leaders to report any incidents that may be recorded and to keep abreast of any new information published by the media.
Source : Insivumeh , GVP , Conred .
Photos : G. Garcia, Dr R Roscoe.

Colima , Mexico :
19.514°N, 103.62°W
Elevation 3850 m
The Universidad de Colima reported that a large explosion at Colima was recorded at 1732 on 3 February, generating an ash plume that rose 6 km above the crater rim and drifted SSW. A small pyroclastic flow traveled down the E flank. The report stated that the internal crater is about 250 m in diameter and 50-60 m deep; previous lava domes had been destroyed in late September and mid-November 2016. On 9 February the sulfur dioxide gas flux was low (19 tons/day). Based on webcam and satellite images, the Washington VAAC reported that on 11 February an ash plume rose to an altitude of 4 km (13,000 ft) a.s.l. and drifted W. On 14 February an ash plume rose to an altitude of 5.2 km (17,000 ft) a.s.l. and drifted NE.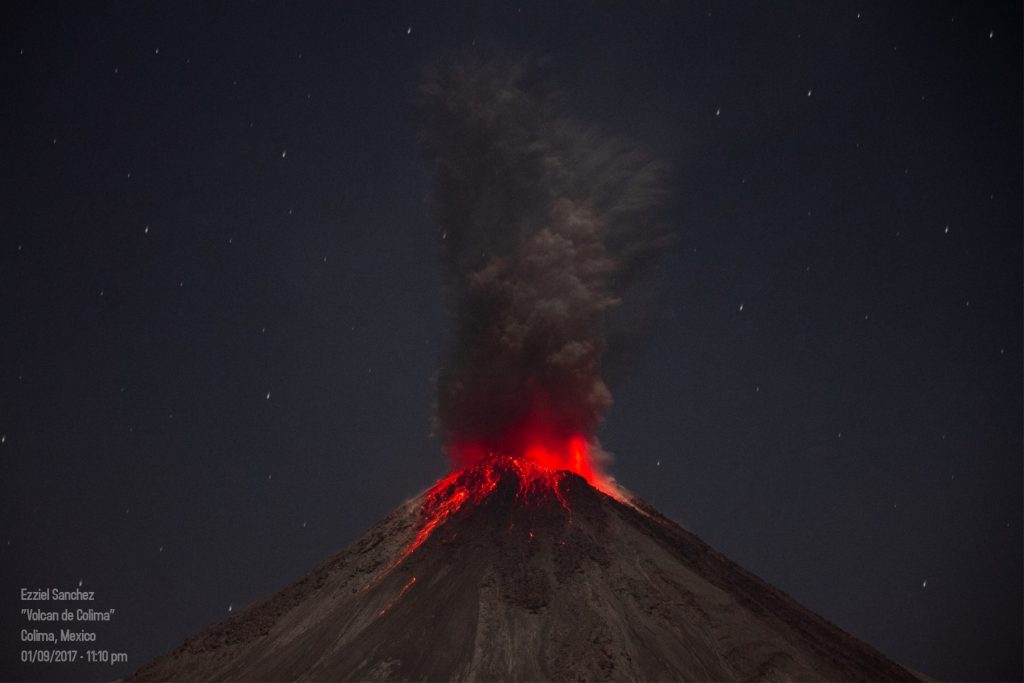 The volcano has remained very calm, with only a few and small ash emissions occurring at intervals of many hours. Since the violent explosion on 3 Feb afternoon, no more vulcanian eruptions have occurred.
It seems likely that the recent phase of violent explosion, probably caused by a pulse of fresh, gas-rich magma, has ended for now.
Sources: Centre consultatif sur les cendres volcaniques de Washington (VAAC), Centre Universitaire d'Etudes et de Recherches de Vulcanologie – Universidad de Colima , Volcanodiscovery
Photo : Ezziel Sanchez
Sheveluch , Kamchatka :
56.653°N, 161.36°E
Elevation 3283 m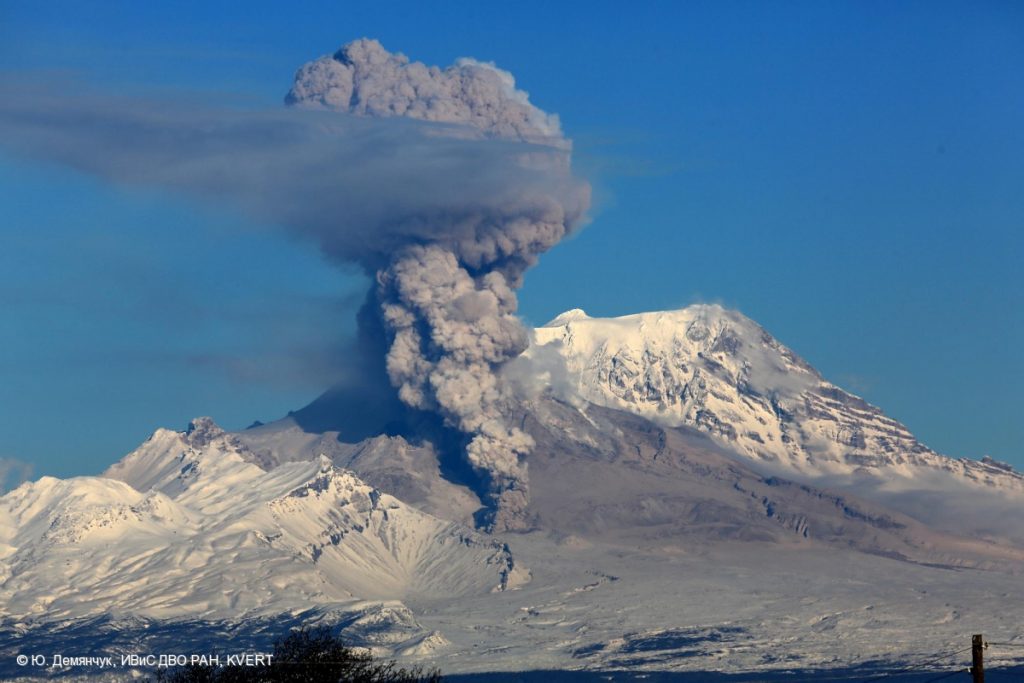 KVERT reported that during 3-10 February lava-dome extrusion onto Sheveluch's N flank was accompanied by strong fumarolic activity, dome incandescence, ash explosions, and hot avalanches. Satellite images showed an ash plume that drifted 112 km NW on 4 February and a thermal anomaly over the dome during 5 and 7-9 February. The Aviation Color Code remained at Orange.
Source: Équipe d'intervention en cas d'éruption volcanique de Kamchatkan (KVERT) , GVP.
Photo : KVERT