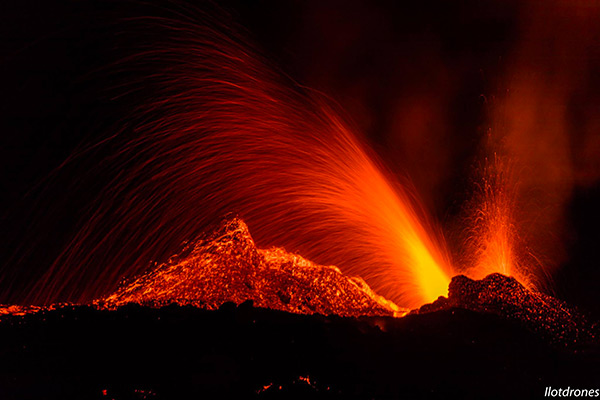 February 07 , 2017. EN. Piton de la Fournaise , Nevados de Chillan , Bogoslof , Fuego .
February 07 , 2017.
Piton de la Fournaise , La Réunion :
The eruption begun on January 31, 2017 at 7:40 pm local time continues. The volcanic tremor (indicator of surface eruptive intensity) continues to increase gradually reaching a level higher than that observed at the beginning of the eruption (Figure 1).
Figure 1: Evolution of RSAM (volcanic tremor and eruption intensity indicator) between January 31st and February 6th (16h local time) on the seismic station of Château Fort, located on the southern flank of the volcano. (© OVPF / IPGP)
– No significant deformation was recorded during the day on the terminal cone.
– No seismicity was recorded during the day under the Piton de la Fournaise volcano.
– The distant stations of La Plaine des Cafres (site of the observatory and Piton Bleu) of measurements of CO2 concentration in the soil recorded a decrease since the beginning of the eruption.
Due to poor weather conditions and pre-alert cyclones, no ground or aerial reconnaissance was carried out today by the volcanological observatory. Similarly, no surface flow could be estimated by satellite method.
Source : OVPF
Photo : Ilotdrones
Nevados de Chillan , Chile :
1043 seismic events were recorded, of which 69 were related to a process of fracturing of rigid material, called volcanos-tectonic (VT). The higher energy event had a local magnitude of M 2.2 and was located 1.5 km north-northeast of the active crater at a depth of 3.4 km. Similarly, there were recorded 935 earthquakes related to the dynamics of the fluids inside the volcanic edifice, termed events of long period, the greatest energy of which has a reduced displacement value (DRC) of 20 cm2 . In addition, there were recorded 39 « Tornillos » (TR) events, a variety of long-period events that is characterized by a quasi-homogeneous waveform in its frequency form, for its long duration and its slow decrease , Which predominantly shows peaks of frequency around 3.5 hZ

Volcán Nevado, Volcán Nuevo, Volcán Chillán
During this period, an explosion on 16 January at 06:15 (local time), which was associated with fluid type seismic events (LP and tremors), with a reduced displacement value (RDC) of 217 cm2, was recorded and had a height of about 700 m.
The images obtained during the period of evaluation continued to be observed with a degassing in the area near the currently active craters, degassing which were also observed during the overflights carried out on January 20th.
On January 20, an overflight of the Chillan Nevados volcanic complex, where the permanence of low intensity fumaroles with white tones in the two new craters, Chudcün and Arrau. Ocher and yellow hues were also observed, indicating the presence of a precipitate of sulfur around these fumaroles and craters. In addition, there is an apparent union of two of the craters formed in 2016. Thermal imaging yields low temperatures that do not exceed 70 ° C.
According to data obtained from five (5) GNSS stations, which measure the deformation of the volcano surface, no significant changes were observed. The lengths of control lines that cross the volcano remained stable, suggesting that there is no significant change in the internal dynamics of the volcano. The data provided by two (2) inclinometers do not show significant variations in the morphology of the volcano.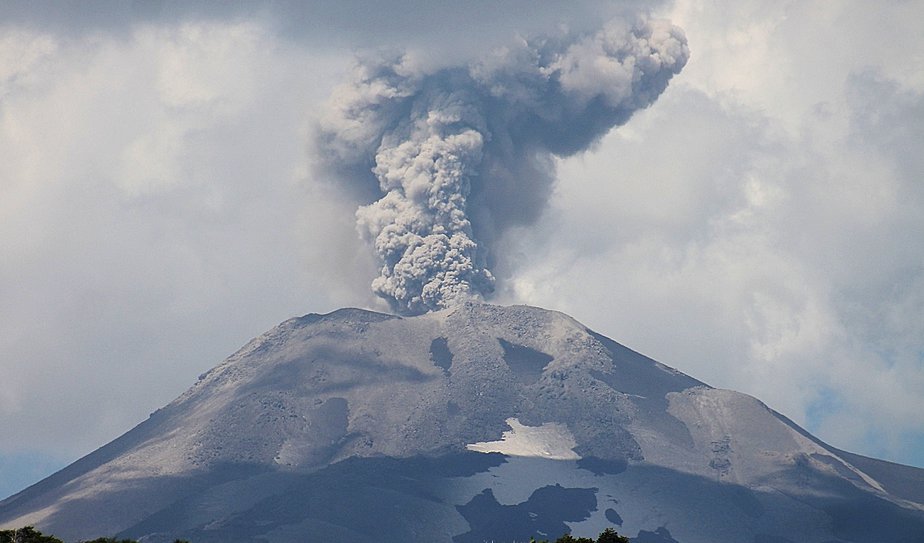 No emissions of sulfur dioxide (SO2) into the atmosphere in the volcano sector have been reported, according to data published by the Ozone Monitoring Instrument IMO (http://so2.gsfc.nasa.gov /) And NESDIS (http://satepsanoine.nesdis.noaa.gov).
No thermal alerts were reported in the area associated with the volcano according to data processed by infrared observation Mirova (http://www.mirovaweb.it/) and MODVOLC (http://modis.higp.hawaii.edu/ ), Remote sensing systems that indicate significant changes in the earth surface temperature from Moderate Resolution Imaging radiospectrometer (MODIS) data.
The persistence of an activity associated with fluids suggests that the volcanic system of the complex remains unstable. In this context, it is necessary to take into account the low energy of the episode associated with the recorded explosion and the presence of more explosive activity during this period where the low temperatures recorded during the overflight give the system Hydrothermal surface the possibility of new phreatic and / or phreatomagmatic explosive phases of higher intensity coming from the currently active craters.
Note: It is recommended as a preventive measure to apply access restrictions in an area close to the crater with a radius of 3 kilometers
The volcanic alert remains at the level:
YELLOW LEVEL: Changes in the behavior of volcanic activity – probable time for eruption: weeks / months.
Source : Sernageomin
Photo : P Arias
Bogoslof , Aleutians Islands , Alaska :
53°55'38 » N 168°2'4″ W,
Summit Elevation 492 ft (150 m)
Current Volcano Alert Level: WATCH
Current Aviation Color Code: ORANGE
The eruption of Bogoslof volcano continues. Weakly elevated surface temperatures were observed in two satellite images last night (07:55 and 13:38 UTC) possibly related to hot eruptive deposits from explosive activity on February 4 UTC (February 3 AKST). No significant activity has been detected in seismic or infrasound data over the past 24 hours.

Satellite image of Bogoslof volcano acquired on February 2, 2017. Note that the vent for the explosive eruptions was underwater once again at this time, compared to a previous image from January 31, 2017 that showed a deep crater. This is likely due to the inflow of ocean water through the porous ash fall deposits as the bottom of the crater on January 31 was below sea level. This image was acquired prior to several modest explosive events on February 3, 2017, which may have resulted in additional crater and island landform changes.

Bogoslof volcano remains at a heightened state of unrest and in an unpredictable condition. Additional explosions producing high-altitude volcanic clouds could occur at any time. Some previous explosions have been preceded by an increase in earthquake activity that allowed for short-term forecasts of imminent significant explosive activity. Although we are able to detect energetic explosive activity in real-time, there is typically a lag of tens of minutes until we can characterize the magnitude of the event and the altitude of the volcanic cloud. Low-level explosive activity that is below our ability to detect in our data sources may be occurring. These low-level explosions could pose a hazard in the immediate vicinity of the volcano. When such low-level activity occurs, it is considered to be consistent with Aviation Color Code ORANGE and Volcano Alert Level WATCH.
Source : AVO
Photo : Schneider, Dave
Fuego , Guatemala :
Type of activity: Vulcanian
Morphology: composite stratovolcan
Geographical location: 14 ° 28'54˝ Latitude N; 90 ° 52'54˝ longitude W.
Height: 3,763msnm.
Weather conditions: Clear
Wind: northeast at 38 km / h
Precipitation: 0.0 mm.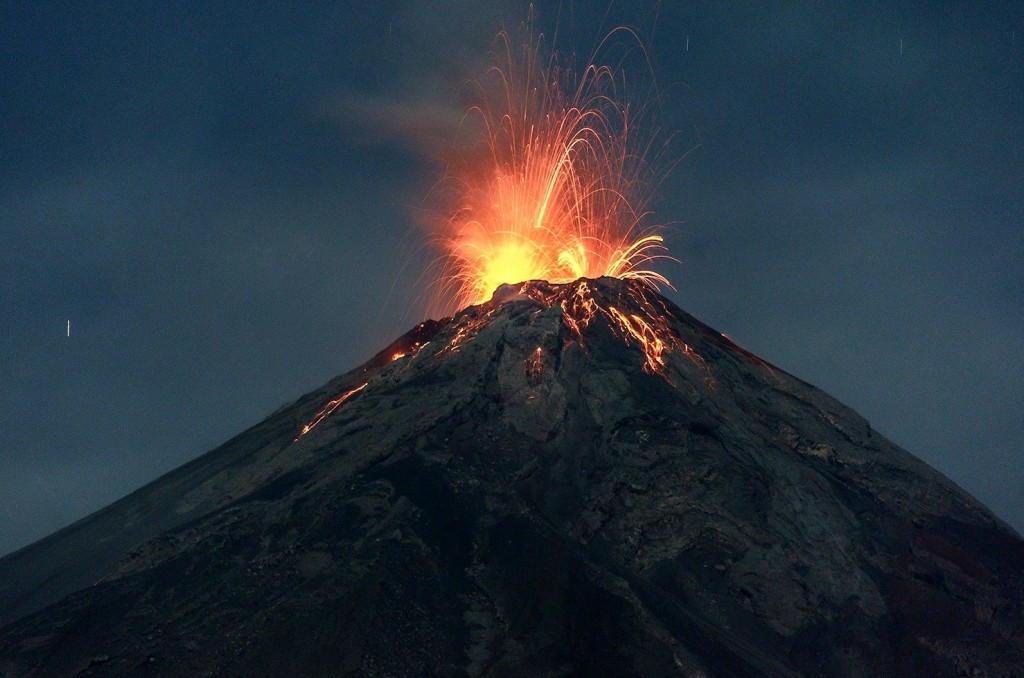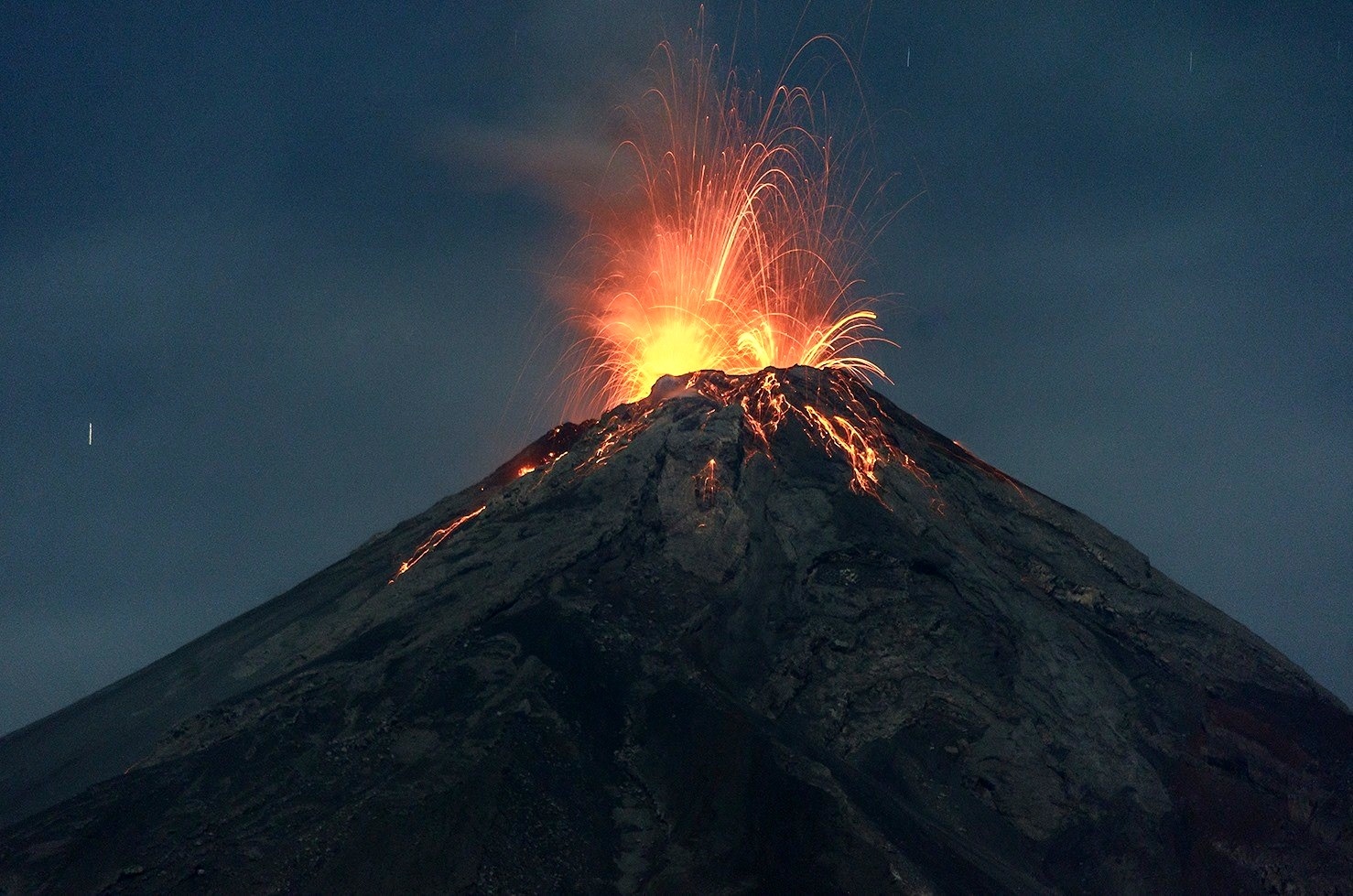 Activity:
A constant white outgassing fumarolic activity has been maintained at a height of 4,100 meters (13,450 feet) which spreads to the west and southwest. There were eight explosions, 6 weak and 2 moderate columns of ash that rose to heights of 4,600-4,700 msnm (15,090 to 15,420 feet). They spread over a distance of 8 to 10 km to the west, southwest and south. The explosions were accompanied by rumblings and weak degassing sounds with periods of 2 to 3 minutes. Incandescent pulses were produced up to 100-150 m above the crater, resulting in low to moderate avalanches in the Trinidad canyons, the result of explosions being falling ash particles generated in the villages of Trinidad , Panimache I and Morelia. Because the wind is at high altitude, it remobilises the fine materials of the pyroclastic flows of the last eruption.
Source : Insivumeh
Photo : Conred