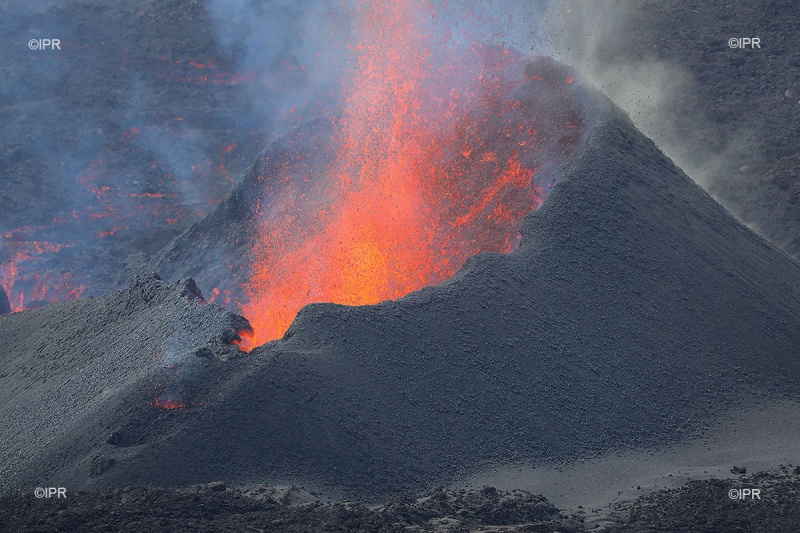 February 04 , 2017. EN. Fuego , Piton de la Fournaise , Bogoslof , Cleveland , Yellowstone .
February 04 , 2017.
Fuego , Guatemala :
SPECIAL BULLETIN Volcanology
Guatemala 2 February, 2017, 15:45 (Local Time)
ACTIVITY of the volcano Fuego in INCREASE (1402-1409)
Type of activity: Vulcanian
Morphology: Stratovolcan Composite
Geographical location: 14 ° 28'4 54 ˝ Latitude N; 90 ° 52 ' »54 ˝ Longitude W.
Height: 3,763ms nm.
As has been reported, the Fuego volcano maintains an activity generating constant ash expulsions with durations of 5, 7 and 10, 15 minutes, forming an ash column rising to 4500 meters. (14,763 feet) which travels 15 kilometers to the west. There are reports of ash falls on the village of Sangre de Cristo and on the population of San Pedro Yepocapa as well as others in this area. The seismic station FG3 records the tremors (internal vibration) associated with the elevation of the magma and magmatic gases under pressure.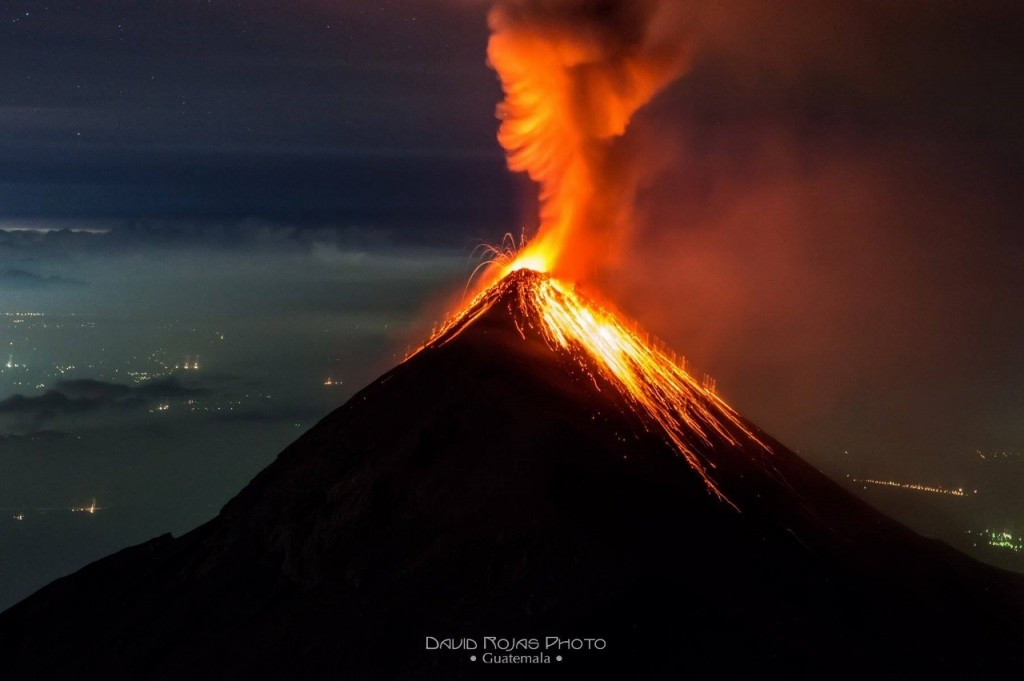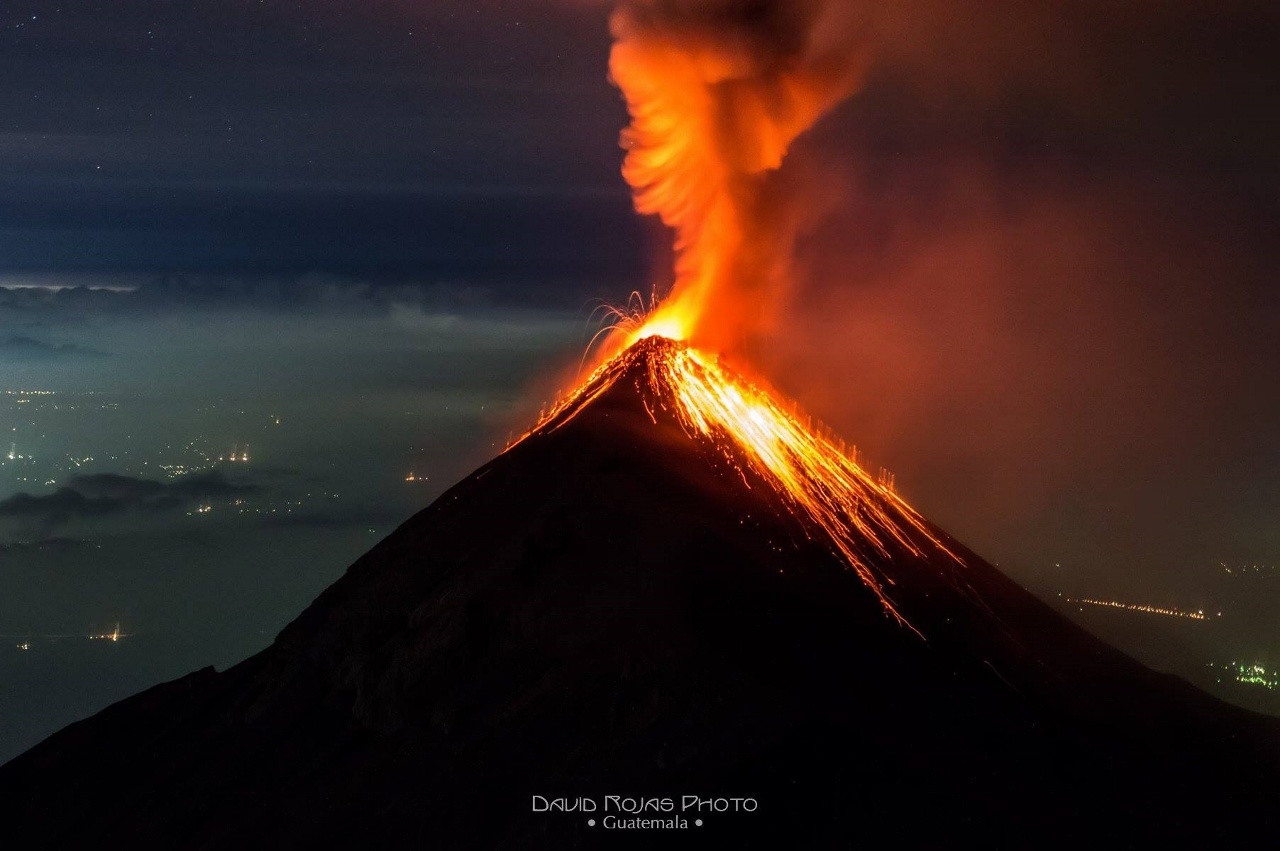 This activity can last several hours, is likely to increase so that it is necessary to take precautions, and not to stay in the gullies of the volcano.
Therefore, INSIVUMEH recommends:
To CONRED: to take the precautions it deems necessary because of the increased activity of the Fuego volcano.
In the Directorate General of Civil Aviation: Precautions are recommended with air traffic, because the ash column has reached a maximum height of 4500 meters (14.763 feet) to the west.
Tourist agencies and tourists: The explosive activity of the volcano can generate ballistic falls on the « plateau », so it is recommended not to stay or camp in this area.
Source : Insivumeh
Photo : David Rojas
Piton de la Fournaise , La Réunion :
The eruption begun on January 31, 2017 at 7:40 pm local time continues. The volcanic tremor (surface eruptive intensity indicator) was maintained at an average level of about 24 hours (about half that observed at the beginning of the eruption) before experiencing fluctuations again around 11 am local time ( 07h UTC) today (Figure 1).
Figure 1: Evolution of RSAM (volcanic tremor and eruption intensity indicator) between 7:00 am (1:00 am UTC) on January 31st and 4:00 pm (12:00 pm UTC) on February 3rd on the seismic station of Château Fort, located on the Southern flank of the volcano. (© OVPF / IPGP)
– No significant deformation was recorded during the day on the terminal cone.
– No seismicity was recorded during the day under the Piton de la Fournaise volcano.
No ground or aerial reconnaissance was carried out today by the volcanological observatory. Webcams were still showing an average intensity activity at the eruptive vent this morning and the rise of a plume slightly pointing south (low wind speed this morning on site). The plume is clearly visible from the coast (Figure 2).
Figure 2: Shooting from the OVPF webcams on 03/02/2017 (times indicated are in universal time, ie meeting time – 4h). (© OVPF / IPGP)
Analysis of the previous day's data indicates the construction of an eruptive vent of 128 m in its longest length and about 35 m high in its highest part (02/02/2017). It should be noted that this morphology is subject to rapid variations; In fact the growth of a cone at the beginning of the eruption is always rapid and then subjected to sets of stabilization / destabilization.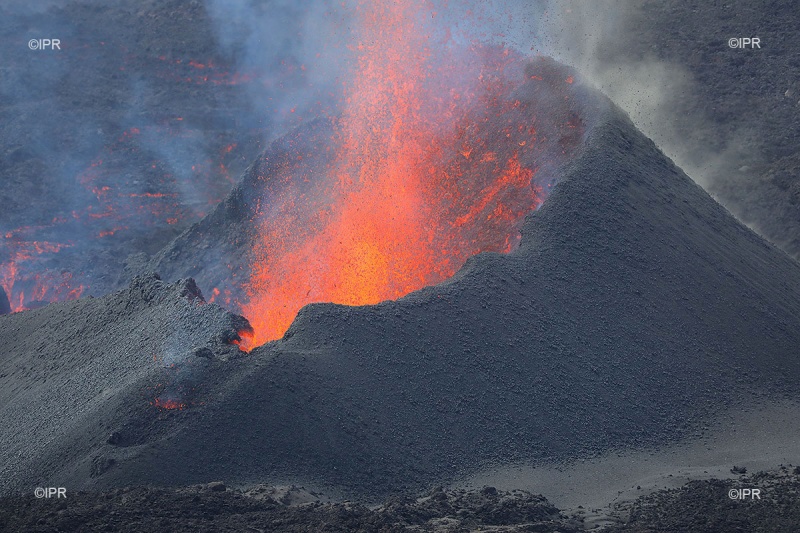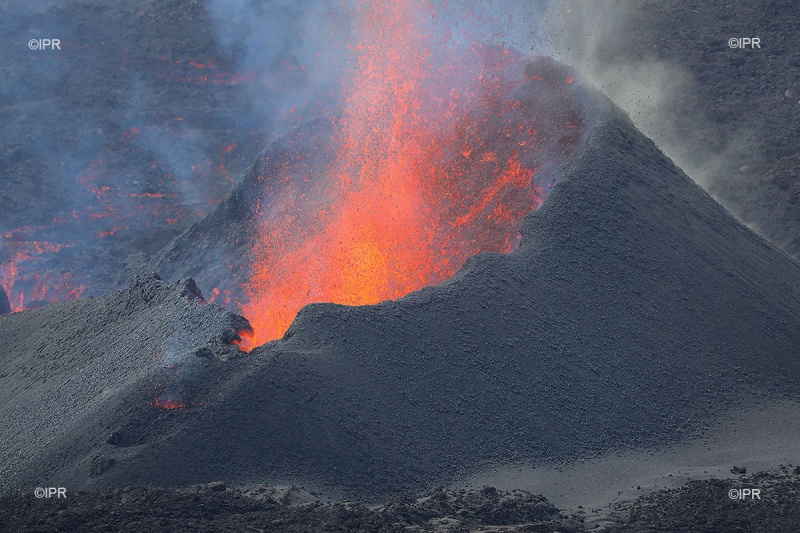 The surface flows estimated from the satellite data over the last 24h, via the HOTVOLC (OPGC – Clermont Ferrand) and MIROVA (University of Turin) platforms range from 5 m3 / s to 10.1 ± 2.5 m3 / s.
Source : OVPF
Photo : Imaz press Reunion
Bogoslof , Aleutians Islands , Alaska :
Current Volcano Alert Level: WATCH
Current Aviation Color Code: ORANGE

Satellite image of Bogoslof volcano collected on 31 January 2017 showing the significant changes at Bogoslof Island following the eruption during the night of 30 to 31 January. Freshly erupted volcanic rock and ash have formed a barrier that separates the vent from the sea. This is the first time this has been observed since the eruptive sequence began in mid-December 2016. The vent is below sea level, and erosion of the ash deposits by wave or eruptive processes would allow sea water to flow into the vent again.
Issued: Friday, February 3, 2017, 5:24 PM AKST
Source: Alaska Volcano Observatory
Notice Number: 2017/A86
Location: N 53 deg 55 min W 168 deg 2 min
Elevation: 492 ft (150 m)
Area: Aleutians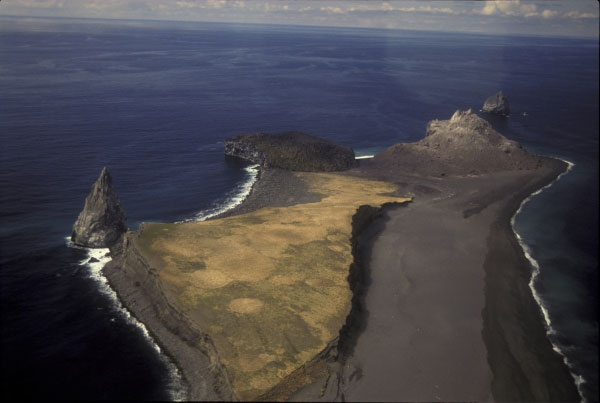 Volcanic Activity Summary:
Seismic tremor began at Bogoslof at 1:41 UTC on February 4 (16:42, February 3 AKST) and is continuing. No ash cloud has been detected as of yet in satellite data, but volcanic ash emissions are likely occurring. Winds are towards the north over the Bering Sea. We are evaluating the magnitude of this eruptive episode. The Aviation Color Code remains at ORANGE and the Volcano Alert Level remains at WATCH at present.
The National Weather Service Alaska Aviation Weather Unit has issued an eruption SIGMET warning for aviation up to 20,000 ft above sea level. This will be revised as new information becomes available.
Source : AVO
Photo : Dave Schneider
Cleveland , Alaska :
Current Volcano Alert Level: WATCH
Previous Volcano Alert Level: ADVISORY
Current Aviation Color Code: ORANGE
Previous Aviation Color Code: YELLOW
Issued: Friday, February 3, 2017, 2:05 PM AKST
Source: Alaska Volcano Observatory
Notice Number: 2017/A87
Location: N 52 deg 49 min W 169 deg 56 min
Elevation: 5676 ft (1730 m)
Area: Aleutians
Volcanic Activity Summary: Recent satellite observations indicate that a new lava dome has been extruded and is partially filling the summit crater at Cleveland volcano. The new dome is about 70 m (230 feet) in diameter and is similar in size to previous lava domes that have developed on the floor of the crater. When lava domes have developed within the summit crater, explosive activity has sometimes followed. The extrusion of the lava dome and the increased potential for explosive activity prompts AVO to change the Aviation Color Code to ORANGE and the Volcano Alert Level to WATCH.
Cleveland volcano is not monitored with a real-time seismic network and this inhibits AVO's ability to detect unrest that may lead to an explosive eruption. Rapid detection of an ash-producing eruption may be possible using a combination of satellite, infrasound, lightning data and local observations. AVO is monitoring the unrest at Cleveland volcano as closely as possible and will release additional information if or when it becomes available.
Remarks: Cleveland volcano forms the western portion of Chuginadak Island, a remote and uninhabited island in the east central Aleutians. The volcano is located about 75 km (45 mi) west of the community of Nikolski, and 1500 km (940 mi) southwest of Anchorage. The most recent significant period of eruption began in February, 2001 and produced 3 explosive events that generated ash clouds as high as 39,000 ft above sea level. The 2001 eruption also produced a lava flow and hot avalanche that reached the sea. Since then, Cleveland has been intermittently active producing small lava flows, often followed by explosions that generate small ash clouds generally below 20,000 ft above sea level. These explosions also launch debris onto the slopes of the cone producing hot pyroclastic avalanches and lahars that sometimes reach the coastline.
Source : AVO
Photo : Lopez, Taryn
Yellowstone , United-States :
44°25'48 » N 110°40'12 » W,
Summit Elevation 9203 ft (2805 m)
Current Volcano Alert Level: NORMAL
Current Aviation Color Code: GREEN
Seismicity
During January 2017, the University of Utah Seismograph Stations, responsible for the operation and analysis of the Yellowstone Seismic Network, reports 53 earthquakes were located in the Yellowstone National Park (YNP) region. The largest event was a microearthquake of magnitude 3.4 that occurred on January 07, 02:57 AM MST located 16 miles southwest of West Thumb, WY.
January seismicity includes a small swarm of 13 earthquakes occurring on January 23, five miles north northeast of Lake, WY. The largest earthquake in this swarm (magnitude 2.9) occurred January 23, 01:53 PM MST.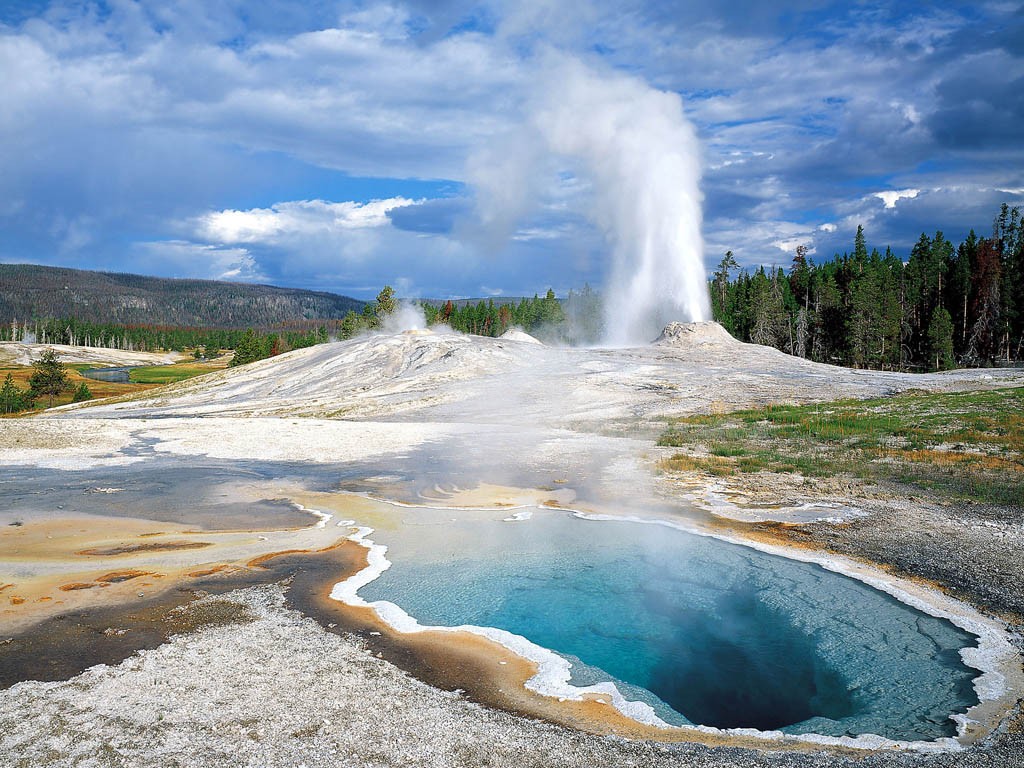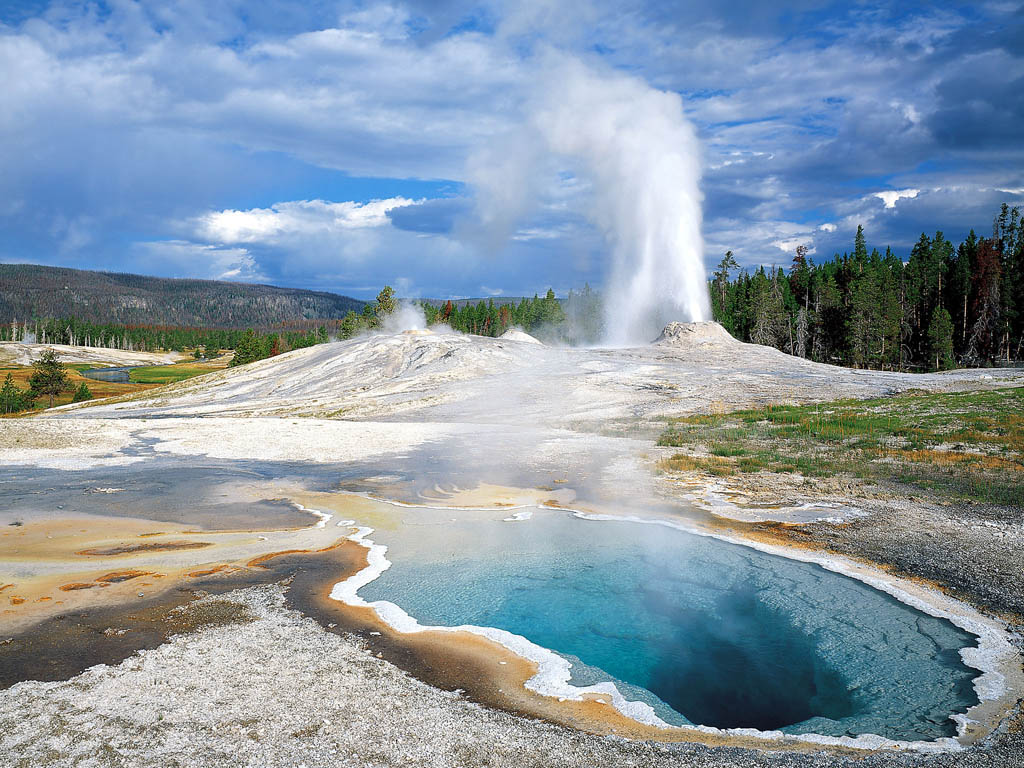 Yellowstone earthquake activity in January is at low background levels.
Uplift centered near the Norris Geyser Basin, which began about a year ago, continues at a rate of ~5 cm/yr. Caldera GPS stations continue to record slow subsidence at a rate of about 1.5 – 2 cm/yr.
Current deformation patterns at Yellowstone remain within historical norms.
The Yellowstone Volcano Observatory (YVO) provides long-term monitoring of volcanic and earthquake activity in the Yellowstone National Park region. Yellowstone is the site of the largest and most diverse collection of natural thermal features in the world and the first National Park. YVO is one of the five USGS Volcano Observatories that monitor volcanoes within the United States for science and public safety.
Source : YVO